7 Secrets Nobody Tells you about Custom Closet Systems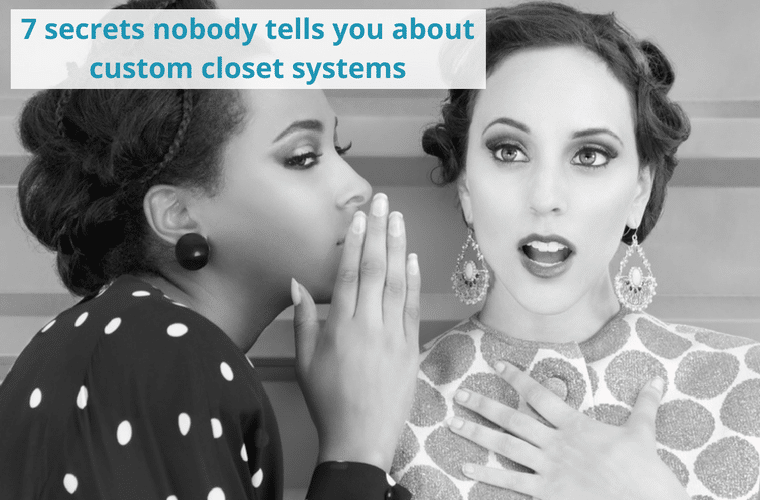 "All closet systems are basically the same," the confident woman said to me. "They are just a bunch of white shelves stacked on top of one another."
As a designer and owner of a custom closet business in Columbus and Cleveland Ohio hearing this was like nails on a chalkboard for me. When I stopped to think about it – I can see how at first glance, closets can look pretty generic. Many are white, have a bunch of shelves, some closet rods and a maybe a few drawers and drawer fronts thrown in. But are all custom closet systems really the same? Do closet designers, organizers and contractors offer generic products and services?
Let's take a peak at 7 little known secrets about premium closet systems and perform a "political fact checker" (since we're in election season) to get to the bottom of this "seemingly" generic product.
Secret #1 – You get more room with a laminate closet than a wood closet
When you look closely at the ¾" thick supports between closet sections in a laminate closet you'll only see one support board. If you look at a wood closet you'll see 2 boards are needed between sections. With each section you're gaining ¾" of space with a laminate system (and you don't have to worry about warping or bugs which can be a problem with wood).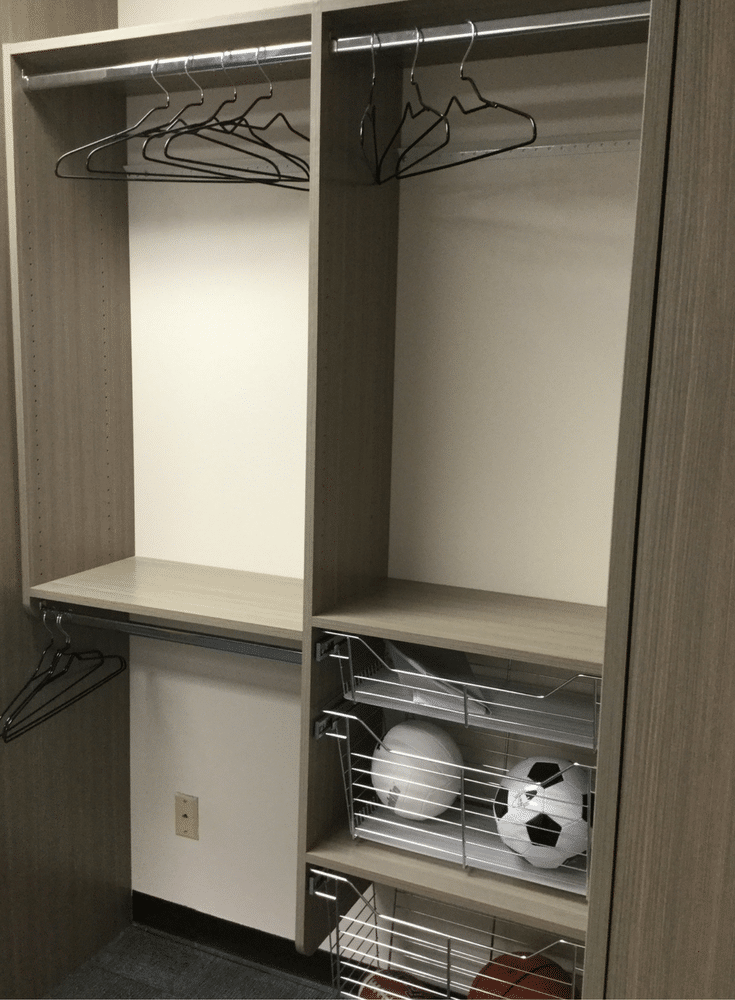 Secret #2 – Interactive 3D design programs helps you see the space
Do two dimensional floor plans confuse you? Is it hard to visualize how much space you'll really have? When someone does a two dimensional penciled sketch of a closet it's hard for to know what your closet will really look like. This fact doesn't change whether you live in Upper Arlington, Westerville, Powell Ohio or Phoenix Arizona!
If you're like me you don't "see" in 2D – you see in 3D. What's cool is there are now 3D modeling and closet design tools. You can add or subtract shelving, drawers or rods together with the closet designer right in your home. In addition, you can actually add "clothes" to the sections to see how far a double hanging section will overlap the drawers below. Being able to do "real-time" modeling is not only cool, it's practical to ensure you get the custom design which fits your needs.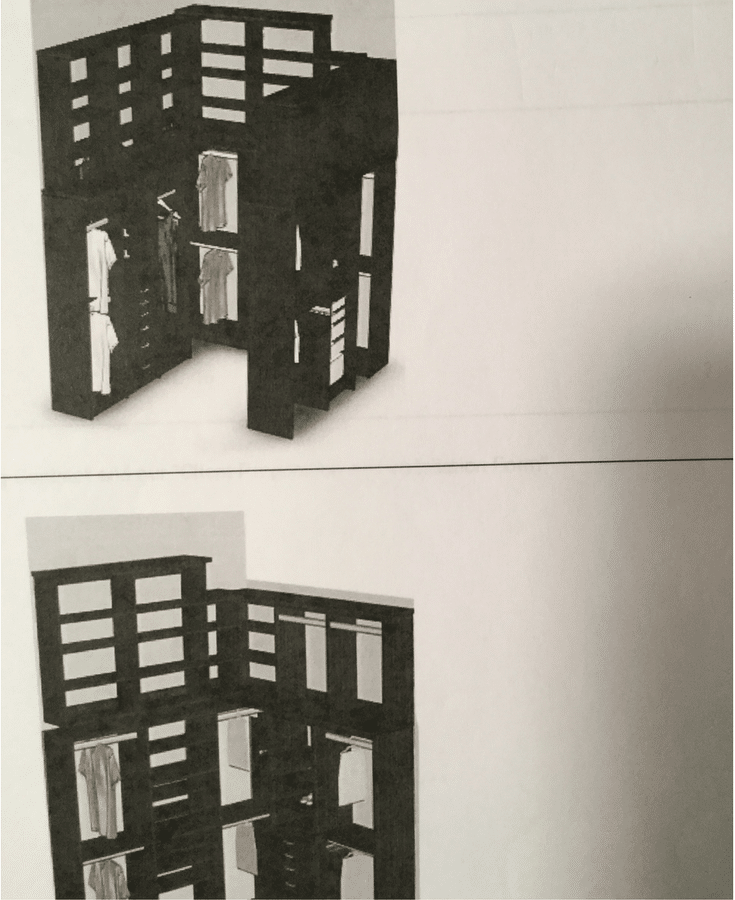 Secret #3 – Check out the "inside" of the drawers to see what they're really made of
Drawers are an excellent compliment for a premium closet design. Did you know you can actually store 3x more clothing in a drawer than hanging them up? This is a key stat if your closet – like most people's – is too tight already. But just like people, drawers can look good on the outside – but once you open and close them a few times their "façade" may not live up their performance (do you have any particle board "furniture" gathering dust in your basement for this reason?).
Since you're opening and closing drawers CONSTANTLY you'll want to make sure they are equipped to stand up to the rigors of your husband and kids (and if your kids are like mine – TLC and furniture don't go hand in hand!).
How can you make your drawers stand up to the abuse? One sound way is to use dovetail style drawer boxes. A dovetail drawer uses a locking joint designed with a wedge shaped channel cut into the wood which interlocks one piece of the drawer to another. This shape is more resistant to force vs. a lesser cost drawer which is screwed, stapled or mitered together.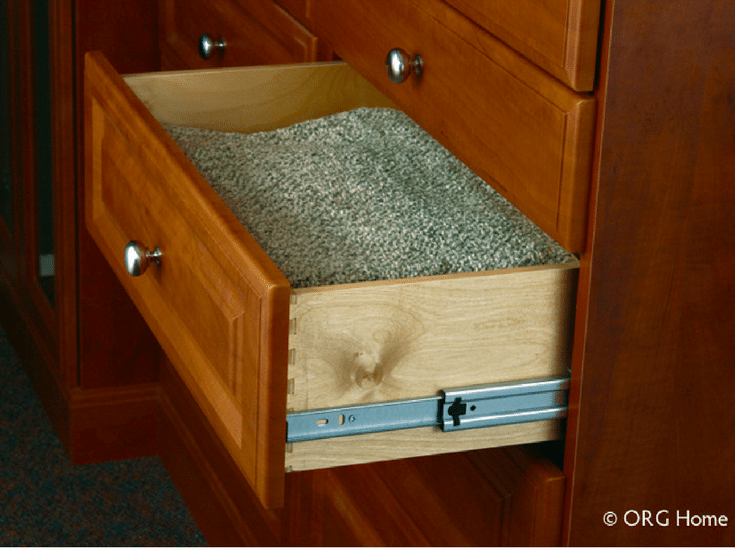 Secret #4 – How deep is your love …'er I mean your shelves
One way some cheaper closets system companies cut corners is by giving you less product (but not in an obvious way). Insist on 14" deep shelving for your closet (vs. the shallower 12" which some companies use). 14" shelving provides more depth for your sweaters, pants or larger men's shoes so they won't hang over the edge.
Secret #5 – Not all closet systems are white…..and it's easy to price colors and wood grain texture
Imagine your excited to buy a new car and you drive into the dealership and every car on the lot is white. The cheesy salesperson tells you that's why their cars are so cheap is because they only make them in white! You buy the car (because it's cheaper) and then park in the airport parking lot where every other car is white (wow – you might be there forever finding your car!).
Just like not all cars are white, not all closet systems are white either – and not just in the super-fancy closets owned by "stars" like Khloe Kardashian either. You can choose to match your closet to the color of your custom woodwork or to the furniture in an adjacent bedroom or bathroom. This will create not only a functional closet – but one which shows off your clothes, suits and shoes. Adding color and wood grain textures generally only adds 5 to 10% to the cost of the project.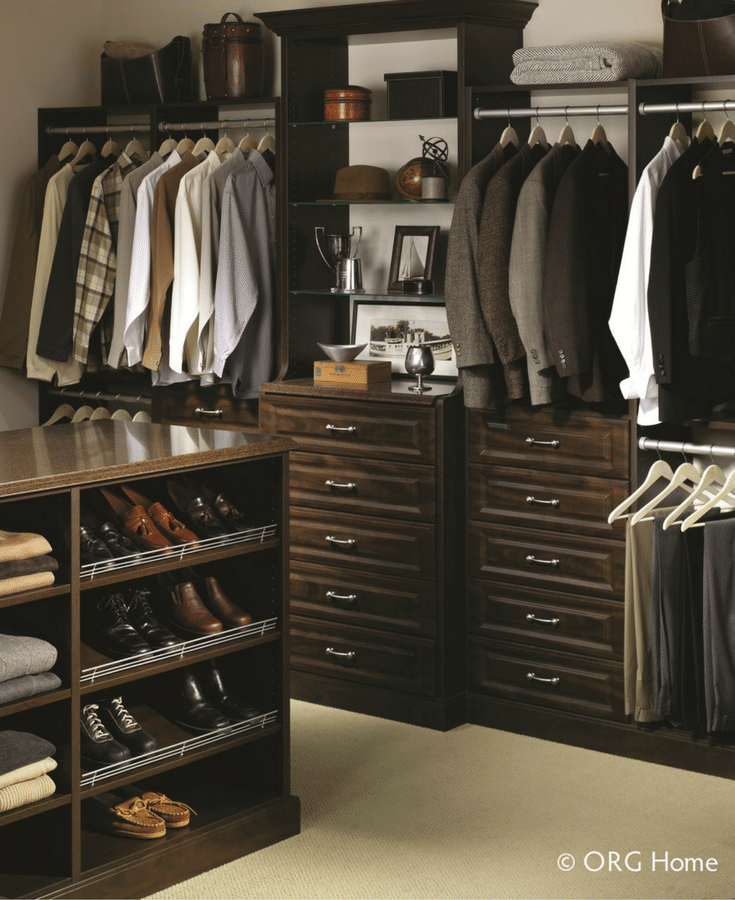 What's nice is the 3D design software can price the closet in white and then instantly re-price this same closet with any of a multitude of colors or wood-grain textured finishes! Don't settle for white – unless you really want to keep costs as low as possible.
Secret #6 – Your "vertical challenge" does not have to be a disadvantage
Do you ever wish you were taller and didn't have to get your husband or your grown son to reach things off the top shelf (I'm sure my wife Rose can relate to this – although she is determined enough to get most anything without assistance!). With a custom closet there are fun and functional ways to "expand your reach" (as they might say in marketing) and enjoy the full use of your closet (even the areas at the top). Here's 3 ideas to make this happen:
Idea 1) In a shallow 24" deep reach in closet one trick is to put a narrower shelf on the top (12" deep vs. the 14" for the rest of the shelving) for storage of lighter items like pillows, blankets and sleeping bags. This shallower top shelf makes it simple to hoist these items above your head and get them to the top shelf.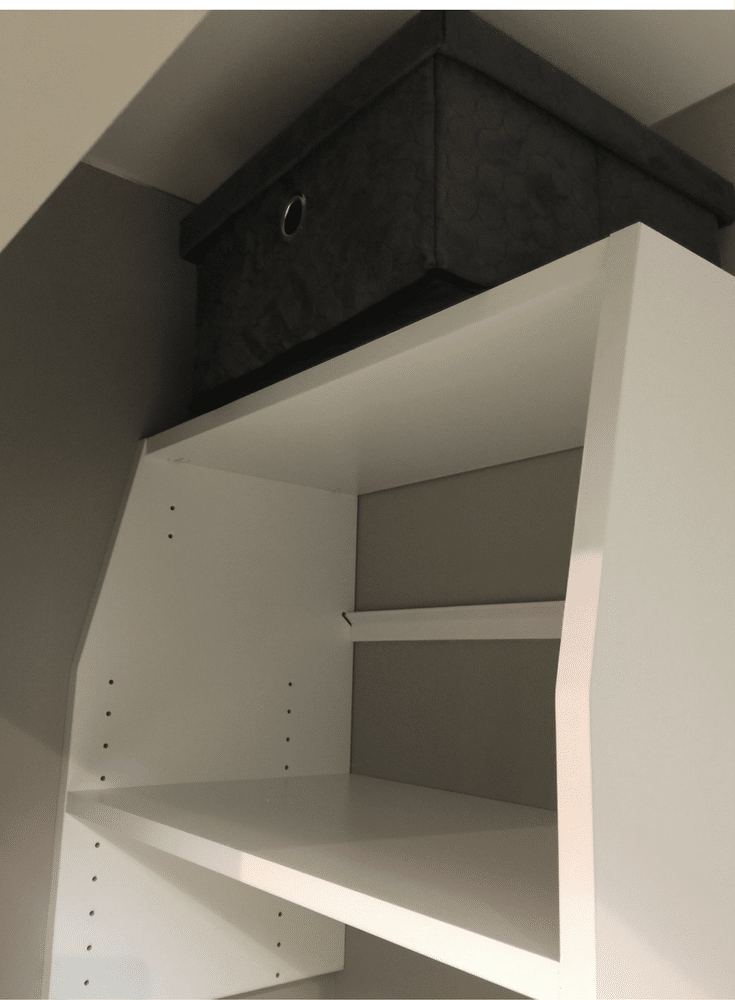 Idea 2) Add a pull down rod so you can bring your clothes on the top shelf to you in a double hung design.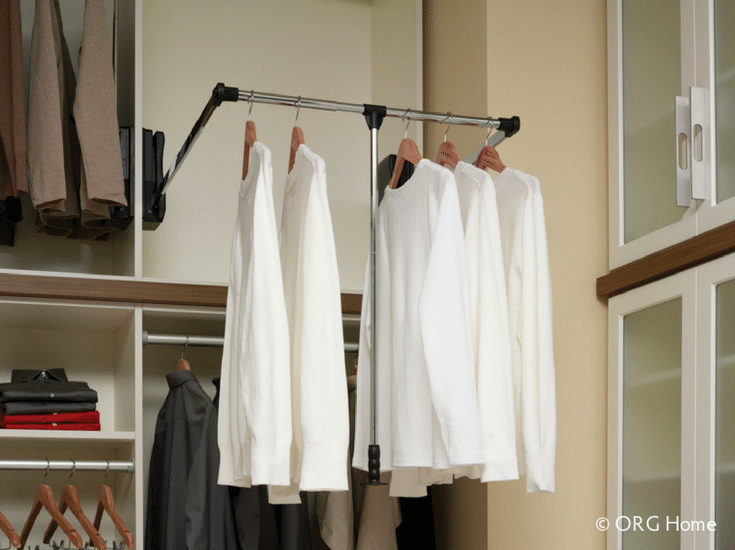 Idea 3) This one is way cool. If you have a taller ceiling and a larger budget. Put in a rolling or hook style ladder. Ladders can help you add shelving at the top of a custom design to use the volume at the top. This can be an effective (and cool idea) for vaulted ceilings in suburban luxury homes in Powell or Westerville Ohio or loft style industrial apartments like those in Victorian Village, German Village or Italian Village in Columbus.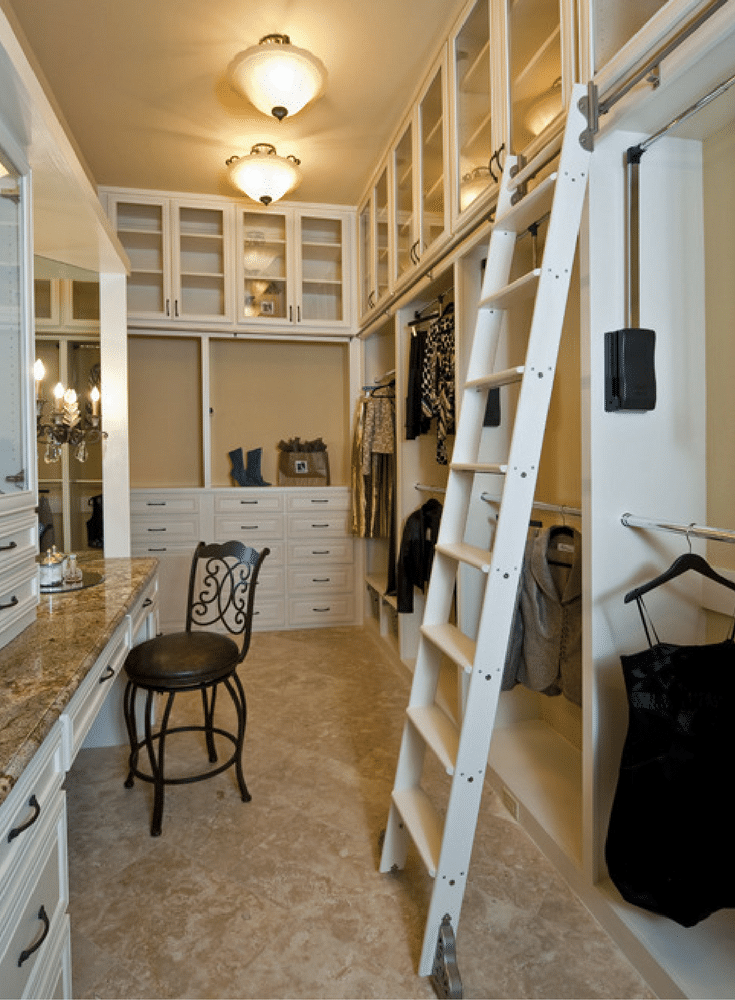 Secret #7 – You don't want to "cut corners" you want to "use corners"
Whether it's a kitchen or a closet design corners can be a pain. How do you get the most out of these spaces? One fun and functional idea is to use angled corner shelves. These shelves will provide you with a lot of depth for your favorite sweaters, bulky pillows or blankets and they provide a stylish finished look. If you want to get real fancy add some corner molding on the top of these shelves to notch up your design.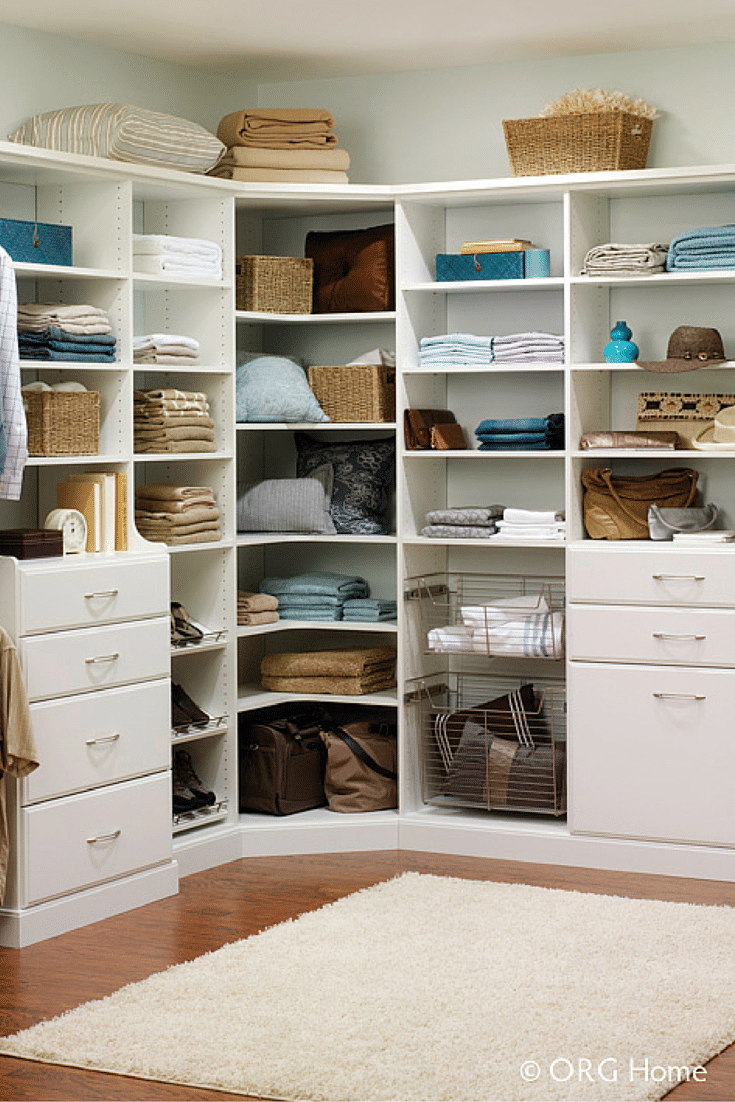 Conclusion
Just like with people you've got to look past a closets "façade" and dig deeper to educate yourself to get the best custom closet value for your money. With the help of a professional closet designer and innovative 3D closet modeling tools you can see your closet go to another level of function and beauty!
###
For help with a Columbus home organization project call Innovate Home Org in Columbus at 614-545-6888 or in Cleveland call 216-658-1290.
Follow the author @Mike_Foti or our companies' @InnovateBuild and @InnovateHomeOrg on Twitter.
---
Tags: closet drawer boxes, closet drawers, closet shelving, Columbus closet design, Columbus closet designer, Columbus closet shelving, Columbus custom closet, Columbus custom closet systems, Columbus custom drawers, Columbus laminate closet, Columbus premier closet, crown molding in a closet, custom closet, custom closet systems, Dublin closet, laminate closet, Powell closet, Upper Arlington closet, Victorian village closet, Westerville closet