How to design 2 tiny cramped closets to work as 1 organized space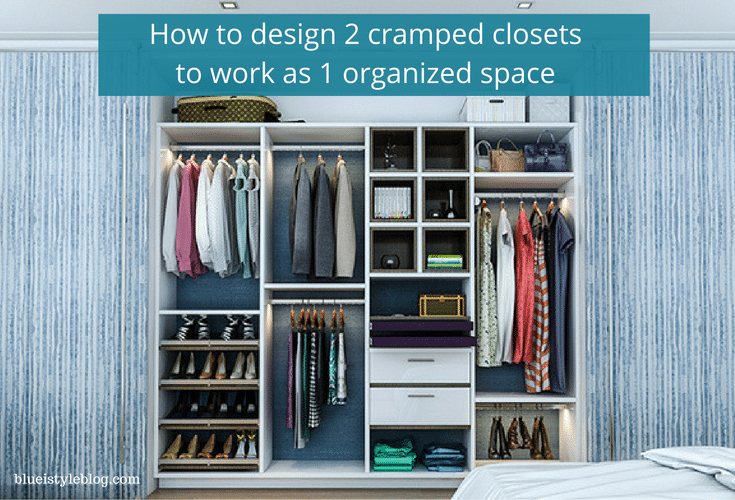 "I wish I didn't have to use two closets to fit all of my stuff. I told my husband we should move out – but we love this neighborhood and the school system is fantastic. However, I would somehow love not having to cram my clothes in these 2 tiny closets," Gail said to me.
The older homes in neighborhoods in Columbus like Clintonville, Upper Arlington, Westerville, Worthington and Victorian Village just scream out charm, character and community. The bad news is these homes can make you feel like a real "home-moaner" when you've got to work around their size limitations and occasionally feeling like you're living through a nightmare episode of This Old House with their expensive upkeep. Character is cool – but more space and less repair bills would be a concept!
The closets in these homes were designed to meet the needs of homeowners when the home was built (possibly 50 to 100 years ago). Today you've got 4 to 5 times the clothes of people "in the old days" who originally lived in your home! While a grand custom walk in closet would be a dream, it's not happening in this old house (unless you want to build an expensive room addition and gobble up 1/3 of your backyard).
So, as Mom used to tell you when you asked for that groovy new outfit you saw on the Dating Game in the 1970's, "You'll need to learn how to make do with what you have." Bummer.
How do you "make do" when you're using 2 closets (which are jammed like sardines already) to fit all your clothes? Let's check out 5 practical tips to make two cramped closets work as one organized unit.
Tip #1 – "It's been called" – your primary and secondary closets
Remember as a kid when you "called" the favorite doll you wanted to play with before your friend had the chance to chime in? Well to make 2 closets work as 1 organized unit you have to "call" which closet is your primary closet and which will be your secondary one.
In the primary closet include your main "go-to" pants, blouses, sweaters, dresses and shoes. For example, if you work in a law firm in downtown Columbus you'll want to include some medium hanging space for your dresses and suites. If you primarily dress casual in tops, jeans and sweaters you'll want to "load up" your closet with double hanging sections and drawers in the middle of your reach in closet (if you've got the room).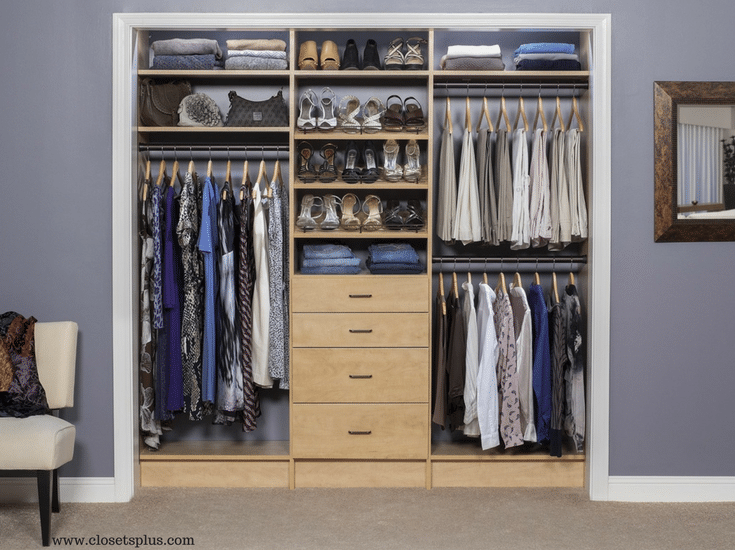 In the secondary closet store infrequently used long dresses, gowns, out of season clothing and those ugly outfits your Aunt with not very good taste got you that you just can't bear to donate (but absolutely should!).
Tip #2 – Add drawers in one of the closets
Did you know you can store 3 times more clothing in a drawer than on a hanger? Drawers can help you get more things in the same amount of space. Another advantage of having drawers is you can also add a bit of bling by installing some black velvet lined drawer boxes to get some glam in your space (don't you deserve it?). If your closets can't be big, at least they can have a bit of style, luxury and personality.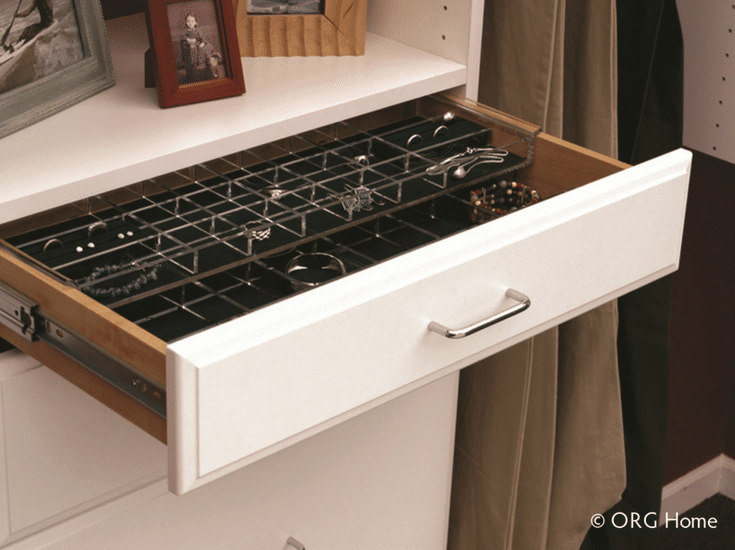 Tip #3 – Get "unhinged" …in a good way
Yes, getting "unhinged" (losing your cool) is not a good thing. Especially if you have 3 "perfect" kids like I do. That's why I occasionally comment to my wife I don't understand why they can't be as "perfect" as we are! However, when it comes to a tiny closet design getting unhinged can be a good thing. It can be a stylish, space enhancing approach you need to use in a cramped home with character. By removing the door from the closet (especially pivoting doors which open into the closet or sliding doors where it's hard to reach the middle of your closet) and the hinges you can gain more storage space. If you go with some nice curtains or a cool barn door the space can be more decorative and have improved function.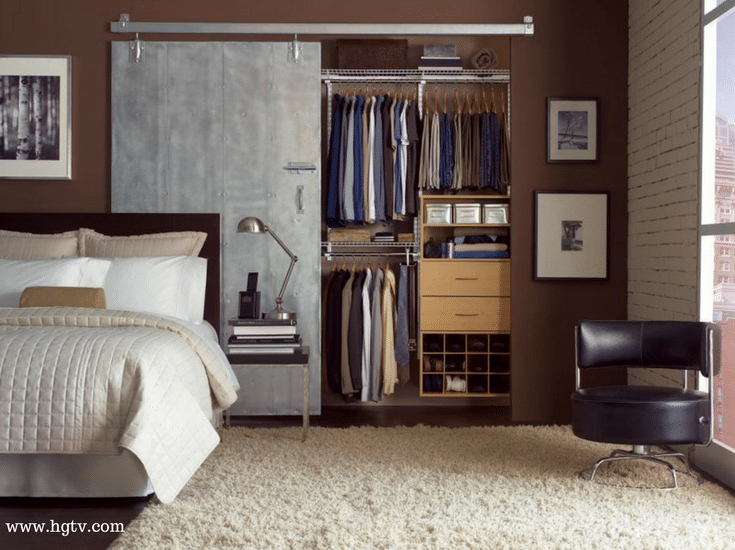 Tip #4 – Use a little David Copperfield – create the illusion of space
Blowing out some walls and making a larger closet sounds great but maybe isn't practical unless you tell one of your kids to go live with the neighbors! While some of the ideas above help to "grow" your space in the same footprint, it is also useful to create the illusion (the feeling) of space. This can be done simply by adding a coat (or two or three if the home is old enough) of paint at the walls of the closet to brighten it up.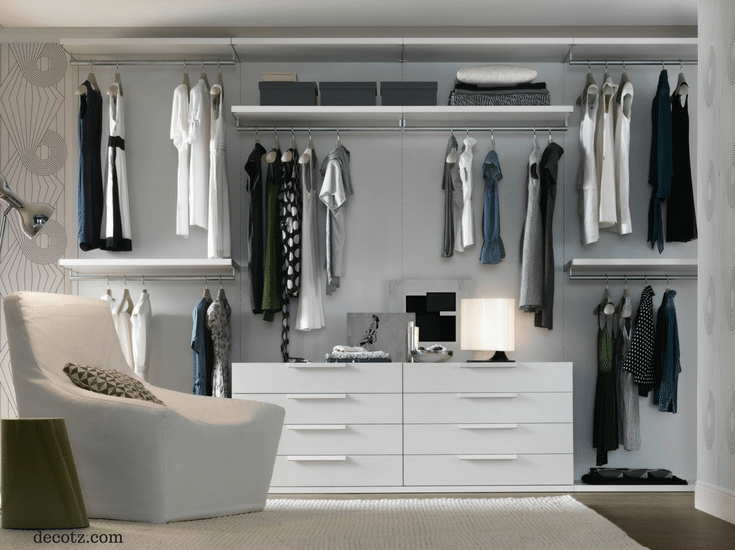 Some strategically placed mirrors can serve the dual purpose of making the closet "live larger," and will give you a place to take a quick last look before heading out the door.
Tip #5 – Make the top useable
Using the top shelf of a shallow reach in closet can require a tall person with the stretching ability of Gumby and the physique of "Flat Stanley" (did anyone else have to do the ridiculous Flat Stanley exercise with their kids in grade school???). Most top shelves above the overhang of a reach in closet are useless because they are so difficult to get to. An easy solution is to cut the depth of the top shelf to 12" so you can slide light items like sleeping bags, pillows and blankets up there. Now you'll have less strain on your body – and more room!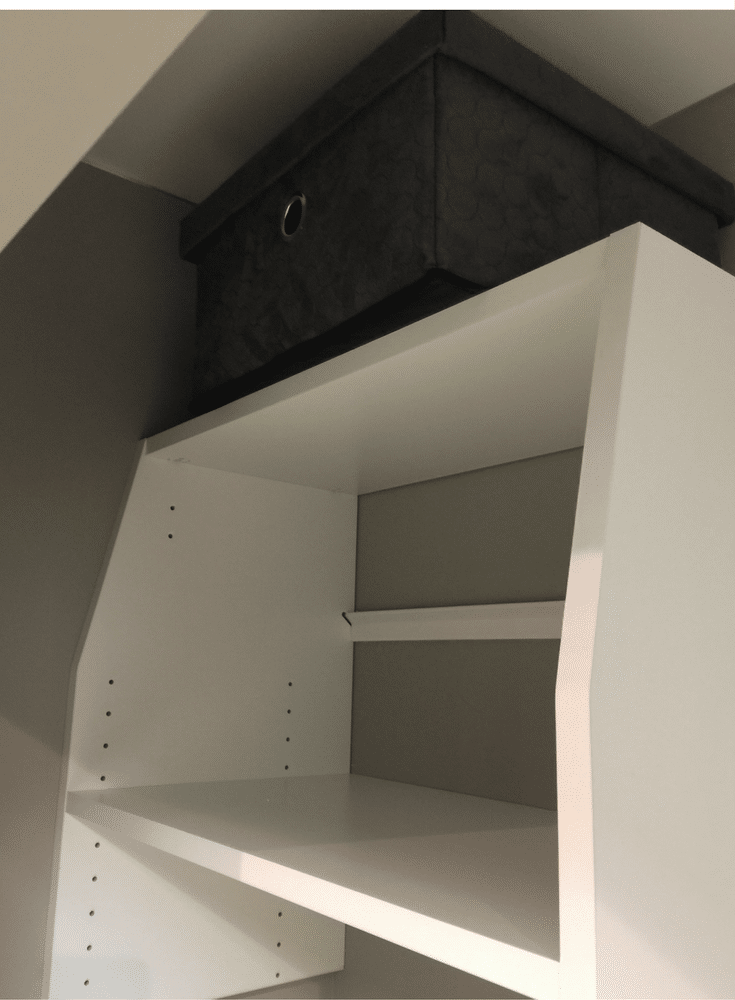 Conclusion
There is no reason to abandon your distinctive home and good school systems just to be able to fit your clothes in the closet. With this being said, it's a good idea to do something to stop struggling and fighting your closets to fit everything in. With a bit of strategy, some stylish new ideas you can have a mini-glamour closet which will not rival Khloe Kardashian – but will be a whole lot nicer than what you have today! Please call us for closet design help for your toughest closet challenges.
###
For a Columbus master closet call Innovate Home Org in Columbus at 614-545-6888 or for a Cleveland walk in closet 216-658-1290.
Follow the author on Twitter @Mike_Foti or our companies' @InnovateBuild and @InnovateHomeOrg.
---
Tags: closet design Columbus, closet organizer, Columbus closet design, Columbus closet organizer, Columbus tiny closet, cramped closets, cramped closets Columbus, Premium closets Columbus, tiny closet, tiny closet Columbus, tiny closet design, Victorian Village closets, Westerville closet, Worthington closet