How to design a kids bedroom closet which is safe and stylish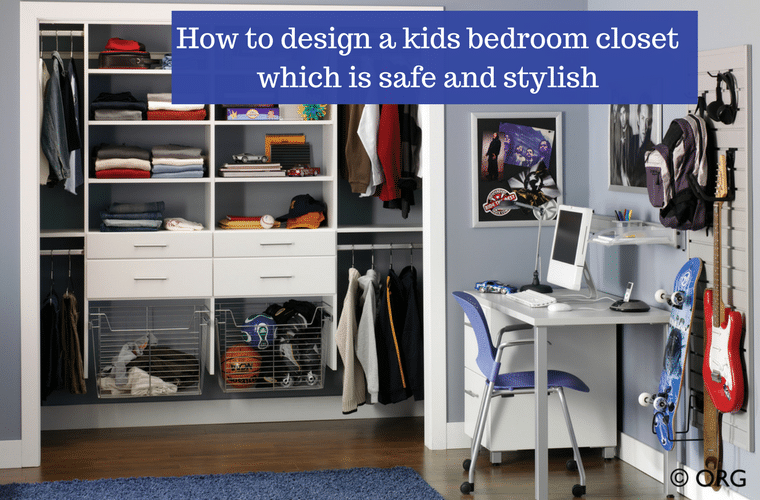 You love your kids dearly (OK – you love them more dearly at those times when they're not driving you crazy – just keeping it real). So, when you can't take the cluttered and poorly functioning walk in or reach in closet in their bedroom and decide to change it out for a new closet organizer you want to make sure it's safe. If your child is small you don't want sharp edges or shelves which can be pulled out from the wall. Cabinets which can be used as a mini jungle gym and drawers they can get their fingers caught in are not acceptable either.
How do you design a kid's bedroom closet which is safe and stylish? Let's check out 5 key closet safety tips you'll love looking at and feel safer about.

Kids closet safety organizer tip #1 – Soften all sharp edges
I remember as a kid playing dodgeball in my basement when my younger cousin Anthony fell on the edge of an old sharp-edged cocktail table and blood came rushing out. His brother Sammy and I immediately panicked and went screaming upstairs for our Mom and Dad's to come down. The emergency room got Anthony patched up but I can still remember how traumatic that was. If only our sharp-edged table wasn't in the way of our valuable dodge ball game!
When it comes to kids closet organizer systems it doesn't matter if you live in the suburbs of Westerville, Hilliard or Dublin Ohio (or Dublin Ireland for that matter) sharp edges are evil when it comes to kids. Sharper edges of a wire or laminate closets can be a problem if your son or daughter falls and hits their head. The simple solution to eliminate this safety concern is to soften these edges. Using radius support panels, you'll not only get a nicer looking closet – but one which is safer also.

Kids closet safety organizer tip #2 – Closet off the ground, closet off the ground, it's safer to design your kids closet off the ground
Remember the song by Larry Platt which went "somewhat viral" back in the American Idol days called Pants on the Ground. While this song is not exactly a "classic" it was funny, memorable and talked about the cultural negative of young people who y wore their pants too low.
Well pants aren't the only bad things to start on the ground. Kids closets can also be unsafe when they are built from the floor up. Why you may ask? If you think about your son's desire to climb out of his crib or over the couch – you'll see if there is anything which feels like a climbing wall he'll want to climb it. When it comes to a kids bedroom closet you can either put in an organizer system which is built above the floor (called a wall mounted closet) or you can have a floor mounted closet.
'For safety use a wall mounted #closet in a boys bedroom.'
Click To Tweet
When it comes to small kids (and small boys especially) it will be a safer to not start at the floor, giving them the chance to even think about climbing up the closet shelving.

Kids closet safety organizer tip #3 – Installing adjustable shelves which aren't simple to pull out or pull down
I just looked at an old flimsy wire closet in a 60-year-old Upper Arlington woman's home where I could literally pull the shelf up and down even though it was "anchored" to the wall.
Now imagine this same shelf in a young boy's room? If there's something for them to pull themselves up on, they're going to do it. Maybe this same shelf with pressure from your son would come flying off the wall with the anchoring screws coming with it! Ouch – an accident waiting to happen.
It's easy to identify the problem of unstable shelving, the question is what's a good solution to eliminate the problem of poorly anchored shelving. In your kids closet you'll want to have shelving which is adjustable (they are going to grow and your closet needs to adapt with them) and safe (don't use shelving which rests on small pins where it is easy to pull the shelf out). See the underside of a shelf resting on pins below.
The answer to this safety dilemma is to use a ¾" thick "notched" shelf. This shelf is routed out at the bottom so it can't easily be pulled out (like the adjustable shelf) and it's thick enough (unlike wire shelving) to support the weight of your kid's stuff way better than cheap wire shelving.
'A hidden kids #closet safety feature - notched #shelves.'
Click To Tweet

Kids closet safety organizer tip #4 – Keeping fingers from being caught in drawers – adding the slow close feature
If you've shut your finger in a door or drawer you know how painful that is. You also know how kids LOVE to slam drawers! As you may be aware if you've done a kitchen remodeling project in the last few years' slow close operators have become as common a luxury feature in kitchens as leather seats are now in cars (both used to be expensive add-ons in "the old days").
Why not eliminate the worry of your daughter or son hurting themselves shutting the drawers in their walk in or reach in closet? Simply add the slow-close operators to these drawers to eliminate your worries. In addition, if you want to make their drawers durable enough to withstand their lack of T.L.C., insist on a better constructed "dovetail" style drawers which are not simply mitered and glued together. This will help you combine safety (slow-close) with durability (stronger dovetail construction).

Kids closet safety organizer tip #5 – Make it easy for them to get to their toys
What's the most important thing for kids? It's to play (don't you wish that was your most important thing also, but I digress). Trying to keep things organized – yet easily available (so they are not climbing up to get their favorite toy) – in their bedroom can be a challenge. One simple way to achieve these goals is to add to your closet organizer system slide out baskets at the bottom. They'll be able to access their toys easily and you can rest easier knowing they're not climbing up to get them. Now if you can only get them to put their things away. This will probably be a lifelong battle which I can attest to from my 18 and 22-year-old sons not-so-neat (OK they're pretty much slobs) bedrooms!

Conclusion
There is so much to worry about when you're raising your kids (I wish I could tell you the worrying stops as they get older but as a Dad with 14, 18 and a 22-year-old I must say this is not the case for me!). What you can do is take your best steps to make your home, closet or environment as safe as it can be. I hope these 5 kids closet safety tips have been helpful to you.
If you would like a Free 3D kids closet design which will look at your space and incorporates these safety tips (and more) we'd love to help. Give our Innovate Home Org a division a call-in Columbus at 614-545-6888 or in Cleveland at 216-658-1290.
---
Tags: bedroom closet, bedroom clutter, bedroom organization, closet organizer Dublin, closet organizer Upper Arlington, closet organizer Westerville, closet safety tips, Columbus bedroom closet, Columbus bedroom clutter, Columbus bedroom organization, Columbus kids closet, Columbus kids closet organizer, floor mounted closet Columbus, kids closet, kids closet design, kids closet organizer, kids closet safety, kids closet safety tips, kids closet storage, kids reach in closet, reach in closet, reach in closet Columbus, shelves for closet, wall mounted closet, wall mounted closet Columbus