5 tips to spring-forward into a neat garage.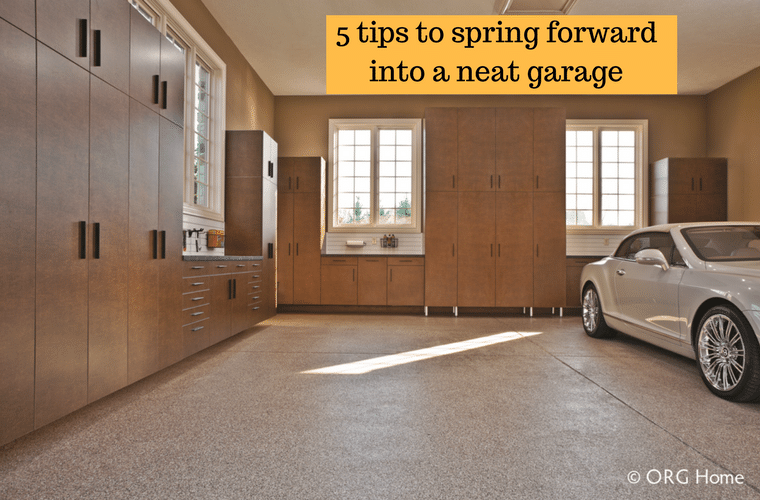 Isn't driving into your garage on a wintery day depressing? An un-glorious (not sure that's a word) mixture of slush, dirt and leaves make a crunching sound under your tires (and feet when you get out of the car). You have the "beautiful" (sarcasm intended) view of too many unorganized cans, gloves and yard equipment staring you in the face – almost speaking to you saying "clean us up. Organize us – PLEASE!"
As winter breathes its final gasps in Columbus in March (hopefully), if you're like me, you're dying to not only spring the clock forward – putting winter behind you ASAP. Since you're getting visions of a neater yard and home now that the winter is closing out it may be the time to spring your garage forward and do something about this "Rodney Dangerfield" room of your home. Yes, I did call the garage a room. I would contend it's the most underutilized "room" of your house. It can be the ultimate multi-purpose space you've always wanted if properly designed.
Do you think it's impossible to make a neat and organized garage out of the clutter which stares you in the face every time you drive in (or walk in if there's not enough room to drive in now – Ouch!)? In this article, you'll get 5 practical tips to spring your garage forward into an organized space you'll want to use and can actually drive into. Let's check out the tips.
Tip #1 – More garage cabinets and less open shelving
How can the garage become a proud extension of your home when now all you see is a big doggone mess? Extension cords, extra Christmas lighting, small hand tools and tons of spray cans in a garbled mess on flimsy plastic or metal shelving. You can't feel organized when it's easy to see the space is a mess. The question becomes how can you fix this problem? Here's a secret tip – hide your stuff!
Instead of using open garage shelving upgrade to laminate garage cabinets. They are easy to clean, come with 1" thick heavy-duty adjustable shelves so your storage can be moved to fit the height of your things (not like the pre-determined sizes in the existing not-so-good shelving you picked up at the big box store. With custom garage cabinets, you can get tall and thin units for the side of the garage (generally 16" or 19" depth works best) or deeper cabinets (23" if you have the room) to put on the back wall. There are even upper cabinets to take advantage of space above a work bench (more about that later).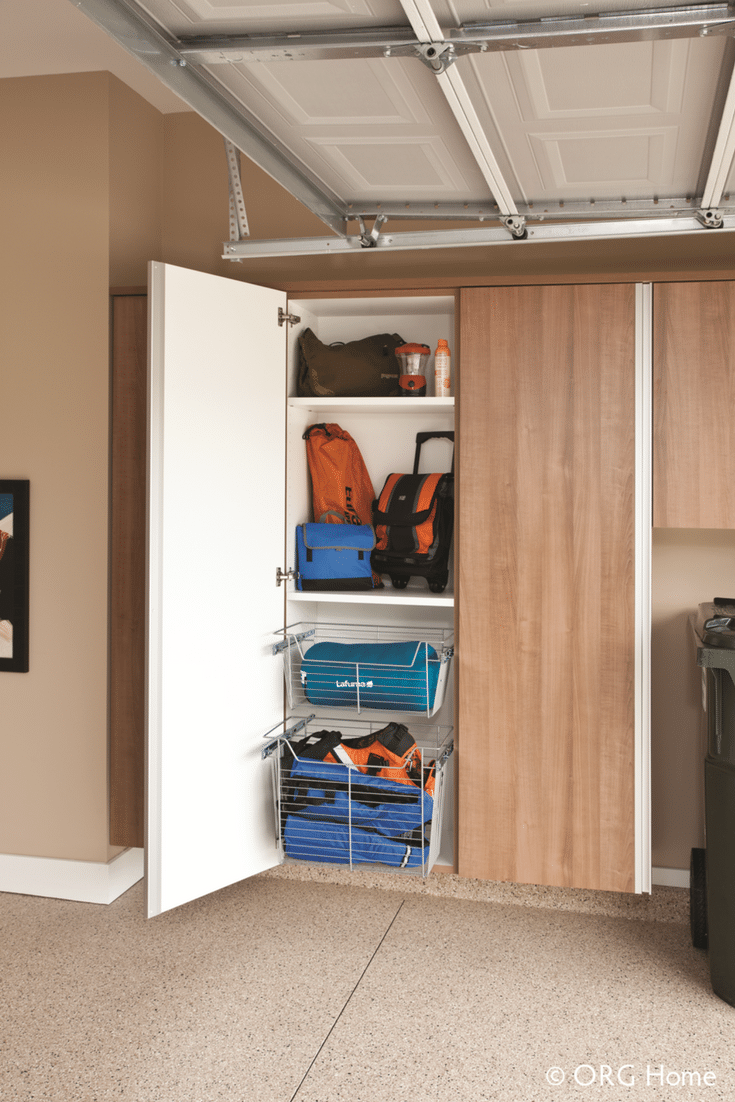 Tip #2 – Get your stuff off the floor to have a garage floor which is simple to clean
It's hard to keep the garage neat when cleaning it is a pain. If you're like me you've been here before. Pulling out the bikes, rakes, shoves – most everything except the shelves and the kitchen sink you take out of the garage just to clean it. Wouldn't it be nice not to have to spend the time doing this and have a garage floor which is simple to keep clean?
The way to accomplish this is to get your storage off the floor. Two simple garage organization tools will make happen. The first is a slat wall system. These systems are made of easy to clean vinyl or aluminum and provide a flexible wall so you can hang up your shovels, brooms, ladders, bikes and weed whackers.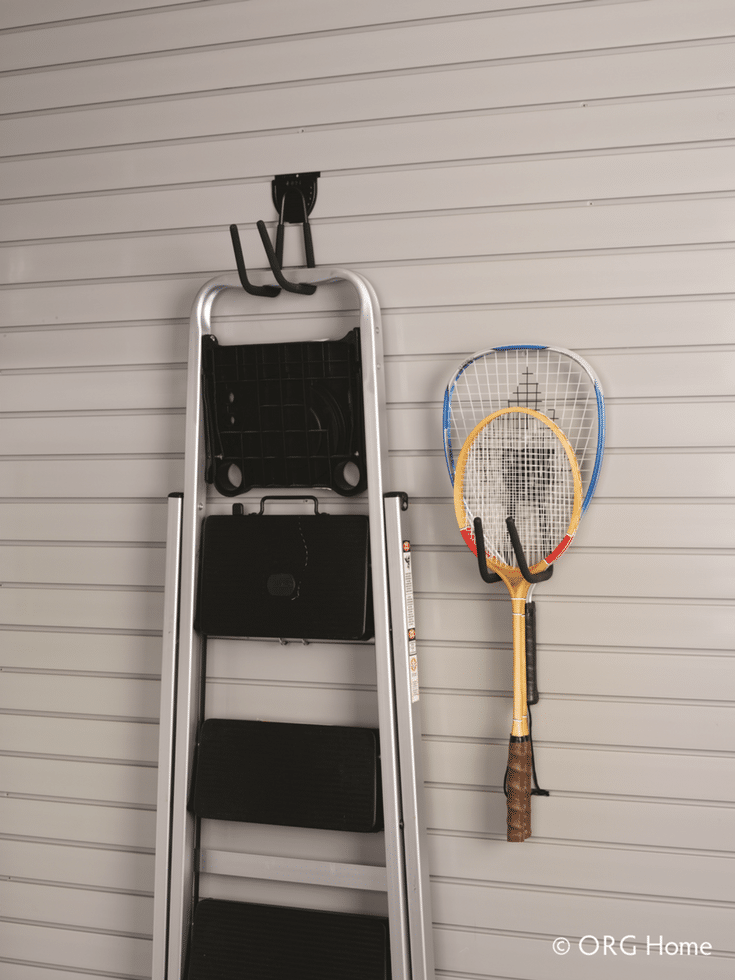 Another tool is wall-mounted garage cabinets. Usually the cabinets are mounted 6" off the ground so you can sweep or hose underneath. If you'll have a lot of weight in any of the cabinets add legs to the bottom (if not – do without the legs to make cleaning easier).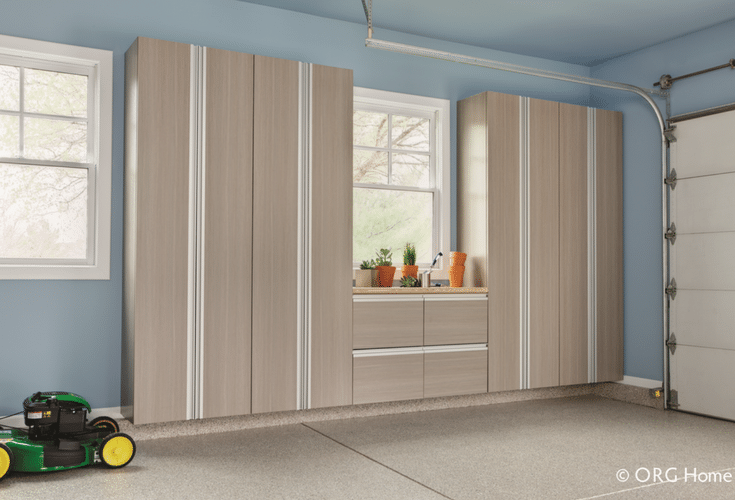 Tip #3 – If it don't fit, there's no reason to quit! Using custom sized garage cabinets

You may look at tip #2 and says that's all well and good but I've got some storage tubs which are 36" x 24" which won't fit into any sized standard shelving. What's cool is you can get custom storage cabinets where the width and depth can be varied to fit your specific needs. As the Burger King commercial used to say (I'm dating myself by remembering this), "Have it your way!"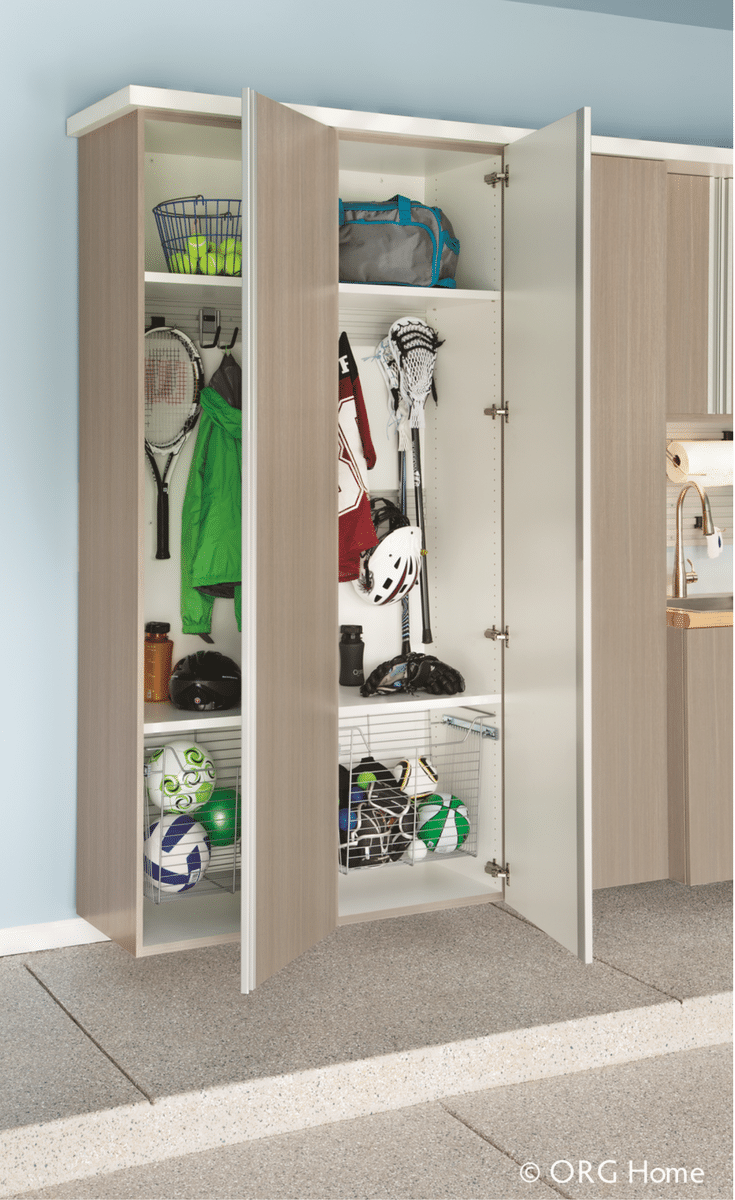 Tip #4 – Transform your garage into a multi-purpose room
Wouldn't it be cool if you could claim a room in your house as all your own? A room to be used just by you? I remember when I built my new home (my oldest son was 3 months old – wow he's now 22!), I had a vision of the den being "MY ROOM." Well this vision has been completely blown up. How – you might ask. Well – I guess you'd call it having a computer in there used by my 14-year old daughter (there are a lot of You-Tube videos from vloggers she HAS TO watch), a wife who is trying to help keep up with everyone's life and her business and 2 sons who like to play video games.
When many people see a garage, they see it in the traditional way. It's a place to store your cars/trucks and tools and excess junk – a single-purpose room. But what if you could transform the garage into a multi-purpose room to handle the overflow storage which is jammed inside of your home today?
'Think of your #garage as a multi-purpose room to maximize your storage.'
Click To Tweet
How about garage cabinetry right outside the door with slots to drop in your recyclables, or a
work bench
for your crafting and fix-it projects. Properly utilized the garage is a HUGE space storage opportunity. Can you see a bigger vision for your garage?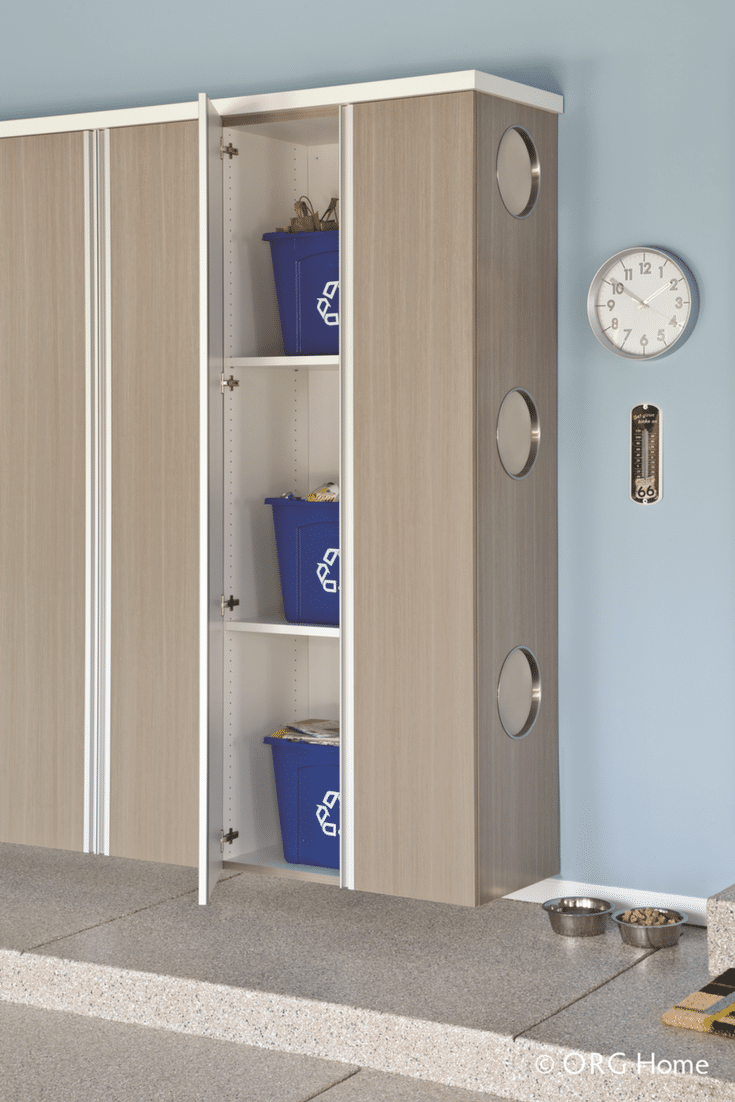 Tip #5 – Think up – using the gift of "volume" you don't have inside the house
How many rooms in your home have 10' or 11' ceilings which you can use for storage? If you're like most – probably none. What's cool about garages is the sheer volume of the space. Soaring ceilings are the norm, not the exception. Ask yourself, "What am I doing to take advantage of the height of my garage today?" If the answer is nothing – it's time to change this.
'Take advantage of the volume in your #garage to get more organized'
Click To Tweet
There are numerous options in garage ceiling storage which are excellent for light goods you buy in bulk from warehouse outlets or seasonal sporting equipment like a kayak. If you're worried about having to use a tall ladder to reach this space another option is wall hung upper cabinets for the sides or back of the garage. They will offer more storage without taking up floor space.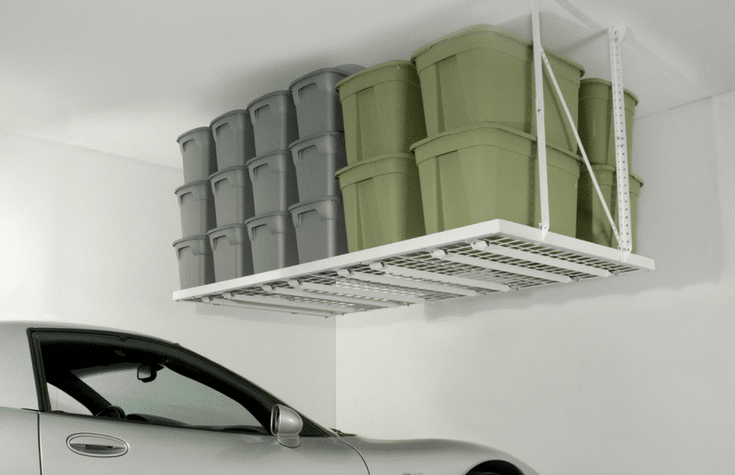 Conclusion
Would your garage benefit from any of these "spring-forward" garage tips? Do you have extra stuff inside your Columbus home which you could move outside to free up space? If these tips sound like a good idea, but you're unsure how to design your garage, contact Innovate Home Org for a free 3D garage design.
If you have any questions or excellent garage storage ideas you've used please call or share them in the comments below.
###
For help with a Columbus garage cabinetry system call Innovate Home Org at 614-545-6888 or in Cleveland call 216-658-1290.
Follow the author @Mike_Foti or our companies' @InnovateBuild and @InnovateHomeOrg on Twitter.
---
Tags: Columbus custom garage, Columbus custom garage storage, Columbus garage, Columbus garage cabinetry, Columbus garage design, Columbus garage storage, custom garage storage, garage cabinetry, garage organization, garage organization Columbus, garage organization companies garage organization systems, garage organization systems Columbus, garage racking, garage shelving, garage shelving Columbus, garage storage, workbench in a garage