5 key questions you need to ask for the perfect mudroom design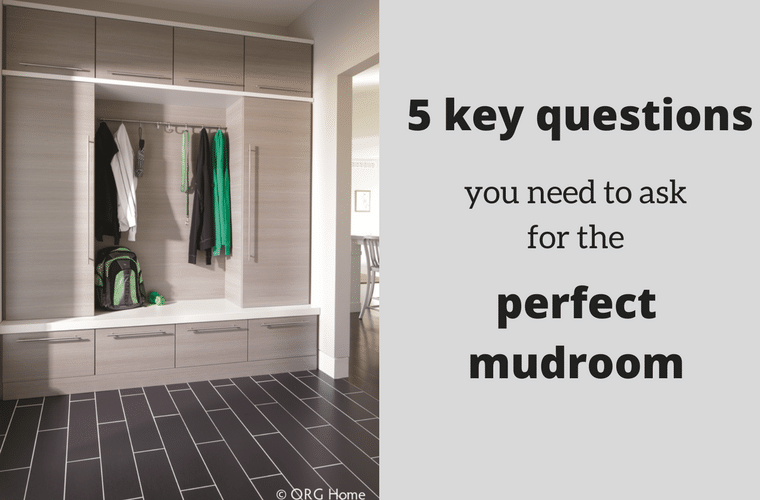 You see the drool-worthy pictures of organized mudrooms on Pinterest and get a severe case of house envy. You think, "Is there any way my disaster of a mudroom could look like the neat organized images on Pinterest? Maybe if I get rid of my 2 kids and husband – hashab!" Whether you live in Columbus, Ohio, or Columbus Georgia, the problem with mudrooms is the same. This space is constantly used (and abused). Although your family is coming into the mudroom multiple times a day, this area suffers from little to no design thought or planning.
In this article I will look at the key questions to ask to elevate your mudroom to a space which looks nice and works for you. Let's see how to create some "Pinterest pop" sprinkled in with a commonsense plan which works no matter how much (or little) space you have. Let's dig in and check out these 5 key questions.
Key Question #1 – Will individual cubbies (or lockers) for each family member work in your mudroom?
I know you've seen the pics where each family member has their own cubby with open space to hang coats, book bags, scarves or whatever. In this type of design nobody has to co-mingle their stuff (your daughter really doesn't want your son's smelly coat hanging over hers). The individual cubby design is a fantastic design option if you have the room.
Here's some math you'll want to do to determine if this option is good for you. Since you need to allow 2' of space between each cubby – if you have 4 people you need 4 x 2' (or 8') of space. If only have 6' of continuous space for the same family of 4, consider a design with 3' of shared open hook/hanging storage in the center flanked by tall cabinets on the left and right.
Key Question #2 – Is an open cubby or closed-door design better for your mudroom?
The open cubby, locker room style mudroom and the closed-door approach (which keeps shoes, coats, hats or not-very-good-smelling kids' sports equipment) behind closed doors each have their advantages and disadvantages. If I asked my wife Rose, she'd choose the closed-door design. Rose hates to see the clutter.
Are you unsure which design is best for you? Check out this brief list of the advantages and disadvantages of each:
Advantages of mudroom with finished cabinets and doors
Offers a clean look even if there is a nightmarish (my son's sections would resemble this remark) mess lurking behind the doors.
You don't have to worry about how to decorate, paint or maintain the back of the cabinetry because it's hidden from view.
You can vary the colors in the drawer fronts and doors for a contemporary look.
Disadvantages of a mudroom with finished cabinets and doors
The cabinetry door fronts and drawers add cost vs. an open design.
You need more depth since you have to allow space to open the drawers and doors and be able to stand behind them.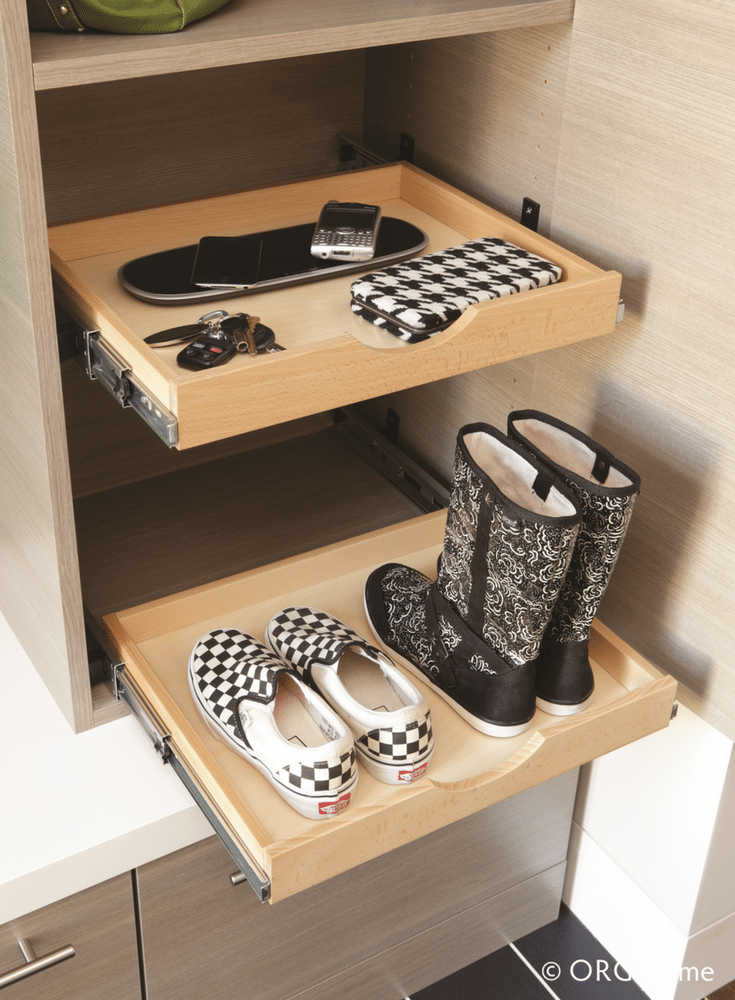 Advantages of an open cubby locker room style mudroom
It will save you money because it's design is simpler without doors.
You can use fun decorative wallpaper or bead board to inject personality and design continuity with the rest of the home.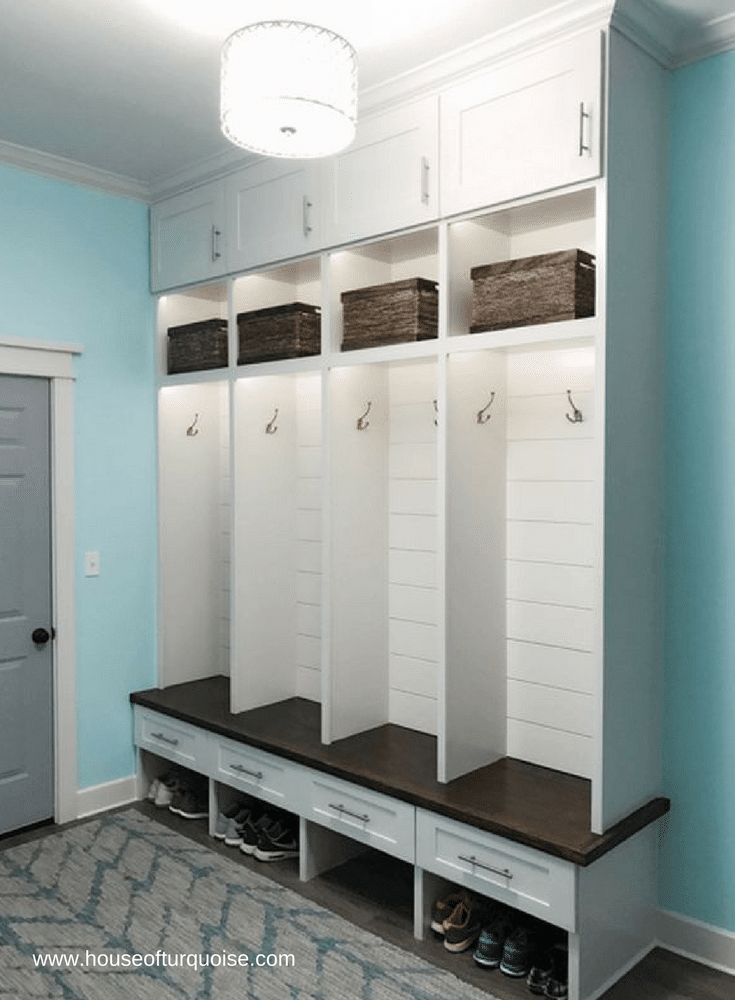 You don't need as wide a space because there are no doors/drawers to open.
Disadvantages of an open cubby locker room style mudroom
Its' open for the world to see. If you have a "Messy Mel" or "Lackadaisical Lucy" your family "warts" (i.e. disorganization) will be exposed for anyone visiting to see.
If you integrate decorative storage bins they may (or may not) fit into the width and depth of your cubbies.
Key Question #3 – How can I create a mudroom design where I have either too little light or a window in the wrong place today?
It may sound like a good idea to purchase a pre-built furniture piece to go in your mudroom but if you've got a window in the middle of the wall, that's not going to be a good solution for your storage challenge. Conversely – if you feel like you're entering a spooky haunted house when you travel down the dark hallway you call a mudroom, it will never be a place in your home you'll be proud of (and will function well for you) – until you fix the lighting problem.
So how do you turn a dark mudroom – or one with a window in the wrong place – into a drool-worthy space? The simple answers are (a) use the right lighting and (b) create a custom design which embraces your window. Let's look at these options.
What to do when you lack lighting? The simple answer is to get lighting. OK you're probably say – duh – but what if you lack an outlet and don't want to spend big-bucks on electricians who don't call back anyway. A straightforward solution is to use motion activated LED cabinetry lights. They are simple to install and in most instances only need to be recharging every 3 months.
What to do when the window is in the middle of the wall you want your mudroom cabinetry to be? Just like when life throws you lemons you make lemonade. In the case of a window in a mudroom I would say you not only want to work around the window, but should embrace it. A way to leverage this natural lighting asset is to build a window seating area and design your custom cabinetry around the window. Very slick and chic.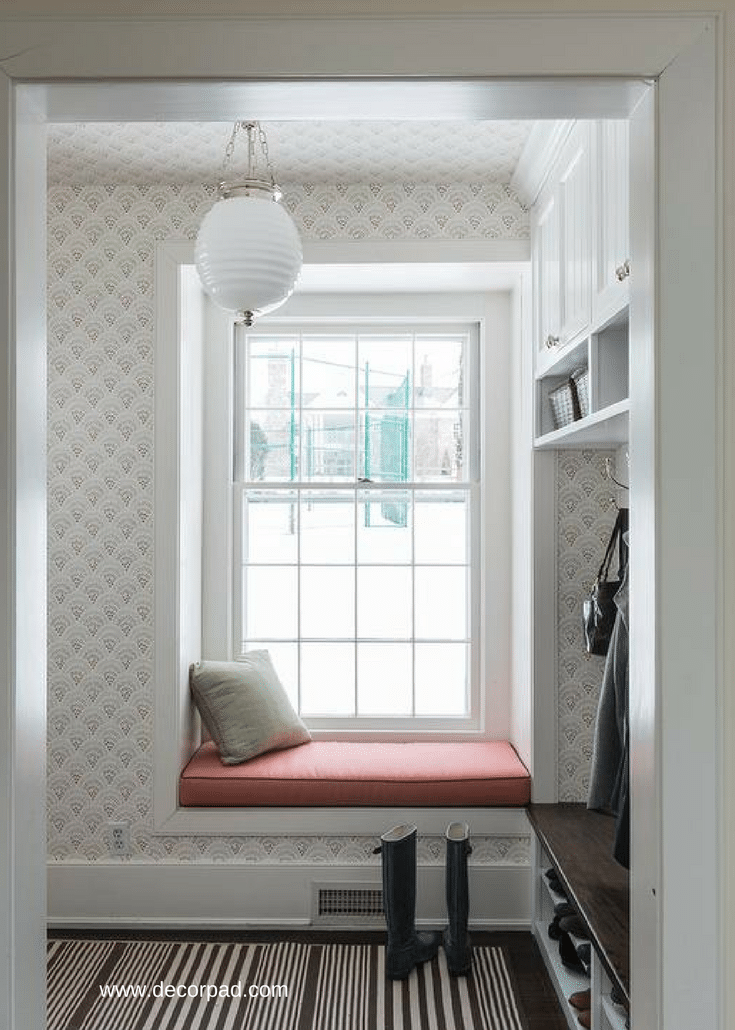 Key Question #4 – Should your mudroom cabinetry design include seating?
I'd answer yes and no. How's that for a politically correct answer! But seriously, think about these points to guide you on when you should (and should not) include seating in a mudroom design.
When to include seating in a mudroom cabinetry design
Seating is cool inside the mudroom cabinet design if you have the width to make it happen. It's always nice to sit down and take your shoes off vs. dropping to the floor. However, if you can't get seating into a cabinet structure a small whimsically painted chair can show off your playful side.
When to exclude seating in a mudroom cabinetry design
If you're already limited for space for hooks for bookbags, cubbies for shoes or don't have a lot of width you'll need to call seating a "nice to have" feature which doesn't make sense for you now.
Key Question #5 – How can I use my home's 9' or 10' ceiling height as a storage advantage in a mudroom?
When you think about organized storage for any room, you want to think beyond length and width. You want to think in "cubes." By cubes I mean your cubic square footage. What can you do to leverage the height of the room (even if you're vertically challenged)? Many modern new homes in Columbus 'burbs like Dublin, New Albany and Powell or lofts in Downtown have soaring ceilings. Why let this height go to waste?
Here's 2 ideas to use your height.
Idea 1) Use upper cabinets to store out of season products (or for holiday décor items you don't want to dig out of the basement). You could even create a little room for the family pet (see below)!
Idea 2) Get bonus and style points going really high with the addition of a rolling library ladder. They are not just for libraries anymore!
Conclusion
Why continue to let your mudroom be the red-haired-stepchild of your home? This heavily used (and heavily abused) area deserves a little design TLC. Your mudroom can be the ultimate opportunity to add style and up the storage-game of your home. What is holding you back from creating a mudroom you'll actually be proud of?
How can I (and my team) help you?
If you would like help with a custom storage solution, we would love to help you with a Free 3D mudroom design. Give us a call at 614-545-5888 in Columbus or 216-658-1290 in Cleveland.
###
Follow the author @Mike_Foti or our companies' @InnovateBuild and @InnovateHomeOrg on Twitter.
Save
Save
---
Tags: Columbus entryway, Columbus mudroom, Columbus mudroom cubby, Columbus mudroom design, Columbus mudroom ideas, Columbus mudroom lockers, Columbus mudroom storage, entryway, mudroom, mudroom cabinetry, mudroom cabinets, mudroom cabinets Columbus, mudroom clutter, mudroom cubbies, mudroom cubby, mudroom décor, mudroom design, mudroom ideas, mudroom locker, mudroom lockers, mudroom lockers Columbus, mudroom organization, mudroom organization Columbus, mudroom storage, small mudroom, small mudroom organization