Would the storage in your childhood home work for you today? 7 smart home organization tips for today's lifestyle.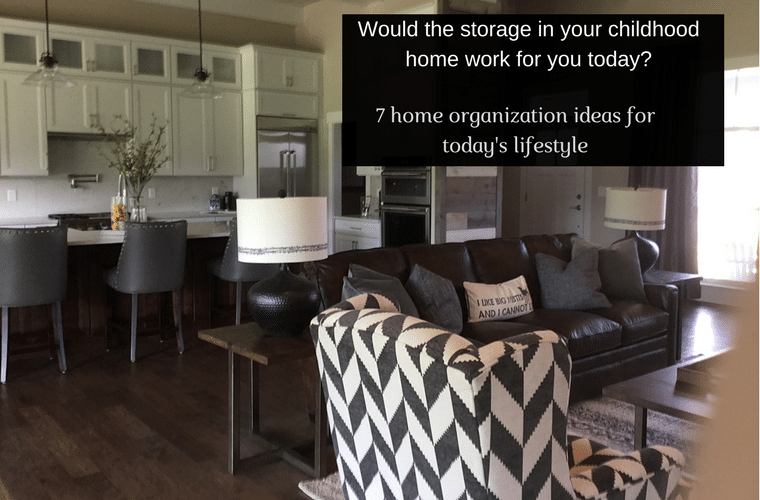 My life as a kid growing up was so like Kevin Arnold (he was the young boy in the TV show the Wonder Years about family life in the late 1960's and early 1970's). I lived in your typical Levittown-esque 1,500 square foot ranch home with 3 tiny bedrooms. I shared a 12' x 12' bedroom with my older much uglier (just kidding) brother Frank and the room was so tight our beds were smashed together. I used to wrestle my cousins on this bed and whoever fell between the crack in the beds first was the loser (but I digress).
Life back then was simpler. I didn't think about home organization. My concern in life at that time was how quick I could get the dishes done so I could enjoy a game of whiffle ball with Tony Rizzo and Tommy Baranek (my two best friends). Tony even parlayed his "whiffle ball" prowess into becoming a sportscaster in Cleveland.
Our "home storage" – if you could call it that – looked like this:
Closet storage – All the bedroom closets were small reach in closets. Who needed a big closet back then? We didn't own many clothes anyway.
Entryway storage – In those days I would have asked, "What's an entryway?" Our "entryway" was 2 steps you climbed up from the side door. It was next to our milk chute (anyone remember a milk chute? That makes me sound OLD) built into the brick exterior of our typical Midwest ranch home. Who needed a large entryway for storage? There were no book bags to hang, no cell phones to be charged and we certainly only had one pair of boots (not multiple pairs to fit the fashion statement du jour).
Laundry storage – Like most homes built in the 1960's, our laundry room was in the deep, dark crevices of the basement. To do laundry you had the pleasure of walking past the incinerator (this was a furnace we had in our home which burned trash. A contraption which used to scare the daylights out of me) to reach the washer and dryer. Mom had 2 small tattered shelves for laundry supplies (my Dad – like most in those days – never touched the laundry). It was a simple set up– but probably not the most convenient for Mom.
Pantry storage – Our "pantry" was just a couple of stationary shelves at the bottom of the base cabinets in our tiny galley kitchen. It was a mystery what was lurking in the back of these shelves.
There are times I wish I could turn back the clock to the simplicity of my "Kevin-Arnold-esque" like life, but when I look at my home organization needs today that is not one of times where I long for the "good old days." My wife Rose and I have 3 kids (2 currently in the home, 1 in college) and 3 cats. Cramming all our stuff into the 1,500-square foot home I grew up in isn't happening. The thought of giving away all our possessions and moving into a tiny home is comical. If anything, we want more – and better – storage in the 3,000-square foot home we live in today. Our house is twice the size of the home I grew up in. We have the same number of kids as my parents raised – but we still need better storage (and I don't think we're hoarders either – ha! ha).
If you're like Rose and I and could stand to improve your home storage you'll, want to read these 7 smart home organization ideas from the 2017 Columbus BIA Parade of Homes. You'll get tips on fun and functional ways to improve your closets, pantry, entryway and laundry rooms. You can stop pulling your hair out trying to find something or listening to your kids bark out, "Mom/Dad…where did you put my _____________ (you fill in the blank)." Let's check out these home storage and organization ideas.
Smart home organization idea #1 – Use your walk in closet corners wisely
The corners of a walk-in closet can become the Bermuda triangle of storage (things get stuffed back there never to be found again). I loved the look and thoughtful design of this curved corner hanging rod in Manor Homes Parade entry.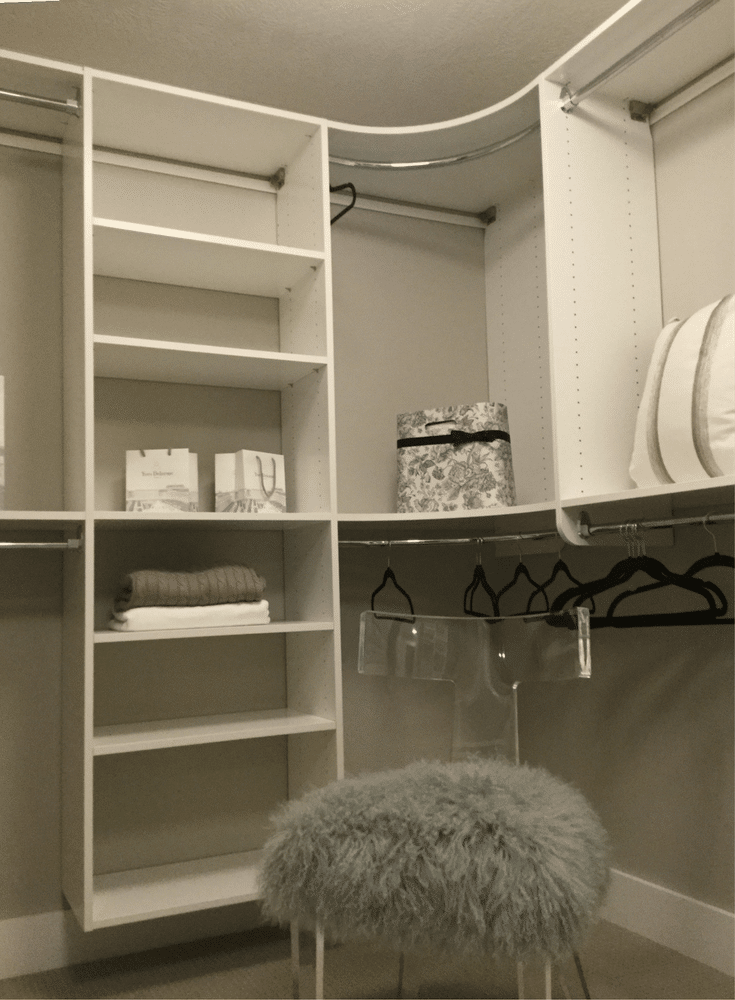 It not only looks sleek, but adds function. Another smart way to get more out of the depth of closet corners is to use deeper angled shelves like the ones shown below.
'Angled corner shelves are a smart way to max space in a custom #closet.'
Click To Tweet
Smart home organization idea #2 – Let there be light – even in a pantry storage room
As a 57-year-old guy (boy – that makes me sound older than I feel) great eyesight would not be my forte. That is the reason lighting (and especially natural light) is a welcome addition to any storage space for me. This is why I LOVED the pantry room transom window in the home by Ambassador Homes. It is positioned high enough to not block the storage, but it makes the space feel open, clean and bright.
This will make it simple to find the spaghetti sauce and olive oil on our pantry shelving (in my Italian household if you run out of these staples it qualifies as an emergency!
Smart home organization idea #3 – Add more design thought per square inch to make your laundry room simpler to work in
A builder I respect in Columbus – Mark Braunsdorf of Compass Homes – has a company motto which is "more thought per square foot." In my opinion, when it comes to home storage spaces (pantries, closets, laundry rooms or entryways) – what is required is more thought per square inch. How can your rooms be designed to make them simpler to use? How can you use every inch to your advantage?
Thoughtful design sometimes doesn't scream out when you take a quick walk through Parade Homes. It does become (brutally) apparent when you live in the home and it either works well, or not, for you. For example – would doing laundry be simpler if the hinges on your washer and dryer were on the opposite sides so it's easy to move stuff between the 2 machines? Would front loaded machines help you add a convenient laundry room counter which could double as a folding station? Thoughtful design lives well. A good example of this is in the Parade home from Manor Homes.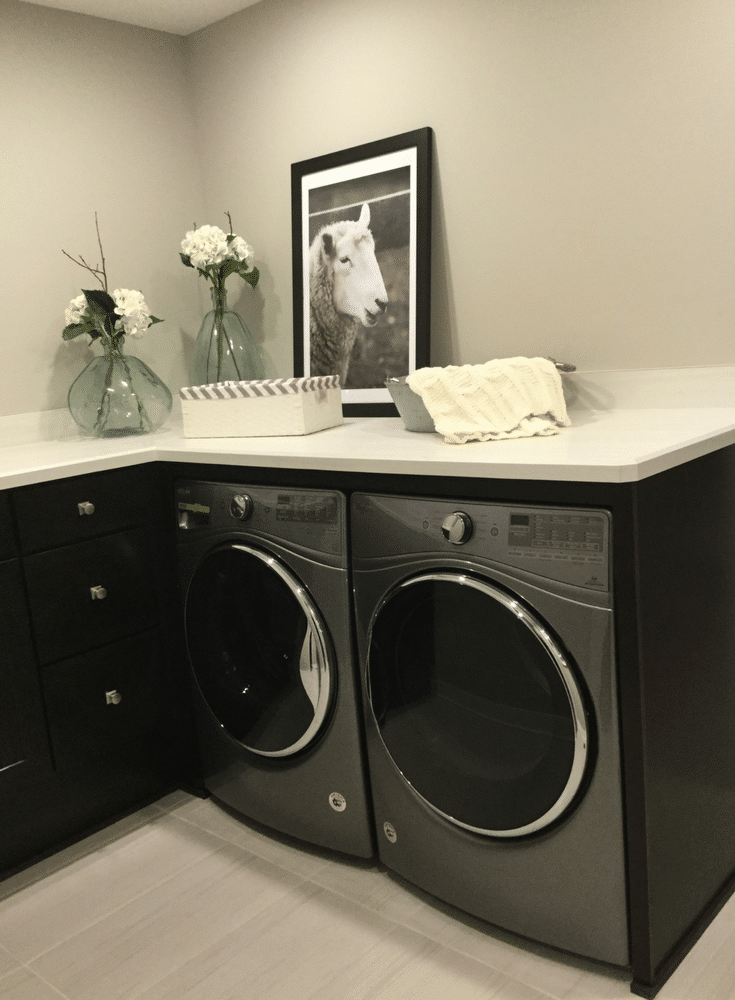 Smart home organization idea #4 – It's the little custom closet details which make for better day to day living
Have you ever thought about the effectiveness of your bedroom dresser or walk in closet drawers? If you're currently storing your socks or pantyhose in a 12" deep drawer you know finding the right pair is like funneling through Styrofoam peanuts in a shipping box. You are digging and digging to come up with the right pair. Conversely, drawers which are too shallow are a pain to open if you try to stuff your favorite bulky sweater into a 5" high drawer. The key to successful closet storage drawer design is to have the right mix for your things. That's why I like the his and hers closet in the home by Maple Craft Custom Homes. With varying drawer heights, you'll have the right depth for your jewelry or socks (usually the 5" shallow drawer at the top), your t-shirts and yoga pants (usually 8" mid-sized drawers in the middle) and your bulky OSU sweatshirts or sweaters (the 12" one at the bottom).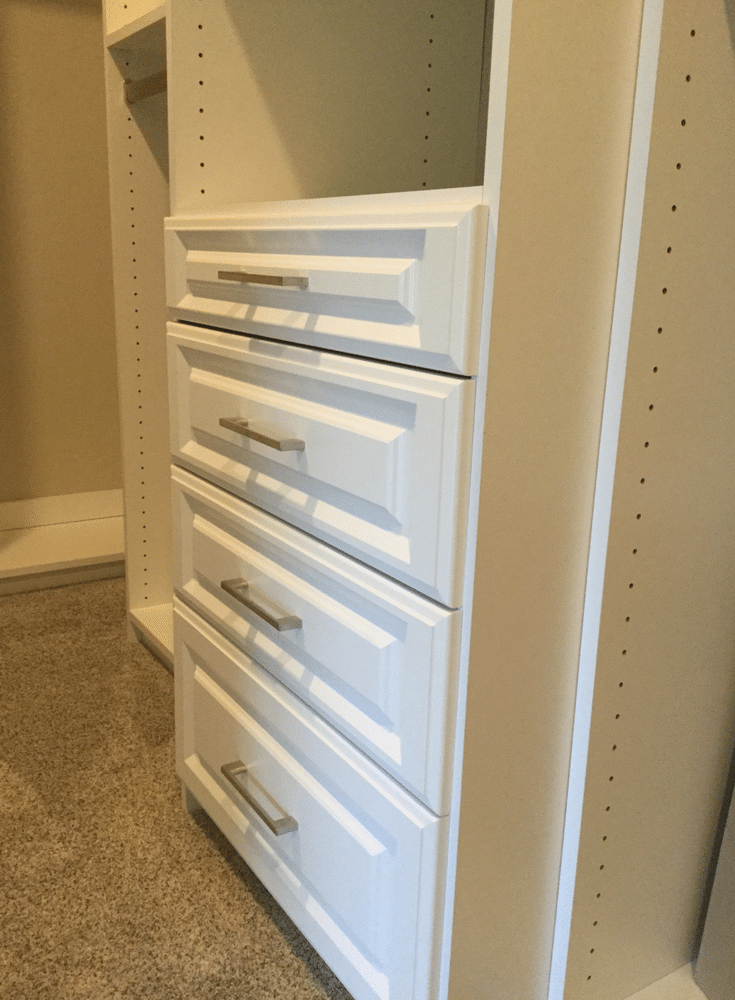 Smart home organization idea #5 – An entryway which can improve family communications (and doesn't involve texting)
When people think about an entryway they envision it as a drop zone for book bags, muddy boots and grocery bags. The question is can an entryway also be a communications hub for your family? When you think about it, everyone in your family is using the entryway daily (only company uses the front door). How about a chalkboard feature, like this one is the entryway by Fischer Homes, to write up your "to do" list, or "did you remember" or an inspirational message for the day?
Smart home organization idea #6 – This product isn't as fun as the electric slide, but these slides get you through nightly meal prep quicker
Fixed shelves in the pantry are a pain in the butt. What stuff is lurking in the back of these immovable shelves anyway? Sliding baskets (whether they are in a pantry, laundry room or closet) allow you to see what you have because the basket comes to you. You don't have to bend over trying to figure out what's buried deep within. Any aspiring home chef (or crazy-busy Mom or Dad getting through the grind of putting a some-what decent meal on the table every night) will appreciate the convenience of sliding baskets like this one in Westport Homes parade entry.
Smart home organization idea #7 – Keep your home office close, and your storage spaces closer
In this crazy, hectic world a well-designed home makes life simpler (which is sorely needed). Since the kitchen (and food of course) are the epicenter of family life, a home plan which recognizes this will work well in everyday life. That's why I love the first-floor layout in Fischer Homes Parade house.
This home provides continuity, and a connection, between key workspaces (like the family home office) and primary storage rooms (the entryway and pantry). They are connected like spokes off the hub (the hub being the kitchen). This seamless visual connection is made complete using popular Shaker style cabinetry in all the rooms.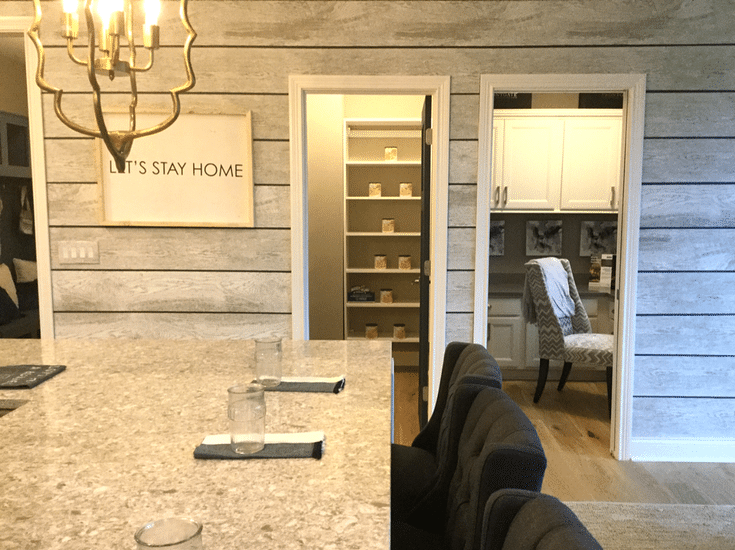 Conclusion
After looking at these 7 home organization ideas would you rather live in the home you grew up in as a kid, or one of these modern Parade designs? For me I'd like to have the best of both worlds – choosing the modern home designs for my storage – but also being able to go back to the simple "good-old-days" and crank up another whiffle ball game with my friends Tony and Tommy in the old neighborhood.
Can I (or a member of my team) help you more?
If your existing home storage spaces (closet, pantry, entryway, laundry room or garage) aren't working for you we'd love to help. Call us in Columbus at 614-545-6888 or Cleveland 216-658-1290 to get a Free 3D design or advice on your project. We look forward to assisting you.
###
For more home storage information follow me on Twitter @Mike_Foti or our companies' @InnovateBuild and @InnovateHomeOrg.
---
Tags: Ambassador Homes, bedroom closet storage, BIA Parade, closet storage, Columbus BIA Parade, Columbus closet, Columbus closet storage, Columbus custom closet, Columbus home storage, Columbus laundry room, Columbus pantry, Columbus pantry shelving, Columbus pantry storage, Compass Homes, home organization, home organization ideas, home organizer, home storage, home storage ideas, home storage solutions, laundry room, laundry room storage, Manor Homes, Maple Craft Custom Homes, pantry shelving, pantry storage, Parade of Homes, Tony Rizzo, Tony Rizzo sportscaster, Westport Homes