Should Closets Be An Afterthought In New Custom Homes?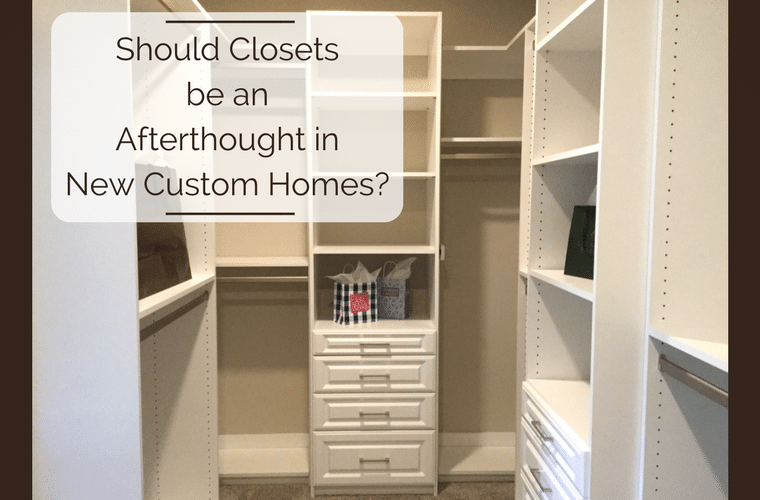 Every year I attend the Columbus Parade of Homes where builders and designers show off the latest new products and interior design trends. What continues to blow me away is how I see $700,000 to over $1 million-dollar homes using cheap wire, or un-adjustable white painted pressed wood closet 'systems' (I use this in quotation marks because they're not much of a system).
As an owner of a closet company (no – I'm not Jay with Pritchett's Closets and Blinds of Modern Family fame though) and closet designer, I know these bad-looking (and eventually bad performing) closets are simply inexpensive storage afterthoughts. They will do an adequate job (at best) for the people who buy these Parade homes.
As a custom closet designer, it kills me to see these bad designs which IMHO are cheap imitations of an efficient system. I know I'm biased. I love cool and efficient closets. Anything less is hard to stomach. I also know the following:
It doesn't matter what I think!
It doesn't matter what your builder or interior designer thinks!
It only matters what you, as a new homeowner, think!
No matter what upgrades you choose for your new home (or a remodeled one for that matter), you will only spend money on it if it you love it (or need it) enough to fork over the bucks (no – that's not an Ohio State reference).
In this article my goal is to give you the points – and counterpoints – to decide if you should (or shouldn't) use custom closets in your new home. After reading this article, I'd love to see 'what side of the fence' in this debate you're on. Should you:
Work with your builder and invest money in a custom closet system before you take possession of the home.
Get a credit from your builder and install the custom closets immediately after they've turned the keys over to you.
Install custom closets down the road (after the dusts settles – literally) and your wallet isn't drained.
No put in custom closets at all.
Let's first dig into 4 reasons custom closets should be an afterthought in a new home build.
4 Reasons a Custom Closet Should be An Afterthought in a New Home Build
Reason #1 – Nobody sees the closets
The good thing about a messy, clutter closet is you can shut the door. Nobody (friends, neighbors or family) can witness the disaster which is your closet… unless they are bold enough to peek into what's lurking behind these doors. If your shoes are a jumbled mess on the floor – 'fuggitaboutit." If your clothes are packed in like clowns in a Volkswagen – 'fuggitaboutit."
Reason #2 – You don't wear 80% of the stuff in your closet anyway. Pare waaaaayyy back.
According to research by the Wall Street Journal you and I don't wear 80% of the clothes in our closet. We fall victim to the SNT (Shiny New Thing) syndrome when shopping. It looked SOOO good on the hanger– why doesn't it look good on you once you tried it on at home? Or you can't bear to admit 'defeat' if something is 2 sizes too big. Then you hold onto it – 'a-hopin' and a-wishin' it will fit you soon. Do you know what I mean?
Five years ago, I was tired of the clutter my closet accumulated. I filled 7 garbage bags and donated everything I wasn't using. Today – amazingly – I don't miss a thing. I can find what I'm looking for.
If the fear of decluttering makes you want to break out in hives or gives you a sudden case of FOMO (Fear of Missing Out), bring in a professional organizer. They will give you the discipline to fill up your garbage bags too.
Maybe you don't need an efficiently organized closet system. Maybe you need a BIG dose of decluttering.
Reason #3 – You'll have to skimp somewhere. If you don't you're become a 'Raman-noodle-eating' house-poor homeowner
When you walked into the builder's model home or design center did you become a kid in a candy store? You want it ALL!
Then reality smacks you in the face. You get prices back.
You know you can't….and you shouldn't even try….to afford it all.
Since custom closets are installed at the end of the job (often after the upgrade budget is tapped out) they are frequently skipped over.
If you're wondering which amenities it's smart to skip in your new home read 7 Builder Upgrades to Skip in a New Home. The ones I thought made a lot of sense to wait on were expensive lighting fixtures, ornate cabinet hardware, countertops and paint. These are all items which are simple to replace later.
Unfortunately, the open wallet must stop somewhere should it be a closet or another upgrade?
Reason #4 – Builders mark closets up too much
Obviously, builders do need to markup amenities to pay for their overhead, some profit and can provide warranty service – if required.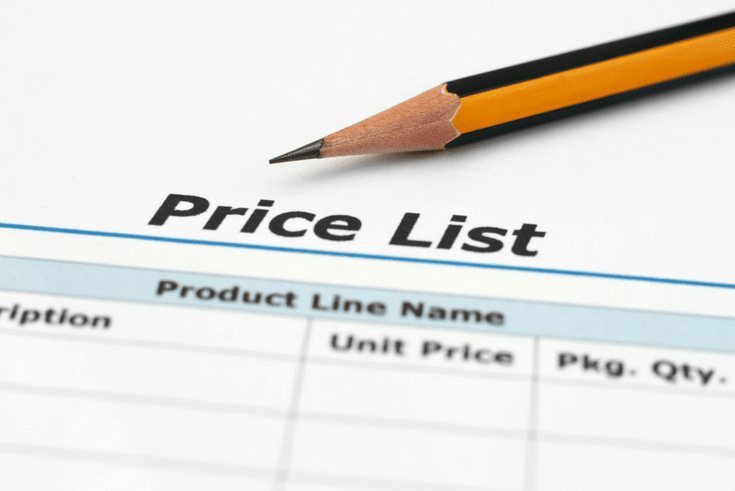 Builder markups for custom closets can vary wildly. If their pricing on closets doesn't feel fair you have 2 options.
(Option 1) Have their standard (usually) wire system installed. Replace them after you move in and competitively shop this service with local Columbus closet companies.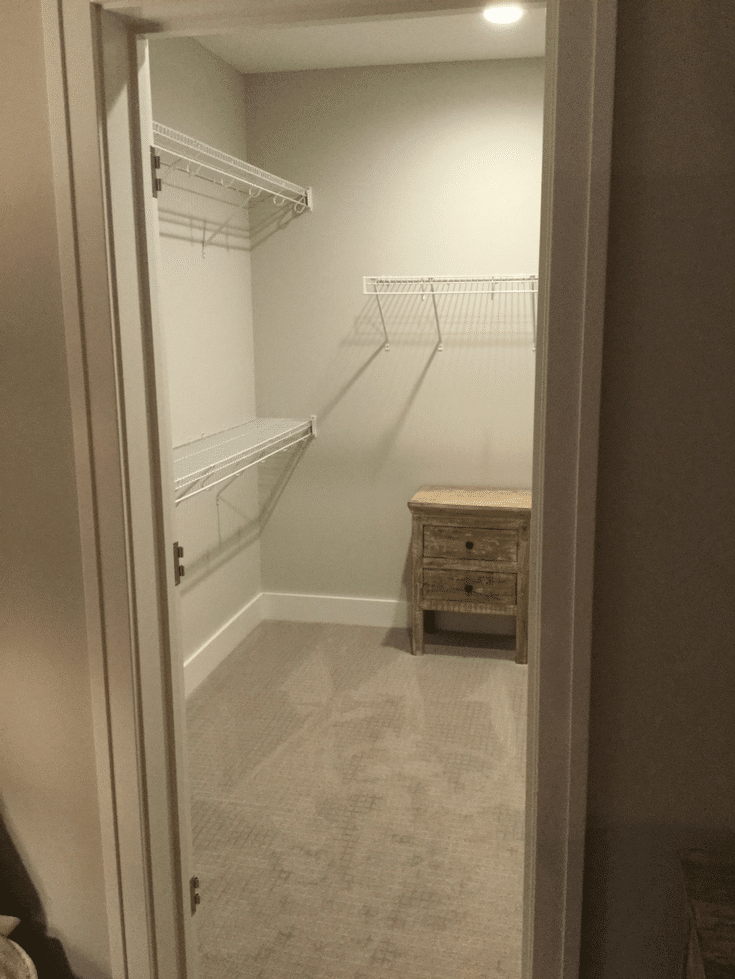 (Option 2) Get a credit from your builder for omitting their cheap closet offering. Warning, don't be surprised when it amounts to ALMOST NOTHING. Then get prices directly from local closet designers. Install your closets immediately after you get the keys to the house.
5 Reasons a Custom Closet Shouldn't be An Afterthought in a New Home Build
Yes – I know I've got 5 reasons a custom closet shouldn't be an afterthought and only 4 reasons it should be an afterthought. The reason for this is because I'm biased. After all I am an owner of a closet company. Here's my top 5 reasons to get the custom closets during the building process.
Reason #1 – You use your closets multiple times a day
Look at the rooms you're building in your new home. Some will be used infrequently. Do formal dining rooms, formal living rooms, dens, basements and sun rooms come to mind?
With bedroom closets you're using them a minimum of 2 times a day. With a pantry closet your family is routing around in there all hours of the day.
If you want a home which 'lives well,' invest money where your usage is. If you look at frequency of use, closets will be a smart investment on your home upgrade shopping list.
Reason #2 – You lack time
Do you hate wasting time in search of lost things (where is that remote this time)? According to a study from US News and World Report we lose 1 year of our lives looking for lost things. Finding clothes and shoes in a messy closet is one time-sucking activity. Finding cans in the back of dusty pantry shelves is also pain.
While an organized closet system won't make your organized, they can (and do) help to provide structure and adjustability which will allows a space to work for you. If wasting time is something you can ill afford, an efficient closet system is a smart upgrade.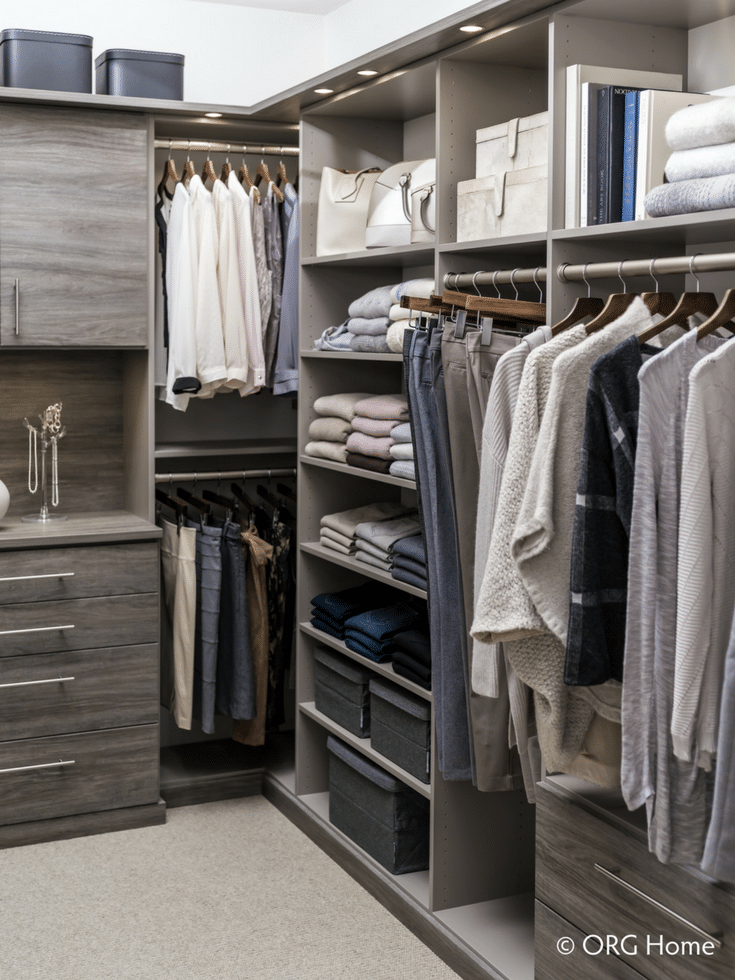 Reason #3 – You can see what you have
A cheap builders-grade closet with a single pole and shelf will force you (unless you've won the 2017 Ms. Minimalist Award – if there is such a thing) to squeeze things in. When you have the 'closet squeeze' on, it near impossible to know what you have – causing you to buy duplicates. For example, in your pantry have you ever figured out why you have 5 cans of tomato sauce (and 3 are expired) because you can't see what's in the back? Have you bought the exact same blouse or shirt, not realizing you already had one?
An efficient bedroom closet with double hanging space, drawers and a shelving designated for shoes will have your things organized and visible.
An efficient pantry with slide out scoop drawers will prevent you from wasting precious tomato sauce (as an Italian, I'll tell you that's a cardinal sin!).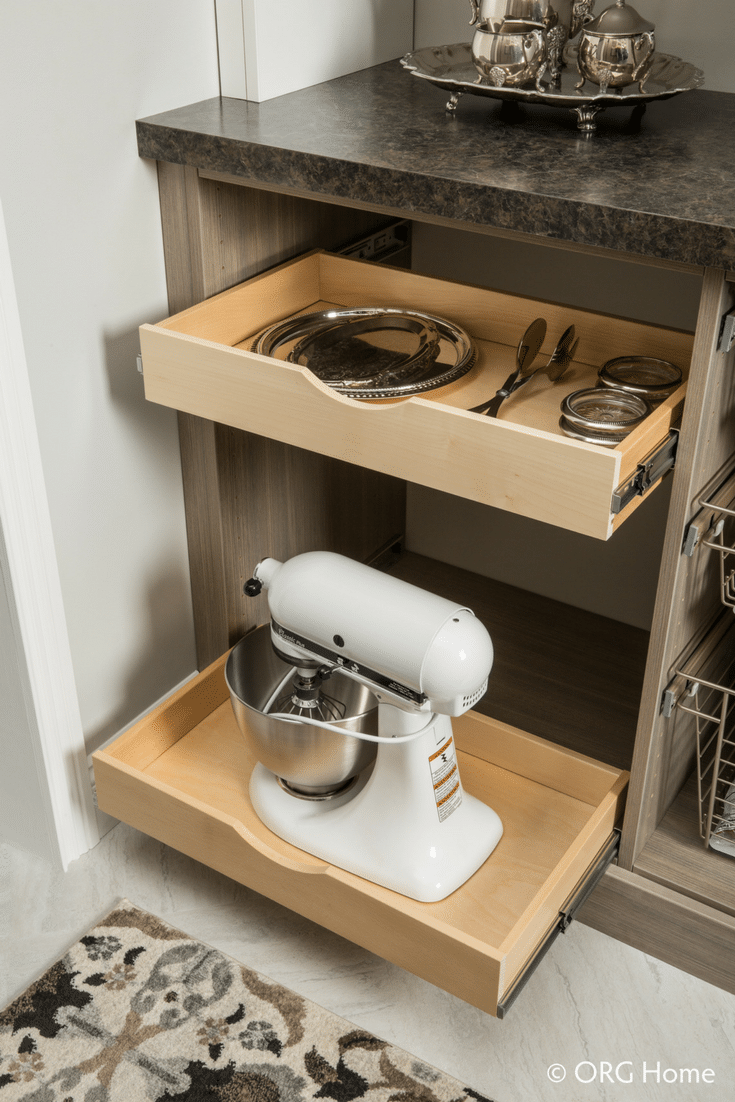 Reason #4 – Visual clutter makes you nervous
Your home shouldn't be a place which adds stress. Your home should relax you, de-stress you. (note: it's for this reason, I'm going to conveniently omit the stress caused by raising kids, aging parents, pets who get sick and nosy neighbors – all people and beings you can't control).
A closet, unlike the people mentioned above, is something you can control IF you have a system which makes a visually uncluttered space possible. You can add drawers and gain more storage (drawers can fit 2x the number of things than hanging space). You can put in double or even triple hanging (which works well if you have short skirts and/or scarf collections) spaces and get more in the same cubic square footage. A closet is one area where you CAN reduce anxiety (with kids, parents and neighbors…. not so much).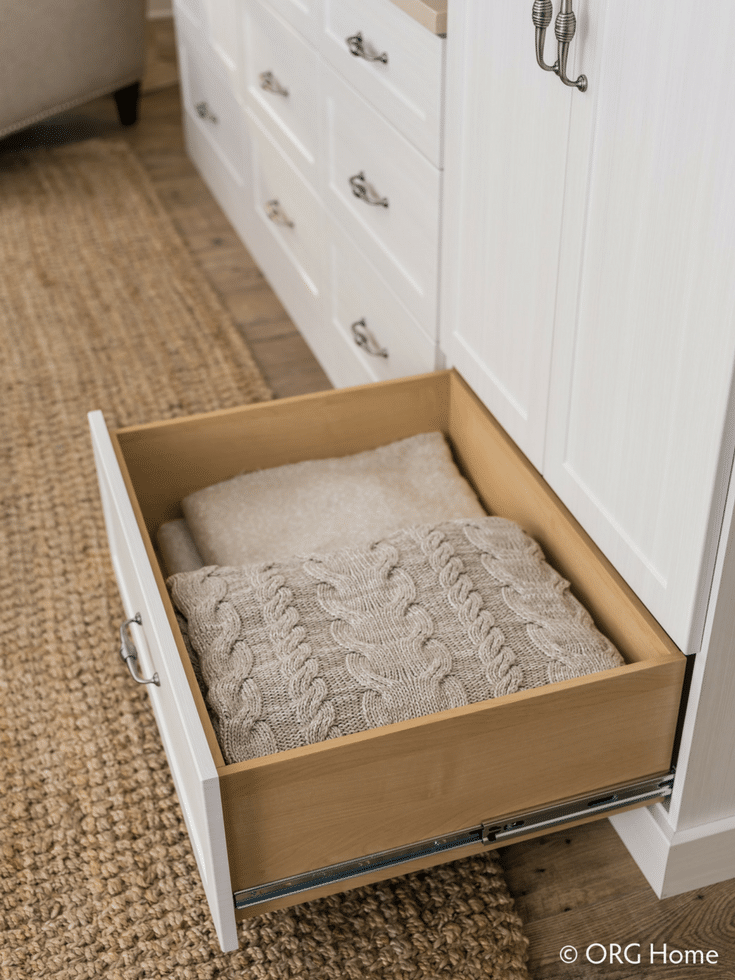 Reason #5 – What was the big reason you wanted to move in the first place? Often its for larger and more efficient storage
Maybe you're a 'move-up' buyer (as the home building industry likes to call you). As you've had more kids, your current home has become as overstuffed as a stuffed animal at Build a Bear. According to the popular real estate web site – Zillow.com more (and better) closets are the second most requested upgrade in a new home.
On the other hand, if you're an empty nester you're finally looking to pull a 'Burger King" and have it your way. You've worked hard for years. You've raised (and at times are still raising) your kids and sacrificed for them. Now you can move yourself up on the list and get the closet of your dreams.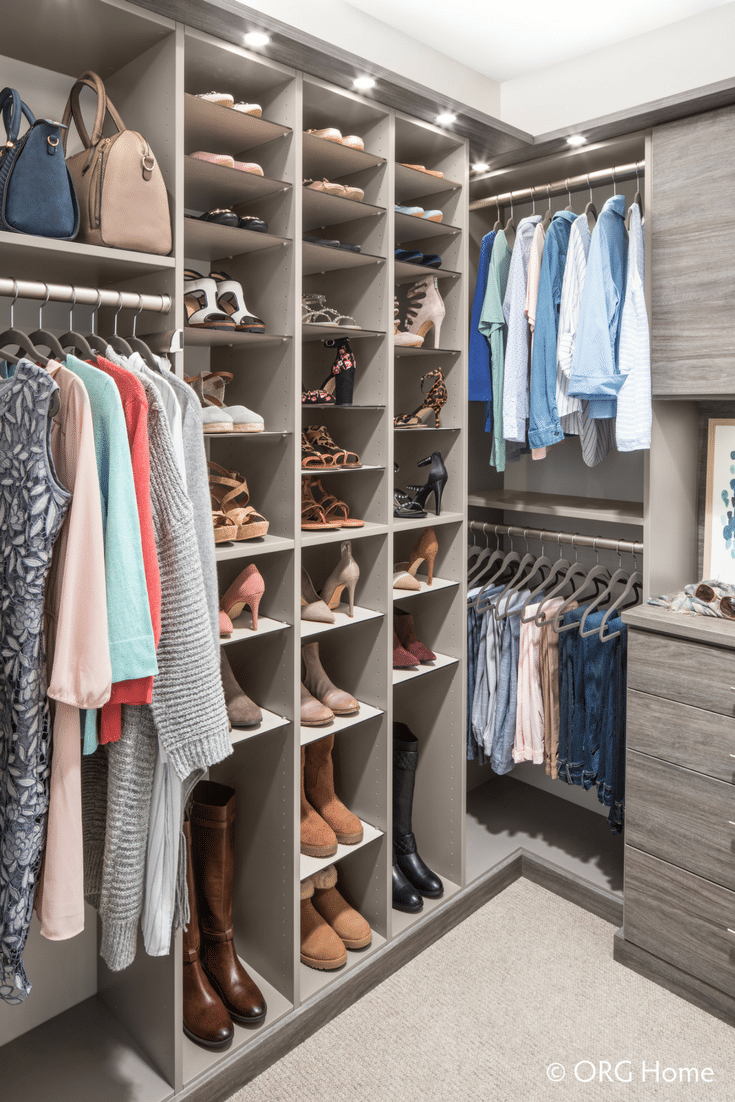 Conclusion
What is boils down to is nobody (note your builder, not your interior designer or me) can tell you if you should or shouldn't invest in a custom closet system in your new home (or add this feature later, or not at all). What I can tell you it comes down to your priorities, your budget, and what matters to you.
If you think a custom closet is something you'd like to explore for your new Central Ohio home, me and my team would love to help you with a free 3D closet design. Call us on the numbers.
If you'd like to weigh in on the debate on whether you should or shouldn't add a custom closet give us a call or enter your thoughts below. I'm looking forward to hearing from you.
How can I (or a member of my team) help you?
If you'd like assistance or custom closet design pricing in Columbus or Cleveland Ohio call Innovate Home Org at 614-545-6888 or 216-658-1290.
###
Follow me on Twitter @Mike_Foti or our companies' @InnovateBuild and @InnovateHomeOrg for more insight on closet designs and remodeling (with a few bad puns thrown in along the way).
---
Tags: closet organizer, closet organizer Columbus, closet upgrade, Columbus custom homes, Columbus home upgrades, Columbus homes, custom closet, custom closet Columbus, dream closet, home upgrades, new home Columbus, new home upgrades