The Pros and Cons of a Murphy Wall Bed vs. a Sleeper Sofa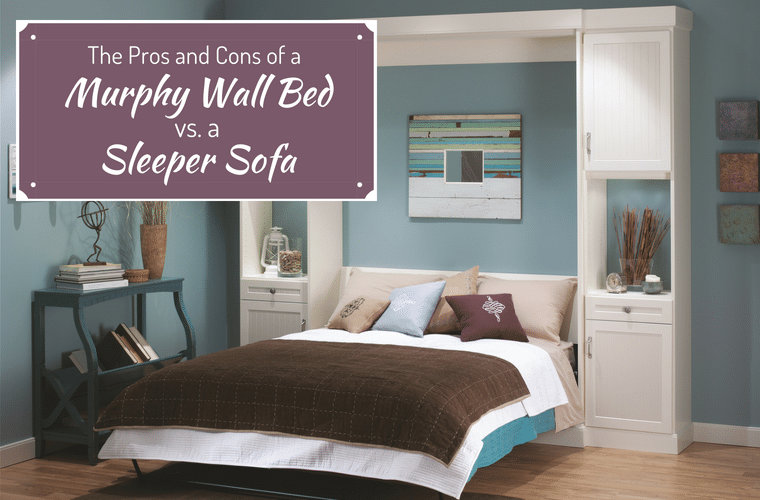 With today's ever-increasing home prices, you need to squeeze out as much function with every square foot of space you have. Perhaps you're looking to add a home office, a hobby room, art studio or place to stay fit and do yoga. If so, are you wondering how in the world you'll have space for your kids and grandkids to sleep and get the new space you need? The question is where can you 'find' this room if your current home (or future home) is already too crowded?
Should you carve out space in the living room? Maybe get rid of your spare bedroom, or alter it in some way to have room for the bed and your home office? Will you have to resort to 'finding' space in your basement (ouch who wants to be in that NASTY, bug infested mess)? If so, how will you do it?
One solution many people use to increase useable space for sleeping and another use (like a home office, exercise or hobby room) is to use sleeper sofas or Murphy wall beds. The question becomes which one would be best for you? In addition, what are the pros and cons of these 2 different products which help gain space, and provide a place for people to sleep?
In this article, I'll first give examples of two types of people who the largest users of sleeper sofas and Murphy wall beds. Second, I'll show you the pros and cons of sleeper sofas and Murphy beds, so you can make the best choice for you.

User #1 of a Murphy bed or sleeper sofa– You're a new empty nester who is looking to dump your 2-story suburban home for a loft in the city or smaller ranch
So, you're a 'freshly minted' empty nester. Did you ever think you'd be old enough to say that? It's impressive and depressing at the same time! Maybe you're kicking around moving to a trendy smaller uber-chic loft space in downtown Columbus or a tiny ranch home in the burbs. As you're figuring out whether this move makes sense you're asking yourself:
How the heck am I going to fit all our stuff in this new space?
Where will I have room to FINALLY spend time doing my hobbies?
Where will we find the room for the kids (and most importantly, grandkids) to sleep over?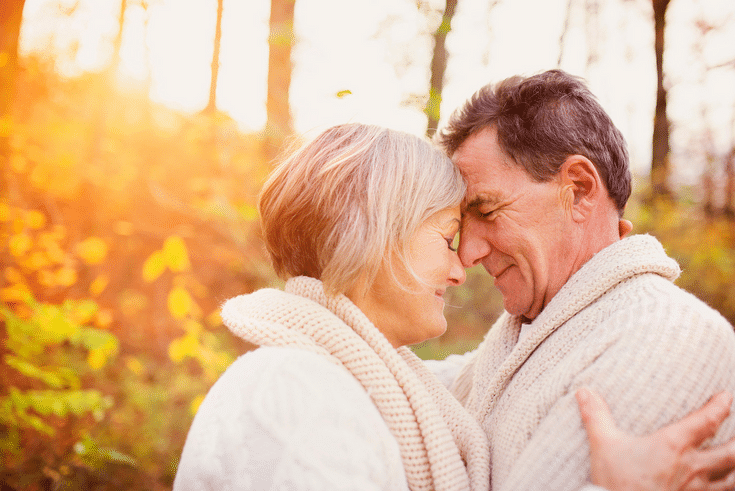 One thing you know for sure a downtown loft or tiny ranch is waaaaay smaller than your 4-bedroom Dublin suburban home with basement and garage space galore. Would one answer be to use a 'multi-purpose' piece of furniture like a sleeper sofa, or Murphy wall bed to get more function out of less space?
User #2 of a Murphy bed or sleeper sofa – You've got a growing family. You're already squeezed for space. You need to 'find' more room without moving.
You and your spouse want no part of the expense and hassle of moving. Your kids have tons of friends in your current neighborhood. You love the school systems (minus a couple of wacky administrators and teachers). Over-spending in the much-too-heated housing market is NOT be in your immediate future.
Your home is already busting at the seams with too-much stuff. Your 15-year-old daughter always NEEDS the latest cut-off jeans or fashionable boots. Nobody seems to throw anything away. You see space challenges on the horizon. Here's some reasons for those challenges:
Your job is going to a telecommuter (work at home) model and you need to add a home office. Where can you find room for a home office? How can you still have a place for everyone to sleep (although it wouldn't be that bad if your 11-year-old son who doesn't shower often enough goes out to the garage – OK, maybe that's cruel)?
You want to create an exercise room. You want a place inviting enough to stay disciplined to your exercise routine and lose a dress size of two. You could get rid of some junk and use the basement, but that place is SO NASTY. Could you repurpose your spare room or kid's bedroom and make a nice place for yoga or exercise?
You want to create a hobby room to share time with the kids and sell your wares on Etsy. Where can you find the space?
You begin thinking maybe a 'slash' multi-purpose room will allow you to have enough beds for everyone, yet room for a home office, art or yoga studio or hobby room. But which product would be better to make this happen, the sofa bed or the wall bed?
So, let's look at when you should choose a Murphy wall bed and when to choose a sleeper sofa.
6 Reasons to Choose a Murphy Wall Bed over a Sleeper Sofa
Reason #1 – A Murphy bed takes up less space
Since Murphy beds are tucked into a frame (which is only 16" to 19" deep) and connected to the wall, it takes up much less space than a sofa. A sofa bed is placed into the room and is 24" deep, and wider because of the arm rests on the side of the couch.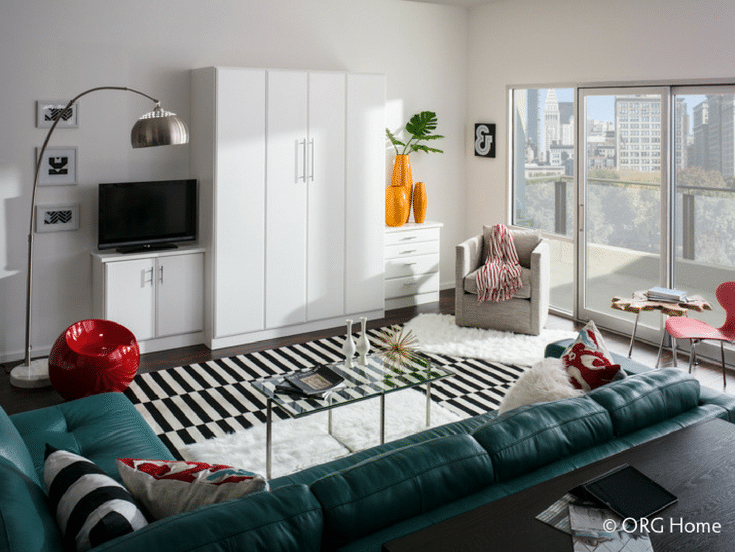 Reason #2 – Murphy beds have thicker mattresses and are practical for every day sleeping (or having guest who won't wake up sore)
If you're looking to repurpose a spare guest bedroom which will mostly be used as your home office, but don't want an uncomfortable bed, the Murphy wall bed wins hands-down. The front cabinet face of the Murphy bed serves as a platform (think of it like your box spring). In addition, the Murphy beds use 10" to 11" thick mattresses.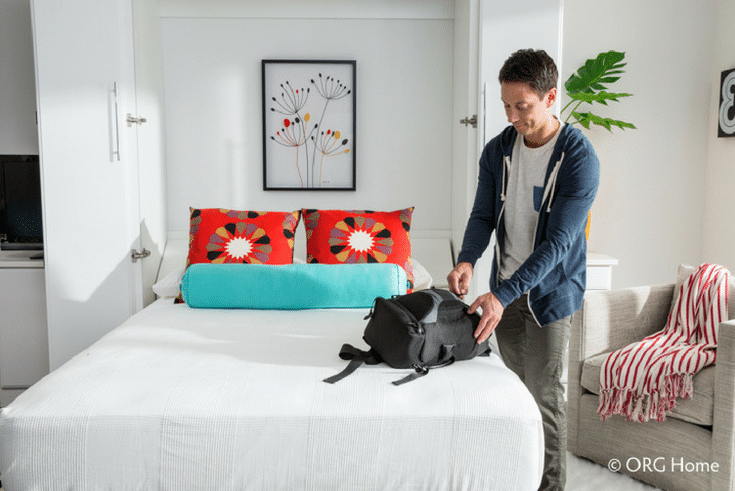 On the other hand, most sleeper sofas use 4" to 5" thick mattresses (they need to be thin, so they can be folded over into the bed frame) with a metal support structure underneath. Yes – they're OK to sleep in, but if you're a light sleeper it's going to be a long night for you (and there is nothing so pleasant as a crabby person with a bad night's sleep).
Reason #3 – A Murphy bed can also be a home office workspace
Sofa beds are just that. They are a sofa you can sleep on (wow – amazing insights, huh?). That's all they can be. They cannot also be a desk for a home office.

On the other, if you're looking to create a home office in a spare room you may not be aware that Murphy beds can have a desk built right into them. If you want a larger bed (for couples) consider a Queen-sized desk bed like the one shown below. If you want to add a flexible sleeping space in a kid's bedroom this tilt down Murphy bed and desk with a twin mattress will do the trick.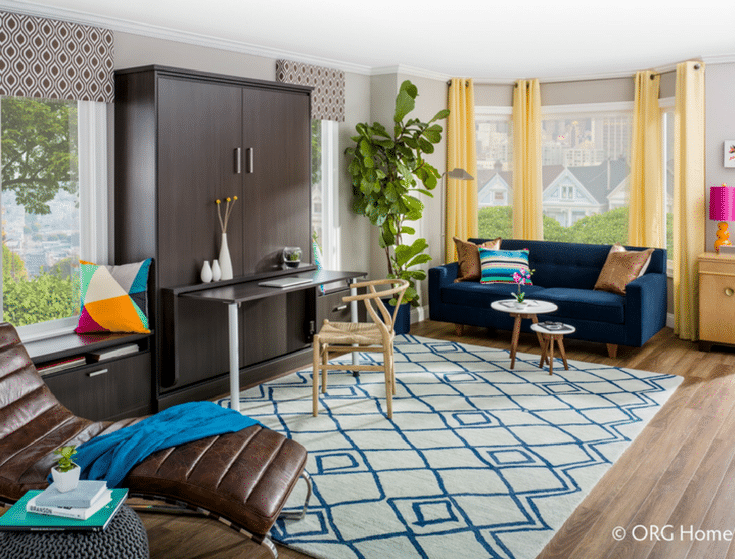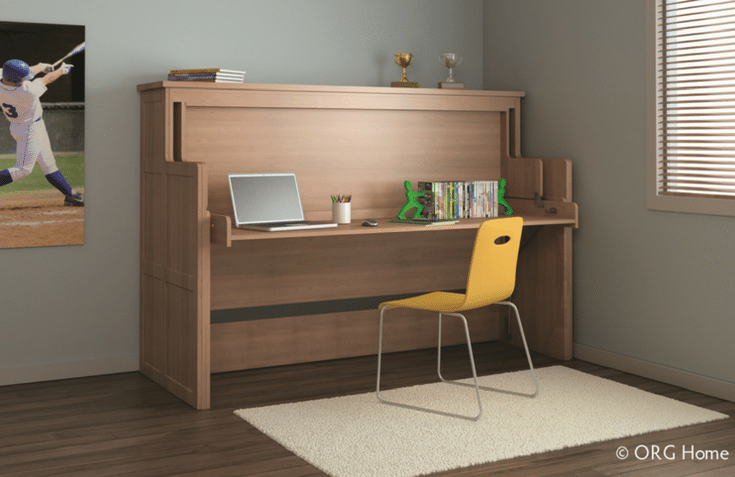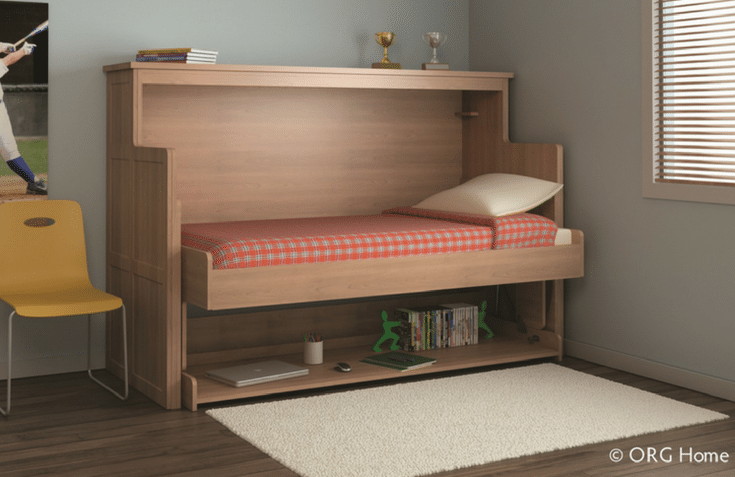 Did you ever think a desk could also be a bed, other than in your boring Math class in Junior High?
Reason #4 – You don't have to worry about where to 'store those big cushions' or re-fix the bed each time with a Murphy bed
When you set up a sleeper sofa in your living room or spare room it's a big production.
Take off the cushions.
Figure out where to put the cushions (most times they are just thrown haphazardly around the room).
Put on new sheets and a comforter.
It's time-consuming and the room is blown apart when a guest is staying over.
With a wall bed this problem is eliminated. You simply do the following:
Pull the wall bed down by the handles.
Pull off the strap holding the bedding (which stays in place all the time) and use the bed.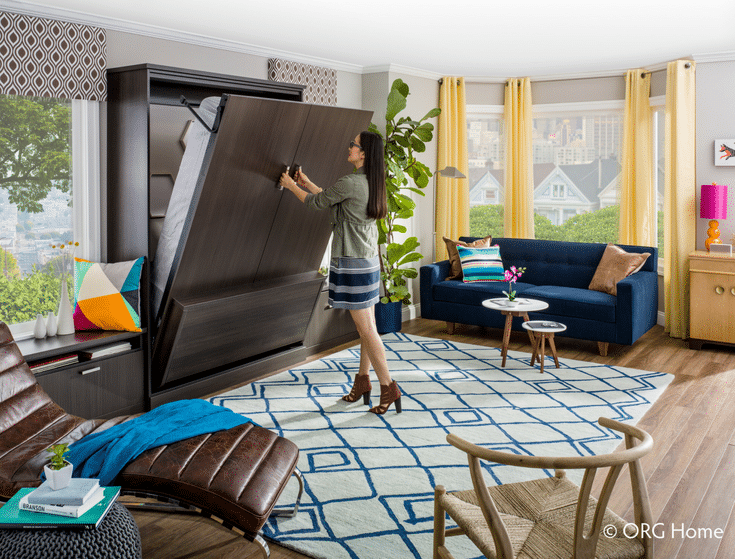 What's also cool is when you're folding the bed up you can store your pillows in a wooden area in the back of the framed unit (also called a pillow box) to keep them stowed away for the next use.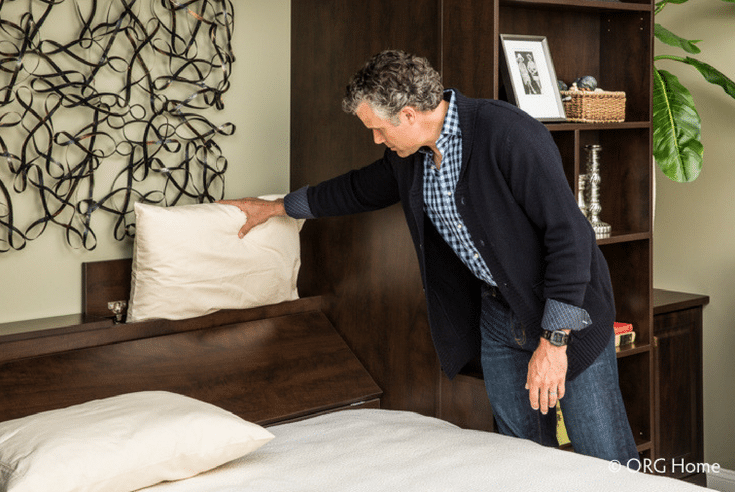 Reason #5 – You can build a storage system around the Murphy bed
If you're using the room as a home office, you may need filing cabinets and drawers on the sides of your bed. With a Murphy bed system, you can get cabinetry which seamlessly coordinates with the bed.
If you're using this room as a spare room and yoga studio you can add a wardrobe closet on the side of the bed. Then you can store away your work out gear and have hanging rods for your friends or family's garment bags.
If you're using this room for crafts install cubbies for your supplies to keep things organized.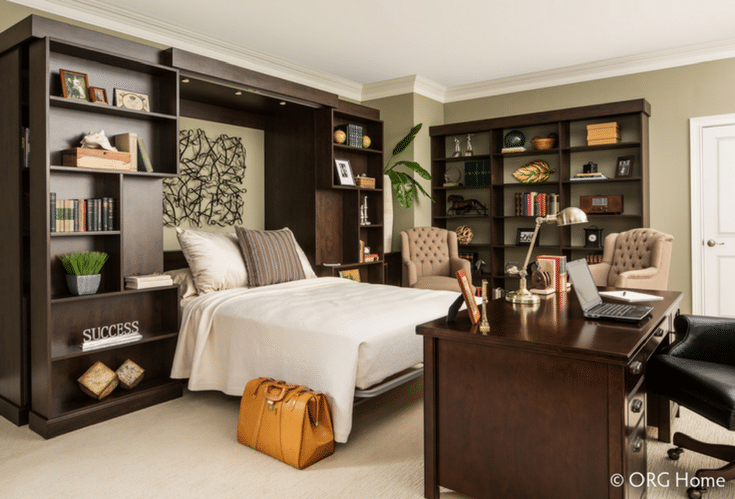 Reason #6 – You can add lighting into the Murphy wall bed system
If your spare room or living room is darker than you'd like, install LED lighting inside the Murphy bed framing or top shelf. It can make is easier to read in bed or just add relaxed mood lighting to the room.
3 Reasons to Choose a Sleeper Sofa over a Murphy Wall Bed
Reason #1 – You need more seating
If you're looking for additional sleeping space in a studio apartment or loft living room, but also seating, a sleeper sofa is the way to go. Yes – it's true you can get a Murphy bed with a sofa function also – but they will be more expensive than the traditional sleeper sofa. In addition, there's a wider selection of sleeper sofas to choose from.
Reason #2 – You want the lowest cost alternative a sleeper sofa will be cheaper than a Murphy bed
You can find cheap sleeper sofas for as little as $400 and more expensive ones up to $2,000. Since they use a mattress which is ½ the depth of the Murphy bed mattresses, and don't incorporate as strong a frame underneath, they are less expensive. While the Murphy bed will be easier to operate and provide a better sleeping experience – it will cost about two times more than a sleeper sofa.
Reason #3 – You're in a rental unit and looking to move in a couple of years
If you're not planning on using the bed often, are in a rental apartment and planning to move soon, the sofa bed will be far superior to the Murphy bed. A sofa bed is simply delivered to your home and put into the room you want to use it in. When you move, you pick it up (or hopefully have some burly movers do it for you) and off it goes. The Murphy bed is not so easy.
A Murphy bed frame is attached to the wall. It must be removed from the wall. The holes need to be patched and wall repainted. Also depending how the structure of the bed is put together you may (or may not) be able to put all the pieces back together at your next place (especially if the system uses dowels and glue to join the framing sections).
Conclusion
If you're looking to gain space for a home office, yoga or art studio or craft room – yet still need a place to sleep, Murphy beds and sleeper sofas are both good options. However, with this being said, you'll really need to look at your needs, budget, and desire for a good night's sleep when making this decision.
After looking at the pros and cons of each system are you a fan of the Murphy wall bed or the sleeper sofa for your Columbus home? I'd love to read your comments below.
If you're looking for help (and pricing) incorporating a Murphy bed into your Columbus home – please call or email us at the numbers below.
How can I (or my team) help you with a Murphy Bed or home storage project?
###
Figuring out the right size and configuration for a Murphy Bed, wardrobe closet or home office system to go with it can be tough. I – and my team – would love to help you. If you'd like a Free 3D design and see how a wall bed can fit into your suburban home, condominium or downtown loft call Innovate Home Org in Columbus at 614-545-6888 or in Cleveland at 216-658-1290.
If you'd like more information on home organization, Murphy beds, interior design or just some wacky stories follow me on Twitter @Mike_Foti or my companies' @InnovateBuild and @InnovateHomeOrg.
---
Tags: bed for a loft, Columbus loft, Columbus murphy bed, Columbus wall bed, custom Murphy bed, custom wall bed, desk bed, desk bed Columbus, empty nester, empty nester loft, fold up bed, fold up bed Columbus, home office bed, loft bed, Murphy bed, Murphy bed Columbus, sleeper sofa, sofa bed, sofa bed Columbus, space saving bed, wall bed