How to Fit Your Big Truck or SUV in the Garage and Create More Room for Storage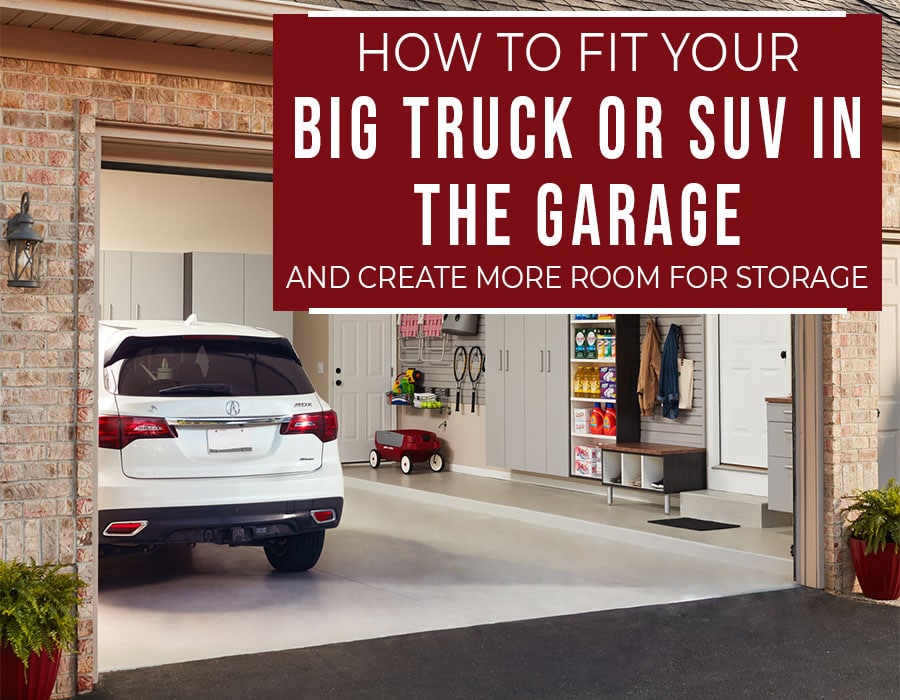 I was amazed when my grinning, petite 5'3" wife Rose hopped waaaaaay down from the Chevy Tahoe she was 'tooling around' in while her smaller SUV was in for service. She said she LOVED this big rig. So, I asked why.
Rose went on and on about how sturdy it was. She loved how she could see EVERYTHING sitting up so high. She went on about how safe she felt and even loved the vibrating seats when the rig crossed lanes and she forgot to hit the turn signal (that sounded kinky to me, but that's a subject for another day).
The interesting thing is Rose is not alone in her love for big trucks and SUV's. Here's reasons these 'big rigs' are vaulting in popularity:
Gas prices are low. I only paid $1.98 per gallon last week filling up close to my office in Columbus Ohio. And the fuel efficiency of these 'big rigs' isn't as bad as 'in the old days.'
Concerns about flying – With the scary Coronavirus pandemic putting the world on edge, the desire to fly (with – on average – 91 people packed in like sardines on a plane) is not high.
Being able to 'see' around you and haul kids and materials is so convenient – If you drive a small car today you feel like you're living in an episode of Honey I Shrunk the Kids. You can't see over anything on the road, nor fit much of anything inside. SUV's and trucks have taken over the vehicle landscape (at least in the United States). Big trucks and SUV's make you feel on top of the world and you're equipped to haul lumber or the I-Phone-toting girl's field hockey team.
Whether you like it or not, big rigs and SUV's are here to stay…and are getting bigger every year.
But here's the problem. While you're buying Ford Expeditions, Chevy Suburban's, Chevy Tahoe, Fiat-Chrysler Ram or signing up for the Tesla CyberTruck in record numbers, your existing (jam-packed) garage HAS NOT GOTTEN THE MEMO.
You're standard 20' x 20' garage is not equipped (and barely fits) your big rig. And besides that, you desperately need more storage. Here's the challenge…
How can you not only fit your long (and tall) truck or SUV, but also use your garage 'nooks and crannies' for space-effective storage as well?
This question is what this article is about. In the first part, I'll serve up ideas to improve your storage game even if your vehicle just barely fits in the garage today.
In the second part, I'll look at inexpensive (and not so inexpensive) strategies to grow the height and depth of your garage. Now, let's check out ideas to make your storage and big rig 'play nicely' in your garage.
Part I – How to gain garage storage space even when you truck, or SUV barely fits in the garage
The best thing about your garage is it's often the biggest 'room' in the house (although most people don't think about it like it's a room). It has high ceilings (often ranging from 9' to 11' tall). It's anywhere from 20' (for a standard 2 car garage) to 35' wide (for an oversized 3 car garage).
And while your vehicles eat up a significant amount of 'floor space,' there are wall and ceiling storage opportunities which are largely ignored. You need smart storage ideas to use your garage's 'volume' ('er walls and ceiling). If you're like most people, you're desperate for more storage.
Let's look at 4 ideas to gain space you may not have thought of before.
Garage storage idea #1– Use your ceiling
For low usage or seasonal items, your garage ceiling can be a storage Godsend (and if you live in a home without a basement, garage storage becomes uber-critical).
If you want to store heavy items like tires, lawn equipment or your trimmer or mower you'll need a heavy-duty mounting system.
For lighter bins and supply storage (like your 'inflation-fighting' buys from the wholesale club), lighter duty overhead storage works beautifully (note for a light duty 4' x 8' overhead garage storage bin you can store 600 lbs. of stuff!).
Garage storage idea #2– Use your side walls for weird-shaped sports equipment of all kinds
Let's face facts. Storage of sporting goods is a pain. To bring this fact home, think about these examples.
First, you 'try' driving into your garage after a long day at the office only to find an errant basketball or football in the middle of your spot? On one hand you think, "Why can't these kids pick up after themselves? On the other hand, you think, at least they're not locked in their bedroom living in a social-media-induced coma!"
Or you're experiencing the 'joys' (sarcasm intended) of parking outside because the mammoth 10' long x 24" wide kayak your spouse TOLD YOU you didn't need is eating the floor space which would have parked your SUV. Now your spouse loves to rub it in and say, "You wanted that kayak, now you got it. Now DEAL WITH the winter's ice and snow since you didn't listen to ME (with more than a little emphasis on me)!"
Here's a fact of life.
Sporting equipment comes in odd shapes. Sporting goods are a pain to store.
You've got round and oblong shaped balls (now, that sounds a bit weird, doesn't it?). Long and flimsy ski poles. Weird shaped field hockey and ice hockey sticks, not to mention your precious golf clubs.
And don't forget the big-old-kayak you haven't used any where as much as you thought but can't figure out where it can go. You know this monstrosity isn't getting stored in your living room any time soon (or EVER).
Here's the challenge. You need a place for this stuff AND for your big rig. So, here's 4 garage sporting goods storage strategies so you don't drop the ball (Ok – it's a bad pun, but I couldn't resist).
Sports storage strategy #1 – Use a 'ball stay' – Round balls like to roll, not stay put on shelves. However, here's a cool idea. This garage cabinet uses a ball stay with bungy cords to keep the balls where they belong…in the cabinet.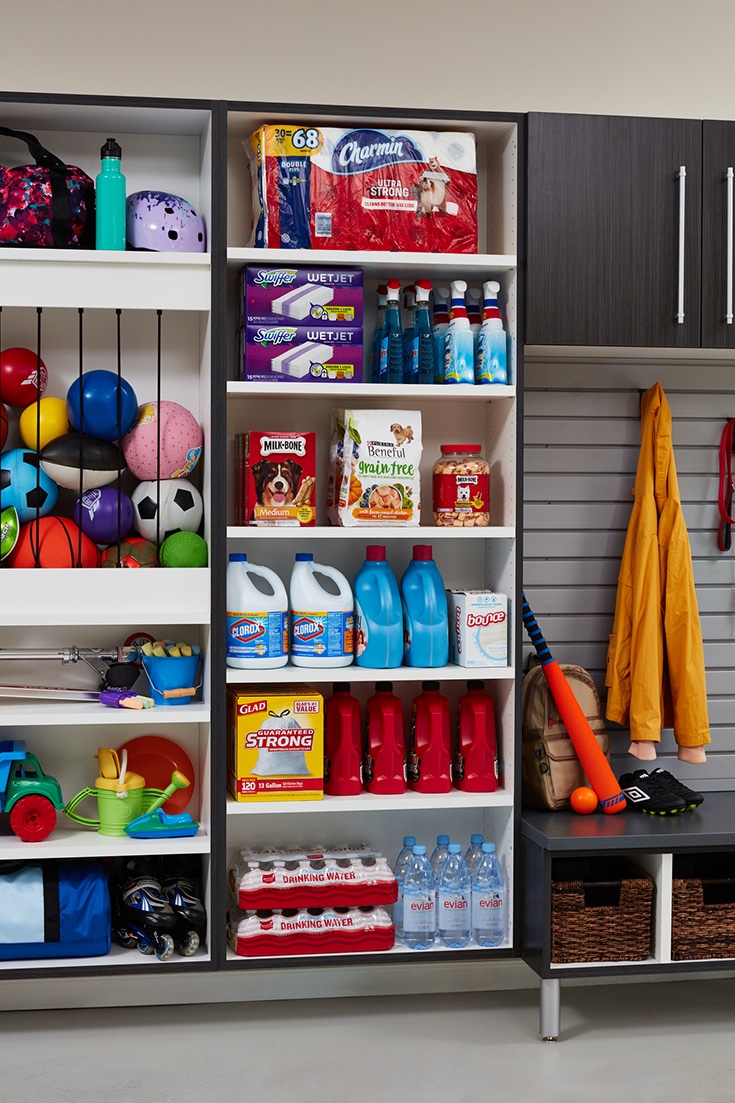 Sports storage strategy #2 – A big old mesh basket – If you've got lots of stuff this basket allows you the flexibility to heap it all in one place. Now, you just need to figure out how to discipline the kids to (actually) use it.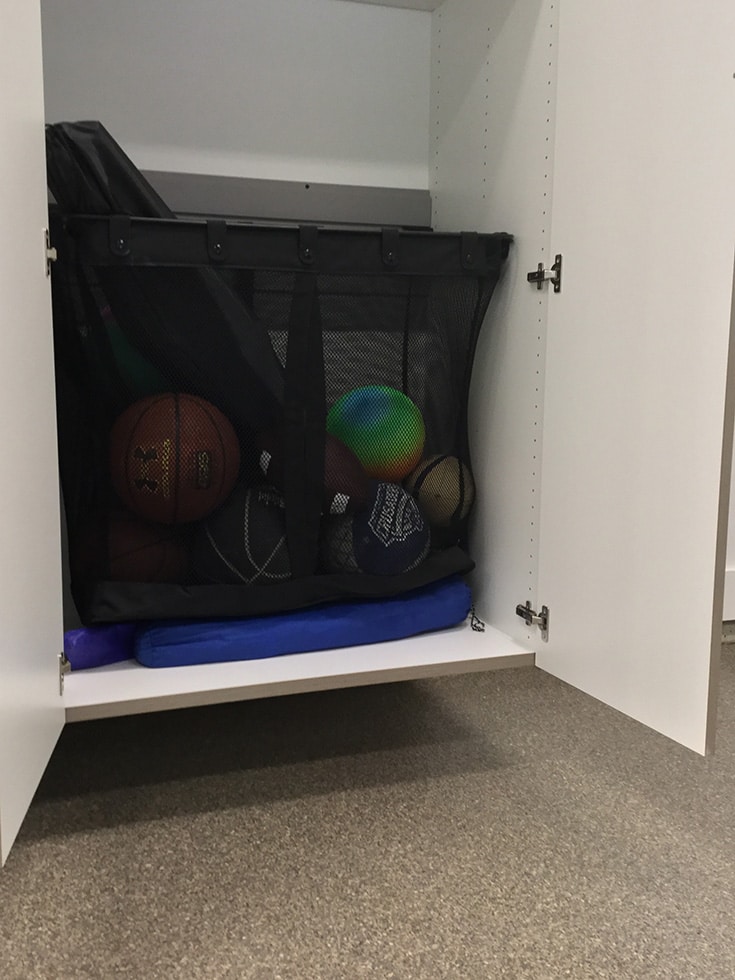 Sports storage strategy #3 – Heavy duty kayak wall storage – With this bracket you'll get that monster off the floor and out of your way. Maybe there's hope to drive your truck in after all.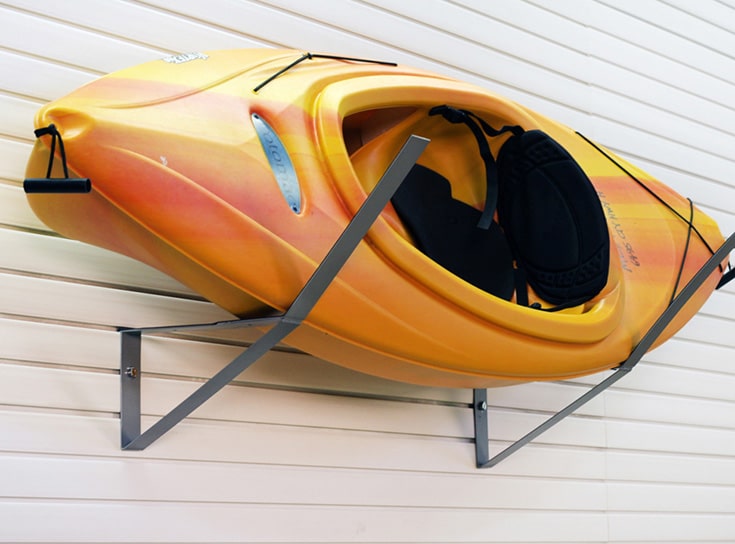 Sports storage strategy #4 – Ski pole storage – This bracket keeps your way-too-thin poles up and out of harms-way.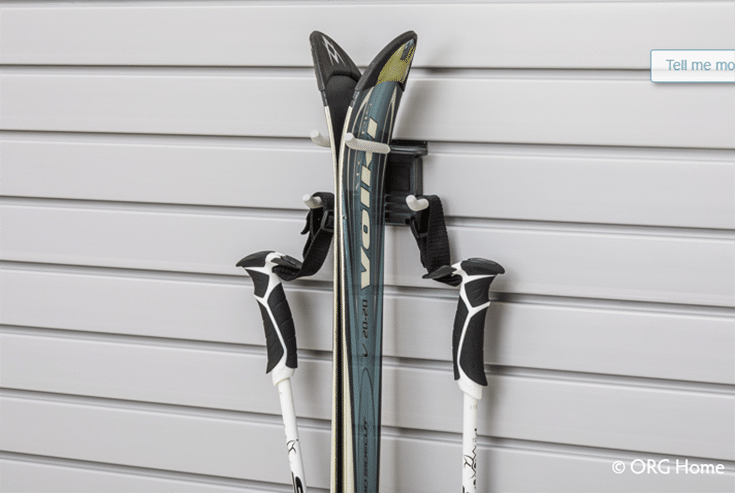 Garage storage idea #3– Use your side walls (not where you SUV or truck doors open) for tall garage cabinet storage
As you know when you have a 'super-sized' rig like a Chevy Tahoe, Ford Expedition or Fiat-Chrysler Ram it's length makes it near impossible (without an extra-long garage), to use floor based shelving or cabinet storage along your back wall. There simply isn't enough room.
So, here's the question. If you need tall shelving or tall enclosed garage cabinetry (since your spouse's OCD is DEMANDING to not see your junk!) without banging your vehicles doors into them, where the heck can you put these units?
The simple answer is to use the sides of your garage near the front or the back (not where your doors open). When you've got a tight garage, you have to be strategic to make tall cabinetry and tall garage shelving work.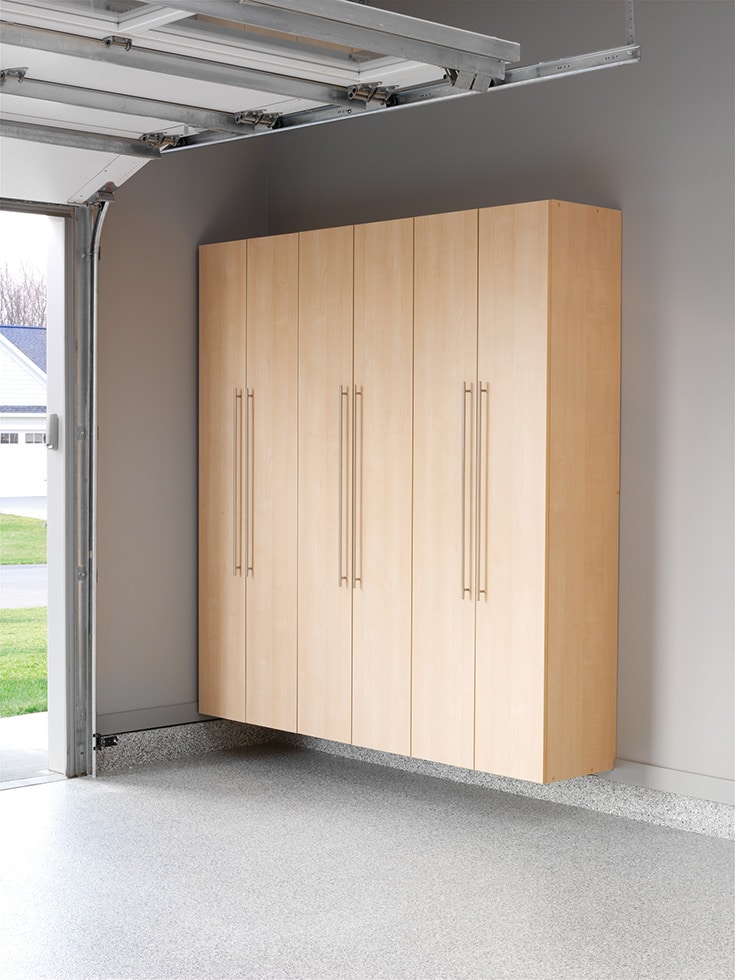 Garage storage idea #4– Look above your hood for a storage opportunity most don't see
Just because you need every inch of floor space to fit your rig in (and you're darn-near touching the back wall as it is), doesn't mean you can't store on this wall. You just need a more thoughtful solution.
Get value out of this 'wall real estate' using shallow upper garage cabinets which are 'suspended' (sorry, I hope using this word isn't causing you to break out in a sweat reliving your Junior High days) over the hood of your SUV. Don't let this space go to waste.
Now that we've looked at strategies to 'find' more storage when your truck barely fits, the next question becomes what can you do if your existing rig is flat-out too long to make it into your garage? This brings us to Part 2 with ideas to 'grow' the length and height of your garage to fit your big rig in without (hopefully) bankrupting yourself.
Part II – How to 'grow' the length and width of your garage if your SUV or truck is too big
You know – as your spouse has reminded SOOOO many times – it would have been smart to measure the garage BEFORE you bought your big rig. They say hindsight is 20/20 – and you know your 20/20 vision left long ago. So, now that's you've gotten yourself into this pickle, how can you get yourself out of it? How can you find the depth and/or the height to make your existing garage work since you don't know how to play Honey I (Temporarily) Shrunk the Truck?
Let's first look at ideas to make the height of your garage work.
How to deal with the height of your garage and fit your big truck or SUV in
If you need to gain a few inches of height, try these simple tricks first:
Remove your roof racks
Take off auxiliary lights.
Use shorter tires.
Lower your suspension.
If you're DESPERATE to get your truck or SUV in and it's still too tall then it's time to pull out the big guns. Look at the cost of reframing (and changing out) your garage doors. Look at raising the roof or lowering the floor. Sure, these aren't simple (or cheap) options, but they are options. If you don't want to suffer through a freezing cold, icicle of a truck in cold Columbus winters, you may need to shell out more than you'd like if the simple ideas don't work.
How to deal with the depth of your garage and fit your big truck or SUV in
Let's face facts, the typical 20' deep garage of yesteryear doesn't 'play well' with the mega-full-sized SUV or truck of today. This forces you to 'try' and find those few precious extra inches somewhere to get your truck to fit. However, where those inches will come from is the $10 million dollar question. Here's 3 simple fixes which may work:
Idea #1 – If your back wall isn't load bearing, consider 'bumping' into (OK, not literally) the inside of the house. Maybe there's a closet or mudroom which could become smaller and you could 'borrow' some of your inside space to get the garage length you need on the outside.
Idea #2 – Add a slightly angled ramp to 'reduce' the overall length your truck needs to angle in.
Idea #3 – Park sideways and FORCE your spouse to park outside. This is the most dangerous strategy of all. Sure, your spouse (or significant 'utter') may kill you, but at least you'll enjoy a roomy parking spot for ONE day!
If these simple ideas won't work, or you're already dead from plowing ahead with idea #3 above (and if your zoning allows) consider building an extension onto the front of your garage with a short roof. While it's won't be a cheap fix, you'll enjoy not freezing your butt off in cold, snowy Central Ohio (or anywhere you live) Winters.
Conclusion
So, can you see where these ideas help you to gain more garage storage AND be able to move your big rig inside to the warm and friendly confines of your garage? If you have some smart (and not 'smart-aleck,' like some of mine) ideas to share, please comment below.
If you need help with garage storage in Columbus Ohio, and want a Free 3D garage design call 614-545-6888 or read more on our garage design blog.
###
If you'd like more information on garage, pantry, entryway or custom closet design (with a bit of bad humor along the way) follow me on LinkedIn @MikeFotiLinkedIn.
---
Tags: big rig in the garage, garage blog, garage ceiling storage, garage design blog, garage problems, garage storage blog, garage storage problems, garage store, garage too small, kayak storage, kayak storage in the garage, sports storage in garage, SUV storage, SUV too big, SUV too big for garage, SUV won't fit in garage, Truck storage, Truck too big for garage, truck won't fit in garage, upper garage cabinetry