How Much Does a Professionally Installed Murphy Wall Bed Cost?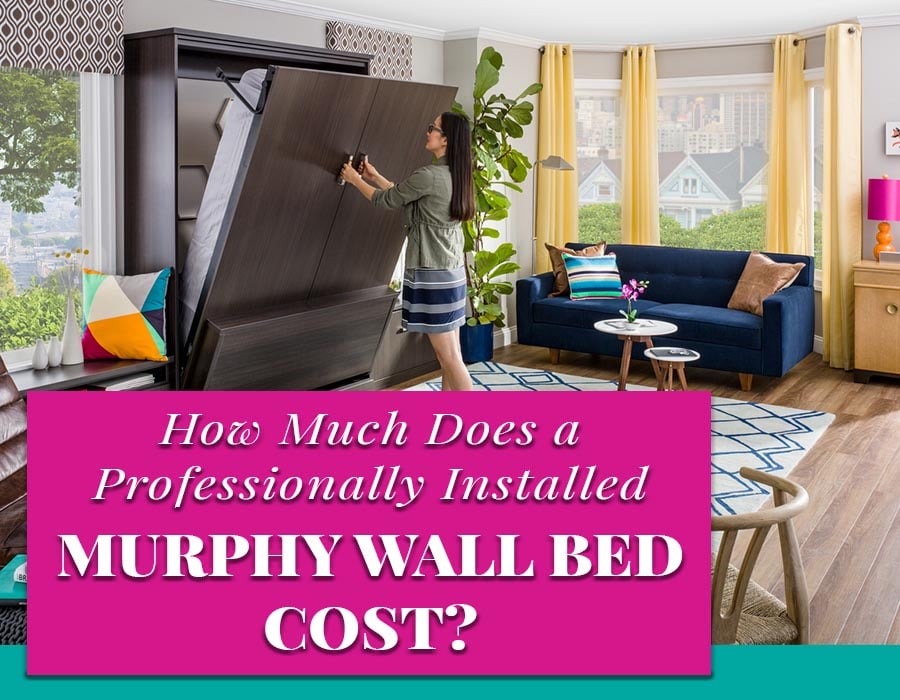 At first you thought about buying a low-priced Murphy wall bed over the Internet. You'd roll up your sleeves and put it together yourself. You knew there would be a 'price' ('er your time) you'd pay to save money vs. a professional installation.
Then you started reading DIY wall bed reviews. Your 'concerns' became clearer.
Concern #1) Baseboard trim – You learned Murphy beds need to be mounted to the wall. This requires removing your baseboard trim. In the reviews many DIY'ers struggled with this part of the job.
Concern #2) Getting an easy to open bed – The cheapest Murphy beds come without a spring or pivoting mechanism. They're harder to operate. You worry your spouse or grandkids will get hurt opening and closing the bed.
Concern #3) Installation time and lots and lots of boxes– You've read it takes 2 people an entire day to put this bed up. You've also learned you'll be the 'lucky recipient' of 4 to 5 boxes and nuts and bolts out the wazoo (whatever a wazoo is). Yuck! Do you really want to invest this much time? And who the heck are you going to get to help you install this monster?
Concern #4) Securing the bed – Will you properly anchor the bed to the studs? This bed must be secure. You're worried what happens if you make a mistake and the bed crashes down on its own.
Concern #5) No installation guarantee – When you DIY, you're on your own if you mess something up. Sure, there are installation instructions and even an on-line video, but you'd be a Murphy bed installation rookie, if you take on this job!
And beyond these 5 installation concerns you're having a devil of a time trying to find a color, pattern, and style you think will look good in your space. How can you find a Murphy bed which will look nice with the desk, wardrobe closet or display shelves you have (or want to add) into the room?
These concerns have lead you to the realization a professional Murphy bed installation service may be best for you.
You've scoured the Internet searching for local companies who supply and install Murphy beds. The problem is you've found NONE of them give you any idea how much this job will cost. They want to come to your home and do a Free Design Consultation. Since you're 'not made of money' (as Dad used to say), you just want an idea if this job is in your budget – or if it will join the long list of home improvement projects on your wish list…but out of your price range right now.
If you want 'real-live' pricing for an installed Murphy bed, you've come to the right place. In this article I'm going to give you the costs of a Murphy bed installation in Columbus Ohio (note: this is one of the markets my company, Innovate Home Org, works in).
Yes – I realize most of you don't live in Columbus Ohio (and IF you live in the state of Michigan you may be sick of watching Buckeye fans and their O-H-I-O chants after taking your Wolverines down….sorry about that!), but these costs can help you to get a basic gauge on pricing no matter where you live. Obviously if you're looking for a Murphy bed for your Manhattan high rise apartment – you'll pay more than a suburban homeowner in Central Ohio.
I'll give you practical pricing examples as I look at 7 factors which impact the cost of an installed Murphy bed.
Installed Murphy Bed Cost Factor #1 – What size Murphy wall bed do you need?
The amount of time it takes a pro contractor to install a twin Murphy bed (for those overnight stays your daughter desperately wants with her BFF's), vs. a full-sized bed or a Queen bed (when your friends arrive from out of town) doesn't vary much from smaller (say a twin bed) to a larger unit (a Queen-sized bed for example). However, as the size of the bed gets larger, logically the price will go up.
To give you an idea of the installed cost of these 3 sized beds, I've created a 'base pricing example' of a white Murphy wall bed with a contemporary (and lower cost) Euro (flat) decorative front platform. Here's the installed cost of the 3 most popular bed sizes.
Installed cost of a twin murphy bed (which is 44.5" wide x 84" high x 16" deep) for your kid's friends = $2,170
Installed cost of a full murphy bed (which is 59.5" wide x 84" high x 16" deep) – and works for couples but is a little tight = $2,330.
Installed cost of a Queen murphy bed (which is 65.5" wide x 89" high x 16" deep) and is best for couples = $2,620
The image below shows a Queen-sized Murphy bed, but the shelving sections on the side would be extra (jump to factor 6 to learn more about the cost of shelving units combined with Murphy beds).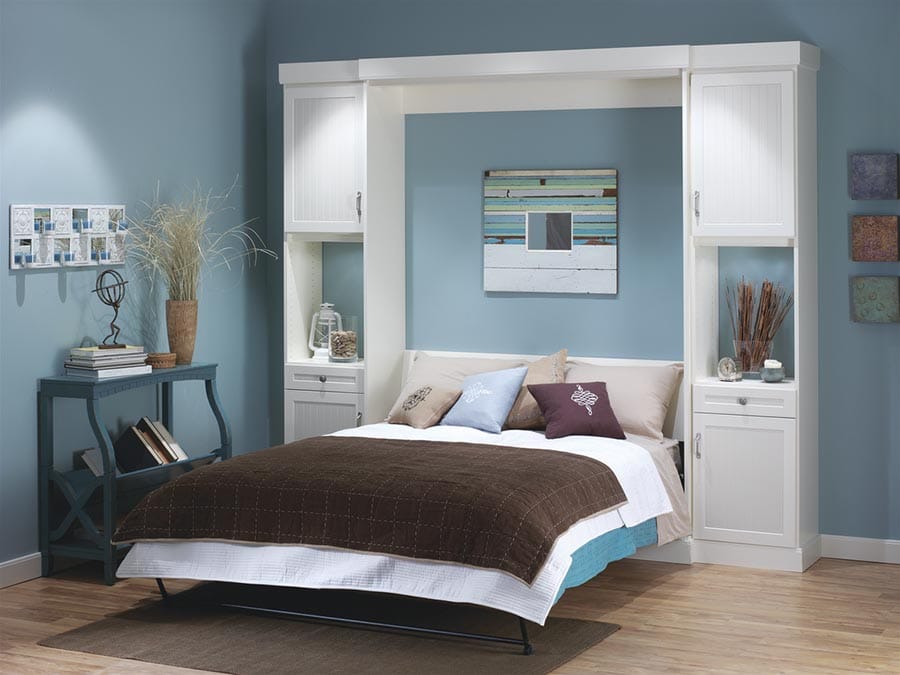 Installed Murphy Bed Cost Factor #2 – Adding a decorative front to fit your interior design style
Here's a fact. Murphy beds take up a significant amount of wall space. A queen-sized wall bed, for example, (which is the most popular) is 65.5" wide by 89" tall.
And while you can buy one in a basic white color with a minimalistic look and Euro (flat) front, this bed can resemble a 'big, white box.' It's boring. It's plain.
Most wall beds installed in Columbus Ohio (or in most markets for that matter) have decorative fronts. Some have a 'Transitionalist' look (like the Shaker front style you'll see below).
Other have a 'traditional' flare (we certainly see this in the conservative Midwest) with a raised panel design (see below).
And others go back to the 'classic' look of bead board (see below).
Here's the installed cost of murphy beds with these 3 popular decorative fronts:
Design style #1 – A White Shaker Decorative Front –Installed Murphy bed cost is $3,320.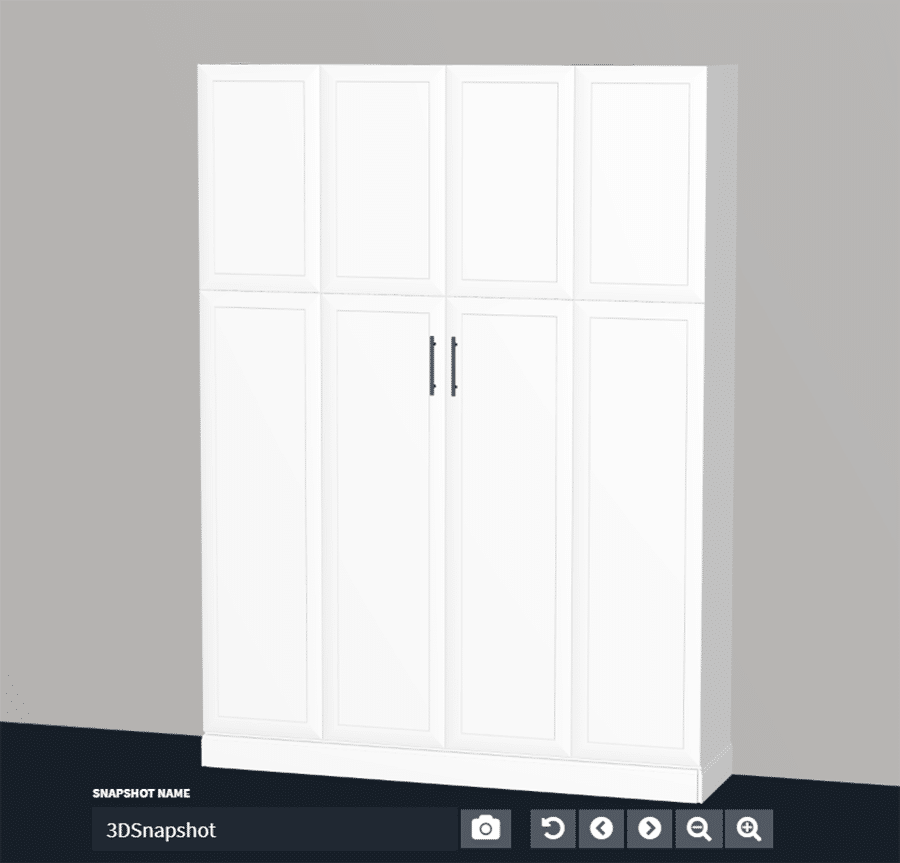 Design style #2 – A White Raised Panel Decorative Front –Installed Murphy bed cost is $3,190.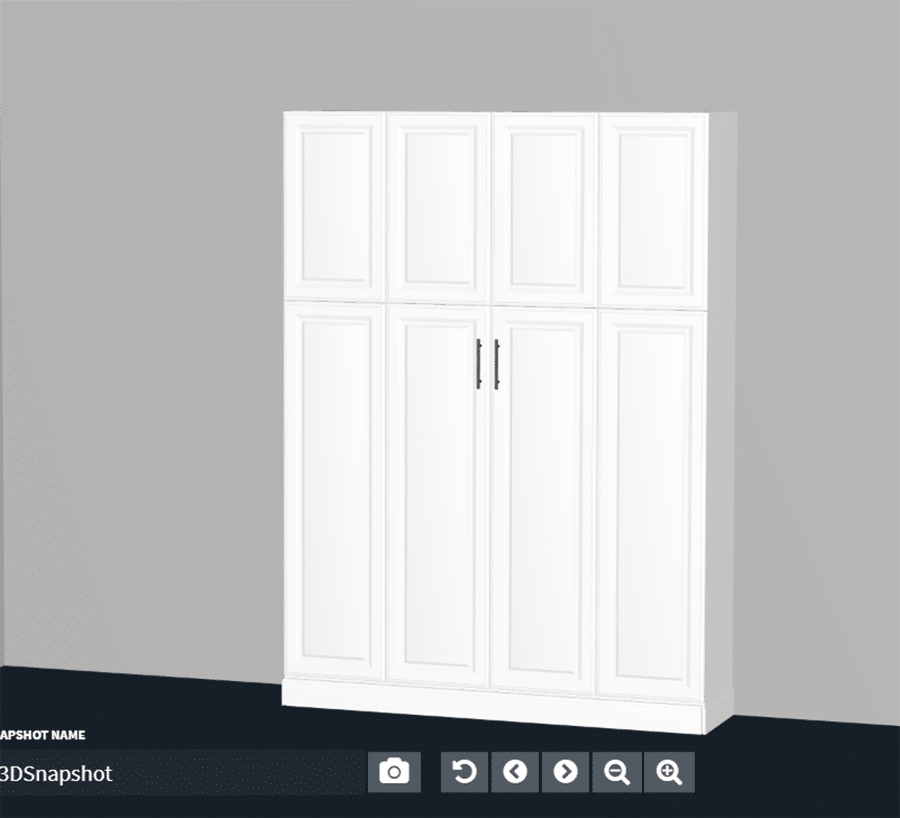 Design style #3 – A White Beadboard Decorative Front –Installed Murphy bed cost is $3,320.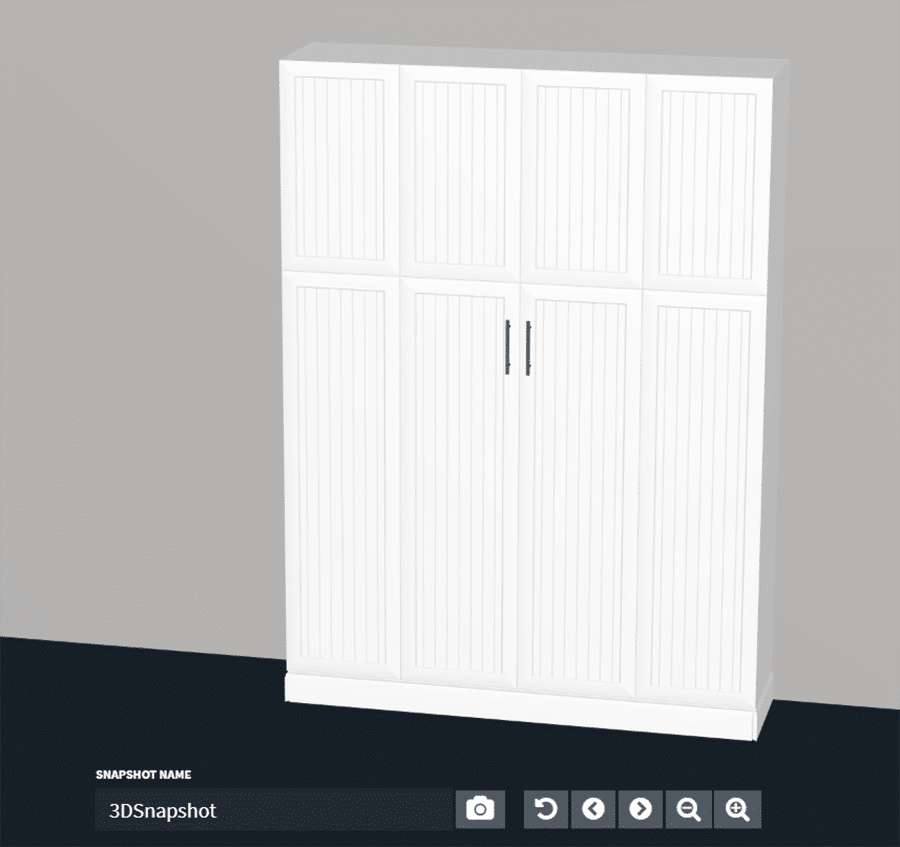 Installed Murphy Bed Cost Factor #3 – Adding decorative colors or woodgrain finishes
A Murphy bed isn't only a bed to help you gain more room for a home office, crafting space, Zen meditation room or exercise space when no one is sleeping in the bed.
No, a Murphy bed is a piece of furniture, which is permanently attached to the wall. It's a reflection of you. It's a reflection of your design tastes. It's a reflection of the color palette you like and style you're known for. And it's nice to know with an installed Murphy bed you can vary colors, patterns and textures.
Although there are (literally) hundreds of design pattern and style combinations, here's 3 style examples to give you a feeling how cost varies as you unleash your creativity.
Contemporary 'black and white' murphy bed design (example #1) – Black trim surrounds the white decorative shaker style front in this design.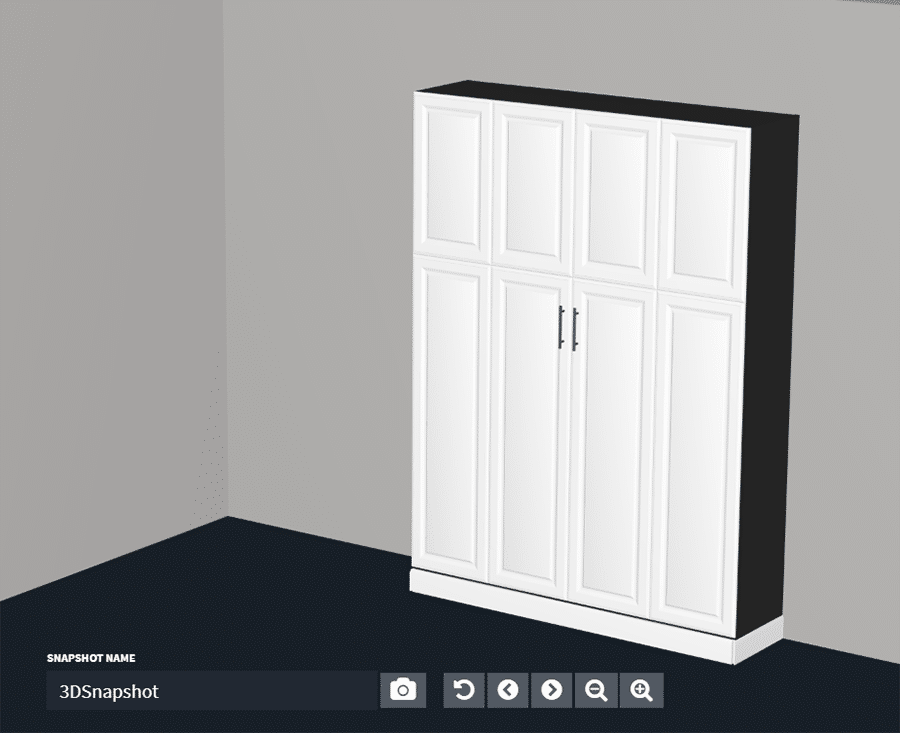 Installed cost = 3,290
Transitional murphy bed design (example #2) – A 'solid gray' colored wall bed with oil rubbed bronze modern handles and a flat 'Euro' decorative front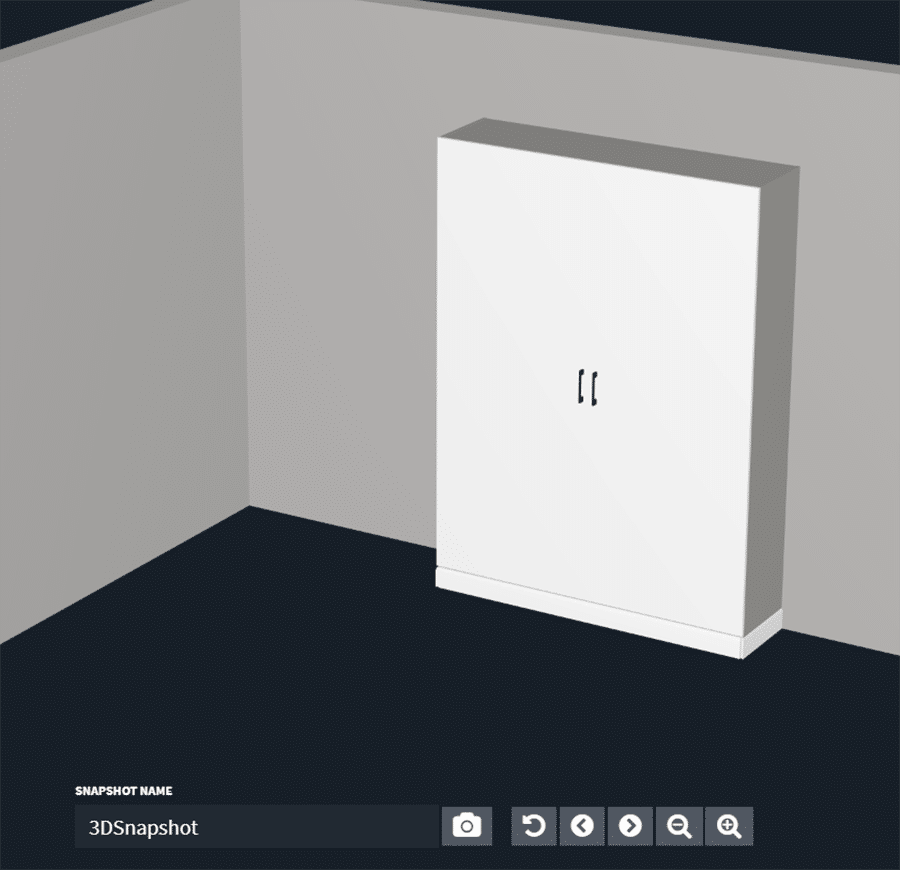 Installed cost = 2,760
Traditional murphy bed design (example #3) – A classic 'wood grain' textured laminate murphy bed with a river rock design, raised panel decorative front and traditional oil rubbed bronze handles.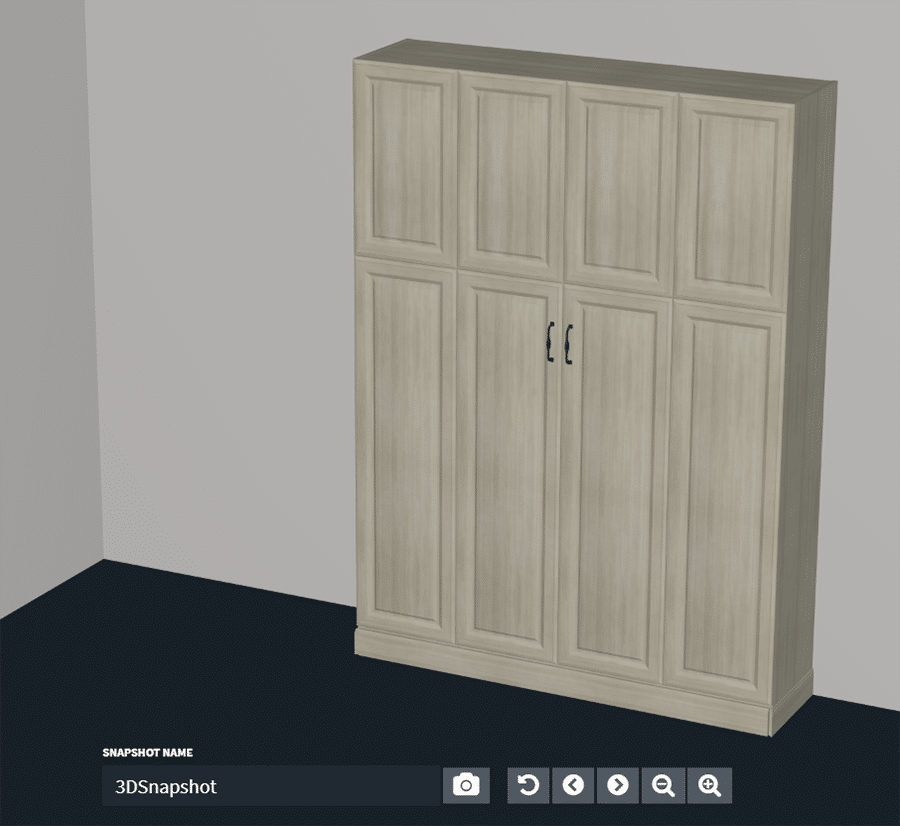 Installed cost = $3,790
Installed Murphy Bed Cost Factor #4 – Adding an add-on desk bed or library bed for your home office
The beauty of a Murphy bed is it can transform a small room (like a guest bedroom or living room) into a space you'll ACTUALLY use every day. And in these isolated dogdays of COVID, a seldom-used guest bedroom/home office can be just what the Doctor (no, not Dr. Fauci) ordered!
'Ramp up' your room with a desk bed or library bed option. Below, I'll explain these choices and provide installed pricing for both.
The Murphy desk bed
A Murphy desk bed has an attachment which folds down when you need a workstation, or a place for the kids (or grandkids) to (reluctantly) do their homework. This is a fast-growing option as employers are transitioning to a 'work at home' model – and families struggle to find spaces for kids to stop getting those pesky late-assignment notifications (not that I EVER saw any of these from my 3 little 'angels' – 'er kids….OK, I lied).
The installed cost of a murphy desk bed in a lower-cost white Euro style design is $3,520. To add more style, this popular 'Ore' decorative wood pattern is fun. It'll increase the price of this unit to $3,950 (note – this price doesn't include the cabinetry on the sides).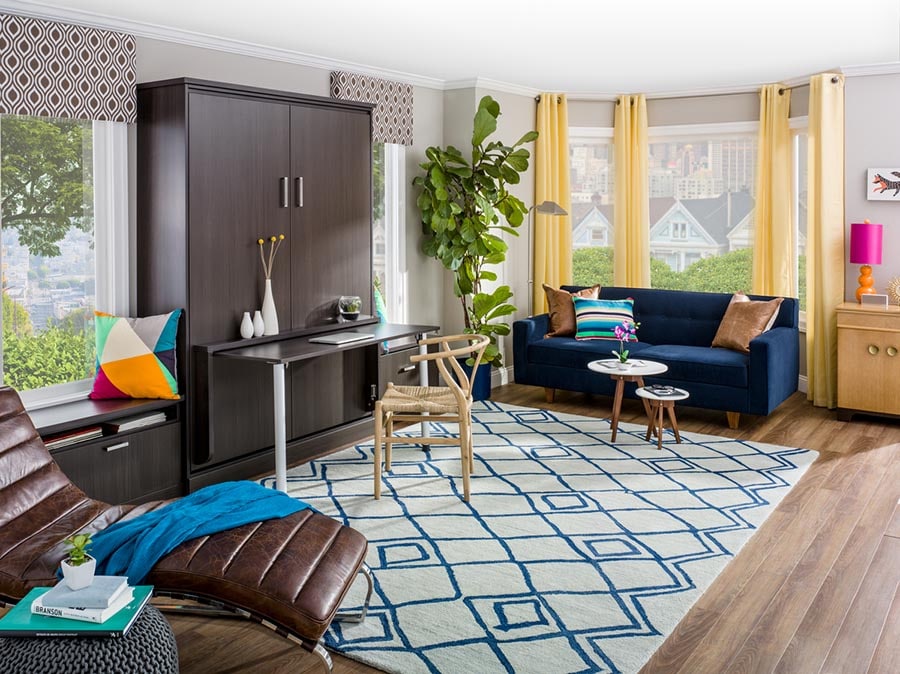 The Murphy library bed
A murphy library bed (only available in a Queen size) has 2 sliding shelving sections which conceal a bed 'lurking' in the background. This library bed (as you can see in the example below) looks right at home in a den. And if I'm givin' it to you straight, here's what you need to know….
People love, love, love the look of this library bed!
And if I'm (also) givin' it to you straight, here's another thing you need to know….
While people love, love, love the look of this bed, few ACTUALLY use it!
Now, the question I'm sure you have is why? Here's why….
It's too doggone big for most peoples' homes and

It's pricey.
The murphy library bed is 126" wide by 92" high and 36" deep in the center. If you have the room to put this unit in a den, it's quite cool. For most homes, this option is just too big.
The cost of a murphy library bed in this richly patterned mocha wood textured design is $9,130.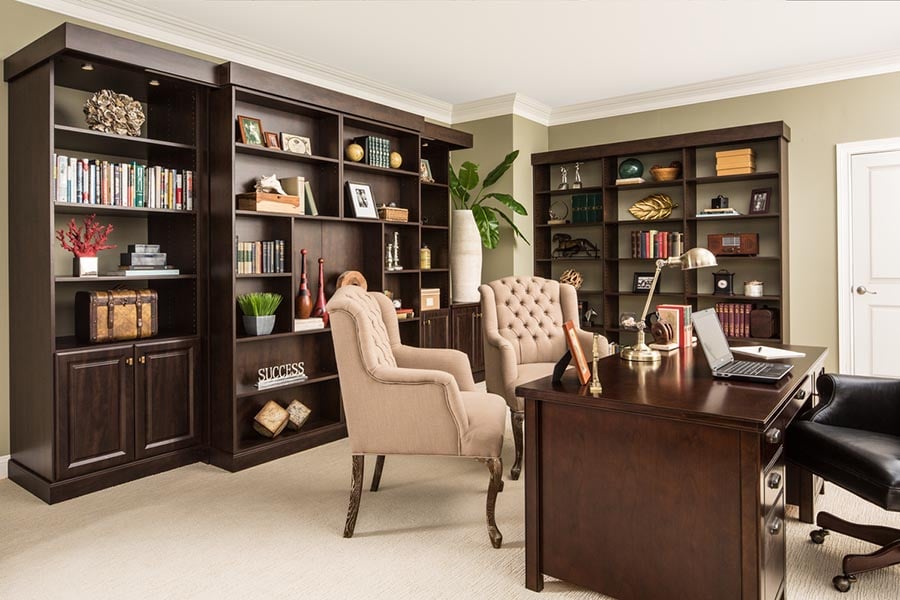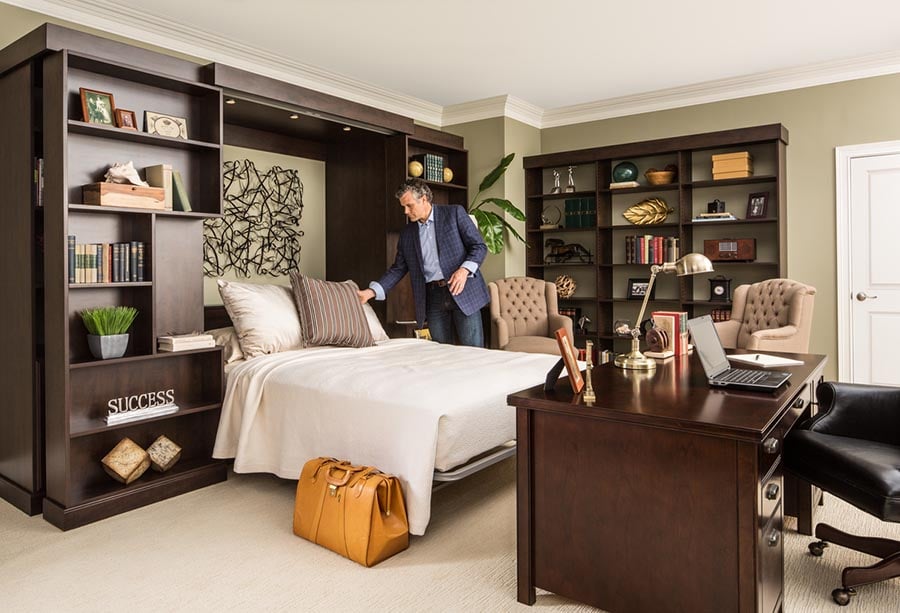 Installed Murphy Bed Cost Factor #5 – Adding storage for your pillows
One 'missing link' (and seldom discussed problem) with DIY 'off-the-shelf' Murphy beds is pillow storage. When you fold up the bed, the pillows keep it from fully closing. Then you have to 'try' to find a place to stuff the pillows in a closet or another room.
What a hassle!
The question is, how can you solve this problem?
Here's how. Order your murphy bed with a 'pillow box' extension. This 3" deep 'secret compartment' (doesn't that bring you back to your days as a little kid loving 'secret compartments?"), is a tidy place to eliminate this hassle.
The extra cost of a pillow box with a 'secret hatch door' is $480.
Installed Murphy Bed Cost Factor #6 – Adding color-coordinated shelves on the sides of the Murphy bed
Since Murphy beds are often installed in dens, offices, or main living areas of downtown lofts and suburban homes, you'll need to color-coordinate the furniture (which could be a desk or shelving system) around the bed. However, accomplishing this can be summed up in one phrase. It can be a….
P.I.A. (if you know what I mean!)
First, you find a nice murphy bed. Then you can't find the right shelving system which 'works' with the bed. The shelves are the wrong width (too big, too small or they cover an outlet). The shelves are too shallow. Or the shelves are just butt-ugly and will look terrible next to the Murphy bed.
This is where coordinated shelving systems make perfect sense. Display your favorite books, family photos, or artwork. Use plain shelves, or get fancy with contrasting 'back panels,' crown molding and/or decorative doors to dress up your storage.
Here's 2 pricing examples so you can see the cost of a Murphy bed and shelving system. Below you'll see two matching 24" wide x 12" deep shelves (and a wall bed).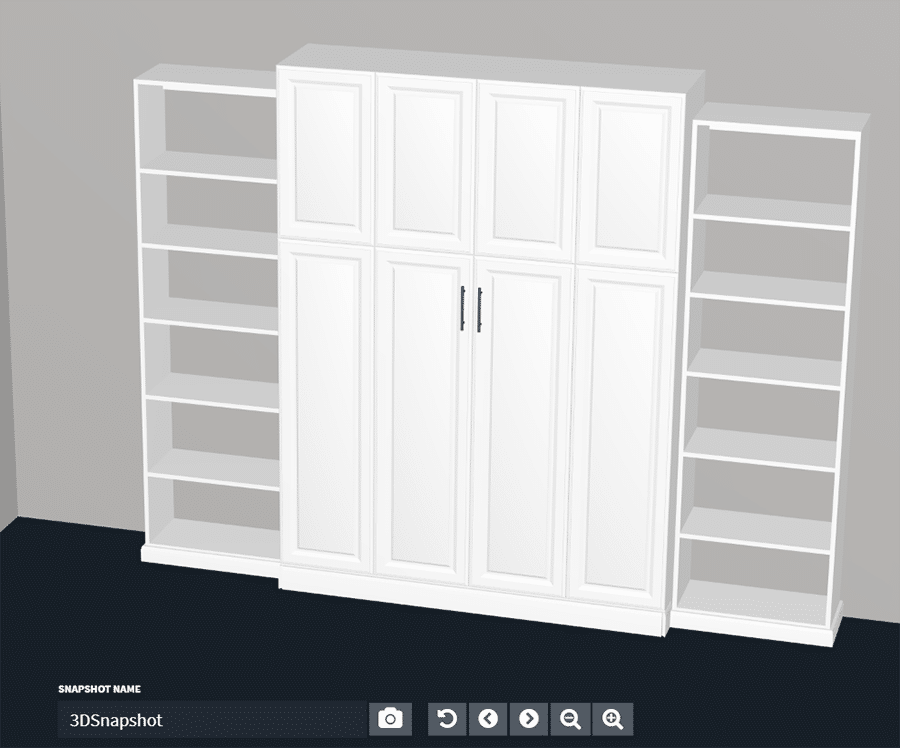 Now, you'll see a 'souped-up' shelving system with decorative back panels (in black), crown molding and decorative doors (with the doors in the side shelving sections in gray to contrast with the white Murphy bed).
What's cool about custom Murphy bed and shelving systems is you can create (literally) thousands of size/pattern/style combinations custom fit to your space.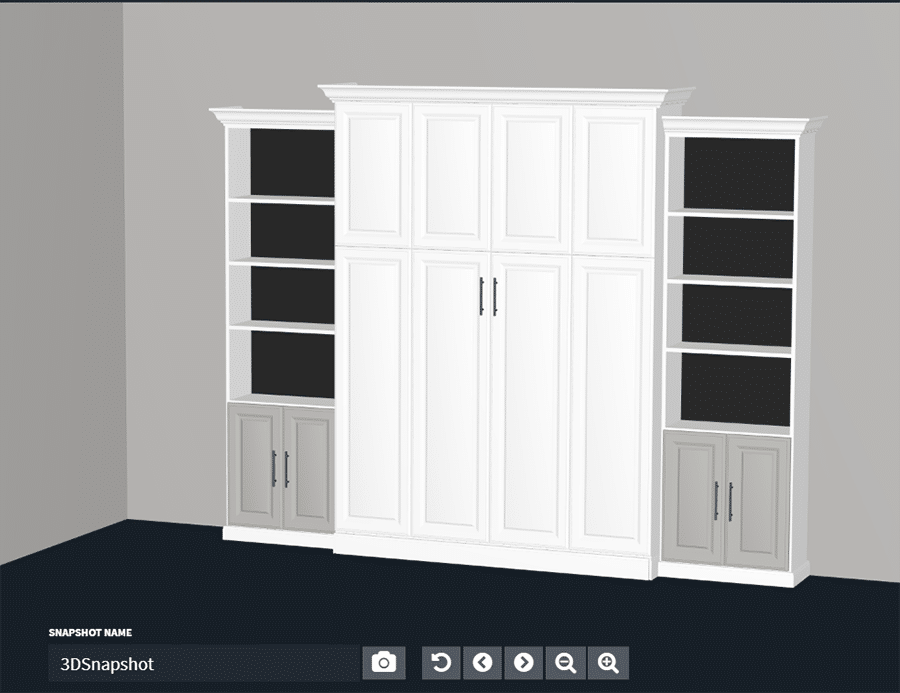 The cost of two 'plain' 24" wide shelving units (with the queen- sized Murphy bed) in this Shaker decorative front design is $4,180.
The cost of a 'souped-up' 24" wide shelving with contrasting back panels, two-tone cabinet doors in the Shaker design (with a Queen-sized murphy bed) is $5,110.
Installed Murphy Bed Cost Factor #7 – Adding a full-sized desk and upper cabinetry home office system
So, you need a complete home office system with cabinetry, filing cabinets and drawers. You're looking to convert a guest bedroom into a home office. And you know you're not alone. Since COVID reared its ugly disease-filled head, stay at home orders keep getting extended. More companies are transitioning to a permanent stay at home teams, and the need for home offices has never been greater.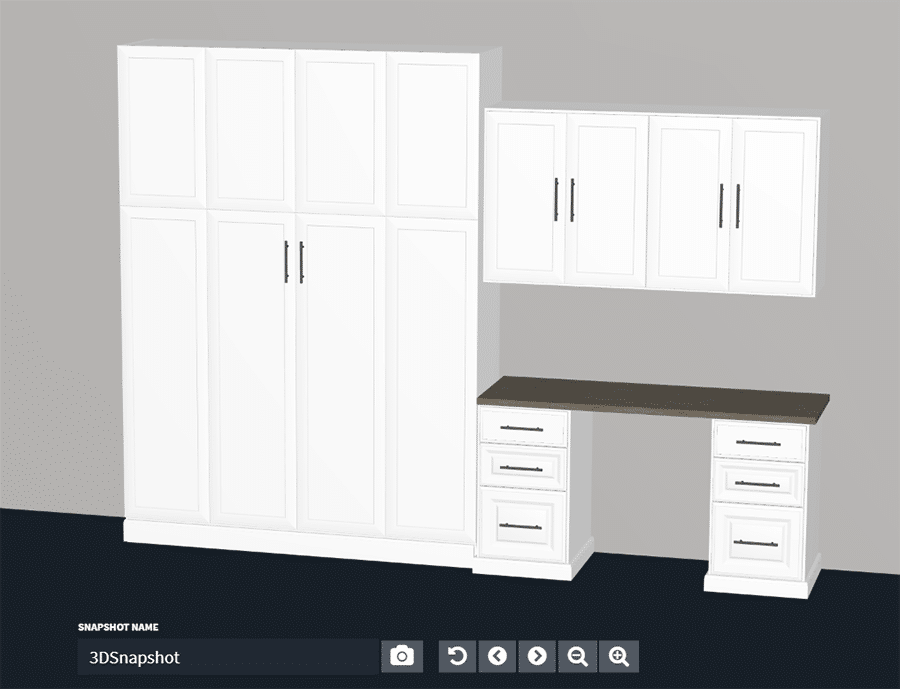 The idea to expand the use of your dusty (and little used) guest bedroom into a home office with a fold up wall bed is smart. Check out this home office and Murphy bed combo complete with 55" wide desktop, 2 filing cabinets, 4 drawers and upper cabinets in a white shaker style design. The installed cost of the Murphy bed and desk combination is $6,370.

How can we help you next with a professionally installed Murphy wall bed – whether you live in Columbus Ohio or not
As you can see, there are A LOT of options with installed Murphy beds. However, the beauty is these systems can be designed and professionally installed to work for your space, your needs, and your style.
So, while these pricing examples show how size, decorative fronts, color finishes and storage and workspace options (like desks, shelves and pillow boxes) impact costs, I know this article STILL doesn't give you specific pricing for your space.
And that's where I (and my team) would love to help. And here's how we can assist you.
1) If you live in Columbus Ohio call (614-545-6888) or email us for pricing and/or a Free 3D design consultation, or a virtual appointment for a Murphy wall bed or surrounding furniture system.

2) If you don't live in Columbus, Ohio don't fear. I have 'buds in the storage biz' I'll refer to you who can help so you don't have to eat up all your time scouring the Internet.
Thanks for reading. Comment below for more answers to your questions about Murphy bed pricing or wall bed design possibilities.
Mike
If you'd like more information on home organization, Murphy beds and interior design (with a little wackiness thrown in along the way) follow me on LinkedIn @MikeFotiLinkedIn.
---
Tags: affordable wall bed, cost of a Murphy bed, cost of a wall bed, cost of installed murphy bed, cost of Murphy bed Columbus, home office Columbus Ohio, Library murphy bed pricing, Murphy bed and desk pricing, murphy bed and shelving, murphy bed Columbus Ohio, murphy bed installation services, murphy bed measurements, murphy bed pricing, murphy bed pricing Columbus, Murphy bed sizes, price of shelves with a Murphy bed, pricing of murphy beds, wall bed design, wall bed design Columbus, wall bed price, wall bed pricing Columbus