The Pros and Cons of Custom Closet Back Panels
You've come to the conclusion you've had it with your sagging, cheap wire closet. Or your sick of your nicked-up, painted plywood 'closet system' (and I use this phrase in only the most sarcastic way) the original builder slapped in years ago.
Your closet not only does you NO FAVORS trying to find your favorite shoes, sweaters, or blouses, but it makes you feel nervous and disorganized. And it certainly DOESN'T add grace and beauty to your day.
You've decided you deserve a custom walk-in closet. However, you've found the massive number of features and design layouts are blowing your mind. And one of the stylish (yet, confusing) features you've been shown are closet back panels.
The problem is you really don't know what's good – or bad – about back panels. And you're not sure whether you should fork over the extra money to include them in your project. And if this is one closet debates brewing in your head, you've landed on the right article.
My goal in this blog post is to give it to you straight. I'll look at the advantages and disadvantages of closet back panels. At the end I'd love your opinion if they're a 'must have' for your new closet – or simply a 'it would be nice to have' feature.
So, without further delay, let's check out the pros and cons of closet back panels.
Pro #1 – Back panels add interest to your closet design
When you add a back panel with a contrasting color or texture behind your closet shelves, they'll literally make your shelves visually pop out of the design. This contrast will make the 'wow' impact in a custom closet you'll actually LOVE using every day.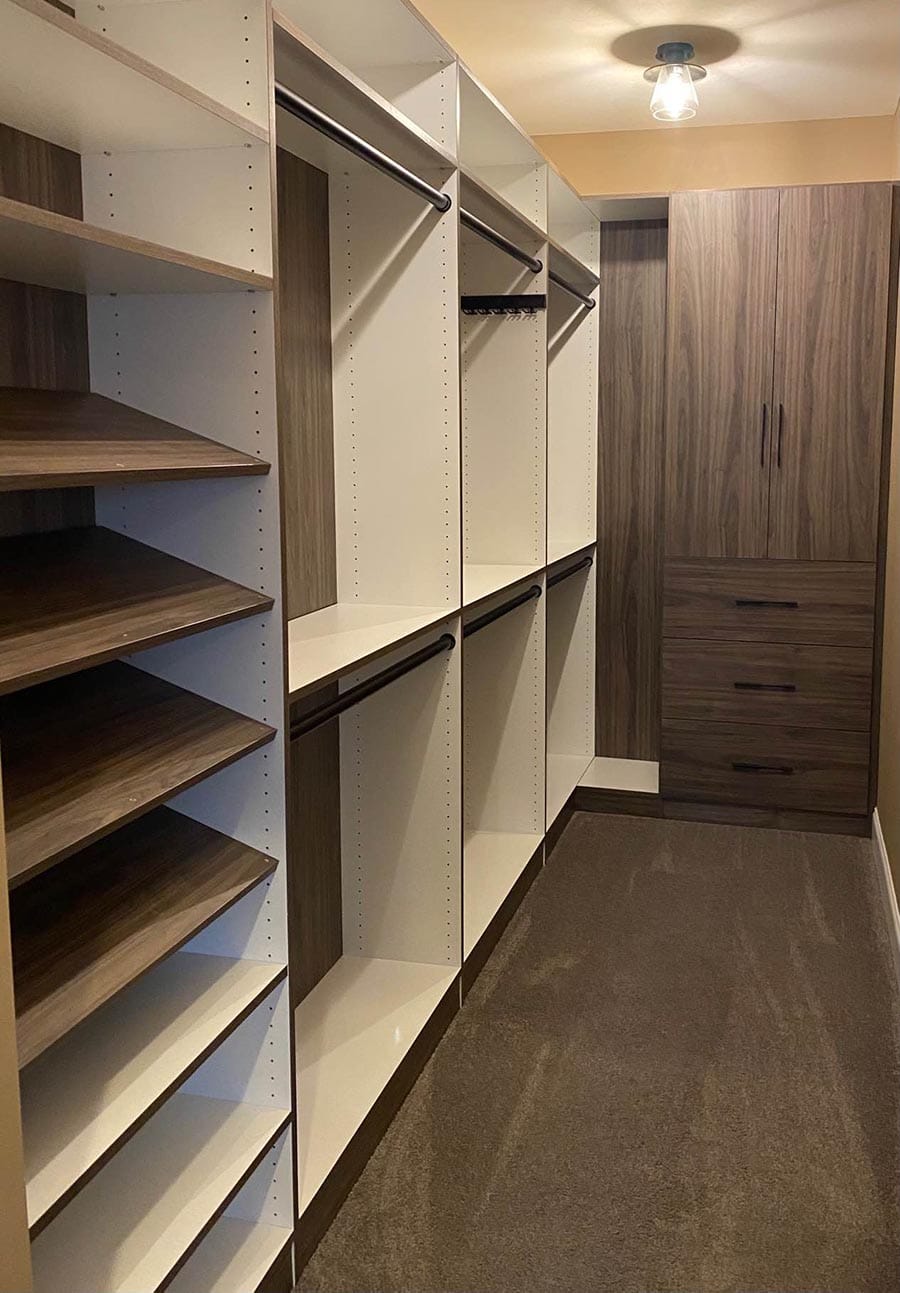 Image Source: Jessica Behnke Closet Rehab
Pro #2 – With back panels you'll cover the ugliness which IS your walls today
Do the nicks and dents on your closet walls DRIVE YOU NUTS, yet your spouse or partner is completely oblivious to them?
If your ugly walls put your OCD into overdrive – closet back panels can be the answer to your dreams. You'll – literally – put these scratches and dents behind you (and behind the back panel) FOREVER! You'll never need to paint again. Now, that's something to celebrate.
Pro #3 – You'll create a focal point in your closet with back panels
While you can use back panels throughout an entire closet design, in reality few projects are done this way.
In most custom closet installations, back panels are used as a decorative accent to make your 'feature wall' (this is your focal wall you see when you enter) stand out in the design. Feature wall back panels are fun and fashionable.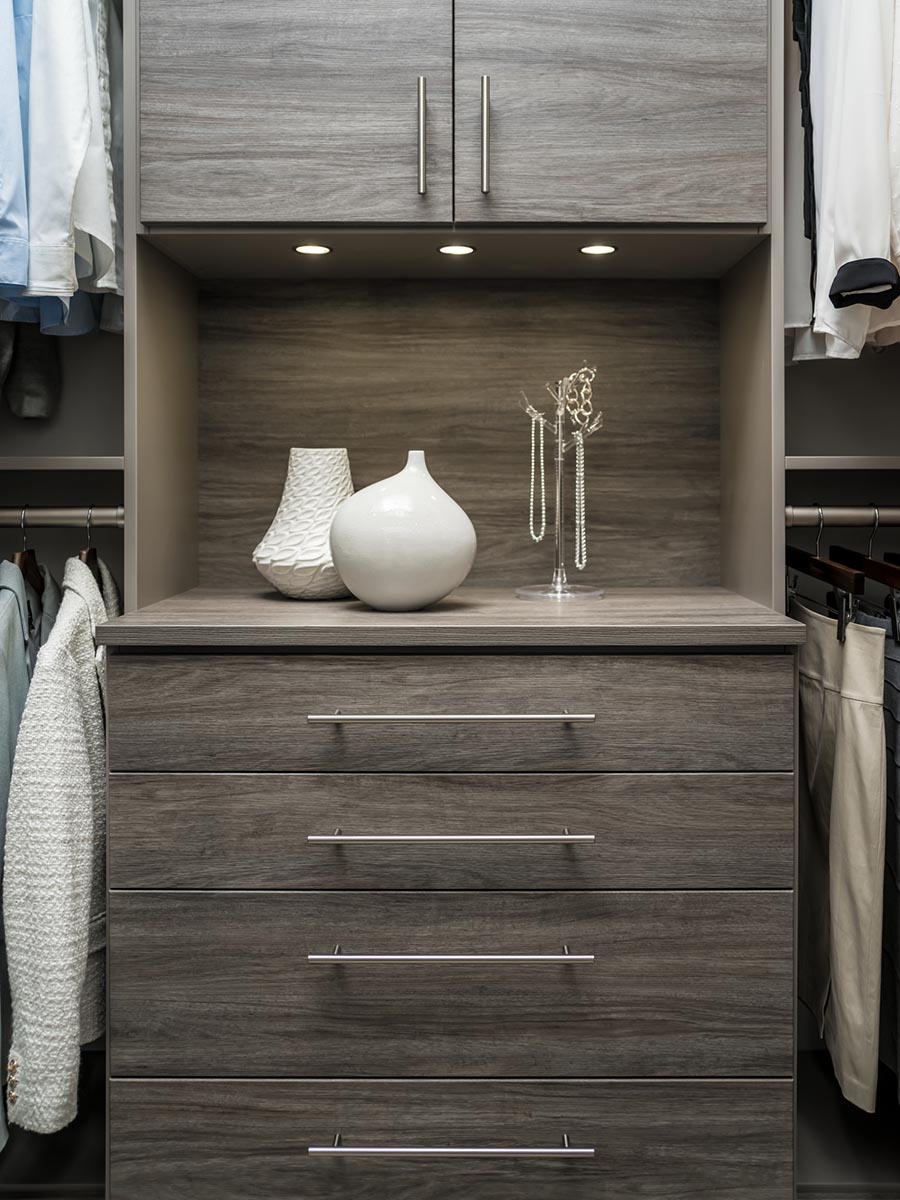 Pro #4 – Mirrored back panels can make your closet feel larger while showcasing your purse or shoe collection
Contrary to what most people think, closet back panels aren't only made from wood or laminate. Closet back panels can be cork or a textile. Closet back panels can also be mirrors which highlight your shoe and purse collections. They'll create a sense of space and volume where none existed before.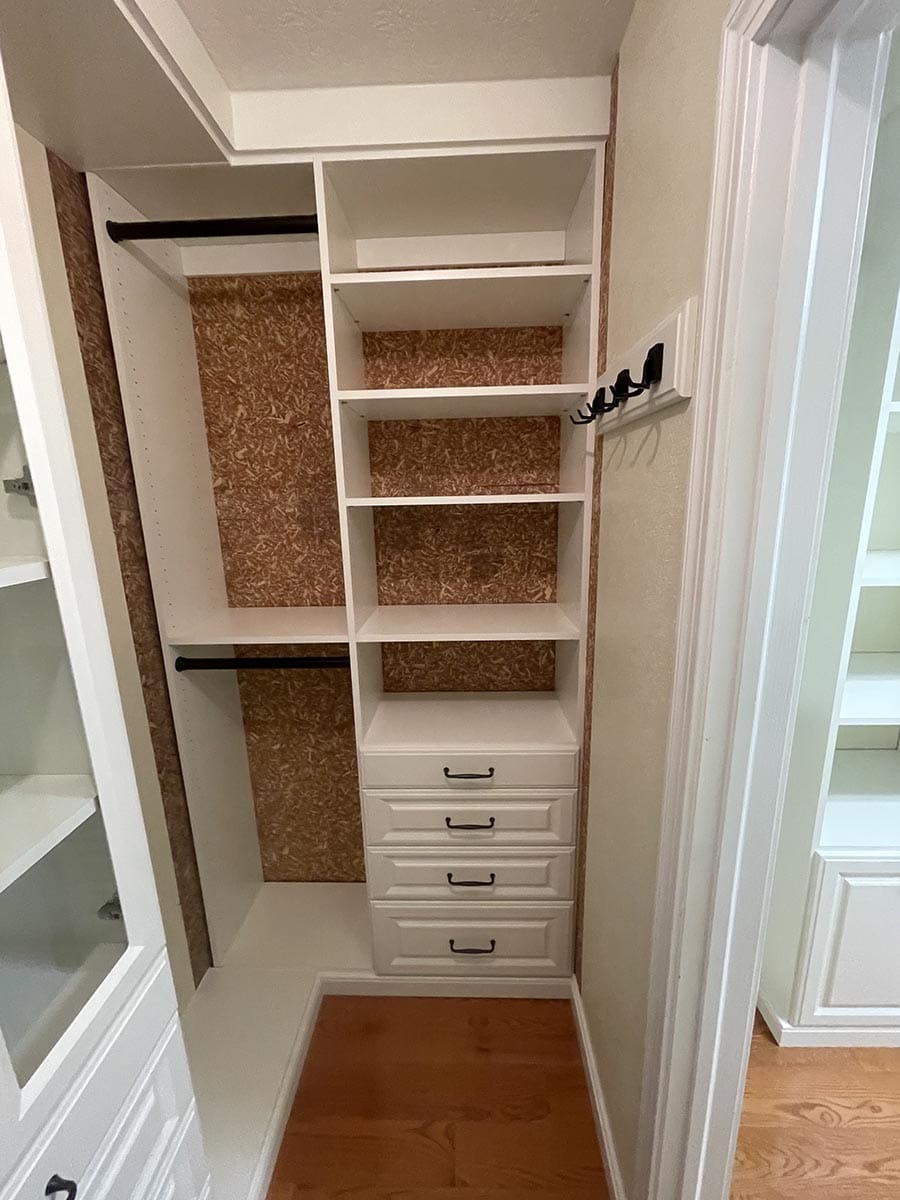 With a mirrored back panel, you'll get a luxury department store feeling of the drool-worthy 'Pinterest closet' you've always dreamed about.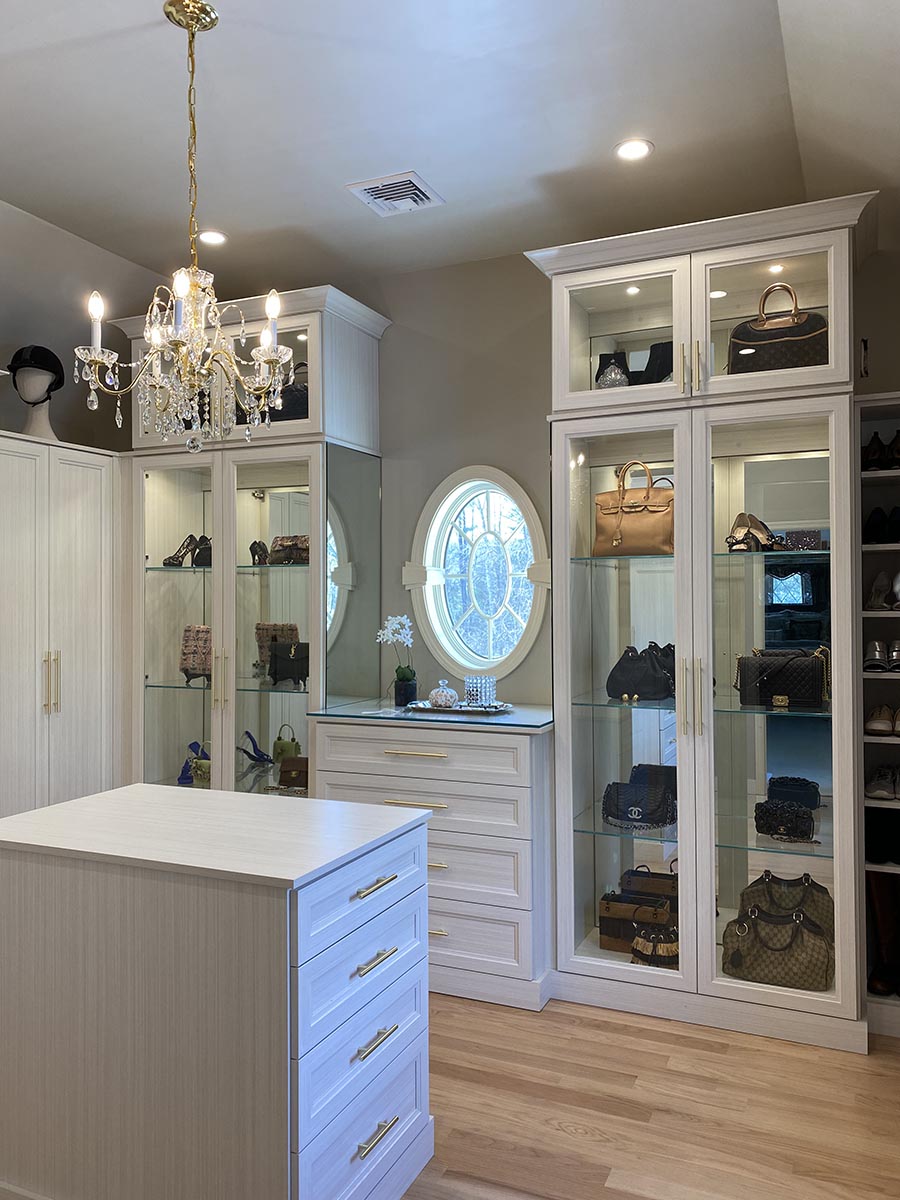 Image Source: Patti Miller Boutique Closets and Cabinetry
Pro #5 – Back panels create a 'finished furniture' look and are more cost-effective than custom closet doors
You love the finished furniture look of a custom closet with drawers and doors. However, you also need to find a stylish way to slim-down the budget without compromising the look. Unfortunately, your partner is always trying to reign in your spending.
And one idea to make this happen is to eliminate closet doors and use decorative back panels instead. In the two 3D designs below, the design with open shelving (and decorative back panels) would cost $780 less than the design with the 2 sets of double doors. Back panels can be quite a savings vs. doors.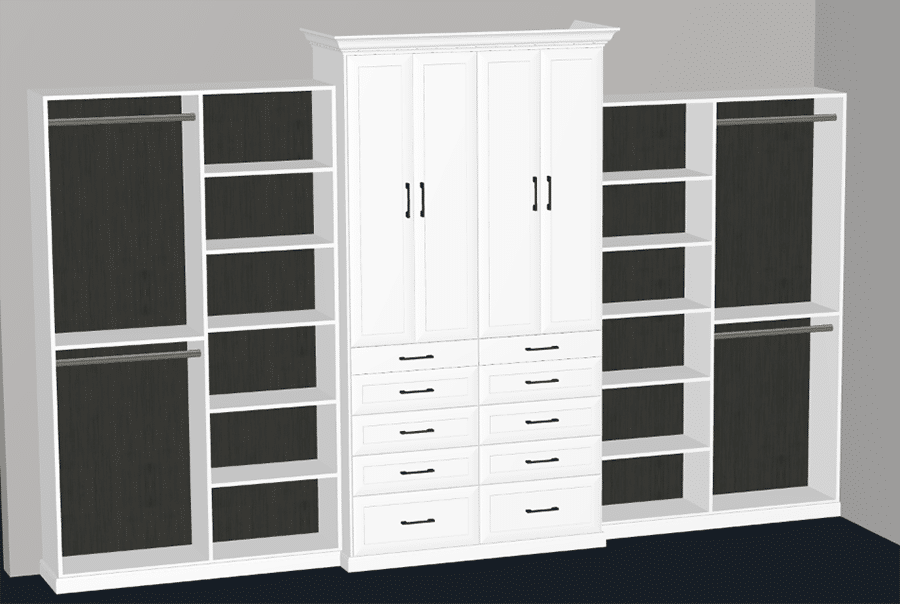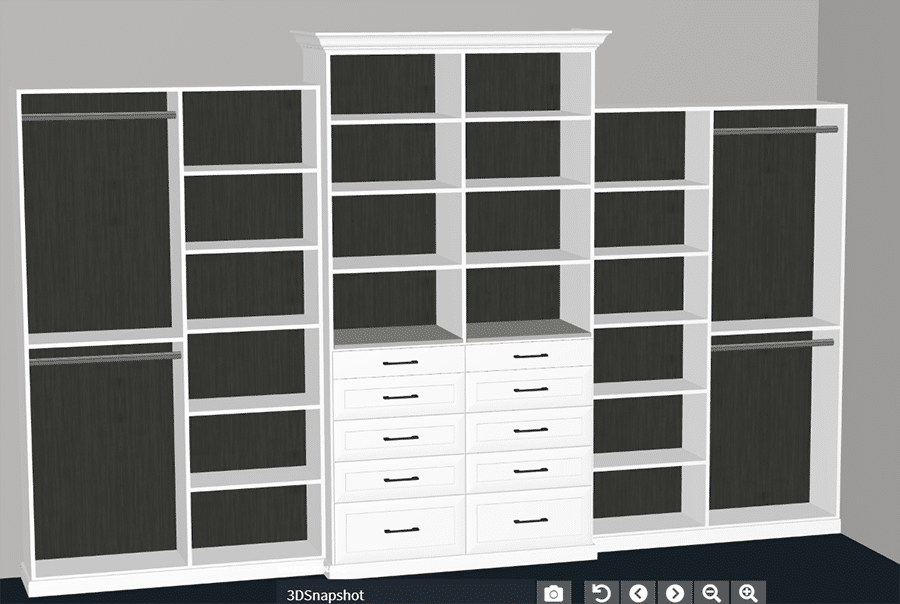 Pro #6 – Back panels cover uneven walls
If your closet walls have more 'waves' than your son's favorite water park ride, you know a simple coat of paint WILL NOT flatten them out. And ripping out the walls and installing drywall IS NOT an expense, or a dust-induced hassle you're willing to take on.
If this is your situation, I have good news for you. There's a simple solution to this wavy wall problem. And since this article is about closet back panels, I'll bet you'll be successful guessing what this solution is……
It's rigid closet back panels!
You see with 3/8" or ¾" thick wall panels you'll straighten out wavy walls faster than a flat iron.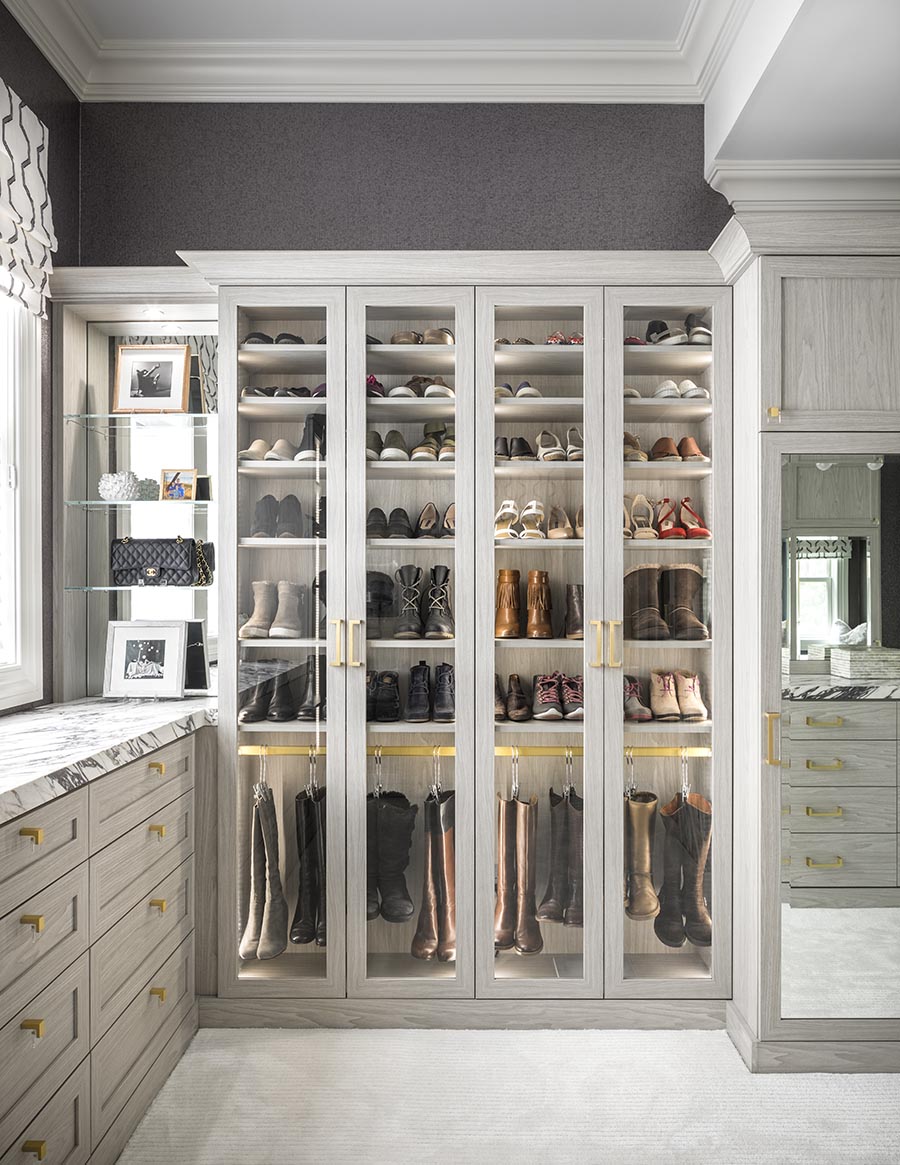 Image Source: Boutique Closets and Cabinetry
Looking at the disadvantages (cons) of closet back panels
So, now that we've focused on the pros of closet back panels, let's take a peek at their 'darker side.' Let's bring to light 3 drawbacks ('er cons) of using this custom closet feature.
Con #1 – Back panels are more expensive than paint
While back panels will add 'texture' or visual depth (when using a mirrored back panel mentioned in pro #4), they're also more expensive than a simple gallon of paint to freshen up your closet walls. And since you're living with your 'tight-wad' partner, you know you'll need to save every penny you can get him or her to come to agreement to take on this project in the first place.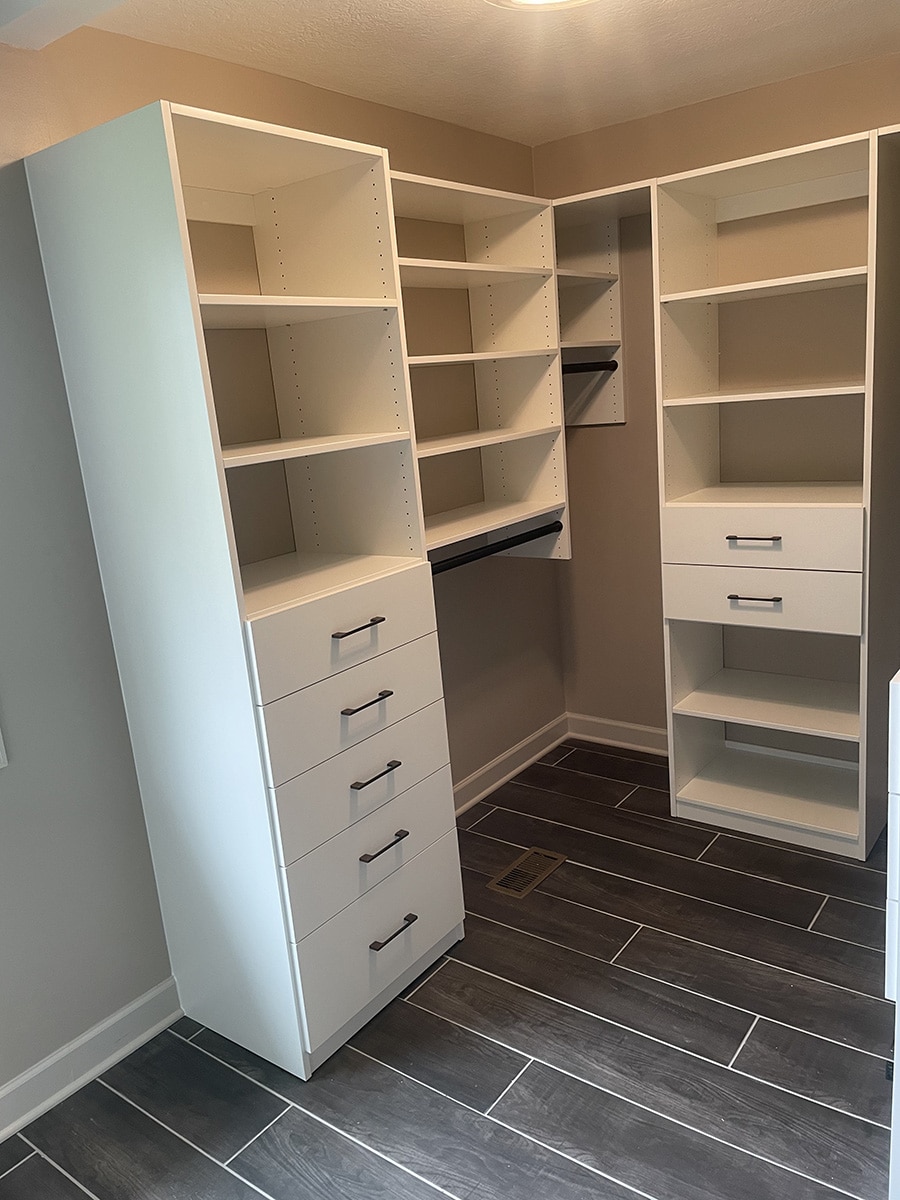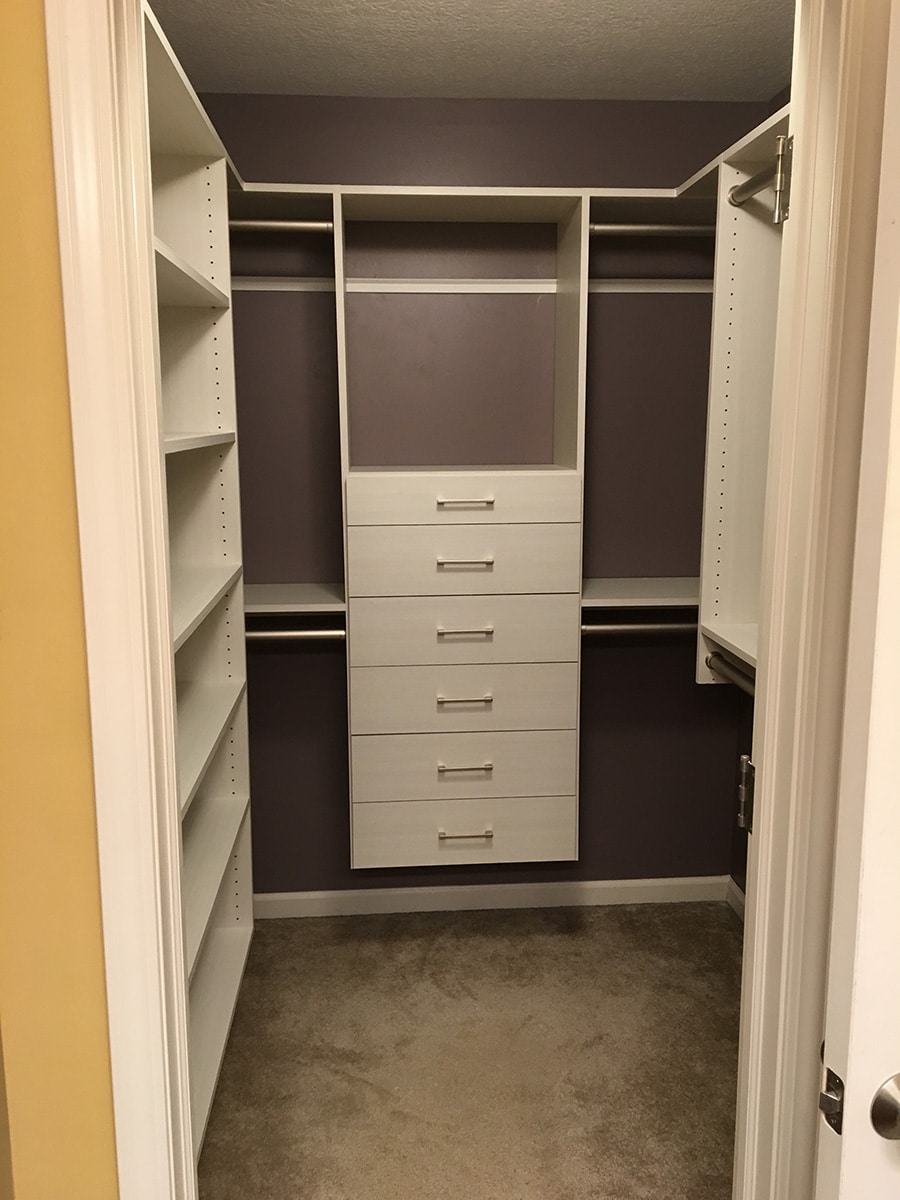 Con #2 – Back panels (like a haircut) shave a little off the back
Most custom closet systems are manufactured in standard depths to keep customization costs down. And to keep consistent depths in closet sections (and still use a 3/8" or ¾" thick back panels) shelves are 'cut down' to make room for the back panels secured to your closet walls.
This means the back panel will 'shave a little bit' (usually 3/8" or ¾") off the back of your shelves. If you're using back panels in 14" or 19" deep sections – this isn't a big an issue. However, if you're using back panels in a shallow 12" deep section – this is a significant amount of space you won't want to lose (especially if you're storing your partners' 'big-dog' shoes or bulky sweaters).
Con #3 – With back panels it's not simple to 'change your colors'
Since back panels are permanently adhered to your walls (and sit behind the closet shelves), they're not simple to remove if you get that much-feared (according to your spouse) 'urge to redecorate.'
If, on the other hand, you paint your closet walls – it's not hard (although it is a PAIN working around closet sections) to repaint with a new color theme.
So, to wrap up here's the question. Are you a fan or foe of closet back panels, or are they a feature you could take or leave?
And, most importantly, do you need help choosing the best closet features for your custom closet?
After reading through the 9 pros and cons of closet back panels have you come to a decision they're a 'must-have' feature for your closet remodel or could you take them or leave them?
And I know if you're like most people, thinking through a custom closet design, let-alone weighing the benefits of features like closet back panels, can be confusing to say the least. And this is where me and my company – Innovate Home Org – would be honored to help.
If you live in Columbus, Ohio click for a Free 3D closet design or call 614-545-6888. And if you don't live in Columbus Ohio – don't fear. In the comments below let me know where you DO live, and I'll see if I can pair you up with one of my closet industry buddies across the country for help.
Thanks for reading!
Mike
###
If you'd like more information on garage, pantry, entryway or custom closet design follow me on LinkedIn @MikeFotiLinkedIn.
---
Tags: advantages disadvantages back panels, back panels, back panels in a closet, closet back panels, closet back panels Columbus, closet backs, closet feature wall, closet ideas Columbus, Columbus custom closets, custom closet features, custom closet ideas, custom closet strategies, fixing closet walls, mirrored back panels, mirrored closet, painting vs. closet back panels, pros cons back panels