How to Reduce the Cost of Custom Walk in Closets in Your New Home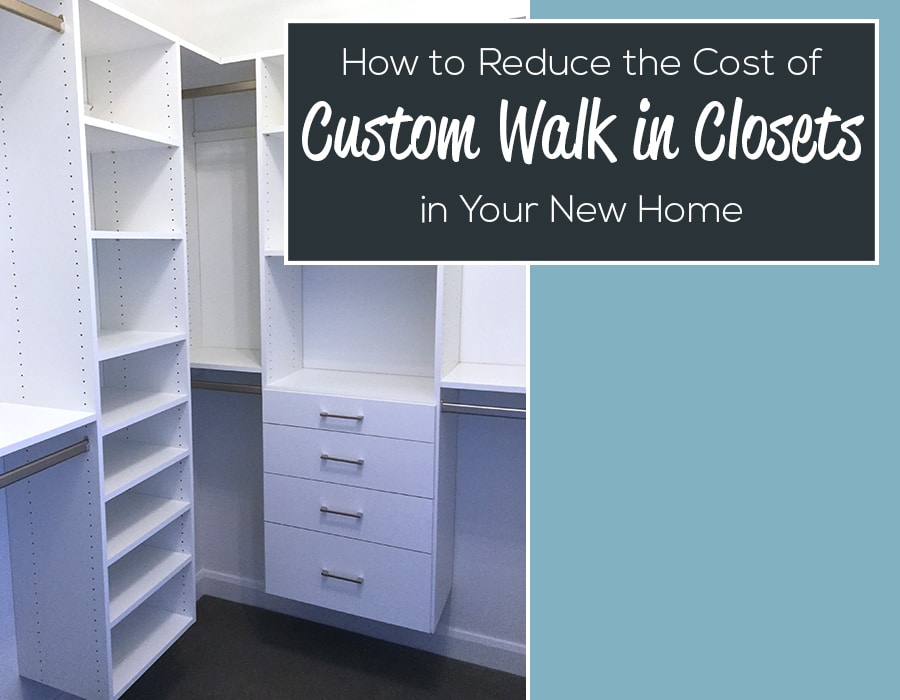 It's so exciting (and scary) building or remodeling a home. The selections never seem to end. You not only want it all to be PERFECT, but you want to HAVE IT ALL right now as well.
However, as your home is being built (or remodeled) you get tired hearing the phrase 'that will be extra.' You didn't realize so many of the fun features you saw in the builder's model or in the remodeler's showroom WERE NOT included in the base price.
And extras keep piling up. And while you're getting ever-so-close to the finish line (and the 'finishes' as they say) the beautiful custom closet in your master you designed months ago is looking increasingly out of your budget as costs have escalated along the way. However, you don't want to 'ditch the custom closet' and put in the standard (and barely useable) wire closet your builder or remodeler normally slaps in.
However, with that being said, you need a plan to reduce the cost of your custom walk-in closet – but don't want to make stupid cuts you'll regret later. The question becomes where SHOULD you cut to get a stylish and functional master closet which you can afford?
This question is what I'm going to tackle. You see – while I lead a custom closet company in Columbus Ohio who works with builders, homeowners, and remodelers alike to design and install dream closets, I'm also practical enough to know sometimes (as the Rolling Stones would say), "you can't always get what you want, but you CAN get what you need."
And in this article, I'm going to provide you with practical ideas to reduce the cost of a custom walk-in closet which will still last and function efficiently for you.
I'll identify 10 things you SHOULD (or could) do to reduce the cost of a custom walk-in closet. At the end I'd love your input on which strategies make the most 'dollars and cents' for you – and any others' ideas you've used to save a few bucks on a custom closet you can share as well. Now let's look at the ideas.
Idea #1– Use a wall hung vs. floor-based closet
Who doesn't love the look of a built-in closet with finished base trim? And if you've got the budget, by all means I'd go with the 'floor-based closet' for its look, functionality and ability to use deeper drawer sections.
However, when you look at hanging sections – or even shelving sections where 12" or 14" depth work, a wall hung closet (which is defined as one supported by a rail tied into the studs but DOESN'T reach the ground) will save you money because it uses less material than a floor-based unit.
And if you can't choose between 'wall hung' or a 'floor-based' system you can take a 'hybrid' approach and use them both (like in the design below) for a mid-priced closet.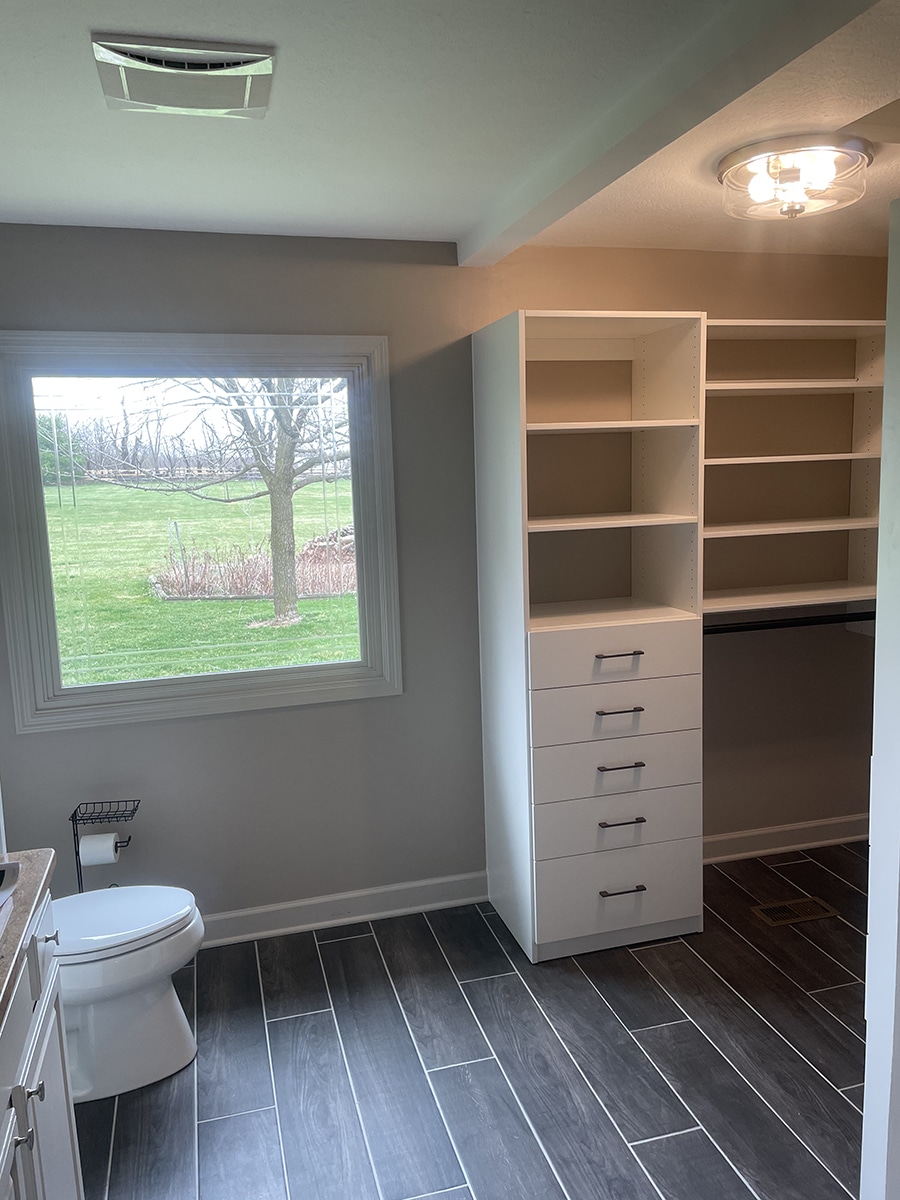 Idea #2 – Use white vs. decorative patterns and colors
I'll admit I love designing closets with colors and patterns. It creates a unique 'closet experience.' They eliminate the "IKEA-ish' generic look love to stay away from.
However, colors and patterns add from 10% to 35% to your final cost. And that 'ain't chump change' as they'd say (whoever 'they' are).
So, if you'd like a professional closet system, and need to get a good chunk of the cost O-U-T – use white. The other nice benefit of white is it'll brighten up closets which lack natural lighting.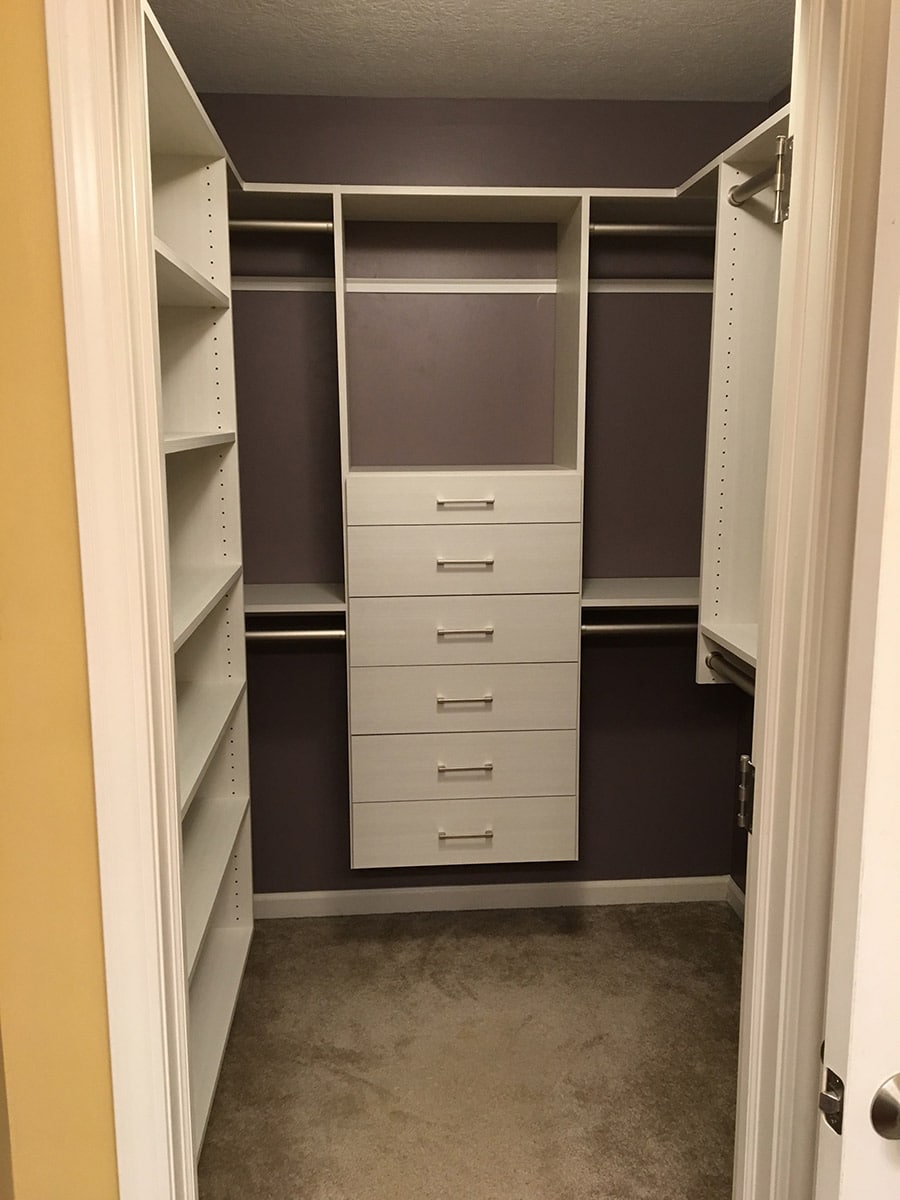 Idea #3 – Take out the 'gingerbread' ('er crown and trim moldings)
Decorative crown and trim moldings are the finishing touches to a custom closet. They turn a 'functional' space into a work of art. However, if we're being practical, crown is not only costly, but also takes away valuable storage space from the top shelf.
So, if you need to get practical don't be afraid to nix the crown. And one of the nice things about crown and moldings, is if you'd like to add them later it's still possible.
Idea #4 – Take a lesson from Goldilocks – make sure your closet widths are 'just right'
One 'hidden cost' of a custom closet are small section widths. You see – like Goldilocks and her quest for just the right porridge – you need sections which are 'just right.'
For example when designing closet drawers, I recommend a 24" wide 'standard section' vs. a 30" wide 'standard section.' And the reason for this is most 'folded clothes are about 11" wide. With a 24" section you can fit 2 garments wide with minimal waste. With a 30" section, you'll have wasted space inside the drawer.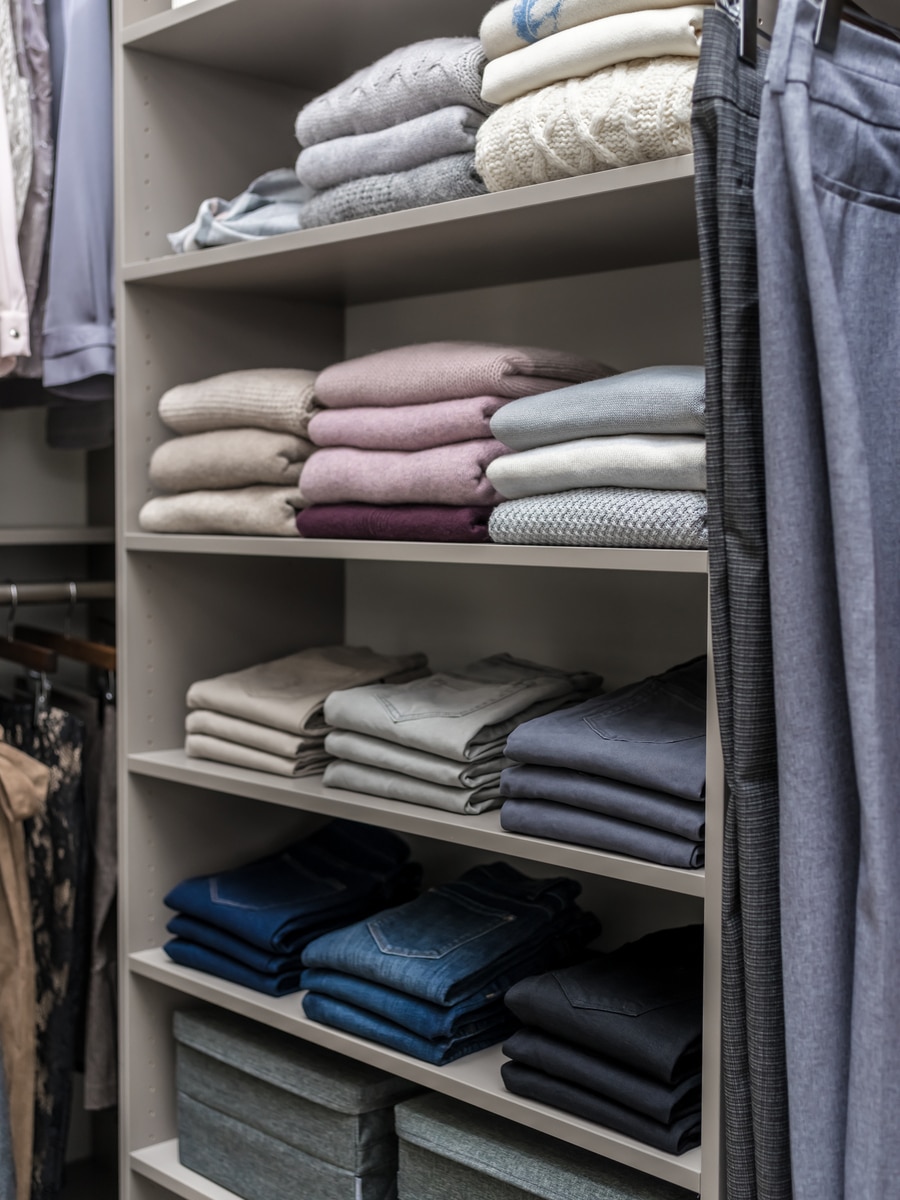 In addition, if you make the closet sections too narrow – you'll have limited storage space inside them.
If you aren't sure what widths are best, ask a professional closet designer why they chose the closet widths they did. Make sure they have a good reason for their decisions.

Idea #5 – Use chrome vs. brushed nickel, oil rubbed bronze or matte black hardware
I'm a big believer of using 'handles' vs. 'knobs' in a custom closet even though handles cost more than knobs because drawers with handles are simpler to open, you don't need to use the most expensive finish for your rods and handles for your closet to work well.
You see chrome handles and rods are less expensive than their brushed nickel, oil rubbed bronze or matte black counterparts. However, the function of the closet is the same despite the handle and rod finish you choose. This is a small decision which can help you shave a few bucks.
Idea #6 – Strategically use less expensive 12" deep shelving
For those who've read this blog know I'm a big fan of 14" deep shelving for sweaters and jean storage (so they don't hang off the edge and the closet looks neater). However, there are places where's it's OK to use 12" deep shelves and take costs out.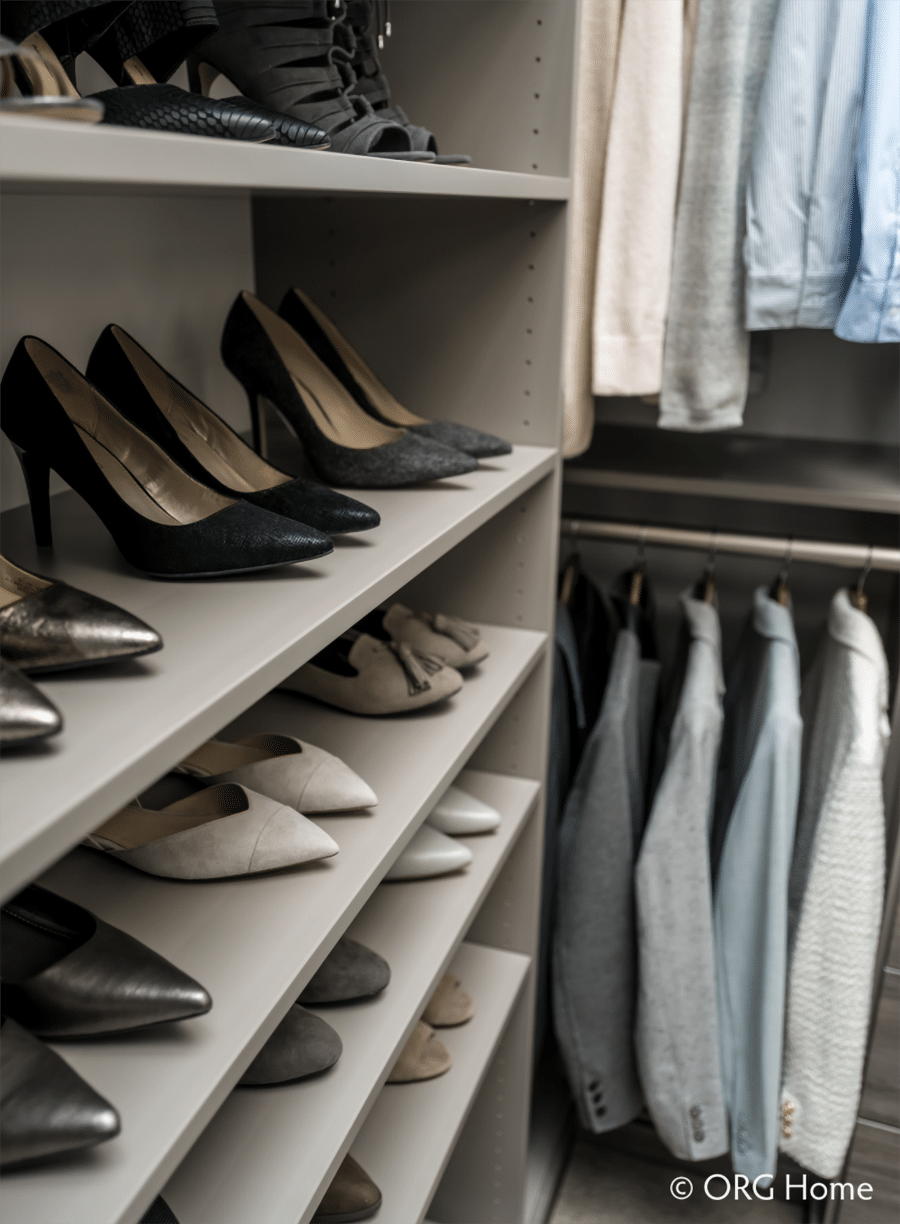 And one of those places are for shoe shelves WHEN your shoe size is 12" or less. You'll cut a little off the cost without sacrificing quality.

Idea #7 – Rethink drawer front styles. When 'nice' can be 'good enough' WITHOUT getting you into trouble
All (reasonably intelligent) guys know telling your wife or partner she looks 'nice' can be a 'grave mistake.' And this funny video from the Holderness Family points this out only too well.
However, when it comes to a custom walk-in closet you'll keep your budget when you learn to be OK with 'fine.' You may need to settle for the 'function you need' and pass up the 'fashion you want.' At this point you may be wondering what I mean about this.
Well – when it comes to closets, I'm a big promoter of adding drawers. The reason for this is with drawers you can get 'fully ready' because you have a place inside the closet where you'll have everything you need (from socks to underwear to pantyhose to jewelry). There's no need to wake up your spouse turning on the bedroom dresser drawers anymore.
However, while it's most fashionable to coordinate the drawer front styles with adjoining rooms (let's say your master bathroom or bedroom), the cost of 'fancier' drawer fronts (like the ever-so-popular Shaker Style) will add more bucks to your design.
So, it's in these instances I'd recommend keeping the drawers (and the drawer fronts which come with them) but using less expensive fronts with a flat 'Euro' style. Sure – they're not as fancy – but they get the job done at a cost-effective price.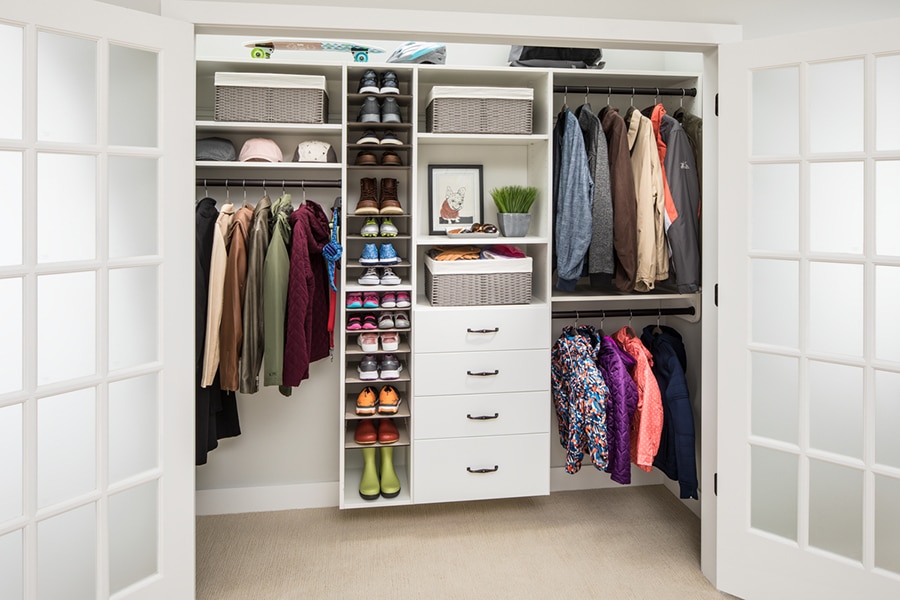 Idea #8 – Make closet sections wider…. but don't get carried away with it
Deciding how much space is right between sections of hanging clothes, shelves and drawers is perhaps the most important decision you'll make. On one hand you don't want hanging sections too wide (36" is the max I'd suggest so the rods won't sag). However, you also don't want them too small. And the reason too small isn't good is the 'separators' (or 'verticals' as we call them in the closet biz) add cost to your design.
And when it comes to shelves – you can 'push the limit' (if you're using sturdy ¾" thick shelves) and max out at 48" wide.
With drawers, 36" is the largest standard size – although it's seldom used because most closets don't have enough room to work with a drawer this big (24" widths are my 'go-to' favorite).
Choose your sections widths wisely to balance cost, function and making sure your sections are sturdy.
Idea #9 – DO NOT be an uneducated buyer. Insist on seeing where the value ('er the fancy word for cost) is in your custom closet design
I know we've all felt the excitement of really wanting something UNTIL we got the price and muttered, "I had no idea it cost that much!" (or we use some other 'French' words I can't print on this family-friendly blog).
Well, I'm here to tell you if you're a smart closet shopper you 'won't be fooled again' when you understand the nuts and bolts of where your closet costs are IF (and only if) you deal with a professional custom closet designer who uses a 3D closet design program.
You see with 3D programs it's as simple as a click of a 'drop-down' button to change from a fancy pattern to white and see how much the cost goes down (see idea 2). Or to reduce the widths of closet sections (see ideas 4 and 6) to view in real time how much you'll save (and if the cost reduction is big enough to justify the change).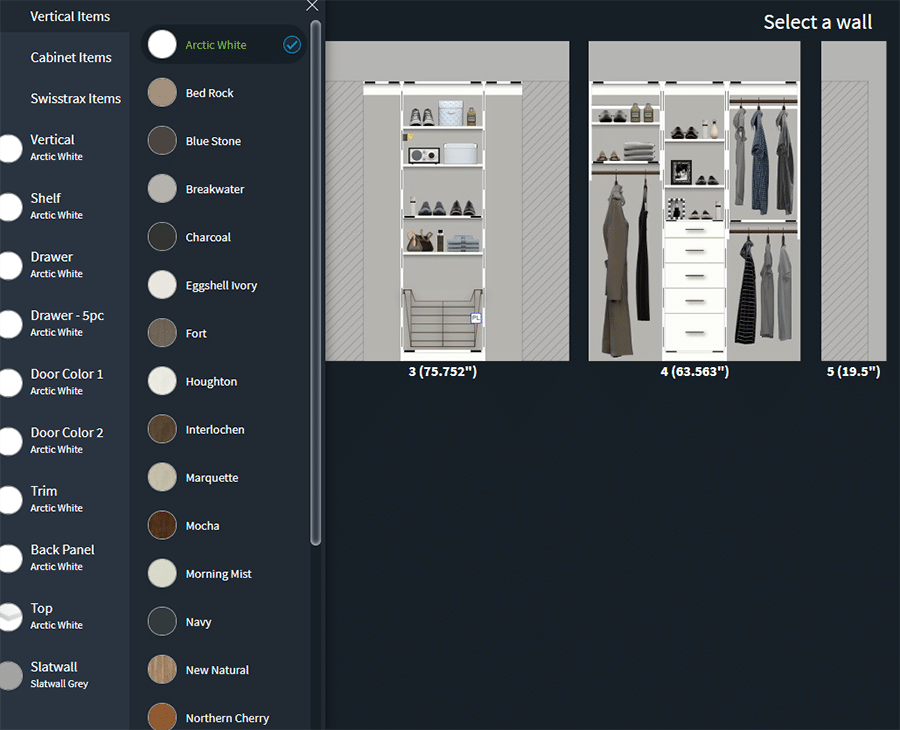 Don't be an uneducated consumer. Insist on working with a professional closet designer who shows you 'in the moment' (without any 'razzle-dazzle' hard-closing phony 50% off sales tactics) where your money is going!
Idea #10 – Minimize fancy accessories today but know you can add them 'tomorrow.'
Hey – who wouldn't love a velvet jewelry tray to keep your necklaces, rings and bracelets in order? Or how about a wardrobe rod to stage tomorrow's clothing? Or maybe a pull-out hamper to keep your spouse's 'wonderful smelling' (sarcasm intended) work out clothes buried and out of sight?
And while these are wonderful options (and my custom closet company sells plenty of them), if your budget is tight, they ARE NOT something you have to install day 1 to get a better-functioning closet. You see if your budget is maxed out, all three of these options (with the right closet design planning) are cool features you can add later.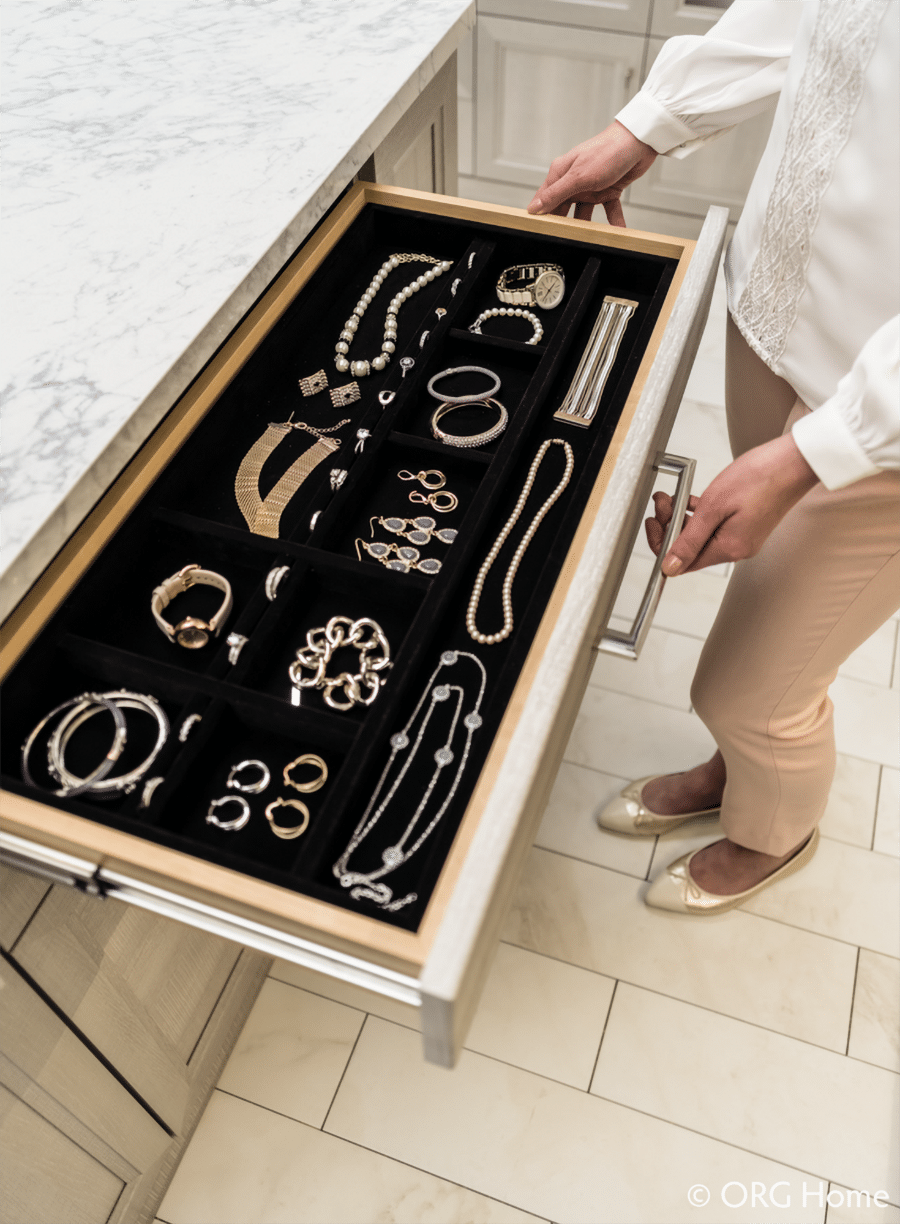 Don't let your desire to get all the 'bells and whistles' you want, prevent you from getting a functional closet you need right now. Get what you need now. Plan to add the cool options later.
So, how can me or my team help you reduce the cost of your custom closet?
Although I've provided 10 ideas to reduce the cost of a custom closet you may not know which of these strategies make the most sense for you (or the exact dollars and cents impact they'll have in your design).
And I understand this.
This is why if you live in Columbus Ohio me, and my team would love to help. Invite us to your home for a Free 3D Design Consultation or if you just want to get a 'ballpark' idea of cost – ask about a virtual design consultation. Call 614-545-6888 or click for a Free 3D Closet Design.
And if you're outside Columbus, write where you live and what you're looking to do in the comments below. I'll work to find one of my 'buds in the business to assist you.
Thanks for reading …any putting up with my (sometimes) wacky humor.
Mike
###
If you'd like more information on garage, pantry, entryway or custom closet design follow me on LinkedIn @MikeFotiLinkedIn.
---
Tags: advantages 3D custom closet design, Columbus closet system, Columbus cost custom closet, Columbus floor based closet, Columbus wall hung closet, cost custom closet, cost of closet shelving, cost of white closet, custom closet accessories, custom closet hardware, cutting closet costs, depth of custom closet sections, hardware in a custom closet, impact of closet widths, price of custom closet Columbus, reduce closet costs, size of closet widths, walk in closet costs, wall hung vs floor-based closets, white custom closet, white custom closet Columbus