Is it Smarter to Buy a Vertical or Horizontal Murphy Wall Bed?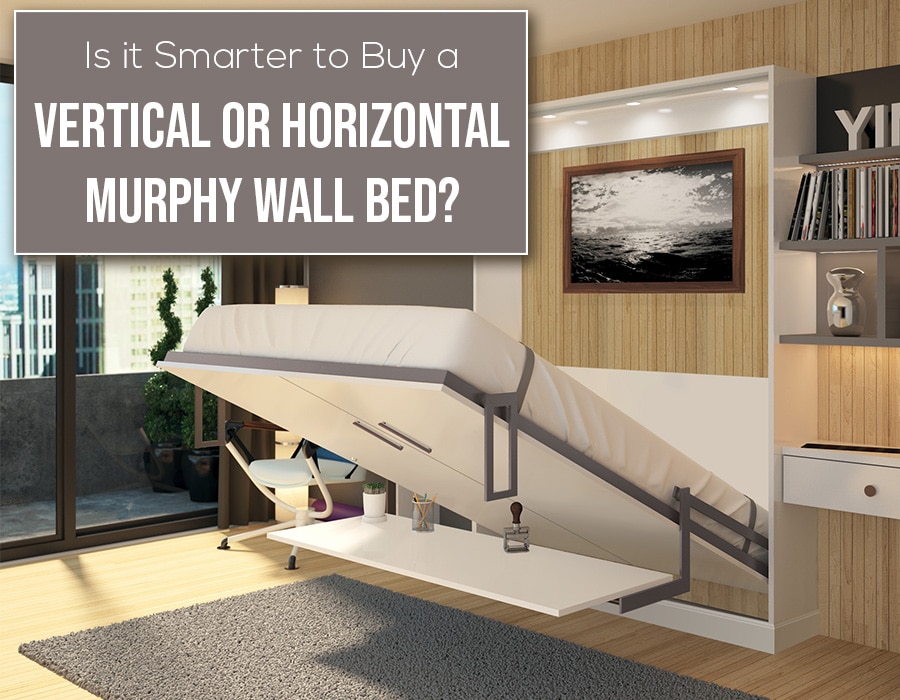 Depending on your perspective some people think Murphy wall beds are the coolest thing EVER (and you can say that with a Valley-girl accent). However, on the other hand some believe Murphy beds are one crazy invention. And yes – a bed which 'pops out' of a wall isn't 'normal' …to say the least.
However, no matter if you're a fan or foe of Murphy beds, there's no denying they're an ingenious way to include a bed in a small room AND make it a 'multi-functioning' space which doubles as a home office, crafting, or Yoga/ exercising room. These beds have gotten so popular you'll even see them in hotel rooms, cabins, and tiny homes as well.
And while there are many advantages of a Murphy bed (and if you aren't familiar with what these benefits are check out the list below), there's also a lot of confusion over what style Murphy bed to buy.
Advantages of vertical and horizontal Murphy wall beds
Save space in a bedroom, loft, or basement
Can be designed to look like finished furniture
Can be uber-simple to open if they're equipped with a piston lift mechanism
Are available in Queen, full and twin sizes.
Can be customized with bookshelves, drawers or filing cabinets on the sides
Use a standard sized mattress and some models come with wood slats for the ultimate in comfort.
Can be made with different door fronts in a wide variety of colors, patterns, and materials (wood and laminate Murphy beds are most common).
Can add a desk option for a convenient home office.
Can be professionally installed to take the 'guess-work' and aggravation out of the installation AND get a lifetime guarantee.
For example, you could choose a 'vertical wallbed.' This is a bed which is mounted with the head of the bed on a taller wall – see below.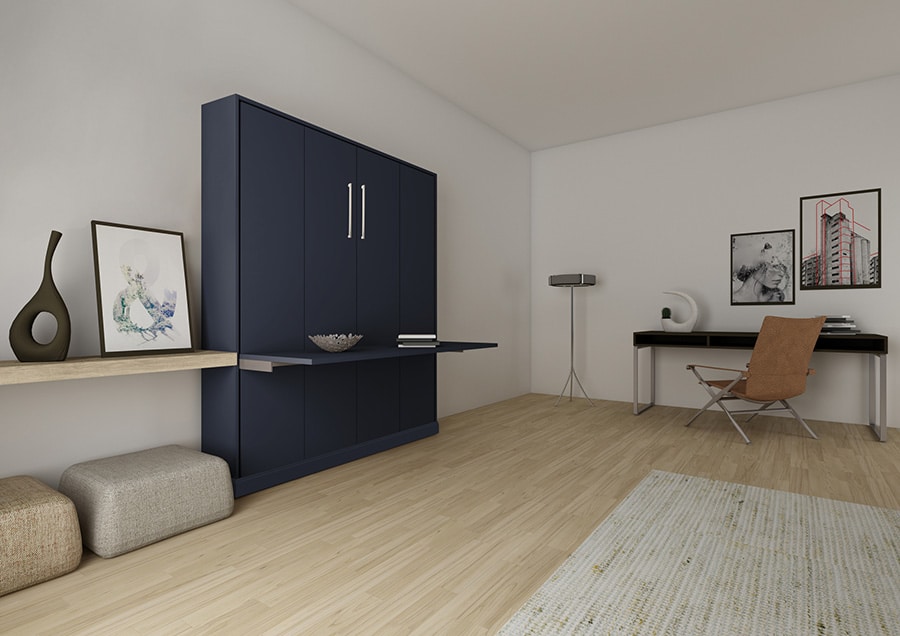 Or you could choose a 'horizontal wallbed' which is mounted with the wider side to the wall. It has less height on the wall – see picture below) and projects onto the floor with one side of the bed next to the wall.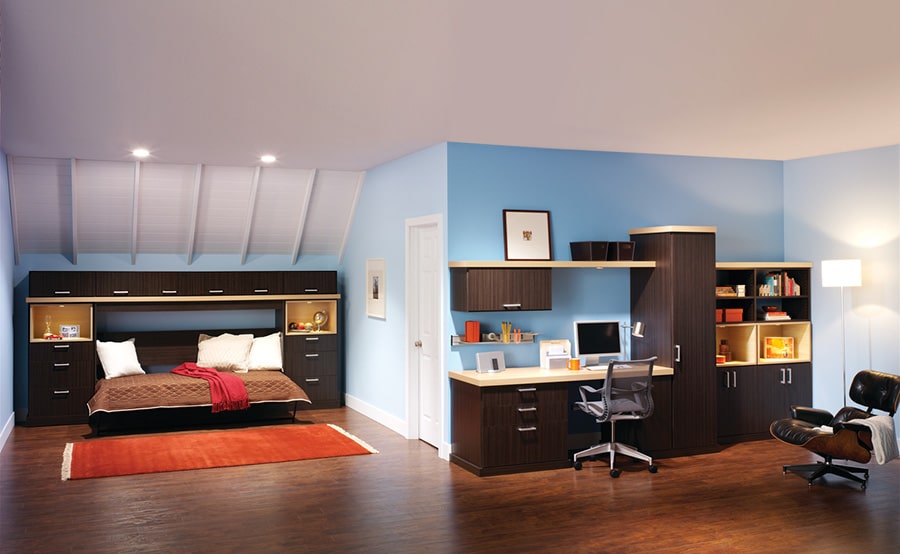 So, how can this article help you choose a Murphy bed?
The goal of this article is to put an end to your debate on whether it's smarter to buy a vertical or horizontal Murphy bed.
First, I'll look at 4 reasons to buy the vertical Murphy bed over it's horizontal countertop. Then I'll 'turn the tables' and give you 4 smart reasons a horizontal wall bed could be best for you. At the end, I'd love your input on which you think is your right choice. OK – let's check both options out.
4 Reasons to Choose a Vertical Murphy Wall Bed over a Horizontal Unit
Reason #1 to choose a vertical murphy bed is money, money, money…. Money!
For you former rockers who used to sport 'big hair back in the day' you'll relate to the song Money by Pink Floyd in the video below.
And while you'd like to be 'traveling first class' as the song lyrics say, your way-too-small budget tells you otherwise.
And if you love the idea of gaining space in a small bedroom or basement, and have a comfortable place for your kids home from college or guest to sleep, but need to keep costs down, you'll want to choose the vertical Murphy bed over the horizontal one.

Since the horizontal bed has a deeper frame (which drives costs up) it's more expensive than a vertical Murphy bed. A standard installed vertical queen size Murphy wall bed with a lifetime guarantee and white flat Euro style doors will cost $3,440. For a horizontal queen-sized Murphy bed with a white Euro style doors your cost will be $3,650.
Bottom line….
Reason #2 to choose a vertical murphy bed is it adds 'volume' and interest to a room with moderately high ceilings
Who doesn't like built-in furniture to add elegance to a room?
And when you have taller ceilings (from 85" and up) you can not only use the vertical Murphy bed to add 'volume' and interest to the room, but you can also add shelving, drawers or filing cabinets for your wardrobe, copier paper, files, books and art pieces.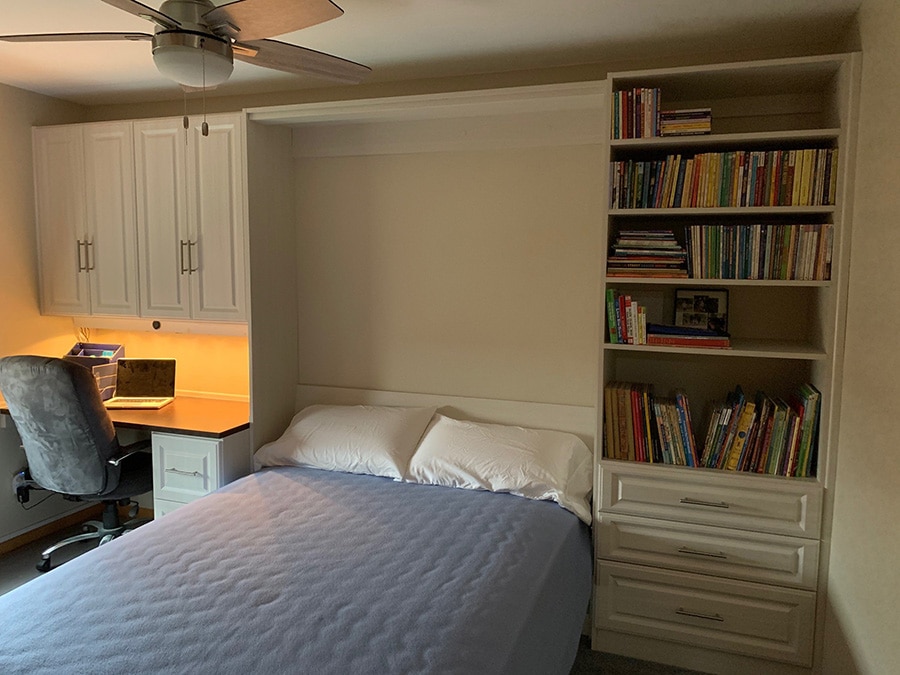 Add style, storage, and bedding in one package with a vertical Murphy bed with custom designed cabinetry on the sides.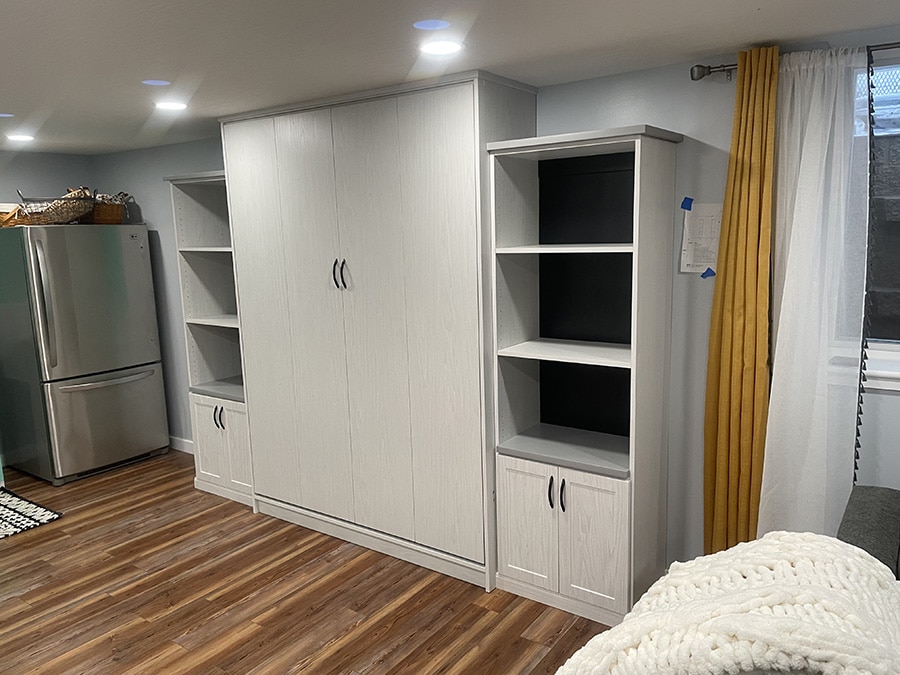 Reason #3 to choose a vertical murphy bed is it can 'work around' narrower spaces between windows and doors
It can be infuriating when you decide you'd love a Murphy bed only to find out your windows are too close together (especially if you were thinking of using a horizontal style which is wider on the wall), or the location of your door doesn't give you enough room for the bed to be mounted on the wall.
However, it's nice to know you'll use less wall width with a vertical bed. For example, you only need 59.5" of width for a full-size vertical Murphy bed. And for a queen-sized bed (which is preferred because it provides the most room for couples) you'll only need 65.5" of width. When you compare this to a horizontal bed which requires 80" for a full and 85.1" for a Queen, you'll see the vertical unit can be the answer when there's a smaller wall width available.
Reason #4 to choose a vertical murphy bed is you can get in and out of bed without disturbing your partner
Since the head of the bed for a vertical Murphy bed is where the bed meets the wall – you'll be able to exit on either side.

This can be HUGELY important when couples are using the bed and one needs to get up earlier than their partner (who also happens to be a light sleeper).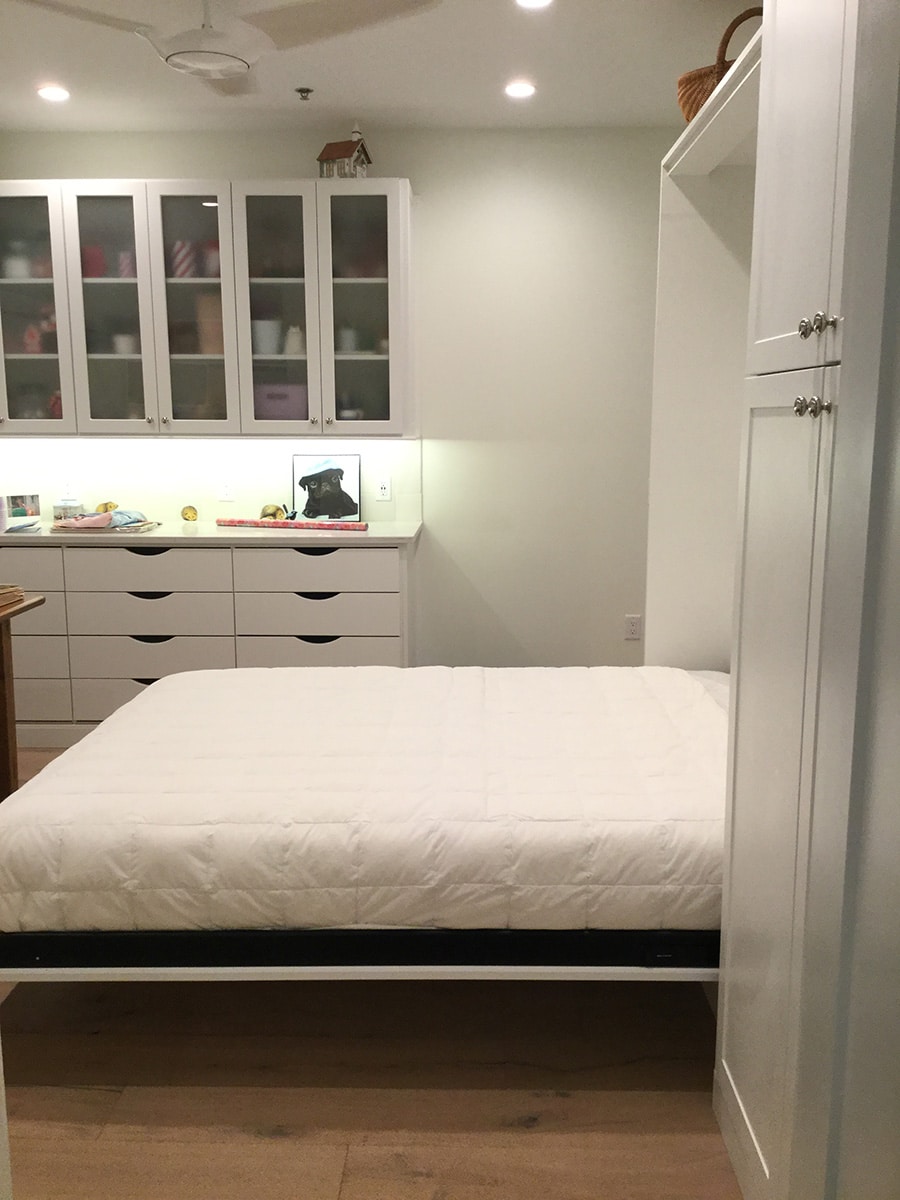 Now, let's turn the tables and look at reasons to choose a horizontal murphy bed.
4 Reasons to Choose a Horizontal Murphy Wall Bed over a Vertical Unit
Reason #1 to choose a horizontal murphy bed is when you have short ceilings
Let's say you'd like to use a Murphy bed in a dormer style attic bedroom with 73" high ceilings. However, you assume your space is too short for a wall bed.
Or you'd like to use a queen Murphy bed in an 11-block high basement where the finished ceiling is only 86". You learn the vertical Murphy bed is a no-go since it requires 89" of ceiling height.

The question becomes, in these situations, what can you do?
Well – simply you can pivot (no bad Murphy bed mechanism pun intended) to a horizontal Murphy bed. With a horizontal unit – which is wider, but also shorter– you can even have a Queen-sized bed installed with ceilings as low as 69".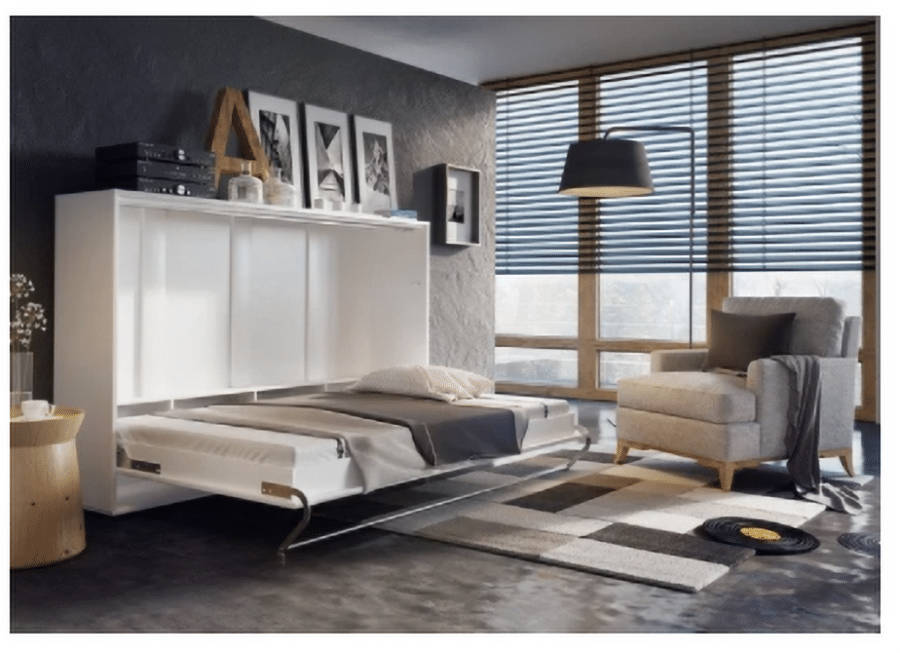 Image Source: www.wayfair.com
Reason #2 to choose a horizontal murphy bed is the bed will stay closer to the wall
If your spare bedroom isn't very wide (or deep) yet you still want the flexibility of a Murphy wall bed with a desk, there's still hope. Since the (longer on the wall) horizontal murphy bed doesn't come out as far from the wall, it can be the solution for a room which is not only not very wide (a little 'double-negative action for you there), but also not very deep.
A horizontal Murphy wallbed can truly be a 'space-Houdini!'
Reason #3 to choose a horizontal murphy bed is you can add storage above the bed
Since horizontal Murphy beds aren't very tall (they're only 67.6" tall for a Queen, 61.2" tall for a full and 46.1" tall for a twin) you can incorporate storage over the top of the bed, which doesn't require bringing in the tall ladder to reach.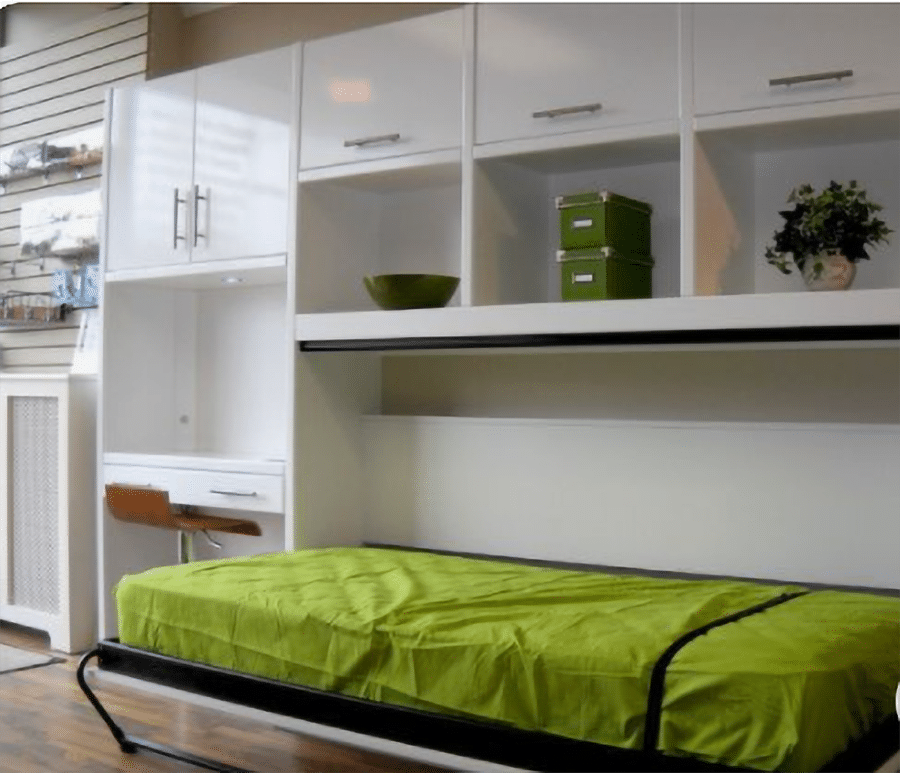 Image Source: www.thewowdecor.com
Reason #4 to choose a horizontal murphy bed is it's perfect when your son or daughter's BFF sleeps over
Since a twin horizontal Murphy bed hugs the wall and is only 80" wide x 16" deep x 46" high, it's a perfect for your kid's BFFs to use when they're sleeping over, yet it doesn't take up much floor space in their tiny bedroom. And this bed beats the heck out of a sleeping bag or 'pain-in-the-rear' air mattress you have to blow up every time their friend spends the night.

Now, the only thing you'll need to figure out is how to get them to GO TO BED!!!
So, is a vertical or horizontal Murphy bed best for you? Do you still need help figuring out the best wall bed?
OK – so after reading the 4 reasons to use a horizontal or vertical Murphy bed has one choice 'popped out' (OK – that bad Murphy bed pun WAS intended!) as the 'slam-dunk' choice for you?
If not – can me or my team help with a Free 3D Murphy Bed design to guide you to the best choice for your crazy-small room?
If you need help (and you're in Columbus Ohio) call 614-545-6888 or click for a Free 3D Murphy bed design. And if you're not in Columbus, in the comments below tell me where you live, and I'll do my best to find a friend in the home storage and bedding industry who can help you.
Thanks for reading – and putting up with my wacky puns!
Mike
If you'd like more information on home organization, Murphy beds, or interior design follow me on LinkedIn @MikeFotiLinkedIn.
---
Tags: benefits of a murphy bed, best Murphy bed, best Murphy bed for couples, Columbus murphy bed, Columbus murphy bed design, Columbus murphy bed designs, Columbus side murphy bed, Columbus vertical wall bed, Columbus wall bed, comparing cost of horizontal vs. vertical murphy bed, Dublin Ohio Murphy Bed, horizontal Murphy bed, horizontal wall bed, horizontal wallbed, how to compare horizontal vs. vertical murphy bed, Loft murphy bed, murphy bed dimensions, murphy bed with side storage, side murphy bed, vertical Murphy bed, vertical wall bed, vertical wallbed