How to Choose Colors, Finishes and Patterns for Your Walk in Closet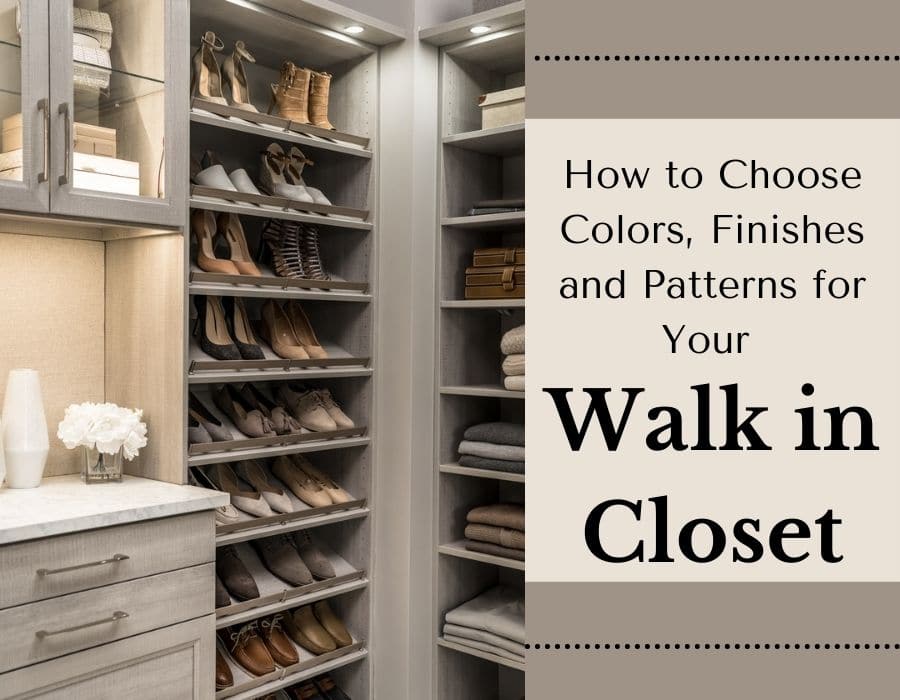 You never knew buying a walk-in closet could be so complicated. Not only did you need to work with your closet designer to figure out the right size and mix of drawers, hanging and shelving but THEN you were confronted with a slew of finish and pattern options (or, worse yet, you're trying to make all these decisions on your own).
You have no idea what patterns and colors to choose.
If this describes you, you're far from alone. While the 'function' of the closet is driven by the mix (and size) of the closet elements ('er the drawers, hanging and shelving), the 'fashion' of your walk-in closet is driven by a successful selection of patterns and colors. But many people have no idea where to start!
Well – I'll suggest you start right here.
In this article I'll lay out 9 questions you need to answer (or you need to answer with the help of a custom closet designer) to end up with a closet which is not only functional, but fashionable as well. Let's check out these 9 questions.
Question #1– What's your budget?
If you said, 'sky's the limit,' skip this question. However, for the rest of us you need to know how closet costs vary greatly as you change colors, design patterns and textures of materials.
If you need a functional closet and need to keep the lid on prices –white will be your answer. It's classic and it's the lowest cost alternative.
If you want a closet which coordinates with your Shaker cabinets in your newly remodeled bathroom, be prepared to pay more for closet system with Shaker door and drawer fronts.
And if you want a closet which leverages the two-tone look you see in upscale kitchens – your budget will need to go beyond the price of a basic white system.
The list of closet pricing variables goes on and on.
In order to get specific examples showing how these variables increase (or decrease) your price, read How Much Does an Installed Walk in Closet Cost (with 5 ideas to save you money). You'll get real numbers so you can estimate costs and know how much to budget on a closet system.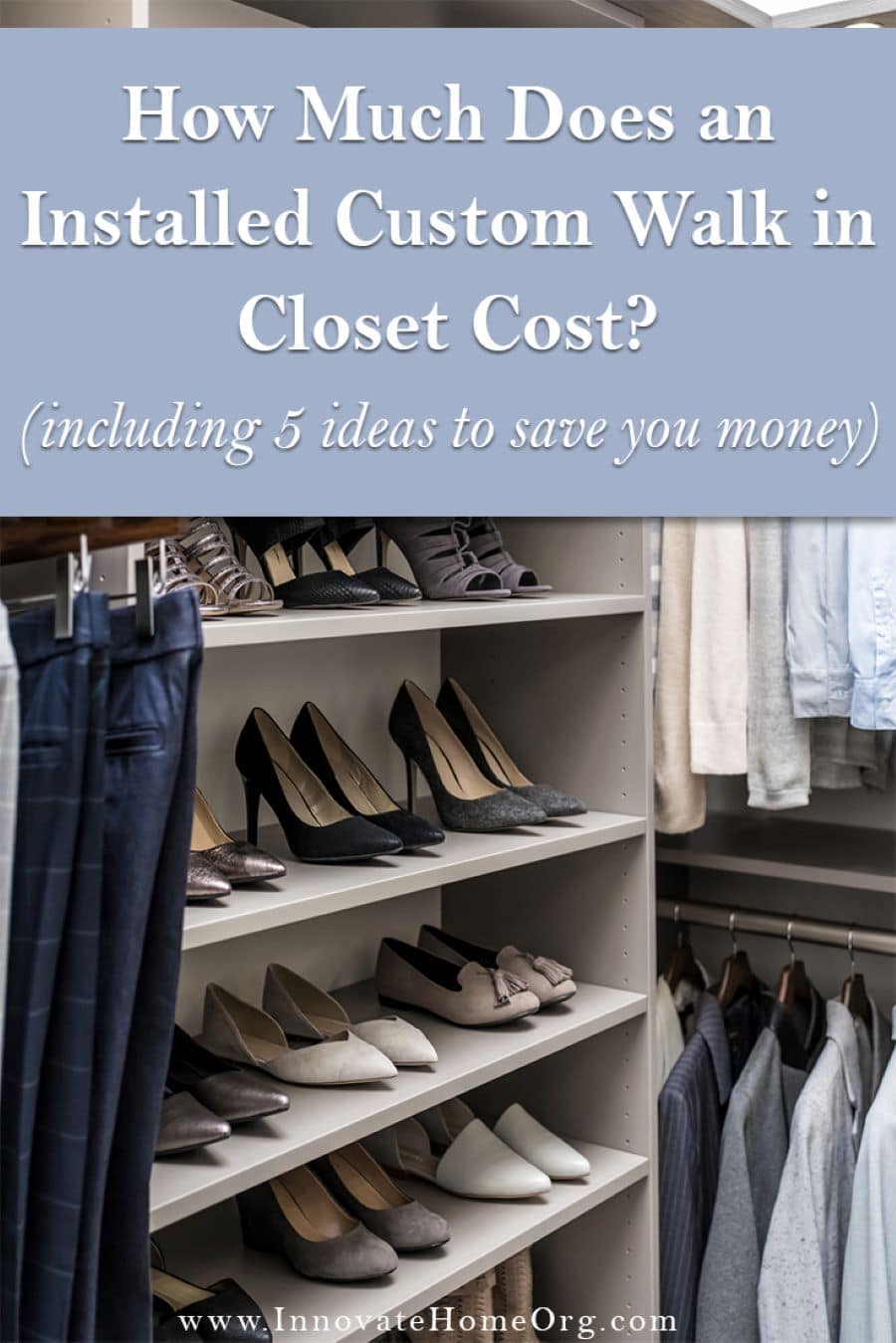 Question #2– How can you add style WITHOUT causing a big drain on the budget?
So, I hope I didn't let the 'wind out of your sails' by bringing up budget in question 1 – but how much you'll need to spend is a harsh, cruel reality it's smart to face sooner than later.
However, in question 2 I want to inject hope back in you. If you see installed walk-in closets cost more than you expected (which is true for most people) AND you still want to inject personality in your custom closet, I have 3 smart color and pattern ideas which can be done WITHOUT a big budget. And here they are:
Idea #1 – Instead of 'deck the halls,' think 'paint the walls' – If you don't want a 'generic white' closet which looks like every IKEA system out there– you can get fun (and daring) with a bold paint color on the walls. Going with a deep, rich texture makes the 'vanilla' white closet really stand out. And your cost…it's only a gallon of paint.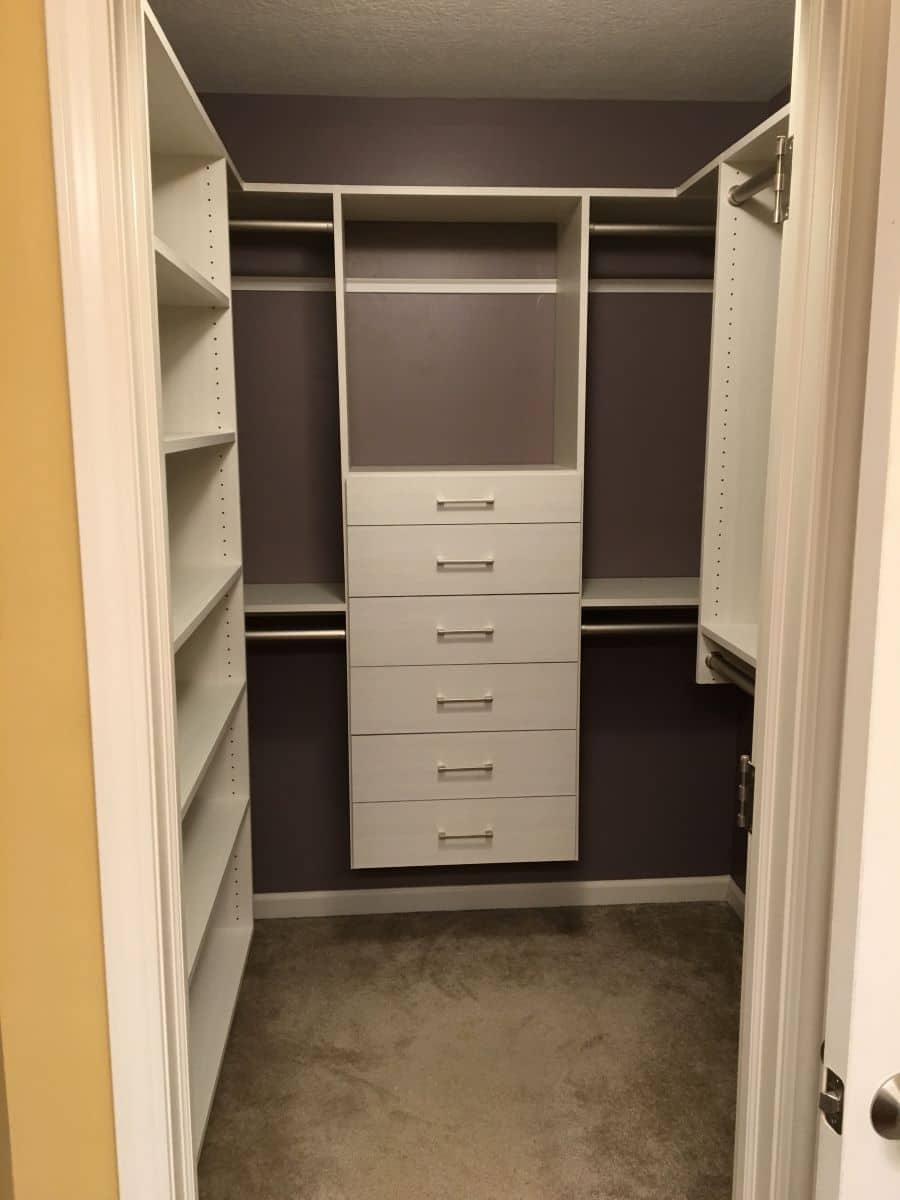 Idea #2 – Use the 'jewelry' ('er hardware) of your closet to its maximum advantage – If you want examples of how hardware can 'dress up' a project look no further than your shower. You see even a matte black shower door can add style to a boring piece of glass. Closet hardware (AKA the rods, doors, and drawer handles) adds style even to a basic slab drawer front. Don't be afraid to be dramatic (OK – not as dramatic as your teenage daughter) ….at least when it comes to your closet. Go with hardware which provides a bold contrast to your doors, drawers, and shelves.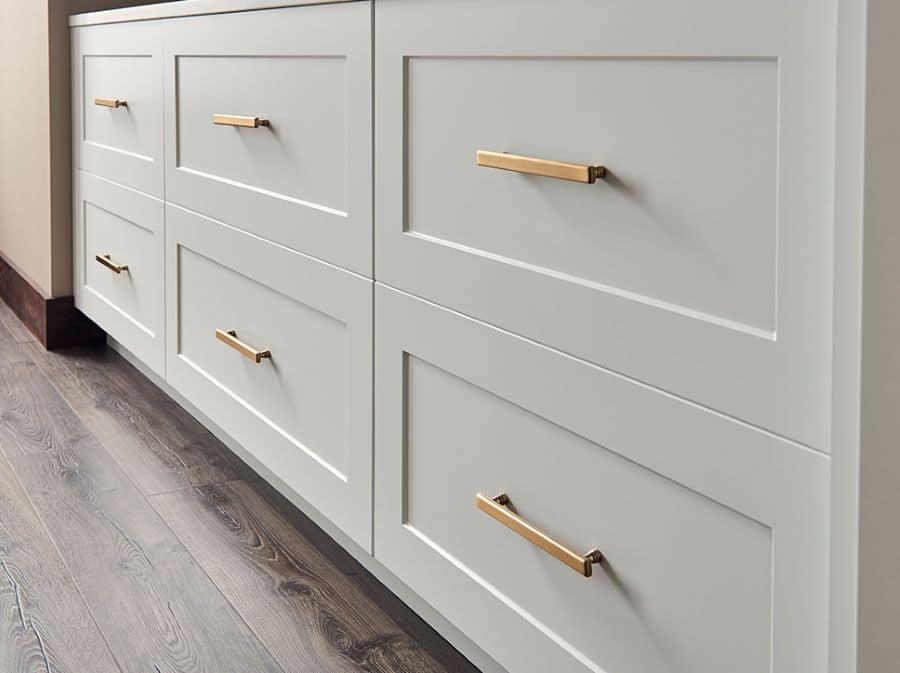 Idea #3 – Give your closet a 'two-tone' look – A fun way to add style – on a budget –is to go two-tone. Instead of going with a fancy pattern for the entire closet, use a decorative pattern on the doors and drawers. It'll add interest. It'll keep total costs down.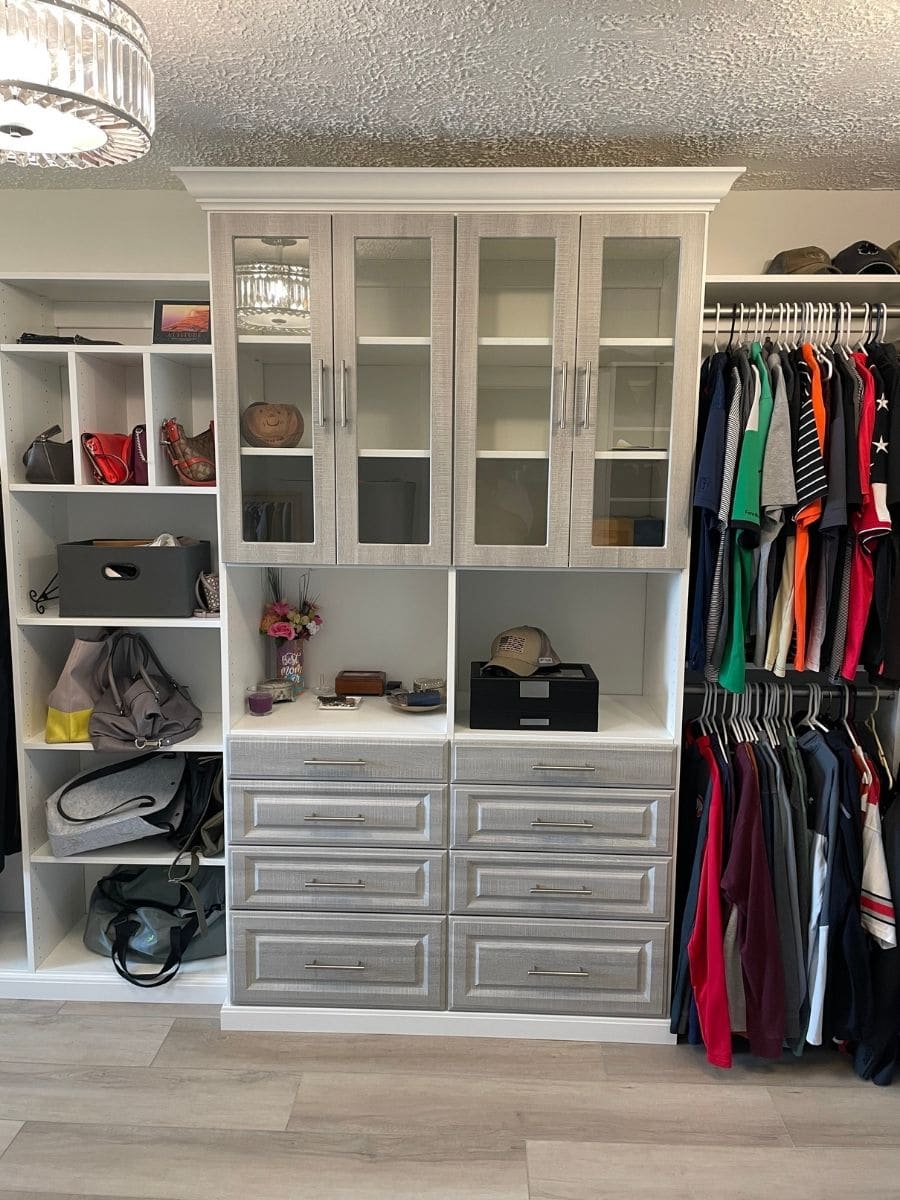 Question #3– Do you want your closet to be masculine, feminine or 'gender neutral?'
OK – I don't mean to be stereotypical here…but I'm going to be stereotypical here!
Men's closets are universally darker. They often have bold wood colors which contrast with lighter closet walls. These closets have more than their fair share of gadgets (from tie racks to belt racks to jewelry trays for sunglasses and watches). The dark colors of luxury men's closets are brightened with high-end LED lighting systems.
Women's custom walk-in closets – on the other hand – are lighter and more fun. You'll see light wood colors. You'll see decorative handles (and yes, glass and even 'bedazzled handles are A-OK). And if you're looking for the ultimate (AND have the room) – a closet island with the requisite chandelier is the bomb-diggity!
And if you want your closet to be 'gender neutral' (this is smart if you're planning to sell your home or apartment soon), white is (and always will be) the color you can't go wrong with.
If you want more ideas for masculine vs. feminine closets read: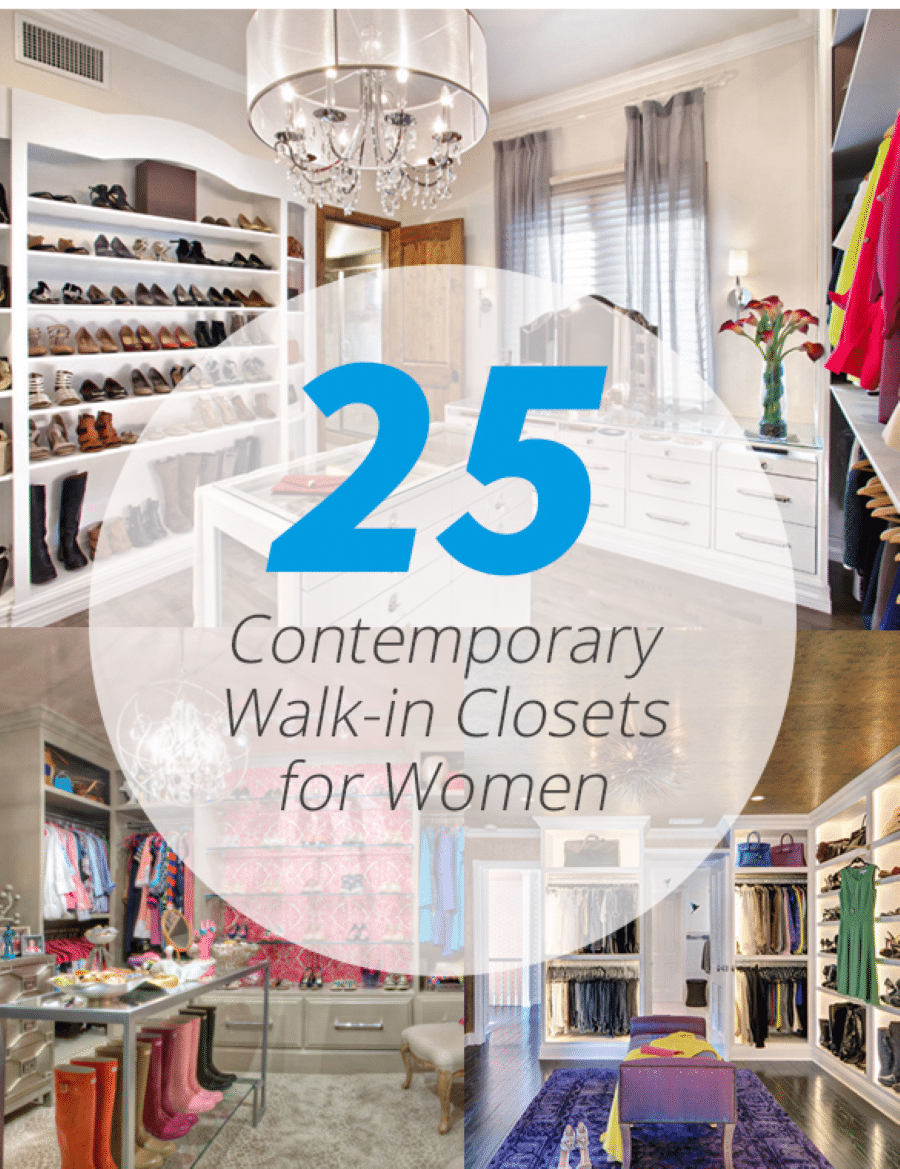 Image Source: Home Design Lover
Question #4– Will your closet colors clash with your floor?
In my market of Columbus, Ohio I run into this problem ALL THE TIME. The client wants to 'match' the deep wood-grain pattern of the floor, with a deep-wood grain pattern for the closet. And I'm here to tell you this NEVER works. The 2 patterns clash. They look terrible together.
When you've got a deep wood grain floor, use either a solid color closet, or a subtle wood grain pattern (like you'll see in this 'morning mist color closet' below). The bottom line is heavy grain pattern closet floors don't work with bold pattern closet systems.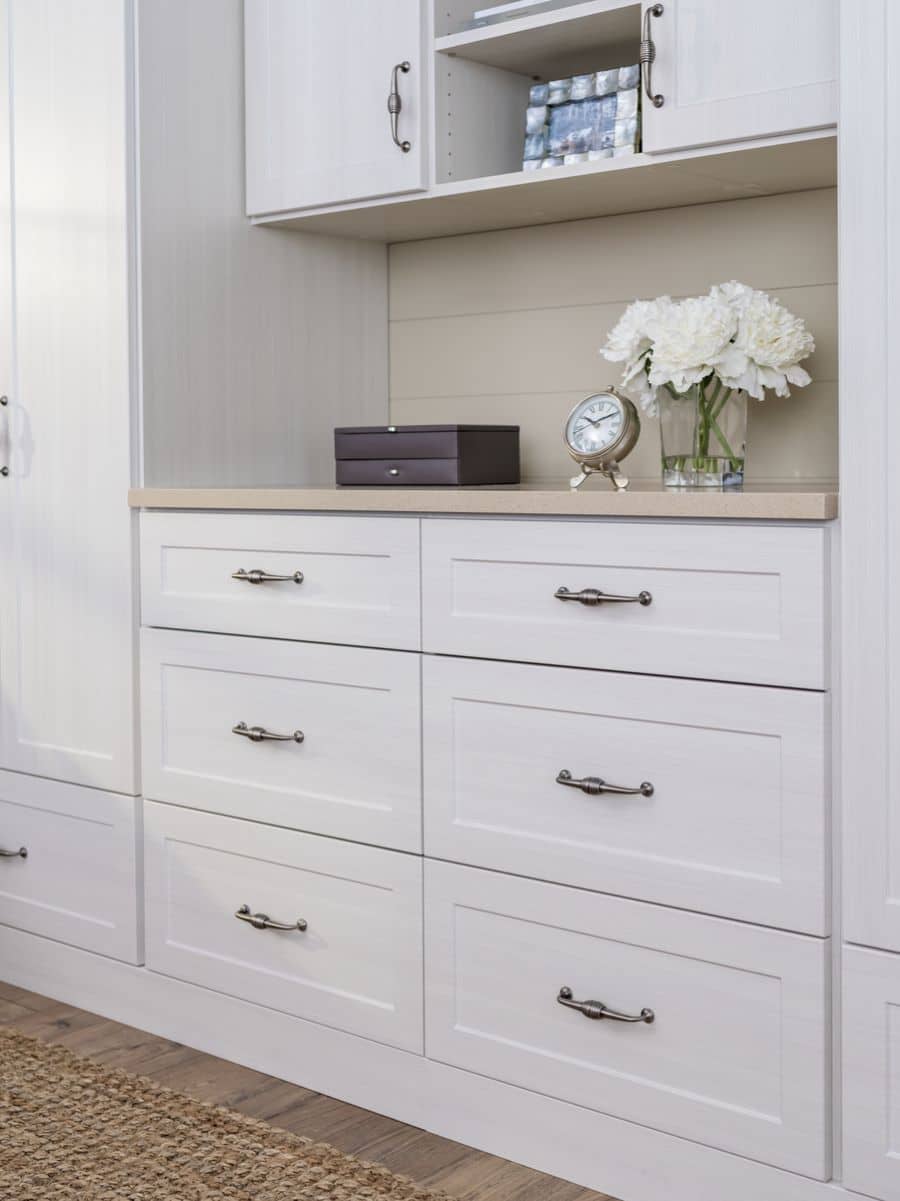 Question #5– Will you be able to 'see' how your closet patterns and colors look before you buy?"
I'm going to tell you a secret – and this secret doesn't have anything to do with closet design (but it also does at the same time). You see I HATE, HATE, HATE to shop for my wife Rose in department stores. And I'll tell you why. Although I might save a few bucks by sifting through racks upon racks of department store clothing, I can't visualize what these clothes look like together. I'm overwhelmed. I'm fearful of mismatching mashup of clothes. Therefore, I only shop at specialty stores which show examples of outfits grouped together.
And the challenge of buying a closet for most people is much like my problem buying an outfit for my wife at a department store. You see – if you're overwhelmed and can't 'see' how the patterns, colors and designs look together, you won't know if you like them. You're paralyzed to do anything.
It's for this reason you've got to insist on a 3D closet design before spending money on this project. With a smart closet design program, you can also change colors and patterns to your hearts content AND see how they impact your budget as well. How cool is that?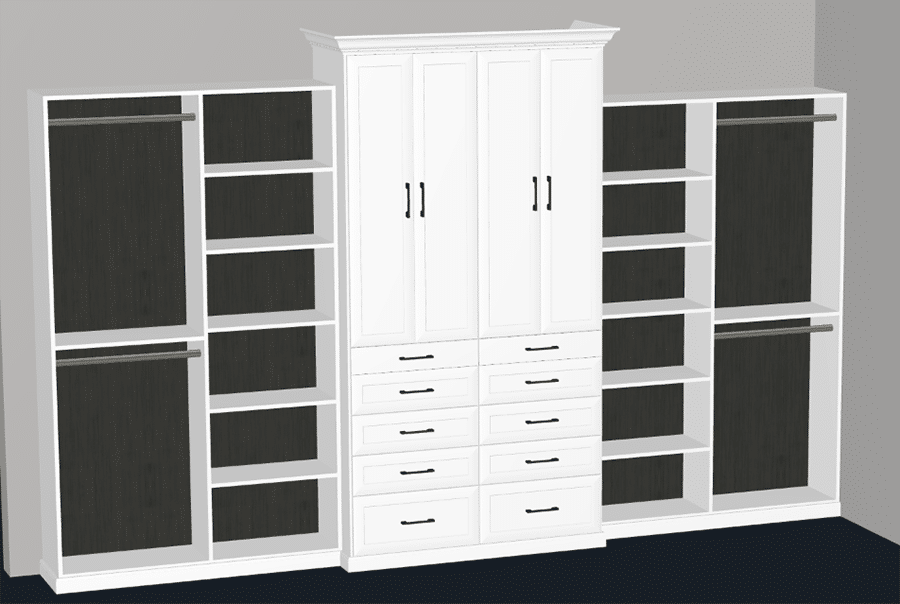 Question #6– Is high gloss, matte, or a 'silk' (semi-gloss) closet finish best for you?
Another way to create a unique style for your closet is selectively selecting (yes- this redundancy was on purpose) the finish of your closet.
And if you want your closet to 'pop' – and create the feeling of more space with its mirrored look – a contemporary high gloss finish is a wonderful way to make this happen.
On the other hand, if you want your closet to epitomize (OK -that's a fancy word I threw in to make me seem smart…is it working?) understated elegance – then a matte finish will be right up your alley.
And lastly if you want to take a 'middle of the road' approach, the silk (or semi-gloss) is an option you can't go wrong with.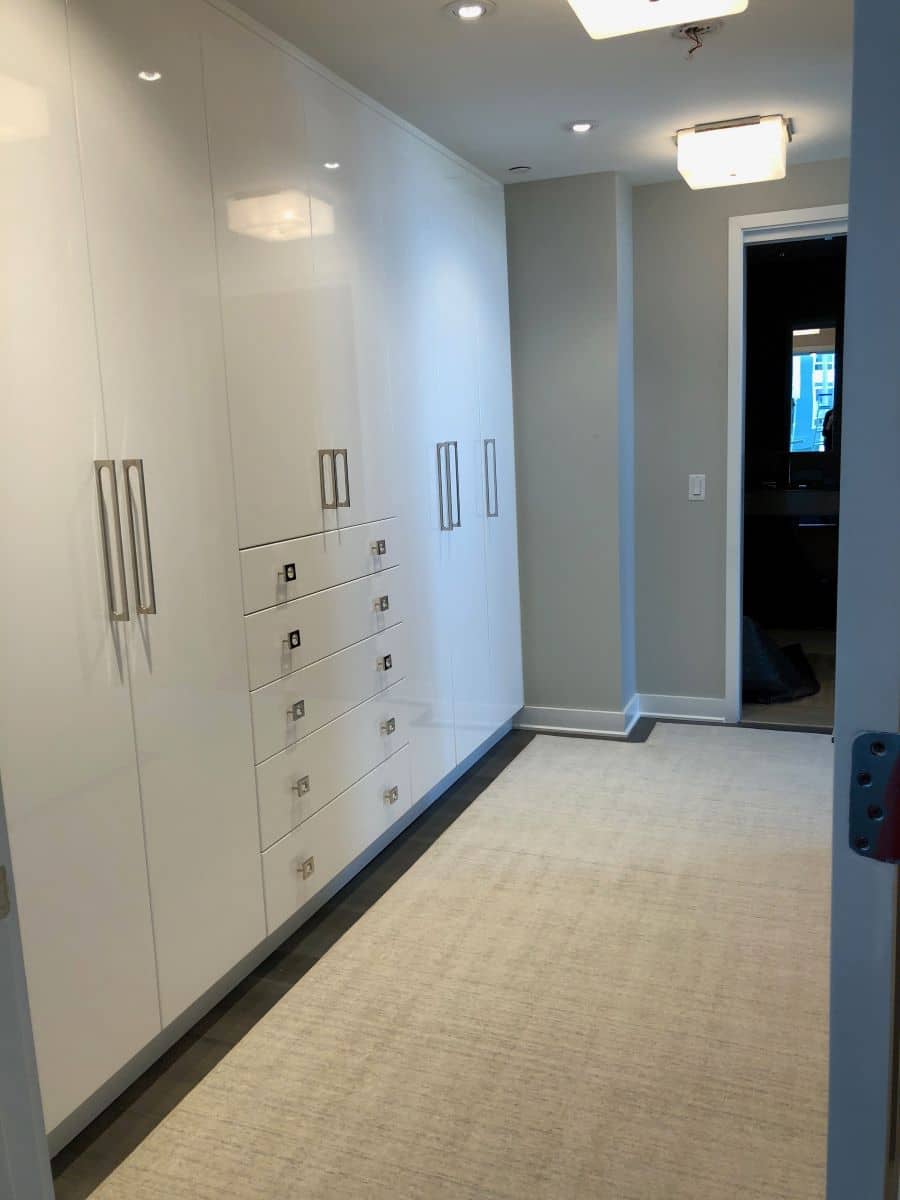 Image Source: Patty Miller at Boutique Closets and Cabinetry
Question #7– Are you afflicted with the 'urge to redecorate?'
It's a scary time in my house when my wife declares she has the 'urge to redecorate.' It sends chills down my spine. She's thinking of how to make our home look nicer with a 'refresh.' I'm thinking about costs and the upheaval it'll cause.
And the reason I'm bringing this 'need to redecorate' up is if you're the type of person who needs to change colors every now and again, you'll want to think about what material you choose before installing a custom closet system.
You see if you choose a laminate closet – they're not re-paintable. You'll need to stick with your original colors.
On the other hand, if you go with a painted (or stained) wood closet, you can make color changes to your hearts content (although you'll need to put up with the maintenance of wood along the way).
So, before deciding on a color or pattern for your closet, think long-term and if you'll have the 'urge to redecorate' your closet down the road.
Question #8– Where can you look for inspiration?
Sometimes its hard to know what the perfect closet will look like UNTIL you see it live (or almost live on the Internet) and in living color. But where are the best places to discover the perfect closet and learn what you want (and what you need) in it?
Well for my money I'd look at the best social media platforms and the top closet blogs (and I'm 'a-hoping' and 'a-wishing' you'll also find my blog – Professionally Organized – would be one of those resources). Below I'll identify the top social platforms and blogs I look to for closet color and design inspiration and information:
Top social media platforms – You can't ignore the 'big 3' –Instagram, Pinterest and Houzz. Within those platforms here's a few accounts and boards I love.
Boutique Closets and Cabinetry on Instagram – In my opinion, these two ladies (Wendy Scott and Patty Miller) design some of the coolest closets in the country. And even if you're not able to afford them, you'll get cool inspiration along the way. And here's just one of their 'drool-worthy' closet designs.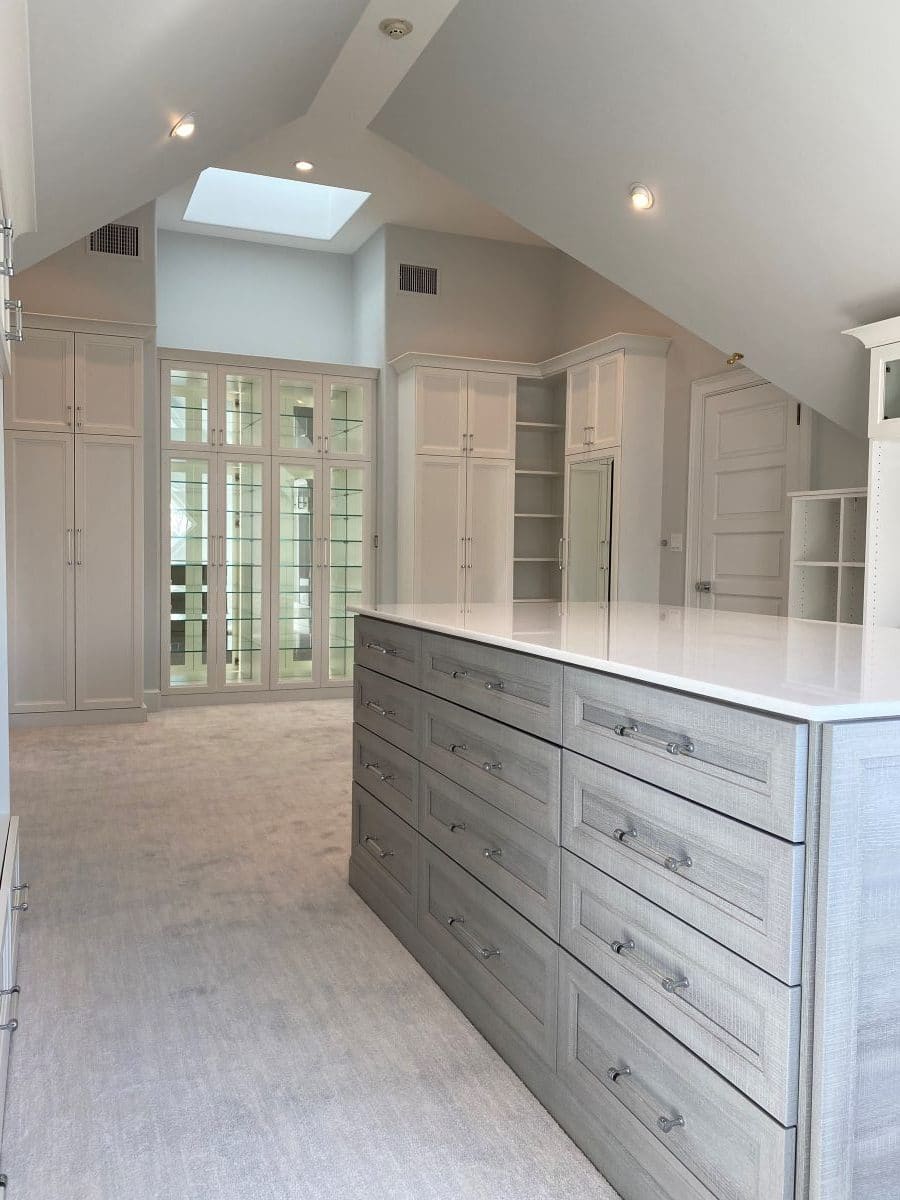 Source Image: Wendy Scott at Boutique Closets and Cabinetry
Inspired Closets Vermont on Pinterest – On this Pinterest board you'll see a wide range of projects from closets to Murphy beds to entryways and pantries. You'll see ideas on how to use color and pattern to add – (dare I say it) – fun to a closet.
Artisan Custom Closets on Houzz – This Georgia-based custom closets company does projects from 'mundane to magnificent.' On this board you'll also see a few 'in-process' pics along the way.
Top blogs – As a blogger I'm always reading to learn more. Here's two blogs I read for inspiration and ideas to improve my designs (and articles).
Valet Custom Blog– This Northern California custom closet company has been in this business for years. Their expertise is evident on this blog. Their articles cover a wide range of topics from how to use accessories to how to measure to how to store your scarves. But perhaps my favorite article was an inspirational one titled, "Morgan Hill Custom Closet is a Bucket List Item for Donna."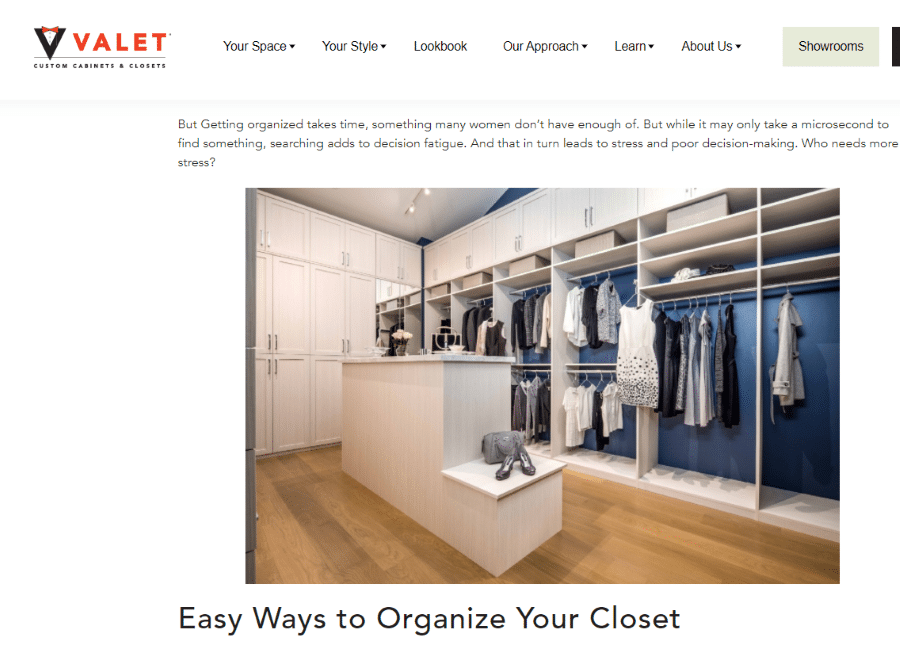 Image Source: Valet Custom
California Closets Blog – I must tell you, even though I compete with this national franchise in my local market of Columbus Ohio, I still love seeing and learning from the things they do. They cover topics which range from learning how to Feng Shui your closet to how to use baskets for more effective storage. And I must admit it, Cal Closets makes stylish closets (just keepin' it real dog as Randy Jackson used to say on American Idol!).
Question #9– How will your colors and patterns look in the 'context' of surrounding rooms?
Unless you're going for a 'Bohemian-chic' look where everything is mismatched (which is likely a 'nails-on-the-chalkboard' design style for most people), you'll want to choose closet colors and patterns which work within the context of the nearby room(s).
When making selections look into your bedroom and bathrooms (the rooms most often next to the walk-in closet). What door and drawer styles are you using? What's the color scheme of these rooms?
And while your closet DOES NOT need to be 'matchy-matchy' with your bedroom or bathroom, the rooms should (at least) make sense together.
When I see a contemporary bedroom, I'll recommend Euro (slab-style) door and drawer fronts.
And when I see a Transitionalist bathroom with Shaker cabinets, I'll recommend carrying this look (at least in the door and drawer patterns) over to the closet.
Pay attention to your 'surroundings' in choosing color, texture and pattern.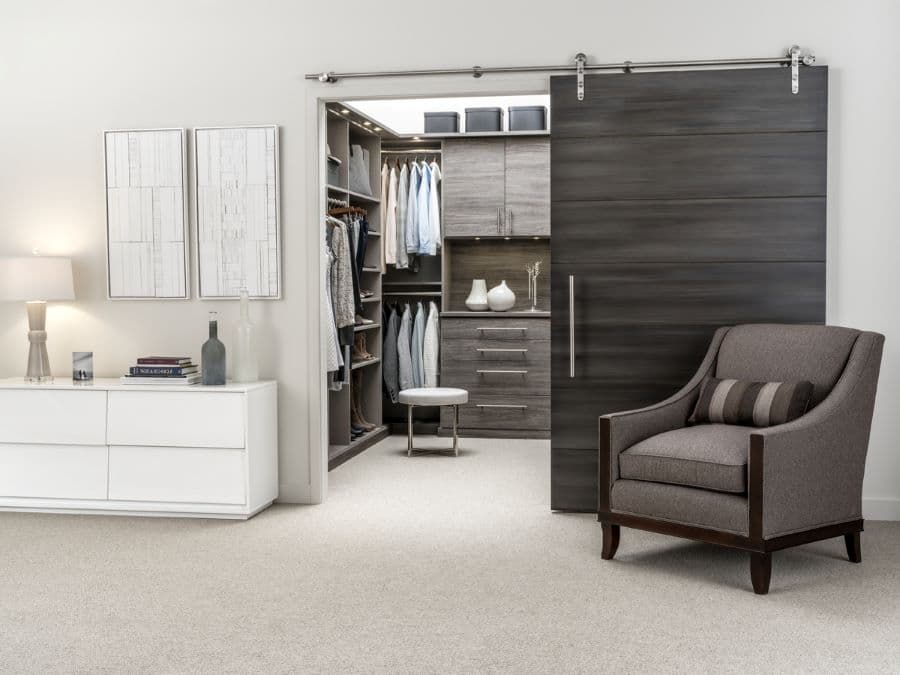 Are you more confident now choosing a finish, color, or pattern for your custom walk-in closet?
After years designing custom closets, I'll tell you pulling together a design which is not only functional, yet also fashionable (with the right finishes, colors, and patterns) isn't as simple as many think (or at least what they think BEFORE they get into the nitty-gritty of designing the closet!).
And while I hope this article has provided you ideas AND sources of design inspiration, I recognize most people like to find an experienced closet designer to lead them through the plethora (OK – that's the second fancy word I threw in to impress you) of products, colors and designs.
And if you're someone who would like design help (and you live in Columbus Ohio) me and my team would love to assist. Click for a Free 3D Design Consultation or call 614-545-6888. And if you're not in Columbus (which is likely most of you) write in the comments below where you do live, and I'll see if I can come up with a referral for you.
Thanks for reading,
Mike
###
If you'd like more information on garage, pantry, entryway or custom closet design follow me on LinkedIn @MikeFotiLinkedIn.
---
Tags: budgeting for a custom closet, closet color ideas, closet inspiration, closet pattern ideas, colors in a custom closets, Columbus 3D closet design, Columbus closet budget, Columbus closet color ideas, Columbus closet design ideas, Columbus custom closet, Columbus custom closet colors, Columbus custom closet patterns, Columbus walk in closet, custom closet budget, custom closet colors, custom closet design, custom closet patterns, high gloss closet, man's closet, matte finish closet, patterns in a custom closet, social media sites for closets, stylish budget closet, top closet blogs, women closet ideas, women's closet