How to Design a Custom Built-in Media Center (and NOT drain ALL your money!)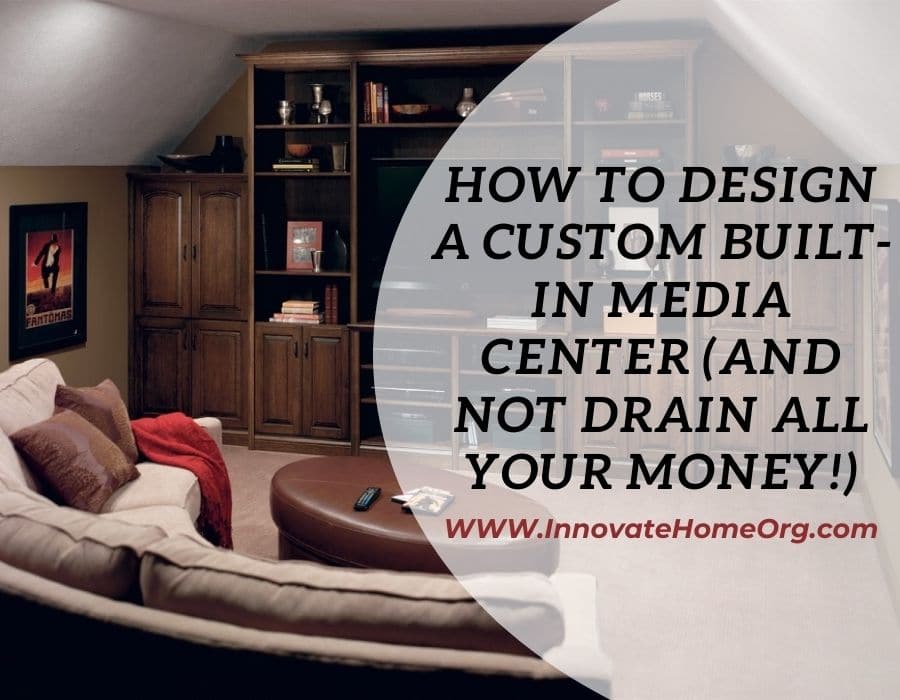 Your living room, family room or lower-level game room is a complete and utter MESS!
You've been pleading with the kids to put away their game consoles, but if you're honest with yourself, there's no good place to put them.
You've asked your spouse to please, please, please find a new entertainment center to replace your beat-up piece which looks like it belongs in a dorm room (which is exactly where it used to live). But you can't find anything which works around your large TV and fireplace.
You hate looking at loose wires, cable boxes and are embarrassed to have friends see the clutter you can't get your arms around.
You've vowed this is FINALLY the year you put an end to this madness. This is FINALLY the time you'll get the built-in media center which you can enjoy binge-watching movies with your family AND keeping those teenagers around the home where they're safer than being 'God knows where.'
But you've got a problem.
First, you don't have a clue how to design this media center to make sure it's going to work and fit in your space. And second….
You KNOW you're not equipped to DIY this job, so the challenge is figuring out who you're going to call to make your design a reality WITHOUT needing to take a second job.
And if these are your worries, you've landed on the right article. It doesn't matter if you're looking to design a custom built in media center for your suburban home in Columbus Ohio or looking to create a 'wow' wall to wall storage unit for your urban loft in Columbus, Georgia – the 11 design tips below will help you create a design which is not only fun, but functional (despite the odd things you may need to work around in your home). And these tips will help you save a few bucks as well.
So, let's dig into the 11 design and money-saving tips to create a custom built in media center.
Custom Built-in Media Center Design Tip #1) Determine how large the overall built-in units could/should be
If you talk to a professional interior design they'll talk about scale. And in 'real people terms' this means you don't want to put some 'shrimpy' unit into a room with 18' ceilings. It'll be dwarfed and 'won't make sense' (as your fancy-schmancy designer might say).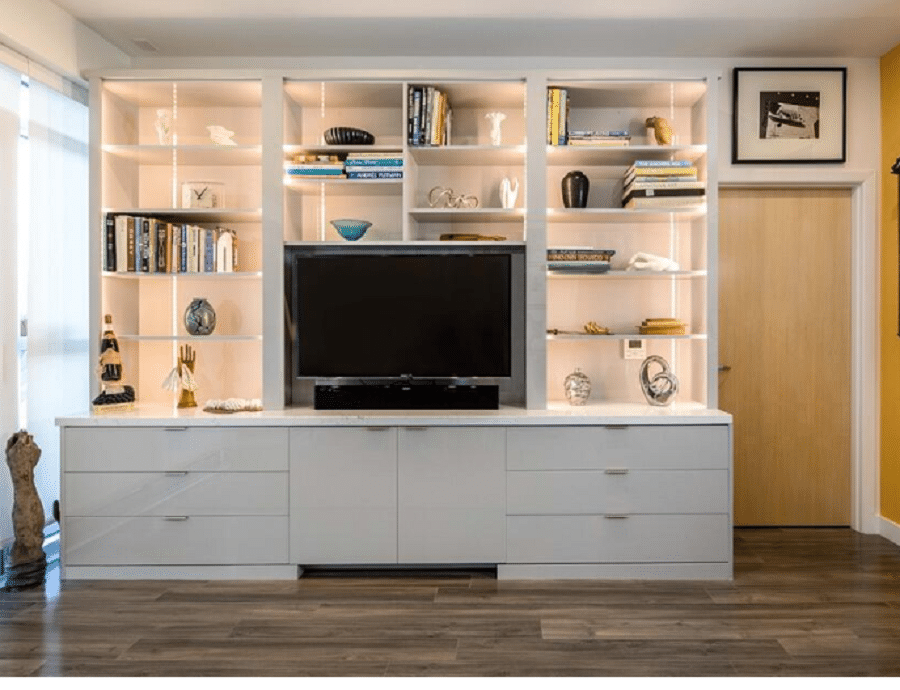 Image Source: Valet Custom
So, how big should you make your built-in media center? Here's 4 steps to get your answer:
Step 1 – Measure the available height, width, and depth. This could be areas to the left and right of your fireplace or the 'focal wall' of your lower-level basement or living room.
Step 2 – Measure the size of the TV and major components you're looking to include in the design.
Step 3 – Determine if you want a wall-to-wall unit or a furniture-like piece. Do you want to cover the entire space – or leave room to the sides? Get out blue tape and block your design out on the floor to see how the new unit will feel. Will it feel comfortable to walk around? Will the doors and drawers extend too far when they're opened?
Step 4 – Create a rough sketch, designing (initially) in 6" increments. The reason I'm saying to design in 6" increments is because you can save a few dollars by using standard cabinet sizes in the design.
And if you want to save money follow this tip:
Money saving tip #1) – Develop a budget before you get too far. Big plans are fun – but are of no use if you don't have the funds (or aren't expecting your rich Uncle Louie to pass and leave you a pile of dough).
And if your initial design looks like 'one big, boring IKEA-ish box,' read design tip #2.

Custom Built-in Media Center Design Tip #2) Vary heights and depths
A big boxy space – while it may be functional – will look mundane. With smart space planning you can not only get function, but style. And the #1 way to add excitement to your entertainment center is to vary cabinetry heights, widths, and depths.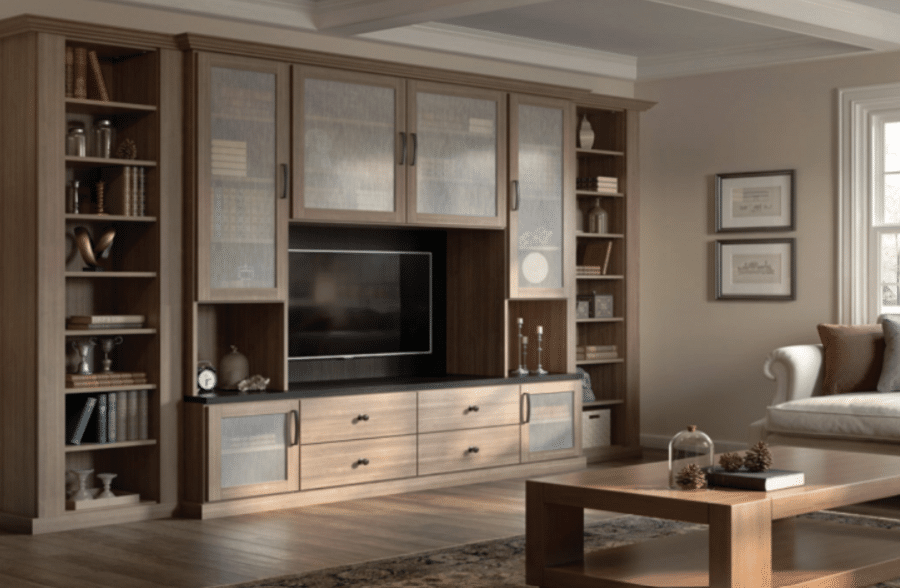 Image Source: French Refinery
For example, make the base cabinets deeper to house not only your electronic components, but also excess storage items you can't find anyplace else for in your home.
Or you could make part of the cabinets taller to add volume in the room (and create storage at the top for lesser used items).
Varying height and depth are a HUGE benefit to creating a custom built-in look vs. store bought piece of furniture – which may not fit your space anyway. And if you follow this money saving tip, your design will cost less also.
Money saving tip #2) – Ask your designer what standard widths, depths and heights are available to minimize customization. Some common standard widths and depths include…
Standard widths – 12", 15", 18" 24", 30", 36" and 48"
Standard depths – 12", 14", 16", 19" and 23"
Custom Built-in Media Center Design Tip #3) Decide what you want to display and what will go behind doors and drawers
For many people, a B-I-G reason they desperately want a custom built-in media center is to hide ugly cords, cable boxes, equipment, and your kids (too-many-to-count) game consoles. While creating a rough design, you'll want to strategize where you'd like doors and drawers to hide these wires and ugly equipment.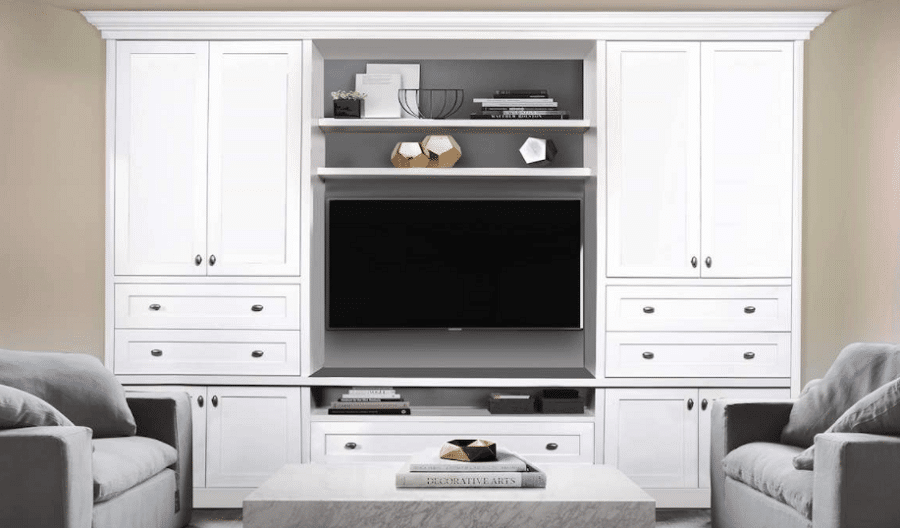 Image Source: Organized Interiors
Where would you need a glass door, so your remotes will still work when you're looking to crank up your shows and begin your binge-watching or gaming?
Would you like open displays with fun floating shelves? Or do you want to protect your art pieces, books and statues from dust and enclose them with glass doors and glass shelves? And if your budget is tight, consider the following tip:
Money saving tip #3) – Use less glass doors and drawers of any size to keep the lid on costs.

Custom Built-in Media Center Design Tip #4) Pay attention – and map out – what you must work around
What can be infuriating when you attempt to design your own custom built-in media center is after you've laid out your perfect design you 'discover' the following:
The outlet is in the wrong place – or the cabinets sections you've designed fall smack dab in the middle of it.
You determine the side wall is too shallow and the media center will 'stick out' and look funny.
You notice part of your wall is 'bumped out' or there's a soffit which foils your 'perfect design.'
And these are the times you want to throw up your hands and say a few 'choice' words you DO NOT want your mom to hear. You need to recognize these problems early in the process. You need to follow this tip.
Money saving tip #4) – Before buying ANY materials make sure your design drawing locates outlets, switches, fireplaces, and the surrounding wall dimensions. Make sure your design will work before forking out money for materials or hiring a contractor.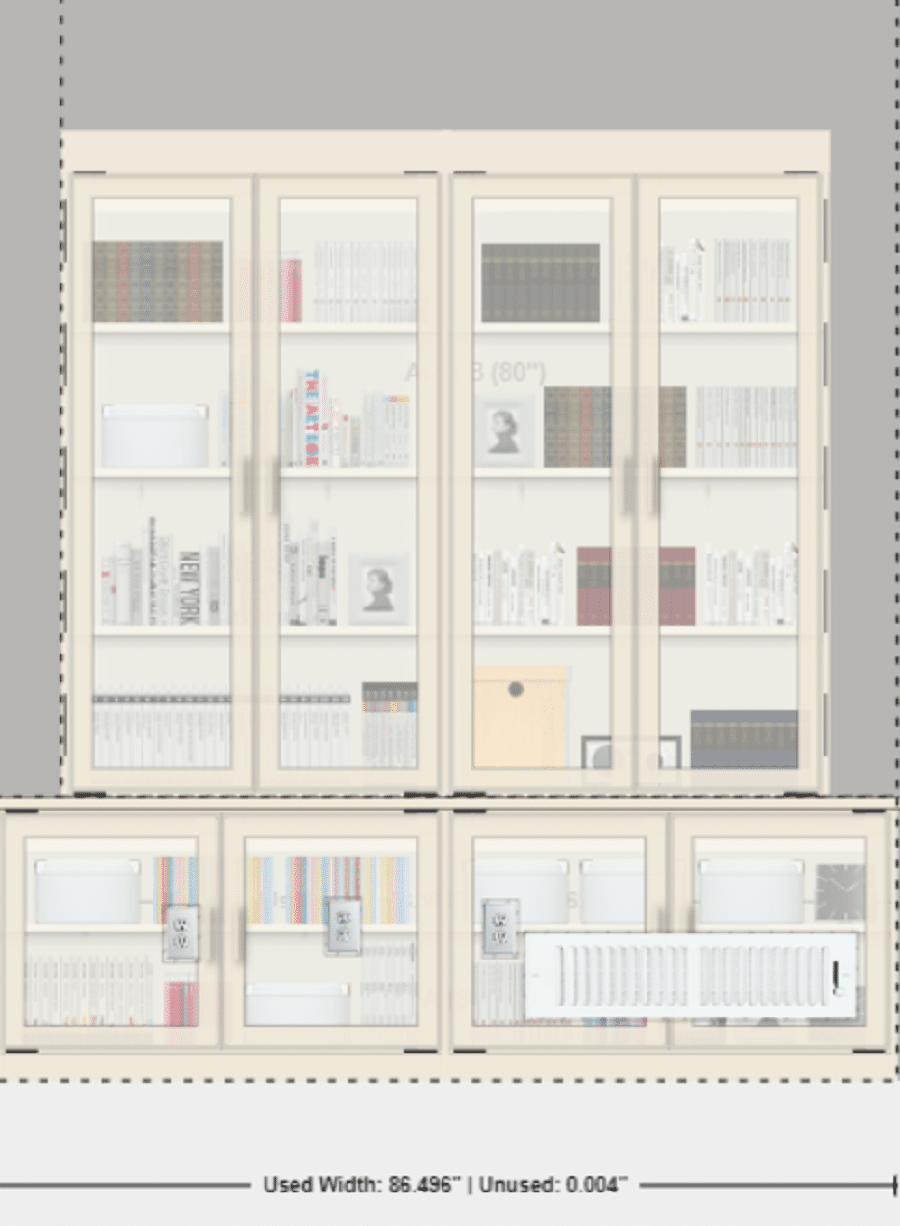 And if you're looking for ideas to 'work around' these problems read tip #5.
Custom Built-in Media Center Design Tip #5) Know 'who you gonna call' – and no, it's not the Ghostbusters!
Because your space, your outlets and your walls will not always cooperate with your perfect design, this is the time to call a professional to help design around your challenges (OK challenges is the nice way to put the design problems which make you want to punch the walls).
And who the heck are these professionals, you may ask – and how can I make sure they won't take 'all me money' – as SpongeBob Square Pants might say?
Well, I'd first call a custom home organization designer or second a trim carpenter or as a last resort a handyman/handywoman you can trust. And to do this research if you live in Columbus Ohio, for example, you could search for Home Organization Specialist, Columbus Ohio, or 'trim carpenters Columbus Ohio.' And if you have a funky space, I'd absolutely follow this money-saving tip.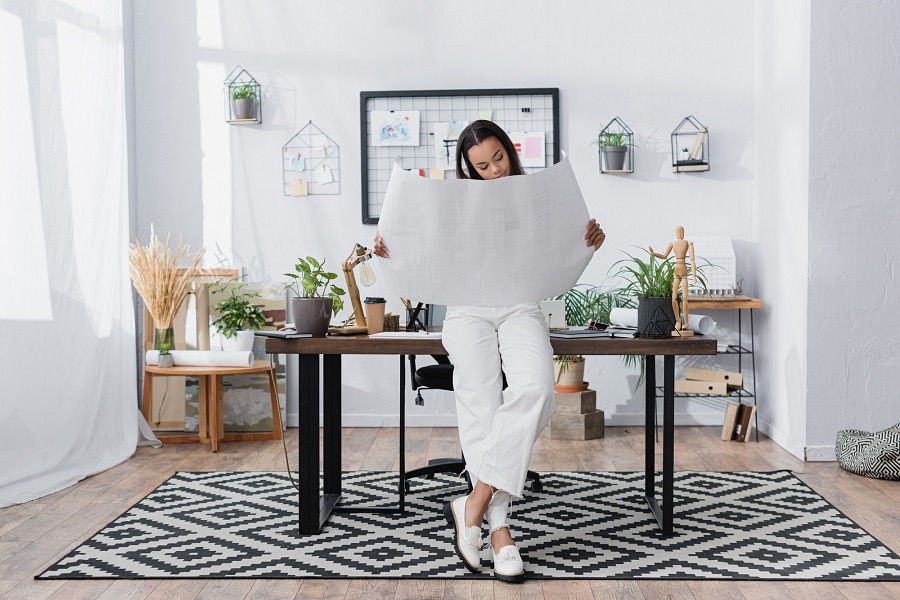 Money saving tip #5) – Get 'professional help' (and no, I don't mean a psychiatrist). Use a company who designs custom spaces for a living – not as a side-line.
And if you're smart – you'll make sure to do what I'm recommending in design tip #6 even before hiring your contractor.
Custom Built-in Media Center Design Tip #6) Insist on seeing your media center design in 3D
If you've ever looked at floor plans for a new home and didn't have a clue how those rooms would actually live, you're not alone. Most people can't visualize a 2-dimensional floor plan or drawing if their life depended on it. They can't get an idea of the scale and scope of a storage system either until they can see it in 3D.
It's for this reason, I'd find a professional home storage designer who can show you their design and 'spin it around' in 3D for you. Custom built-in media centers aren't cheap. And if you want to get it right the first time you NEED to follow this money saving tip, so you really understand what you're getting.
Money saving tip #6) – Make sure you know what the heck you're getting. Insist on 3D drawings.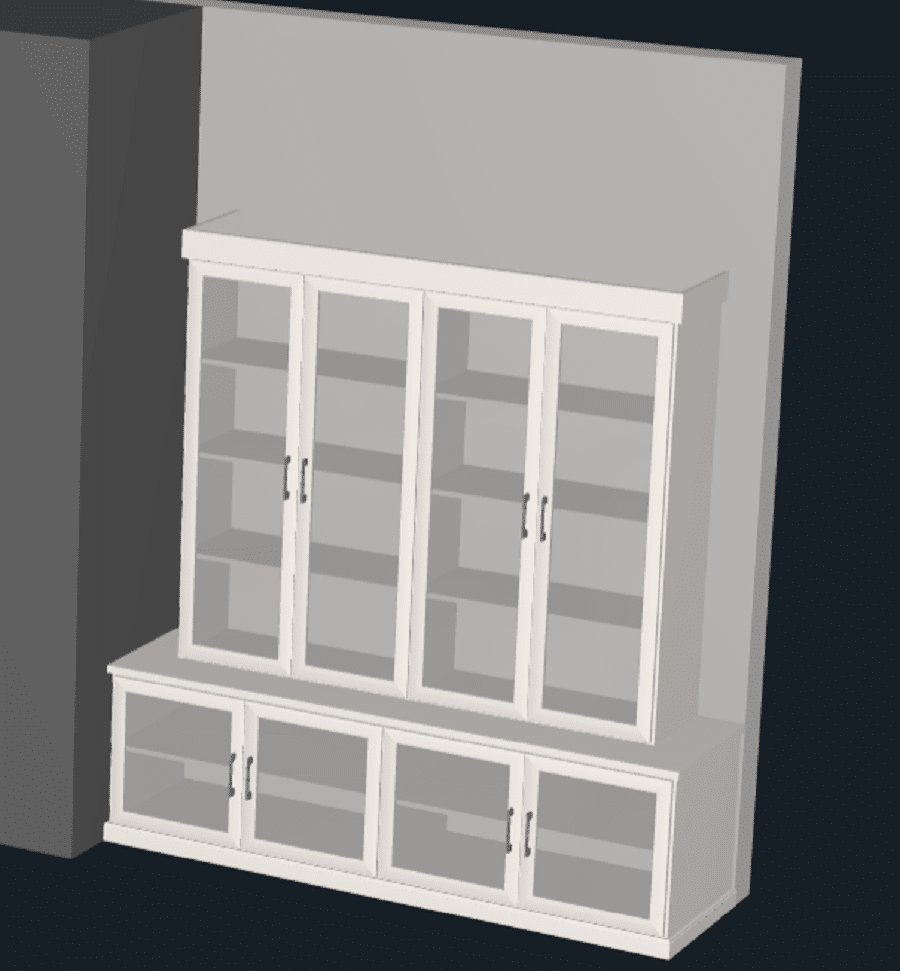 Custom Built-in Media Center Design Tip #7) See if the doors and drawer fronts, styles, colors, and textures will 'play well' with your surroundings
While some people like the 'Boho-chic' look with multiple styles 'mashed-up' in one room, most people HATE this look. They want their custom built-in media center to look like it was installed in the home from the beginning. They want their wall-to-wall system to 'make sense' with the architectural style of the home.
And if you're not sure how you make this happen, a media center designer can show you how using the right drawer fronts (let's say using a flat slab door for an urban contemporary setting, or using a Shaker door style for a transitional suburban home) can create a system which 'works' vs. one which doesn't. And to save a few bucks follow this tip.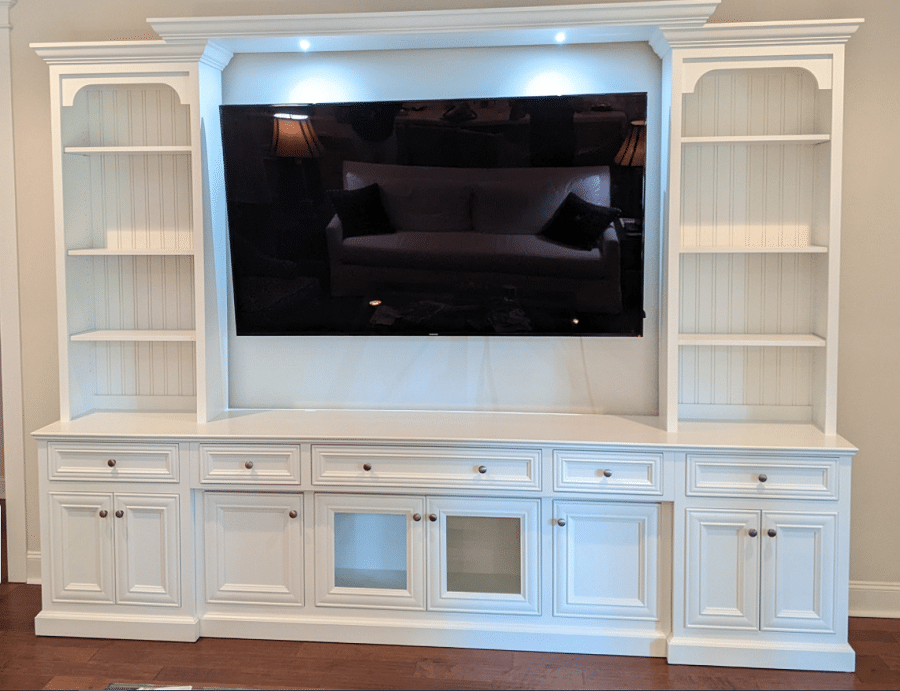 Image Source: Accent Woodworking
Money saving tip #7) – Use Euro-style slab doors and drawers, if possible. They're contemporary and less costly than Shaker, Raised, Beadboard or Eased Edge designs.
Custom Built-in Media Center Design Tip #8) Determine if you want your media center to do double-duty with bench seating
Most media centers rooms (whether it's on the first floor living or family room, second floor bonus room or lower-level theater room) will be used for entertaining. And if this room is already smaller than you'd like -you may be reluctant to take away seating space with a larger built-in unit. However, this is where smart design can be 'your little 'fre' (as Tony Montana from the movie Scarface would say).
An intelligent way to add seating AND create a fun media-center is to build a bench at the base of the design. Make sure the lower base cabinet (and top) is 19" or 20" off the floor and at least 16" deep. This way the storage unit can also do double-duty as a place for guests to sit. And here's an idea to save on your bench design.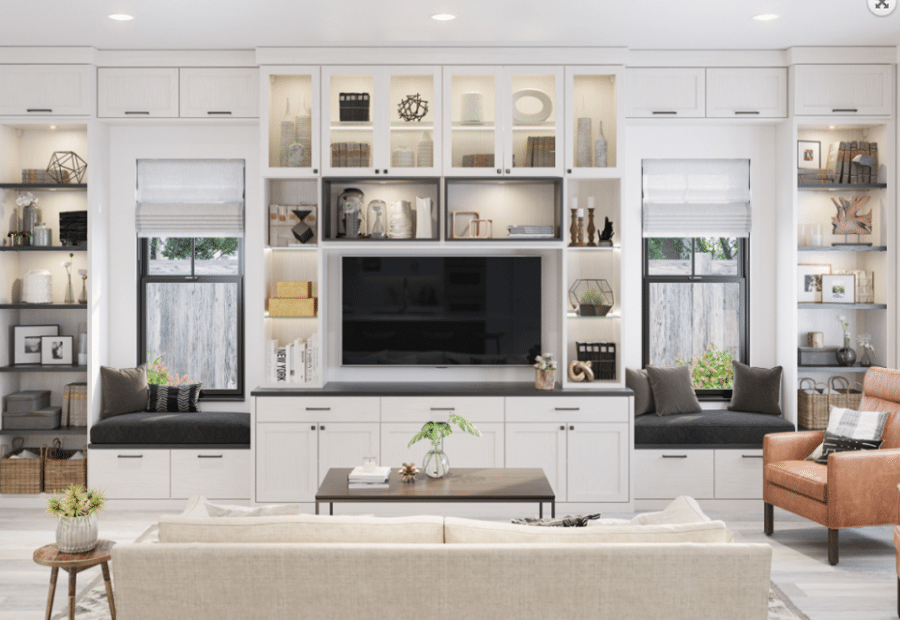 Image Source: French Refinery
Money saving tip #8) – Use a laminate top vs. granite or quartz. Laminates are durable, simple to clean and have advanced far-beyond your grandmother's kitchen countertops of yesteryear with fun designs and textures.

Custom Built-in Media Center Design Tip #9) Ask if lighting will be important to your design
While it's smart to add shelving to a custom built in design to display family pictures, fun art pieces or books (especially those you want people to think you've read showing how smart you are) – they don't do you a lot of good if they're lurking inside the dark crevices of deep built-in cabinetry pieces.
You'll need to determine if you want lighting – and if you can afford it. Most LED built-in cabinetry lighting systems start out adding $1,000 or more to the cost. And while lighted shelves are cool (OK – that wasn't meant to be a 'fun' Kelvin-based lighting joke) to look at, they aren't a cheap date. And if you want to save money follow this tip.
Money saving tip #9) – Don't use lighting (if you don't have the budget), but instead opt for floating shelves or shallow cabinets so your displayed items don't get 'lost' in dark spaces.
Custom Built-in Media Center Design Tip #10) Should this media center be more than just a media center?
In a perfect world your suburban home or downtown loft would have plenty of storage. However, this IS NOT the world you're livin' in. So, how can your media-center reduce your storage problems?
Well – the first way it can help you is to not 'view' the media center as 'just' a media center. For example, if you're in a downtown loft and desperately need closet space, add drawers to the media center design for shirts, blouses, or yoga pants.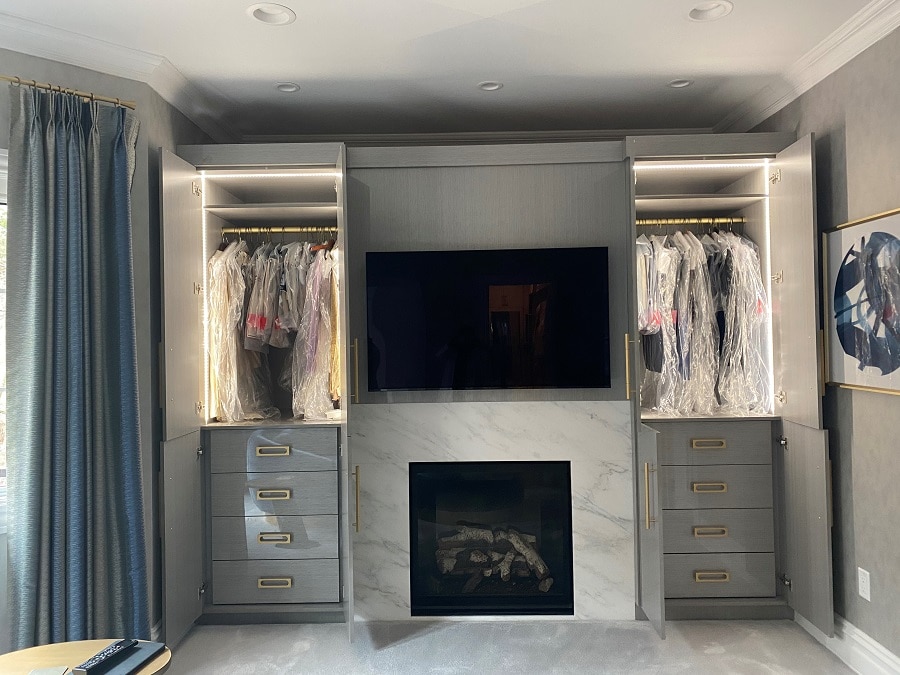 Image Source: Patty Miller with Boutique Closets and Cabinetry
Or if your kitchen is bursting at the seams, use the area behind the doors of your 'media center' for pull out pantry shelves for pots, pans, or canned goods. Sure, these mixed storage uses aren't 'traditional, but for many space-starved homeowners, you have to 'create' storage where none existed before. And this cost-saving tip can help.
Money saving tip #10) – Adding closet or pantry storage in your media design can save you BIG dollars NOT having to remodel another space (especially with the cost of contractors these days).
Custom Built-in Media Center Design Tip #11) Do 'sweat' the small stuff (emphasize your hardware, trim, and crown molding)
Let's face it – for better or worse – an entertainment center is THE focal point of the room. Will your living room, family room or lower-level living space look like a hodge-podge (OK – that's a funny term not many people use today) of 'furniture' from your college days? Will your space have the 'wow' factor AND make you proud to have friends and family over?
The difference between these extremes will be in the details (or lack thereof) in your system. When buying a custom built-in media center ask the following:
What type of base trim will be used? Will the moldings (assuming your contractor is using moldings vs. toe kicks) be contemporary or traditional?
What hardware will be installed onto doors and drawers? Decorative hardware is the 'jewelry' of the built-in media center design. Will this hardware look nice with your cabinets in adjoining rooms?
Will there be crown molding? Crown molding – while not serving any real function – does add panache (fancy word alert there) – which tells people 'You've arrived' (OK – now I sound like a commercial for a luxury car brand – ha! ha!).
And if you want to save money, use this tip:
Money saving tip #11) – Use laminate vs. wood in your moldings, trim and main components. Laminate is not only dimensionally stable (that's a fancy term to say it doesn't warp and splinter like wood) but what's even cooler is it doesn't require repainting.
How can I – or my team – help you with a custom built-in media center design (especially if you live in Columbus Ohio)?
I know designing a custom media center IS NOT something you do every day (and it may be something you only do once in your life). And it's for this reason it's smart to get help. You need to see a professional 3D design. You need to know your designer or contractor has been down this road before investing money with a home storage professional, a custom trim carpenter (or worse yet a friendly, yet naïve neighborhood handyman/handywoman who says they can 'do anything!).
And if you're in Central Ohio me and my team would love to help (and can even do the installation for you). In Columbus call Innovate Home Org at 614-545-6888 or click for a Free 3D custom built-in media center design. And if you're not in Columbus Ohio – which I suspect is most of you – comment below where you live, and I'll see if I can connect you with a home organization friend of mine across the United States.
Thanks for reading – and putting up with my (wacky) humor!
Mike
---
Tags: 3D media center designs, bench seating in a media center, better custom media center designs, built in storage, built in storage Columbus, Columbus 3D media center designs, cost-saving ideas media center, custom built-in media center, custom built-in media center Columbus, design ideas media center, designing a media center, drawers in media centers, lighting a media center, media center design Columbus, media center design on a budget, storage in a media center, wall to wall storage, wall to wall storage Columbus