How Much Do Installed Mudroom Cabinets, Closets and Lockers Cost?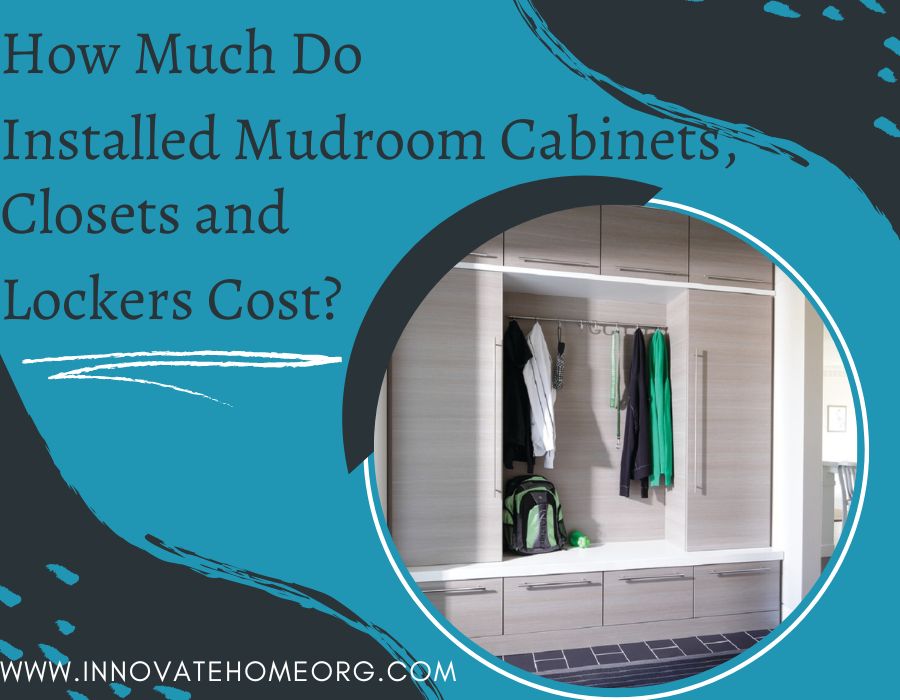 Your mudroom is a disaster. Your spouses' shoes thrown everywhere. The kid's backpacks tossed in all corners of the room. Amazon packages here, there and everywhere. And the poor coat hooks have waaaay too many coats on them. These hooks are gonna blow off the wall any day now!
And unfortunately, this is THE ROOM you 'get to' walk through after a long day at the office. So – instead of being 'welcomed home' by an organized mudroom, you're 'greeted' (sarcasm intended) by CHAOS!
Since you have no organization system to speak of today (because you didn't opt to buy the builders mudroom system when you bought the home because it was very basic and expensive), you've come to the conclusion it's time to figure out if you can afford a professionally installed custom mudroom (since there's no way your spouse is going to make this project happen since they're 'handyman skills' are not handy at all) or if you're going to buy a 'standard' system off the Internet.
And while 'out of the box' Internet systems are cheap – after you've learned about them, they're either too deep, not wide enough, too short, made of cheap materials with limited guarantees, or have maximum bench strengths weights you know ARE NOT designed to support the 'big boys and big girls' in your family.
So, now you'd like to know how much installed custom mudroom cabinetry designed, installed and (warrantied) by a professional home organization company will cost. And while you'd love getting a professional mudroom or entryway, you have NO IDEA if you can afford this project. And whenever you call a specialized home organization company, they tell you the same thing. No, we can't give you a 'ballpark idea' of the price until we send a designer to your home.
And you really don't want to waste your time – or theirs – if this project is beyond your budget. You need a ballpark idea of cost for an installed entryway.
And I could end tell you the price of installed custom mudroom cabinets, closets and lockers depends on several factors (including height, depth, materials used, number of doors/drawers, hooks, and where you live in the country etc.). And although this is true, you were smart enough to realize that BEFORE you clicked on this article.
However, in this article my goal is to give you a basic understanding of installed mudroom locker costs and how it increases (or decreases) as the elements of your design change. And while I'm going to share practical examples to get you a 'ballpark idea' of installed cost, it's still best to get exact pricing when you have a designer visit your home (assuming you find out the overall price of this project will fit within your budget).
I'll begin with a basic white mudroom design and then add decorative patterns, doors, drawers, colors, and crown molding to see their impact on pricing.
For my example I created a moderate sized mudroom which is 5' x 8' and has 9' ceilings. I have doors on 2 walls. One door leads to the garage. The other door (which also could be an opening) goes into the kitchen. Let's check out the designs and how costs change as I jazz things up and go from a white open shelving mudroom design to a patterned locker mudroom design with doors and drawers.
Open mudroom cabinet and closet design #1 – An open mudroom in white, with a patterned bench seat, adjustable shelves on the sides and open seating with hooks for backpacks and coats
You might call this the 'get 'er done' mudroom design. It's not fancy – but it'll have places to keep things organized.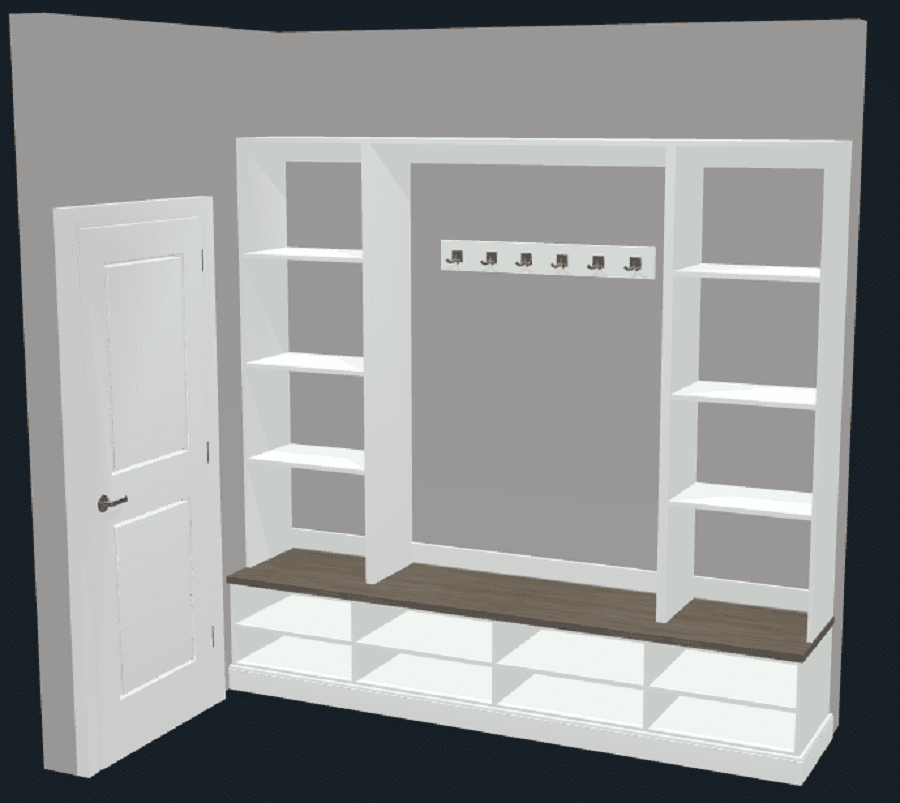 Since it's an 'open design' (which means it doesn't have any doors or drawers) – it's cost-effective (note – the doors and drawers are the most expensive elements in a mudroom design). This design also doesn't use 'back panels' to protect the walls. This keeps costs down (and since you're storing against a back painted wall you will need to repaint from time to time with a system with no back panels).
I made this mudroom shelving system 90" tall (with the 9' ceiling in this plan) so you can use the 'volume' in the room – without it being too high to reach. The storage at the top is a smart place for out of season items – or things which aren't used often. I added shelves under the mudroom bench seat for shoes.
The base is 19" deep – with a 20" top. It's deep enough to sit on and take off your shoes. The bottom section is 20" high so it's a comfortable seating height. The top section is recessed with 14" deep shelves. I used 14" depth because they're deep enough most clothing or packages won't hang off the edge.
In addition, the shelves on the side are adjustable. They'll move up and down to fit what you want to store (note – we could get fancier with pull out shelves or scoop drawers).
I added 6 brushed nickel double hooks for back packs, hats, coats etc.
So – the design didn't look too boring – I always recommend a 'bolder color' top. In this case I used a 1 1/8" laminate top in a 'fort' pattern (although this could be white – at lower cost – or any other pattern for that matter). Since it's 1 1/8" thick it'll be sturdy – and stand up the TLC your family will likely NOT show to your mudroom system. Now if you're asking if I could've gone with a cheaper ¾" top – the answer is yes. I like the look and durability of the thicker top.
The installed cost of this white laminate, open shelf and bench seat mudroom design is $2,910.

Open mudroom cabinet and closet design #2 – An open mudroom with a morning mist colored design, with a patterned bench seat, adjustable shelves at the sides and open bench seating with hooks for backpacks and coats
This design is a replica of design #1 except I used a morning mist pattern laminate (which is very popular in the Columbus Ohio market). Otherwise, the design is the same.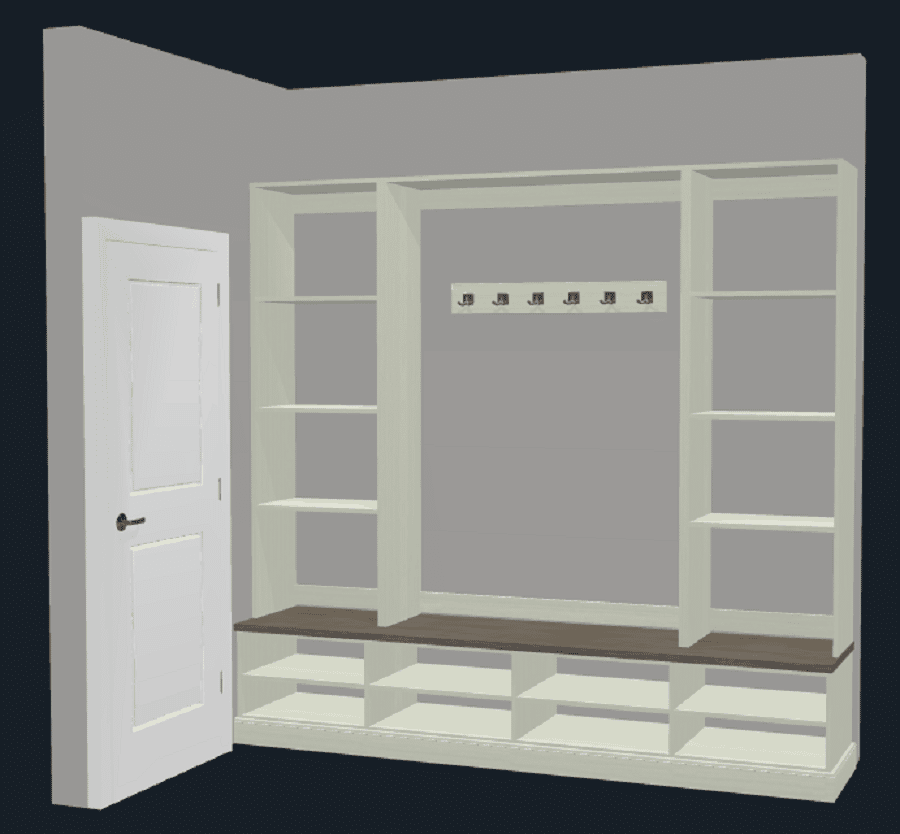 The installed cost of this open mudroom design in a morning mist pattern is $3,220.
Open mudroom cabinet and closet design #3 – Adding crown molding to design #2
This design is the same as design #2 – except I added crown molding. You (and your friends and family) often see your mudroom from the kitchen. And it's an area of your home everyone sees – whether you like it or not! It's for this reason, adding style with crown molding is smart and creates a more cohesive with your kitchen.
So, this design builds off design #2 – but simply has crown molding to go with it.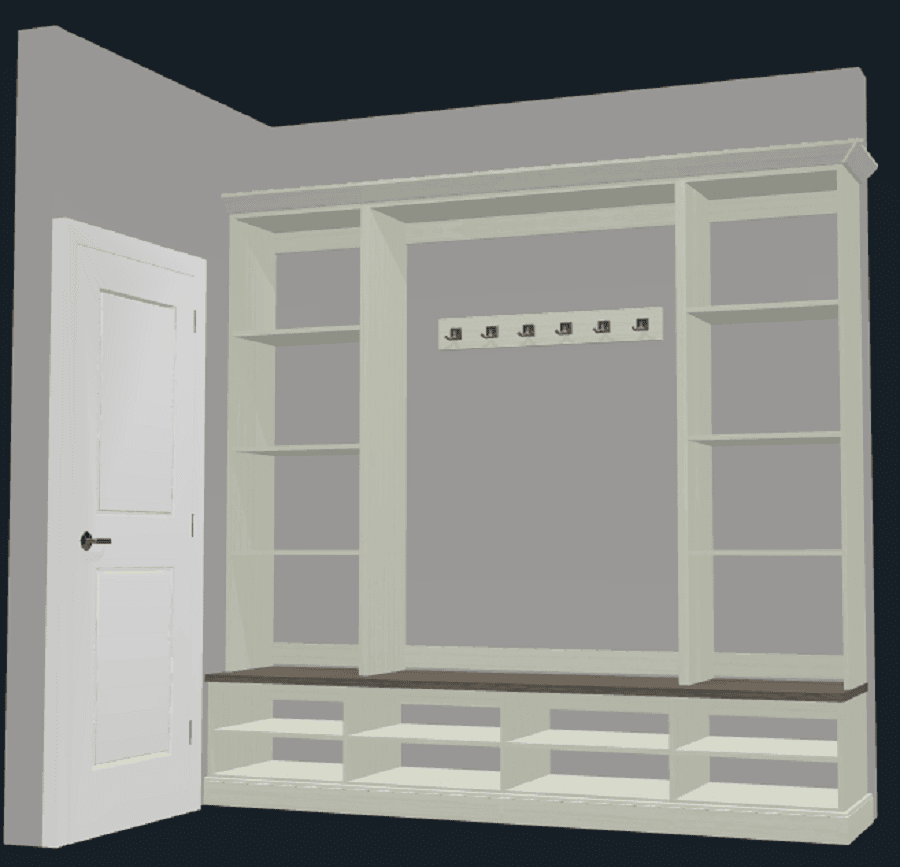 The installed cost of this design in a morning mist color with crown molding is $3,580.

Mudroom cabinet and closet design #4 – Pull out drawers at the bottom in a Shaker drawer design
If your spouse is like mine, the LAST THING she wants is 'open storage.' And why is that you might ask?
Well – if your family is like mine – they don't spend time putting things on shelves neatly. And if you're like my wife Rose – you get anxiety looking at clutter. It's for this reason you'll love 'hidden storage' behind doors and drawers.
I would say most mudroom closet systems our Columbus home organization company installs have pull out drawers or doors.
In this design I used Transitionalist style 'Shaker' drawer fronts because (while they're more expensive than flat Euro style drawers), they're far more popular in Central Ohio (and this trend is true for many areas of the country).
So, what I've done in design #4 is add 4 pull out drawers (and note these drawers will fully extend so you need to be careful when using them based on the swing of your door(s)).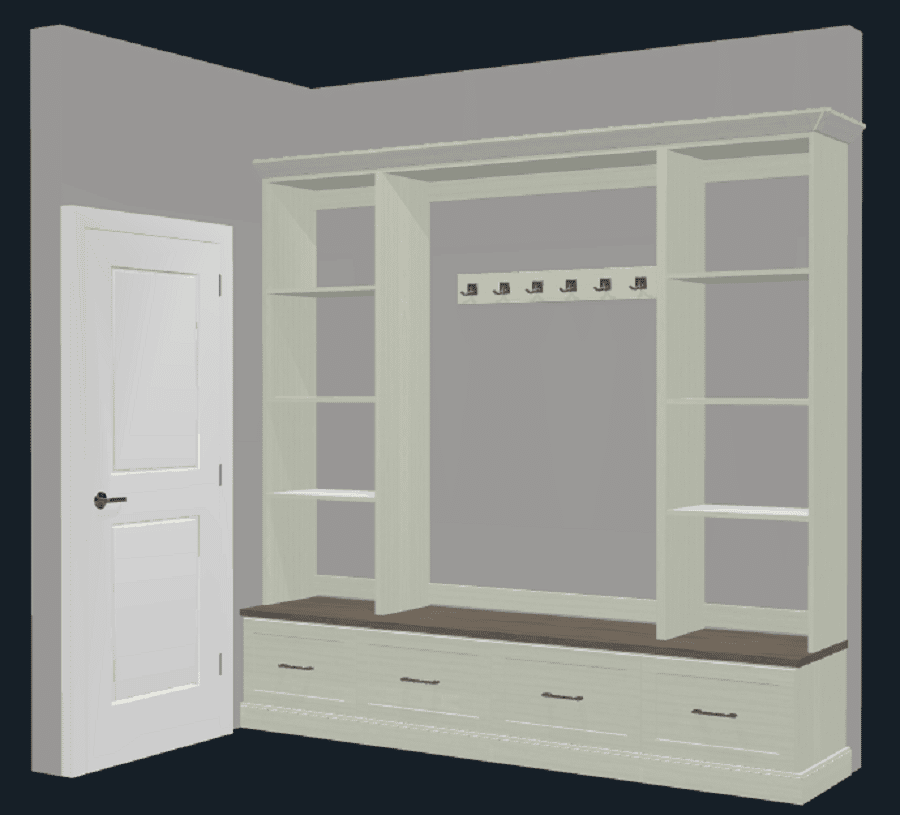 The installed cost of this design with a colored laminate, crown molding and pull out bench seat shaker style drawers is $4,380.
Mudroom cabinet, locker, and closet design #5 – Pull out drawers at the bottom, with 2 locker cabinets at the side in a Shaker design with crown and a colored laminate
If you really want a system which 'hides' the mess, you'll love how neat things look when you use doors with your mudroom system.
Doors keep the mess (and your families' chaos) from sight! Which the OCD members of your family will welcome with open arms (but NOT with open shelves – OK, sorry about this bad mudroom design pun).
In this example since the entry garage and kitchen doors are close to the entryway system, I opted for double doors (which are more expensive than single doors). The real reason for this is so your doors don't extend too far into doorway.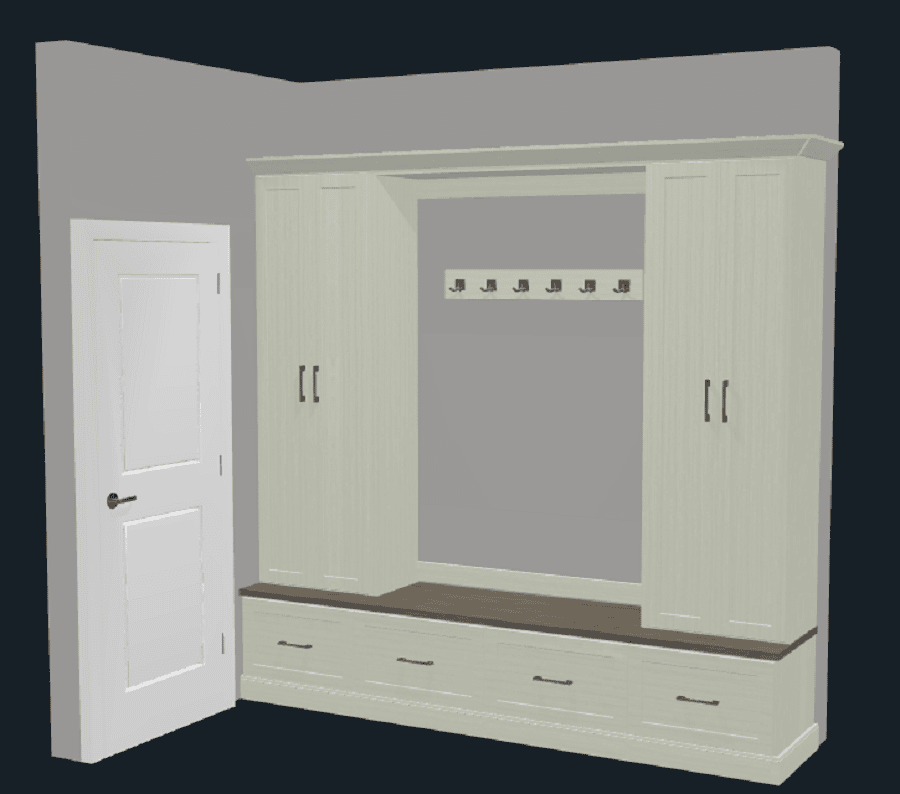 The installed cost of this mudroom locker, pull out drawer and side door design is $5,820.

Mudroom cabinet, locker, and closet design #6 – Pull out drawers at the bottom, with 4 locker cabinets in a Shaker design with crown and colored laminate
If you're someone who would LOVE, LOVE, LOVE to have a finished locker for each family member, this design could be what the 'chaos Doctor' (if there was such a thing) ordered.
A 'closed locker mudroom design' keeps EVERYTHING behind doors and drawers. So, no matter how messy your 'peeps' are – you don't have to see their stuff. Yah you!
Sure, this design is more expensive because you're using a lot of closed doors and drawers – but it creates the finished cabinetry look and makes coming in through your mudroom off your garage a pleasant experience…. if you can believe that or not.
The only drawback to this design (other than its price tag) is you don't have a place to sit down and take off your shoes because the lockers 'sit' on the bench seat top.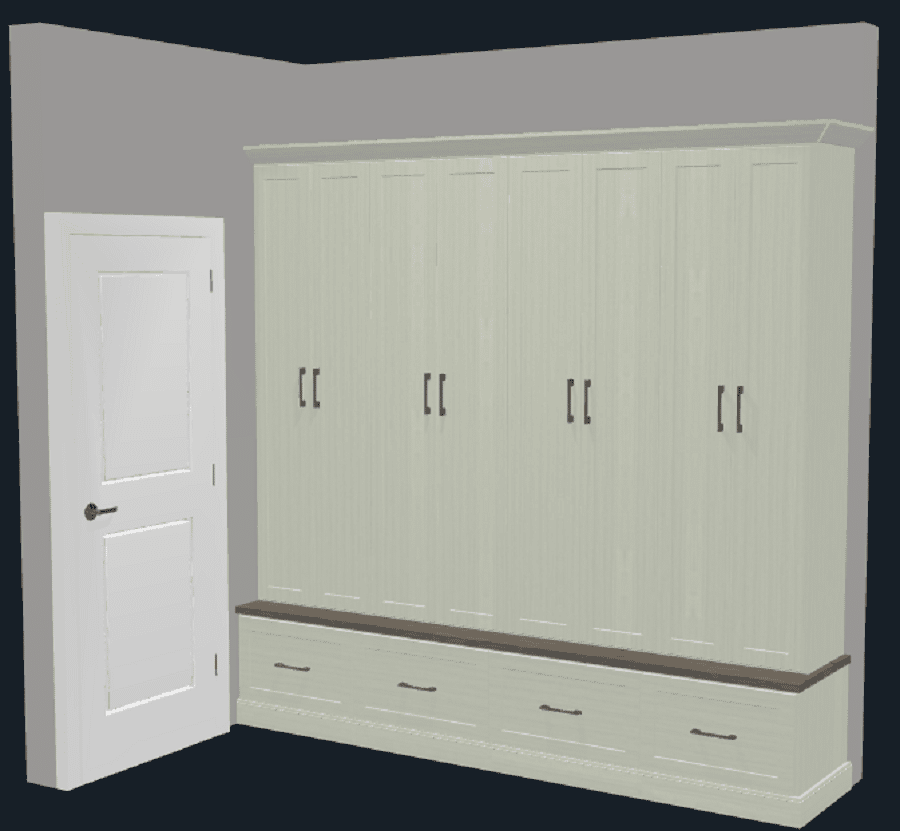 The installed cost of this mudroom locker and drawer design is $6,910
Bringing the costs down to simplify the design and cost – Design #7 – Pull out drawers, with 2 locker cabinets in a single door Euro design with crown molding in a white laminate color
OK – I know it's painful seeing the design get more and more expensive, so I wanted to leave you on a positive note to show how designs costs can come down!
In this example I switched from the 'morning mist' laminate pattern to the most cost-effective white color. Then instead of using 'Shaker' drawers I went with a contemporary Euro (flat front). And instead of using double doors I switched to a single door.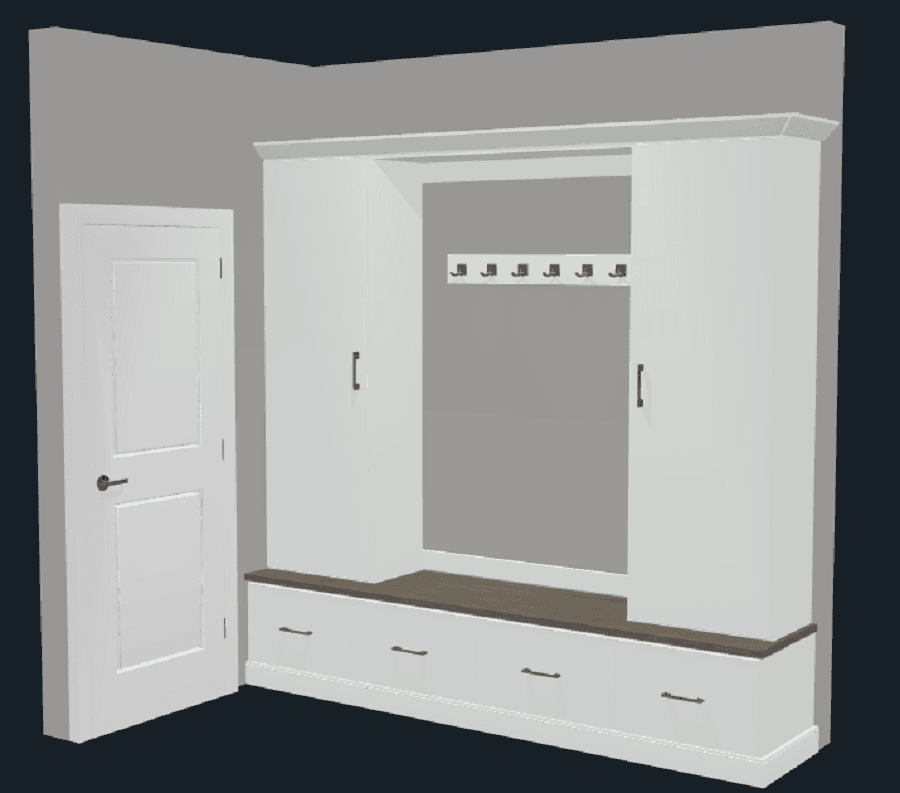 The installed cost of this white mudroom locker with Euro flat drawer and door fronts and pull out drawer design is $4,110
So, do you have a better understanding of the cost of professionally installed mudroom cabinets, closets, and lockers? How can my team help you next?
So – if I did my job right you now have a better idea of the cost of an installed custom mudroom (of course this is based off our company, Innovate Home Org, which does business in Columbus Ohio. Our city may – or may not – be a more expensive area of the country than you live in).
So – I have to ask you, were you pleasantly surprised – or blown away (and not in a good way) by these pricing examples? I know 'sticker shock' is possible.
And while it's nice to get a 'general feeling of cost'– the only way to truly know your exact cost is invite a professional mudroom designer to look at your project.
And if you live in Columbus Ohio – we'd be thrilled if you contacted my business – Innovate Home Org (at 614-545-6888). We can help design a custom mudroom and give you a Free 3D Mudroom Design.
And if you don't live in Columbus Ohio (which is likely most of you), feel free to comment below with where you live and I'll see if I can find a referral for you to one of my friends in our professional closet association.
Thanks for reading – I hope it was time well spent for you.
Mike
###
For more information on mudroom, closet, pantry or garage organization systems and design follow me on Twitter @Mike_Foti or my companies' @InnovateBuild and @InnovateHomeOrg. Follow me on LinkedIn @MikeFotiLinkedIn.
---
Tags: closed locker mudroom, closed locker mudroom design, Columbus home organization company, Columbus mudroom cost, Columbus mudroom price, cost of installed mudroom, cost of mudroom system, custom mudroom bench seat, custom mudroom cabinets, installed cost of a mudroom, mudroom designer Columbus, mudroom installed cost, mudroom locker costs, open shelving mudroom design, organized mudroom, price of custom mudroom cabinets, professional mudroom designer, professionally installed custom mudroom