20 Do's and Don'ts of an Effective Mudroom and Laundry Room Design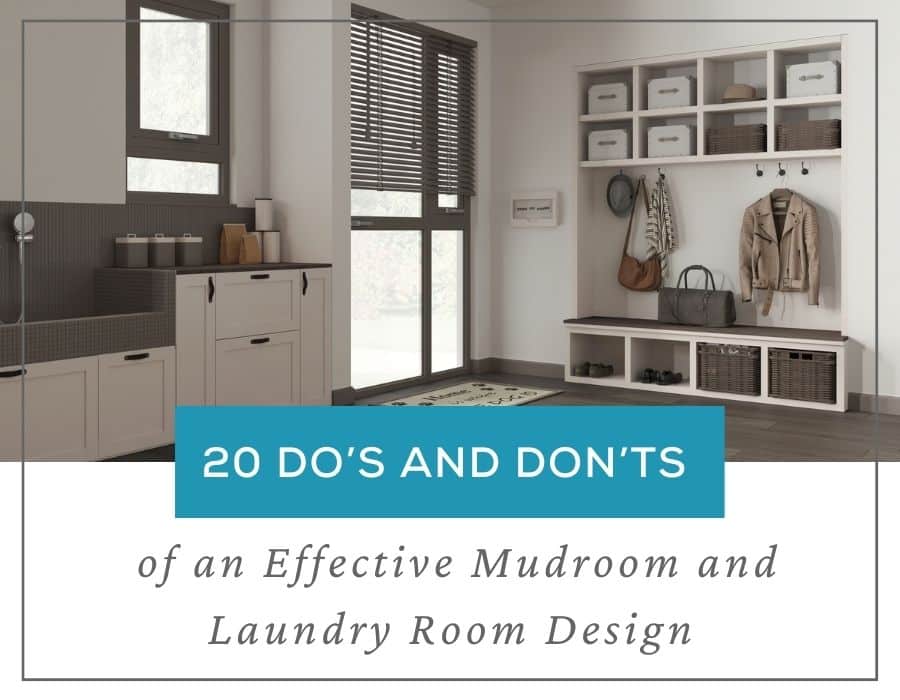 If your home home feels disorganized, then If I'm a betting man –when you attempt to walk through your mudroom or into your laundry room, it's a less than optimal 'experience' (and that may be an understatement)!
The kids and your 'sloppier half' are treating the mudroom as their 'personal' dumping zones.
And the laundry room – well, what can you say about this 'less-than-wonderful' place you have-to face waaaay more times a week than you wish.
If you're trying (desperately) to organize your mudroom, laundry room (or combined mudroom/laundry room) it can be utterly confusing where to start.
In this article, my goal is to get you started with 20 do's and don't of effective mudroom and laundry room designs. And while you likely won't address everything on this list, you can prioritize which do's and don'ts are essential for your project. Let's start with the do's.
The Do's of an Effective Mudroom and Laundry Room Design
#1 – Do create a plan BEFORE spending ANY money.
Don't go out and buy anything until you've got a 3D plan for this room(s). There's a lot of function you need to eke out of a combined (or individual) laundry room/mudroom. And you won't get the most out of these rooms without precise measurements, thinking through the location of your washer and dryer, bench seating or storage cubbies.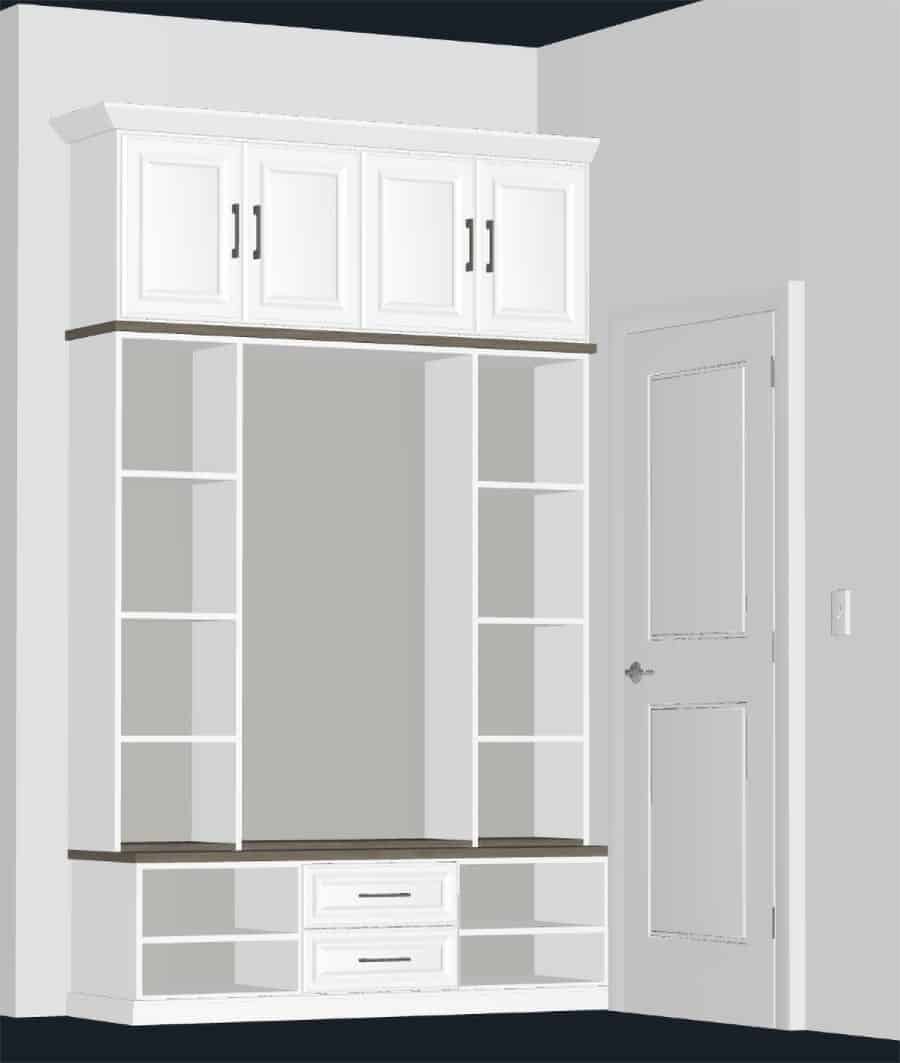 Having a firm plan will also help you know whether you have room for individual storage lockers in your mudroom– or whether a shared, open design will be best.
#2 – Do consider seating for your mudroom.
It's so nice to have a bench seat included in the mudroom design. It not only gives you a place to take off shoes – but it'll provide open storage or drawers below.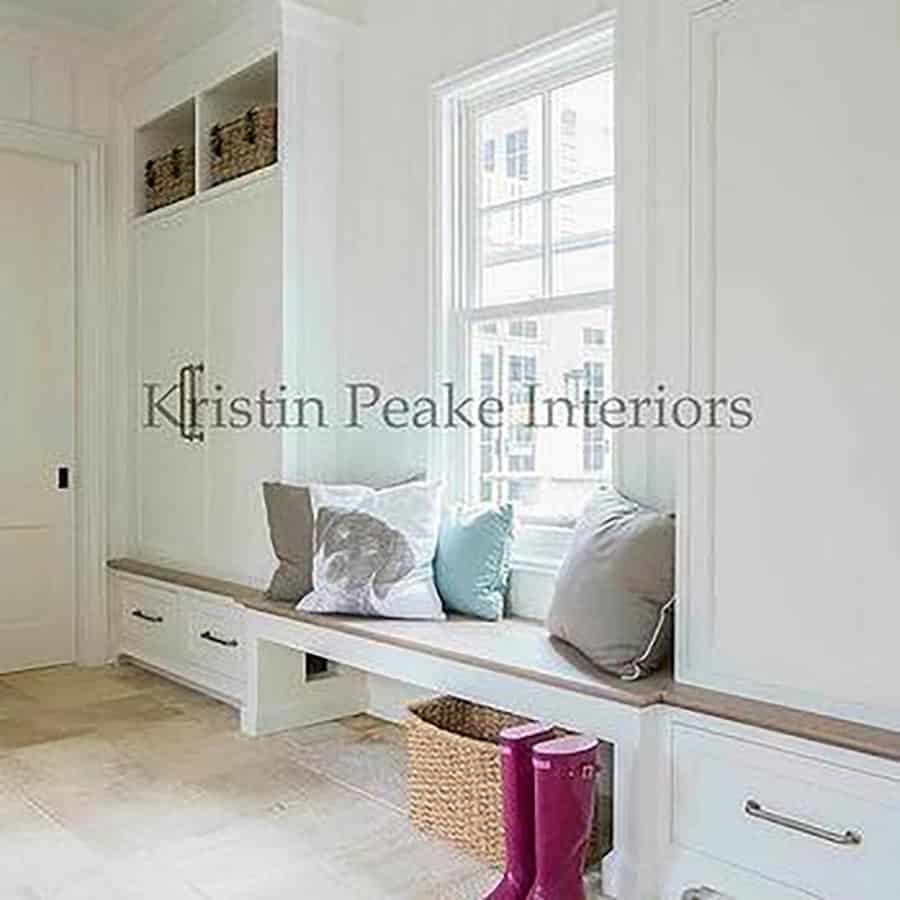 #3 – Do use your vertical space.
Whether you're designing a separate (or combined) mudroom and laundry room – the key is to get better use from the new design than the pathetic, cheap wire shelf the builder slapped in above the washer and dryer or filling the wide open entryway your builder left for you to finish.
And no matter, if you're doing a laundry room or mudroom – a big opportunity many people miss, is to use the vertical space. Since many newer homes have 9' ceilings – there's an excellent opportunity to use the 'volume' to store out of season hats, gloves, and mittens. Or use this overflow space for your little used fondu maker or chocolate fountain the kids begged you to buy.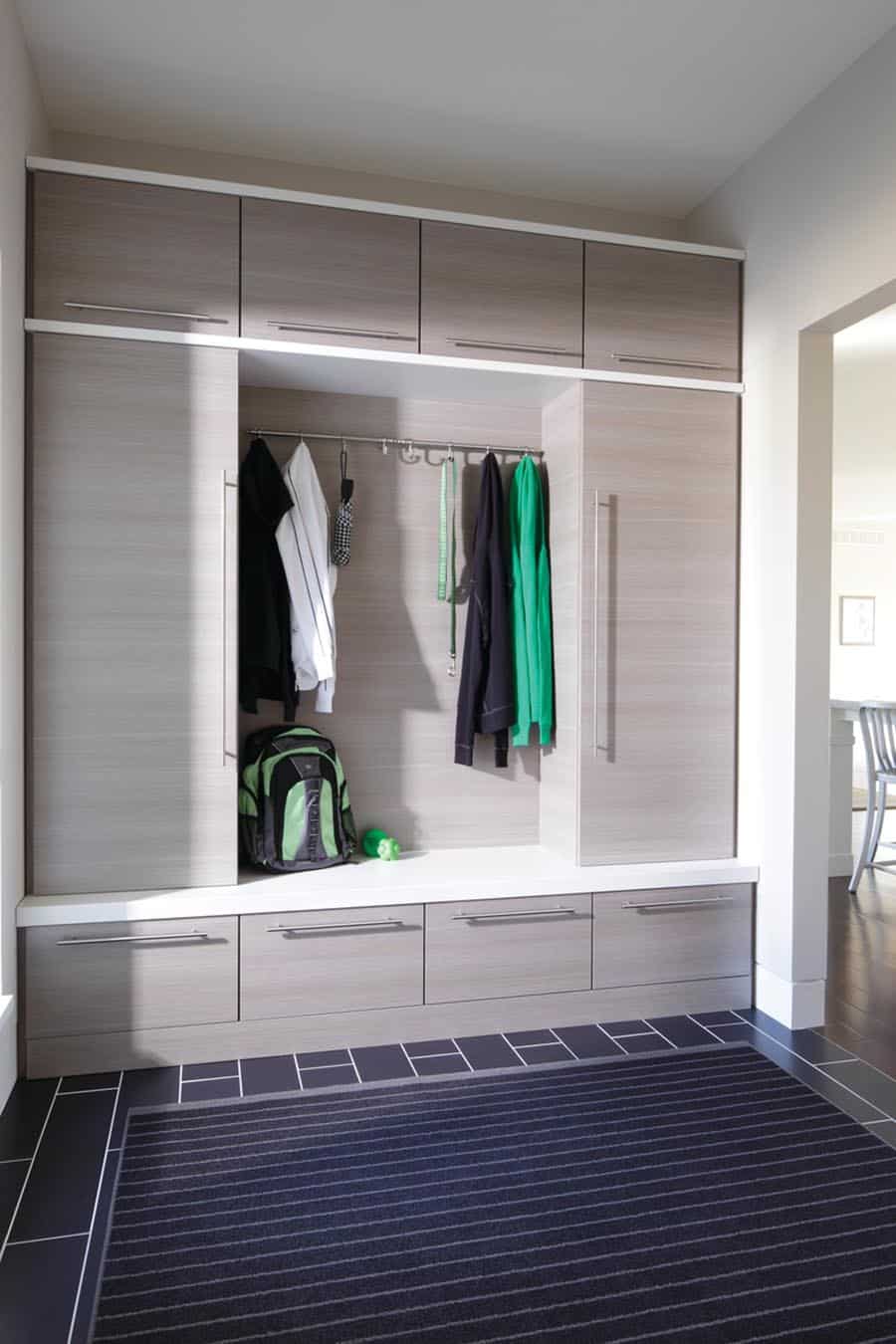 And if you need hanging storage in your laundry room (and are a bit on the V.C. side – 'er Vertically Challenged), add a pull down rod to stage clothes which are drying?
#4 – Do consider charging stations inside your storage lockers.
If you're sick and tired (as mom used to say) of cords everywhere from the electronic devices which are taking over your home, a good way to eliminate these (non-tasty) spaghetti-esque wires (and charging devices) is to hide them inside a storage locker in your mudroom.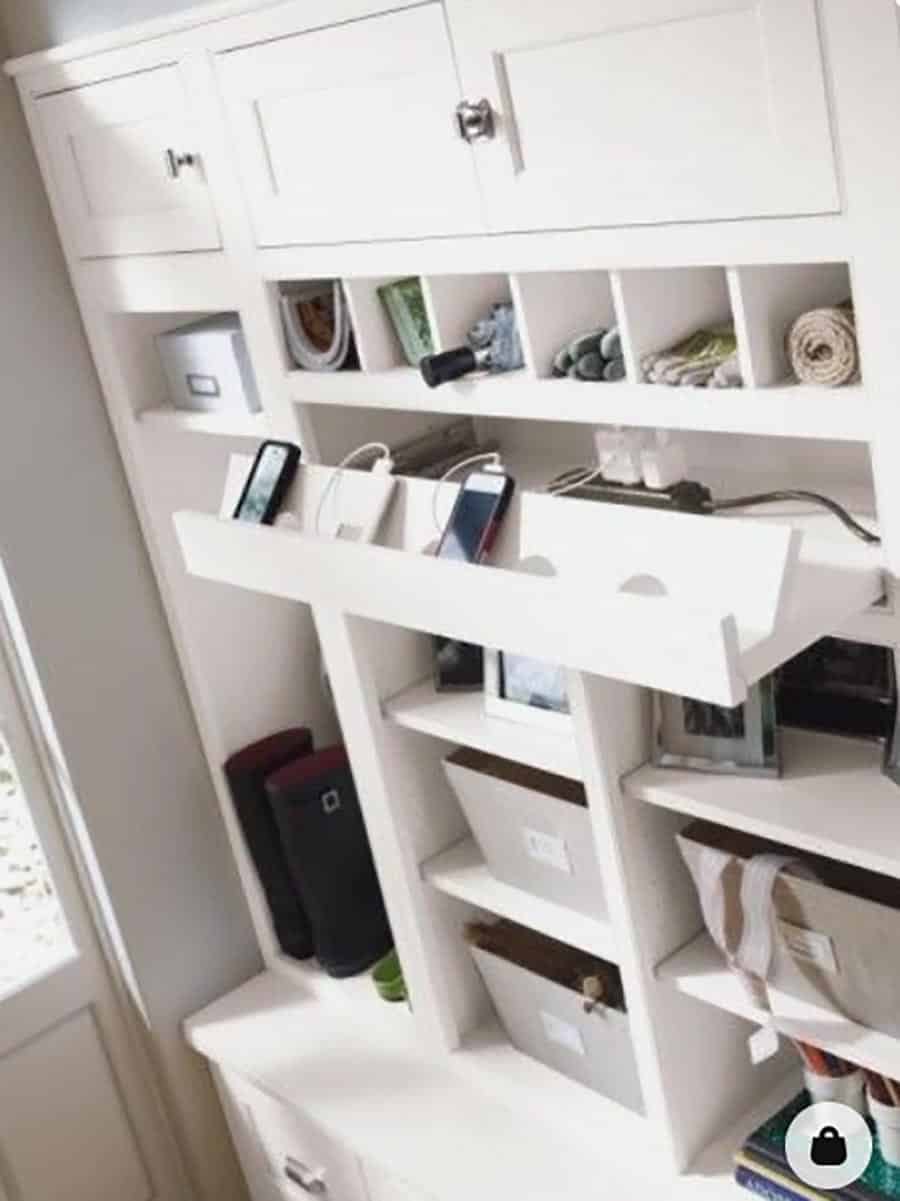 Image source: www.homeedit.com
#5 – Do add a folding station or clothing rods, depending on how you like to stage your laundry.
Hanging shirts on the back of a doorknob in your laundry room gets old quick. Wouldn't it be wonderful (and save you time ironing) to have a hanging rod above your washer/dryer or sink to stage the clothes?
Or conversely, wouldn't it be nice to have a countertop for folding?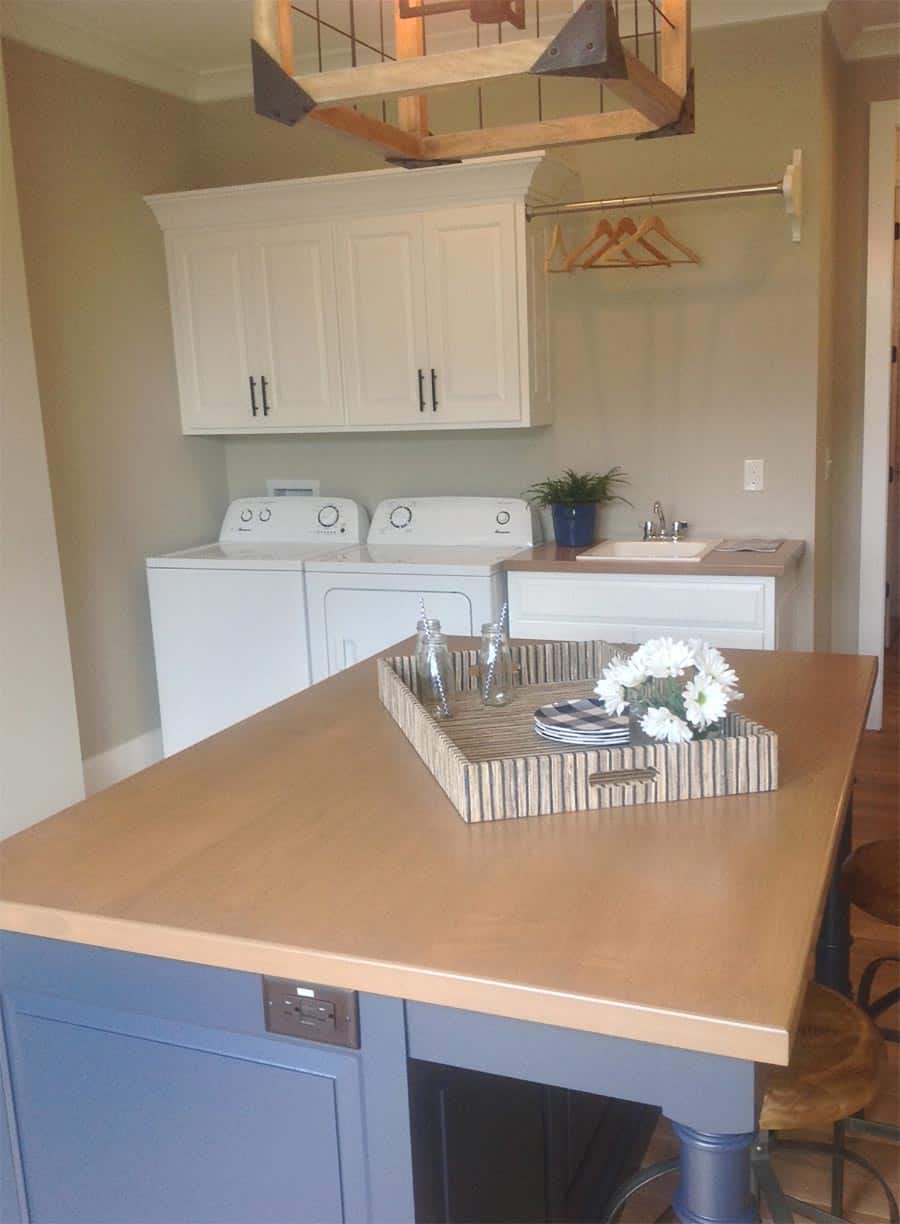 #6 – Do include a family 'to do' board in your combined mudroom/ laundry room.
Instead of cluttering your refrigerator with notes – add a family planning station in the mudroom. There it won't be seen by everyone visiting your home… although it won't solve needing to 'needle' them to get their jobs done!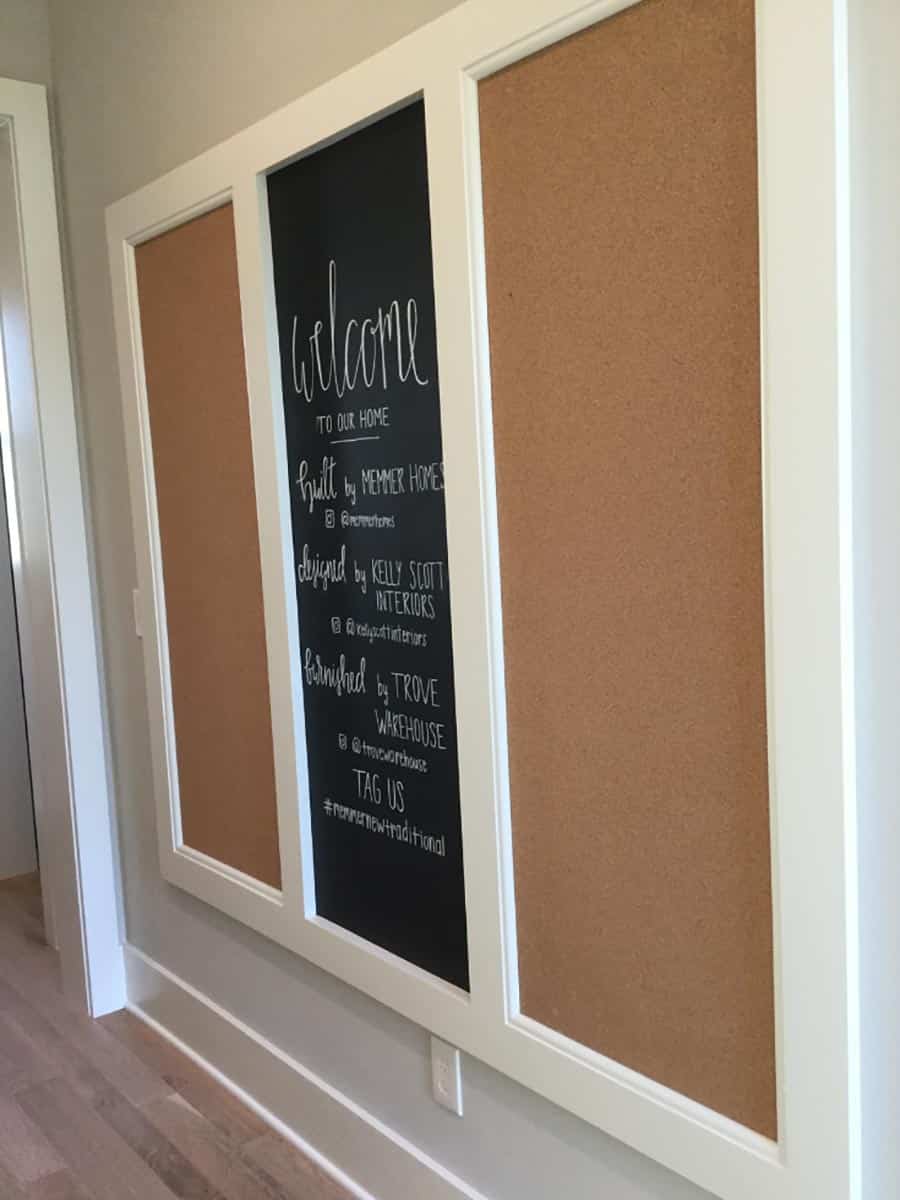 #7 – Do include a cabinet for packages.
If your mudroom is the 'dumping zone' for Amazon packages, you know how infuriating this can be.
Why not include in your new mudroom a cabinet to store packages? At least then the clutter will be out of sight!
#8 – Do remember your furry friends.
If your household revolves around your 'furry friends' you're not alone. I certainly think our 2 cats (Sammy & 'H') reign supreme in our home.
And you'll be well-served by remembering your 'friends' when it comes to designing a mudroom or laundry room. These rooms are excellent places for pet bowls, food storage, leashes, or even a bed like you'll see below.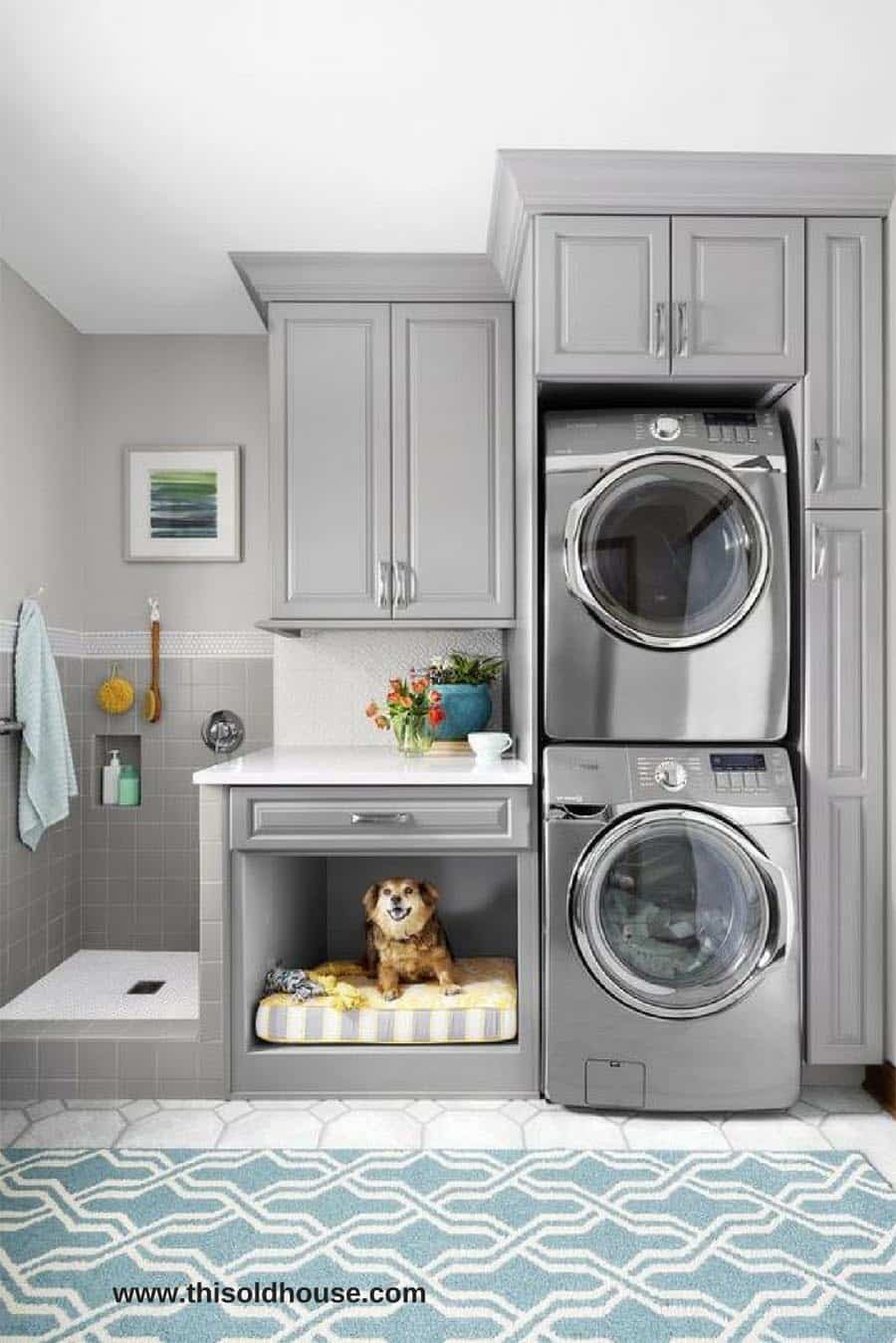 #9 – Do coordinate the design of your entryway and laundry room to work with adjoining rooms.
Whether you like it or not, your laundry room and/or mudroom is usually in the same sightline as your kitchen or family room. And when you select door and drawer fronts or hardware finishes, you'll want these hard-functioning rooms to not only look neat (and no, this isn't the impossible dream), but also for the styles to make sense with other rooms.
So, if you've got Shaker door and drawer fronts in the kitchen, use the same style in the entryway or laundry room.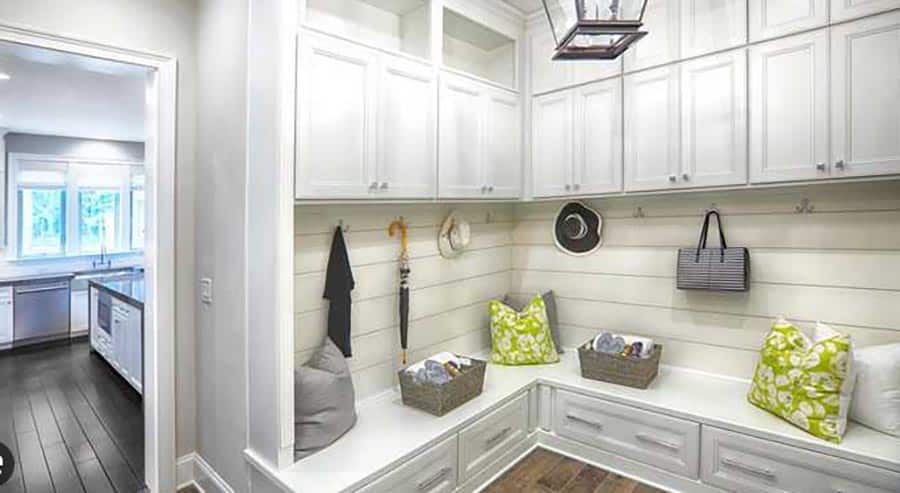 #10 – Do include pull out drawers and doors (or at a minimum baskets).
When you see pictures on Pinterest, Instagram, or in magazines of perfectly pulled together entryway or laundry rooms, do you mutter under your breath there's NO WAY our home will look like that! If your kids and spouses 'lean' toward the messy side (and yes, that's the P.C. way of saying they're a bunch of slobs!), designing a system where you can 'see' less will be far nicer.
So, if your budget (and space) permits, create closed storage behind doors and drawers to keep clutter out of sight. And if your budget or space doesn't permit –go with baskets. It'll at least hide some of the ugliness – and baskets are uber-cost-effective.

And while these 10 things you should 'do' are a good start for your combine (or separate) laundry room or mudroom design, what are some things you 'shouldn't do' to get a design which'll work? Here's 10 'don'ts' you need to know.
The Don'ts of an Effective Mudroom and Laundry Room Design
#1 – Don't give up the idea you can't have a mudroom.
Unfortunately, many homes built 20, 30, 40, and 50 years ago don't have room when you walk into your home from the garage for a mudroom. And while this can be frustrating, all hope is NOT lost.
Another way to create a mudroom is to put it into the garage. Here's a picture of a mudroom I added in my personal garage with our recent garage cabinet installation.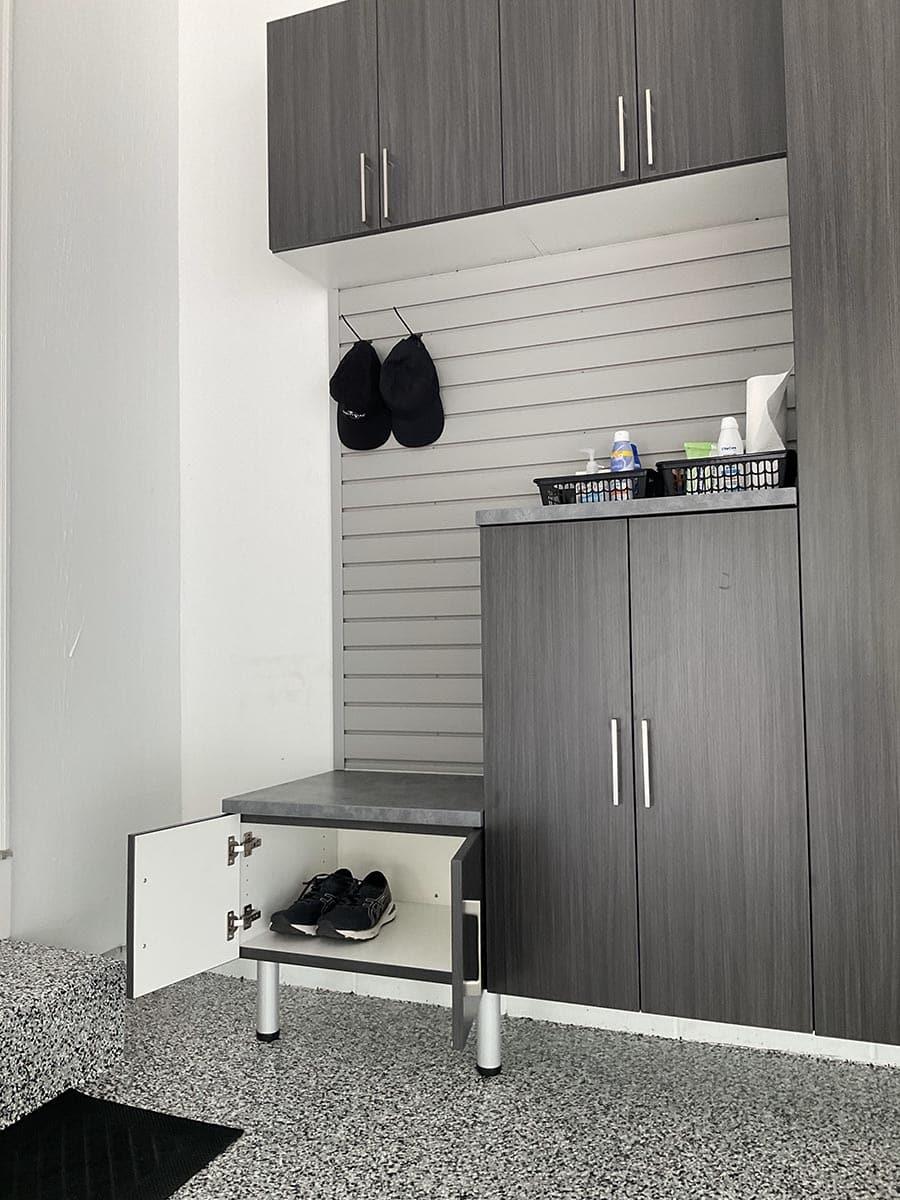 #2 – Don't buy a mudroom furniture from a discount store.
While you may think buying a piece of mudroom furniture from a discount store will solve all your mudroom woes, this is seldom the case. Usually, the furniture will either be too big or too small. Or the furniture will be 6' high – and you have a 9' ceiling – wasting A LOT of valuable storage at the top.
Yes, this is a cheap way to go. However, it's rarely effective. Custom mudroom systems can help you use every inch of space you have.
#3 – Don't use a wood or tile floor in your laundry room.
While wood and tile laundry room floors look wonderful when they're originally installed, neither play well with water.
Instead, use luxury vinyl planks or laminate flooring. They're more durable, AND simpler to clean, AND waterproof.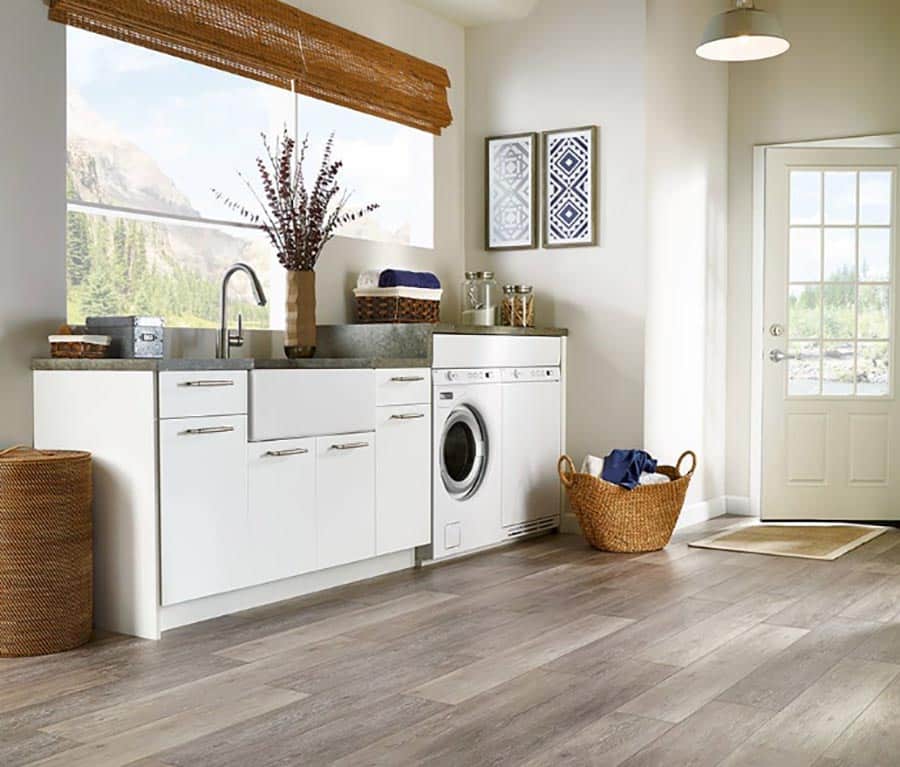 #4 – Don't forget to do your math (or have a smart designer do it for you).
Although most people think of storage designers as 'creative types,' I'd argue the best home storage designers also work a 'mean calculator.' They'll help you think through the proper width of mudroom storage cubbies (I'd recommend they be 20" or wider). They'll help you design a system to take advantage of your ceiling height. They'll have strategies to work around windows (maybe with a bench underneath or shoe storage).
An effective mudroom room and laundry room design uses right brain (creative) and left brain (practical) thinking. And if designing 'ain't your bag,' call a mudroom or laundry room storage professional.
#5 – Don't forget to add back panels behind bookbags and hanging clothes.
If you're the neatest one in your family, raise your hand.
I'll tell you for a fact, the person who is the driving force behind an improved organization system in their home is often the neatest one. They're trying (desperately) to reign in the other 'not-so-neat' people (again I'm going P.C. on you!).
And as you know your kids and spouse may not (gently) and lovingly place their items on the hooks in the mudroom. No, if they've had a bad day they'll practically throw them up on the wall. So, the question is how can you protect your walls from your family?
The smart way is to use back panels behind the walls so you're not always cleaning them or needing to repaint. And if you want more insights about the advantages of back panels, read The Pros and Cons of Custom Closet Back Panels.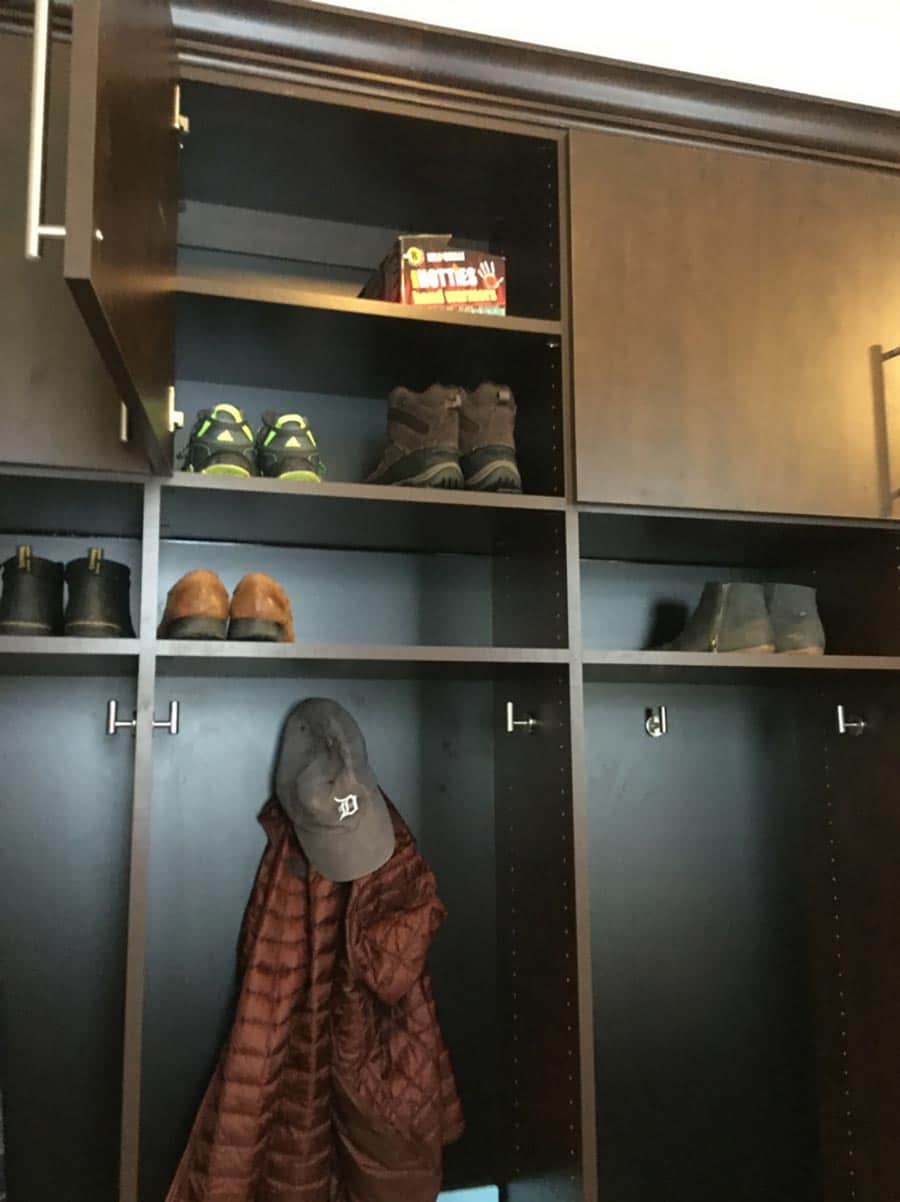 #6 – Don't make your design boring…. especially in your laundry room.
OK if I'm a betting man (which I'm not) I'll say your laundry room IS NOT the most stylish room in your house. And while I understand why you're not going to invest in crazy-expensive luxury materials in your laundry room, a fun color or powerful wallpaper on the feature wall when you enter the room can take away the drudgery of sweating your way through piles of laundry.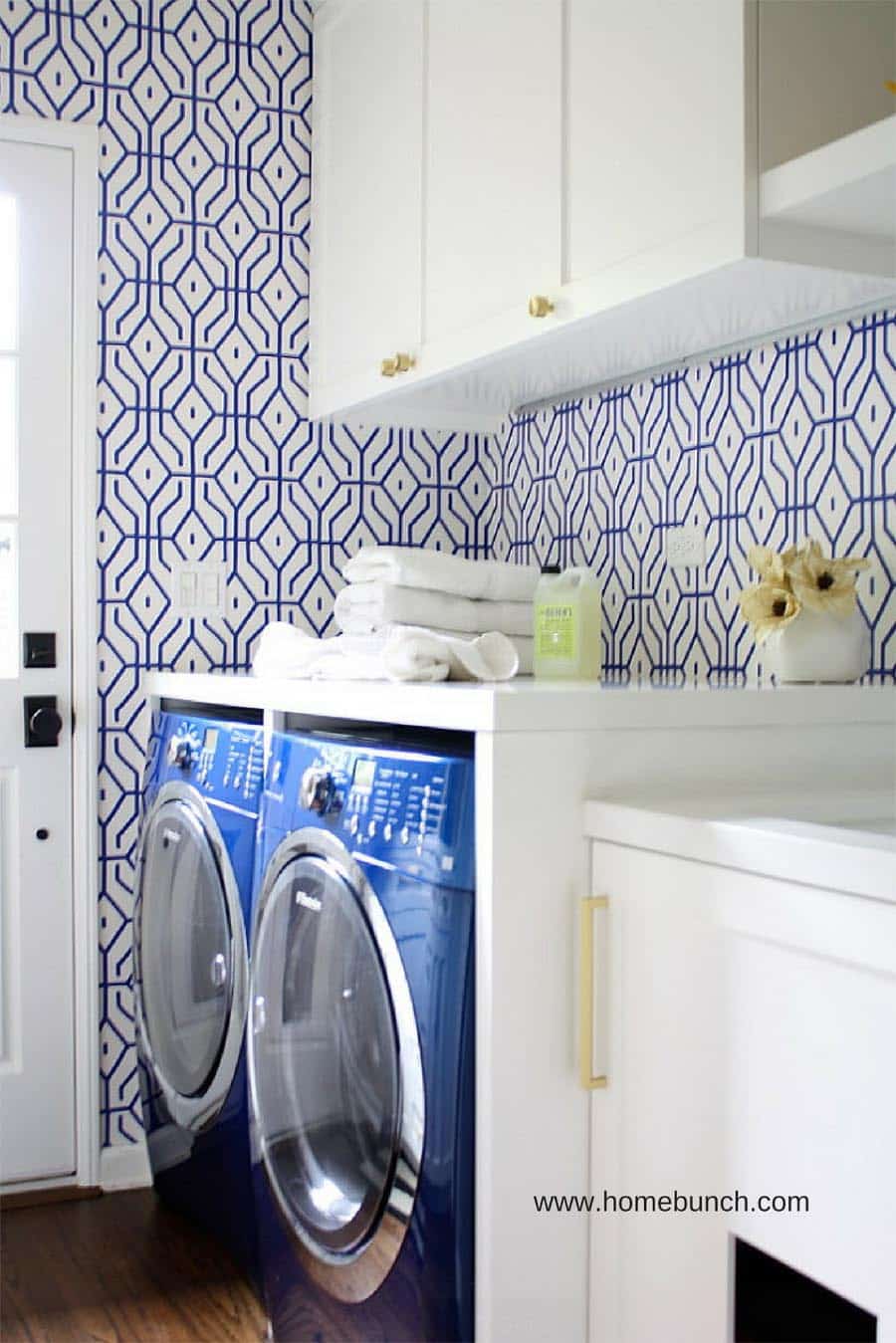 And if you have the budget and want to get really fancy-schmancy – how about adding a wine cooler in your laundry room like this project from Dave Fox Remodeling of Columbus. Yes – I know most of us, can only wish to be sipping (or gulping, depending on the day) wine while doing laundry…but it doesn't hurt to dream, now does it?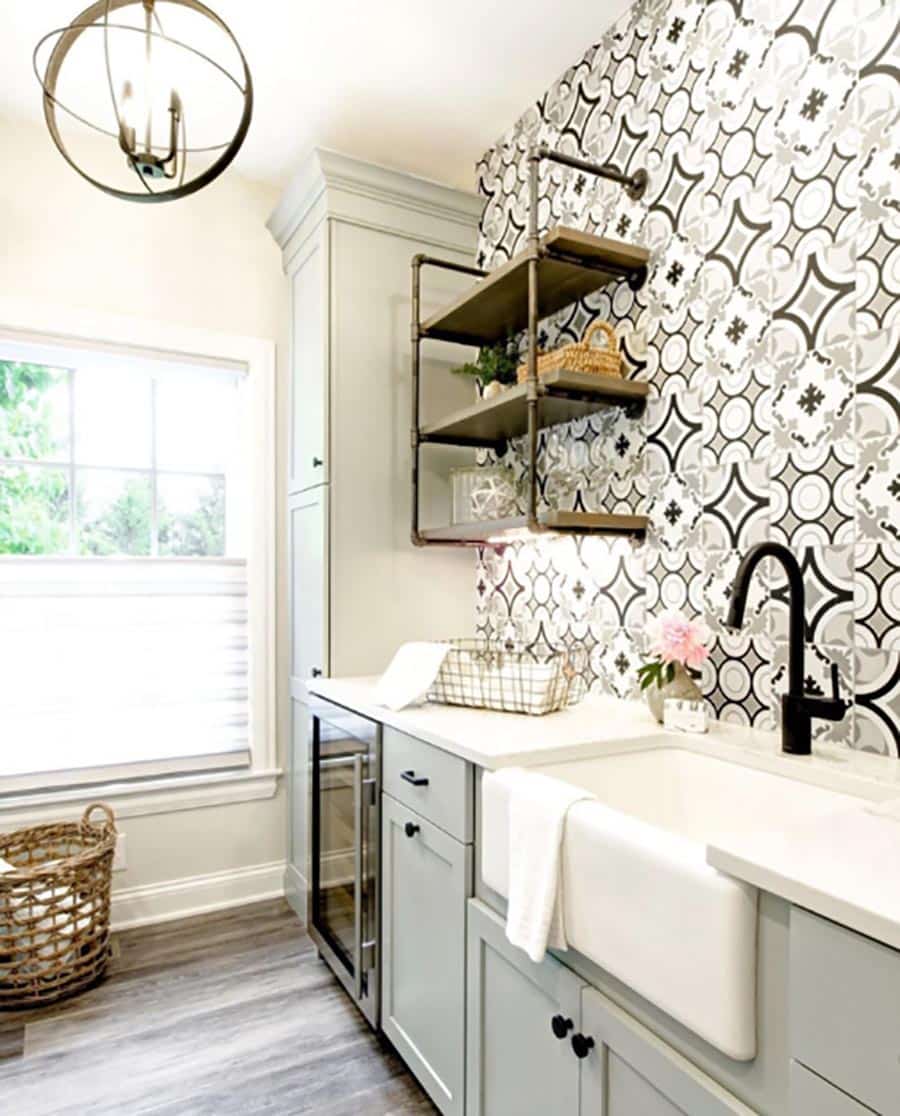 Image source: Dave Fox Remodeling
#7 – Don't forget good lighting – or if this is new construction add a window or skylight.
There's nothing worse than a laundry room or mudroom which is dark. These already aren't the most exciting (or pleasurable) rooms in the house (if I'm keepin' it real). So, if you can, add a window or skylight (which is the best way to get natural light). Or if not, add LED's inside cabinets or puck lights in the ceiling. You can't go wrong with improved lighting.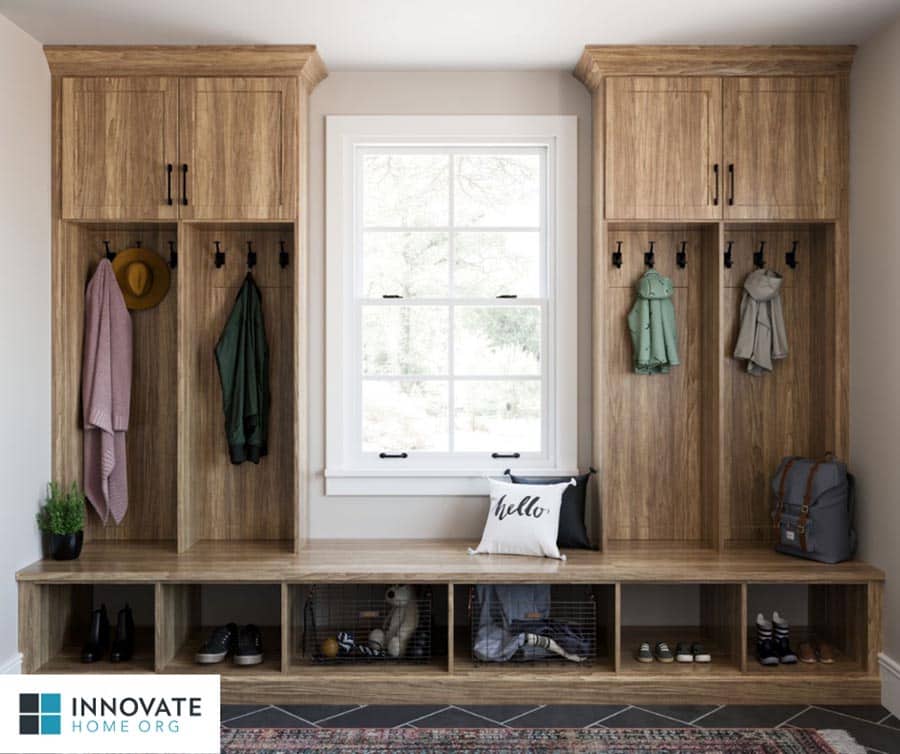 #8 – Don't build your mudroom from wood products.
I know these may be 'fighting' words for carpenters out there, but mudrooms are where you store and hang wet and damp clothes, stinky football jerseys, and snow-filled boots (and sorry for bringing up this evil season).
And since wood is porous (and will need to be repainted or stained) and subject to warping, a smarter choice in a mudroom are laminate cabinets and shelves. They're available in fun colors and patterns most people will assume are wood, but they don't warp or need to be repainted. To learn more about wood vs. laminate mudrooms read How to Compare a Wood to a Laminate Mudroom – 9 Critical Factors You Need to Know.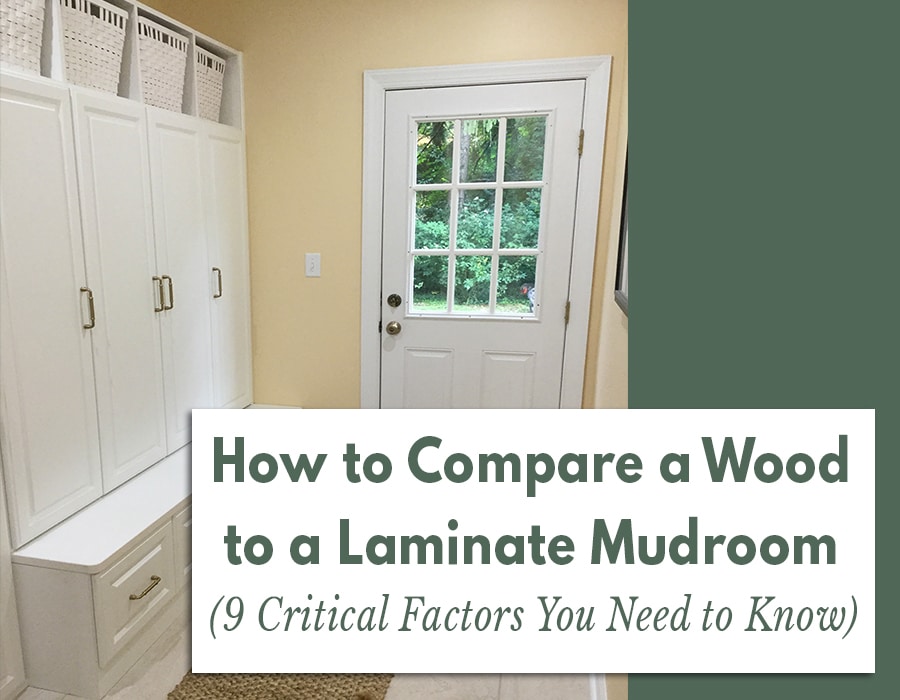 #9 – Don't forget how the door swings.
While it can be wonderful to have pull out drawers – it can also be disastrous if they're left open and someone whacks them when opening an inswing door from an adjoining room or the garage.
So, when designing your mudroom (or laundry room), think about how doors swing – and if an inswing door will be a problem. If the door is on an inside wall, a barn door can be a (fashionable) solution for an in-swing door problem.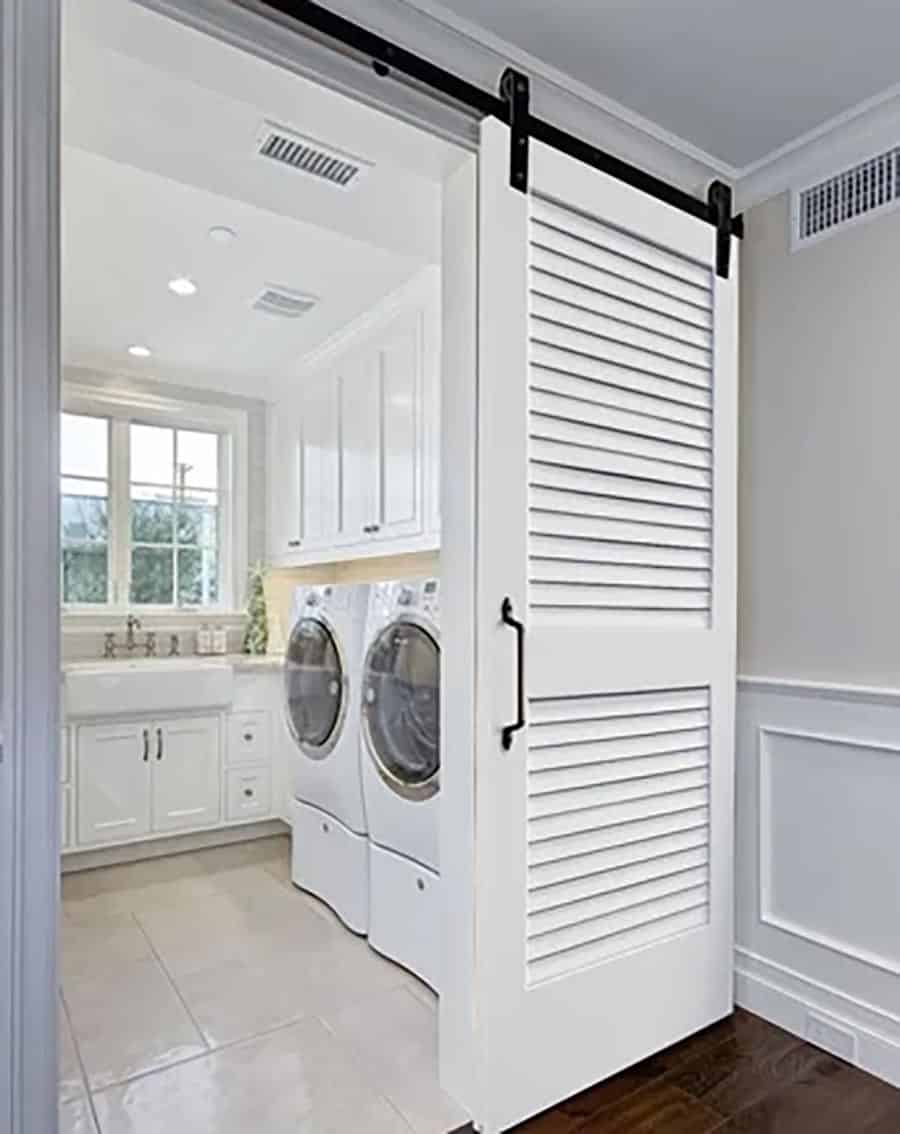 Image source: Wayfair.com
#10 – Don't forget to use the space behind the inswing door.
Although inswing doors can truly seem evil, it doesn't mean the space is dead behind them. This (normally) little-used space can be a smart area for a hook board with hats, leashes, collars for the dogs, or scarves.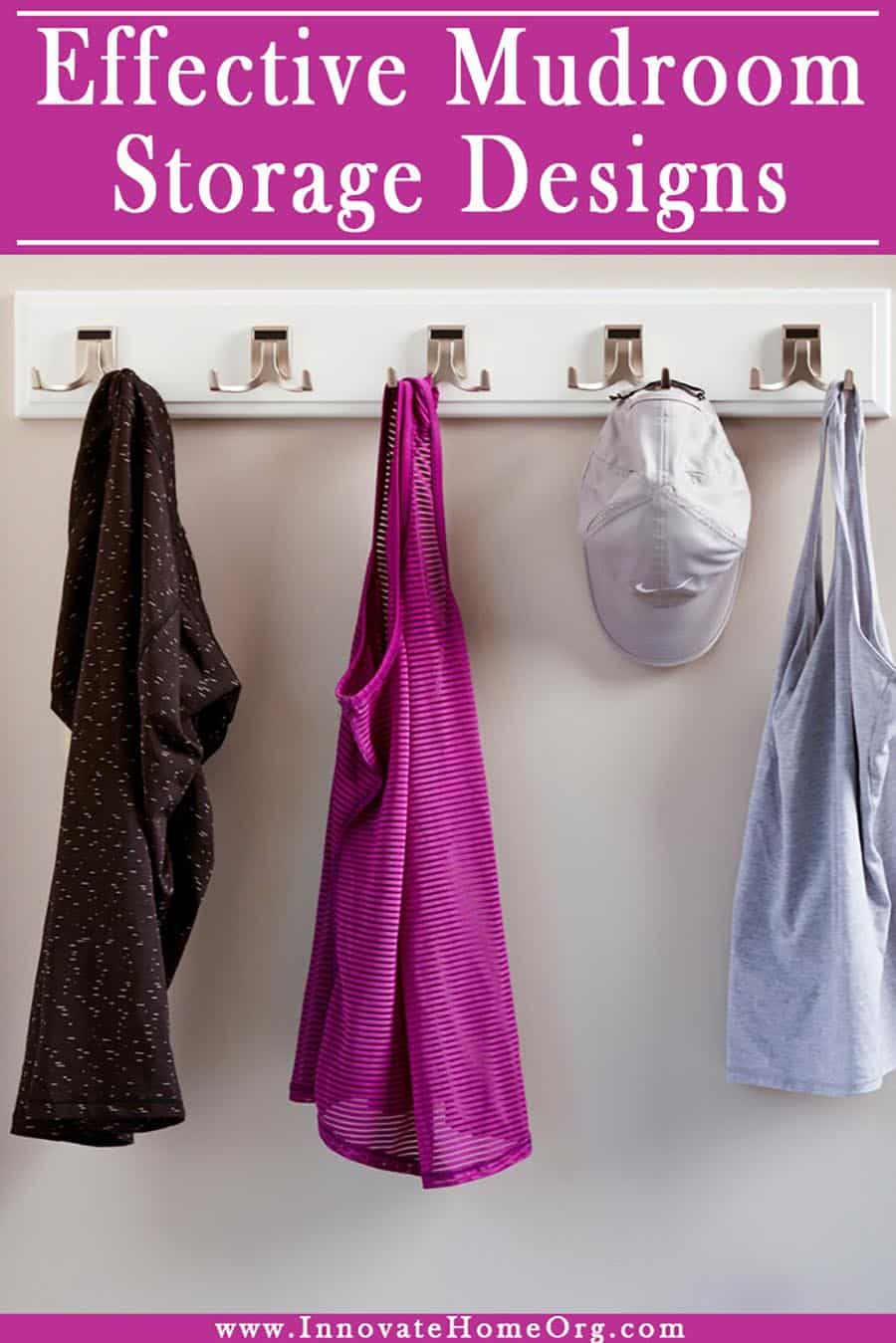 So, do you now feel better prepared to design your laundry room and/or mudroom?
So, after reading these 20 do's and don'ts are you in a better 'space' (yes, that home organization pun was intended) to design your own laundry room and mudroom room?
I know it can be daunting putting it all together. And if you feel this way (and live in Columbus Ohio) call 614-545-6888 or click for a Free 3D mudroom and laundry room design. And if you don't live in Central Ohio, comment below and I'll see if I can connect you with a home organization friend of mine around the country.
Thanks for reading about mudrooms and laundry rooms (and dealing with my wacky personality along the way).
Mike
###
If you'd like more information and articles on mudroom, laundry room, garage, pantry, entryway or custom closet design follow me on LinkedIn @MikeFotiLinkedIn.
---
Tags: 3D laundry room plan, 3D mudroom plan, back panels, back panels in a mudroom, cabinet storage in a mudroom, Columbus laundry room cabinets, Columbus laundry room plan, Columbus mudroom cabinets, Columbus mudroom plan, Columbus storage lockers, fun laundry room, laminate mudroom storage, laminate storage vs. wood storage, laundry room cabinets, laundry room flooring, laundry room selections, laundry room storage, laundry room storage expert, mudroom cabinets, mudroom flooring, mudroom furniture, mudroom in a garage, mudroom seating, mudroom storage, mudroom storage designer, package storage in your home, pet storage in a mudroom, pull out drawers in a mudroom, space planning in a laundry room, space planning in a mudroom, storage lockers in mudroom