7 factors to compare wire shelving vs. a laminate closet system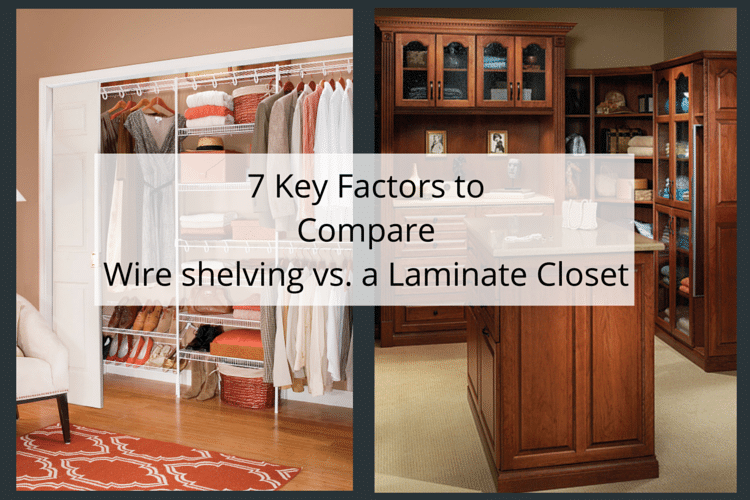 Are your clothes jammed in your closet like sardines? Is finding the right outfit a pain? When you do find that "needle in the haystack" outfit in your disorganized closet is it almost as wrinkled as your son's pile clothes on the bedroom floor (I can relate to this as my 17 year old son believes in the pile dumping method for his clothes "organization!"). If this resembles your life as Jeff Foxworthy might say, "You might need a closet!"
The question becomes what is the best system for you. Would choosing (A) a cost-effective wire shelving work just fine or would selecting (B) a professionally designed and installed custom closet with a laminate surface be the best option for your Columbus home? Well the answer is ….it depends. Right now you may be saying – Mike that's a cop out answer – but it really does depend on your answers to some key questions. In the article below let's take a look at 7 key factors to help you get clarity on the best closet system for your project.

Factor #1 – Are you looking to move soon? You can't take a closet organization system with you
With the exception of free standing wardrobe closet, standard reach in and walk in closets are connected to your wall – so taking them with you to your next home is not practical.
Given this fact a key factor to decide between a fabricated wire closet system or a laminate one is how long are you planning to stay in this house. If you're looking to resell in a year or two the more expensive – and luxurious – laminate or wood front closets may not be best. On the other hand if you plan to stay a while, and know your life would be less stressful with the improved organization, a custom laminate closet system is a sound choice.
Factor #2 – What closet are you doing? A reach in closet for the kids or a walk in master bedroom closet.
While it would be nice to do the luxury laminate system in both your master closet and reach in closets for your kids if money were no object – in most people's cases (I know this is true in my family) money is an object. Remember you don't have to use the same system for every closet. So if funds are limited think about doing the lower priced wire shelving in the kid's reach in closet.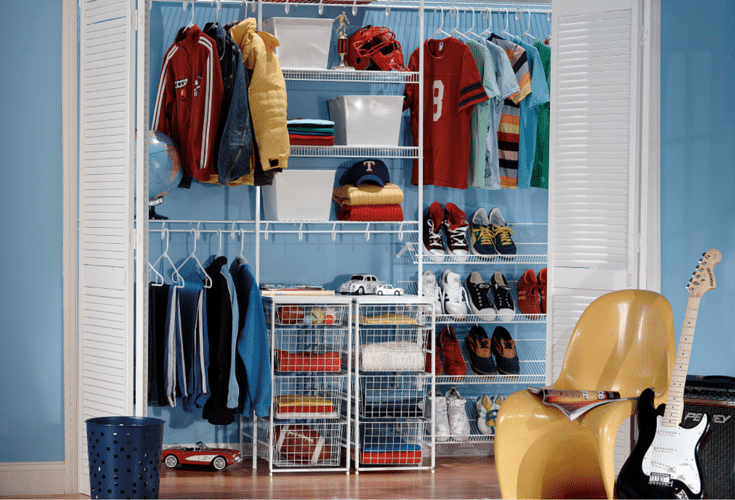 For the walk in closet in the master use the laminate storage solution.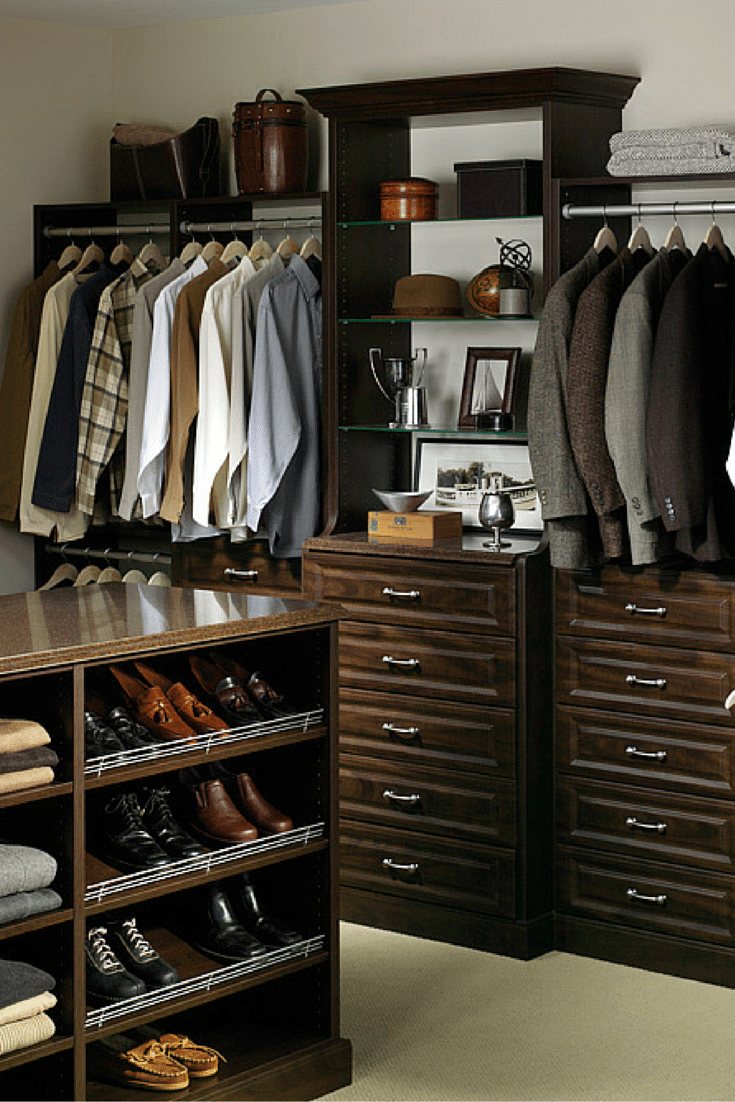 Closets will add value to your home in resale and you can enjoy it everyday (if you think about it who doesn't want better storage than their old home when looking for a home to buy).
Who doesn't want better #storage when buying a #newhome?
Click To Tweet
Factor #3 – Do you love your watches and jewelry but lack a storage solution for them?
For men it can be a fascination with cool watches. For women it can be finding the perfect earrings or necklace for a night out on the town at the Ohio Theater or Columbus Ballet. Watches and jewelry are key fashion accessories. Having a system to know where to find the specific piece you want can reduce the stress of getting ready for an event. Fortunately in my house my wife Rose has the benefit of this beautiful custom-built jewelry box made by my father in law Luigi in his wood shed.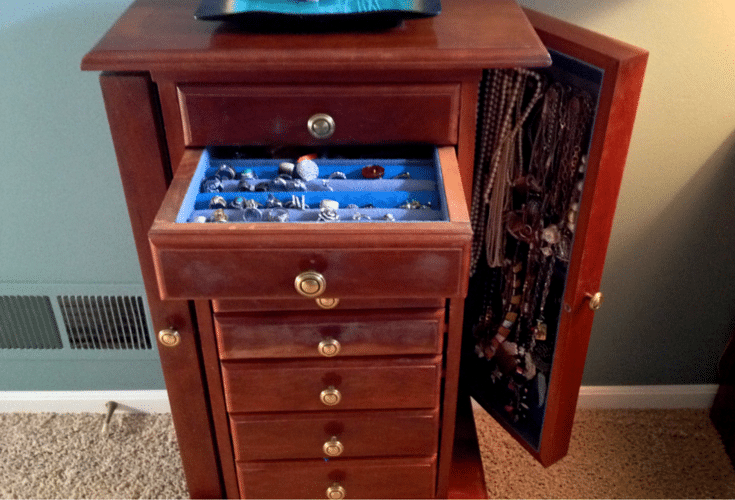 If you don't have a talented woodworking savvy father in law like Luigi (and I'm betting most people don't) then an organized jewelry drawer box or watch drawer can be just what the doctor ordered. The laminate systems offer excellent options for this type of storage. Wire systems don't provide options to organize watches and jewelry.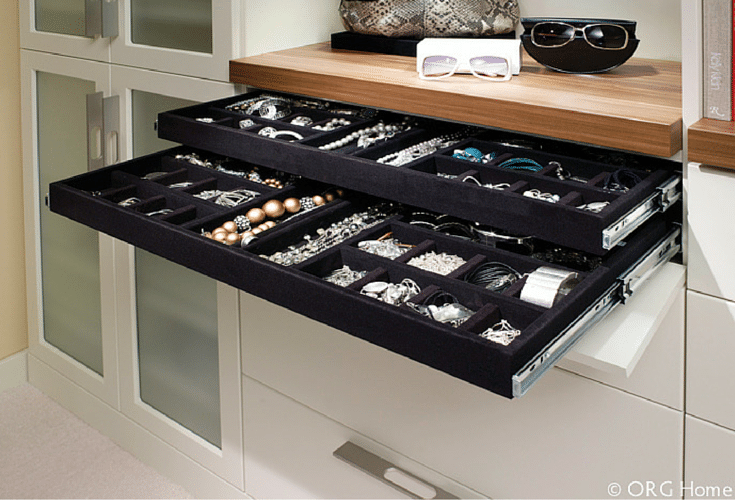 Factor #4 – Do you love (and have time) to DIY a project or would a professionally designed, built and installed system be better?
You're a weekend warrior and you LOVE to save money. In this case check out the wire closet shelving systems in your local big box stores (you may also find a limited selection of laminate systems). Since you'll be doing all the labor yourself it will certainly cost less money.
On the other hand unless you're a professional designer or own a closet business (or you play one on TV – like Jay Pritchett from the show Modern Family) you're probably not an expert in designing a closet to maximize your current and future storage. Working with a professional designer (most of the companies who have these designers sell the nicer laminate systems) you'll get a trained eye and usually a 3D rendering of your new closet. These custom built systems are designed to use every inch of the closet (there won't be wasted space in the corners). So while in the short run you'll pay more money with a pro system – in the long run you'll get more storage, system flexibility and a better quality product than the out-of-the-box DIY system.

Factor #5 – How do you like to store your clothing – hanging or folded?
In almost every closet you'll have rod (or multiple rods) for hanging your clothes and shelving to store boxes, folded sweaters etc. While both wire and laminate shelves are designed to stand up to a good amount of weight, when it comes to folded clothes stacked on your shelves there is a huge difference between the two systems. In the case of wire shelving you'll get the not-too-flattering "wire marks" in your clothes and can have the frustrating problem of small thin items falling between the cracks of the wire. Laminate shelving is smooth and solid on the bottom so you won't have to worry about having to constantly iron out those line marks of a wire system.
Factor #6 – Do you want to "bare all" or keep your contents concealed?
With wire shelving everything is there to see – all your stuff is exposed. Even if you incorporate storage baskets you can see the contents. While that can be good –it will kill the compulsive organizers who prefer a more uniform and tidy appearance. Adding drawers and doors (which are available in the custom laminate systems) provides a cleaner more sophisticated look and keep things which may get a bit jumbled concealed inside your drawers, doors and baskets.
Factor #7 – Would you like some fancy functionality like ironing boards or mirrors?
Closets don't just have to be about storage. Some cool options are possible if you choose a laminate system (wire closets offer limited accessories). Wouldn't it be nice to have an ironing board which folds out of a drawer for a quick touch up. How about a mirror which slides out of a concealed door?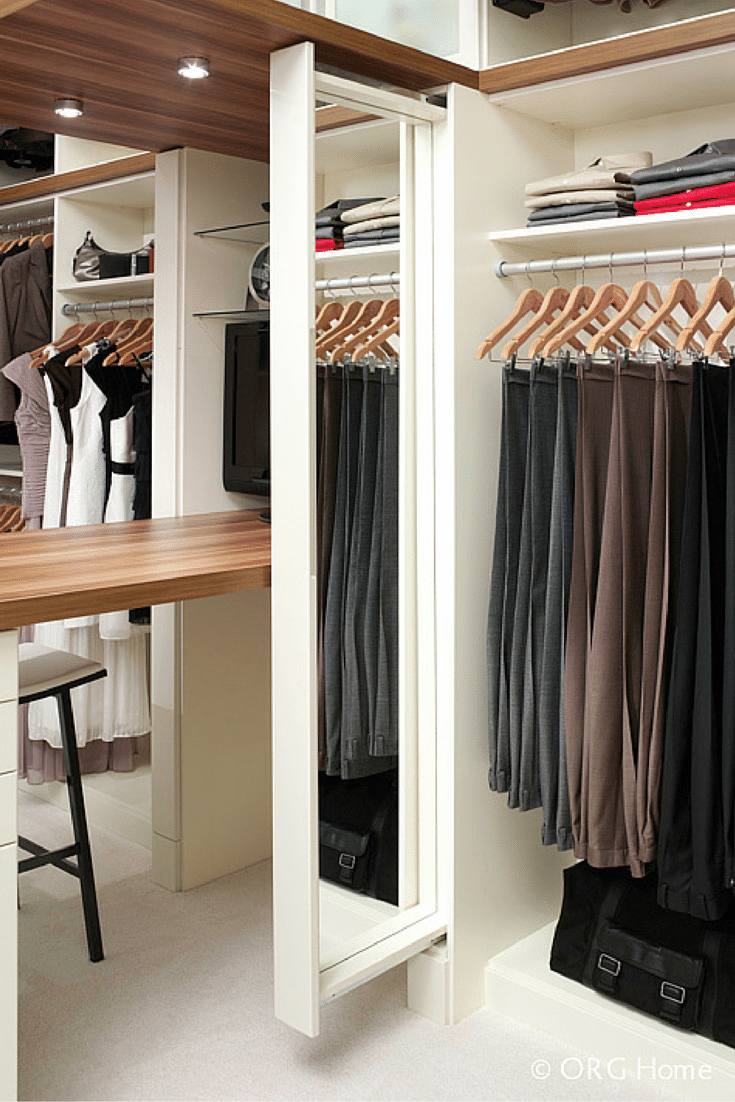 If you want your closet organizer system to transform you space into a relaxing and enjoyable (beyond utilitarian square footage) retreat a laminate system will be better.
Conclusion
There is no one best closet organizer system. Think about your needs, budget, closet location, desire for style, design skills and/or desire to DIY the project. When you've analyzed these items you'll be able to choose the system(s) which are best for your project.
###
For help with a Columbus home organization project call Innovate Home Org in Columbus at 614-545-6888 or in Cleveland call 216-658-1290. For bathroom and kitchen remodeling or window and door projects contact parent company Innovate Building Solutions at 877-668-5888.
Follow the author @Mike_Foti on Twitter or our companies' @InnovateBuild and @InnovateHomeOrg.
---
Tags: closet accessories, closet ironing board, closet organizer Columbus, Columbus closet organizer, Columbus home organization, custom closet, custom closet Columbus, home organization, jewelry drawer in closet, jewelry storage, laminate closet, laminate closet system, reach in closet, reach in closet Columbus, walk in closet, walk in closet Columbus, watch storage, wire shelves, wire shelving, wire shelving Columbus