7 Cool Space Saving Organizing Tips from a Luxury Tiny Home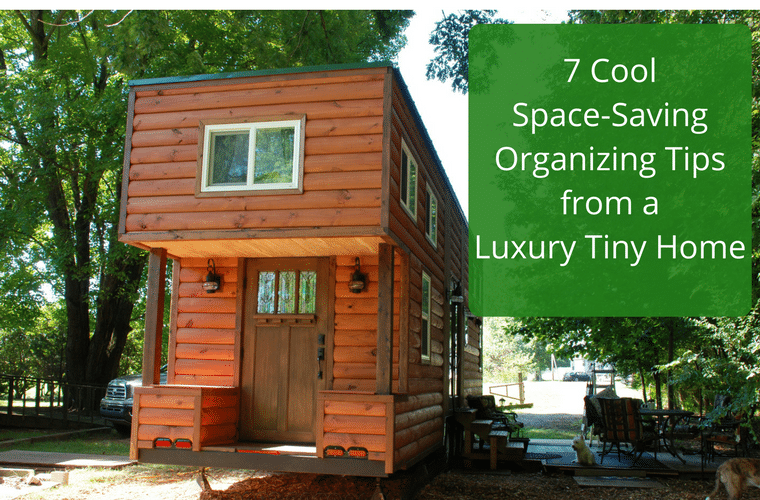 Are you as fascinated by the tiny home shows on TV as I am? Doesn't it look like a ton of fun (and less stress) to lead a simpler life with less bills to pay and rooms to clean? Like most realities tiny home living isn't the end all/be all. Even if you're not adventuresome enough to discard most of your belongings or live "off the grid" you can learn a lot about organizing from these homes.
Recently one of the divisions of our parent company (Innovate Building Solutions) was fortunate enough to supply a decorative shower wall system to a tiny home located in Mocksville, North Carolina. This is the home of Kristi and Rafael Bugajski and has been aptly named "The Tiny House Escapade." You see Rafael and Kristi were not only interested in building a tiny home – they decided to become custom tiny home builders – for the first time – on their own home! That's a bit adventuresome (OK – it's maybe a bit crazy as well).
The first article I wrote on this home titled, Taking a behind the scenes adventure into an ingenious upscale tiny home focused on why this home was built, it's design goals, and also some life lessons we can all learn even if we aren't the builders of this home like Kristi and Rafael. If you have time check it out!
In the article below I'd like to guide you through 7 cool space-saving organizing tips any of us (even if we're not building a tiny home – ever – insert valley girl voice here!) can use no matter what type of home we have. Let's check out these tips!
Tip #1 – You can do just fine with less stuff
Have you ever paid attention to how few items in your closet you actually wear? As Kristi said to me, "Mike – we all have our Superman or Superwoman outfits. Those 5 or so pairings we feel good and comfortable in." In a tiny home it's essential to identify these Superwoman/Superman outfits – because you don't have space for "fluff" clothing you don't wear.
'In a #tinyhome you have to identify your Superman outfits!'
Click To Tweet
Applying this to your home – One way to actually see what you wear, and identify your "go-to Superman" outfits, is take this experiment. First make sure all of your hangers are in the same direction. Then turn all the hangers of the clothes you wear in the opposite direction. At the end of a couple of months you'll see everything you don't wear and can begin to donate and discard. You'll be amazed at how much more closet room you have. Then to not let things get junked up again, when you buy something new make sure to discard something you already have in your closet. Owning less clothes will help you save closet space, be less stressed finding your clothes and save money.
Tip #2 – Design "multi-purpose" rooms
When you're building a tiny home having rooms which serve multiple purposes is a must. In this home the bathroom is one example of having multi-functions for the Bugajski family (and the family pets as well!). Here's some of the things this room serves to do:
It's a bathroom – Duh, you may say! But this is actually a big (it will fit 2 people at a time) and stylish tiny home bathroom with a sink in it. Most tiny home bathrooms only have a shower and a toilet and if you want to wash your hands you have to do it in the kitchen sink (yuck!). In addition, luxury features like fun shower wall panels and a glass vessel sink make this bathroom stand out.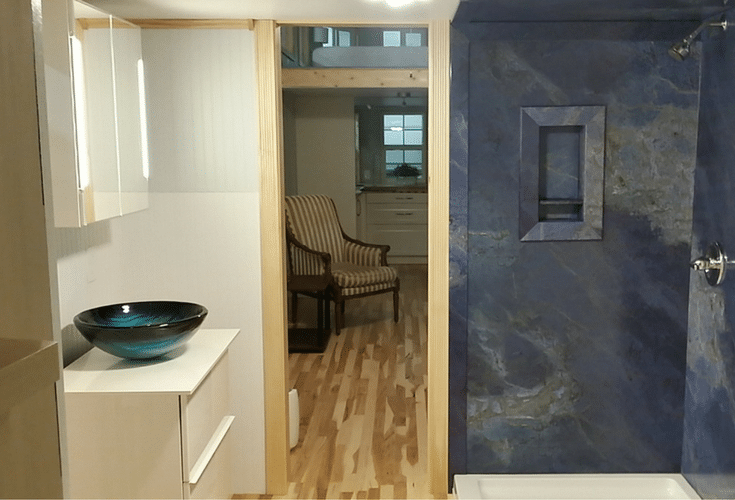 It's a mudroom – The family dogs (Apollo and Duncan) need a place to get cleaned up after they've been running around outside.
It's a changing room – Since the bedroom ceiling is only a bit over 4' tall the bathroom serves as THE only private place to get dressed.
It's a future laundry room – A washer and dryer will be added to the space shortly.
Applying this to your home – Here's a couple of multi-purpose ideas for your home. Extend the function of your walk in pantry by adding a prep counter or even a wine bar (my wife would love that). If you have a large walk in closet consider designing a bench seat which can double as a place to store purses, blankets or shoes below.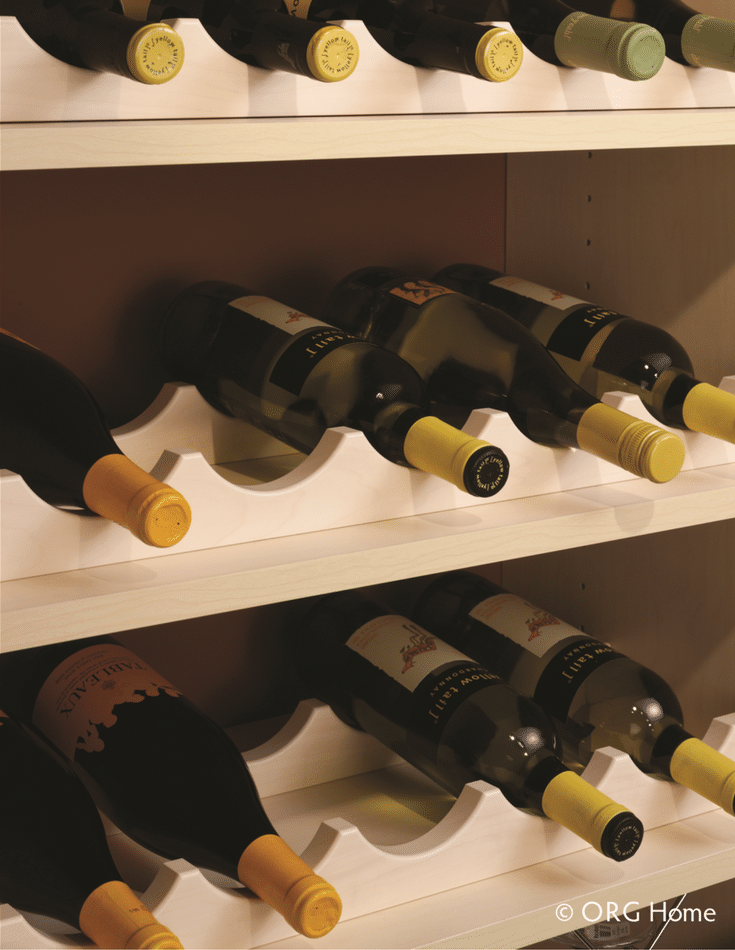 Tip #3 – Create unique storage compartments
I remember as a kid how I used to LOVE the hidden compartments in my Hot Wheels set – and then the fun rolling the cars out of the mini-garage. The Tiny House Escape is full of little compartments which take advantage of every cubic inch of space. The under the stairs storage as you go up to the lofts are just one example.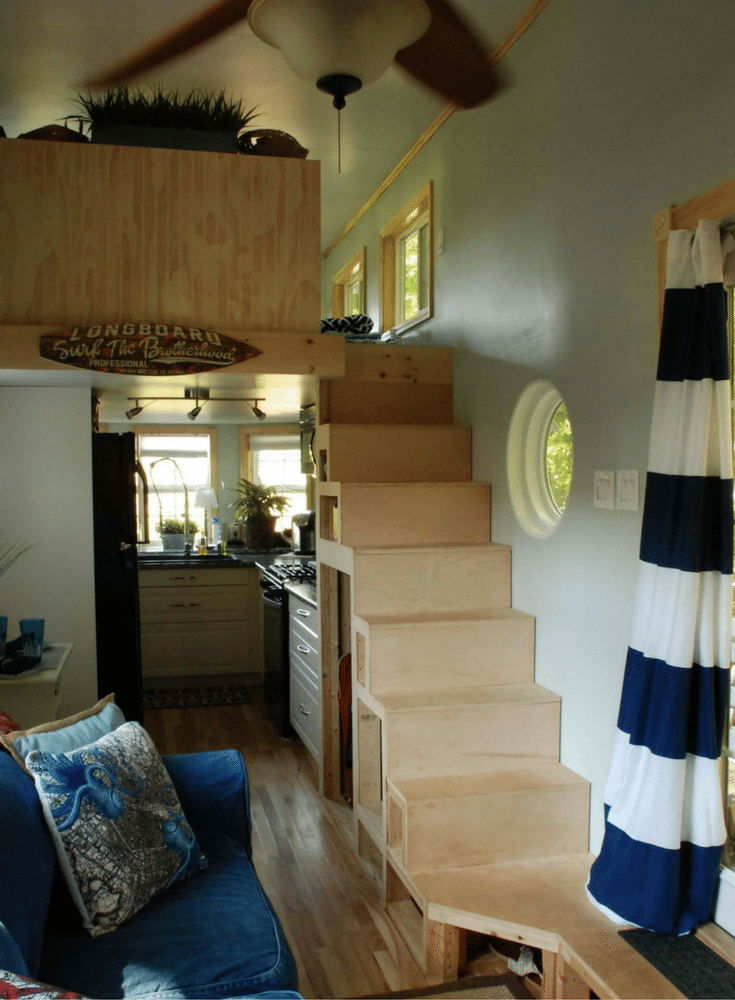 Applying this to your home – How about adding some surprise functionality to your closet. How would a full-length mirror or a fold out ironing board sound to you? This would add more purpose to the space with a little bit of "cool" thrown in!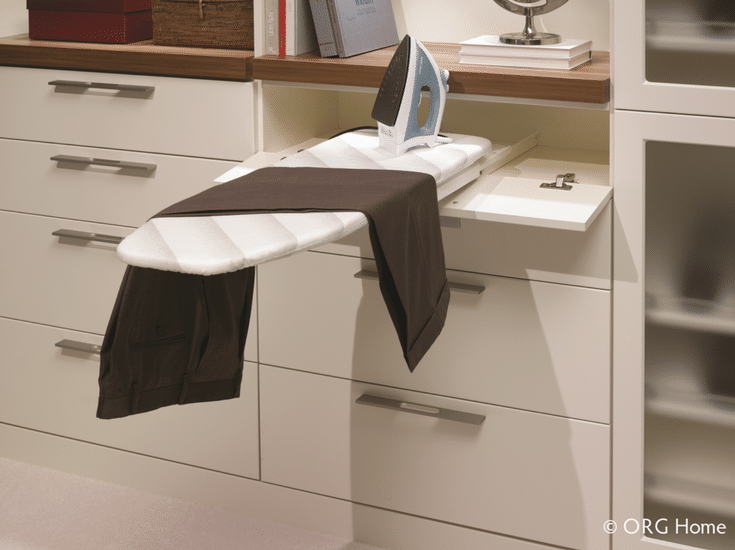 Tip #4 – Think "up" – lofted living and storage space
Tiny homes demand every square inch be used productively. Building a loft (and storing on the top level) were necessary to give Kristi and Rafael the large (for a tiny home) kitchen and bathrooms – while still providing them a place to sleep (yes – that's kind of important as well). The two lofted bedroom spaces (one for Kristi and Rafael and one for their daughter) and the first floor all fit into a total height of 13.5' – wow!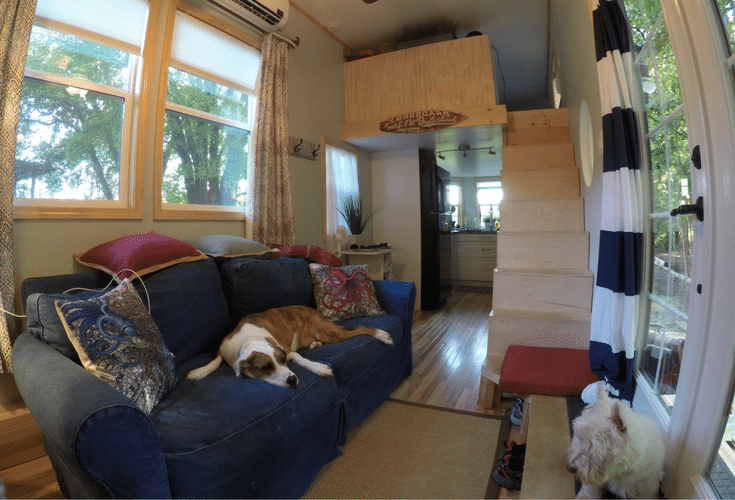 Applying this to your home – You may not want to sleep in a lofted space a bit over 4' high – but why not take advantage of your vertical space? This could be especially helpful if you live in a Victorian Village, Short North or urban loft space with higher ceilings. Look for rooms like bathrooms, bedrooms, closets or living rooms with vaulted or tall ceilings. Use a cool rolling library ladder and add shelf storage to reclaim this space.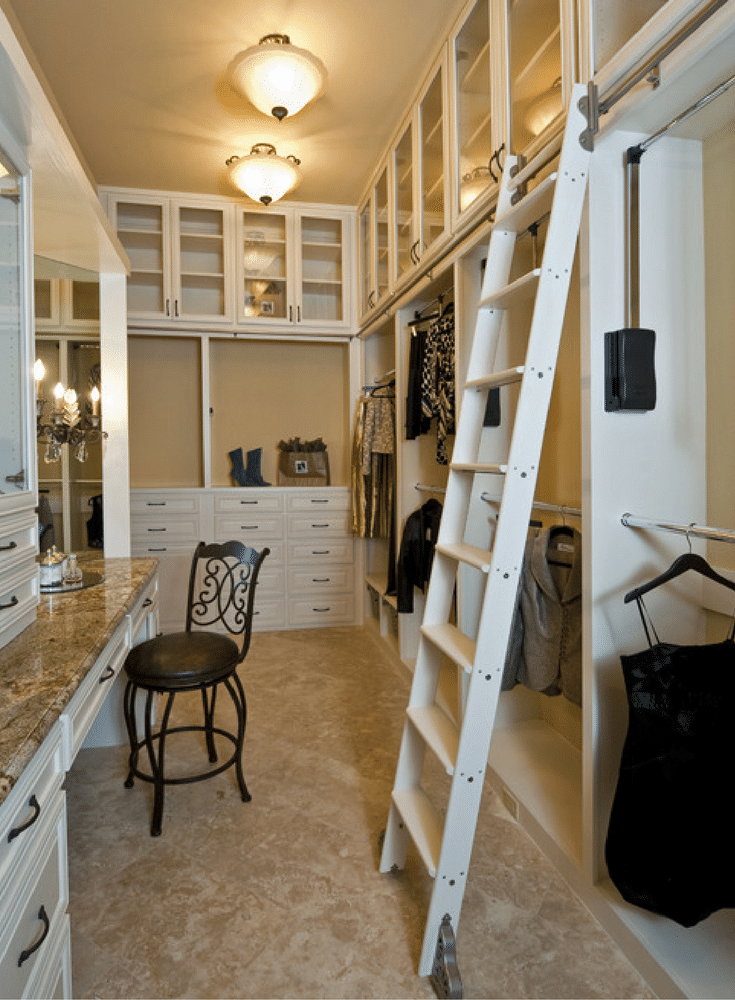 If you have a small reach in closet you may want to have shelves at the top which aren't as deep so you can now fit lighter items like pillows, sleeping bags and blankets at the top.
Tip #5 – Make a shopping list and check it twice
OK – I have to fess up. I need to listen to the advice in tip #5 – BIG TIME! When I go grocery shopping every Saturday with my daughter Jade we have a blast flinging paper towels at each other and joking around. However, my lack of making a shopping list before I go gets me in some hot water with my wife as she puts away the 16th jar of tomato paste (I tell her my buying patterns are just a hedge against inflation – she's not buying it!).
With a tiny home Kristi and Rafael can't afford to be a careless shopper like me. As Kristi said, "I've got to take stock of what I have, what I'm going to prepare and what I'm going to need. Buying in bulk with a tiny home is a thing of the past."
'Buying in bulk when you live in a #tinyhome is OUT!'
Click To Tweet
Applying this to your home – Getting a handle on your shopping list will begin with organizing and getting rid of things you have in the pantry you no longer will eat or are expired. If you can't see what you're looking for in the back of your fixed pantry shelves, consider shifting to full extension scoop type drawers. They will get you out of the hot water of buying 16 jars of tomato paste – or make it really obvious to your wife when you screw up again!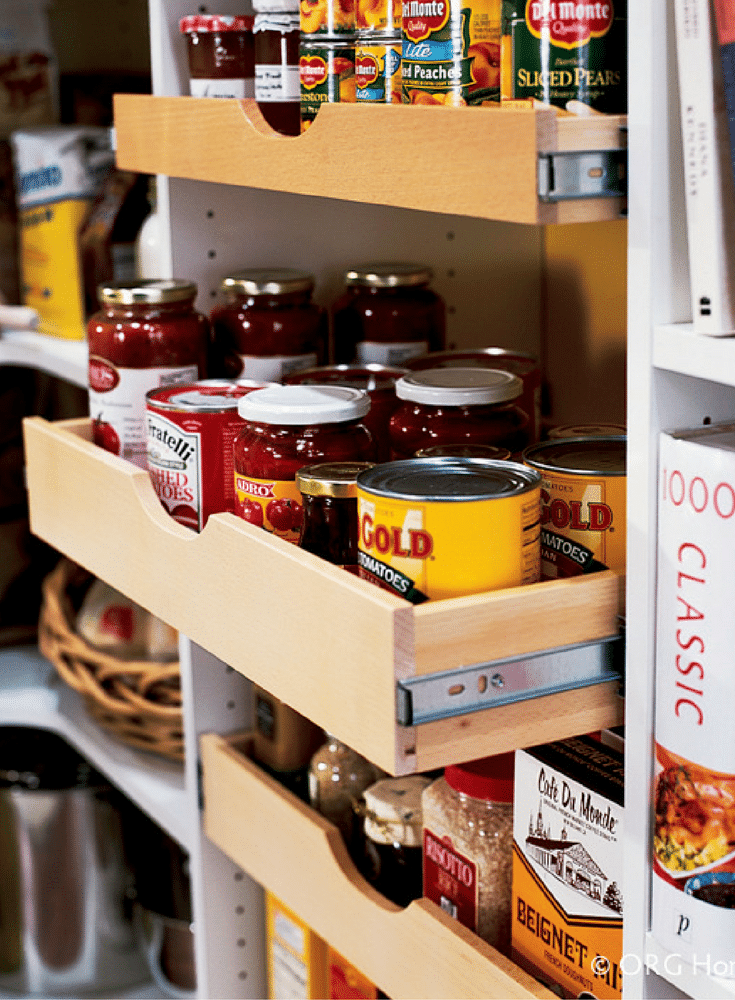 Tip #6 – Fold more, hang less
The companies' who manufacture hangers don't want to hear this but you'll gain more square footage (or square "incheage" if that's a word) by putting folded clothes on shelves or in drawers vs. hanging them on a rod. This is why Kristi and Rafael only have one small closet in their home which stores Kristi's uniforms, Rafael's suit and dress shirts.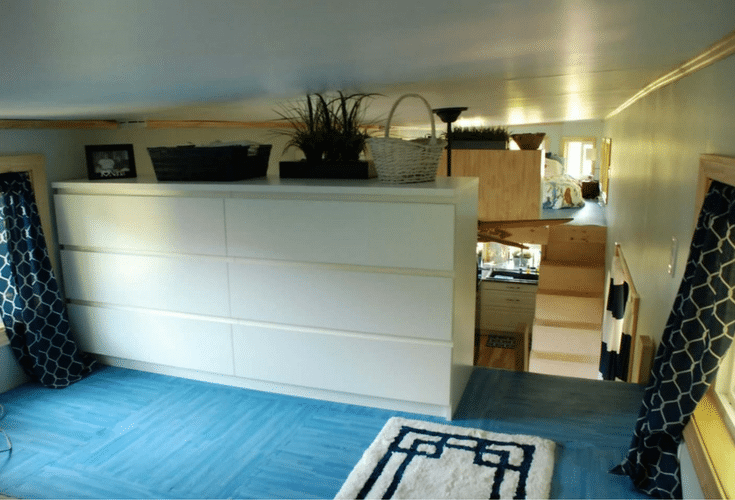 Applying this to you home – When you look at your lack of closet space ask if you really need to hang your jeans, t-shirts, sweaters and sweatshirts on hangers. You can get 3x more clothes (properly folded) in drawers or adjustable shelves. If you hate to fold things because you need to be some type of Houdini to remove one item from the stack without messing up the other clothing above – I'd recommend learning the Kone-Marie method of folding. It's a cool way to fold clothes upright. You can actually see what you have and it's easy to pull out one item without messing up the rest.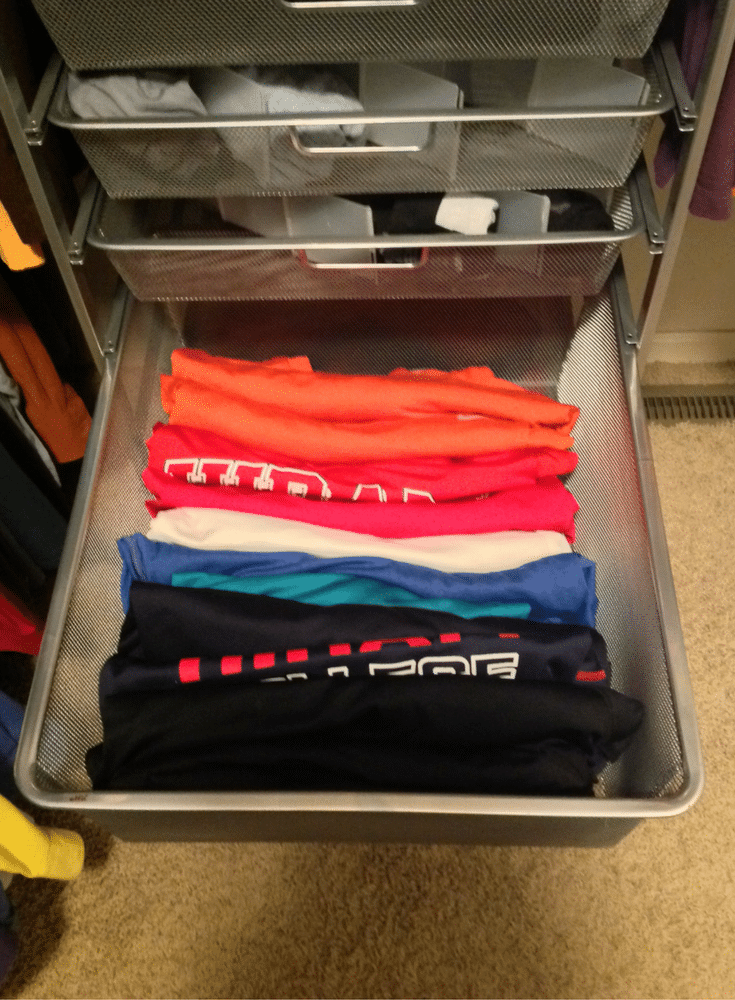 Tip #7 – Stop storing in circles – they don't call it a "Lazy Susan" for nothing!
The idea of the revolving tray to use all of the space in a corner kitchen cabinet seemed like a fabulous idea at the time, but when you really think about it is a Lazy Susan really that good of an organization tool? You can get more in a square or rectangular storage space than in a round area of the same volume. Kristi installed a Lazy Susan in her tiny home cabinets and is already looking to find something new to gain more space.
Applying this to your home – If you've got circular storage containers or shelves convert them over to a square, rectangular or angular design. Check out the storage efficiency of the kitchen base cabinets below which have taken the old idea of a Lazy Susan to the next level.
Conclusion
Even though most of us won't ever live in a tiny home it doesn't mean we can't learn from this simpler, minimalist, sustainable and organized approach to home ownership. If you're intrigued and want to learn more about the Tiny House Escapade or about home organization products, please call the numbers below. It would be our honor to help you.
###
Contact Kristi or Rafael at 336-793-7965 about the tiny home or Innovate Home Org of Columbus about closet, kitchen, pantry or garage storage systems at 614-545-6888 or 216-658-1290.
Follow the author on Twitter @Mike_Foti or our companies' @InnovateBuild and @InnovateHomeOrg.
---
Tags: closet space, closet tips, declutter Columbus, folding strategies, hidden storage, hidden storage Columbus, Lazy Susan, pantry shelves, pantry tips, Short North lofts, space saving, space saving storage tips, tiny home tips, Victorian Village lofts, walk in pantry.