6 steps to the perfect garage for your hobbies (creating a space all for you)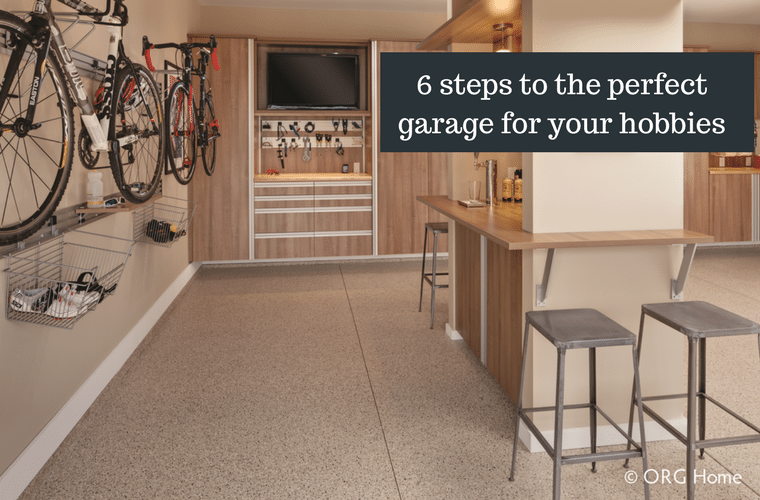 I was delusional when my wife Rose and I built our suburban 4-bedroom home on a lake 23 years ago. I created a den off the kitchen with traditional glass doors and a stately mahogany desk to be my private sanctuary – a place just for me. A place to read (one of my hobbies). A place to write (I was able to finish a book project and eventually morph into blogging). A place to pay bills (those doggone things come every day whether I like it or not). Rose and I were fortunate to expand our family (3 "kids" who are 22, 18 and 14 today, and 3 cats later) but my concept of a private study all my own has hit a big snag. Now my workspace is a small glass top table in the corner of the room. The boys will have other "dudes" over to play X-box. I frequently have to take the cats off my chair just so I can sit down! The place all to my own for my hobbies (reading and writing with a bit of bill paying thrown in) has been slightly altered.
Can you feel my pain with the challenge of finding a place for your hobbies inside the house? Has your basement "man-cave" been taken over by your teenage daughter and her giggling boy-crazed girlfriends? It would be cool if you could make your great room "great again" – but it's practically impossible for you and your buddies to watch the Ohio State Buckeyes beat the team up north with all the commotion going on inside your home.
Where can you find a place for your hobbies and equipment (whether it is sport watching, your golf clubs, hunting and fishing gear or custom woodworking) to call your own since your family is effectively squeezing you out of the house?
The answer is find the biggest volume "room" (although most people don't call it a room) in your Westerville, Upper Arlington, Dublin, Pickerington or Columbus home– the garage – and stake your claim to it.
'The biggest volume room in your home is your #garage!'
Click To Tweet
At this point you might be saying, "Mike, are you nuts! My garage is a complete mess, a dump zone, a bug-infested nightmare!" I get it (my garage certainly resembles this remark at times) – but if you follow the 6 steps below you'll be able to create the perfect garage for your hobbies (and all the other stuff you need to store). Let's dig into these steps.
Step 1 – The vision – the garage as a place to "play" and a place to store
The driving force behind this garage remodel needs to be you. Think first about your hobbies and personal equipment and how much space you need to allocate for them. For example, if you're an avid golfer you'll want either 19" or 23" deep cabinets to protect your clubs from the elements and to have plenty of room to retrieve them before a weekend round with your friends.
If you enjoy being a weekend handyman, a customized workbench would be a nice. If you love hunting and fishing a slat wall system on the side of the garage to hang your poles and nets sure would beat them sliding down on the garage floor. Maybe you want to add an entertainment center to watch the Buckeyes with 'da boys. Think about how much space you want to allocate for your hobbies and sporting equipment.
Second, you still need to have the right storage systems for your garage. Take an inventory of your things– rakes, shovels, brooms, trash cans, lawn mowers etc. Ask yourself if any of these items would be best stored off the garage floor on a pegboard or wall organizer system, inside concealed cabinets (to make the space neater) or do they still need to be on the floor because they are too heavy or bulky to store up and away. Develop a rough concept drawing of your new space (if this garage planning step is blowing your mind call a garage design professional to do it for you).
Step 2 – Everything (well maybe not everything) must go – A "Going out of the Garage" sale!
Ruthless decluttering must become your mantra. It's taken years to get into the mess, but you don't have years to declutter yourself out of it to create the perfect garage for your hobbies and storage. Hold a "garage, garage sale" (yes – I did mean to say that twice). Get those half-filled paint cans out of there! Same for those quarter full and partially ripped bags of potting soil. Sell the Christmas decorations you're not using because they are tacky or too hard to put up, at a garage sale. If you're questioning whether to keep or discard something – do the latter. You can't create space for your hobbies and storage without getting rid of your junk. If you need help doing this there are professional organizers who will lead you through this dirty work.
Step 3 – Take the "low road" – the garage floor
You can't convert the garage into a useable room without addressing the garage floor. If it's pitted, cracked, soiled or discolored a polymer or epoxy floor coating can be exactly what the doctor ordered.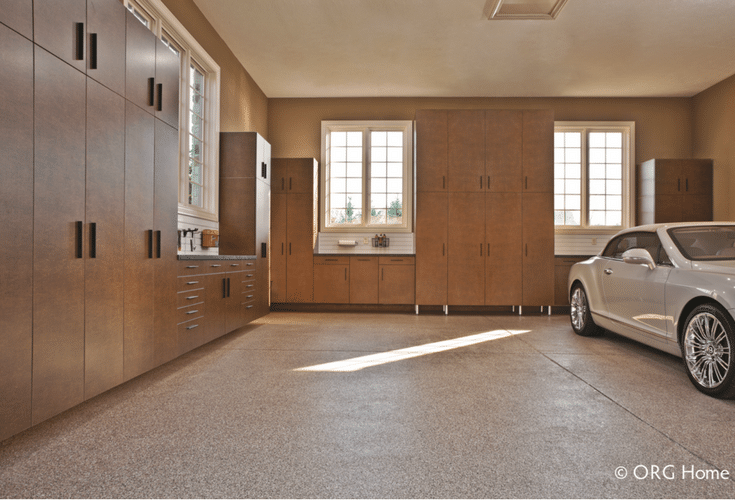 I would recommend staying away from the cheap big-box garage flooring products. 10 years ago, my wife and I invested (a nice word for spending a lot of time doing a nasty job) a weekend cleaning our garage floor and then applied speckled gray flooring paint. Within 1 month half the surface was off the floor. That was a wasted weekend of effort.
Step 4 – You live in the Midwest, you'll need to heat and insulate your garage if you want it to be a year-round "room"
I should have been born in the South because I love the heat, but hate the winter! The thought of the winter winds bums me out. The reality is whether you live in Cleveland or Columbus the cold weather will rear its ugly head again. There is no reason you can't enjoy your garage year-round if you make the investment to button it up. I love the radiant overhead heating systems to provide cost effective heating to a concentrated area (we use them in our business where we do our fabrication work and they work out great). Consider blown in insulation for the exterior walls. You'll want a comfortable space whether your tinkering with your woodworking projects for a grandson or granddaughter or watching the football game with friends.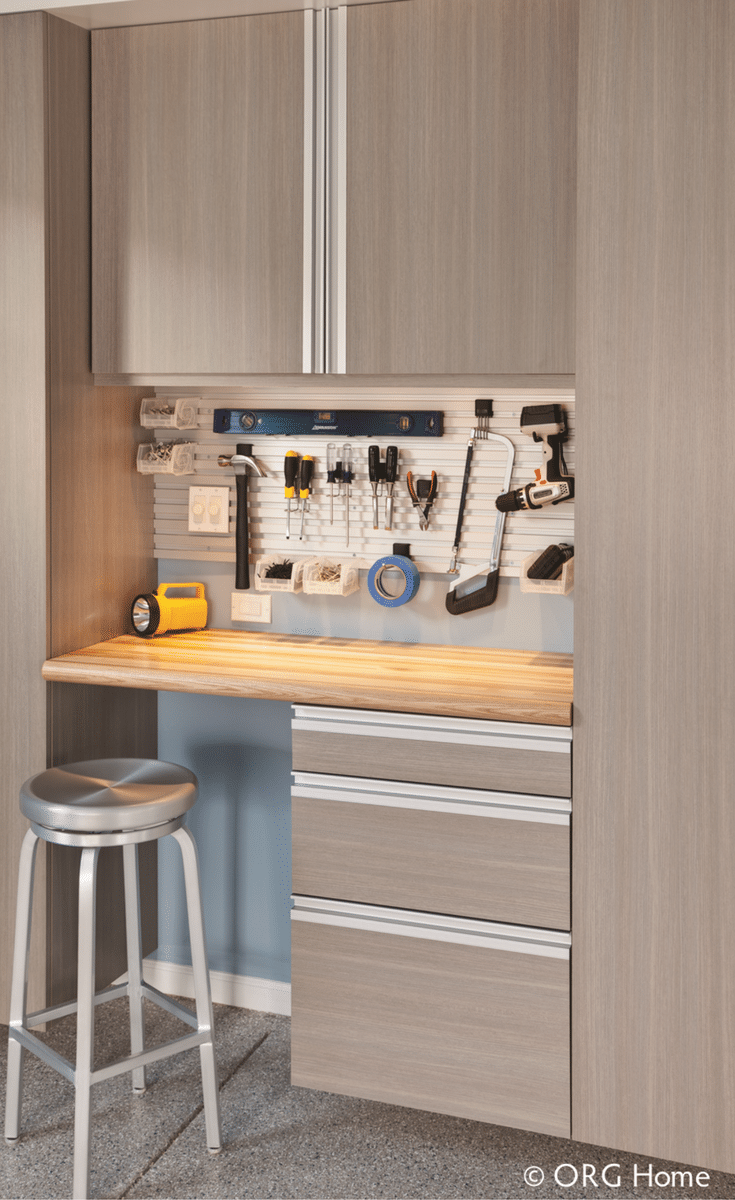 Step 5 – "Say hello to your little 'fre" – garage cabinets and pegboards for off the floor wall storage
I love the line is the movie Scarface where Al Pacino (who is playing Tony Montana) takes out his shotgun and starts gunning people down as he says, "Say hello to my little "fre!" (AKA friend). Yes – I know it's not a family friendly movie but it is big-time entertaining to me. Just like Tony Montana using the shotgun as his "little 'fre" you and I need to use the garage walls as our "little fre" if we want to make an organized garage with fun space for our hobbies.
If you want an organized #garage the walls must become your friend!'
Click To Tweet
On the back wall of the garage install cabinets with more depth (19" and 23" work well) for bulkier bins, recycling containers, or your golf clubs (note in most cases I would recommend double door cabinets so you can have enough room to open the garage cabinet doors without having to move your cars). On the side of the garage you'll want shallow garage cabinet storage (16") for items you want to access quickly like your gardening supplies or basketballs to shoot hoops with your kids or grandkids. Get the bikes, rakes, ski poles, shovels and hoes off the floor with a slatwall garage racking system.
Step 6 – The hidden gem – using the garage ceiling
What's uber-cool about the garage as a room is its sheer volume. Where else in your home do you have 10' – 13' ceilings where you can store stuff (no – I don't think your wife is going to bite on storing things at the top of the ceiling in your great room). With hanging storage, you can get bulky seasonal equipment stored overhead and pick up floor space.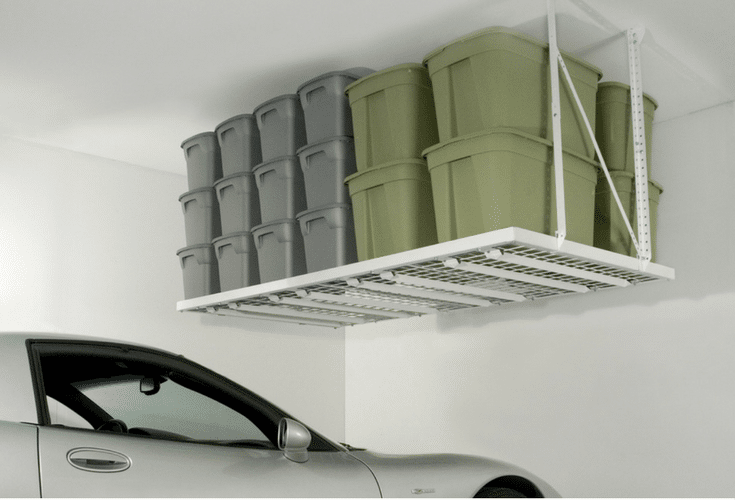 Conclusion
One on hand it would be excellent if you could claim more of the inside space as your own (I still wish my den was not a shared community room!). On the other hand though, sharing your home with your crazy, wacky family is what a life well-lived is all about. If you would still like to claim a space as your own, the garage can be the perfect underutilized location to take advantage of your hobbies.
Can I, or a member of my team, help you?
If you don't have the time to plan this garage storage project and/or aren't sure what products will make sense for your new space call Innovate Home Org in Columbus (614-545-6888) or Cleveland (216-658-1290). We can provide you with a free 3D garage design so you can see how your hobby and storage space can be customized to your specific needs.
Click here for a free home organization design guide.
Follow the author @Mike_Foti or our companies' @InnovateBuild and @InnovateHomeOrg on Twitter.
Save
---
Tags: Columbus custom garage, Columbus custom garage storage, Columbus garage, Columbus garage cabinetry, Columbus garage design, Columbus garage storage, custom garage storage, garage cabinet storage, garage cabinetry, garage organization, garage organization Columbus, garage organization companies garage organization systems, garage organization systems Columbus, garage organizer, garage racking, garage remodel, garage remodel Columbus, garage remodeling, garage remodeling Columbus, garage shelving, garage shelving Columbus, garage storage, garage work bench, garage workbench, garage workbench columbus, garage workbench systems, hanging garage storage, hobbies, hobbies in a garage, pegboard, pegboard Columbus, wall organizer, wall organizer Columbus, workbench in a garage