7 Smart Reasons You Need a Murphy Wall Bed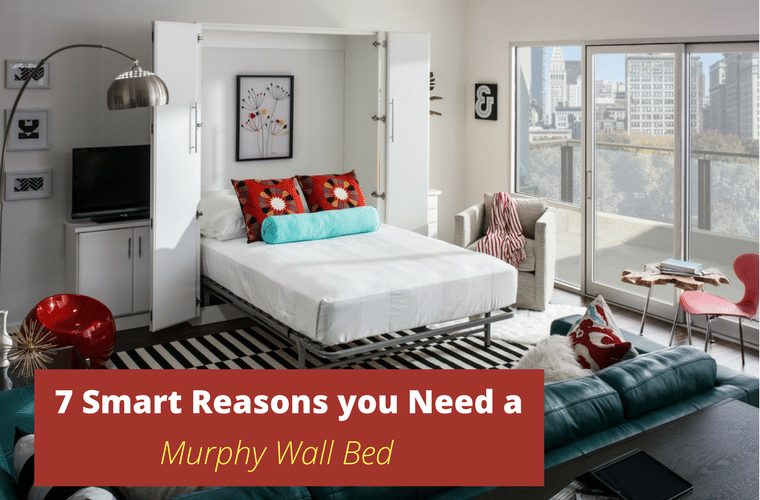 Back in the 1900's Lawrence Murphy (a salt-of-the-earth stagecoach driver – the Uber driver of yesteryear) wanted to woo the woman of his dreams (in today's world – a diva). She was a beautiful opera singer. However, Lawrence had a problem. It wouldn't have been proper for him to entertain her in his one-bedroom apartment (or swinging bachelor pad as those "wild and crazy" guys George and Yortunk Festrunk – played by Steve Martin and Dan Akroyd would have said back in the day of Saturday Night Live) with the bed propped open. Lucky for us today – Lawrence's desire for love (or would it be hook-up in today's language?) got his mind super-charged. He came up with an idea….
Lawrence's big idea – a space-saving-bed-disappearing wall bed. Check out this ad from the 1900's promising to save owners $1,000 (a LOT of money at that time) since you wouldn't need to build another bedroom in your home with the addition of his disappearing bed.
This bed was no ordinary bed. It would fold into the wall. Then he could entertain (and hopefully woo his woman). That's how the "disappearing bed" patent came to life in 1912, later to be known as a Murphy Bed.
You might be asking, "Mike – what the heck does a story about some ancient guy who invented a fold away bed to win over a woman in the early 1900's have to do with my life?" Good question!
The main reason this product is a hot idea today is it will help you gain space with style. This can improve your life and lifestyle whether you live in a suburban home, downtown upscale loft or are just trying to figure out where to put a home office in a not-very-big-house (who wants to get stuck working in the basement anyway?). Here's a few diverse groups of people who benefit from Murphy Beds:
An empty nester couple struggling to make their home work for their needs and to entertain their kids (and most importantly grandchildren).
A suburban family raising kids who worry about who their kids are hanging out with.
A downtown Columbus loft, apartment or condo dweller who lives in a way-too-tiny-place and is desperate to 'find' room.
In this article my goal is twofold. First, help you understand the 'why' behind Murphy Beds. Why will they help you (and your family, if you have one). Second, I'll update you on how this 106-year old invention has evolved to transform homes of all types (big and small, urban and suburban) with cool, multi-purpose spaces.
I'll give you 7 smart and practical reasons you'll benefit from a Murphy Bed. At the end let me know if these are good – or if I'm off my rocker (or stagecoach, like Lawrence Murphy). If you've got other reasons – please also add them in the comments. Let's see why this 1912 invention makes sense for you today.

Reason #1 – Your guests won't feel like they've slept on a torture rack ('er futon or sofa bed)
Do you like sleeping on a futon? How about a sofa bed? Can you feel the metal nudging into your back as I bring up this 'fantastic' (sarcasm intended) experience?
When you invite family, friends, and grandchildren to stay over you want them to have a good night's sleep – and enjoy their stay. An uncomfortable bed will get their next day off on the wrong foot.
What's cool about Murphy Beds – is while they are compact (like a futon or sleeper couch) – they aren't a flimsy cushion on a metal rack (futon) or tough-to-open and tough-to-set up (a sleeper coach). They are a permanently ready for guests with a 10" or 11" thick mattress on a durable wood platform.
'#MurphyBeds are permanently ready for guests - and comfortable.'
Click To Tweet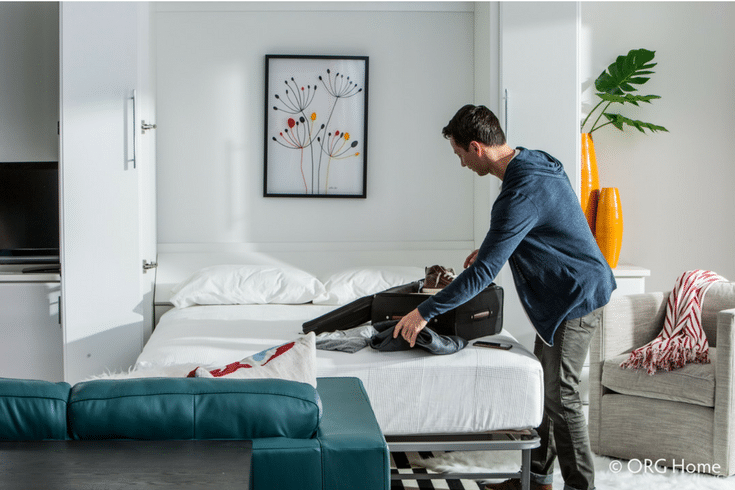 They conserve space and keep guests comfortable (hopefully not too comfortable if you're crazy Uncle Louie is staying over).
Reason #2 – You'll keep your kids close, and your kids friends closer
I don't know about you, but my wife Rose and I (when our kids were younger) 'endured' too many sleepovers. Unlike some parents we (especially Rose) dreaded sleepovers. While I was sleeping like a log – she had to tend to the kids needs and noise. Fortunately for me since I'm an early to bed and early to rise guy – Rose 'took one for the team' and handled the sleepovers. Since we only had bunk beds in my son Parker's room, when my daughter Jade had a friend over they were sprawled out in the living or family room.
The reason Rose and I wanted (begrudgingly) to do a sleep-over is we wanted to keep our kids close – and their friends (and influencers) closer. The challenge is we didn't have good sleeping arrangement to make this happen. If I knew then what I know now, I would have invested in a Murphy Bed.
With a horizontal wall bed, you have a desk which opens into a bed for sleepovers.
This keeps the kids in the kid's room – and allows parents a better night's sleep (while figuring out if you're liking – or not – who your kid is hanging out with now).
Reason #3 – Who wants a home office in the basement anyway? How about using your least used bedroom instead?
Whether you love the trend or not – telecommuting is growing like a wild-banshee (hey – have you ever seen a wild-banshee?). It's estimated telecommuting workers have grown 115% over the last decade and are now 3% of the United States work force. There are almost 2 million more people working at home today than in 2005. If you're one of them, you know this arrangement has its ups and downs.
If you've created a make-shift home office in your basement (because you can't 'find' any other space) you know how depressing it can be to trudge down into your 'dungeon', cellar, basement or lower level living space (if you use a fancy name for it). The space is dark. The lighting – terrible. It can be a downer (pun intended).
The good news is there is a way to elevate (literally) your home office experience. 'Find space' in a guest bedroom or a bedroom not being used by your son/daughter who is away at college. Transform it into a multi-purpose (sleeping and working) space. A compact desk bed gives you the dual benefit of a stylish work surface and a bed. Add filing drawers and storage cabinets on the side for a total home office experience.
'A #MurphyBed i is a perfect wall to elevate a #HomeOffice out of the basement.'
Click To Tweet
Reason #4 – Your apartment is too small to entertain ANYONE!
If you're living in a small downtown apartment while attending Columbus Community College or Columbus College of Arts and Design and don't have room for anyone to hang out with you, it can be frustrating. There are only so many times you want to meet at Starbucks or Mission Coffee.
Using a Murphy Bed, you have a bed which is already preset at night with room for a living/entertaining space during the day. What's also nice is when you leave this apartment, the wall bed can be disassembled and moved to your next place.
Reason #5 – In today's Columbus real estate market (or anywhere in the country for that matter) it may be best to renovate vs. relocate
Columbus (and Central Ohio) home prices have gone up 9.8% over the last year according to Zillow. They are predicted to go up another 4.5% this year. This situation is not unlike most of the United States right now.
Inventory is tight. Bidding wars are happening. Now may not be the best time to move – even if your home is smaller than you'd like. So, who you gonna call? Ghostbusters is probably out of the question (Bill Murray and Dan Akroyd aren't coming to bail you out – if you even know who they are). A better answer than Ghostbusters, is your friendly (and more-importantly competent) remodeler.
Putting on a room addition can set you back big-bucks but working within your existing space can be the cost-effective ticket vs. buying a new home. Look for opportunities to create what I call 'slash' (i.e. multipurpose) room. Can a guest bedroom serve as a home office? Can you store your bed in cabinetry (i.e. Murphy bed) so you can move your yoga exercise room from the basement to the first or second floor? How about a library with a dual purpose as a bedroom like the picture below?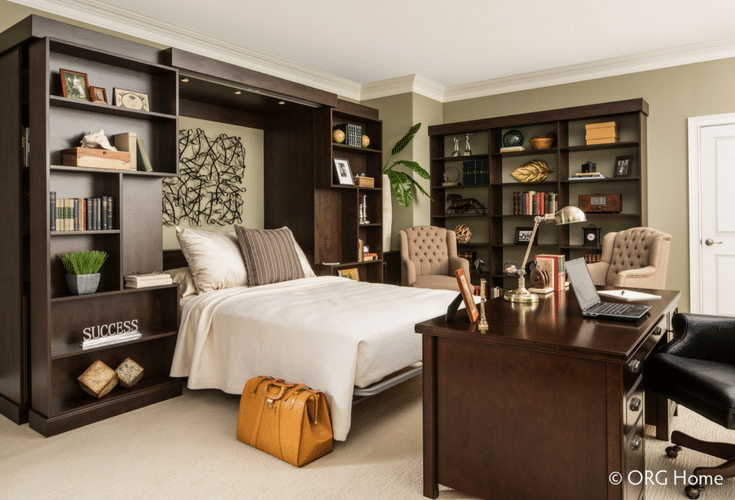 Now may be the time to stay in your existing home and make better use of it (at least until the market cools down).
Reason #6 – You need to use every inch of space
You checked out all the slick luxury loft condominium apartments in and around Italian Village, Nationwide Arena and Ohio State so you can enjoy and urban lifestyle. Walking to your favorite restaurant, Short North art gallery or The Book Loft in German Village is your idea of a good time. So, you finally signed on the bottom line to become a city dweller.
Even with all the looking you did – the space didn't come cheap. Your condo doesn't have everything you need in it (exactly where are you going to put your clothes and audio equipment?).
This challenge is the same whether you're an empty nester who left your suburban home in Dublin, or a young professional who LOVES city life.

Now you have to figure out how to get the max out of your space. While getting off-the-shelf furniture can be convenient – it's not designed around your dimensions. This can be a major problem.
This is where customized cabinetry and bedding solutions come in.
Combine a home office with wardrobe closet in one room.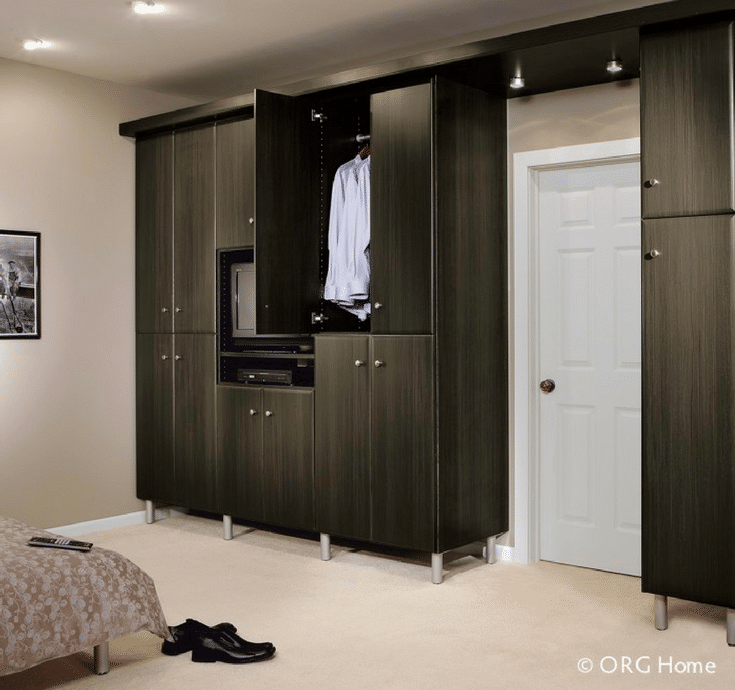 Combine a hidden fold away wall bed behind a secret bookcase. Add storage on the sides of cabinets to use every inch of space.
Your new motto can be – no square inches of storage left behind!
Reason #7 – You don't really want your 'empty nest' to be too empty. Making it simple for grandkids to stay over
It's nice to have the freedom of being an empty nester – but you didn't get to this point in life without the love of family and the people in your 'nest.' Although you wish your home had space for everything – it doesn't – and unless you're independently wealthy – it won't.
You need to make sure you have a place for the important people in your life. If you're lucky to have grandkids (or eternally hopeful they're on the way soon) you'll want a place for them to sleep over – without chewing up space with a clunky bed used just a few days out of the year.
A fold away Murphy Bed is simple to open. A strap ties the bedding in place, so it's ready for the grandkids to sleep over – even on a whim.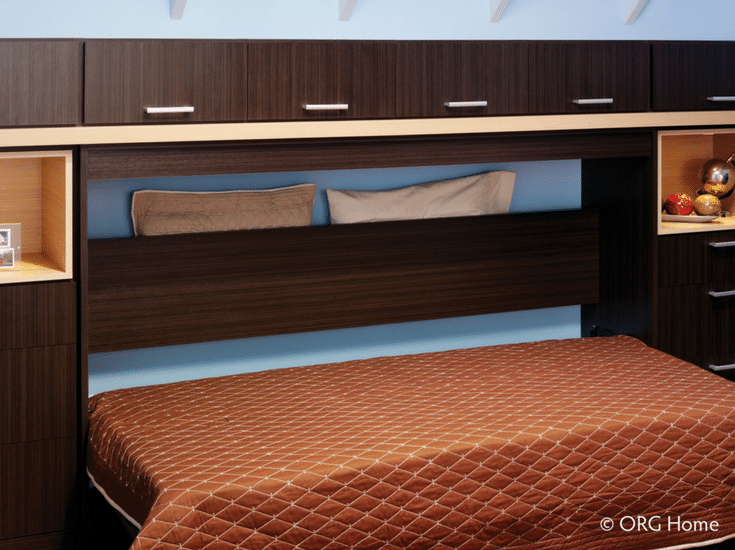 It's a blessing to be ready for family – at moment's notice.
Conclusion
In the beginning of this article we talked about inventor Lawrence Murphy's space problem. The good news is he not only 'found' more space for his apartment – but he got the woman as well. His invention made his space more efficient– but I'm not sure it was good enough to make him more effective in his dating (but things worked out well anyway).
What's cool for us today is we can take advantage his 'disappearing bed' invention from 1912 to have a more efficient and effective home – no matter what age (or stage) in life we're in.
Do any of the 7 reasons for a Murphy Bed ring true for you and your family? Do you have any other reasons you'd like to share in the comments below?
How can I (or my team) help you with a Murphy Bed or home storage project?
###
Figuring out the right size and configuration for a Murphy Bed, wardrobe closet or home office system to go with it can be tough. I – and my team – would love to help you. If you'd like a Free 3D design and see how a wall bed can fit into your suburban home, condominium or downtown loft call Innovate Home Org in Columbus at 614-545-6888 or in Cleveland at 216-658-1290.
---
Tags: bedding for Columbus loft, Columbus condos, Columbus loft, Columbus loft housing, custom cabinetry, custom cabinetry Columbus, Desk Murphy Bed, Downtown Columbus condos, home office, Home office Columbus, loft housing, luxury condos Columbus, Murphy bed, Murphy bed Columbus, Murphy Bed Italian Village, Murphy wall bed, wall bed Columbus, wardrobe closet, wardrobe closet Columbus, Zillow, Zillow Columbus, Zillow Columbus Real estate