Say No to the Mess. 5 Brutally Honest Questions You Need to Ask Your Closet Designer
"Turn around I HAVE to see your Butt in that dress," the way-too-opinionated sister of the bride says. This is OUR wedding day and this dress just isn't happening, she goes on to say." Just another funny episode of Say Yes to The Dress.
Admit it – even if you're not a bride to be, going to be in a bridal party or even the Mother or Father of a bride – it's mind-blowingly funny to watch Say Yes to The Dress. Emotions on steroids. Humanity at its best and craziest worst. Downright stupidity – with more than a dash of brutal honesty thrown in for good measure. This show captures the emotional rollercoaster you and I call life. It gets us laughing – which on a Friday night after a stressful work week is just what the Doctor ordered.
You may be asking, "Mike, what the heck does Say Yes to the Dress have to do with closet design?" Excellent question.
When you decide to buy an organized closet system, you're making a conscious decision to 'say no to the mess.' A big problem you have is you don't know diddley (does anyone actually say diddley anymore?) about closet design. Neither does your spouse, significant 'utter', partner, parents or BFF's. While these people can (and often are) brutally honest (even if their ideas are sometimes crazy, lame and laden with their outrageous perspectives) they can't help you figure out your closet. They don't know to prevent you from wasting money with a bad closet system, adding features you won't use or know how to make the space work better based on years of experience.
You need a brutally honest (official title coming here) – Closet Designer BFF.
You need someone to help you weed through the jungle of closet systems, features and gizmos to get a better functioning, cooler and more cost-effective design. The question becomes how can you get the input of a Closet Designer BFF? Simple….
You need to ask.
Ask these 5 brutally honest questions of your closet designer. You'll skyrocket your chances of getting a system which is a perfect fit for your style and budget.
Question #1 – What's messed up about my closet?
You know the obvious problems. Blouses, dresses and shirts jammed in like "Columbusonians" (people from Columbus Ohio if you're playing at home) at the Red, White and Boom Festival. No place to put your dirty laundry. Scarves draped and sagging over cheap wire hangers.
The question is, what problems do you have you 'don't see' because you've never experienced a truly bang-up-efficient and stylish closet? Could you double your hanging space by putting one rod on top another? Could the 2' gap above your top wire closet shelf be redesigned to add another shelf or a couple of drawers for more space? Where are the hidden storage and organization opportunities you don't see?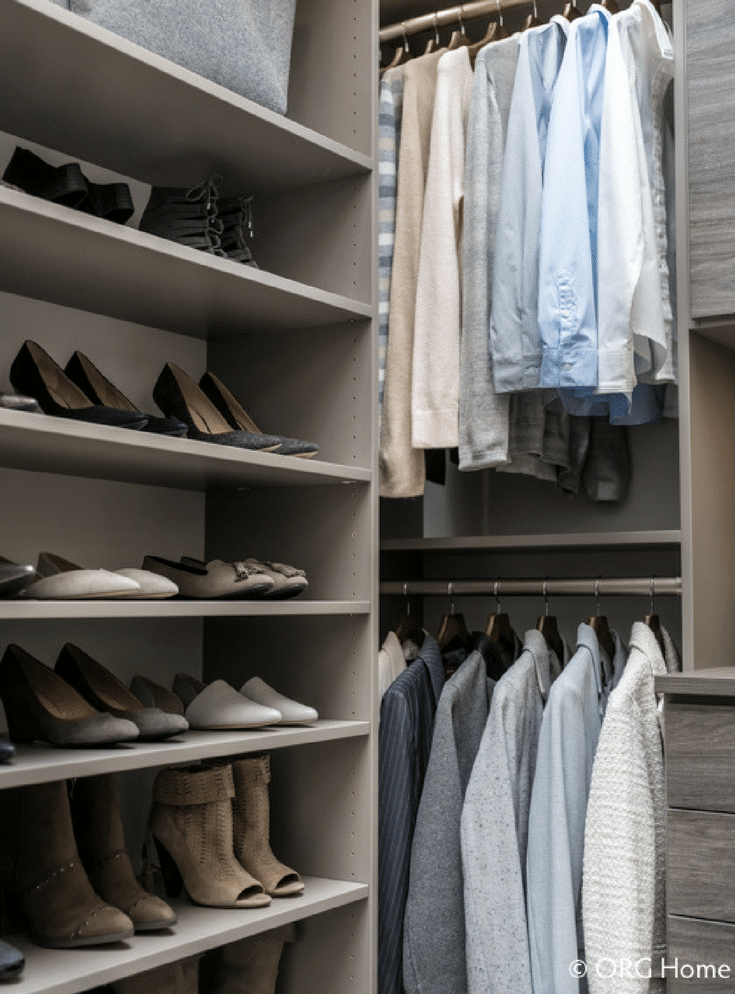 As my Dad used to say, "As wise man knows what they don't know." Get unfiltered, no-holds-barred input from a professional who designs and see closets daily and will help you see the problems and opportunities you don't see.
Question #2 – My husband/partner is a slob and our closet is proof-positive of this. How can I fix this problem?
The longer I go on in life (I'm here to fess up I'm 58 years old, the new 28, in my delusional mind) I know the only person's habits I can fix are my own.
However, in a closet while you can't force someone to be neat you can 'subtly shame' then into kicking their 'side' up a notch. How do you do this, you may ask? It's simple.
Make your walk in closet design a his and hers, his and his or hers and hers design. For example, if your closet room is 'U shaped' use 2 stacks of drawers in the middle. Create a 'marital/cohabitational Mason/Dixon dividing line. You have your side. Your partner has theirs.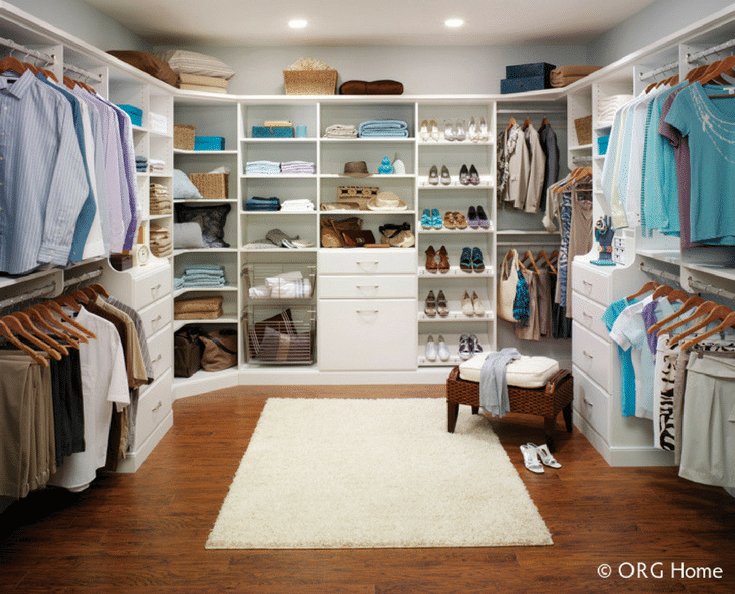 When your side is as neat as a pin (exactly how neat is a pin anyway?) – they will be subtly shamed into stepping up their neatness game (or, at least you can hope so…).
Question #3 – I'm a tight-wad, but I don't want to be a dumb ***. How can I know when I'm being too cheap and end up making stupid closet design decisions?
Being 'penny-wise and pound foolish' as they say (whoever 'they' are) is dumb. Here's smart ideas to save money in a custom closet, and some dumb "Lloyd Christmas and Harry Dunne" (for fans of the movie Dumb and Dumber) ideas where trying to cut costs is penny-wise and pound foolish.
Smart ideas to cut costs in a custom closet
Use white laminate shelves and sections vs. textured or colors. White is a smart cost-effective choice because it brightens up dark windowless closets and is cheaper also.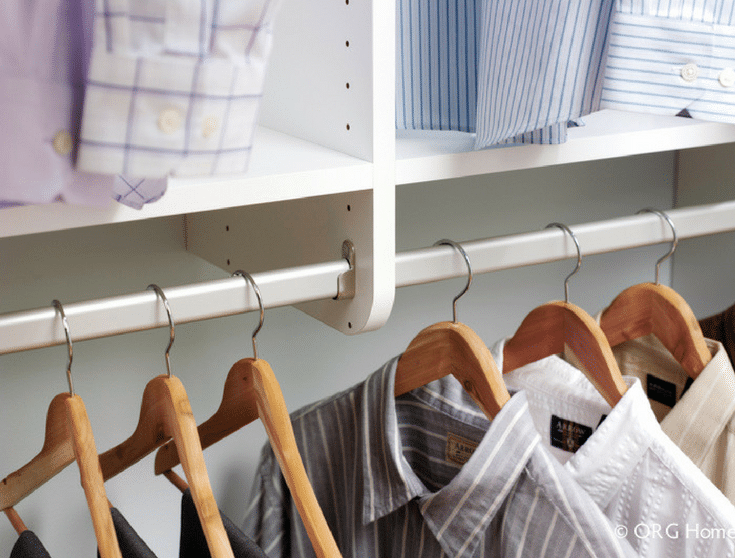 Use a 'wall hung' vs. 'floor based' system – A wall hung systems has shorter vertical support sections and is tied into the wall with a steel rail. Since it uses less material it is cheaper than a floor-based system.
Dumb and dumber ideas to cut closet system costs you shouldn't do
Dumb – Don't be fooled by 12" deep cheap imitations – Some franchise companies sneak into a design 12" deep shelves because it saves THEM money (and bring their prices down). This sounds like a good idea…. until…. you use your closet and your clothes and shoes hang off the edge. The closet industry shelving standard is 14" depth. As the Who (my mullet-wearing old-rocker self is still coming out) would say, "Don't be fooled again!"
Dumber – Buying wire shelves. When I went into Lowes the other day I saw a few feeble attempts from the manufacturers of wire shelving to make them better (they added a wire basket which slides out and a cheap tie rack). However, wire shelving is still flimsy, un-adjustable and a nightmare to use day in, day out. Wire closets=cheap un-adjustable closets. Enough said.
Question #4 – I'm V.C. (vertically challenged). OK – I'm just too darn short. How can your closet system help me?
My 15-year-old, 4'11" exceedingly beautiful daughter (yes – I'm a major sucker and pushover as a Dad) Jade takes the constant ribbing from her girlfriends and boyfriend (I still tremble to say the word boyfriend out loud, but I can write it) about being short. Yes – the girl is little, but she packs a lotta love and energy into her little body, but dunking a basketball is not in her future.
If you're like Jade, and you think the only way you're going to reach the top shelf of your closet is by concocting a home-made medieval rack or investing in stilts, I have 3 better closet product ideas to help you.
Idea 1 – A pull down rod – Even if you're small, or cruise around life in a wheelchair, the pull down rod brings your clothes to you. This will double your accessible hanging space and allows you to use the volume of your closet to the max.
Idea 2 – Adjustable shelves – Moveable shelves are more efficient. You can place shelves closer together to get more flats and sandals in the same square (foot)age – bad pun intended. You can move higher shelves down, so you can reach them.
Idea 3 – A rolling ladder – Ladders are not only the long aluminum ones hanging in your garage for changing lightbulbs and painting the house. For a closet with a vaulted or 9' or 10' high ceiling a rolling wood library ladder can be rolled from side to side. You can store in the high spaces out of season clothes, less frequently used purses and hat collections.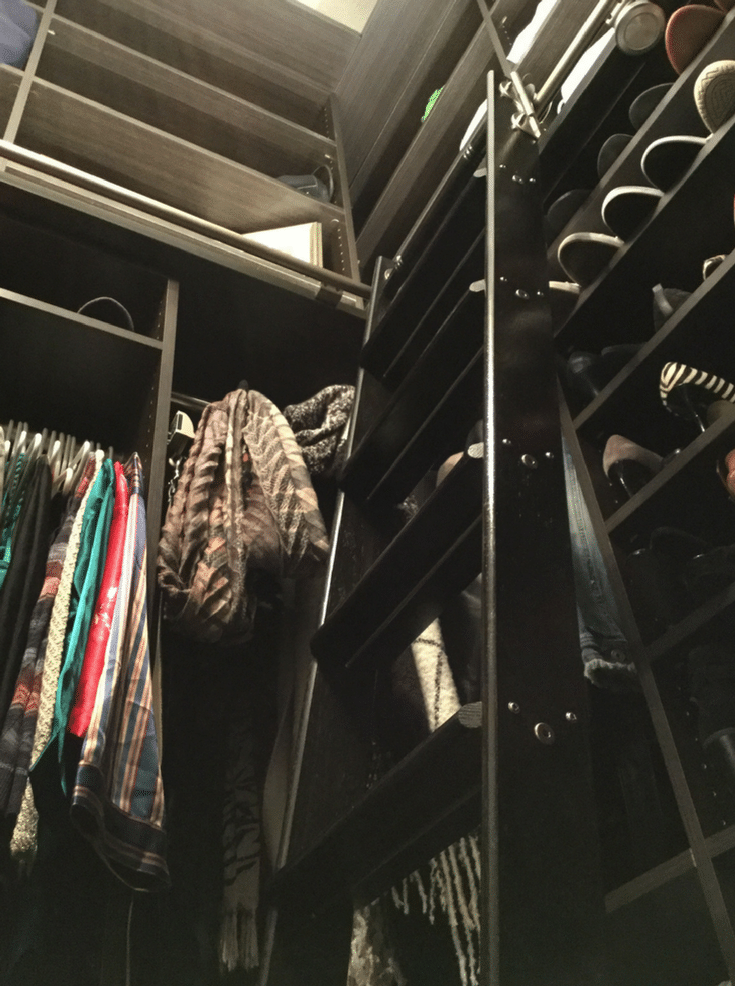 Question #5 – I don't want to waste my time (or yours) with a closet design and find out there is no way in (as my kids used to say) H-E-Double Hockey Sticks I can afford my vision. How can I make sure this job isn't way out of my budget?
Most people have no doggone idea what a custom closet costs. I get it. Neither did I before I got knee-deep and became a real-life Jay Pritchett (for you Modern Family fans out there). The best way I've found to inject pricing reality into the closet design process is to do 2 things with you:
1) Develop a pencil 'design concept' together – Here's how this works. We go into your closet. We talk about what you like/don't like about your space. I take my laser measuring device to figure out how much space we have to work with. We start talking about what you want (shelves, rods, drawers, tie racks, belt racks, valet rods etc.). I pencil the design concept on a 'fancy' sheet of copier paper (see below). I create a 3D closet design in your home (if it's not too complex). You see exactly what it will cost. The bonus – we can revise it together and the program automatically reprices it (take stuff out, put stuff to get to your budget).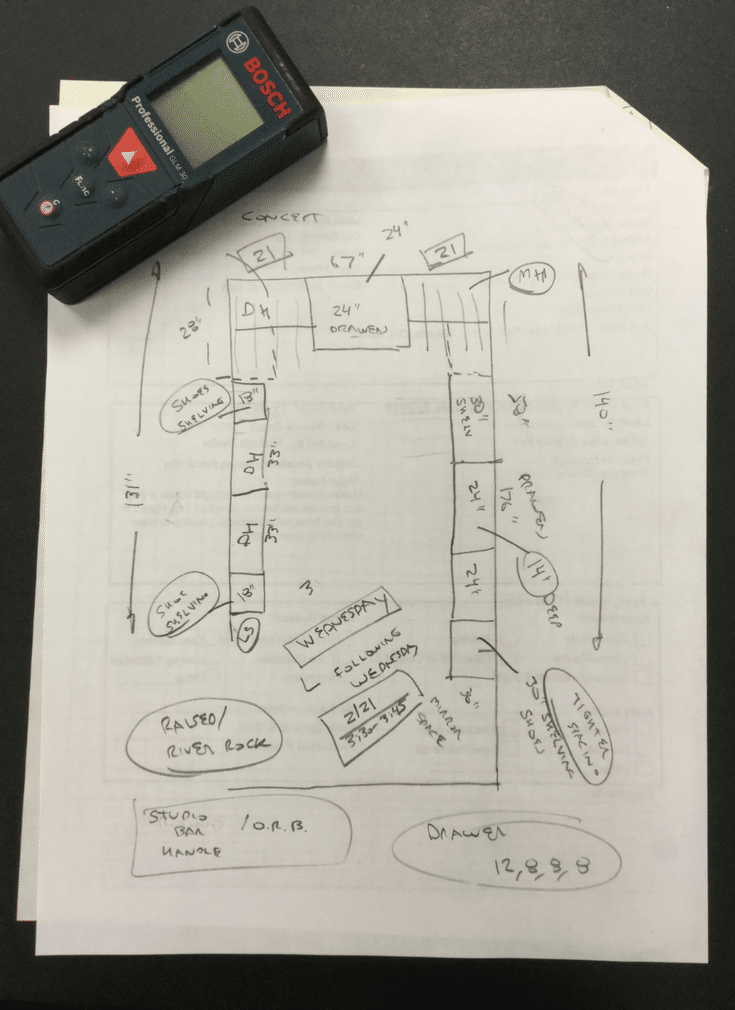 2) Show you other designs and prices – If your design will take too much time to do on the first appointment, I can show you designs in my computer from past jobs. You'll get a general concept of what yours will cost. You may say, 'that doesn't sound so bad, or may drop off your chair and clutch your heart like you're having the big one like Fred Sanford on and old Sanford and Sons episode. I've had both reactions. If you drop off your chair, we'll talk about strategies to get the price down. This process saves us both time.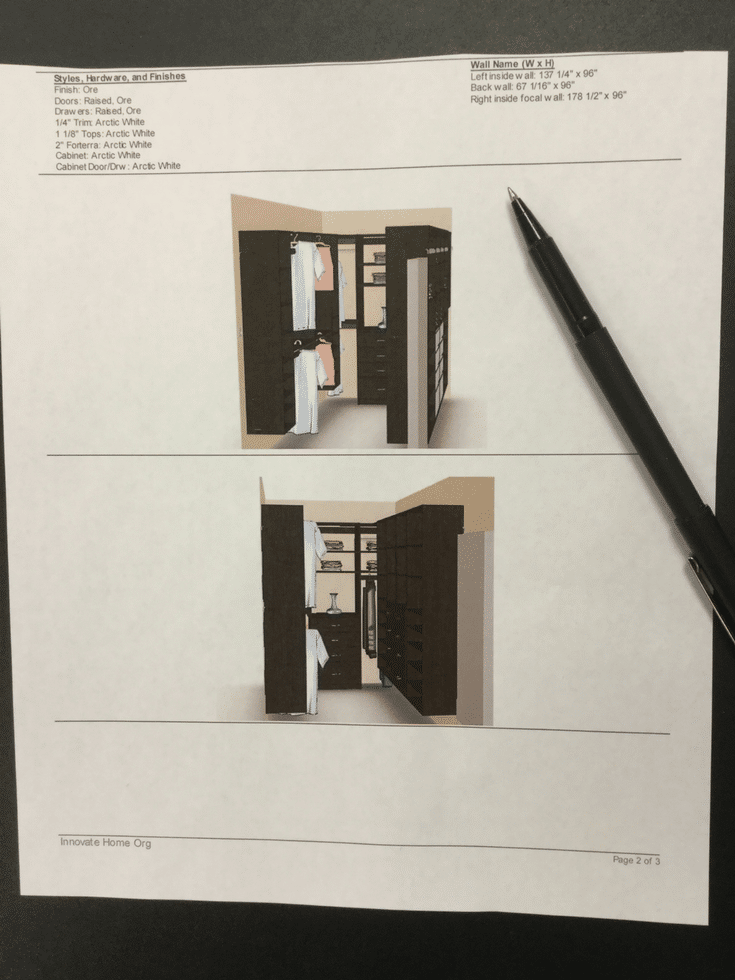 Conclusion
Closet design can be confusing and an esoteric process (yes – I like to throw in a fancy word every now and again to justify all the money my Mom and Dad spent on my expensive undergrad degree from Carnegie-Mellon University). How can you be an expert in closet design if you haven't done one before?
Just like a bride on Say Yes to the Dress needs her BFF – you need your Closet Design BFF too. They will help set you straight. They will tell you when your ideas are going to blow a hole in your budget – or are wacked out – in a nice way (hopefully).
I (and my teammates) would love to give you brutally honest (if that's what you want) input on your closet design and be your Closet Design BFF. We won't tell you this dress ('er closet) will make you look and feel like a princess, but we will (as Randy Jackson used to say), keep it real dog.
How can I (or a member of my team) help you?
If you'd like assistance or custom closet design pricing in Columbus or Cleveland Ohio call Innovate Home Org at 614-545-6888 or 216-658-1290. Click here for a Free 3D Closet Design.
###
Follow me on Twitter @Mike_Foti or our companies' @InnovateBuild and @InnovateHomeOrg for more insight on closet designs and remodeling (with a few bad puns thrown in along the way).
---
Tags: accessible closet, accessible closet Columbus, broken wire shelving, budget closet, budget closet Columbus, cheapest closet, cheapest closet Columbus, closet designer, closet designer Columbus, closet designs, closet designs Columbus, closet system Columbus, closet systems, Columbus custom closet, declutter, declutter a closet, pull down closet rods, pull down rods, walk in closet, walk in closet Columbus, wire shelving, wire shelving Columbus