3 Cluttered Spaces You Need to Conquer Before Holiday Guests Arrive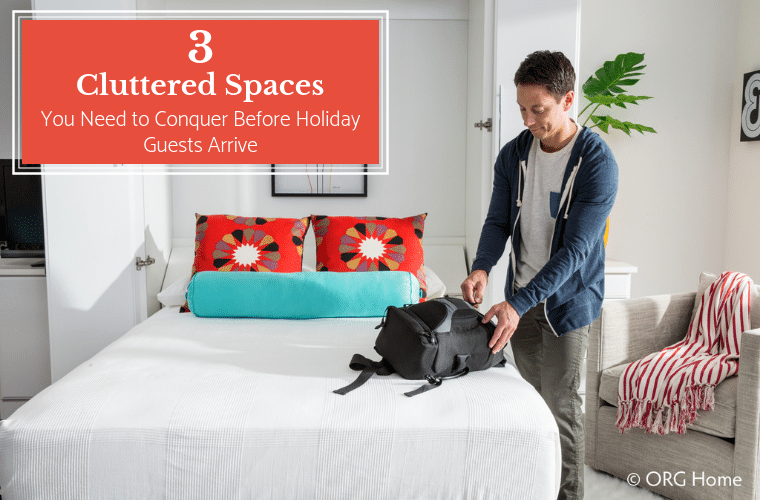 You decided to host the big holiday gathering. Now you've come to your senses and the reality of this big-time commitment is slapping you in the face! You're saying to yourself, "Oh crap (OK – you're using some 'choice' swear words, but this is a family-friendly blog, so I cleaned it up) my house is a cluttered disaster!"
Your mind wanders to the 'state' of your guest bedroom, your pantry and your mudroom entryway (areas your guests will see – whether you like it or not). Here's the current sad state of these rooms.
Your guest bedroom – You agreed to host Aunt Helen and Uncle Bob who are coming in from Chicago for a few days. You want to make them comfortable – but hopefully not too comfortable (after a couple of days Uncle Bob can be a pain).
Your small guest bedroom is so tight the Queen-sized bed eats all the floor space. You're hoping and praying they don't open the jamb-packed 2' deep reach in closet either. While there aren't any skeletons in there (OK – none you know about anyway) you've packed it full of excess clothing and storage boxes. It doesn't take a genius to figure out this isn't the most comfortable or inviting guest bedroom known to man (or woman)!
Your walk-in pantry – The walk-in pantry is an unmitigated (that's a fancy word I threw in there to impress you – is it working?) disaster. The cheap wire shelves are terrible. Small flavoring packets love to find their way through the cracks to the levels below. Your spices are always falling over. It's near impossible to find what you need. Since the shelves are fixed there is a ton of dead space above the cans you can't do anything with.
Your mudroom/entryway – Your combined mudroom, entryway and laundry room could be renamed the 'chuck and duck' zone. Your kids love to 'chuck' their bookbags, sporting equipment and shoes anywhere they darn well please. You have to 'duck' around wet clothes from the washer and coats and jackets which aren't being used. You may be asking where exactly is Jay Pritchett from Modern Family to clean up this mess when you need him?
While a heavy dose of decluttering (with the help from an organizer) and some 'gadgets' placed inside your existing spaces can help – they're not a permanent solution to keep you not only organized – but dare I say stylish.
In this article I'm going to give you proven ideas and organization systems to conquer these 3 nasty (and embarrassing) spaces. This way you won't be dreading Thanksgiving, Christmas, Hanukah or Kwanzaa (name your holiday here). At the end of the article let me know which area the biggest pain point for you is – and any additional feedback you need to gain control before the holidays arrive.
How to conquer your cluttered guest bedroom in 3 easy steps
You know what the biggest problem is with your guest bedroom? It's that 98% of the time it's useless to you!
Yes, you heard that right. You know why I say useless? It's because 98% of the time your small guest bedroom isn't being used because it's literally being 'eaten up' by the bed.
Here's 3 steps you'll want to do to reinvigorate your tiny guest bedroom into a useful space.
Step 1 to improve the guest bedroom – create a 'slash' room
If you want to conquer the clutter in your guest bedroom I'd make the argument you first need to have bigger expectations of this room. You need to think of this space as a 'slash room.' Not sure what a slash room is? You're not alone.
Here's some useful 'slashes' for a guest room. You can have a guest room/home office. You can have a guest room/workout and yoga room. You can have a guest room/craft room. Or how about a guest room/Zen meditation room (I actually have one of those in my house – although my wife's the only one who knows how to mediate). Don't accept that your little used guest room needs to stay that way. Make it a 'multi-purpose' room (and you don't even need to include the geeky AV guy who used to live in the multi-purpose room in junior high).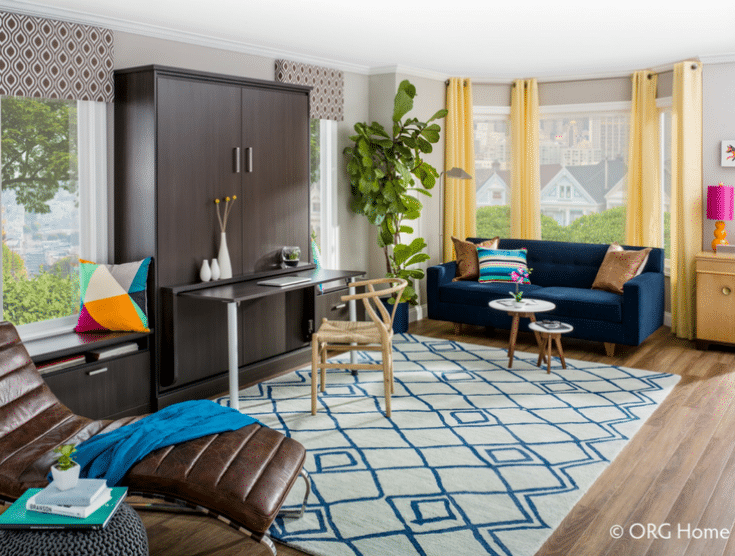 Step 2 to improve the guest bedroom – know your bed options
The next step for an uncluttered guest bedroom is to take a long hard look at the type of bed you're using. If you want to 'slash' your way into an often-used guest room, you'll need to usher out the traditional bed sucking up the space. Whether you live in Columbus Ohio or Columbus Georgia or anywhere for that matter – the options are the same. You can use a futon, a sleeper sofa or a Murphy bed. Read the following to dig into the pros and cons of each option:
The Pros and Cons of a Murphy Wall Bed vs. a Sleeper Sofa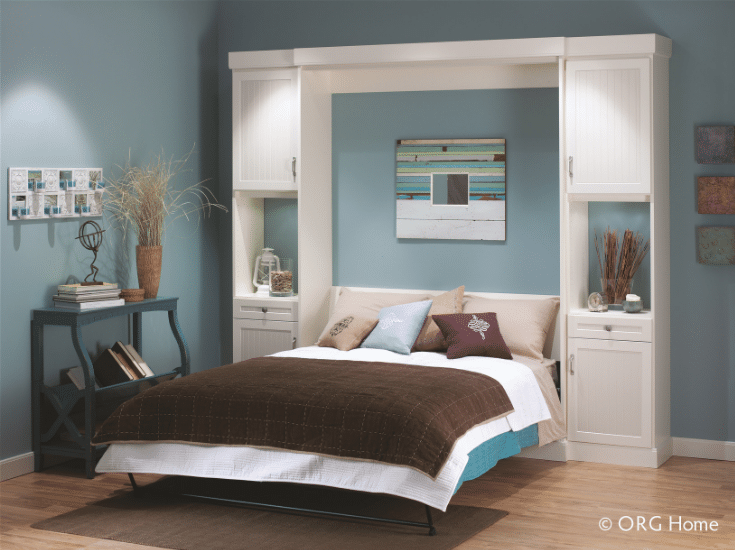 Step 3 to improve the guest bedroom – have a plan to get more storage out of your closet
Since your guest bedroom by its very nature is a small room (the bigger bedrooms you've given to the kids or other family members who use them daily) – you desperately need to get the maximum out of the limited storage space you have. Most guest bedrooms either have 2' deep reach in closets or if you own your private version of This Old House, you may have no closet at all.
If you have a reach in closet my recommendation is to split the space in two. Keep ½ the closet for your excess personal storage (whether this be with adjustable shelves for home office storage or double hanging racks for off season clothing) and use the other half the space with a single rod with a shelf or two above so guests can hang their garment bags and have a place for extra linens and towels.
If you want extra credit put a folding suitcase rack like you see in hotel rooms, a mint on the pillow and a frame with the Wi-Fi password. However, if you're worried about Uncle Bob staying too long, don't do any of these things!
If you don't have a closet at all a built-in wardrobe can solve your storage problems with style (space permitting).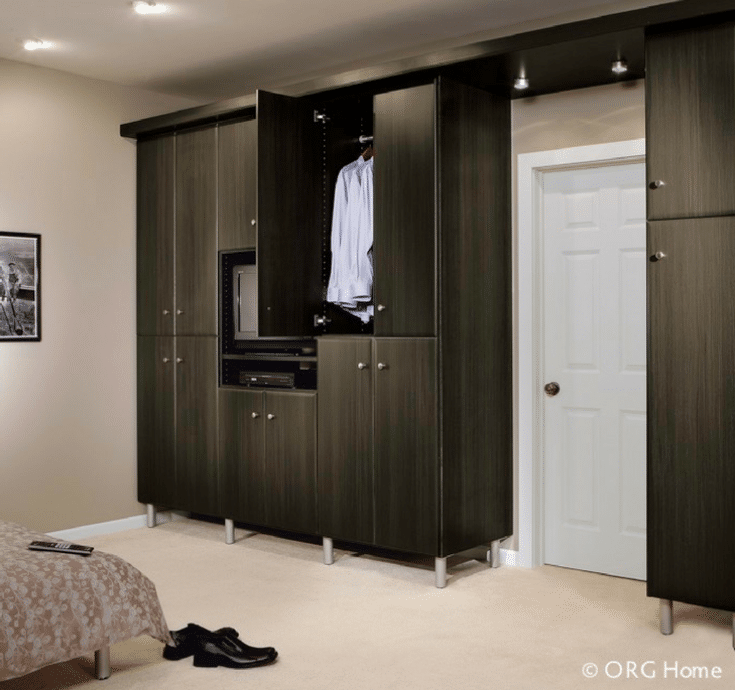 How to conquer your cluttered walk in pantry with 3 practical ideas
When you think of your walk-in pantry what word comes to mind? If it's disaster – I can feel your pain.
You're staring down long-expired canned goods lurking in the nether regions of your fixed shelves never to see the light of day again. Spice cannisters so jumbled up no wonder you have so many duplicates. Cereal boxes and trays 'put back' (that's a generous term for it) in such a haphazard fashion it's a wonder you can find anything.
The challenge becomes how can you conquer (gain control) your pantry so you have a chance of being 'on top of your hosting game' for your holiday celebration? Here's 3 ideas to get you started:
Idea #1 – Choose between 'go-go-gadgets' or a pantry storage system
If you boil it down there are 2 general product options to clean up your pantry mess. You can either (A) add 'gadgets' to your existing fixed shelving system or (B) use an adjustable custom-fit pantry storage system.
If you're looking to go super-low-cost adding gadgets to what you already have will be cheapest. Spice rack trays, plastic shelving units and food storage containers are all budget friendly items you can get Walmart, Target or The Container Store. While these products are light on your budget they can't solve all the problems with the design or dead spaces in your pantry (or the fact the shelves are fixed in place and only 12" deep and you still can't see what's in the back).

For a permanent solution you'll want an adjustable pantry shelving system. With this system, you can add slide out scoop drawers (which make it simple to 'rotate' your oldest items to the front so you're not throwing so many expired items out). You can add special dividers for baking trays or doors and drawers for a finished cabinetry look.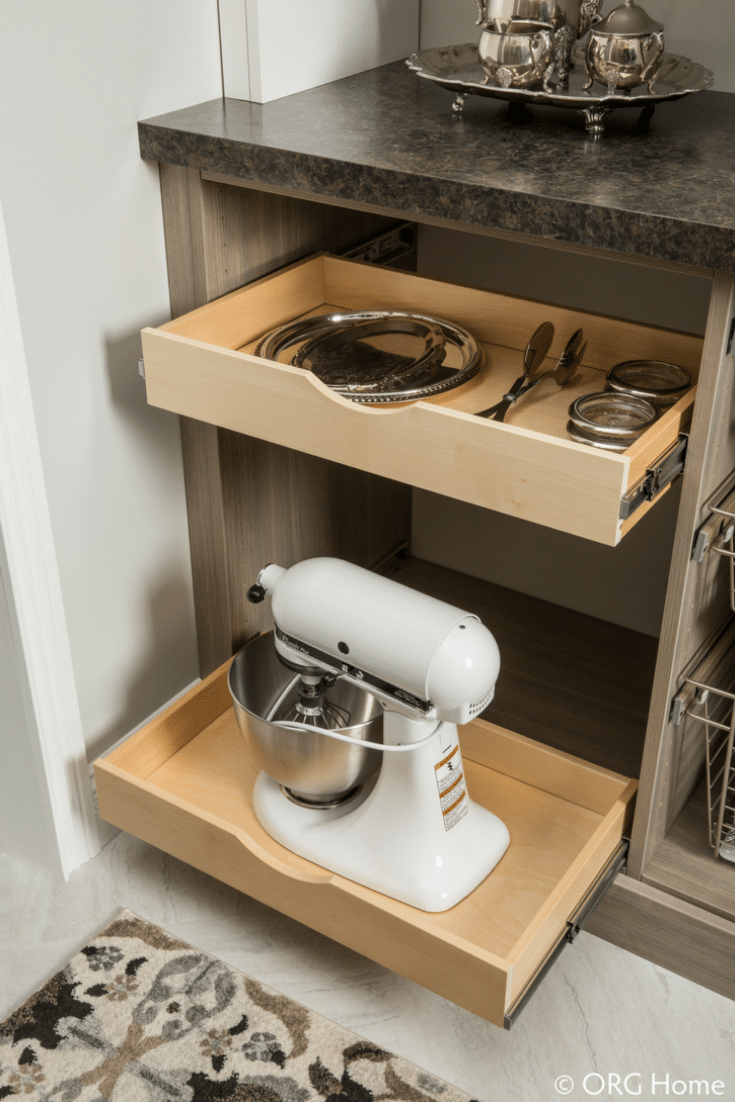 Idea #2 – Get zoned in, so you don't get stressed out
P.S.D. (Pantry Stress Disorder – the frustrated feeling you get when you can't find ANYTHING you're looking for in your pantry) is a deadly problem (OK – maybe not really deadly) which has plagued us all (if we're being honest). And when you're knee-deep in the hustle of Thanksgiving or Christmas Day (and you've got multiple hungry and impatient mouths to feed) your P.S.D. condition will be more acute. But fear not – there is a solution.
The solution for P.S.D. is to get zoned in.
Here's what I mean by zoned in. Create zones within your pantry to keep common things together. For example, set up a snack zone, a canning zone and/or a baking zone. If you're worried about your family following your zoning system maybe you can put a 'charge' in things by giving them special collars (like a dog with an invisible fence). If they put items in the wrong place they'll get a little 'jolt' as a reminder. OK – it's not 'currently' a practical idea – but it's a funny thought.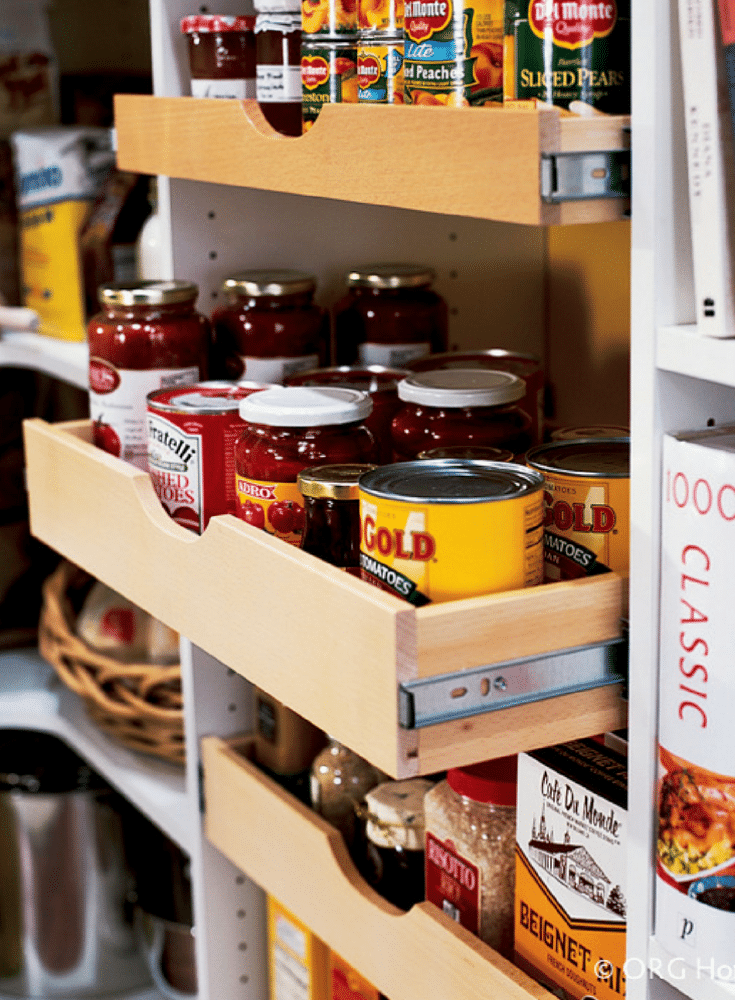 Idea #3 – Ask, 'will it blend?'
I love the Blendtec videos showing crazy blending feats like cell phones being ground up in their mixers. Although you may be storing your blender in your walk-in pantry the 'will it blend' advice I'm bringing up here has nothing to do with Blendtec' s mixers (although their videos are fun, and their products look good to me).
The blending I'm referring to is what I'll call 'visual blending.'
Here's my opinion (agree with it, or not). I believe if you want your walk in pantry to stay nice you don't want it looking like a mutt compared to your newly renovated kitchen which is a champion show dog. If your pantry looks tired, your family members will treat it accordingly.
To maximize the looks of the pantry it should not be the red-haired step-child to the kitchen. It should visually blend and have continuity with your kitchen's design.
Think about these questions:
Would my pantry benefit from doors and drawers in the same design style as the kitchen for a sharper look?
Could pull out style birch scoop drawers not only add style but function to this tired space?
Would adding a wine bar station add a touch of elegance to kick up the pantry to elite (vs. excruciating) status?
If you'd like more tips to kick up your pantry game read 7 Tips to Eliminate Your Scary Kitchen Pantry Before Guests Arrive.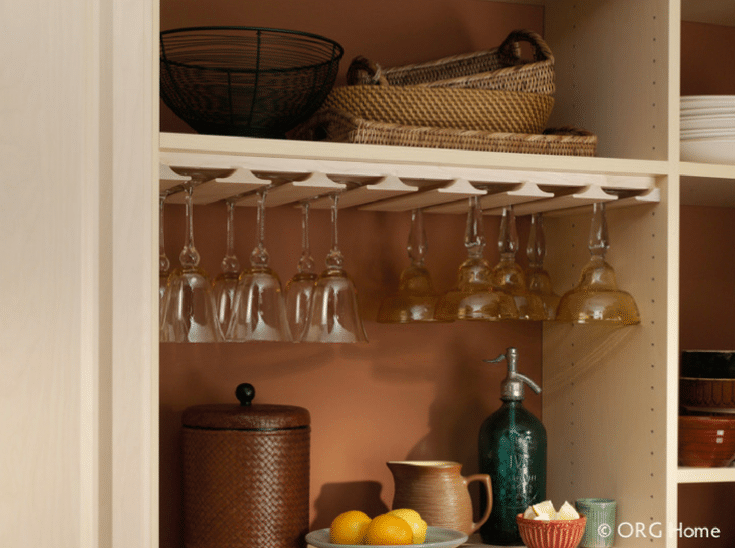 How to conquer your cluttered mudroom entryway with 3 ideas
If there ever was an area which gets no respect, it's your mudroom (even the name 'mudroom' as a marketing guy sounds to me like it could use some rebranding!).
With that being said, it's still a room you and your family pass through constantly. It's also the space your family and good friends use to enter your home (not the front door which is 'reserved' for solicitors). You're constantly apologizing for this 'chuck and duck zone' (your family 'chucks' their stuff down anywhere they want, and you have to 'duck' around things just to get in).
Wouldn't it be nice not to have to apologize for your mudroom to guests this holiday season? Here's 3 steps to move you towards what may seem like an impossible dream – an organized mudroom.
Idea #1 – Realize an organized mudroom design will be an 'open or shut' case
You wouldn't think the design of a mudroom would have anything to do with mystery novels, but it does. I would contend effective mudroom designs are either 'open or shut' cases. You may wonder what I mean by that. What I'm referring to is mudrooms are either 'open' (as in a cubby or locker style design) or closed (with doors and drawers which shut).
If you've got a tight space (and opening doors and drawers isn't practical) then an open cubby (or locker style) design is right for you.
If you've got plenty of space, and seeing visual clutter is like nails on a chalkboard, then a closed cubby entryway with doors and drawers will be the ticket for you.
Effective mudroom design is either an open or shut case.
Idea #2 – Don't let vertical space go to waste – 'volumize it like your hair'
If you're living in a 'relatively' new home, you're more likely to enjoy the spacious feeling of 9' ceilings. However, ask yourself if you're really using your volume (just like your hair) to its fullest effectiveness? Even if you buy a piece of mudroom furniture – which is often 6' or 7' tall you're wasting valuable storage space you could claim at the top (which is especially helpful for those little used Thanksgiving turkey platters or out of season hats and gloves).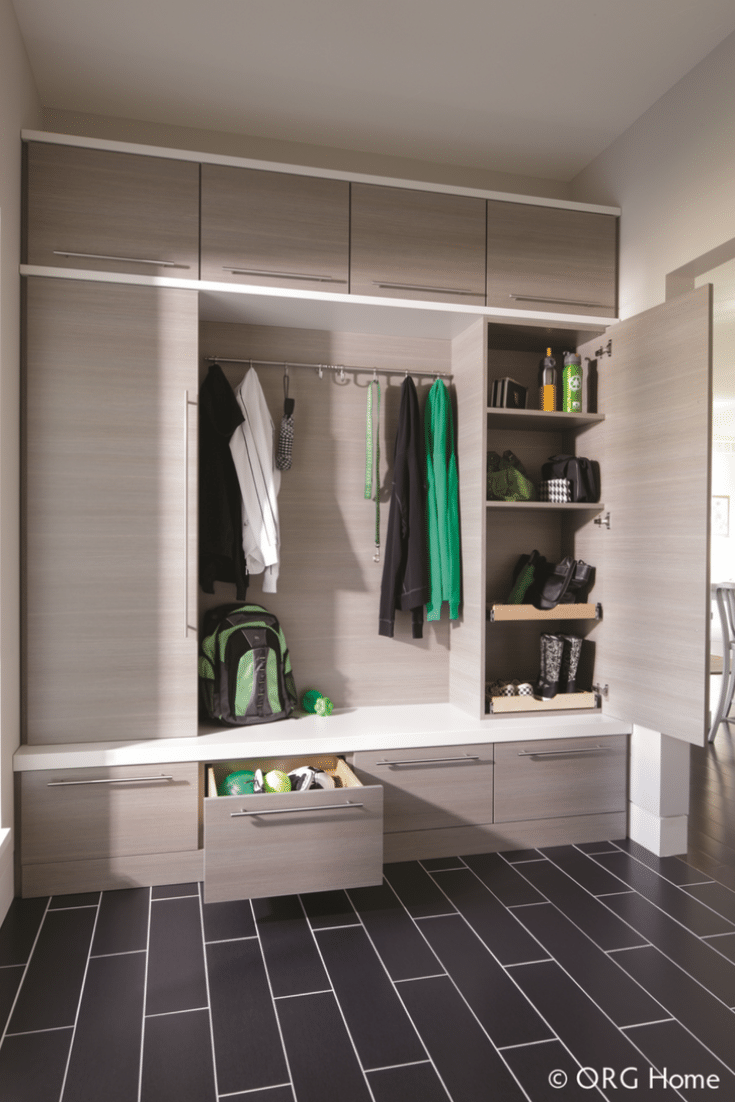 Make sure you get a mudroom cabinet system which uses all your space – and who doesn't need more storage space anyway?
Idea #3 – Don't be victimized by your shoe graveyard ever again
Piles of dirty, smelly shoes 'greeting' you after a long day's work is not exactly the welcome home gift you want. Your entryway can be designed to eliminate this problem.
The simple solution to this dilemma is the use of pull out drawers. If you have enough room give each family member their own individual cubby and drawers (this way your daughter won't complain about your son's smelly football shoes coming into contact with her new Ugg boots). If you can't have individual space how about one big catch-all drawer? After all it beats the shoe graveyard!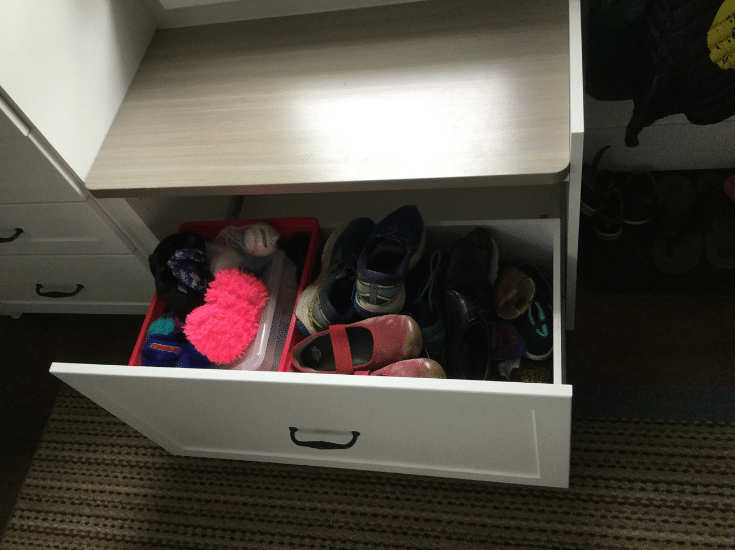 Conclusion
Now that you've gotten yourself into this mess ('er that mess would be 'signing up' to host the holiday gathering) it would be nice (and reduce your stress) to organize your way out of this mess – before the guests arrive.
If you live in Columbus, New Albany, Upper Arlington (or anywhere in Central Ohio) we'd love to help you conquer messy guest bedroom, pantry and mudroom spaces. Call us at the numbers below or click here to get your Free 3D storage design. What do you have to lose (except the mess) …
Do you want more help from me or my team?
For assistance with a pantry, mudroom or guest bedroom storage solution in Columbus or Cleveland Ohio call Innovate Home Org at 614-545-6888 or 216-658-1290.
###
For more information on organization products or remodeling (with a bit of wacky humor thrown in) follow me on Twitter @Mike_Foti or our companies' @InnovateBuild and @InnovateHomeOrg.
---
Tags: Columbus entryway, Columbus mudroom, Columbus mudroom cabinets, Columbus mudroom storage, cubby style mudroom, guest bedroom, mudroom design, mudroom designs Columbus, Murphy bed in a guest bedroom, Murphy Bed Upper Arlington, Murphy beds New Albany, open cubby mudroom, pantry shelving, pantry shelving Columbus, walk in pantry Columbus, walk in pantry design, walk in pantry.