7 1/2 Things Most People Don't Think About Buying a Murphy Wall Bed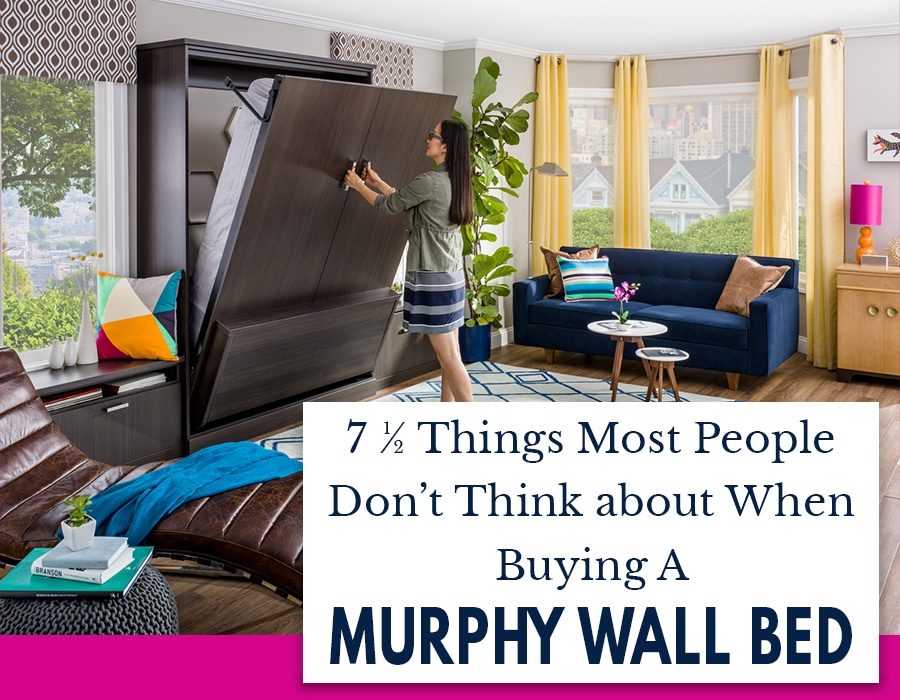 Name me the last time you shopped for a Murphy Wall Bed. If you said never, you're like most people.
However, if you're looking for a cost-effective way to gain space for a home office, craft room, exercise area or meditation room (and have a comfortable place to sleep) there's no smarter way to make this happen than use a fold away wall bed.
Whether you're looking to buy a Murphy bed in Columbus Ohio, Columbus Georgia or anywhere across the country this is likely the first time you've been down this road. You're likely scratching your head looking for answers to questions like…
Will this bed fit in my space?
Is this a good DIY project or should I let a professional put it in for me?
Can I incorporate a desk, crafting station or bookshelf into my design?
Will it be hard for me (or my Mom who is tiny and 'growing' smaller by the day) to reach the handles and pull this bed down?
Can I find a bed to fit my décor, or am I stuck with the designs I see online or in a furniture store?
Do Murphy beds have a place to store pillows and bedding?
I know you don't want to buy (or 'try' to build) a Murphy bed only to find out you bought the wrong size, or it doesn't fit your decor or doesn't open correctly. You want to make the best choice the first time. You don't want to be like me when I was 25 years old and bought 3 sets of carpet to do one little (fortunately for me) bathroom floor. Yes, I said a few 'choice words' which aren't fit for a 'PG' audience when that happened.
So, let's dig into 7 1/2 things most people don't think about (and the last '1/2' thing may be the point you're really worried about!) when buying a Murphy wall bed so you don't waste money or time like I did with my 'infamous' carpet laying 'career' (sarcasm intended).
#1 thing to think about buying a Murphy wall bed – Will it fit?
You need to get correct measurements BEFORE you go down a 'Murphy bed rabbit-hole' (yes- that would be an awfully big hole) which doesn't fit in your spare room, basement or luxury loft living room. Here's the measurements you need to know (and they won't take a degreed statistician to figure them out either).
Measurement #1 – How tall is the Murphy bed you'd like. A queen sized (for couples) is 89" tall. Full and twin sizes are 84" high for vertical beds. In addition, you can also get horizontal Murphy beds for dormer style rooms.
Measurement #2 – How wide is the bed. Queen's are 65.5" wide, full is 59.5" and a twin (for your kid's buddies) is 44.5".
Measurement #3 – How far will the bed stick out when it's in use. A queen will extend 90" (unless you have a pillow box – which I'll explain later – which adds 3" more), the full and twin sizes (in a 'vertical wall bed') come out 85".
A HUGE benefit of a wall bed is (obviously) when it's stowed away you have space for a home office, craft room, yoga or meditation room. However, when it's opened you don't want to feel walking around is as cramped as the last 'boy-band' concert your daughter or granddaughter roped you into attending.
Here's 2 common-sense tips to ensure you don't screw up and buy the wrong sized wall bed.
Tip #1 – Blue tape the floor to see how much space the bed will take when it's in use. After you do this see if you're able to walk around on all sides. Can you open in-swing doors without banging into the bed's frame?
Tip #2 – Check your ceiling height and location of ceiling fans. I recently had a Murphy bed job in Dublin Ohio which had an 8' ceiling (96") and the couple wanted a Queen-sized murphy bed (which is 89" high). So far, so good. However, given the location of the existing ceiling fan the Murphy bed would not open without touching the fans blades. We knew before we started the fan had to be moved 3" away from the bed frame for it to clear the fan on the way down.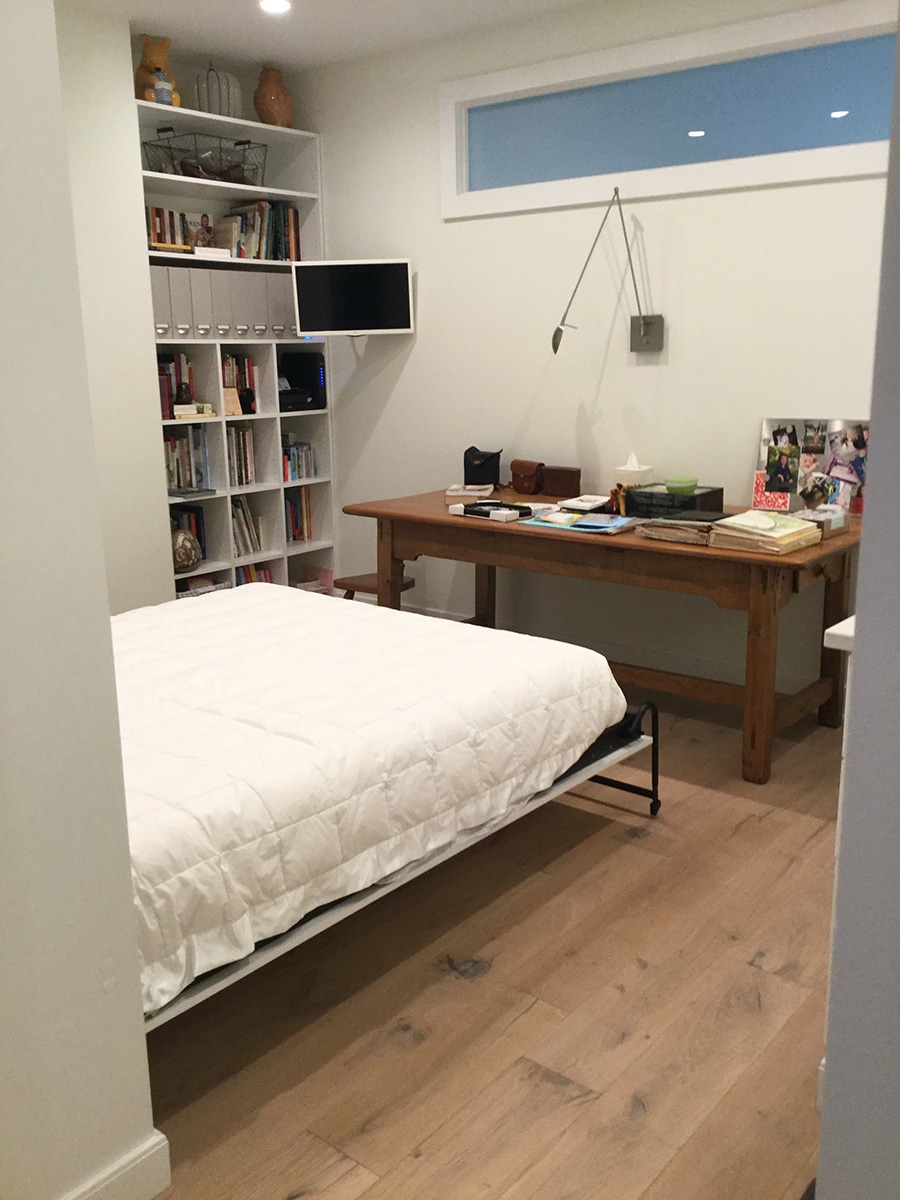 As they say in carpentry, measure twice cut once. When it comes to Murphy beds…lay it out twice so it will fit 'once and for all.'

#2 thing to think about buying a Murphy wall bed – Maybe DIY'ing this job isn't a smart idea.
You'll find images on Pinterest promoting DIY'ing a Murphy bed and I'll fess up and say I'm absolutely, positively not a fan (and I'm not even saying this because my company professionally installs these 'bad-boys!). To this job is a pain. In fact, one company created 13 videos– yes you heard that right – 13 videos to explain how to install a Murphy bed. Anyone who isn't a finished carpenter (or doesn't have a ton of time on their hands) who 'tries' to build their own Murphy bed is likely an 'accident waiting to happen.'
Here's 5 additional reasons I'm not a fan of the DIY approach:
Reason #1 –DIY systems use wood or plywood. Plywood to me just ain't cutting it in a finished bedroom and with other wood products I'd be concerned about warping over time.
Reason #2 – You need A LOT of tools – If you have a micro-pinner, a miter saw, a nail gun, router, pattern bit, table saw and stud finder (OK ladies – I know this is the hardest item to find on the list – ha! ha!), you're in good shape. If you have to buy these expensive tools, you'll be far better off (economically) hiring a pro to do the job.
Reason #3 – Your cuts have to be as precise as a finished carpenter otherwise if the bed isn't plumb, level and square it won't open well.
Reason #4 – The springs needs to be selected based on the actual weight of the platform and the mattress. If you get the wrong springs, the bed won't be simple to open.
Reason #5 – You don't get a guarantee – We warranty our beds for a lifetime so you can sleep well (yes – that bad Murphy bed pun was intended) when it's done by a pro.
For my money (and time), I'd leave 'DIYing' for this job to Bob Vila (if he's got a few spare moments to come over and help you).
#3 thing to think about buying a Murphy wall bed – Can I get more than one use out of the bed?
Let's face facts. Murphy beds are used in spaces where you need to get the max out of every inch (in your tiny spare bedrooms or loft living rooms for example). So, you may be wondering if you can get more 'bang for your buck' with a Murphy besides just a place for grandkids or friends to catch a few z's?
The short answer is yes. Here's 2 fun (and functional) options:
Option 1 – A murphy desk bed. This fold out desk is the perfect size to work on your laptop or TRY to get your grandkids to do their homework.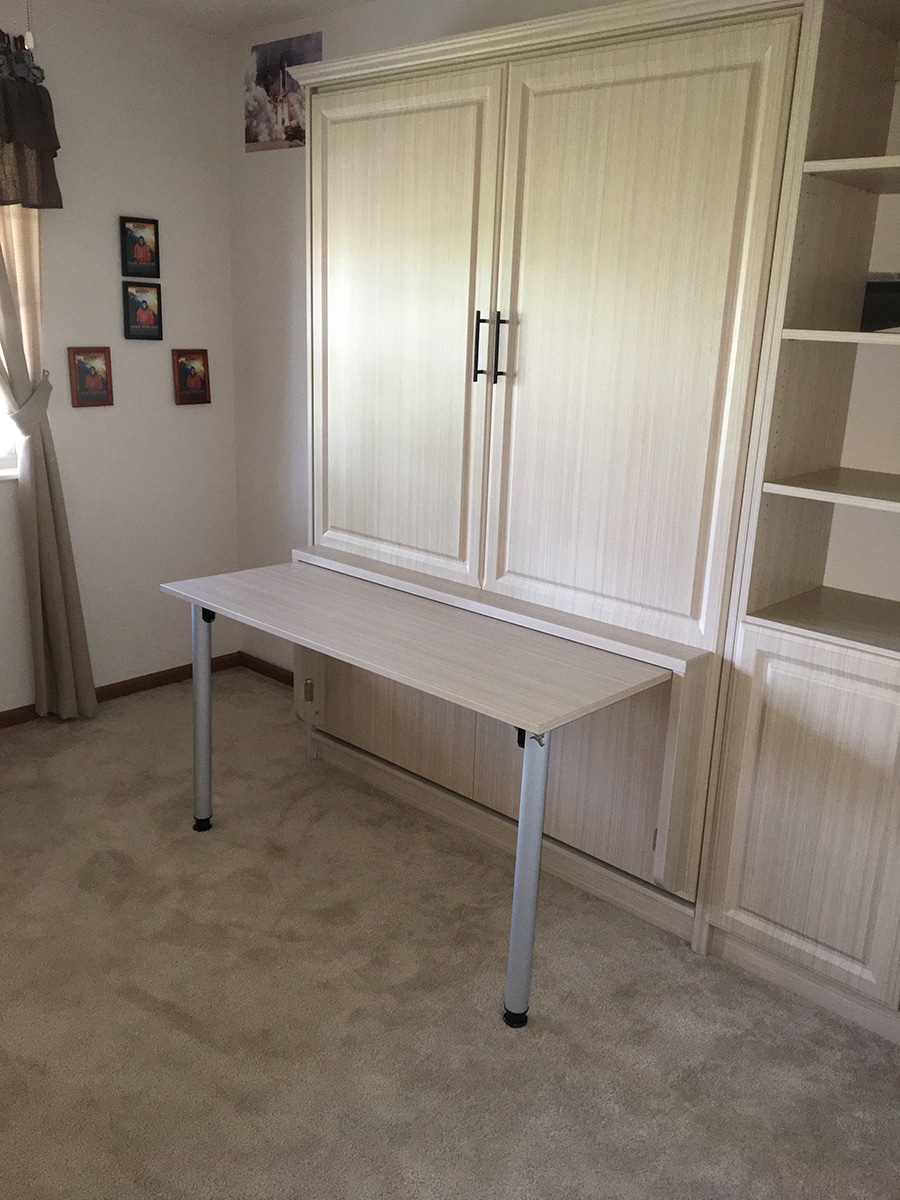 Option 2 – A library murphy bed – If you've got the space this is a 'way-cool' (sorry to use such fancy language) idea for a den. Imagine two full sized bookcases which 'hide' a Murphy bed behind the shelves. Now, before you get too excited, measure your space and see if you've got 128" of side to side space and 98" of depth for the bed to come out from the wall. The reality is this bed is 'a monster,' but it's cool as heck if you've got the room.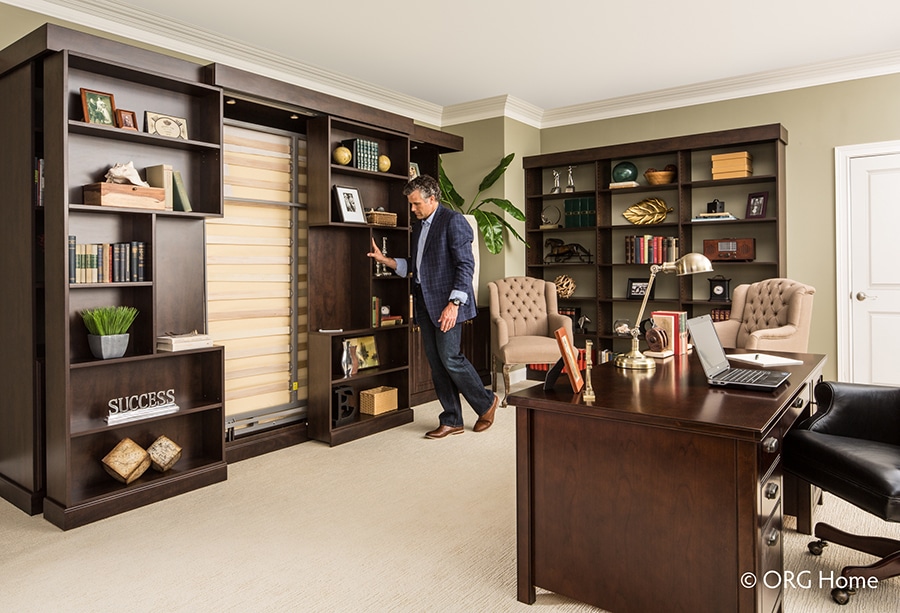 #4 thing to think about buying a Murphy wall bed – Can I add a home office desk, crafting workstation or bookshelves to the design?
The great thing about a Murphy bed (other than being able to have the grandkids, old friends or your parents over for a 'sleepover') is it frees up space for other things.
Perhaps you want a full desk and home office.
Perhaps you want a crafting room and to make a few bucks on Etsy or just create for the g-kids.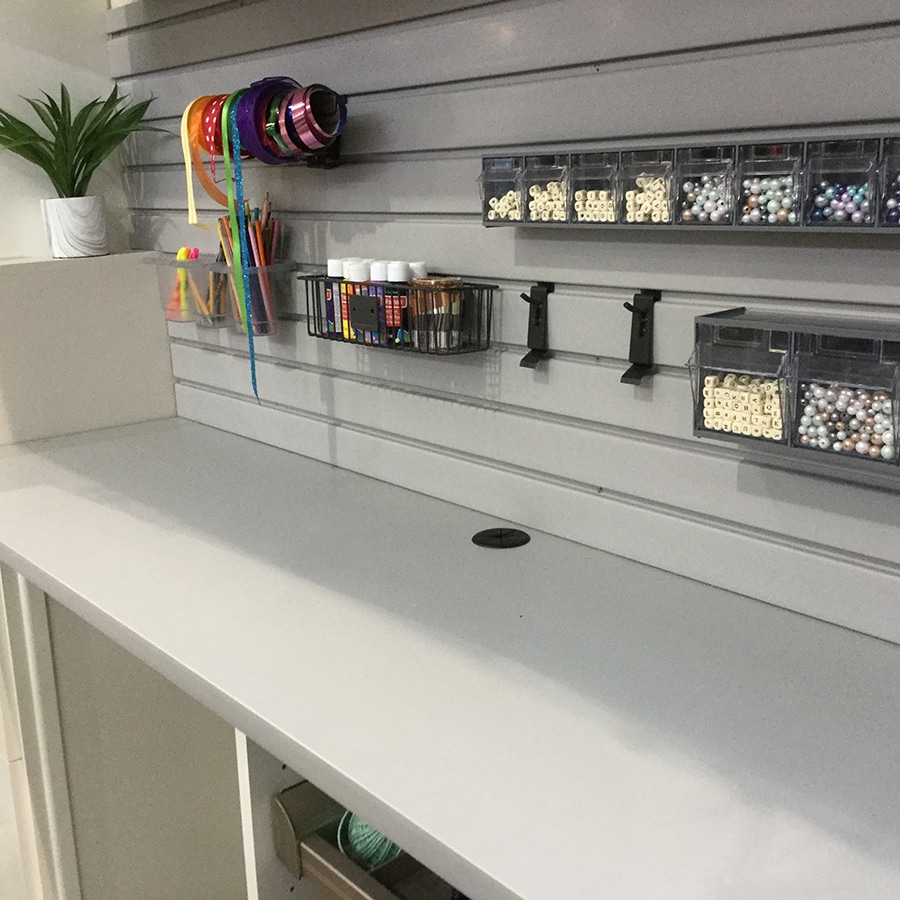 Perhaps you want a Zen meditation or yoga room to evolve into the life you really want.
When a traditional bed no longer 'eats the room' you have space for other activities.
You can put in a desk which compliments your Murphy bed. You can create space for your crafts and/or bookshelves to display photos of the kids and g-kids, or just open your floor for Yoga or Meditation (ummmmmmm – see how good I am at meditation!).
The options are only limited by your imagination (and of course an effective Murphy bed designer to lead you through the process).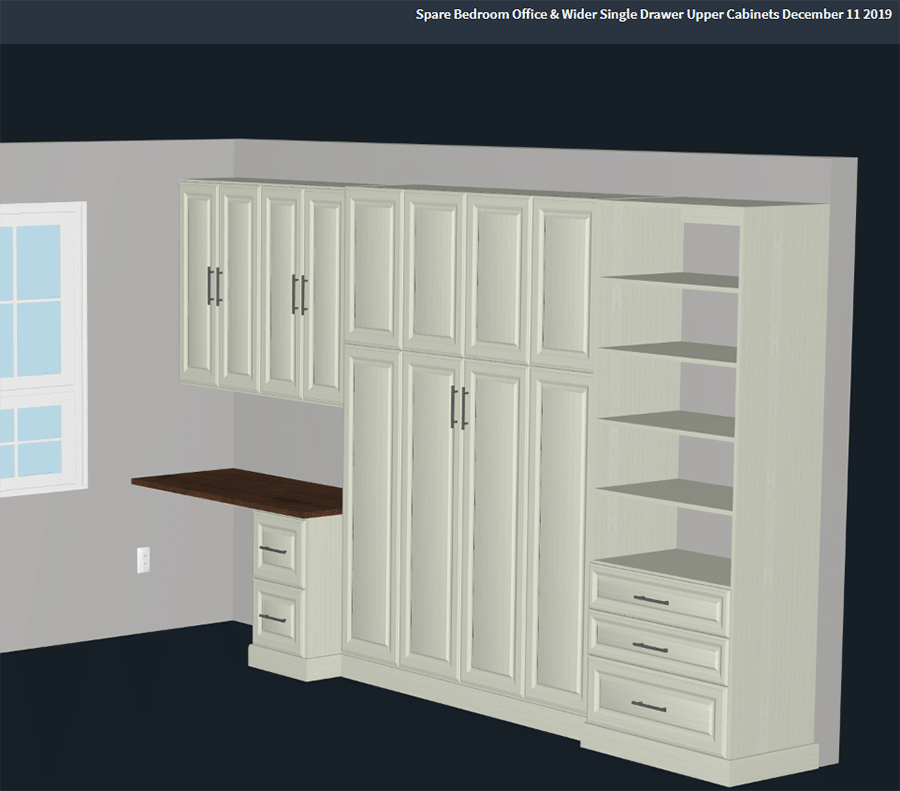 #5 thing to think about buying a Murphy wall bed – Will I have anywhere to store bedding or put pillows when the bed isn't in use?
Here's the cool thing about the bedding.
YOU DON'T NEED TO STORE THE BEDDING ANYMORE FOR YOUR GUESTS!
Since there's a strap which holds your bedding in place you don't need to pull the sheets and comforter off your wall bed every night (unlike a roll away bed!). You won't feel like a maid servicing a hotel room in your home anymore (unless you have kids, but that's a subject for another post!).
Regarding the pillows there's an ingenious way they can be stored most people don't know about. It's to have a 'pillow box' at the back of the bed. This pillow box is like the 'secret compartments' you used to love with your toys as a kid. It's a 3" deep 'hatch' in the back of the Murphy bed where you tuck in pillows when they're not in use.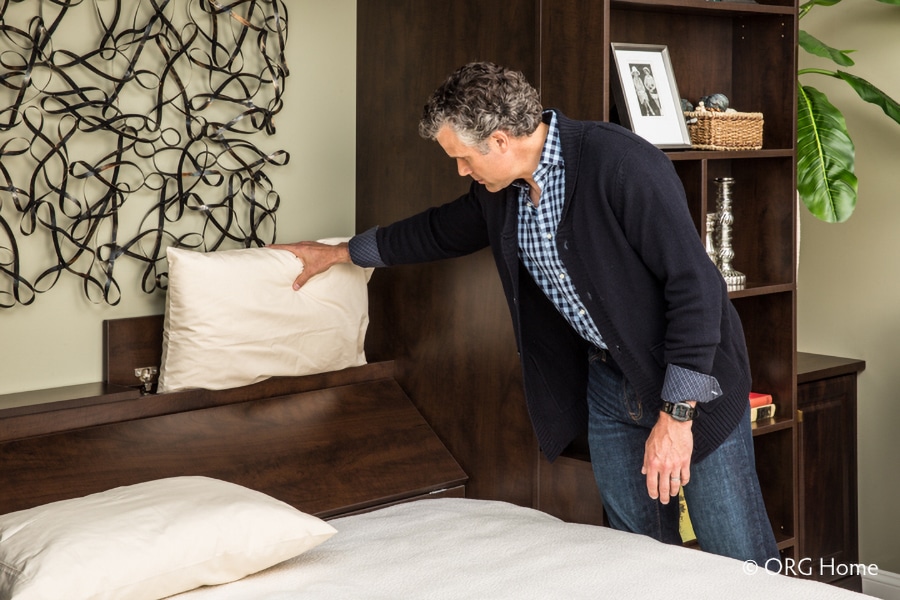 #6 thing to think about buying a Murphy wall bed – Will Mom be able to pull the bed down?
First, you need to know the springs in a professionally designed Murphy bed are specifically engineered for the size of the bed and thickness of mattress. It won't be hard for Mom (no matter how tiny she is or the fact her body wouldn't have anyone thing she's a stunt double for Arnold Schwarzenegger) to get the Murphy bed down.
It's also nice to know with a professionally installed Murphy bed your handles can be set lower for her.
#7 thing to think about buying a Murphy wall bed – Will it fit with my décor?
Having a Murphy which provides more space is one thing but having a unit which makes your spare room or loft living room more stylish also matters. Finding a style in a furniture showroom which fits your colors and the design motif (whether you're into Modern Minimalist, Traditional, Transitional or a Euro-contemporary style) can be a HUGE challenge.
This is why having an extensive collection of Murphy bed door styles and patterns is essential.
A smarter way to buy a stylish Murphy bed (and/or a desk, crafting area or bookshelves to surround it) is to choose your patterns, door style and have a bed frame made for you INSTEAD OF BUYING A DESIGN-RESTRICTING OFF THE SHELF ITEM.
With laminate Murphy bed systems, they're made to fit your décor as opposed to limiting you to 'what's in stock.'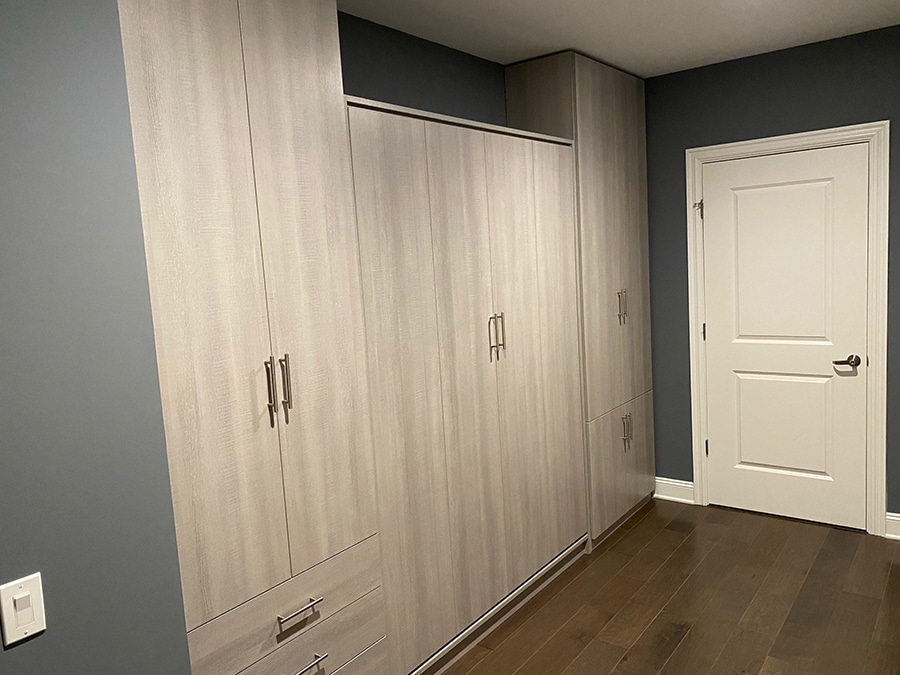 #7 1/2th thing to think about buying a Murphy wall bed – It's the 'elephant in the room' question. How much will this bed cost?
This is the question you have (NOT) been waiting for. Yes – it's exciting thinking about how you're going to use your spare room or loft and create space for hobbies or a home office and have another bed raring to go. However, you've got to face the cold, hard facts you're going to spend money to do it. But how much, you're asking?
For a standard Murphy bed (in a durable white laminate) in a cost-effective Euro style (that would be flat contemporary door) budget around $2,500 to get a professionally installed Murphy bed (at least in the Columbus and Cleveland area this works, but you'll pay more if you live in a major city like New York or Chicago).
If you add decorative patterns (like a Shaker or Raised Panel door) or want textured wood laminates add between $500 to $1,000 to the base price. And if you want a Murphy bed with a fold out desk/workstation – add $1,000 for this feature.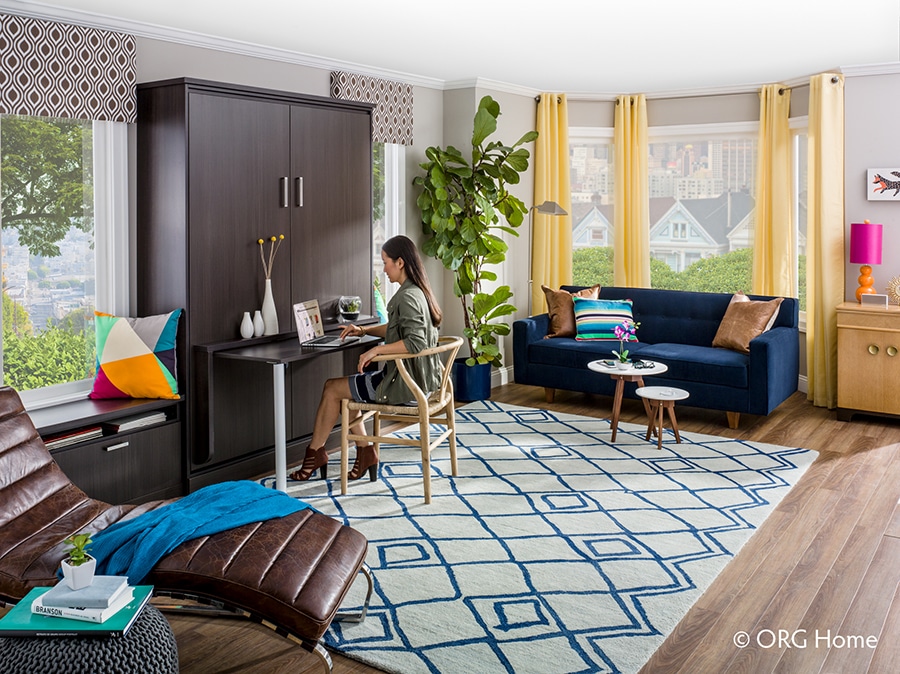 Although professionally installed Murphy beds aren't a 'cheap date,' they're far less expensive than building out a new room or a room addition. You'll be able to use an existing spare bedroom, basement or living room better and still be prepared if your daughter and grandkids can have a last-minute sleepover.

Conclusion
OK, so now are you ready to go on a shopping spree for a Murphy wall bed for your home?
If you want more help through the process to make sure you get it right the first time – I (and my team) would LOVE to be your guide. Click on the links or call us at the numbers below.
Mike
How can I (or my team) help you with a Murphy Bed or home office, craft room or storage project?
If you're in looking for a wall bed in Columbus Ohio or a Murphy bed in Cleveland we'll come to your home, measure your space and work on a fun design for a bed and/or a home office or crafting space. And if you're nice, we'll even do a 3D Murphy bed design (OK – I'm just joking – even if you're not nice we'll still do a 3D design). Call 614-545-6888 in Columbus or 216-658-1290 in Cleveland.
If you're not in Columbus or Cleveland, I'll even try to find one of my 'buds in the business' and get you a referral for a Murphy bed in your hometown.
Even though Murphy beds were invented 100-years ago, they've become more important today since homes are getting smaller and real estate costs are getting bigger.
We're looking forward to helping you gain space, have a comfortable guest bed and do it without spending a ton of bucks.
If you'd like more information on home organization, Murphy beds, interior design or just some wacky stories follow me on LinkedIn @MikeFotiLinkedIn.
---
Tags: 3D crafting room design, 3D home office design, 3D home organization design Columbus, 3D Murphy bed design, closet designer Columbus, Columbus murphy beds, Columbus wall beds, comfortable guest bed, DIY Murphy bed, fold down bed, fold down Murphy bed, library Murphy bed, Murphy bed design, murphy bed designer, murphy bed designs, murphy bed measurements, Murphy bed patterns, Murphy bed sizes, Murphy desk bed, pillow storage for a Murphy bed, pull down bed, pull down bed Columbus, wardrobe closet Columbus, wardrobe closet with a murphy bed, will a Murphy bed fit