13 Ways to NOT Waste Money on a Custom Closet Design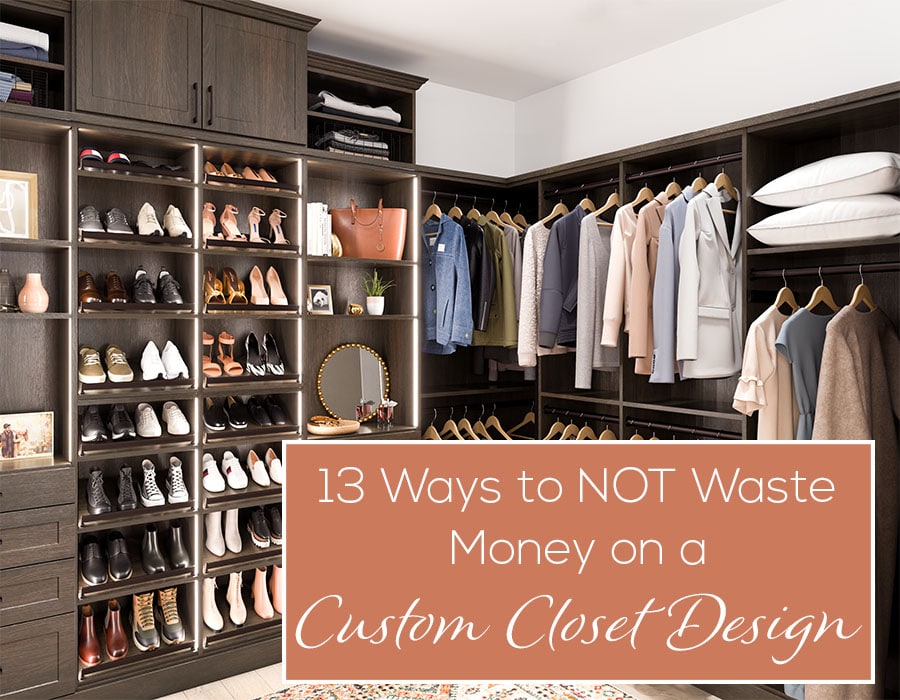 I bet you've all heard of FOMO (the Fear of Missing Out). But I'll give you another 'acronym' which is far more paralyzing when you're thinking about buying something. This 'acronym' is FOSU. Don't know what FOSU stands for? OK – here it is….
It's the Fear Of Screwing Up
And this FOSU problem is a huge worry when you're buying something (like a custom closet) for the first time. You haven't been down the road before. You're not sure who(m) to trust AND you're not familiar with the options and products.
Basically you're 'flying blind' and 'a-hopin' and a-wishin' you don't mess up!
And if this describes your concerned state of affairs as you're beginning the process of researching and working through custom closet designs, I get it.
You see as an owner of a custom closet company in Columbus – and a closet designer – I've seen first-hand how homeowners struggle understanding 'closet lingo.' They don't know their 'DH' (double hung) from 'LH' (long hang). And why should they? They're not designing closets for a living.
And the less you know about an important decision – the more you'll procrastinate. After all it IS your hard-earned money – and you can't afford to blow it – especially if you've got kids which are draining your finances also.
So, how can you make sure you're NOT wasting money on your very first custom closet design?
In this article – I'm going to point out 13 mistakes to avoid so you DON'T WASTE MONEY. And unfortunately, I've seen many people paying the price of these errors, and I don't want you to be one of them.
At the end of the article let me know if there's any of these 'boo-boo's' you've just learned which WILL save you money. After all – the purpose of this article is to save you from costly errors.
So, let's dig into the top 13 mistakes to NOT waste money on a custom closet design.
Mistake #1– Don't assume your entire closet system has to be built to the floor. Learn how to combine wall hung and floor-based systems
Floor-based closet systems which are built like finished cabinetry are a wonderful look with base trim and crown molding at the top.
And while floor-based closets do create a high-end look – this look also comes at a price (you see systems which are 'floor based' require more material and are logically more expensive than systems which don't go to the floor (AKA wall hung closets).
You see they type of closet system you use is not an 'all or nothing' proposition. So, you may choose to use a 'floor based' system on your 'feature wall' (this is the first wall you see when you come in). However, to save money you may also go with the more cost-effective wall hung system for your double hanging casual clothes on the sides of your walk in closet.
This idea can save you money – yet still give you the 'built-in' custom furniture look in the most visible sections of your closet.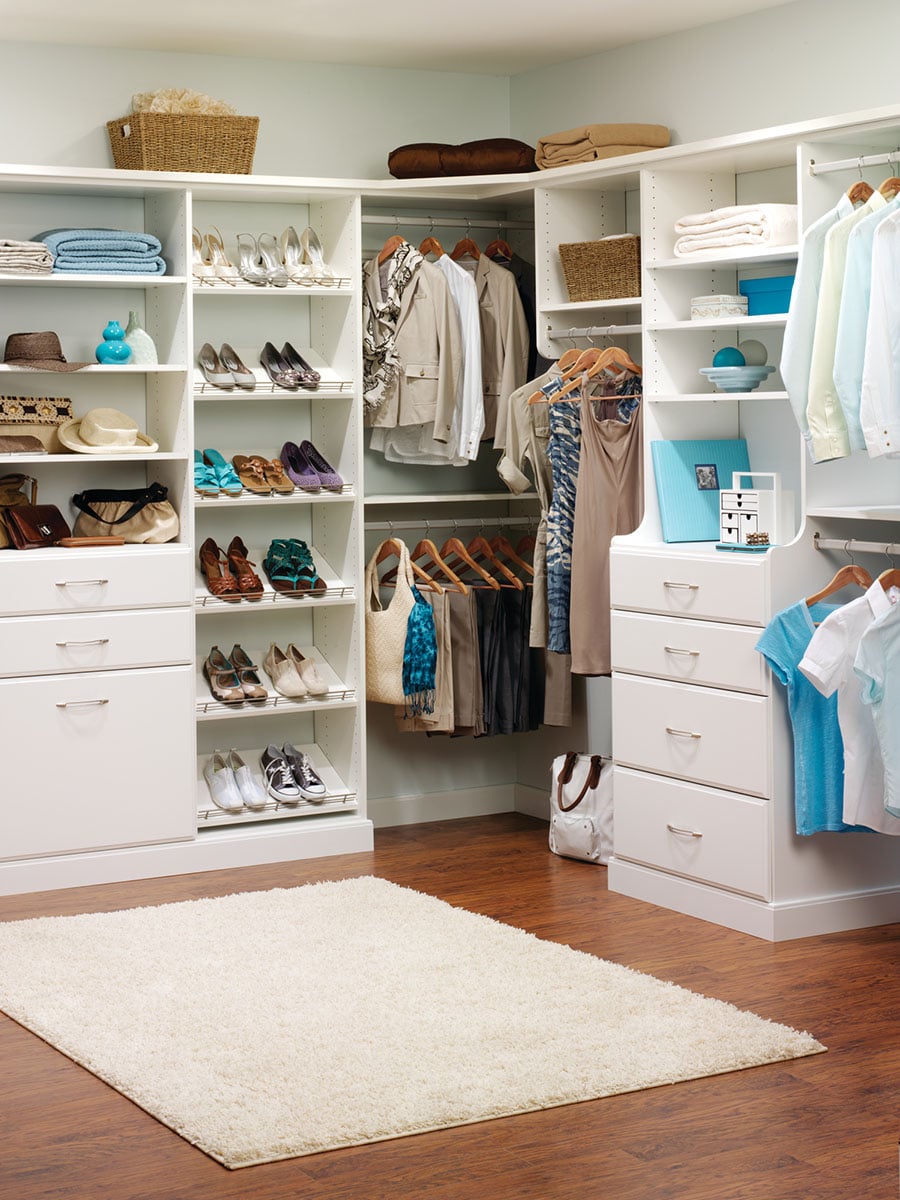 Mistake #2 – Don't buy a DIY modular closet only to find it won't cover all your wall space
If you're like most people you need to use EVERY INCH (and then some) of your closet. Clothes are more crowded in your closet than all the cars and SUVs on I-5 of the LA Freeway.
And while DIY 'modular' closet systems with 'standard sized' sections look like 'such a deal' (as a New Yorker might say), when you figure out the standard sections leave dead space at the end of the wall, you'll rethink how wise this (supposedly) cheap system was.
To make sure you're not 'being penny-wise and pound foolish' (as my dad used to say), make sure the closet sections you buy are using ALL your space.
Mistake #3 – You buy a closet which DOESN'T adjust as your clothes, shoes and storage needs change
Some of the fanciest drool-worthy, custom wood closets of the stars you'll see on the Internet actually have one incredibly stupid thing in common. You see most of the custom wood closets have no 'holes in the side' so they cannot be adjusted.
If you think about it, you're clothing and storage change over the years. Today you may be wearing more boots and casual clothes than when you worked in an office. Your closet system needs to have shelves and rods which 'move' as your needs change.
And no matter how nice a custom wood closet can look when it's built, if it doesn't fit your things now, and into the future, what good is it?
It's not good. It's a waste of money.
If you listen to nothing else in this article – insist on an adjustable closet. After all who wants a fancy wood closet which no longer works – or worse yet a 'fixed' wire closets your builder slapped up because it was cheap, cheap, cheap.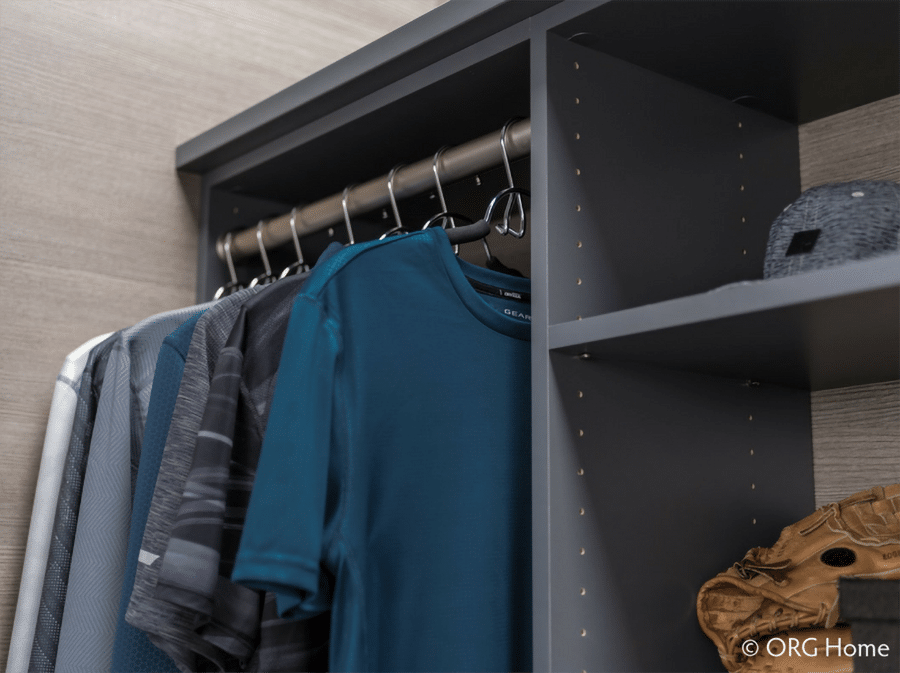 Mistake #4 – You buy a closet with only a 'hand-drawn' 2D sketch and then when you experience it in 'real life,' you're NOT pleasantly surprised
If I asked you how large and how many square feet you have in your bedrooms today, how well do you think you could accurately estimate this BEFORE taking out a tape measure?
If you're like most people – your ability to know how big a room is without measuring isn't good.
However, if I asked if your bedrooms (or closets for this matter) were spacious or cramped, I'll bet every one of you could answer this question in a split second.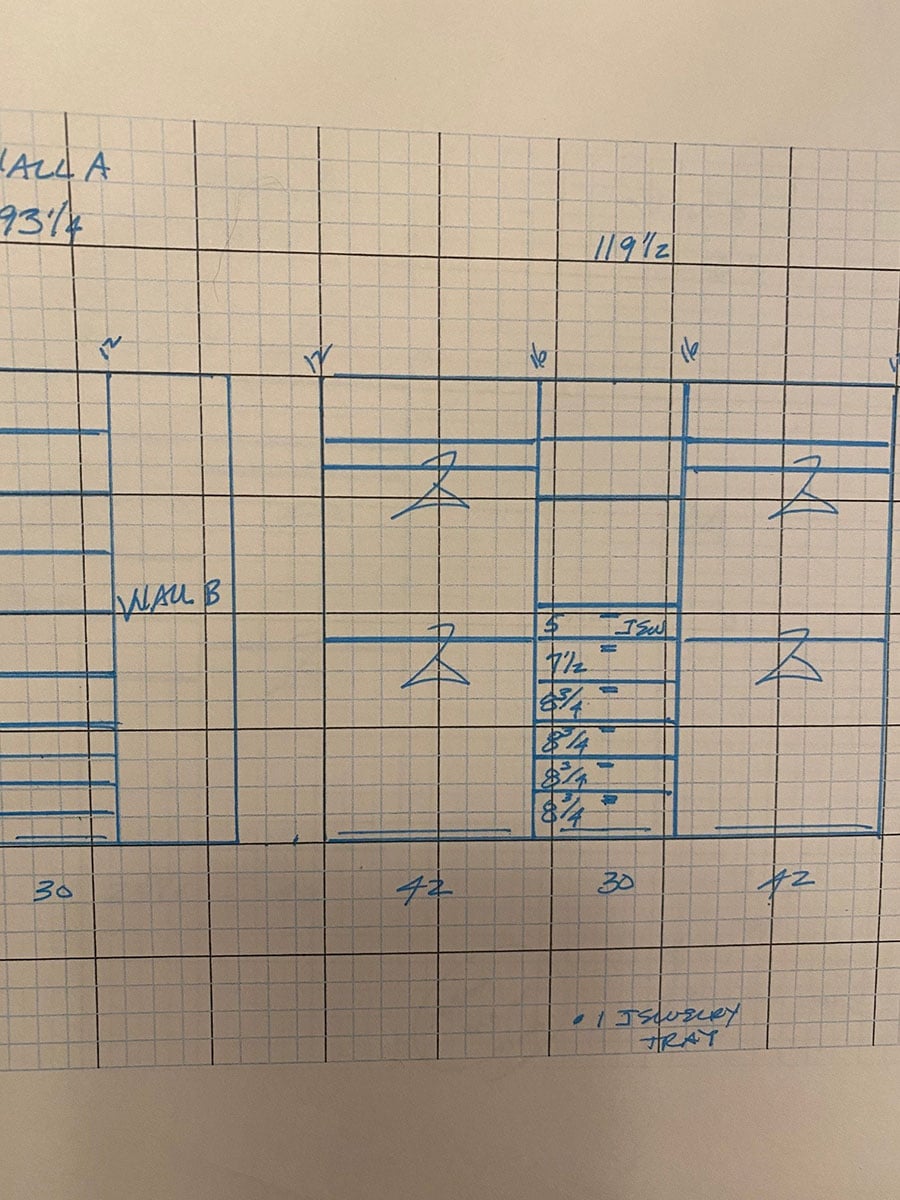 The problem is most people don't know how a 'room will live' even if they're looking at the sizes on new home builders floor plan. However, they do know how it will work for them ONCE they see it in 3D with furniture added.
And this challenge also applies to custom closets. If you have a company who shows you a hand-drawn 2D drawing showing DH ('er double hung', LH (long hang) and SH (for shelves) in their plan, this will give you little – to no idea how it'll actually live.
You need to 'see' how this space feels in 3D to know if it will work for you.
So, when you're buying a custom closet insist on seeing a 3D design. Then you'll be in a much better position to make an informed decision.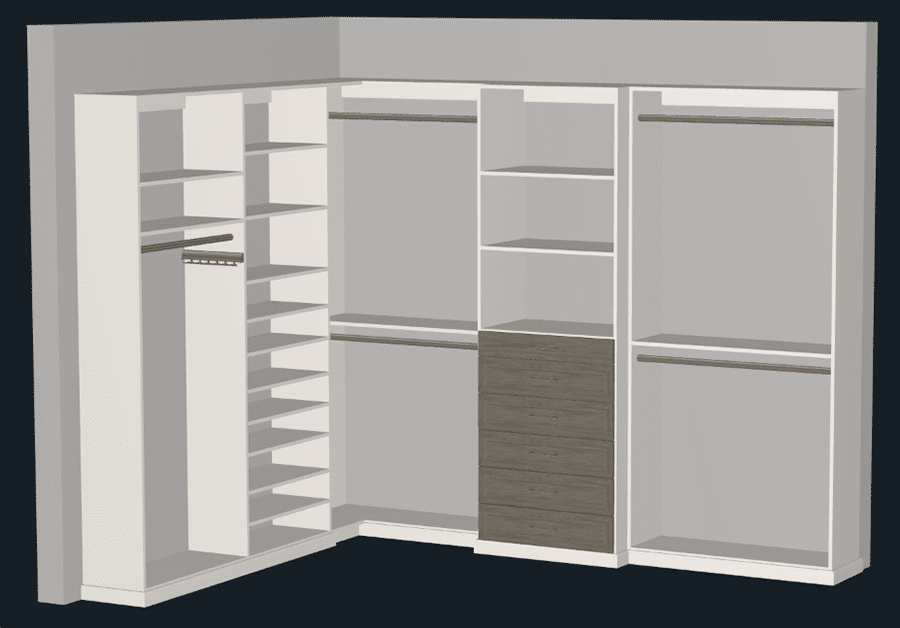 Mistake #5 – You didn't know about the Closet Ugliness Scale…until it was too late
A custom closet design should be thoughtfully developed. And while it does need to work for you –it also should look and feel as stylish as possible.
And a key way to make sure your closet not only works, but also looks good is to understand the C.U.S. scale (which stands for the Closet Ugliness Scale). Basically, the CUS scale requires you know which elements of your closet look best…and which are the ugliest.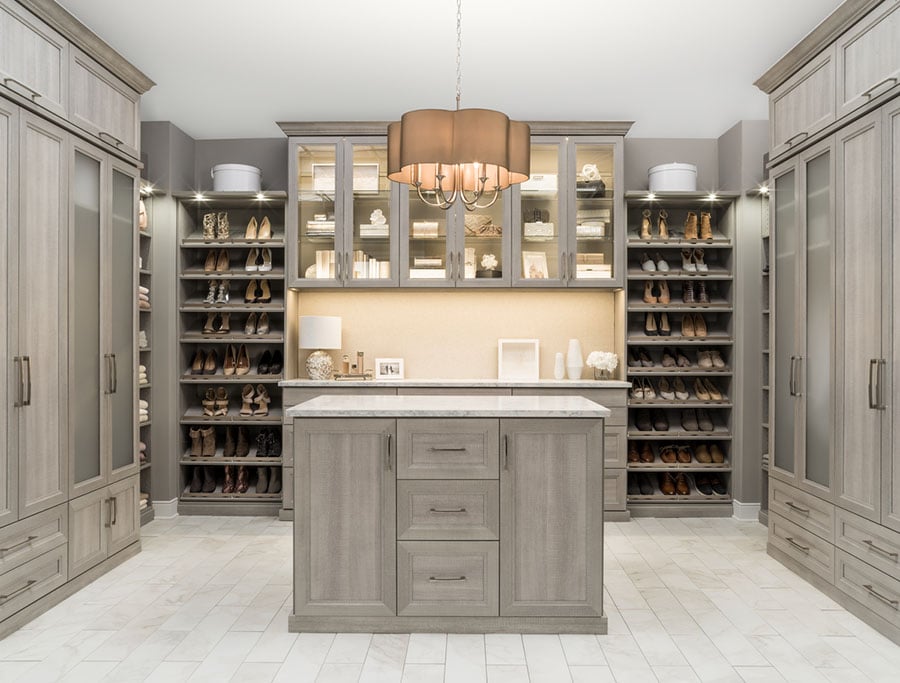 It makes you strategically place the nicest parts of the closet where you see them the most and the nicest elements would be the drawers, doors, and shelves). And you should hide the 'ugly elements' where they're less visible (and the ugliest of these are your casual hanging clothes).
If your closet isn't designed with the CUS scale in mind – you'll be actually CUSSING when you learn how much nicer your closet could have looked …. with a better thought-out plan!
Mistake #6 – You assumed a solid wood closet (like many celebrities own) was the 'cream of the crop' choice
Many celebrity closets are built and designed by trim carpenters. They're made with solid wood. It can be easy to jump to the conclusion these closets are the 'gold standard' of closet design. However, I'll tell you choosing a wood closet built by a carpenter (while it does have the charm of natural wood graining) isn't always the best (nor the most cost-effective) option.
You see solid wood isn't dimensionally stable. Solid wood can crack or move. And solid wood requires maintenance (repainting and re-staining). And in fact, what most people DON'T realize is most luxury closets built today are made from a more durable (and uber-attractive product) laminate. And laminates today are available in multiple colors and even faux wood textures you'd swear are the real thing.
And if you're debating whether to use a trim carpenter to design and build a custom wood closet or use a custom closet company who is (primarily) building with laminate, take a few moments and read 9 Reasons You Shouldn't Hire a Trim Carpenter to Design and Build Your Custom Closet (and 3 Reasons You Should).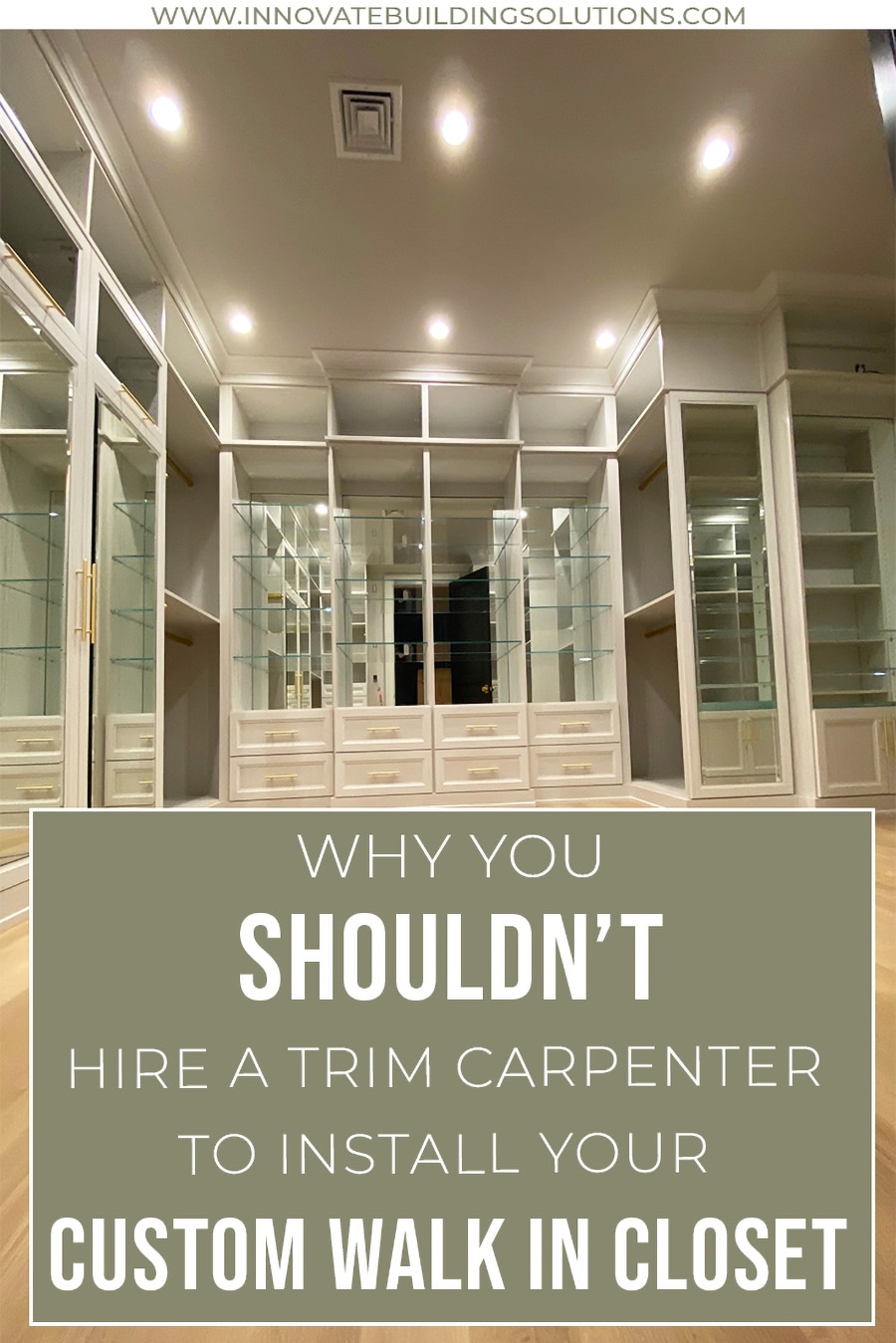 Mistake #7 – You had no clue you could get a closet with a warranty
I'm amazed at 2 things.
How many people buy a custom home which only has a 1-year warranty.
How many people buy a custom closet with Z-E-R-O warranty.
When you're spending thousands of dollars having a custom closet professionally installed, why you should NOT have the protection of a warranty should a shelf break or a slow-close operator stop working correctly?
Before buying, make sure you get a written warranty, not only on the materials but on the labor as well.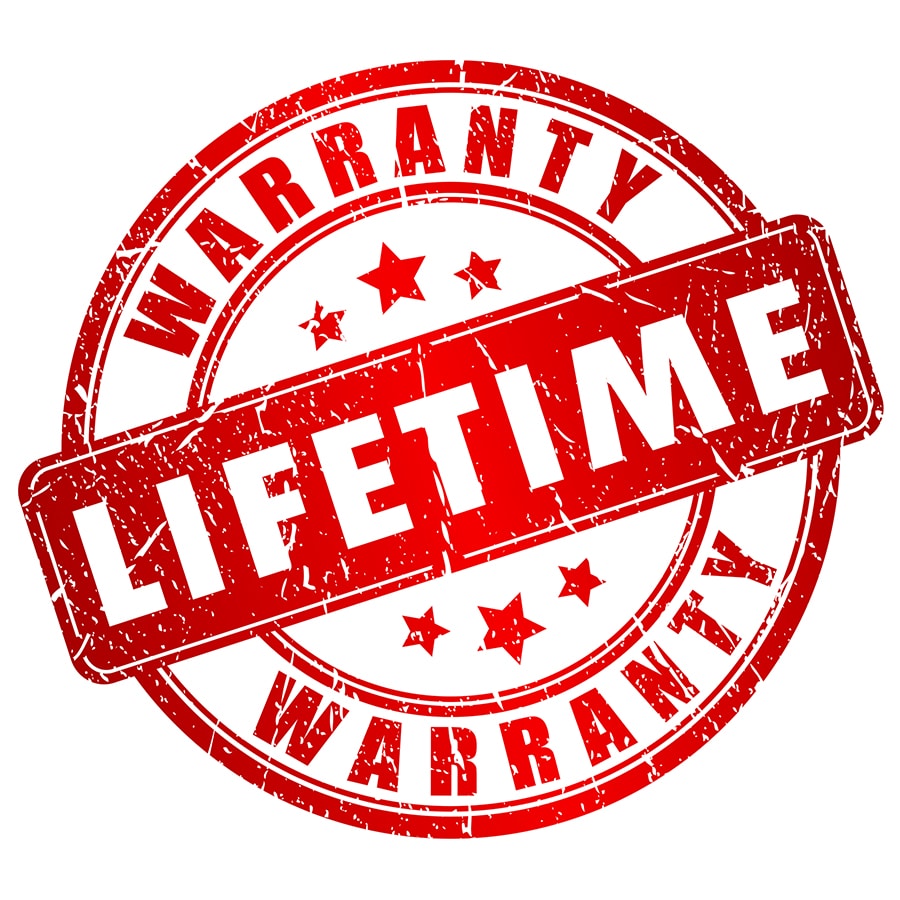 Mistake #8 – You didn't realize the crew who installed your closet only 'dabbled' in this kind of work
I like to say the following:
An excellent product, poorly installed, is a bad product.
The quality of your finished custom closet (unless you install it yourself) will not only be a function of what closet system you choose, but also a function of the quality of the craftsmanship and installation team who put it in.
And if you buy from a 'box store' who subcontracts the labor to crews who install closets every 'now and again,' you're likely to get a finished project which is no better than so/so.
After all custom closet installations can get complex. There may be crown molding to miter cut. There may be existing baseboard trim which needs to be removed and matched to the new closet. Or there may be soffits, outlets, or windows to work around.
In short….
Don't buy a 'finished closet project' until you know who(m) is going to 'finish' ('er install) the job.

Mistake #9 – You didn't realize your section widths were designed too wide until it was too late
There ARE ways your closet company can skimp on your project, but you may not even know them when they're happening right before your eyes.
And one way to skimp on a job is to put less 'sections' by making the areas between sections wider. While using this strategy will save you money (in the short run), it can cause problems in the long run if the rods get too long (and start to sag), or the shelves get too wide. For hanging, keep sections 36" wide or less. For shelving, don't go longer than 48".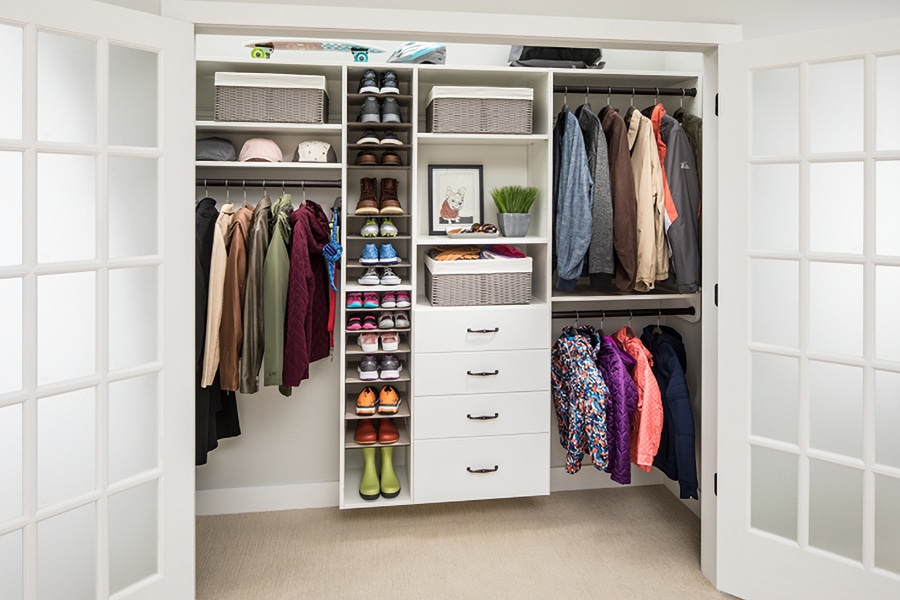 Mistake #10 – You didn't realize those expensive – yet cool looking – slanted shoe shelves were going to rob you of badly-needed shoe storage
I can't tell you how many times I've talked people OUT OF spending more money for slanted shoe shelves like you see in the department store (and in the image below).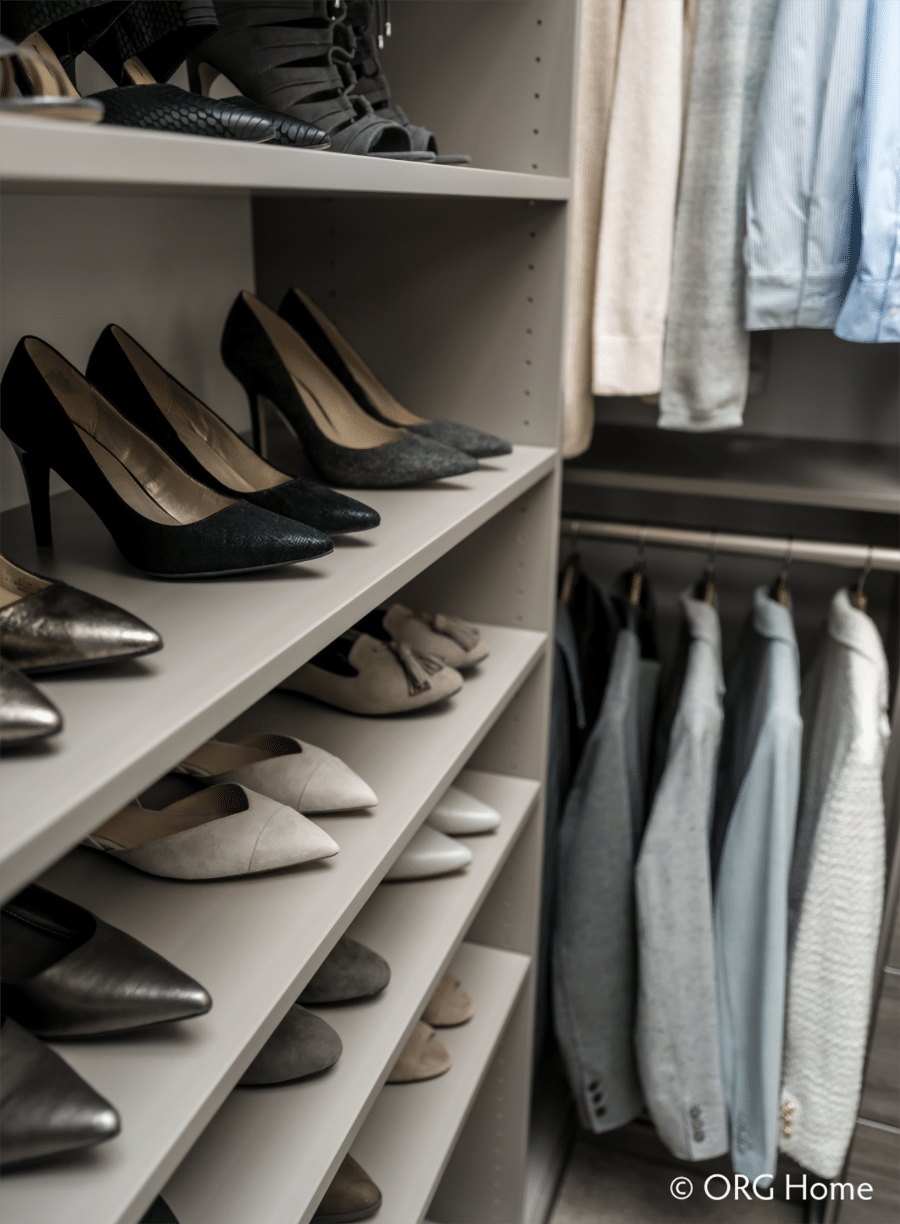 And sure, they do look fantastic (and as a closet design and installation company I make more money putting them in – just keepin' it real).
However, this is what I also know. 99.9% of people looking to remodel a master closet (OK, that's just my guess here) LACK SPACE! The 'average couple' has 40 pairs of shoes and they're littered all over the closet floor. They're a total pain to find today.
Most people need an organized system which gives them MORE SPACE, not less space. And since slanted shoe shelves have dead areas in back of the slanted shelf, they don't maximize what you can fit in your already too small walk-in closet.
It's for this reason, standard flat (and adjustable) shoe shelves are 'the ticket' for most people.

Mistake #11 – You spent too much money because you ASSUMED your favorite color/pattern was an 'all or nothing' proposition
You went through your closet designers color and pattern selections and (OF COURSE) you chose the most expensive textured woodgrain laminate. And the total price knocked your socks off. You love, love, love the pattern, however you don't love, love, love the price. So, now what can you do?
Well – in cases like this its great knowing patterns are not a 'all or nothing' proposition. By this I mean your entire closet system doesn't have to be done with one color or pattern. To reduce costs (yet get the designer look and pattern you love) a smart strategy is to only use the 'designer pattern' either on the 'front edges' of the shelves and divider sections or to use your cool pattern on the door and drawer fronts.
This strategy gives you a fun, champagne look, at beer-budget, friendly price.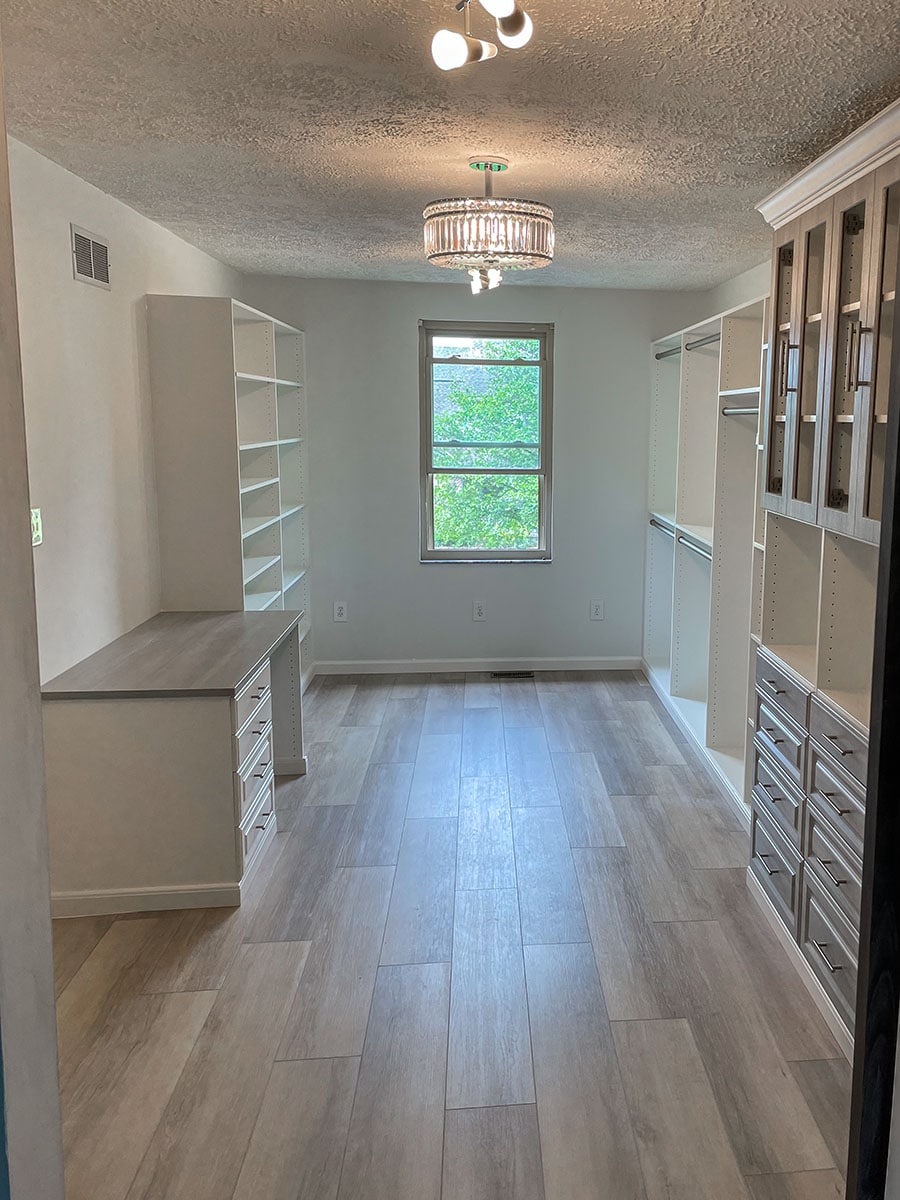 Mistake #12 – You bought a closet which was 'too short' or 'too tall' for you
I know you may not be familiar with the term 'system height' when it comes to closets. However, this 'industry term' simply refers to how far off the ground the top shelf of your closet is from the floor.
And one of the major problems many people have with their existing closet today is the top shelf is set too low. If the top shelf is too low, it doesn't give you room to 'double hang' clothes. This, in turn, makes your closet cramped.
And if you're figuring out the optimal system height there are 2 key variable which must be considered. They are….
How tall (or V.C. – vertically challenged) are the people using the closet?
How tall is the ceiling and does the ceiling height vary in the closet?
As a generalization if you have a common 8' ceiling, its best to have the top shelf of the closet set 7' from the floor (or 84"). This allows an efficient 12" space above the top shelf for storage.
And if you have a 9' ceiling, I'd recommend setting the system height set at 90" from the floor.
The goal is to have 'just the right amount' of space for storage on the top shelf, yet still enough room to 'double hang' ('er one section of clothes stacked on top another) and use more room and get rid of dead gaps.
So, whether you're looking to DIY your closet OR have it professionally installed, pay attention to the critical decision of the system height.
Mistake #13 – You didn't ask how deep the shelves were going to be and now, even your 'professionally done' closet looks sloppy.
I'll tell you a dirty little secret (if you promise not to tell anyone else) some closet companies use to save THEM money but will make YOUR closet not 'live' as well for you.
And this secret is they'll use 12" deep shelves. And you may be asking, what's the big crime with using 12" deep shelves? In some cases, there's nothing wrong with it (if what you're storing won't hang off the edge – like purses or shoes smaller than a size 12). However, this likely isn't ALL you'll be storing on these shelves. If you're like most people you'll have bulky sweaters, sweatshirts or if you have a few taller 'boys and girls' in your family, shoes which are larger than a size 12.
And when you have items which are too deep for the 12" shelves they'll hang off the edge and contribute to a sloppy looking closet.
Don't be fooled by 'shallow imitations.'
Get the right sized shelves so your closet looks 'fabulous baby!'
So, which or the 13 mistakes were 'news to you?'
After reading through the list above how many of these 13 closet design mistakes did you have no clue about? If this article was successful, I hope you said a bunch of them!
With all this being said I realize designing custom closets IS NOT what you do daily. And in addition, creating a cohesive design which not only comfortably fits all your things but looks stylish in the process can be a challenge for a 'first-timer.' And this is where me and my team would be honored to help you.
How we can help you next…
If you live in Columbus Ohio, click for a Free 3D Closet Design or call 614-545-6888 with your questions. And if you're not in Columbus (which I'm guessing is most of you), put your information in the comments below and I'll see if I have a closet buddy from my industry across the country, I could refer to you.
Thanks for reading– Mike
###
If you'd like more information on garage, pantry, entryway or custom closet design follow me on LinkedIn @MikeFotiLinkedIn.
---
Tags: 3D closet design, closet design ideas, closet shelving depth, closet system height, Columbus closet design, Columbus closet ideas, cost saving ideas custom closets, custom closet cost saving ideas, custom closet mistakes, custom closet problems to avoid, custom closet warranties, DIY modular closet, not making custom closet mistakes, size of closet sections, slanted shoe shelves, width of closet sections, wood vs. laminate closet