15 Critical Questions to Ask for an Efficient, Effective and Elegant Custom Closet Design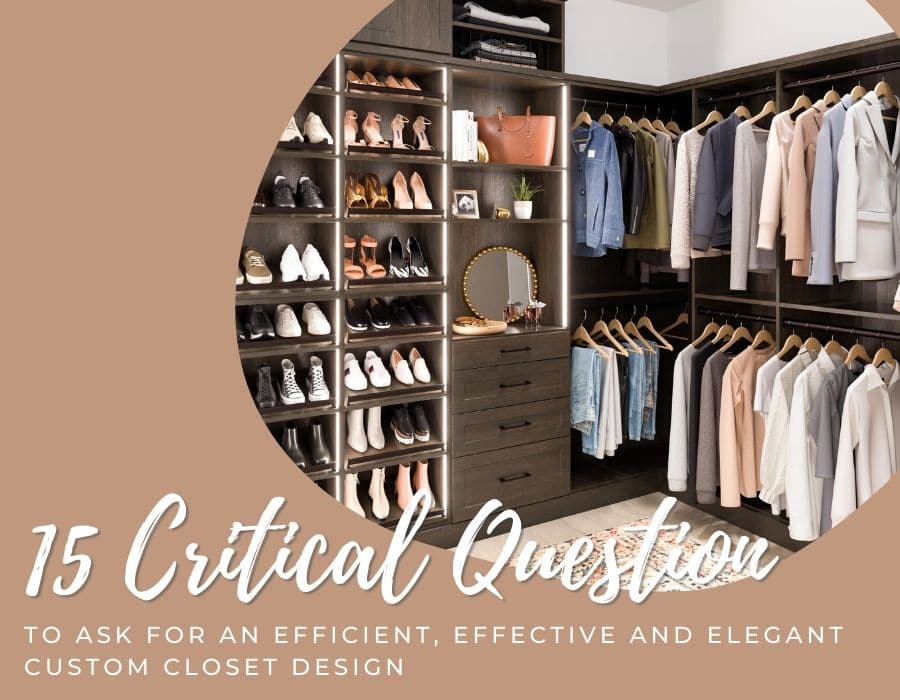 If you've NEVER purchased a custom closet before, please raise your hand.
If you're like most people, this is not a road you've traveled before. And while you know your closet is a disaster, you're don't even know what you don't know to make a smart purchase.
You'd like to know the cost of a custom closet. You'd like to know how to design it to get the maximum storage out of your 'smaller-than-you'd-like' space. You'd like to know how to design it, so it'll last. And lastly, you'd like strategies to make it a stylish place you actually (believe it or not) want to walk into.
But how can you go about getting an efficient, effective and dare I say it – elegant – closet?
Well – if you don't have a clue how to make this happen, I have a solution for you.
All you need to do is ask the 15 critical questions in this article and you'll be on your way to an efficient, effective, and elegant closet. You'll also get additional articles (within this article) to dig deeper so you're an educated consumer (before you invite any professional closet designer into your home to do a design).
So, read these 15 critical questions. And if they DON'T make you better prepared to buy a custom closet, I give you permission to come to Columbus Ohio and slap me upside the head. I'm going to start with the biggest question of all.
Question #1– What's your budget?
OK, you're probably saying, "Mike, did you have to start off with this one, even before I got excited about a brand spankin' new closet?" And the short answer is YES! There's nothing worse than investing a lot of time, only to find out you've got a beer-budget and champagne tastes. There's a lot of factors which go into the price of a custom closet such as if it's wall hung or floor based, how tall/wide/deep the sections are, and if you use doors and drawers or special patterns and colors.
The list of pricing variables goes on and on.
In order to get specific input on how these variables increase (or decrease) your price, read How Much Does an Installed Walk in Closet Cost (with 5 ideas to save you money). You'll get real numbers so you can estimate costs.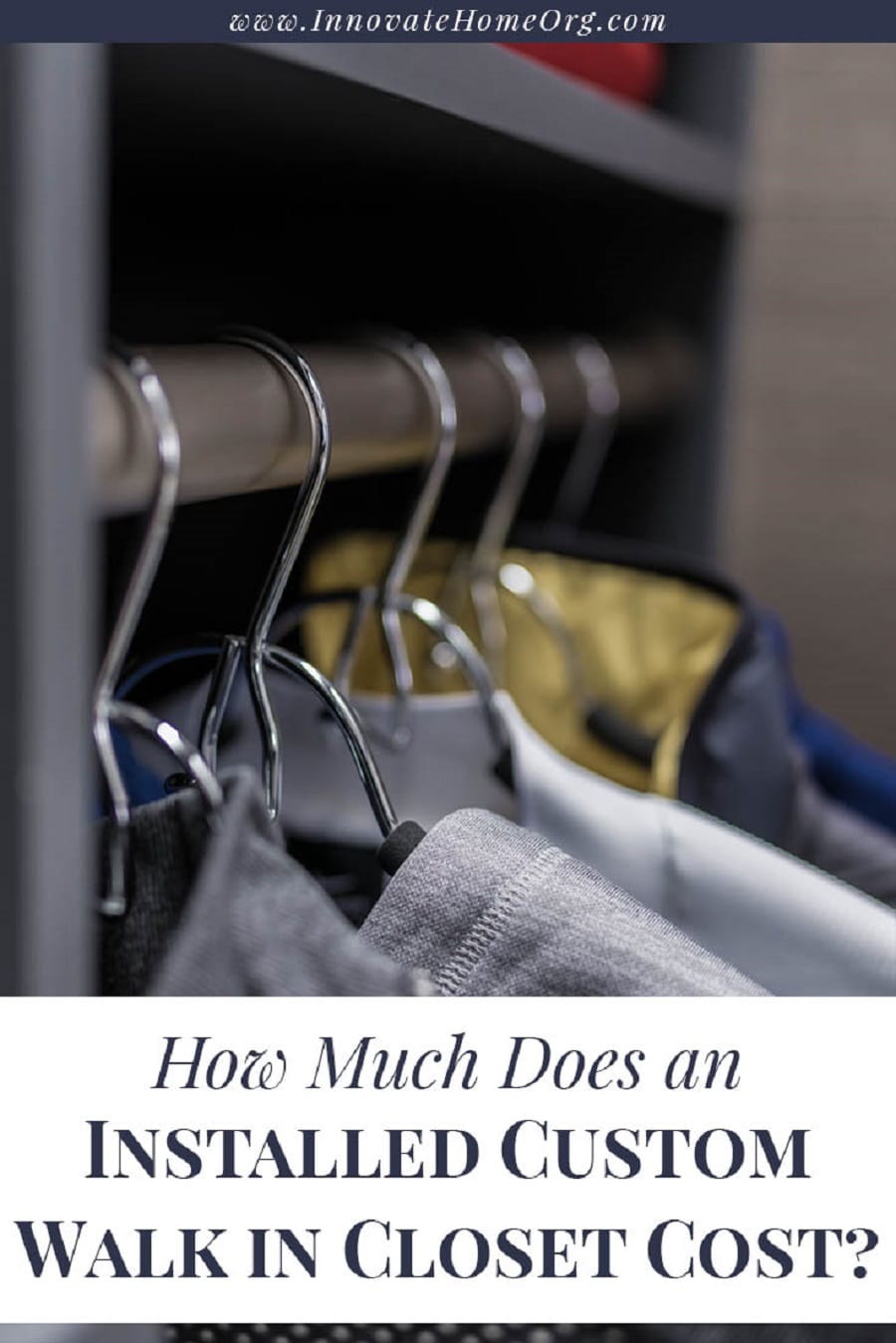 Question #2– What should you discard or donate?
Before you begin designing your new closet, it's smart to purge first. If you're like ALMOST EVERYONE at least 25% of the things in your closet haven't been touched in over a year. If this is the case, they're candidates to be discarded (if they're not repairable) or donated.
By freeing up room, you'll be able to actually see the clothes you DO wear in your new custom closet design.
Question #3– Which of the 3 basic closet elements (hanging, shelving and drawers) do you need in the new design?
I'm going to be blunt with you.
If you're like most people you overuse hanging (vs. shelves or drawers) in your closet.
And I'll tell you why you overuse hanging. And yes, it's another thing you can blame on your mother during your next therapist visit.
Mom harped on you to hang up your clothes. So, hanging has been drilled into your head. Of course, when you were growing up you had no choice but to hang your shirts and pants in your tiny reach in closet (there were no drawers and you only had one shelf at the top).
I would contend the biggest reason most people's closet's look like a disaster is ineffective hanging. And to cure your ineffective hanging practices read, How to Make Hanging in Your Closet NOT Look Like a Disaster!
But beyond ineffective hanging – most closets lack adequate shelving. It's not hard to see this when you have NO PLACE to put your shoes so they're in a jumbled heap on the floor. In addition, most people don't even know why they would want drawers in a custom closet design. And I'm here to tell you there's 3 big reasons to use drawers:
1) You can get 2.5 more clothes in a drawer than hanging.
2) You can get 'fully ready' in your closet without waking up your partner because you'll have drawers for socks, underwear pantyhose etc. and won't have to rummage through your bedroom dresser early in the morning.
3) Drawers can help you gain storage depth (more about this in Question 8).
So, ask yourself – which of the 3 basic closet elements (hanging, shelving and drawers) would you benefit from having in your walk-in closet?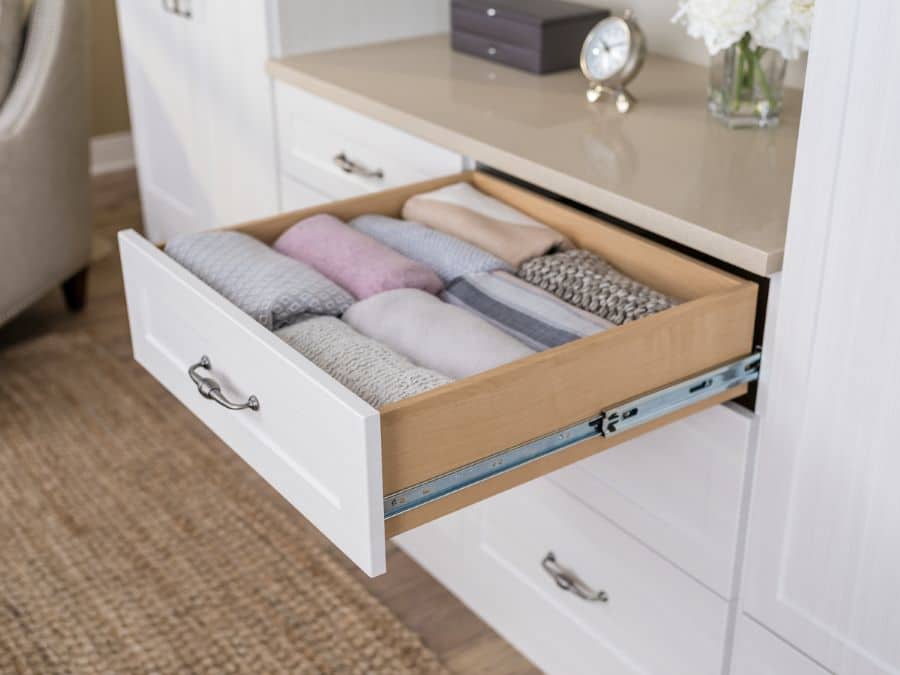 Question #4– How do you and/or your partner like to store today?
Some people are 'folders.'
Some people are 'hangers' (OK, they're not literally a 'hanger.')
And some would love to have drawers in their closet for a neater (and roomier) design.
An effective closet design DOES need to take into consideration how you use the closet.
After you've discarded and donated what you don't need/use (see question 2), take an 'inventory' of the type and amount of storage you need. Figure out the 'lineal inches' of storage you need using the chart below.
Your new closet needs to take into consideration how you like to store. However, you may need 'behavior modification' – as psychologist B.F. Skinner might have said if he was designing closets – to hang less and use shelves and drawers more to get more effective storage in the same space.
Question #5– Ask yourself, "What are the tricks of the closet design trade to gain space in the same closet 'footprint?"
Effective – and well-trained- professional closet designers are 'space-creators.' They help find space where (you thought) none existed before.
And you may be asking what are 'tricks of the closet design trade' I can apply to gain space? Here's 3 ideas which aren't 'rocket-science, but they are doggone effective AND used extensively in professionally designed closets.
Idea #1 – Use double hanging sections – For closets 90" or taller, double hanging (where one rod is placed above another) gets you 2X the hanging storage in the same vertical area. It's HANDS-DOWN the #1 strategy to add storage in a design.
Idea #2 – Get rid of 'dead gaps' – When you see dead spaces between fixed shelves and rods in an existing closet, you'll see a big reason your closet doesn't work today. Insist on adjustable shelving so you're 'dead gaps' are a problem of 'closets-past.'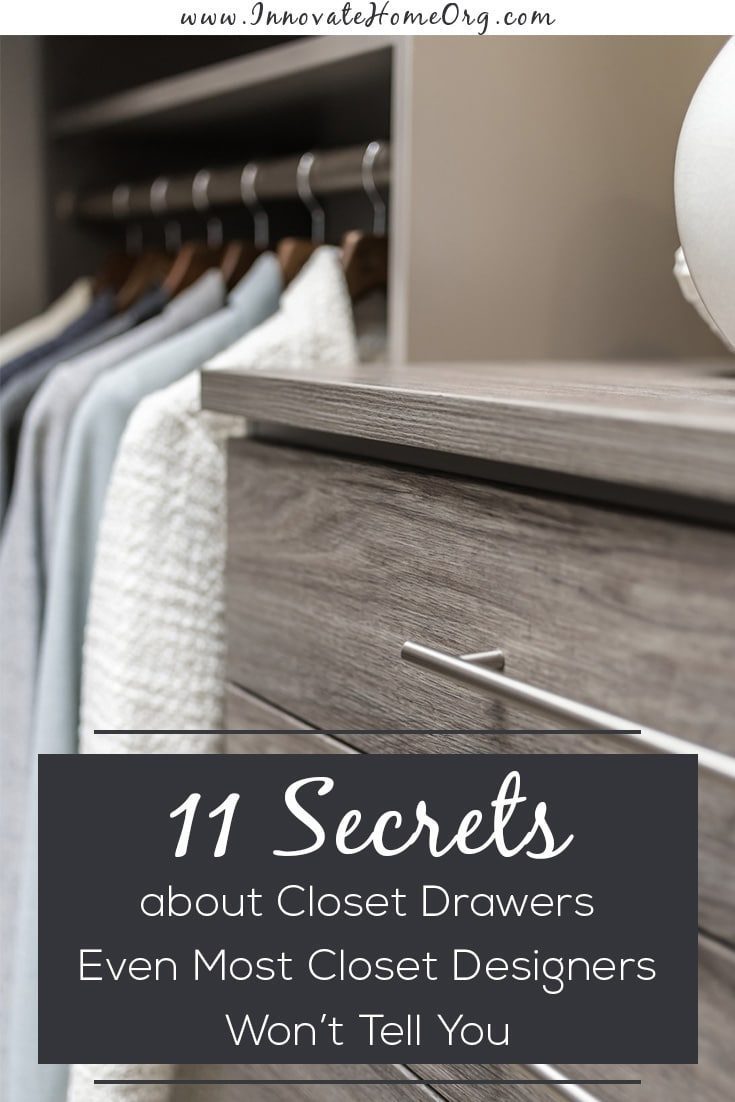 Question #6– How tall should your closet system be?
If the 'top shelf' of your closet is 24-30" from the ceiling (especially in closets with 8' or 9' ceilings) it's a tell-tale sign your system would get a grade of 'N.I.' ('er this is Needs Improvement) if it was being graded by your son, daughters', or grandkids kindergarten teacher.
The top shelf of the closet should be tall enough to allow for effective storage – but not too tall to have 'dead space' at the top.
Generally, for a closet with 8' ceiling heights I recommend the top shelf (A.K.A. the system height) be 84" from the floor (or 7' up).
For a closet with 9' ceilings use a 90" closet system height (allowing 18" from the top shelf to the ceiling). It's not too tall to reach the top shelf, but it also allows an effective amount of space at the top.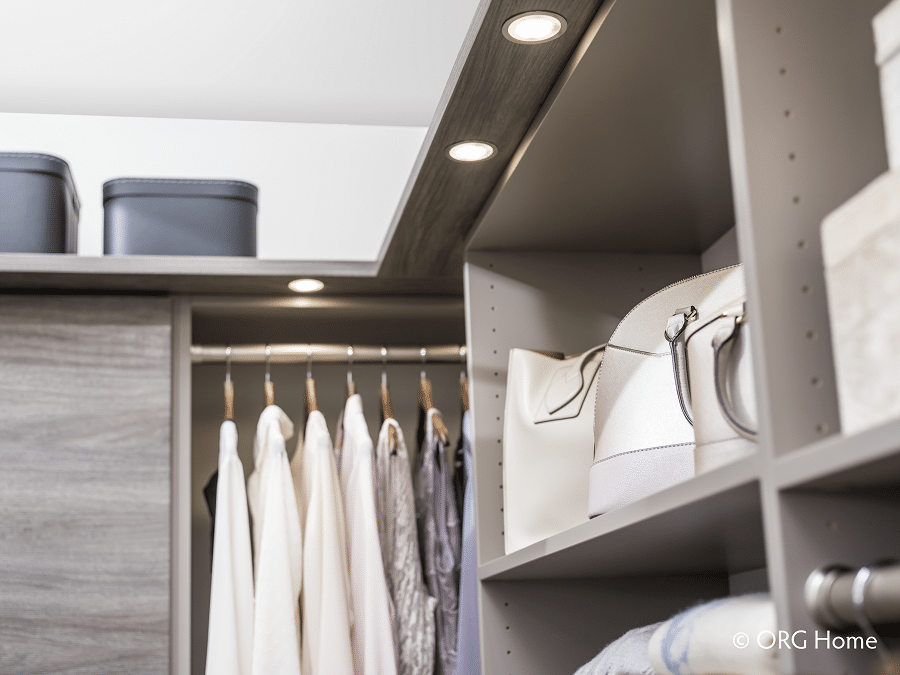 Question #7– How wide should your closet sections be?
The distance between closet sections will not only impact how expensive a closet is, but how well it performs over time. For example, if you make the closet rods too long (say greater than 36")– they'll sag. If you make drawers too narrow (say 18" wide) they won't fit 2 stacks of clothes. And if you make a slew of shoe cubbies, you'll find the space is not only inefficient, but the design is more expensive than it needs to be. For an efficient and effective closet, I'd recommend the following widths.
For closet rods – 36" or shorter.
For drawers – 24". This allows 2 stacks of clothes, but generally won't be too wide in the overall design.
For shelving – design shelves up to 48". This will allow the most efficient side to side storage at the lowest cost per vertical section.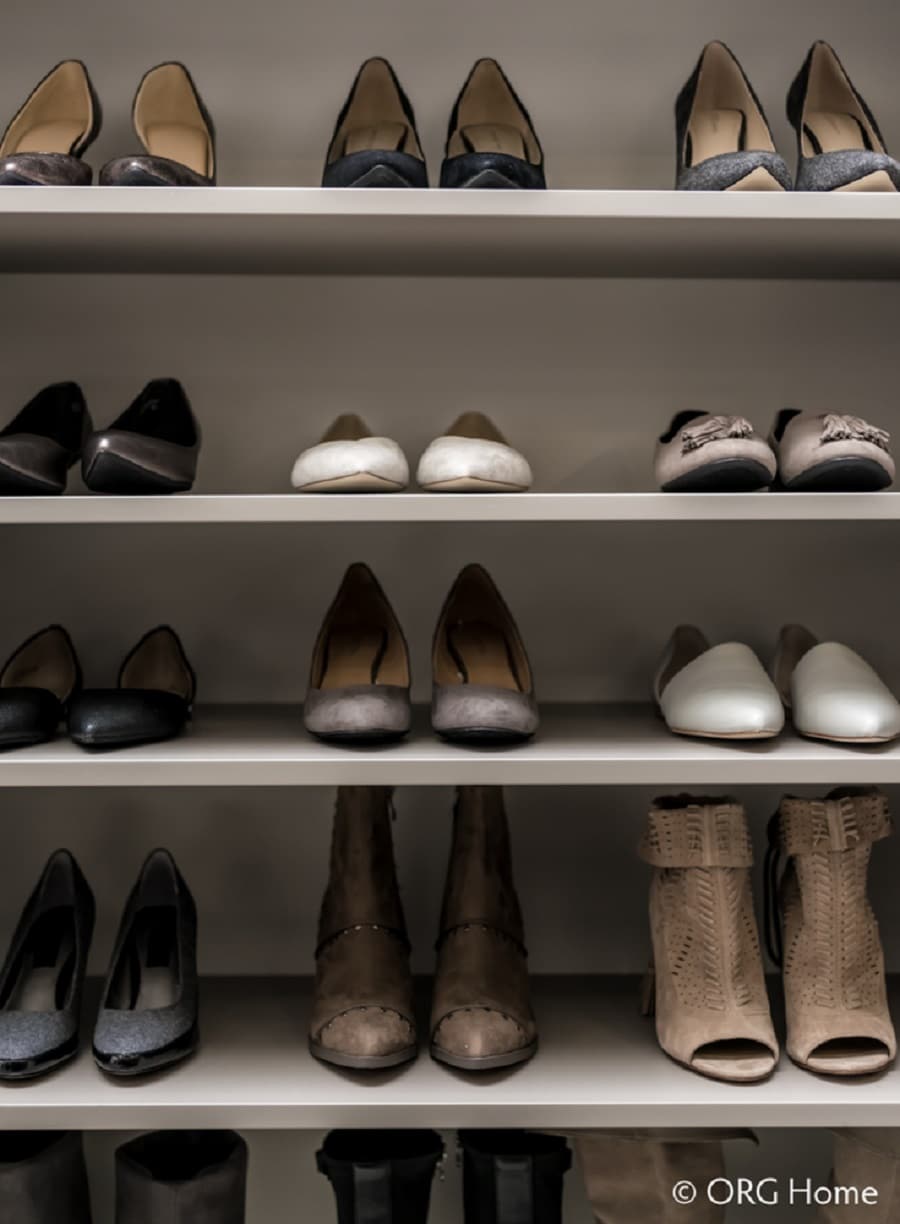 Question #8– How deep should your closet sections be?
A smart way to add storage to your closet without blowing out walls into your bedroom or bathroom is to add deeper sections. And while shallower 12" and 14" depths are common, if you're using drawers (or want to add a wardrobe closet in a bedroom), deeper sections are key to getting more storage in your same walk-in closet space.
For drawers, popular depths are 16" and 19" deep. And while you can also get 23" deep standard closet drawers, when you try to 'fully extend' the drawer, this depth is often too big for most closets.
And if you want to have add a fully enclosed closet wardrobe (where hanging clothes are behind closed doors), you'll need 23" deep sections to make it work (which rarely is possible unless you have a large walk in closet or are building a wardrobe closet into a room).

Question #9– What type of closet system should you use?
What most people don't realize is there are 3 basic types of closet systems.
Type #1 – Wall hung – A wall hung closet is 12" to 14" deep. The closet sections are attached to a rail which is tied into your studs. Wall hung systems are not built to the floor.
Type #2 – Floor based – A floor-based closet looks like built-in furniture. It's constructed to the floor. It can have sections which are deeper than a wall hung closet (for example 16", 19" and 23" are possible).
Type #3 – A combo wall hung and floor-based system – These designs use a combination of wall hung and floor-based sections. They provide the depth where needed (for example in drawer sections or for storage of towels or large handbags) and can use shallower wall hung areas for hanging or shoes (assuming you're not 6'9" and have size 16" shoes).
If you're comparing prices between closet systems, you'll see wall hung systems are cheapest (since they use less material). However, if you want to take advantage of deeper sections (see question 8) for more storage (or want a more finished furniture look)– you'll need to go with either type 2 (all floor based) or type 3 (a combo of wall hung, and floor based).
To compare wall hung and floor based closets deeper (bad closet pun intended), read How to Choose between a wall hung and floor mounted closet organizer.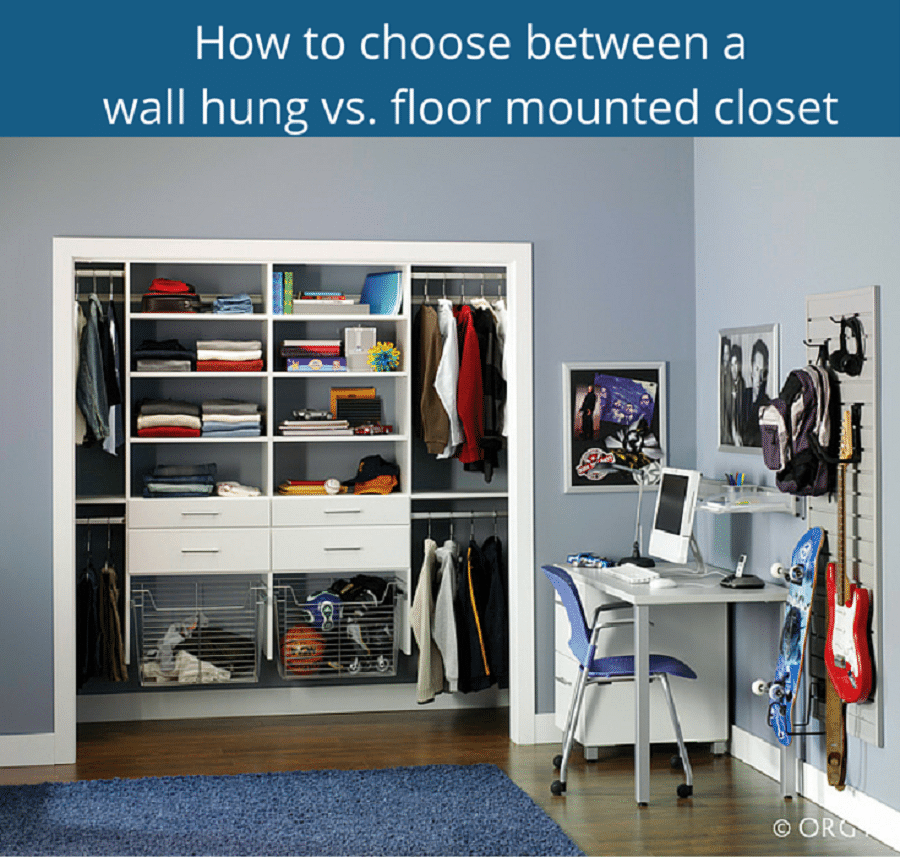 Question #10– What type of door or drawer style should you choose?
You've seen the 'generic looking' white flat closet systems at IKEA. And if there's one thing you know is you don't want this 'stamped-out-of-a-box' look.
And if this describes you, you'll want to thoughtfully choose the door and drawer styles in your closet. Consider the ever-popular Shaker design (which is the #1 seller in our town of Columbus Ohio) or opt for a traditional looking Raised Panel or Beadboard design. And if you want a clean, contemporary look – the flat Euro style drawer front is fine (assuming it's not white and boring – IMHO).
And also remember to choose drawer and door styles which compliment the rooms next to your closet.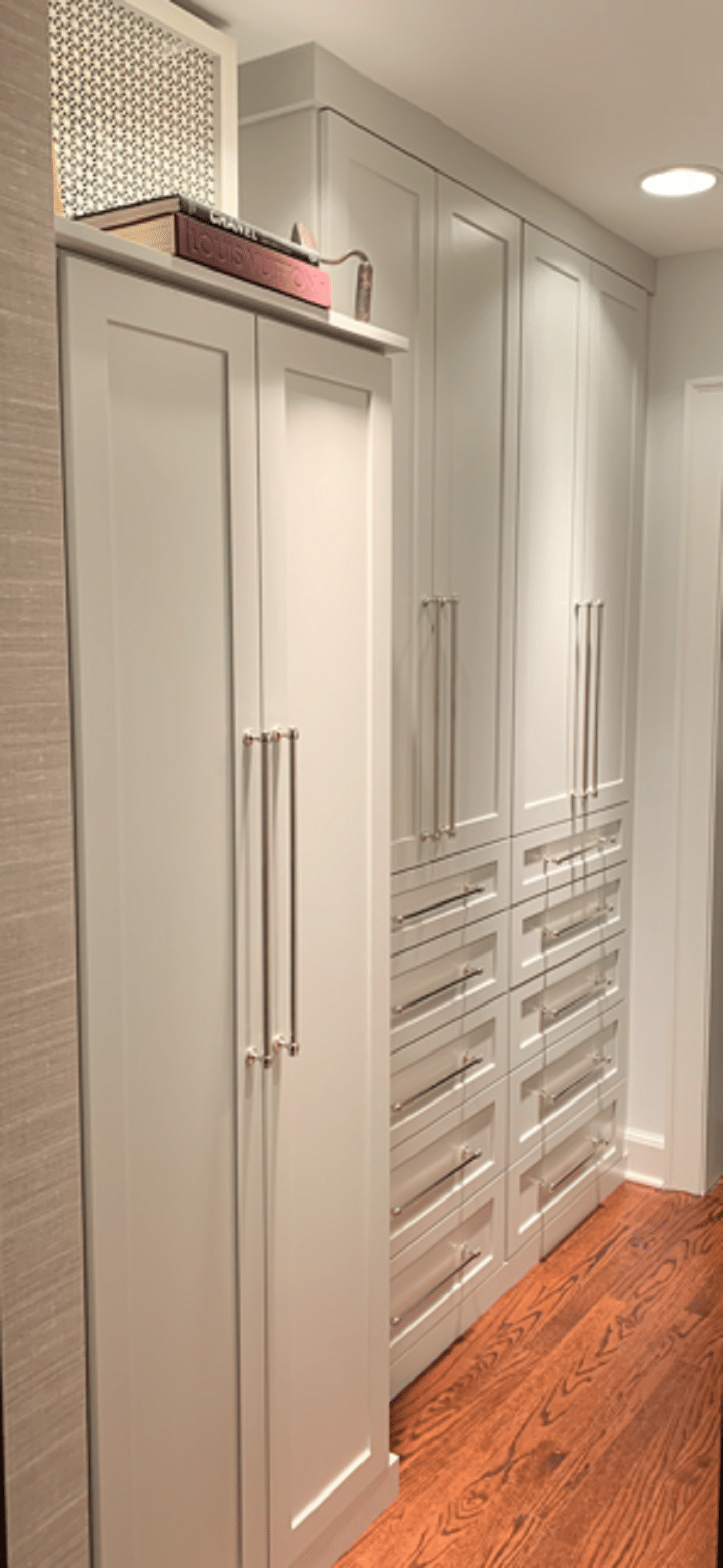 Image source: Beth Patrick Closet Factory
Question #11– What colors or patterns will look best?
The good news about custom closets is you're not forced to accept a boring, white system with flat drawers like you'll find at big box stores.
Choose a matte finish, a gloss finish, or a wood grain. Or to really mix it up consider a two-tone designer closet which is hot right now. However, make sure to keep in mind two things when choosing patterns and colors.
#1) If the closet doesn't have a window (and you're NOT planning to upgrade with lighting) be careful your color scheme isn't too dark.
#2) If you'd love a laminate closet with a wood grain look (and will be installing it on a wood floor), make sure the closet grain pattern doesn't clash with your flooring grain pattern.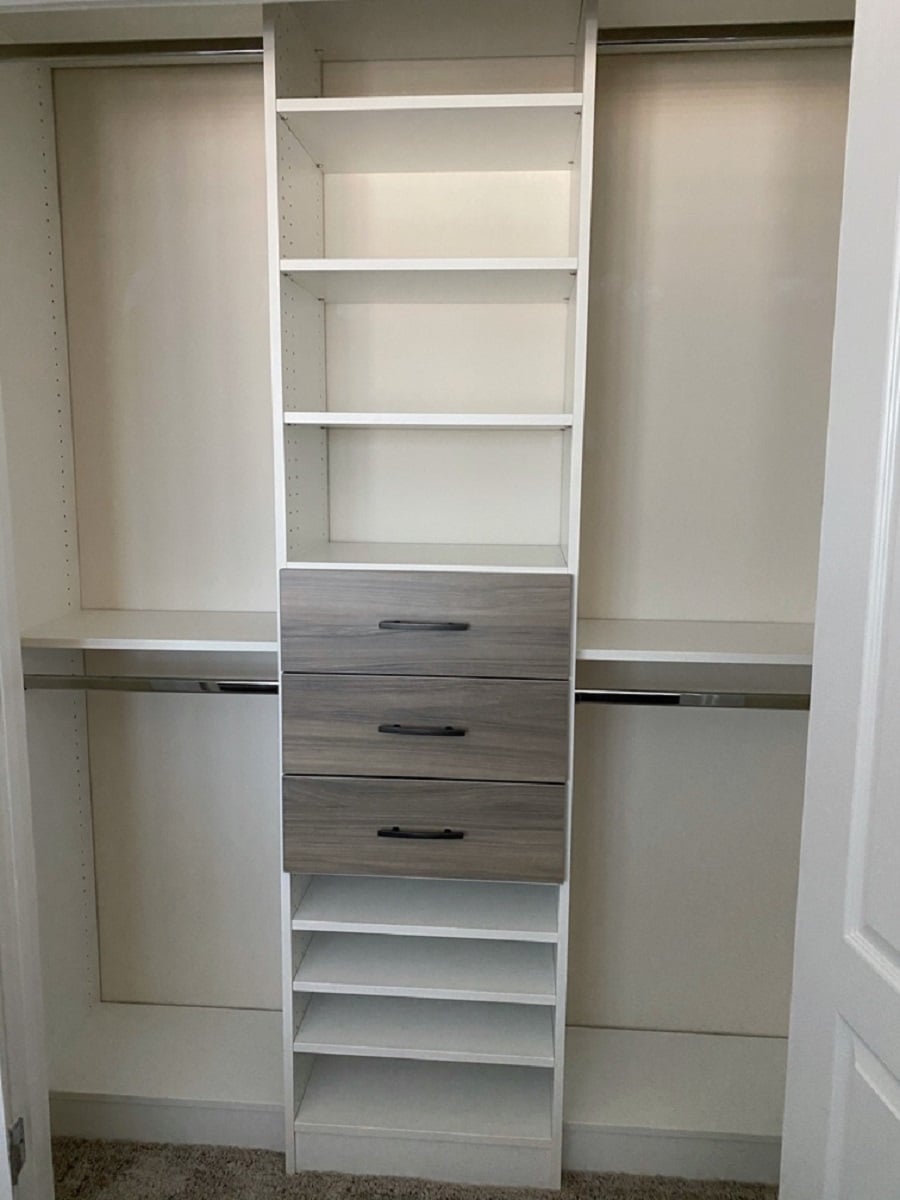 Image source: Jessica Behnke Designer
Question #12– What hardware will you use for your rods, door, and drawer handles?
Perhaps you've never thought about this, but the hardware (rods and drawer pulls) are the 'jewelry' of a closet design. They're a place (even if you choose a 'mundane and cost-effective' flat white drawer front) to add style. Hardware is like a fun scarf with a low-key business pants suit. Hardware is like a bold tie with a boring men's suit. It's where you can have fun… on a budget.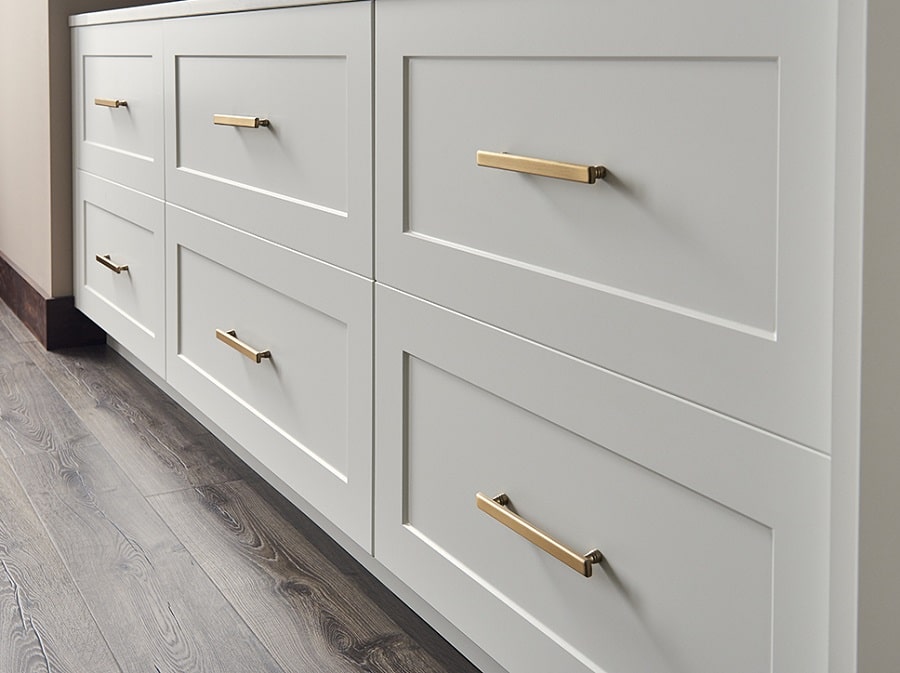 And for your closet if you're choosing a lighter colored pattern, 'go bold' with your hardware. For example, for a contemporary or transitional look – pair Euro or Shaker style cabinets with bold matte black handles. Or if you're more traditional, choose a light-colored raised panel door with oil-rubbed bronze handles. Or if you're using a dark navy or mocha-colored system, go with lighter brushed gold or brushed nickel handles for contrast.
Think contrast – and style – when choosing rods and handles.
Question #13– What kind of trim will be used?'
There are 2 ways to trim the bottom of a floor-based closet. One is to have 'toe kicks' – where the closet is indented. The second is to have finished molded base trim.
The molded trim is more expensive than the toe kicks – although IMHO it looks better AND you don't have to worry about 'dust bunnies' collecting in the edges like you do with toe kicks.
If you want a more stylish closet, insist on base trim. If you want a lower cost closet, the toe kicks work fine (but don't look as nice).

Question #14– Did you remember the right options, so your space works best for you?
When developing a plan for your new closet think about all the things which frustrate you today. Then find products to solve these problems.
For example, if you HATE, HATE, HATE looking at the cheap plastic laundry bin (and smelling the 'wonderful' -sarcasm intended- contents in it), a fold down laundry hamper is a closet option which will be right up your alley.
Or if you hate your scarves landing on the floor after falling off your hangers, a scarf rack is a smart choice.
Or if your jewelry is constantly getting tangled on the 'shoe tree' on your bedroom dresser, a pull-out jewelry drawer tray may have your name on it.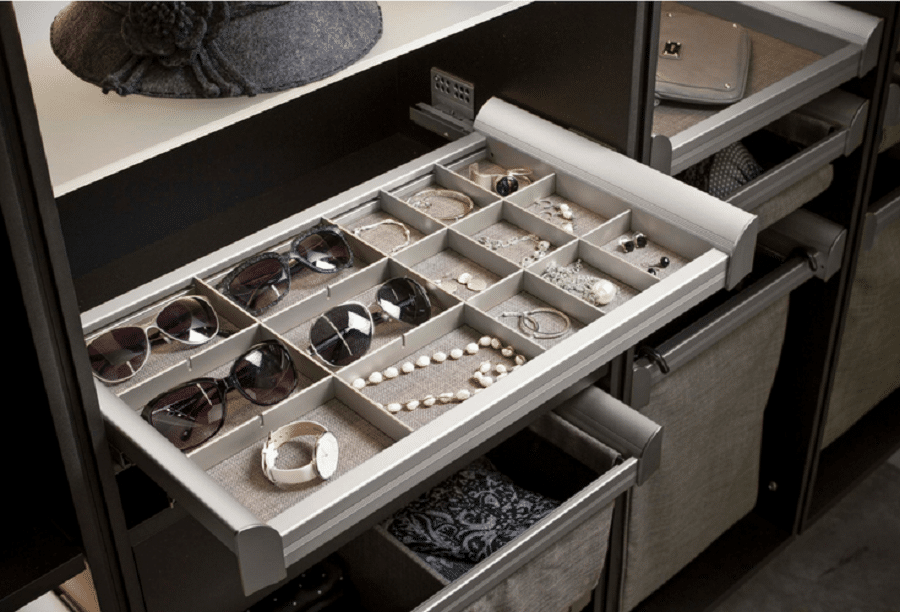 Ask about options, before completing a closet design.
Question #15– Have you had the opportunity to 'see' your closet BEFORE making a purchase?
If you're like most people looking at a penciled 2D drawing of a closet design (like you'll see below) means NOTHING to you. You can't visualize how it will work or if it will be too tight or fit your things.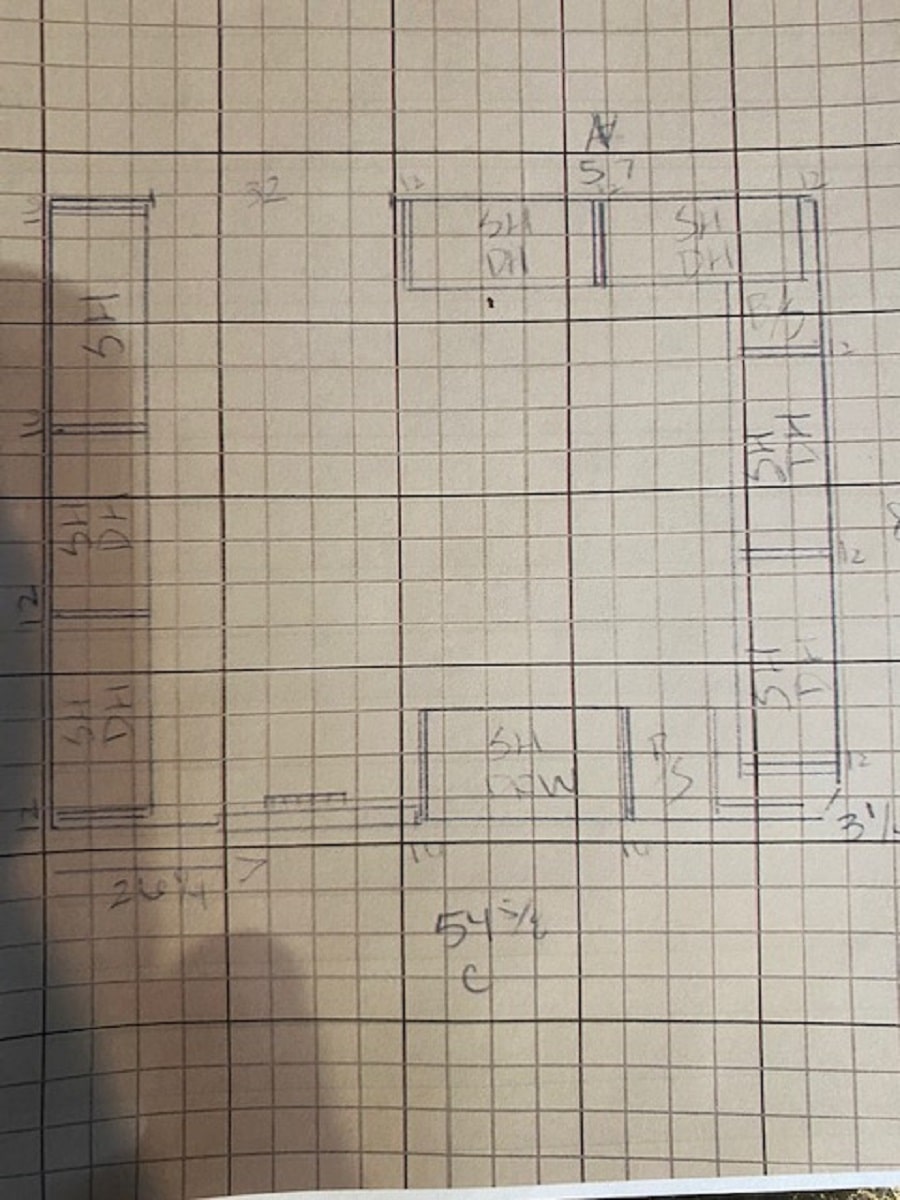 You need to see your closet design in 3D!
It's for this reason you should insist on a 3D design before putting down a deposit for a custom closet system. Even as a designer of custom closets myself, I can't tell you how many times I 'thought' something would work, but when I created my 3D design I tweaked it to look and/or work better.
See for yourself (in 3D) before shelling out money.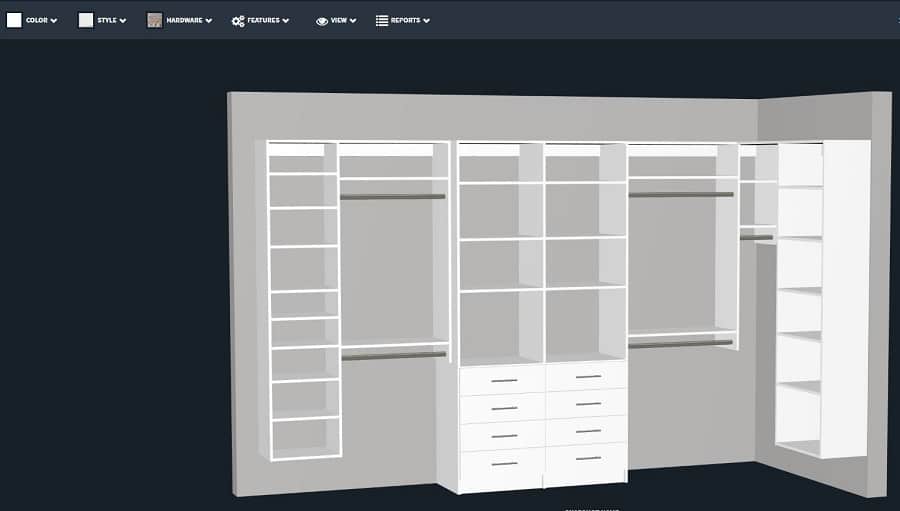 So, are you more confident you know the right questions to ask to get an efficient, effective, and elegant custom closet?
If I did my job in this article you should now be better prepared to ask the right questions to get the closet of your dreams (and if not, feel free to let me have it). And although I worked hard to provide 15 smart questions to ask, I know closets can be as unique (and quirky) as each of us are (even if we don't care to admit it!). Given this fact, you may have specific questions about your closet you need answers to.
And if this is so, please ask them in the comments below.
And lastly, if you're in Columbus Ohio – and looking to have a professionally designed closet – I'd be honored if you contacted my business – Innovate Home Org. Call 614-545-6888 or click for a Free 3D Design Consultation. And if you're not in Columbus, comment below and I'll see if I can refer you to a friend of mine in the biz.
Thanks for reading.
Mike
##
If you'd like more information on garage, pantry, entryway or custom closet design follow me on LinkedIn @MikeFotiLinkedIn.
---
Tags: 3D closet design, base trim in a custom closet, closet design Columbus, Columbus 3D closet design, Columbus closet accessories, Columbus custom closet costs, Columbus custom closet design, Columbus floor based closet floor based closet, Columbus wall hung closet, cost of a custom closet, custom closet design, depth of a custom closet, drawer styles in a custom closet, fold down hamper in custom closet, hardware for a custom closet, height of a custom closet, patterns in a custom closet, Shaker door style in a custom closet, storage habits, types of closet systems, wall hung closet, widths of a custom closet