11 Hot Trends (and practical facts) from ClosetCon 2022 You Need to Know Before Designing Your Master Closet or Home Storage Space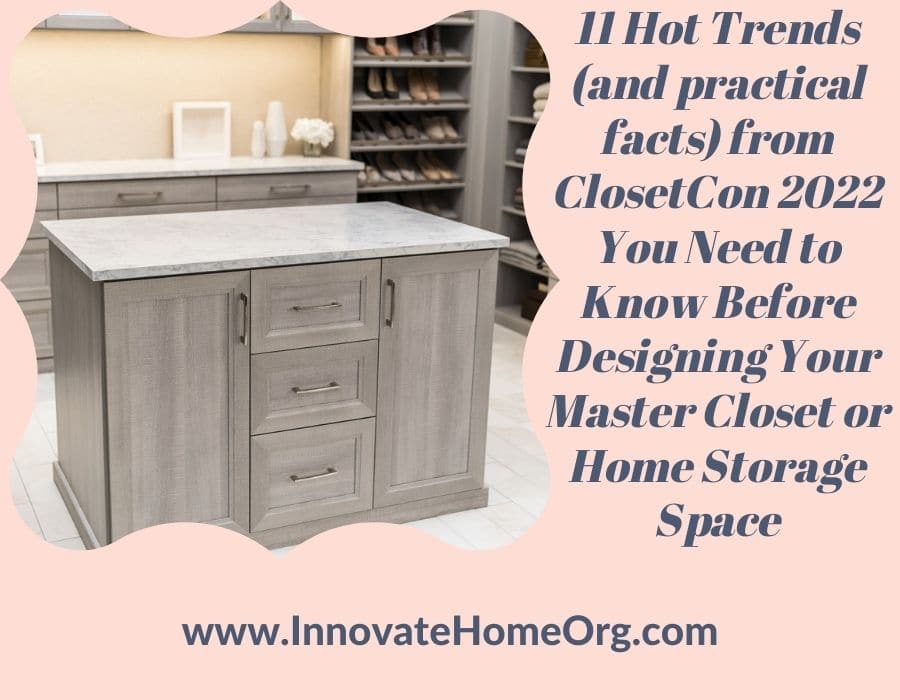 Designing a master closet, home office or mudroom can seem daunting, especially if you've never done it before. How can you make sure your design will be easy to use? How can you make sure it won't be 'behind the times' before it's installed? How can you make sure you're practical in your planning and get a stylish project which stays on budget?
These are exactly the questions the 2022 ClosetCon (which is the major home storage industry Conference) was there to solve. And since most of you are NOT 'closet geeks' (like me and the others attending the conference a month ago in San Diego – OK, you don't need to feel too sorry for us), I've decided to 'bring the conference to you.' And how might I do this, you may ask?
Well, you'll find below 11 hot trends (and practical facts) from the show to make more informed decisions for your new master closet, pantry, mudroom or home office designs. So, let's check out these trends and facts so you'll end up with a more stylish and successful project.
Part 1 – Making your storage space easier to use
Trend #1) Your design can be 'realer' (OK, it's not a word, but I'm using it anyway) to you
If you've ever 'attempted' to understand a new home floor plan or a hand-sketched 2D closet design (like, you'll see below) you know how it's difficult to near-impossible to imagine how your how your new closet will function for you from this type of drawing.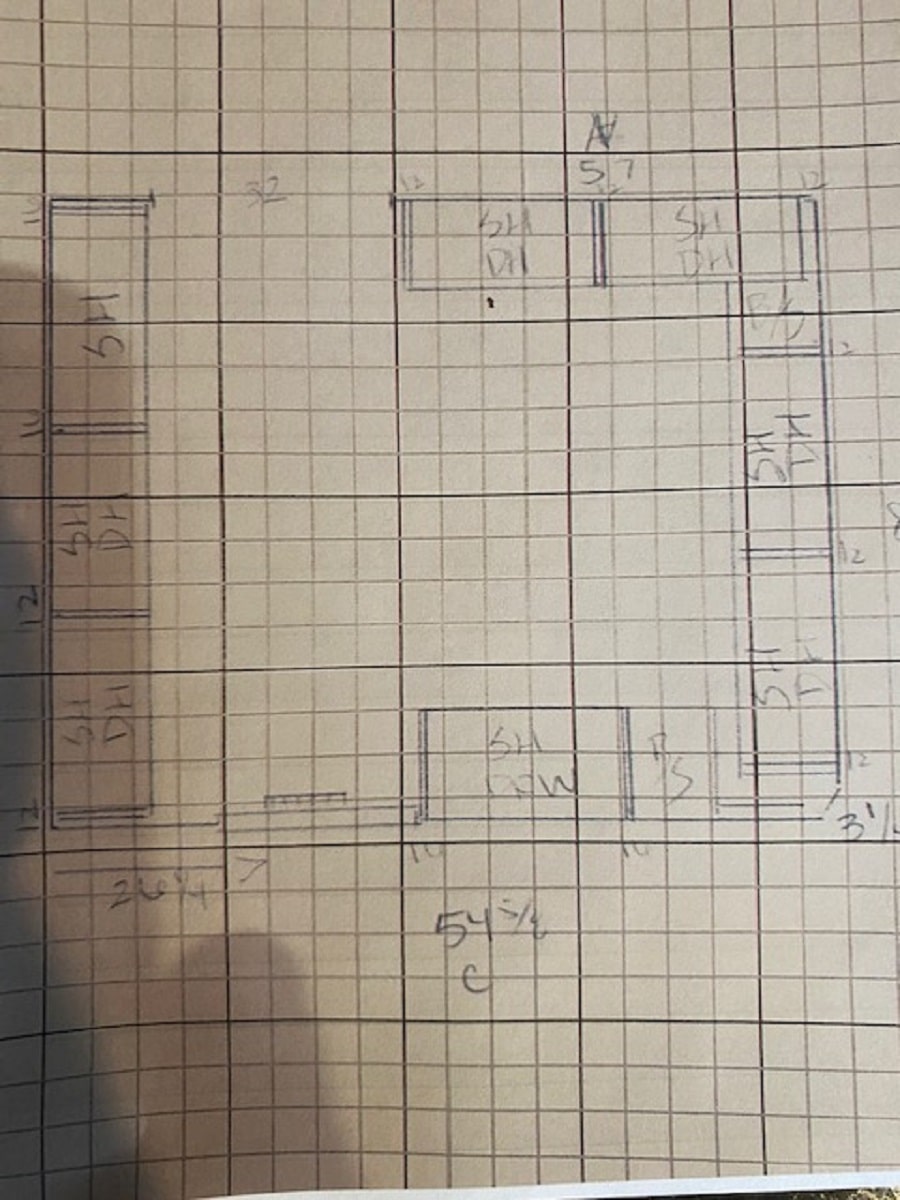 And this is exactly why 3D closet design software (like that from ClosetPro Software) is essential to getting a finished master closet (or any storage space for that matter) which will work like a dream for you.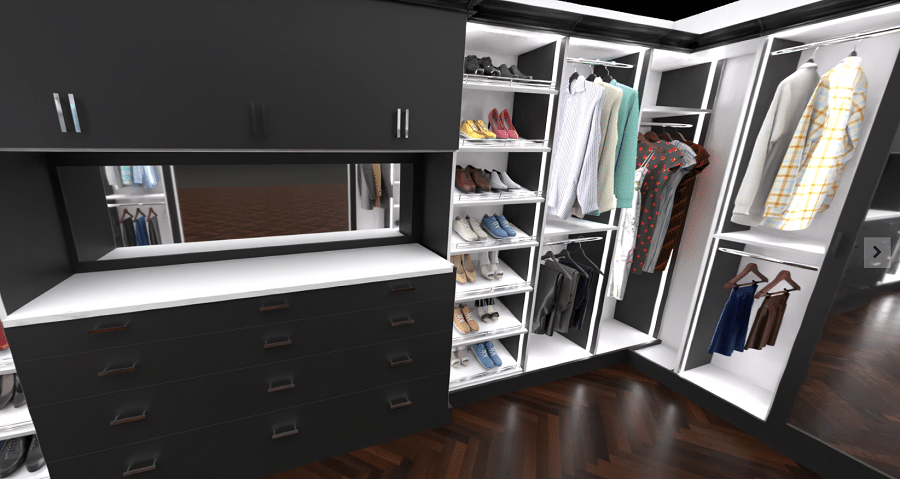 Image Source: ClosetPro Software
Programs like this not only provide a 3D interactive look so you can 'walk through' your new closet (before spending one thin dime), but you can change the door and drawer faces (to see what style you like) and design your closet even if it has crazy sloped ceilings and too many windows. And to top it off it you'll get real-time pricing so you can see the impact (whether you like it or not) of how design changes impact your finished project cost.
Trend #2) Your design can be brighter with lighting
A dark closet can be a painful closet to use. And if you're color blind, the single ceiling light does little to help you tell your blues from your blacks.
So, if you want a closet which is easier to use, then you'll want to explore advanced lighting options. And while you might not have the room for a fancy chandelier over a big island, you can still make a big impact with features displayed at the show like under shelf lighting, LED lighting embedded in the side support panels of master closet systems, or even in drawer lighting.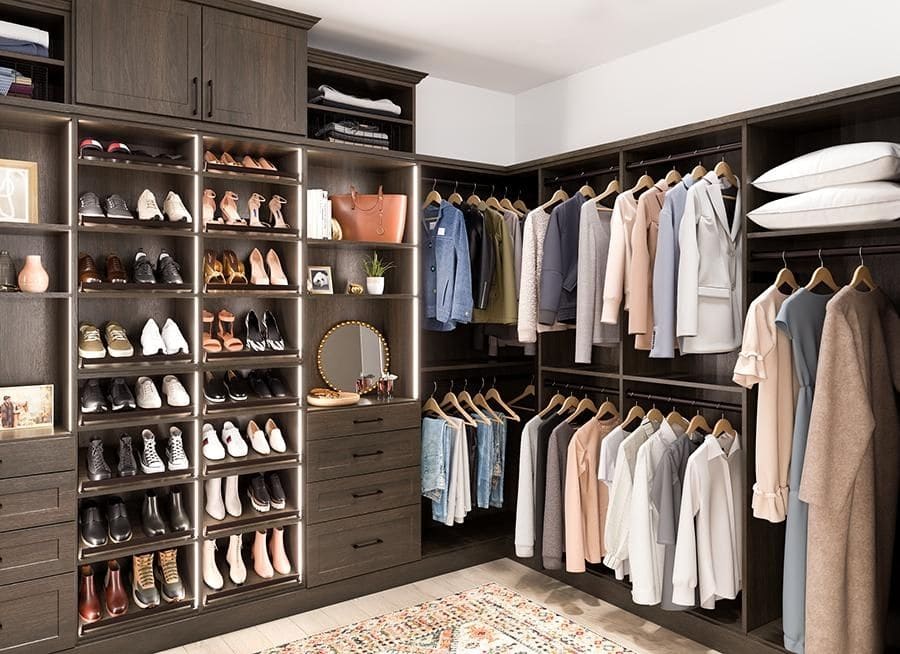 Why continue to let your closet be the darkest spot in the house?

Trend #3) Your design can be safer
When you think about closet design usually 'safety' is not the number one concern which comes to mind. You're worried how the heck you can make sense of this mess. However, safety should be a more important factor than you think. For example, you'll want a closet which is safe (and practical) to use if your mobility isn't the greatest. And this is where products like pull down closet rods (which aren't new – but are getting fancier with newer remote-control units) can come in handy.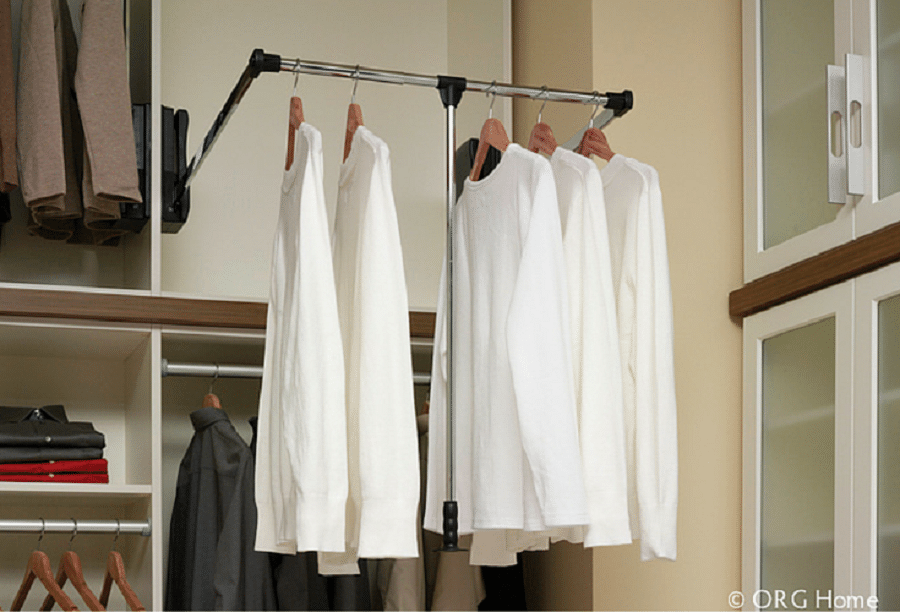 And the other way to make your closet (financially) safer is to think about the design and location of your safe. You see when most people think about home thefts, they picture a 'guy' (sorry to be sexist here) breaking in when they're not home. However, the largest number of thefts occur in broad daylight by people who know where you store your valuables (which is often in the master closet). This is why there were a good number of safes specifically designed for closets on display at the show.
Trend #4) The uses of organization products can be broader
Years ago, the organization industry was thought of as the 'closet industry.' Well – this is true no more.
As homes have become more cluttered (because we keep buying more stuff) and the rooms are getting busier (as they've increasingly started to take on multiple uses – like your spare bedroom which doubles as a home office) – the need to design home organization products which can (and do) work in multiple rooms has become more important.
And these 'multi-use' home organization products were on full display at ClosetCon 2022. For example, this elegant wall organization unit – originally designed for jewelry, necklaces and shoes uses in closets, is now finding a home in entryways and home offices.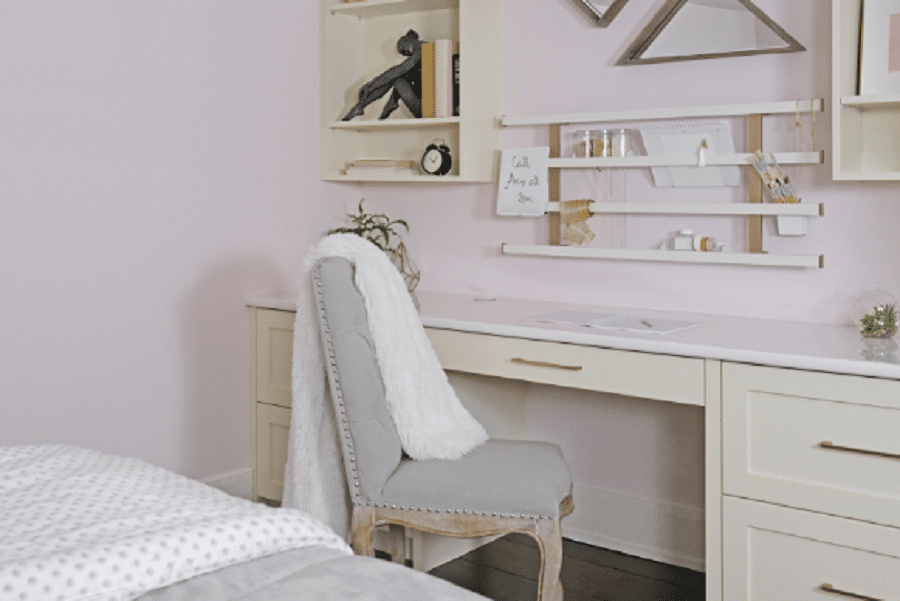 Image Source: Hafele
And slatwall products have transcended your not-so-clean-garage – and evolved with more accessory products to find a permanent place in your home office.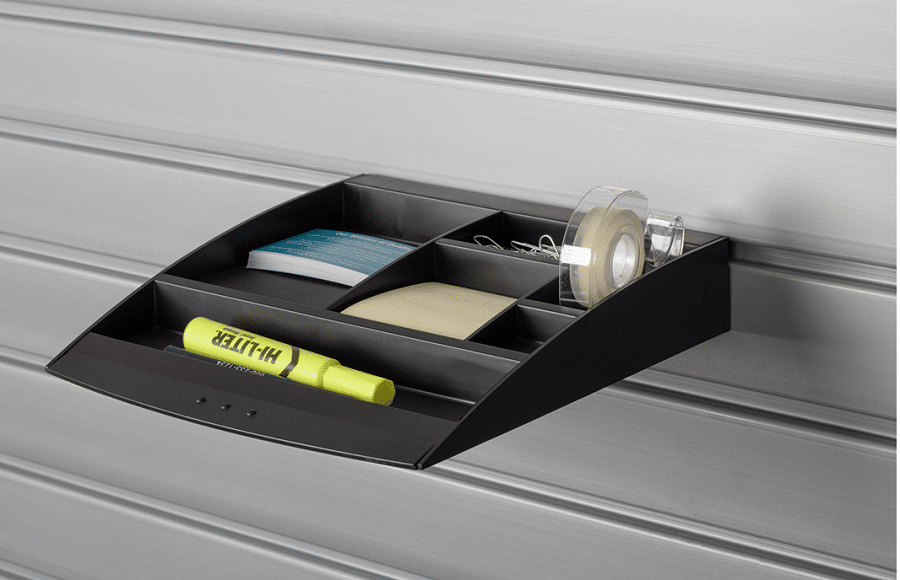 Image Source: HandiSOLUTIONS
And what's cool about these materials is they're not fixed storage units. You can move storage components around as your needs change.

Part 2 – Making sure your design is not behind-the-times
Trend #5) Designs are getting cooler
Back in the 'old days' closets where simply white laminate boxes which weren't more exciting than the off-the-shelf designs you pick up at Home Depot or IKEA. But, oh how things have changed.
Now you'll see new materials cropping up everywhere. And one fun material creeping into a closet design near you is leather. You can find leather drawer faces, faux-leather support bars for jewelry organization wall units and even leather closet rods. Now, how's that for luxury?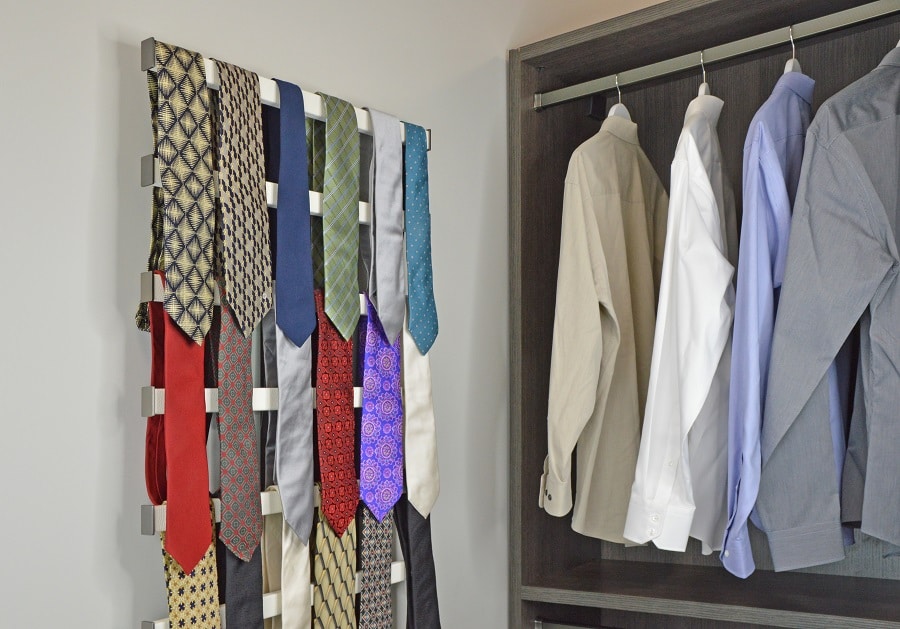 Image Source: Tag Hardware
Trend #6) Finishes are getting darker and moodier
I don't know about you, but I just love the black window frames which contrast the Modern Farmhouse facades which are hot, hot, hot in the new homes being built in Columbus Ohio.
And I can tell you from ClosetCon the popularity of dark finishes is NOT only limited to windows in your home. No, in closet finishes matte black is blowing up! Whether it's in closet poles, closet pulls and handles or closet wall organization systems, matte black is quickly becoming a favorite of owners across this country. Today, matte black and brushed nickel or in, and the traditional look of oil rubbed bronze and polished chrome is out!
Trend #7) Drawer fronts are getting groovier
OK – I don't mean to go all '60's' on you, but one of the fun things I saw at ClosetCon was a booth by Liopac and Company with some of the coolest door and drawer fronts I've ever seen. And the reality is, even if you don't want (or can't afford) fancy patterns in your entire closet – you CAN make a statement with bold, countered door and drawer fronts like you'll see below.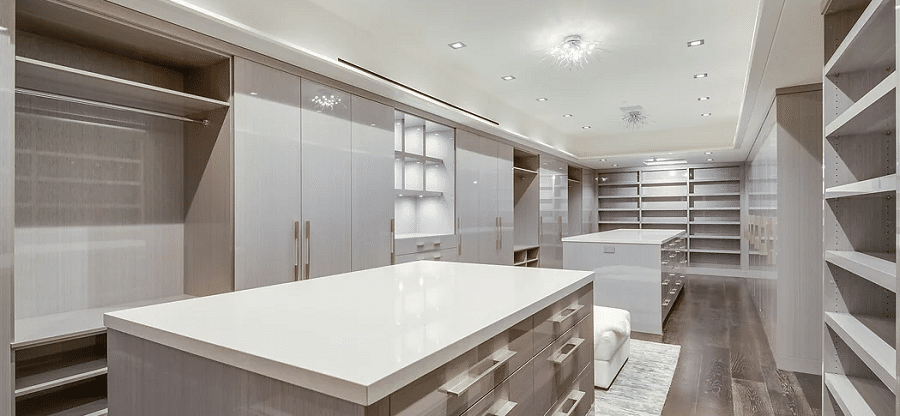 Image Source: Liopac & Co

Trend #8) Colors are getting warmer
If you're 'sick and tired' (as Mom used to say) of whites and grays dominating interior designs, you can finally feel free to break out of this design rut.
The warmer color trend is back. It's no longer a 'flow-paux' to use earth tone colors in your designs. Colors like the 'new natural' shown below are in for home storage designs!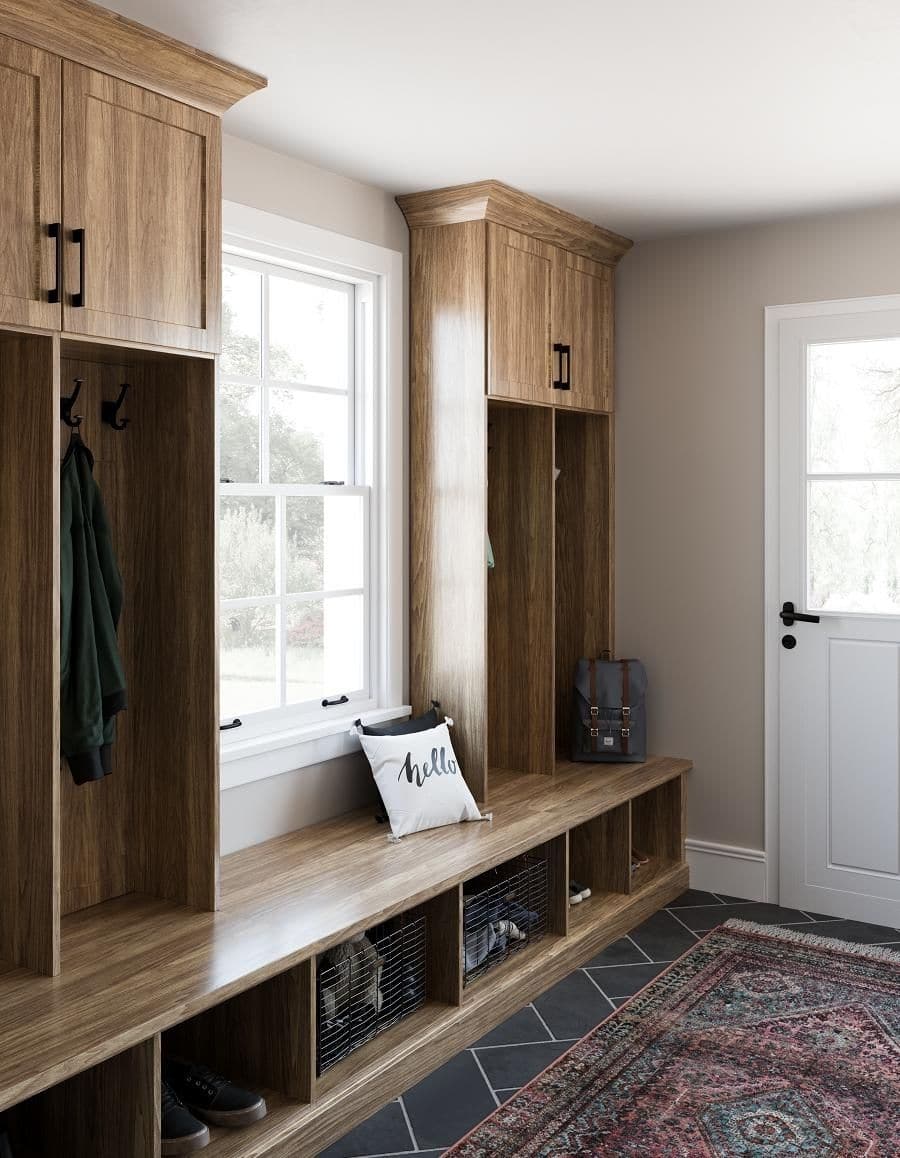 Part 3 – Practical facts to keep in mind when buying a closet or home organization system
Trend #9) Lead times are getting longer, and supplies are getting tighter
This may come as no surprise to you, but if you're planning a closet remodel, or adding a new home office organization system, expect it'll takes significantly longer between the initial design and installation to get the project completed.
Supply chains and labor shortages are rearing their ugly head in the home organization industry. So, if you were expecting a quick-turnaround project, think again! Lead times expressed in double-digit numbers of weeks IS NOT uncommon.
Planning in advance is critical.
Trend #10) Designs are getting costlier
Back in the 'good ol' days' free estimates and free designs were as common as political disagreements are on Twitter and Facebook today. Well – I'll be the bearer of bad news and tell you this 'free lunch' ('er common practice of free 3D design consultations) is becoming less common.
As closet lead times stretch out, more closet companies have decided to charge for their designs (which in the case of more involved closets and home storage spaces – are time-consuming to do). So, don't be (unpleasantly) surprised if you have to pay a design fee (which is often credited back if you purchase), just to get an idea of price for a new custom closet.
And if you have no idea of cost (which is why you wanted the Free design in the first place), I'd recommend reading How Much Does an Installed Custom Closet Cost (with 5 ideas to save you money).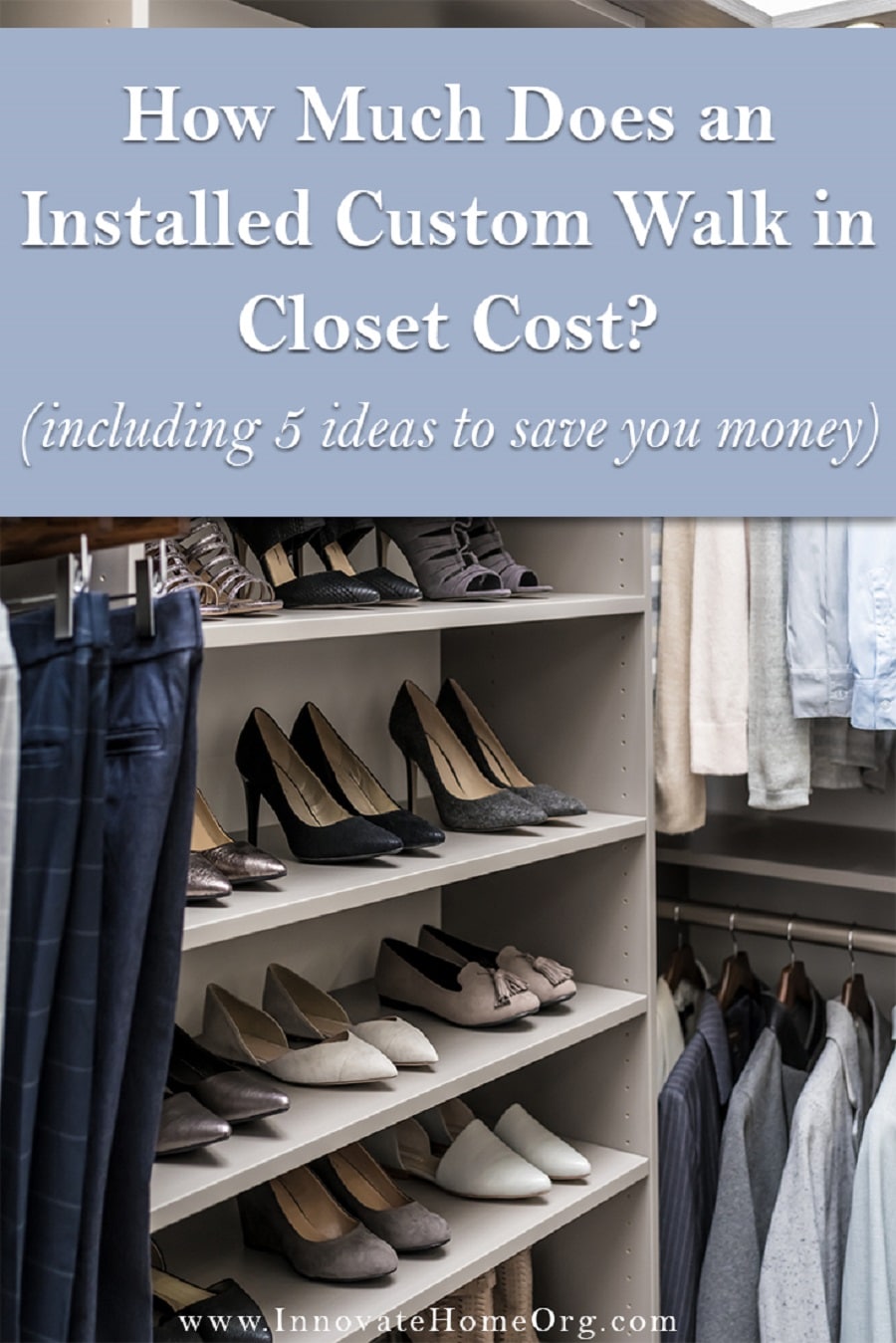 Trend #11) Choices in closet and home organization companies is getting wider
Since the home organization (and custom closet design) industry is expanding rapidly, you'll find you not only have more product choices, but also a wider selection of manufacturing, design and installation companies to choose from as well.
You'll find custom closet companies who'll design, fabricate and install systems to fit around every light switch, sloped ceiling and poorly-located register grate you've got.
You'll find cabinet makers who've entered the closet biz so they can keep their manufacturing equipment kicking up even more sawdust.
And you'll even find home organization chains (like The Container Store) buying up custom closet manufacturers to have more capacity and capabilities (and go beyond standard-sized modular closets). Their selection is larger than ever.
And while more choices are (generally) a good thing, it can make you more confused finding the right closet company for your project. To get clear on your right choice read How to Compare Custom Closet Companies (and get more bang for your buck).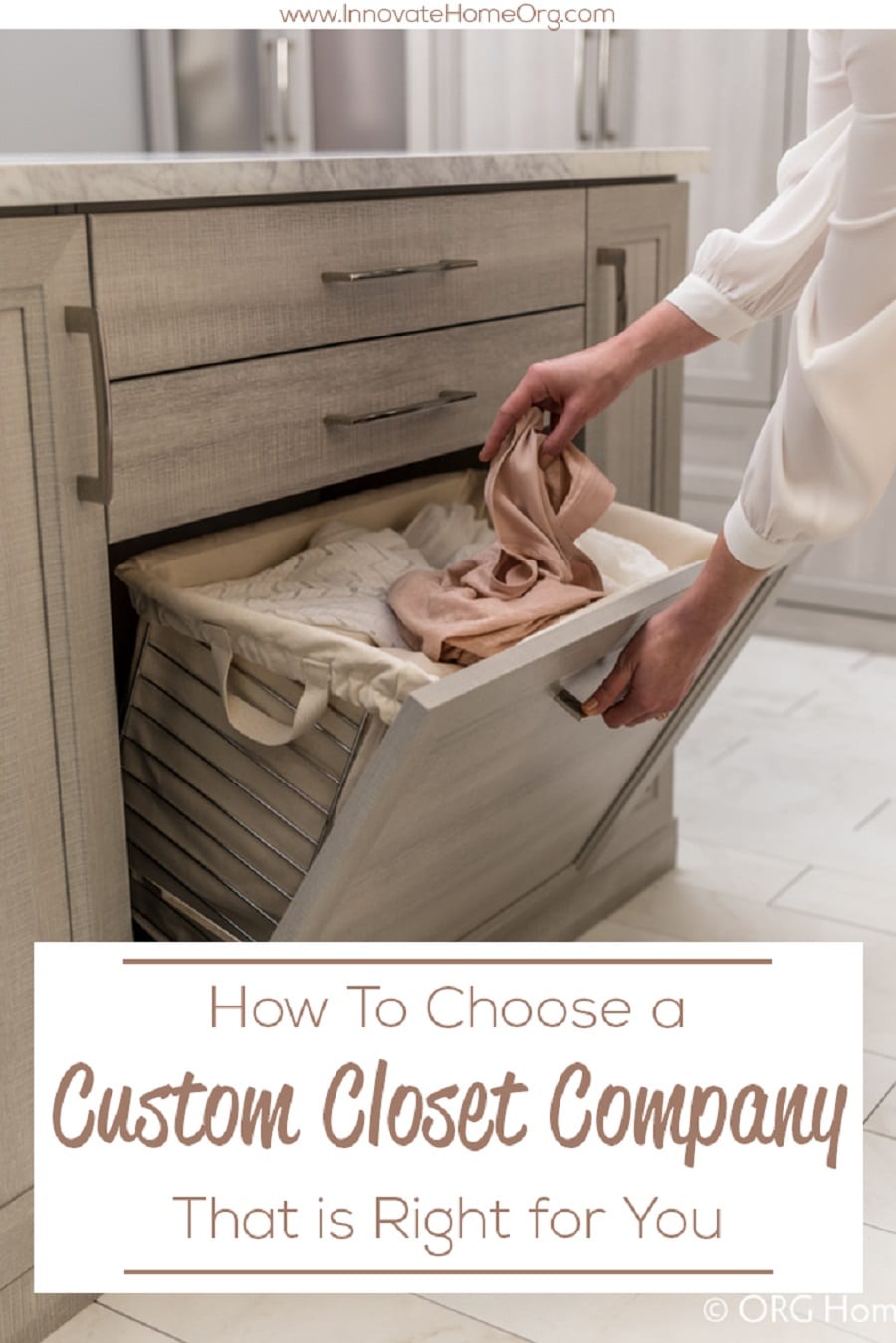 So, are these trends and facts pointing you in the right direction? Do you need help with a new closet or home organization design?
I hope these 11 trends and facts have given you valuable insights to make an informed decision before selecting products or a company to assist with your next home organization project.
And while this article may have answered some of your questions, I know there's a lot to wrap your arms around with a custom home organization design. And if you're in Columbus Ohio – and building a new home (or remodeling)– me and my team would love to help with your design, no matter how early you are in the planning stages.
Call 614-545-6888 or click for a Free 3D design consultation. Send us your plans to get input, avoid costly mistakes, and NOT end up with a closet (or home office, entryway, or pantry) which is a pain to use.
And since most of you likely DO NOT live in Columbus Ohio, I'd be glad to introduce you to some of my closet buddies across the country who could help you. Comment below where you live, and I'll see if I can come up with a referral for you.
Thanks for reading – Mike
---
Tags: 2022 closet costs, 3D closet design, 3D closet design Columbus, closet lead times, closet lighting, closet trends, ClosetCon 2022, Columbus closet trends, Columbus custom closet, cost of an installed custom closet, custom closet design, darker closet finishes, elegant wall organization systems, pull down closet rods, safes in closets, textured closet doors, textured closet drawers, warmer closet colors