How to Convert Your Guest Bedroom into a Home Office AND STILL KEEP THE BED!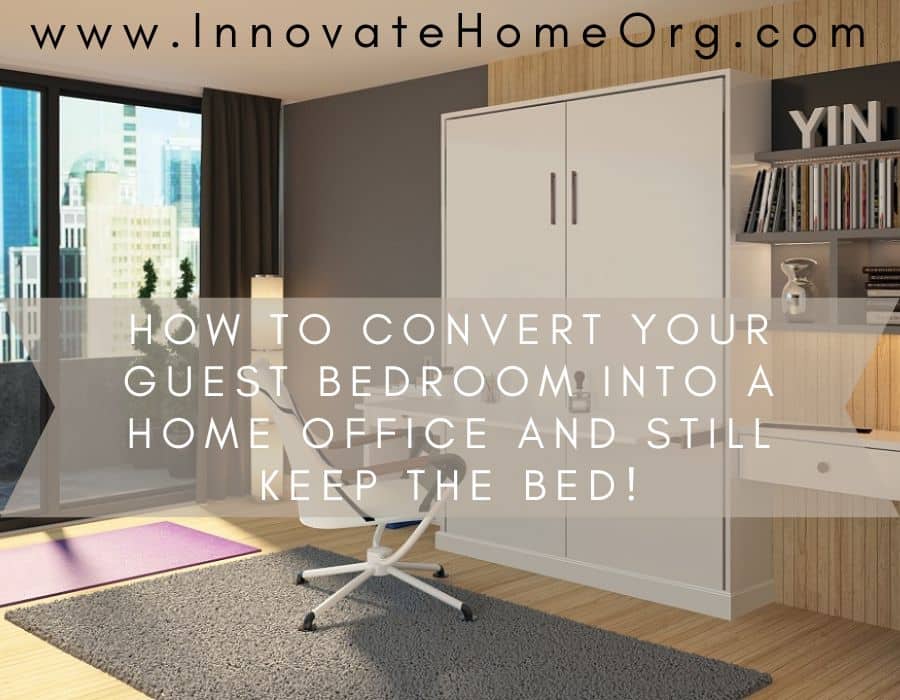 Work at home has been a blessing (it gives you the flexibility you need to manage your household) AND a curse (finding a quiet space to do your work and attend Zoom and Teams meetings is a challenge, to say the least).
And if you're like most space-starved families who has 'kicked the tires' on buying a new home recently you're priced out of the market with sky-high interest rates and inflated new-home prices.
So, what can you do if you need additional space (and home office space in particular) – and don't have the money for an expensive room addition or new home?
Well, one smart option is to convert your little-used guest bedroom into a multi-purpose home office/bedroom.
And you may be wondering, just how can I pull off this feat of magic? Well, read on and you'll be surprised how a (still-cool-today) 110 year old invention, and smart space planning will get a home office you can use every day – yet still have a comfortable place for guests to sleep when needed.
Here's 7 steps to convert your guest bedroom into a home office AND still keep the bed!
Step 1 – Get rid of your existing bed. Replace it with a Murphy bed.
Let's face it – most guest bedrooms (which are the smallest bedroom in your home) are eaten up by the bed. So you may be asking how in the world am I going to get a bed AND a home office in the same space if I don't think it's exactly professional to lay on my bed with my laptop to host my next Zoom meeting?
Well – the way you'll make this happen is to get rid of the traditional bed frame (which is eating up your floor space) and replace it with a fold away Murphy bed. This 110 year old invention frees up floor space you desperately need for the desk. The bed will be inside the Murphy bed frame when not in use, and the mattress can be folded down when you have company.
Choose between a 'horizontal' or 'vertical Murphy bed.' The horizontal Murphy bed is 'wider' against the wall and doesn't come out as far into the room. This style is perfect for rooms with low ceilings or dormers.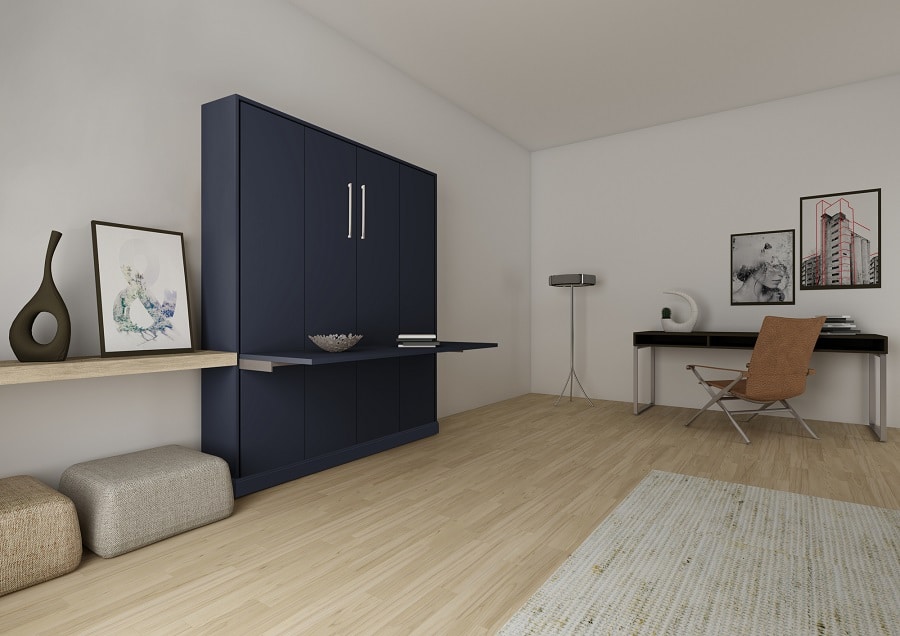 The vertical murphy bed doesn't require as much width on the 'wall,' but it's taller and extends further into the room. If you want to compare the advantages and disadvantages of Horizontal vs. Vertical Murphy beds read, Is it Smarter to Buy a Horizontal or Vertical Murphy Wall Bed.
Step 1 is essential to make 'comfortable' guest bedroom which frees up room for a desk. Or for the ultimate in space efficiency choose a Murphy desk bed like you'll see below.
And while you could add a couch with a foldaway mattress or a futon – if you actually like your guests, you won't subject them to this incredibly uncomfortable sleeping experience. Fold-away couches, for example, come 'complete' with a 3" or 4" mattress with springs you can really feel grinding into your body. This option is only good for those guests you DO NOT WANT to stay long!

Step 2 – Determine what wall to put your Murphy bed on
When you look at the wall placement for a murphy bed, you'll need to a do little math. And, sorry to break this bad news to the math-haters out there!
For example, if you want a vertical queen murphy bed – you'll need 66" width and 90" height for the bed frame on the wall. In addition, the bed will 'extend' into the room (when in use) – 90" (or 93" if you add a pillow box for storage). So, you'll want to determine if you have enough space to walk around the bed and have room for your desk.
And if you don't have tall ceilings – and are thinking about a horizontal queen murphy bed, you'll need 84" width on the wall (and only 65" of height). The bed will only extend 65" into the room.
And for those of you who hate/hate/hate math and suffer with SPD or EMD (that's Space Planning Deficiency or Extreme Math Deficiency), I'd recommend calling an Office and Murphy Bed Design Specialist. Then leave all the mathematics to them (and don't you wish this option was possible when you were struggling through Algebra and Geometry, back in the day?).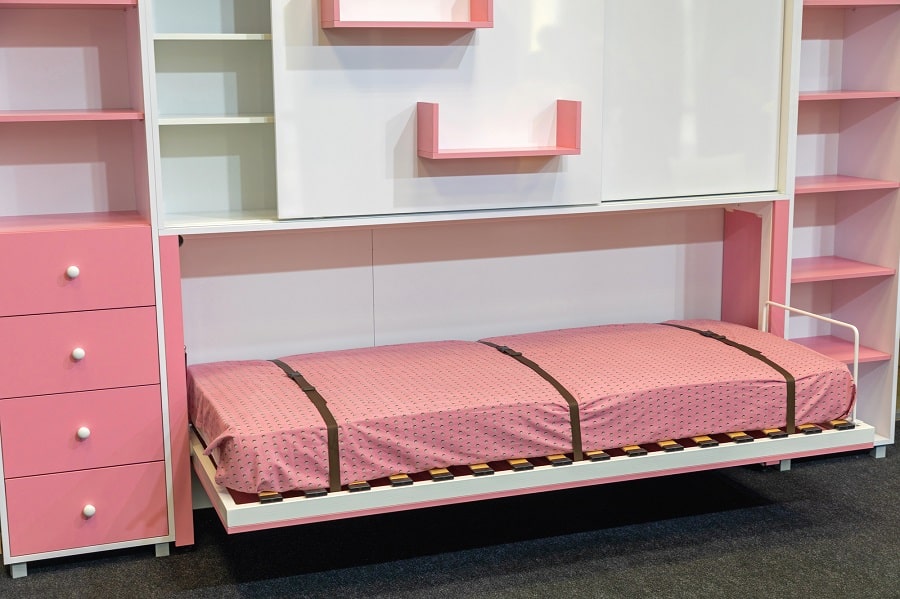 Step 3 – Determine where to locate your desk or worktop.
Basically there's 3 desk location options.
Option 1 – In the middle of the room (note this will require you to have a moveable desk so you can pull the Murphy bed down when you've having guests).'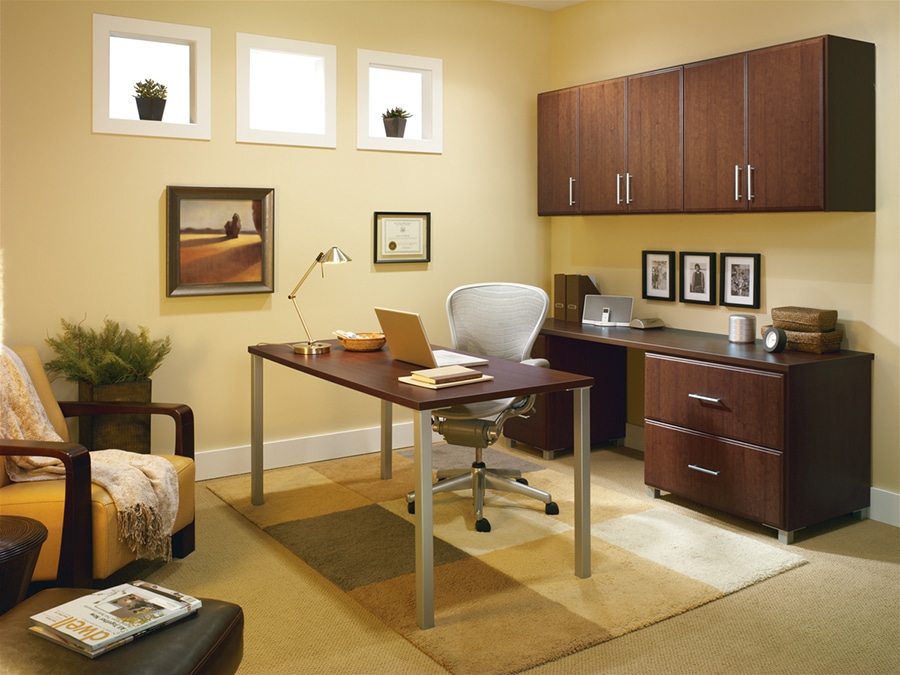 Option 2 – Against a wall(s) (this option might allow you to keep the desk in place …even when the Murphy bed is extended)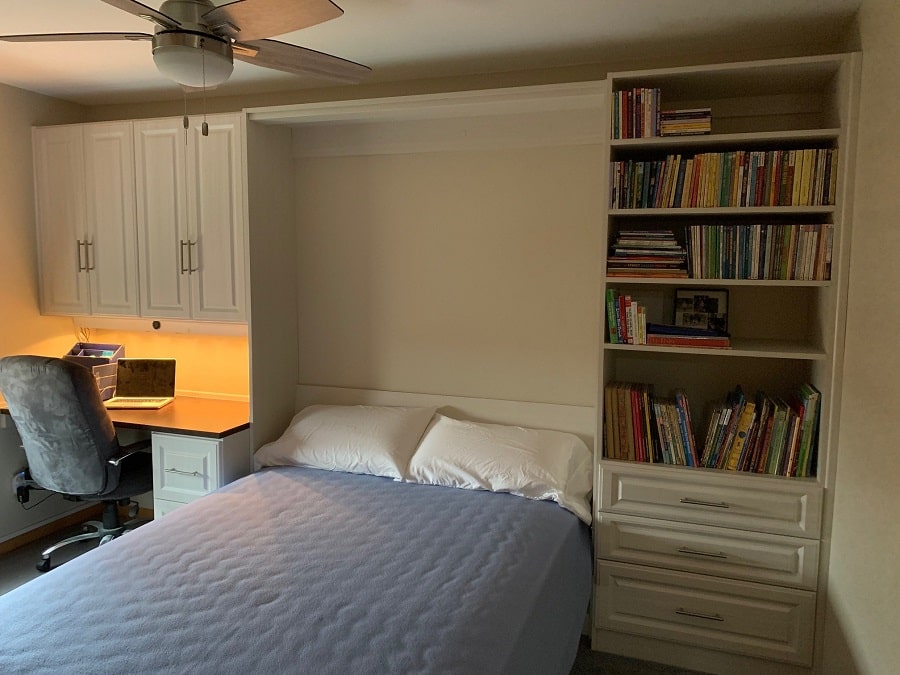 Option 3 – Inside an existing closet – If you look on Instagram, you'll find the #CloOffice hashtag. If you're really limited for space – putting a workspace inside an existing reach in closet can be just what the 'Constrained Space Planner' ordered.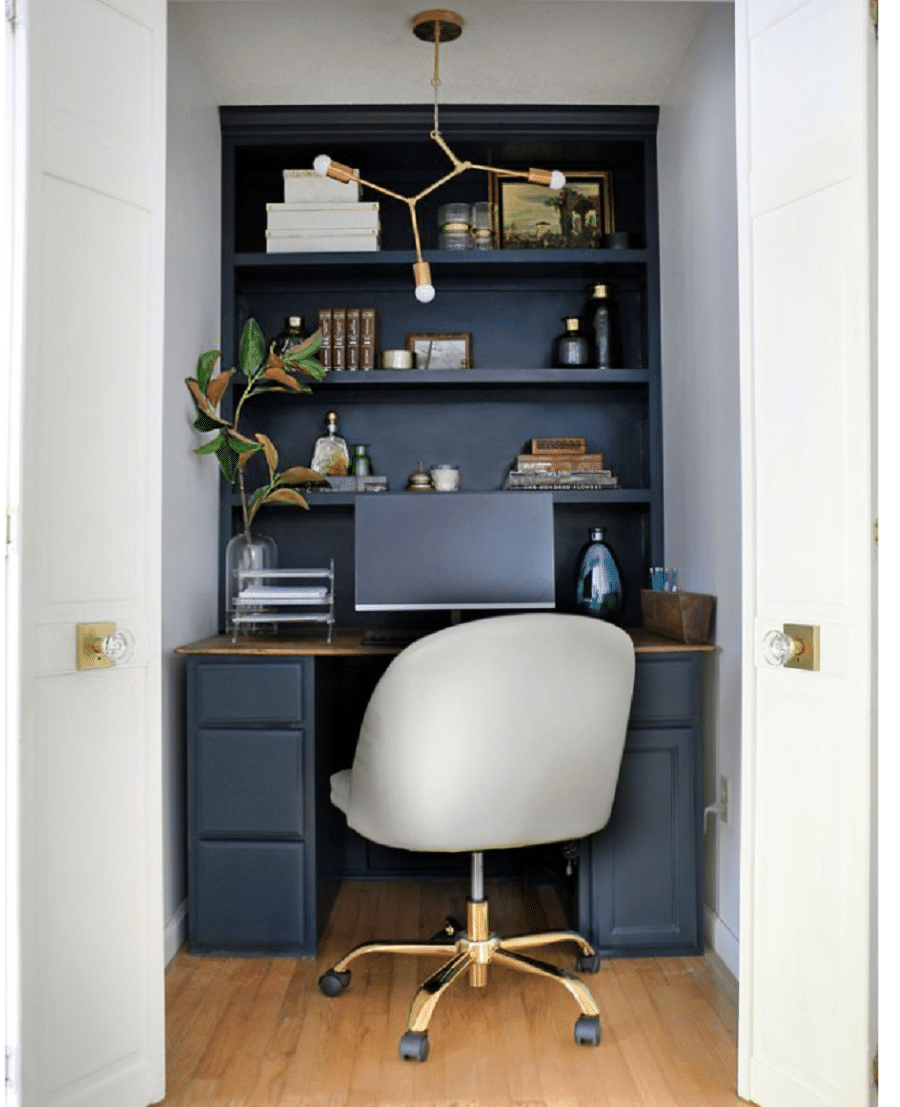 Image Source: Home Made By Carmona
No matter where you put your desk, here's a few questions to consider:
Are there outlets close – or will you need to hire an electrician to add them?
Are there obstructions (vents, windows etc.) where I'd like the desk?
Is the desk facing a wall or window? Personally, I love looking out a window when working. Others are distracted by everything, so putting a desk by a window is a bad idea.
What's the view 'behind' your desk? If you're constantly on Zoom and Teams meetings, you (at least) want your backdrop to look 'reasonably professional.'
Will the door swing into the desk?
Step 4 – Estimate the widths and depth of the desk you'd like.
Some people love large desktops to sprawl out papers (and 25" countertop is preferred in this situation).
Some people NEED a wide desk or countertop for multiple computer screens.
Others only need a small work surface for their laptops and a counter as shallow as 19"-20" will suffice.
Think about how you work. Ask, do I need a 'minimalist' or 'maximalist' desk? Then create a cardboard cutout of the desk size you require.
Then look at how much room you'll have to get around the desk when the Murphy bed is down. Depending upon the type/size of Murphy bed you chose would you need to be 'Thin Lizzy and Anorexic Annie' to walk between the desk and the bed?
Can you pull the bed down without moving the desk? If the desk is easily moveable this may be OK, if not you'll either need to rethink the size of your bed (possibly going from a Queen murphy bed to a full sized wall bed, for example) or will need to reduce the type/size of worksurface you're going to use.\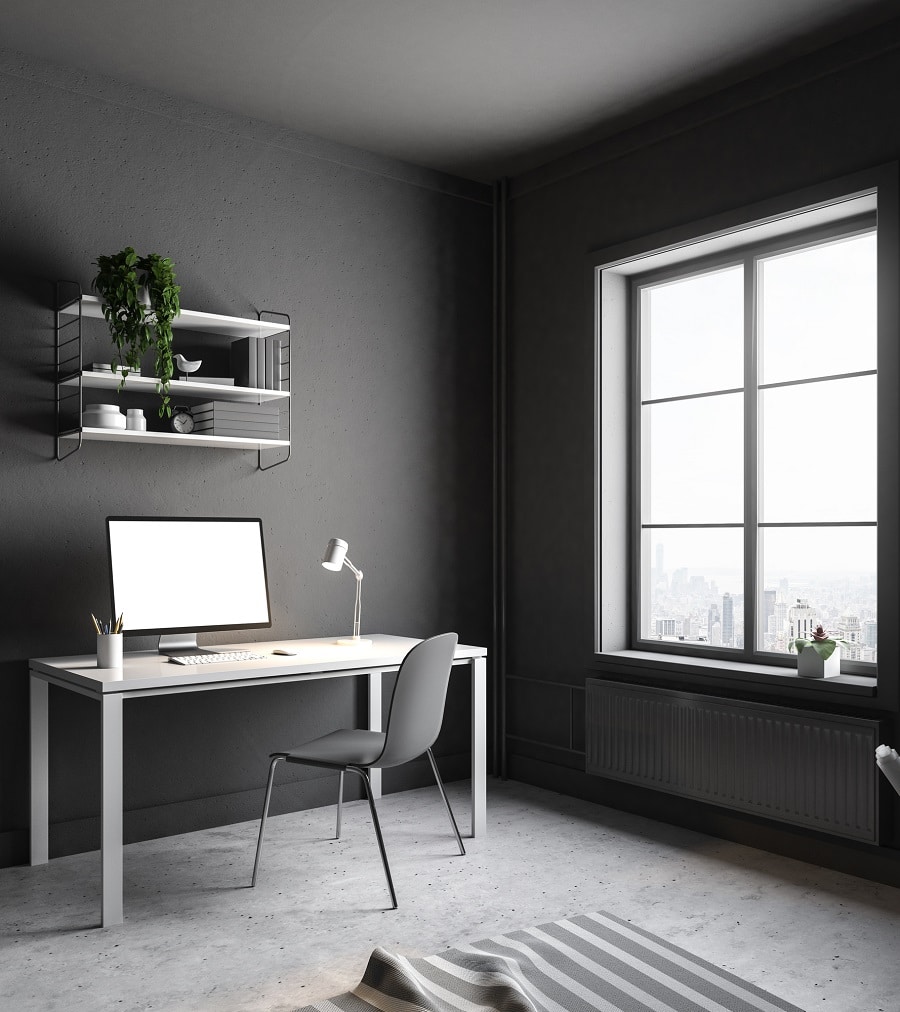 Step 5 – Do you want a 'sit down' or 'stand up' desk?
OK – you either love them or hate them – the 'stand up' desk. I for one, love them. I don't think I could sit down at a desk all day any longer.
Before choosing a Murphy bed, determine if you want a desk you can sit at, or a stand up desk. And if you choose the stand up desk (which is great to burn a few calories), know it won't be your 'little fre' (as Tony Montana from the movie Scarface might say) if you need a lot of storage. Which brings us to step #6.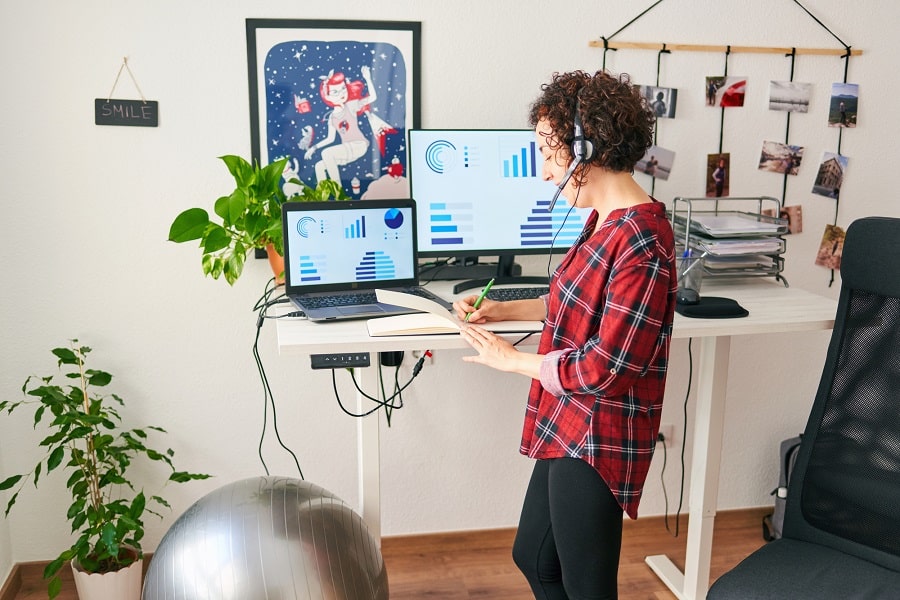 Step 6 – What are your home office storage needs? What storage is needed for your guests?
If you only needed a desk and a bed – your space planning wouldn't be too tough. However, it's not that simple.
For your home office you need places for binders, folders, books, computer paper, pens/pencils, copier, shredder – just to name a few essentials. And you may also want important papers locked behind doors or drawers, so your little ones won't spill chocolate milk on confidential work documents.
And when your room is being used as a guest bedroom, you'll want lighting by the bed, a place for guests to plug in cell phones, a place for suitcases or hanging clothes (in drawers or on hanging rods). You'll want them to be comfortable – except if it's your Crazy Uncle Louie…then maybe, not too comfortable!
This is where you've got to do your homework.
For your home office storage, consider shelving, doors and drawers which match the Murphy bed. Make sure the shelving is deep and wide enough to fit your copier or shredder. Put items behind 'doors' to make things 'seem' clutter free…even if you know it's a disaster when you open the doors or drawers.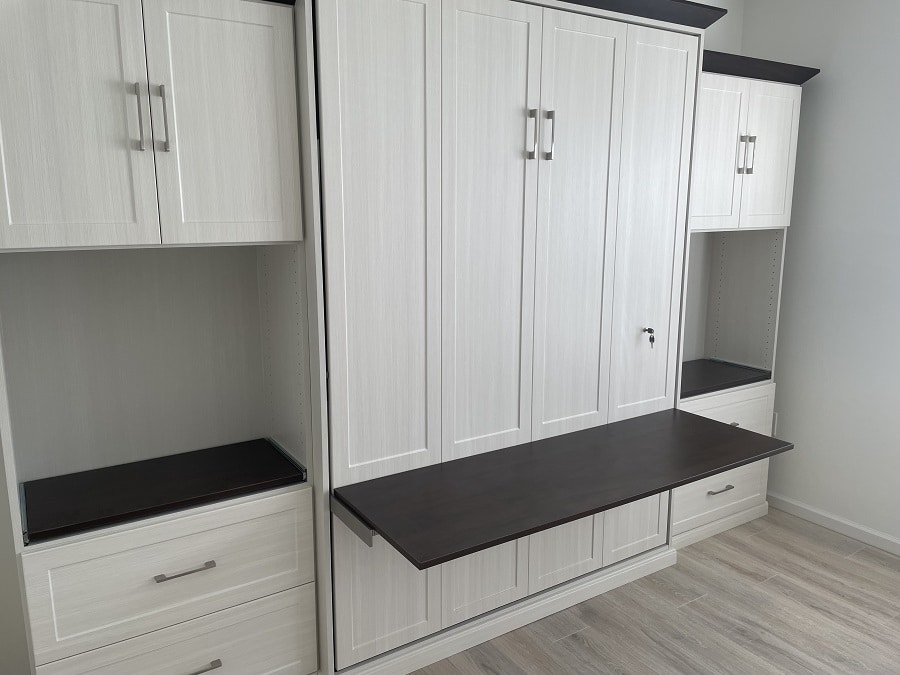 For guests, make an efficient reach in closet (assuming this guest bedroom has one). Add long or double hanging rods and/or shelving in the closet for packs of printer paper, work boxes etc.
Remember – effective storage is essential to make this 'dual purpose room' work for your work, and work for your guests.

Step 7 – Add style to your combined bedroom/home office
OK – it's time to stop talking about all the 'functional' aspects of this office/guest room and it's FINALLY (in step 7 – sorry for the wait) time to talk about injecting FUN in this room.
Inject your magnetic (and it's OK if it's not exactly magnetic) personality into this room.
Considering the location of the guest room/home office – would you like it to be modern, retro, elegant, rustic or traditional? Your decision on a design theme will impact whether you choose a modern Murphy bed (like you'll see below) or a more transitional look – like you'd see with Shaker doors and drawers.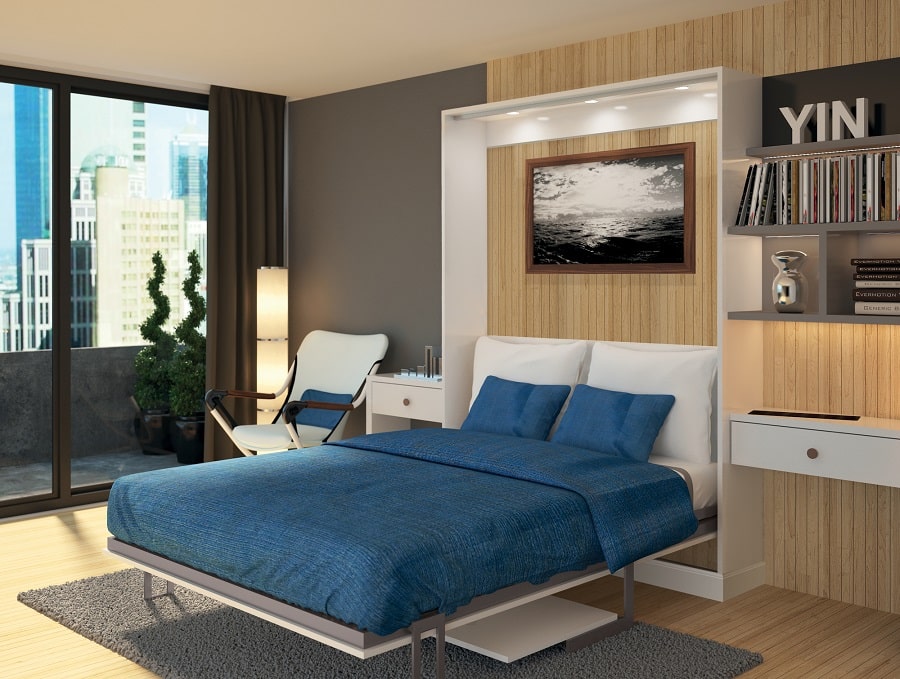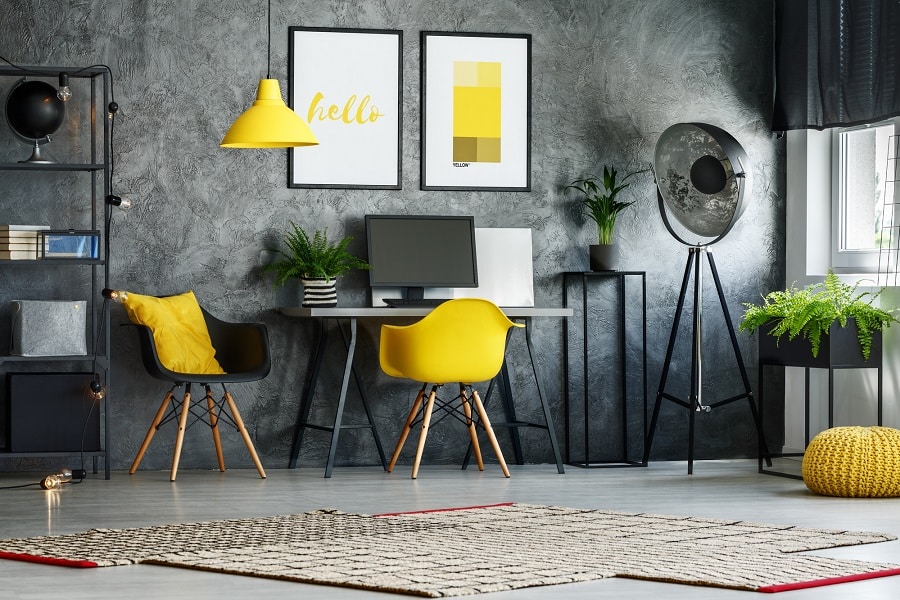 If you'd got wood floors – can you add flair/drama with a bright and bold area rug? Or could you use contrasting door/drawer fronts to add pop?
Can you use a fun paint color on a feature wall to create interest?
This is YOUR workspace. Design it how you like it. And if your occasional house guests don't like it – fuggaboutit. They're not paying you a hotel room rate anyway!
How can me – and my team (or industry colleagues) help you next?
I know it's A LOT harder to develop a coherent plan for a guest bedroom which also serves as a home office. Most people are not experts on Murphy beds or the options in home offices either.
So, if you're in the Columbus Ohio – me and my team would love to help you design your combined guest bedroom/home office. We fortunately don't suffer with SPD or EMD (Space Planning Deficiency or Extreme Math Deficiency). We'll help you figure out what can (or won't) work and provide a 3D home office and Murphy design (all for free) so you can 'see' it (virtually) with your own eyes.
So – what are you waiting for? Call 614-545-6888 or click for a Free Design Consultation.
If you're not in Central Ohio, let me know where you live in the comments below and I'll try to find you a referral through my nationwide industry association or friends in the home organization business.
Thanks for reading and putting up with my humor.
Mike
###
If you'd like more information about a custom home office in Columbus, garage cabinetry, pantry, entryway, Murphy wall bed or custom closet design (with a bit of bad humor thrown in for good…and bad…measure) follow me on LinkedIn @MikeFotiLinkedIn.
---
Tags: Clo Office, Columbus desk bed, Columbus home office, Columbus home office planning, Columbus home office storage, Columbus murphy bed, Columbus work at home space, combined guest bedroom home office ideas, guest bedroom ideas, home office guest bedroom planning, home office ideas, home office murphy bed, home office planning, home office storage, horizontal Murphy bed, horizontal queen murphy bed, murphy bed planning, murphy bed with a desk, size of murphy beds, vertical Murphy bed, vertical queen murphy bed, where to locate a murphy bed