13 Closet Trends from ClosetCon 2023 to Make Sure Your Organization System (and buying experience) IS NOT Behind the Times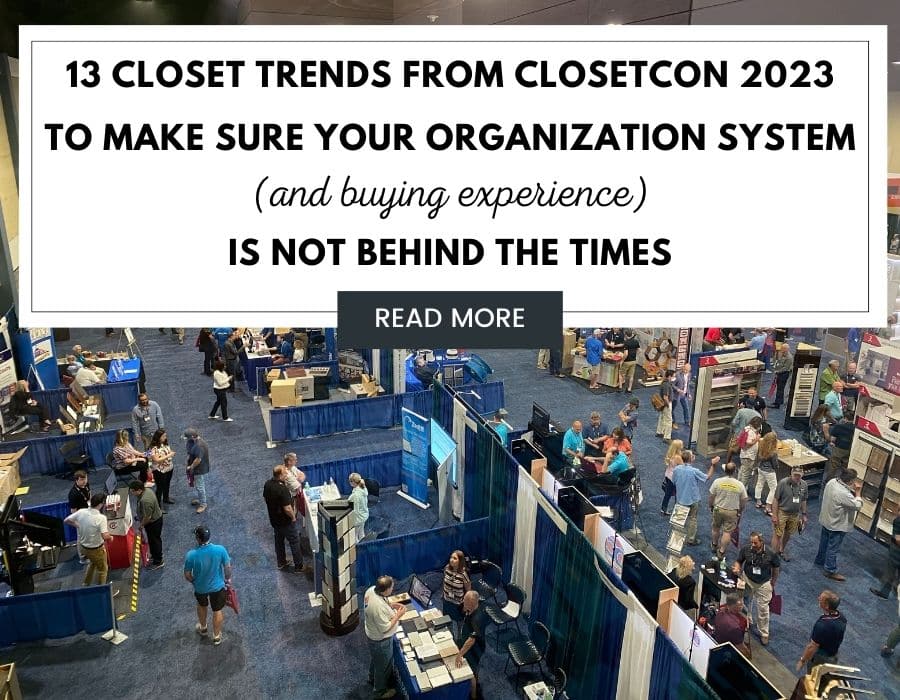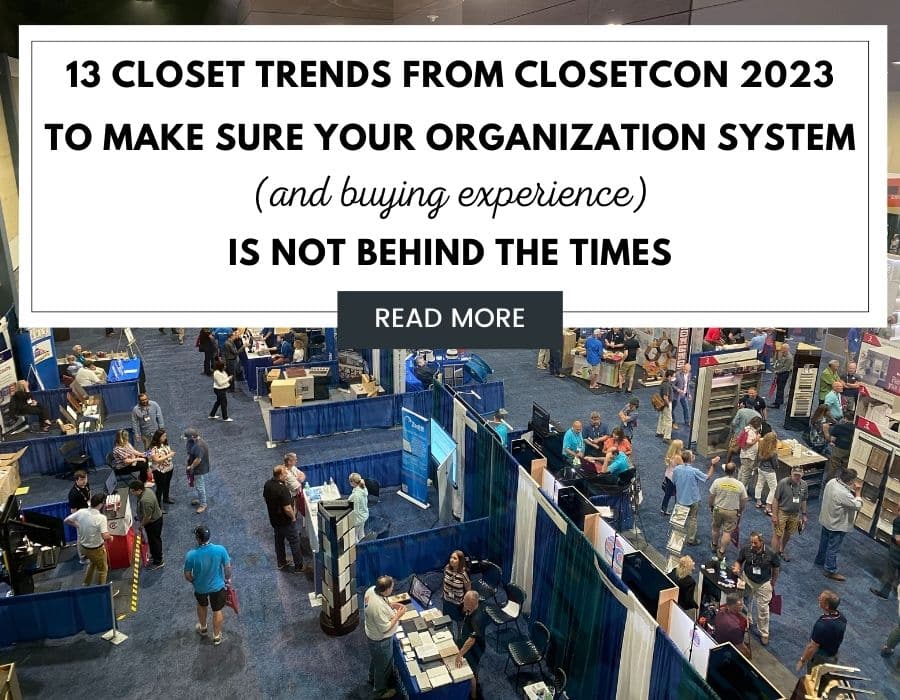 OK, I'll admit it. I like to hang with the 'who's who' in the home organization/closet industry. And it's not only to rub elbows with the best of the best. It's also to learn what's hot and what's not.
And most importantly – it's also to learn 'what works, what doesn't work, and what's designed to work better for YOU now than last year. Because, after all – you can have the most trend-setting closet since Khloe Kardashian 'invented' the fashionable closet, but if it's a pain in the rear to use, it's useless!
And without helping solve your organization problems, and inspiring more fashionable closets – there's NO organization industry for me, my closet buddies, and employees to make a living from.
With this in mind, the goal of this article is to give you a look at 13 trends I learned through presentations, product demos, and picking the brains of the best and brightest in our industry.
At the end, let me know if these trends have influenced your thinking or motivated you to consider a home storage project of any sort (whether this is a custom closet, pantry, entryway, home office, garage cabinetry or even a Murphy bed to name a few ideas). And by all means, if you have questions, add them in the comments at the end.
ClosetCon 2023 Organization Trend #1 – The closet industry is #3! Closets are an upwardly trending home improvement project.
At sporting events, fans love to shout and wave those infamous #1 foam fingers with pride.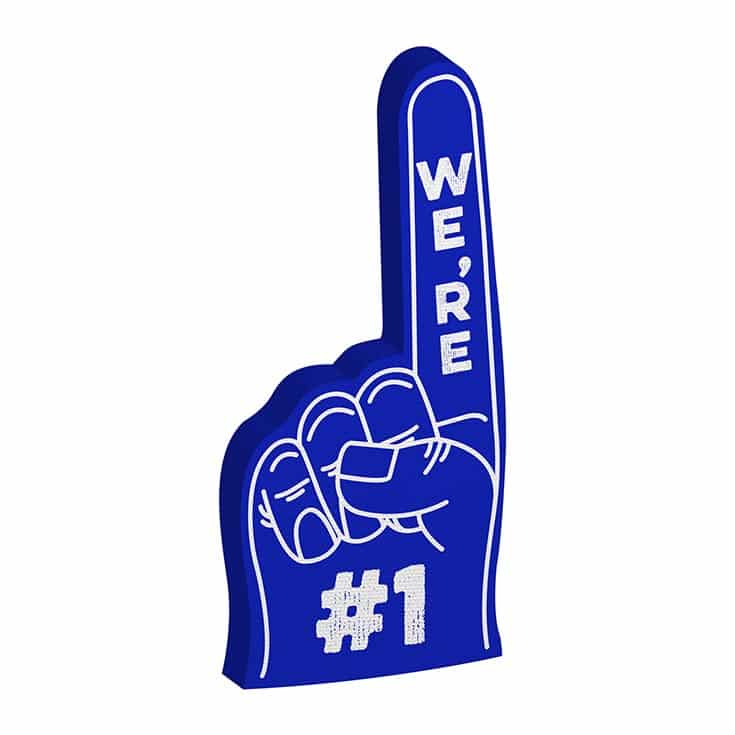 However, in the (niche) closet industry (based on the data from a humorous economist – if you can believe it or not, Dr. Chris Kuehl) we're delighted as an industry to say we're #3. And coming in #1 and #2 as the most desired home improvement projects are kitchen and bath renovations. OK – that's no surprise.
However, you may be asking how did the closet industry earn the #3 position? Well – it's because the home organization is becoming increasingly important. And why, might that be?
Well during COVID, your home started feeling smaller and smaller. More people at home. More work at home. And more stuff in more places equals more messes. You needed your closets (and all home organization systems) to be waaay better than the cheap stuff the builder installed when your home was built.
And if you take into consideration kitchen remodels often include newly organized pantries – maybe as a closet industry we can claim to be #1 (OK – I'm stretching it, but you get the idea).
ClosetCon 2023 Organization Trend #2 – Natural colors are in (and growing), but white still has 'top billing' in closet selections.
While listening to presentations and walking the show floor of ClosetCon some words kept cropping up. Those words were comfortable, soft, and natural. And when it came to trending colors and textures – comfortable, soft, and natural applied as well.
For example, super matte surfaces (which are the opposite of bright and glossy) are trending.
Also, lighter woods, concrete-looks, and even softer greens and blues (especially for bathrooms) are in the forefront of fashionable interior designs.
And if you still like the simplicity of a white closet, you're still 'good to go,' because it's still selected 3 out of 4 times (although color is progressively eating into white's share of the market).

ClosetCon 2023 Organization Trend #3 – 'Engineered wood' closets have flexibility natural wood wishes it had.
Is a 'real wood' closet (like you see in celebrity pics on Pinterest) really better than an engineered wood (also called a laminate or melamine) closet?
If you listen to industry experts Christina Relyea (of JB Cutting), Jesse Collins (of REHAU), and Gwen Petter (of WilsonArt) engineered wood is a smarter choice – even in a high-end luxury closet. And why, you might ask? Here are some reasons:
#1 – Engineered word is 'dimensionally stable.' And yes, that's a fancy way to say it won't warp like wood.
#2 – Engineered wood is simpler to maintain. No painting, caulking, or staining is required.
#3 – Designs can be created in engineered wood which cannot be replicated with natural wood. Basically, designers can create their own 'species.'
And if you want to compare engineered wood ('er laminate) vs. a wood closet at a deeper level read, 7 Essential Factors to Compare Wood vs. Laminate Closet Systems.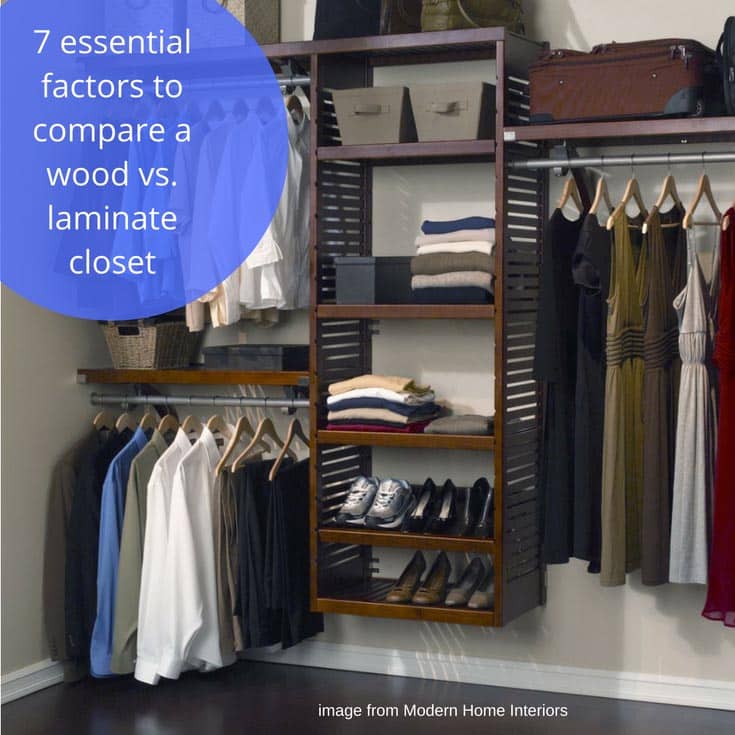 ClosetCon 2023 Organization Trend #4 – Custom storage systems are 'evolving beyond the closet.'
You need more storage. You need it badly. You need it everywhere in your home.
And while custom closets are growing (see trend #1) – there's also increased demand for pantry systems (and Lord knows how badly you want to replace those wire shelves the builder put), entryways, home offices, and garage cabinetry.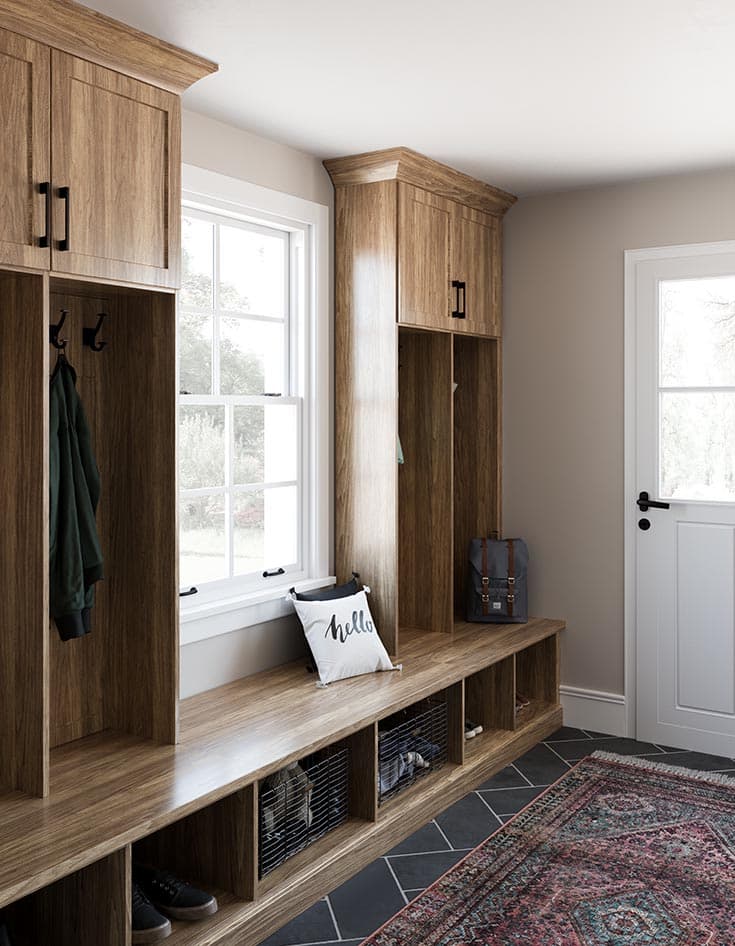 ClosetCon 2023 Organization Trend #5 – To add style to your closet, focus on the 'soft-ware,' not simply the hardware.
If you've read my posts before – you know I like to refer to closet hardware (door and drawer handles, rods etc.) as the 'jewelry' of the closet. It's the decorative element that can even make you do a 'double take' on a plain white closet.
And while I stand by my words that hardware is still the 'crown jewel' of the closet – it's now being super-charged with the introduction of 'soft-ware.'
And no, this isn't the software that makes you want to S-C-R-E-A-M when your computer is infected with bugs. No, this 'soft-ware' is made of eco-friendly materials like 'soft-to-the-touch' drawer pulls made from materials like vegan faux leather. Or the use of faux leathers on tops and jewelry organization systems.
Trending style is getting 'softer.'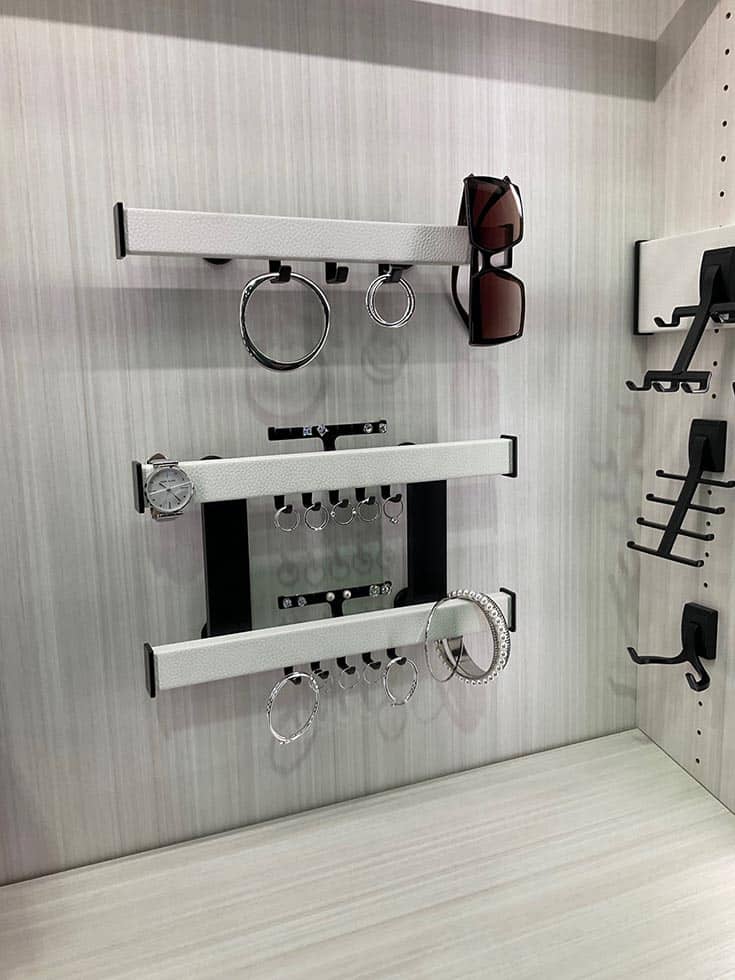 ClosetCon 2023 Organization Trend #6 – Frank Lloyd Wright-ish designs ('er mid-century modern) are back…and cooler than ever.
If you love the mid-century modern (which my wife and I are big fans of) slim, and minimalist look, the closet trends of today are right up your alley. And one way you create this look is using 'slim Shaker' cabinet door and drawer profiles. They're understated, yet elegant.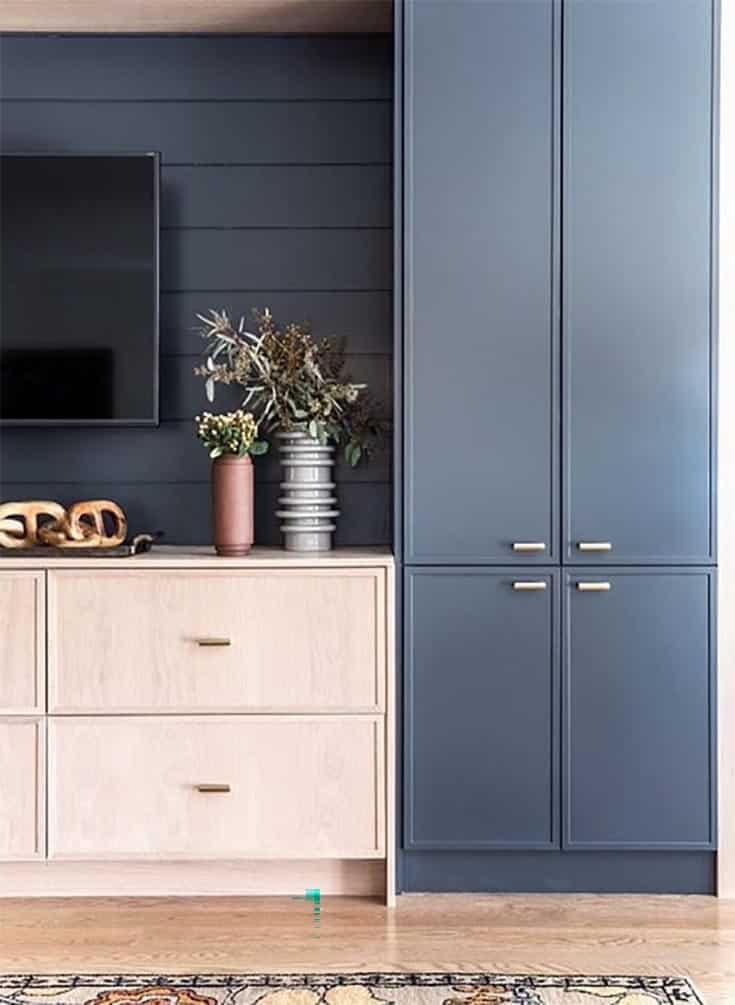 ClosetCon 2023 Organization Trend #7 – Light up your closet system, but DO NOT revert to your disco days of the 1980's …if you've been around that long.
OK, I'll confess I was a disco fan back in the day. And perhaps even more embarrassingly, I'll admit I even put together a mirror ball for our fraternity house back in the early 80's (and yes, I was even sporting a mullet at the time – ha! ha!).
And even though you may be wondering, Mike – what the heck does this have to do with closet trends – well, it has everything to do with them, especially since lighting is becoming a big thing (and major trend) in closets.
So, why should lighting be the next big thing? Well, it's because most closet are dark, dingy with a single pathetic light fixture (where half the bulbs are burned out…I might add).
However, even though adding LED lighting and high-privacy (or fluted) glass closet doors are in – what isn't in is lighting (a la mirror balls) which is blinding.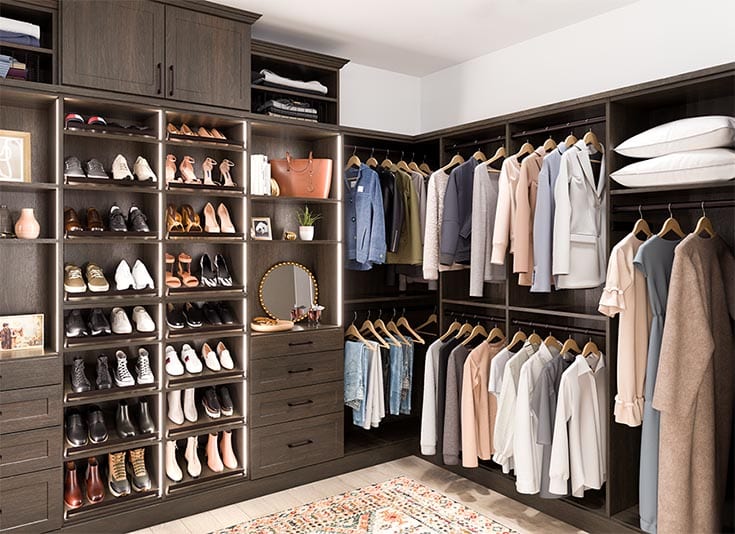 So – do add lighting, but don't make it too bright!
ClosetCon 2023 Organization Trend #8 – The 'double-mint' trend – To double your organization pleasure, you need to double your usage.
If you've been looking at buying a new home (with it's large price tags) or have read the Not Too Big House by Sarah Susanka, you know you need to use space efficiently.
And given the growth in multi-generational homes – and the impact of more people working at home – making your home work better has never been more essential than it is today.
It's for this reason – in the world of home organization you need to (slightly) modify the infamous words of the Double-Mint Twins which were to 'double your pleasure and double your fun.' And if you've never seen a double mint commercial I've put one below for a laugh.
In the world of organization today, in order to double your pleasure (or reduce your frustration might be more like it), you need to double your function. And the way to double your function is to create 'multi-purpose' rooms (but not like the old A.V. room back in Junior High).
For example, 'Clo-Offices' are now getting popular. These are closets which double as offices.
Or we're seeing HUGE growth in people repurposing little-used spare bedrooms and creating a bedroom/home office or a bedroom/craft room by 'reclaiming' space with a fold away Murphy bed.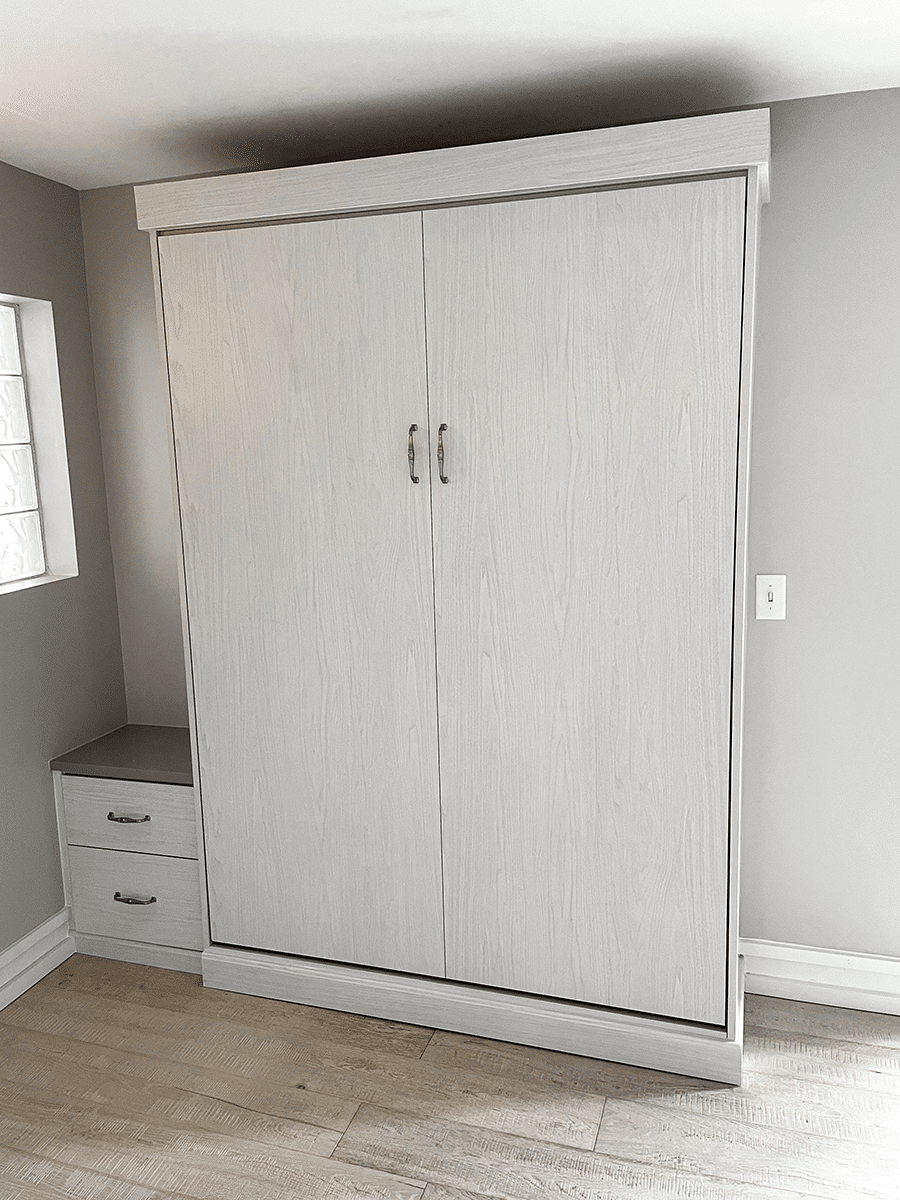 Could you 'double your pleasure' (or minimize your pain), by creating a dual-purpose room?

ClosetCon 2023 Organization Trend #9 – You want to learn and 'connect,' before you want a service provider (closet systems or otherwise) looking to 'collect.'
As a buyer you've changed. You're not waiting to learn all you need (and want) to know when the sales rep or closet designer comes to your home. No, you're searching the Internet, watching reels, consuming content (whether through videos, blogs etc. or even reading this article right now) prior to a design consultation.
However, you're not only looking for content, you're also looking for connection. You want to 'feel' who is coming to your home is trustworthy AND someone you like.
Buying has changed – and if there's one trend which became readily apparent in one of the presentations at the show, its smart (and fast-growing) closet companies are adjusting how they help clients in ways which matter to you.
And one such person who drove this point home at ClosetCon 2023 was Allana Bell of Optimization Dolls. You see Allana is a whiz using video to connect with her audience. Allana is enthusiasm on steroids. She'll take you behind the scenes and let you get to know her – and her team – and the experience you'll get if you buy from her Concord North Carolina based closet and organization company. Check out Allana's Instagram feed below:
Basically, Allana is doing – what all smart service providers should be doing (whether you're in the closet business or any type of business for that matters). She's connecting with you BEFORE she's looking to 'collect' a deposit from you. And whether companies (and camera-shy owners) like it or not, this (connect before you collect) trend is here to stay!
ClosetCon 2023 Organization Trend #10 – You want to see (and understand) before you buy.
The days of hand-scratched closet 2D drawings (which are confusing to say the least) are going the way of the 'Crackberry ('er Blackberry) or the Palm Pilot. Anyone remember those?
You need to see – and understand- what your organization system will look like before committing a good sum of money to buy one.
And this trend was very apparent at this show. I saw collaborations between closet manufacturing companies and a specialized closet design software company (ClosetPro) working together to bring you high quality renderings so you'll know what you're getting.
And you can count on the fact, these 3D closet design renderings will continue to improve- IMHO.
ClosetCon 2023 Organization Trend #11 – The devil (and the divine) is in the details.
Sometimes what you see (on the surface) IS NOT what you get!
How a storage system is designed and how its installed will be the difference between a high quality and a 'passable' system.
One example I saw of this was in a booth from a called storeWALL who sells slatwall garage wall components.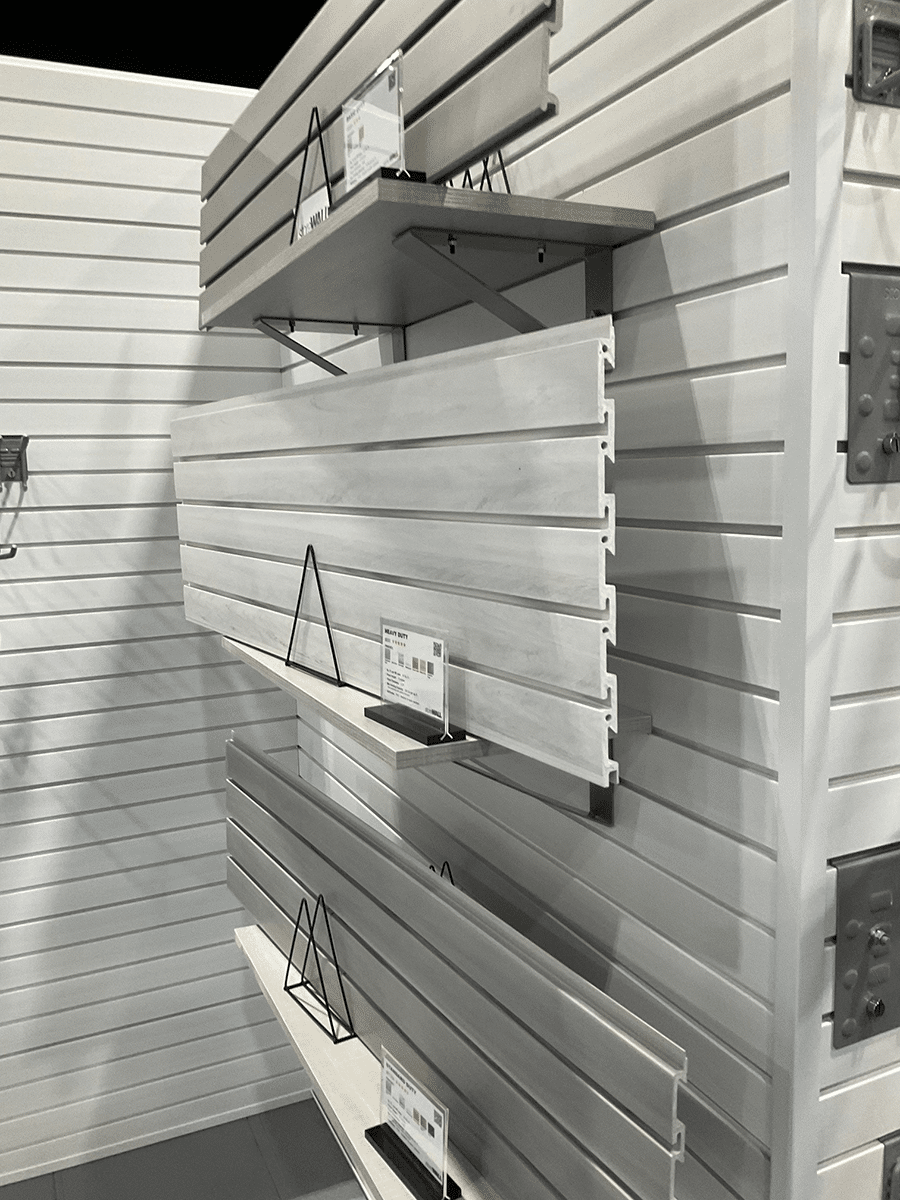 You see the 'standard' slatwall system holds up to 75 pounds per square foot. However, with upgraded slatwall designs you can increase the weight of what you put on the walls by 4X. Then you'll be even more confident your kayak WILL NOT come crashing down on your spouse's new Lexus SUV! And if that happens – somebodies gonna hear about it!
Pay attention to the details. Make sure your desire to save a buck doesn't (literally) come crashing down on you (or your partner's) prized possession(s).

ClosetCon 2023 Organization Trend #12 – Comfort and convenience are key.
Storage systems are no longer just about being able to 'stuff' your products away. Today – they're about comfort and convenience as well.
You're looking (especially if you have deep drawers) at slides (and shelves) which come to you (vs. attempting to look in the deep, dark crevasses to find things).
You want slow-close mechanisms – especially on bulky storage pieces like wall bed systems made by high-quality manufacturers like Richelieu and Hafele.
You want easy to clean surfaces (like laminate) which don't require painting or staining…EVER!
You need comfort AND convenience in this crazy world of yours.
ClosetCon 2023 Organization Trend #13 – Keep your eyes focused on Euro design trends.
If you want to see what's hot you can't only set your sights on what's being shown in the United States. Innovation is a worldwide phenomenon.
And many cabinetry trends (whether you like it or not) come from Europe. So, it was interesting to me when I visited Richelieu booth (and talked to industry expert Richie Demarco – AKA the 'Mayor of Hardware' in closet circles) and Richie educated me about metal drawer boxes.
Richie told me how an entire upper end cabinet line at the huge Kitchen and Bath Show a couple of months ago was ALL metal cabinets with undermount slides.
And while I know it's nice NOT to see side mounted drawer slides, I didn't realize some of the most innovative cabinet manufacturers across the world are moving away from wood (which I thought was the quality leader) and migrating towards metal sided drawer boxes.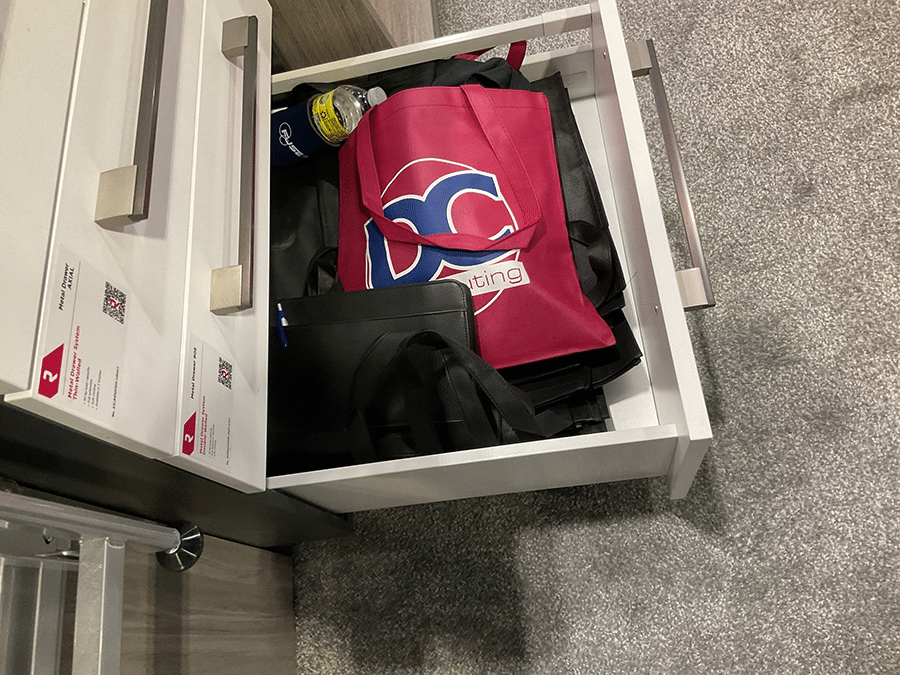 I'll admit after trying these drawers they were simple to operate and will likely hold up better over time than wood.

So, now that you know these trends, how can we help you?
I know its fun to see new and exciting trends, however it can be much harder figuring out not only how you can leverage these trends – but also if they'll even be affordable for your project?
And if you're NOT an MOM (which stands for Made Of Money – which no mom has stated E-V-E-R), you'll need help from home organization design experts to show you (and price) these trending products for you.
So, if you need help – and you're in Columbus Ohio, call Innovate Home Org at 614-545-6888 or click for a Free Design Consultation. We'd be delighted to help.
And if you're not in Central Ohio, let me know where you live in the comments below and I'll try to find you a referral through my nationwide industry association or friends in the home organization business.
Thanks for reading and putting up with my humor.
Mike
###
If you'd like more information about a custom closet design, custom home office in Columbus, garage cabinetry, pantry, entryway, or Murphy wall bed (with a bit of bad humor thrown in for good…and bad…measure) follow me on LinkedIn @MikeFotiLinkedIn.
---
Tags: 3D closet design, 3D closet design trends, closet color trends, closet colors, Closet industry conference, closet lighting trends, ClosetCon 2023, Columbus closet trends, Columbus home organization trends, design trends from closet conference, dual usage rooms, dual usage storage, engineered wood vs. wood closets, faux leather drawer pulls, faux leather jewelry organizers, metal closet drawers, metal drawers with undermount slides, mid century modern closet, murphy wall bed trends, popularity of closets as a home improvement, slatwall organization systems, social media for closet industry