5 Awesome Low Budget Ideas to Organize Your Closet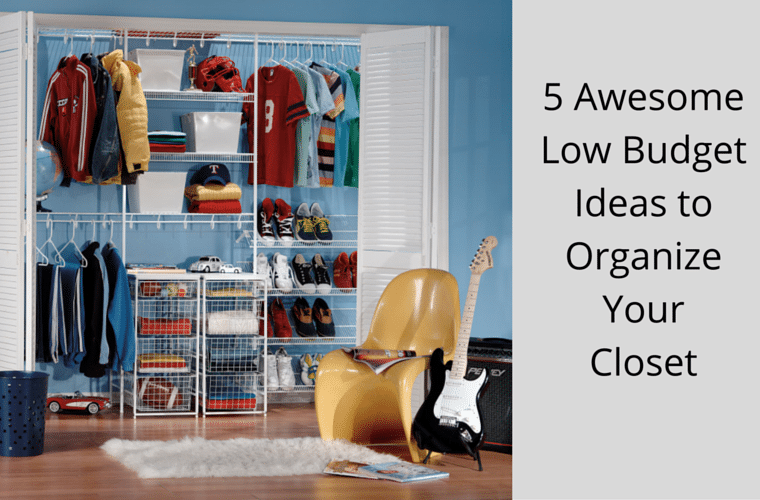 Wouldn't it be cool if you woke up from your dreams and magically had the beautiful luxurious chandelier inspired closet to the stars (like Kloe Kardashian, Mariah Carey or Ellen DeGeneres). Check out one of these cool closets below: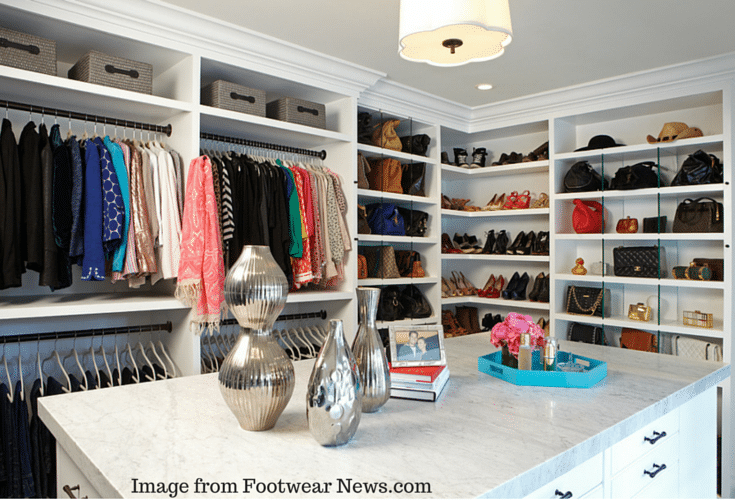 While it's fun to aspire to one of these fabulous and spacious walk in closets – this may not be your reality today (sorry to splash that cold water on you!).
Although today's budget may not allow you to afford the glamorous closet of your dreams there is no reason you can't spruce up your walk in or reach in closet to transform it from a messy state into a space you can enjoy– and actually find things (no more stressing getting ready for work or an evening on the town).
While I have a business which designs and installs custom closets, I also love to help people get better organized no matter how challenged their budget is at this time. With this being said let's take a quick look at 5 low budget ideas you can do (or have someone help you) to notch up your closet today!
Idea #1 – Declutter your closet

OK – there is no glory in idea 1 to declutter but it is the essential first step in organizing a closet (and it doesn't cost anything – except the cost of some garbage bags).
'There is no glory in decluttering but it's the 1st step in an organized #closet!'
Click To Tweet
The biggest challenge in closets is there is too much stuff. Pull everything out. Organize and categorize them on your bed or bedroom floor by type of garment. If it doesn't fit donate it now. Don't hesitate and think you might fit into it one day. If you haven't used it in the last year probably any statistician, or realistic person, would tell you by the time you do fit into the outfit it will likely be out of style anyway. If clothes are stained or torn throw them away or repurpose them. To have an organized closet you need to reduce the amount of things you store!
Idea #2 – Use the same hangers
Don't you wish your closet could look like the pictures of the companies who sell luxury closet organizers, without spending the big bucks? Well – it can (even on a low budget). To keep the closet looking neat and clean you'll see only one type of hanger is used in these classy closet images. This keeps all the clothes oriented in the same direction and creates an organized appearance. Recycle all wire hangers you got at the dry cleaners (or give them back to the store). I recommend looking into velvet hangers – they look nice, are relatively cost effective (the velvet hangers in this image we purchased for $.30/hanger at Gabriel Brothers an Akron discount store), and your clothes won't fall off.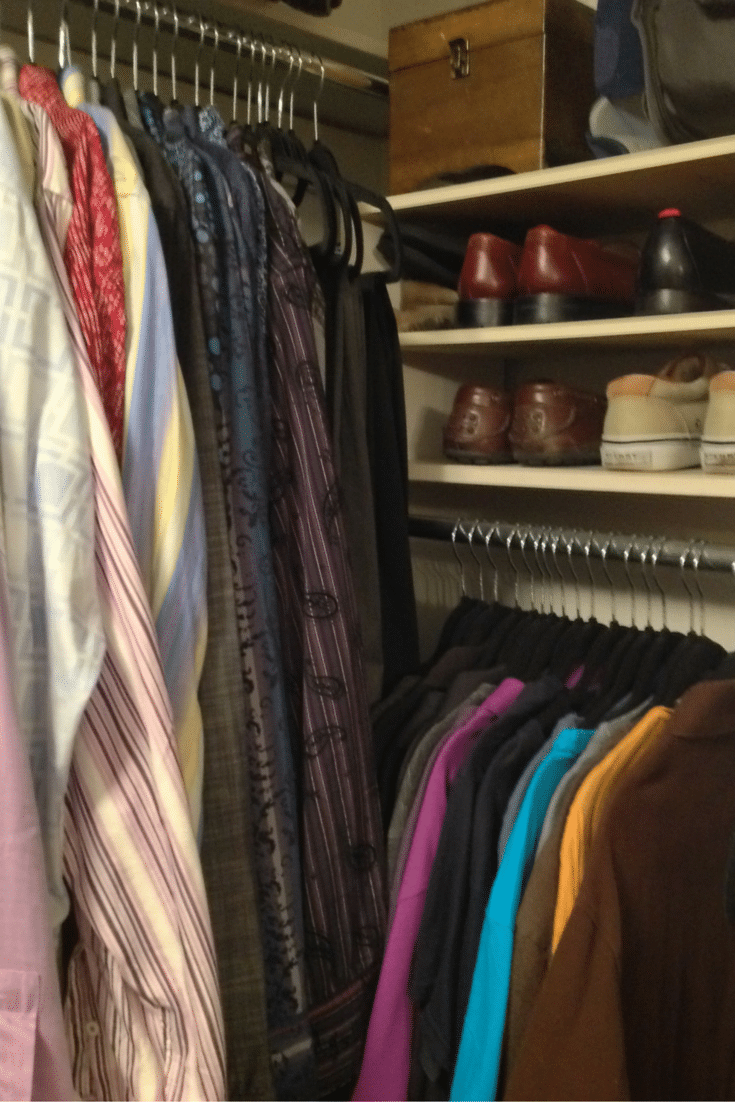 Idea #3 – Hang less and fold more

Did you know it takes 3x more space to hang things than to keep them folded in drawers!
'It takes 3x more space to hang clothes in a #closet than to fold them.'
Click To Tweet
When I learned this stat it blew my mind. It still makes sense to hang blouses, slacks, dress shirts, skirts, suits and dresses. To grow your storage add drawers or shelving and start to folding clothing items like running clothes, t-shirts and jeans. To learn better folding techniques read
Spark Joy
by Marie Kondo. Using her folding method you'll learn how to fold clothes to "stand up" in the drawer which makes it much easier to pull one item out without messing up the rest of the stack (a cool tip which saves time restacking).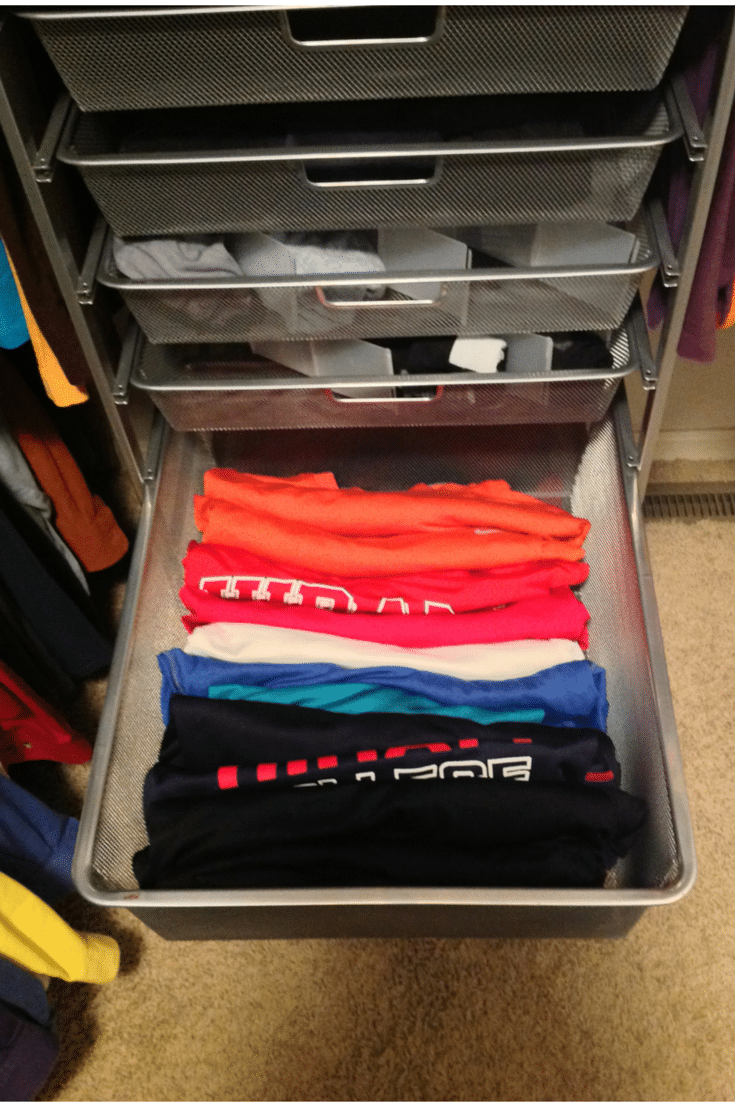 Idea #4 – Shelf separators
If you start folding more items and putting them on shelves you may experience with larger bulky sweaters where the stacks want to lean and fall over. A low cost organizing product to prevent this challenge is the shelf separator. They can be purchased for under $10 and will keep your piles neatly in place.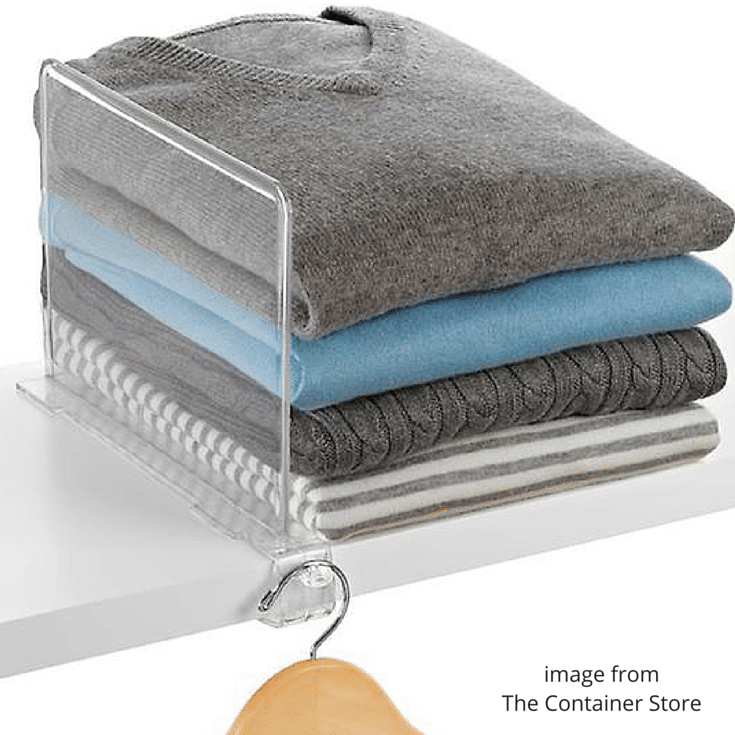 Idea #5 – Wire shelf organizer systems or moveable organization units.
While it would be good to have the higher end wood or laminate closet systems you may lack the budget for this now. If you're only going to be in your current home or apartment for a short time moveable organizers like The Container Stores' Elfa units make sense. They look nice and there are cool separators designed for the drawers to keep small items like socks and ties in order as well.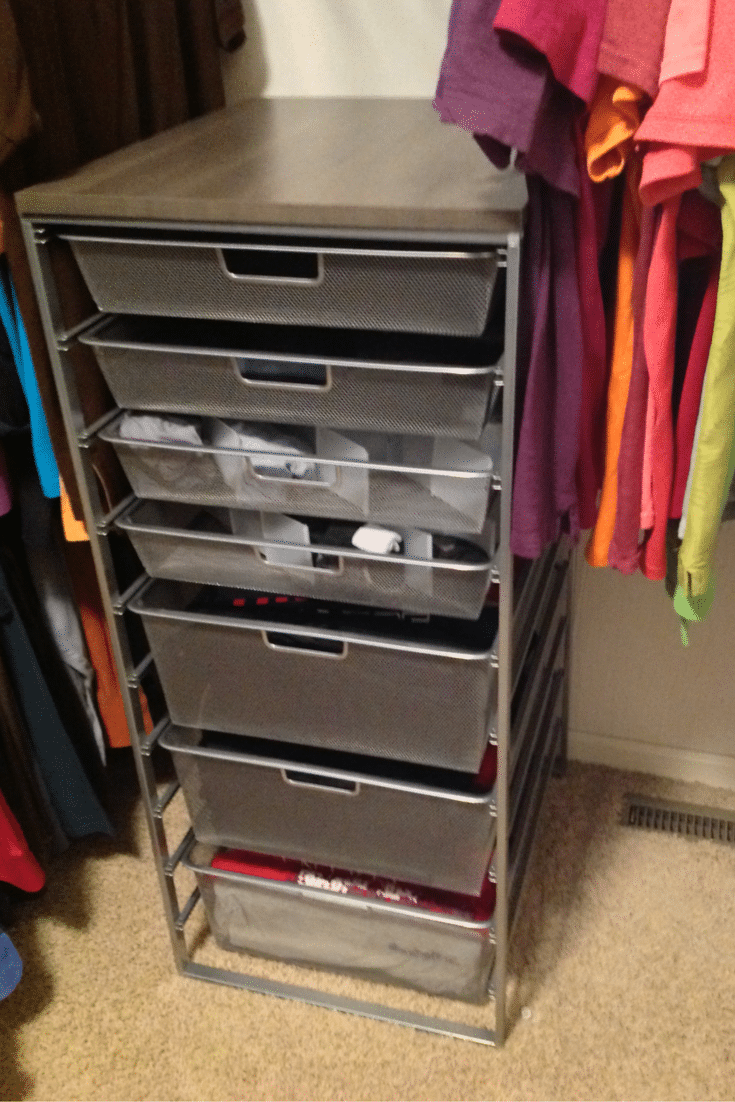 If you're going to stay a while, but don't want to invest too heavily in an organizer system, another option is a ventilated wire shelving for the closet. While these systems do have their negatives (check out 7 Factors to Compare Wire Shelving vs. a Laminate Closet System) they are low budget option and can be equipped with baskets, adjustable shelves, drawers and even shoe shelves. Wire closets have progressed from the cheap builders grade versions in many homes.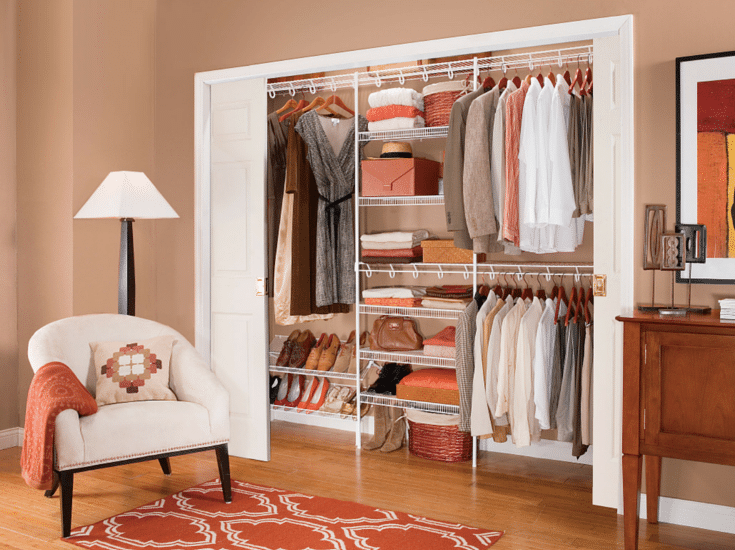 Conclusion
An effectively organized closet (whether you purchase a custom closet or are just doing the low cost ideas mentioned above) really needs to begin with YOU. You'll need to take the time to declutter, look for more effective ways to store things (folding vs. hanging) and make small investments in simple things like hangers and separators to create a neat and attractive appearance.
###
If you want help with either a custom or budget closet organizer system call Innovate Home Org in Columbus at 614-545-6888 or in Cleveland call 216-658-1290.
Follow the author @Mike_Foti or our companies' @InnovateBuild and @InnovateHomeOrg on Twitter.
Save
Save
---
Tags: budget closet, budget closet organizer, budget closet organizer Columbus, budget closet tips, budget closets, budget closets Cleveland, closet organization, closet organizer, closet tips, Columbus budget closet, Columbus closet organizer, declutter, declutter a closet, declutter Columbus, folding clothes, hangers, low cost closet tips, shelf separators