You've emptied the nest, but are you living in the wrong nest?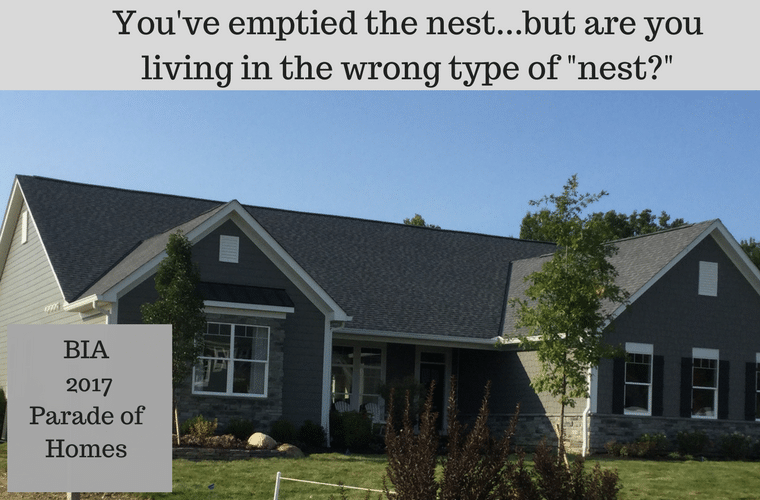 The story of an empty nester couple whose "nest" no longer fits their lifestyle
You've raised Joannie, Anthony and Bobby and lived to tell about it! Too many to mention sleepless nights when they strolled in late from parties with some lame excuse why they were home late. You enjoyed good times with your kids' and their friends. In a strange way, you enjoyed the craziness that was your home as they were growing up. Now, all 3 "kids" are out of the "nest" – leaving you, Bill and your 'pride and joy' Charlie (the family Labrador retriever) in your 4 bedroom 2-story Worthington Ohio home. It's really quiet now. The good news is it's even easier to enjoy your kids now since they are 'mostly' responsible adults (Anthony is sometimes the exception to this rule). Joannie even blessed you with your first granddaughter – the ever so cute – 2-year-old Emily. Oh – how you love spending time with her.
Your suburban home isn't all it was cracked up to be
Your 2-story home with 4 bedrooms on the second floor and laundry in the basement worked for you "back in the day" – today not so much. You hate navigating steps hauling laundry into the basement. You worry about Bill still insisting on using the slightly bent aluminum ladder to clean leaves out of your gutters in the late Fall (this is an accident waiting to happen – but he's too stubborn to hire someone to do it). Your home has become a "dumping ground" for Joannie, Anthony and Bobby's junk. Your closets and basement are filled with way too much stuff. To top it off your kitchen on Thanksgiving resembles a comedy of how many family "clowns" can you jamb into a Volkswagen. Everyone congregating in one small space to smell or taste what you're cooking.
The time is right for a new chapter in life (and in your home).
You see the problems with your home in the burbs (Bill doesn't notice as much). You know the time is right to bid farewell and embrace a new style of living which fits this new chapter of life (yes – you have to admit you're a "somewhat" aging Baby Boomer – but there's always Botox and spa treatments to help).
You aren't new to this rodeo called life. You've been around the block long enough to know what you want in a home and even prepared the following list:
Convenience – You'd like a one level ranch home plan which is simple to get around. It must eliminate the ups and downs of doing laundry or removing leaves from high gutters.
Built to entertain – This home must be built around enjoying the inside and outside with family and friends. You'd like a big kitchen and open family room. Hosting Thanksgiving will be much nicer.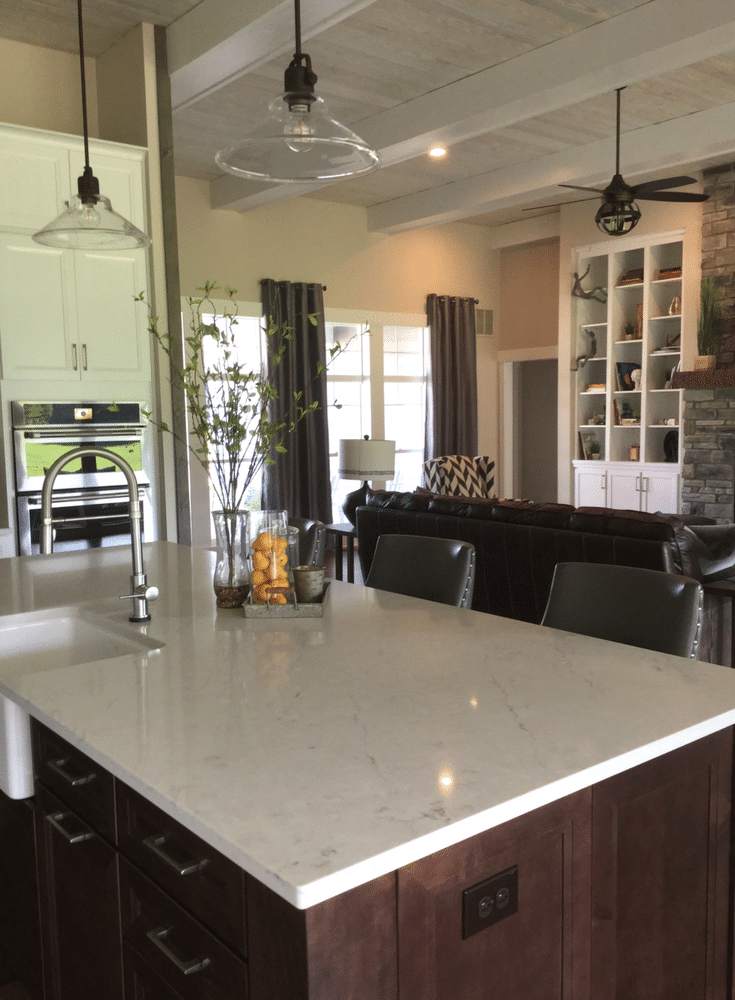 Storage space which doesn't make you want to pull your hair out– A home with ample closet and pantry space you can adjust to fit your needs.
Ready for a sleep-over anytime! – A design which will be simple for you to host your kids (and most importantly grandkids) for a sleepover.
Practical – yet really cool – A practical – yet luxurious home – which allows you to live there for many years. A home your family will have to roll you out of so you'll spend exactly zero time in an independent or assisted living (if you can manage it).
You may be asking, "Mike – where can I find a home geared for an empty nester and baby boomer?"
It's simpler to come up with the list of what you want than it is to find the perfect empty nester home. There are 3 ways I see you can locate what you want (and need) in an empty nester home (in Columbus – or anywhere in the country for that matter).
Option 1 – Do Internet research – Crank up your handy-dandy computer, laptop or mobile device de-jour and search terms like "baby boomer homes, lifestyle communities, empty nester homes, loft housing, luxury home, custom home and active adult communities."
Option 2 – (especially if you live in Ohio or Columbus) – Check out a "Parade" – This type of Parade doesn't have any floats but it does have cool homes. From September 2nd to 17th visit the 2017 Building Industry Association Parade of Homes in Galena Ohio. Stop first at Maple Craft Custom Homes and seek out its owner Gary Dunn. His home is specifically designed for the Baby Boomer/Empty Nester.
Option 3 – Take a "picture" blog tour below and start drooling – If you don't live in Columbus (or can't visit during the Parade) but want a cool empty nester focused home, read below and see the fun and functional features of the Maple Craft Parade home.
Warning – I'm keeping it real. I'm not sharing this post with my wife Rose!
Before you read this article I've gotta keep it real dog (as Randy Jackson on American Idol used to say). I'm not sharing this post with my wife Rose. I'm worried it will create a severe case of "house envy." I'm not looking to move from my home in Copley Ohio any time soon (my 14-year-old daughter would kill me if she had to leave her friends anyway).
I'm going to zero in on the benefits and features of this home. At the end, I'd appreciate if you did me (and Gary, the owner of Maple Craft Custom Homes) a favor. Share your ideas about what an empty nester home should have and what you like (or don't) from this home. Personally – as an owner of businesses focused on home organization and kitchen and bathroom remodeling, I always want to learn from you and get different opinions.
Convenience and design simplicity
Your two-level home design isn't going to cut it any more. Here are some cool features which make the Maple Craft home design simple to live in:
A one level ranch home with a first floor "master suite" area – I love how all the important things you'll need are designed in the same area. The master bedroom flows into the master bathroom. The master bathroom flows into the large walk in closet. The closet flows into the first-floor laundry room. How convenient is that?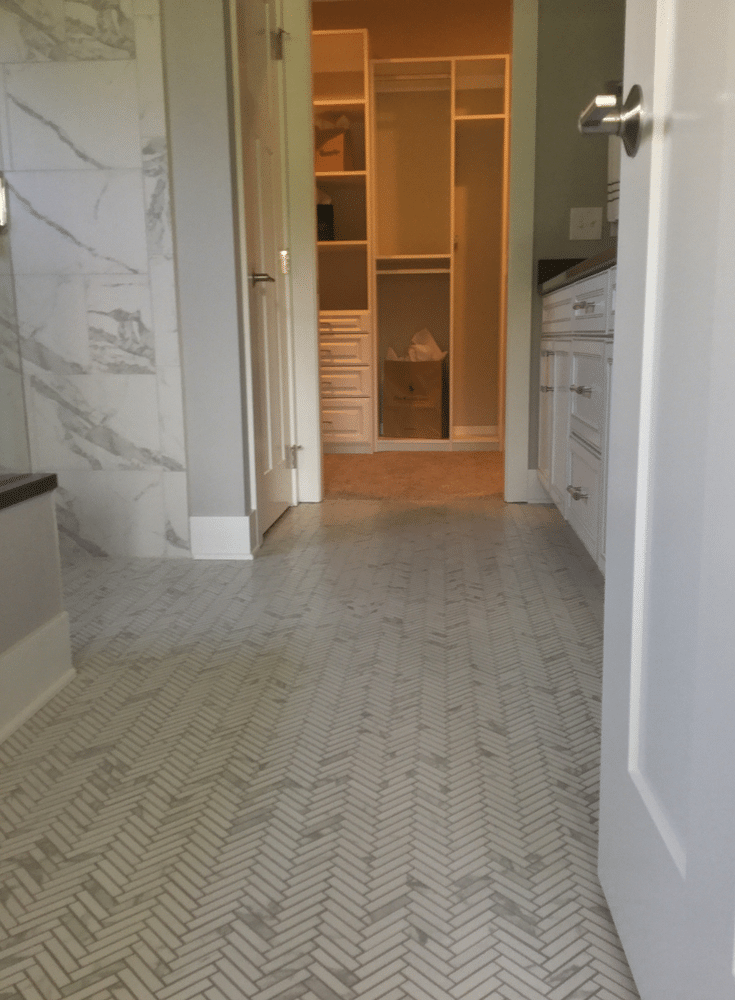 Bedrooms joined by a Jack and Jill bathroom are perfect for entertaining guests (and your granddaughter) – This home is set up with the "master suite" rooms (bedroom, bathroom and closet) on the right and the guest bedrooms – with an adjoining Jack and Jill bathroom on the left. You can have guests, yet they their own "separate" space.
A completely adjustable his and hers bedroom closet – There is a LOT OF STUFF to bring over from your 4 bedroom suburban home and it all (with a heavy dose of decluttering before you move) needs to fit neatly into your new home. This his and hers closet has 2 drawer areas for both of you. Now, you can get completely ready in the closet without having to wake up your spouse by rummaging through your dresser in the bedroom. It also has adjustable shelves, "double hanging" space for more efficient storage and a "long hanging" section for your dresses.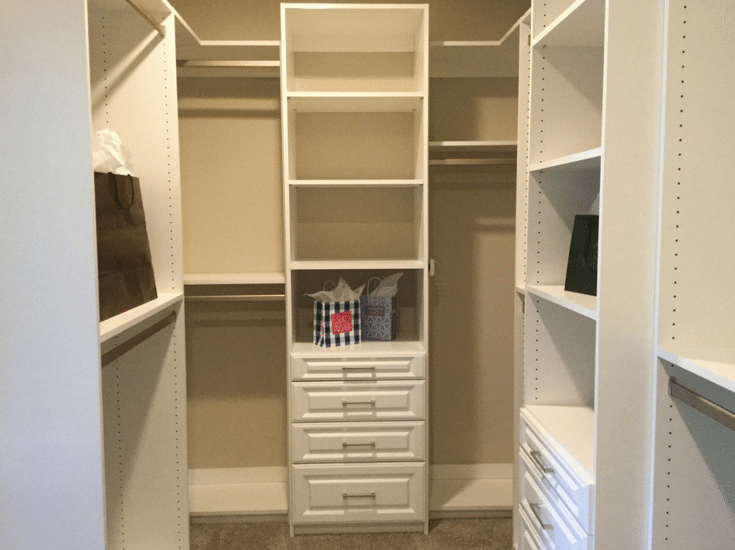 A place to clean "Charlie" the family dog off – I love the dog washing station located off the garage in the laundry room. It's perfect to give Charlie a quick "de-stink-ifying" session.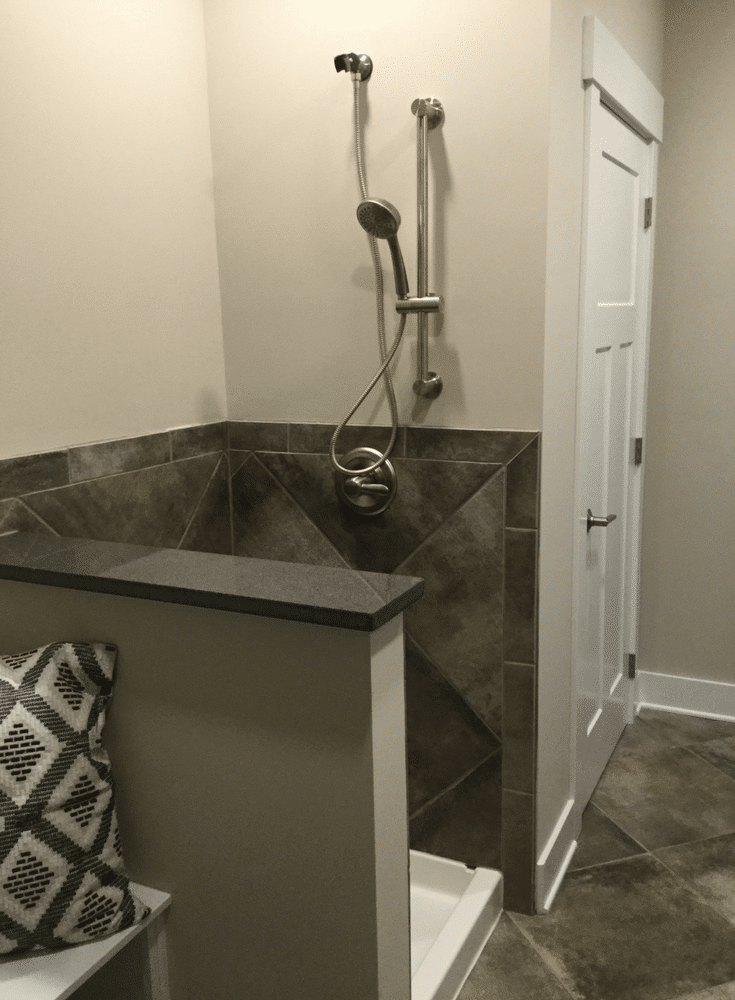 Fun and entertainment
At this stage in life it should be all about you (and enjoying your family and friends). Here's 3 fun features in this home built around entertaining and family.
(Feature 1) An open kitchen and family room. You won't feel crowded with the wide-open kitchen design, large kitchen counters and island, 10' high cabinets and vaulted wood ceiling. This space has a contemporary modern farmhouse feel.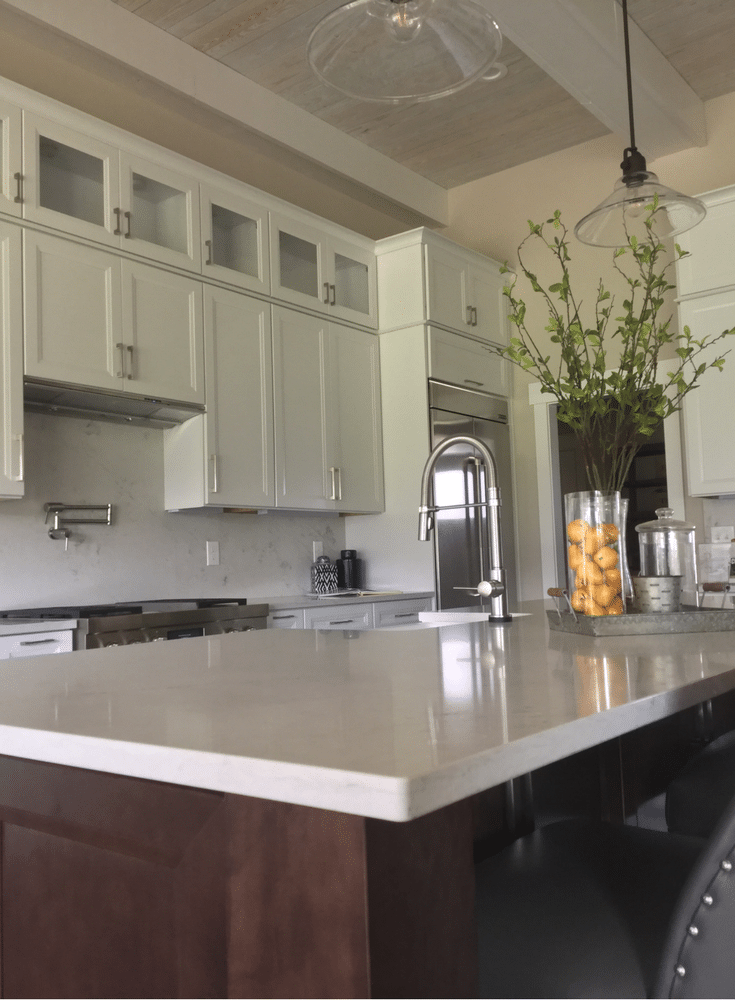 (Feature 2) Convenient adjustable kitchen pantry storage – Finding cooking trays, wine bottles, wine glasses and canned goods can be a pain. This walk-in pantry with contemporary styled Shaker door fronts is located next to the kitchen and is completely adjustable. You can make the space work to fit the height and width of your blenders, boxes, paper towels, can good etc.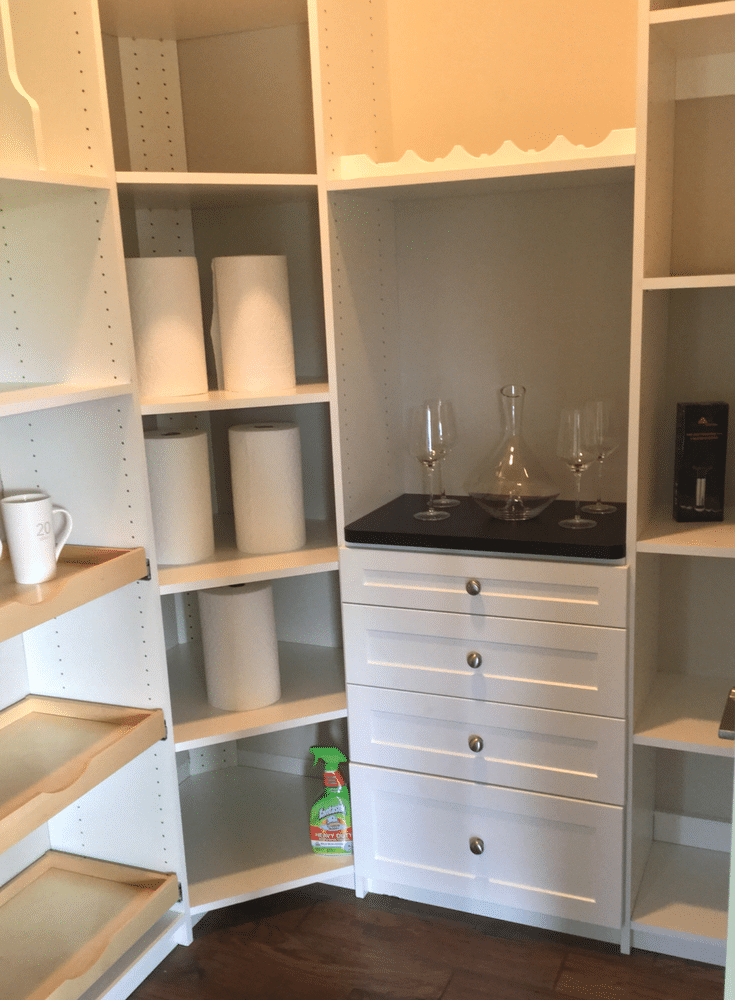 (Feature 3) Designed like your favorite urban restaurant (the inside and outside can be one continuous space) – Don't you love going to a hip urban restaurant with sliding glass doors which make the inside and outside one space? What's cool in this home is the outdoor patio has a covered roof and there is a 14' folding patio door which you can open up like an accordion. You get to enjoy the cool restaurant experience while entertaining in your own home! How fun is that?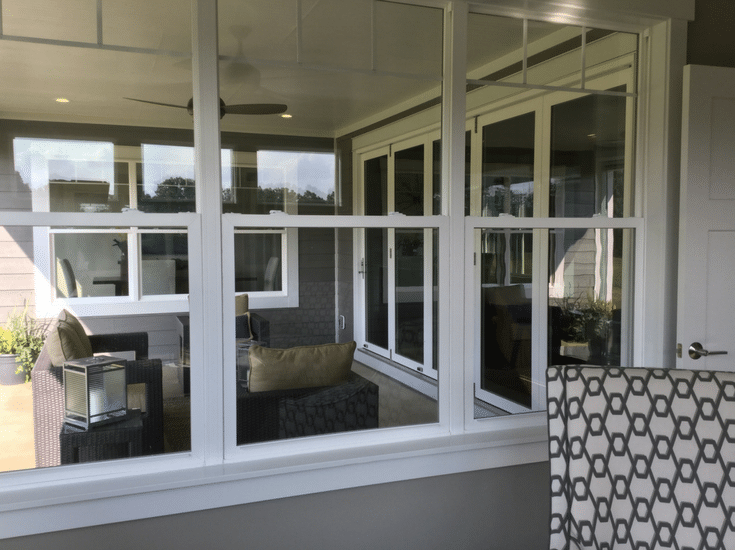 Practical, yet beautiful
Fun, entertainment and convenience are important but you've been around long enough to know you also need to be practical. You've heard terms like "aging in place" (although frankly you don't want to age – or get old- in any place!) and know you need this home to work for you despite some of life twists and turns. You want to keep going and stay active as long as you can) and ward off Independent Living or Assisted Living facilities (and the cost associated with them). To accomplish this goal requires a thoughtful design. Here are two ideas in this Maple Craft Home which add practicality – but also luxury and beauty.
Idea #1 – Walk in one level barrier free shower – This is the first time I can remember a builder in a Columbus Parade of Homes installing a curbless walk in shower. It's something I see many people using on the remodeling side of my business. In this shower, there is no curb to step over. The shower opening is wider as well. The shelf on the right side is convenient for soap and shampoo. The ceramic tiles give the high-end luxury look of marble without the cost. This smart, safe shower also doubles as a luxury shower.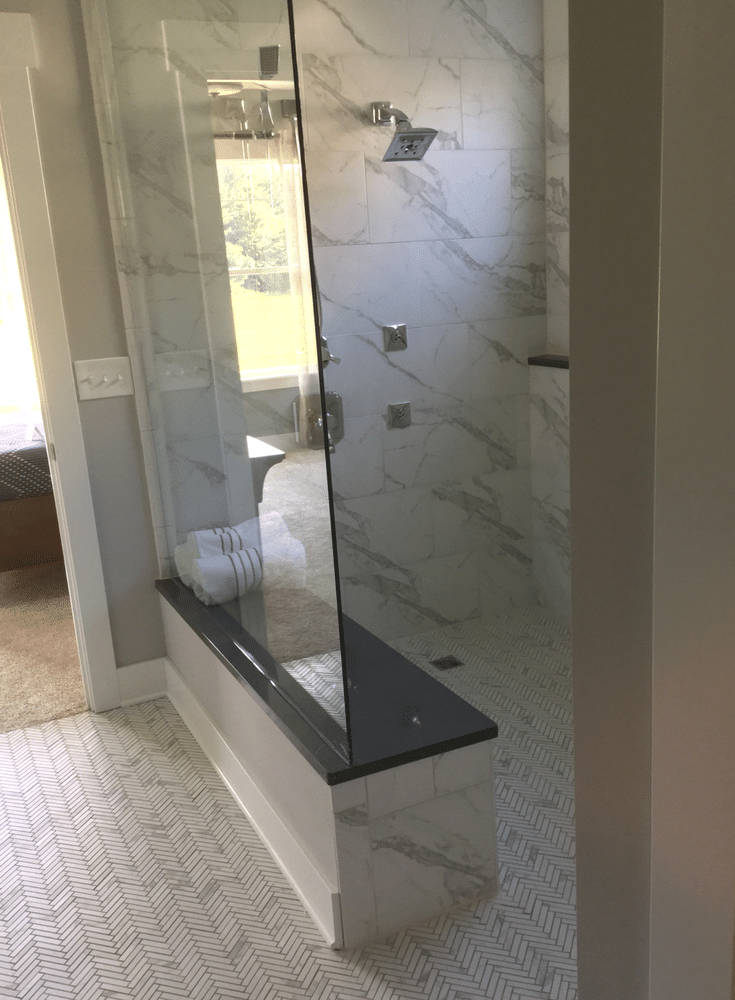 Idea #2 – Let there be light! As you and I age our eyesight isn't what it used to be (if you can relate to me taking my glasses on and off in a restaurant to read the menu you know what I'm talking about). Gary designed this home (and the bedroom shown below) with expansive windows to keep things light and airy (note: in remodeling projects, it's expensive to increase the size of the windows but in new homes it's simple to frame a larger opening so you have increased natural light).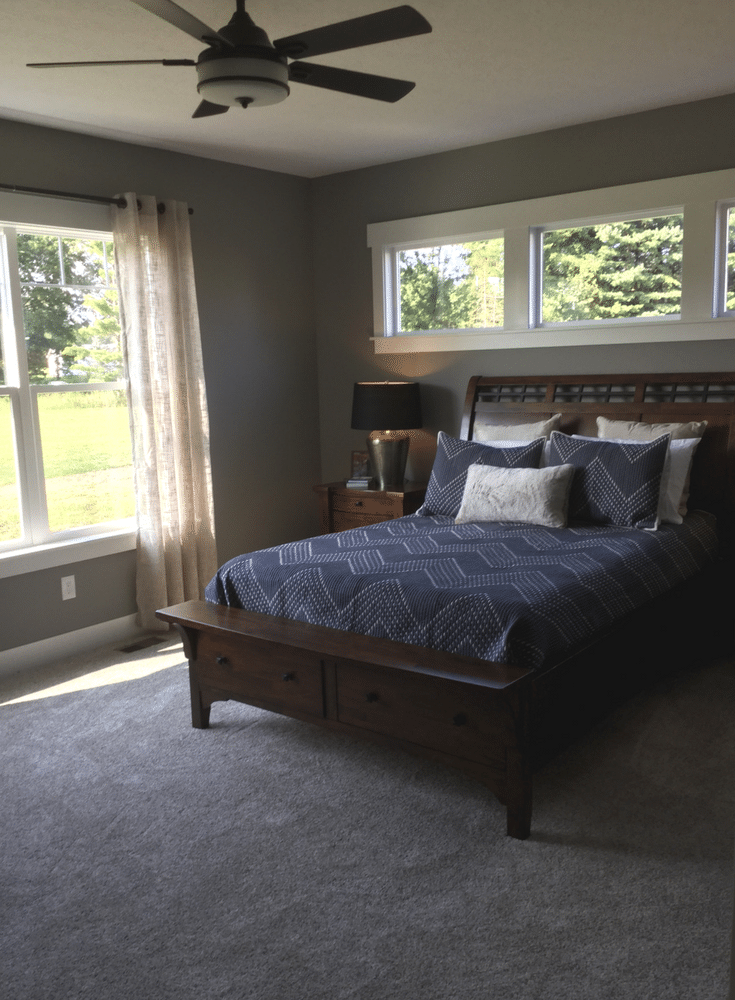 Conclusion
It can be difficult accepting you've entered a new stage in life. It's tough concluding a new home or condo should be in your future. I hope this article has given you ideas on what works in an active empty nester/baby boomer home. If you have additional questions or want to throw out your "2 cents" about the best features of a home for an empty nester please comment or call us at the numbers below
How can I (my team) or Gary (and his team) help you?
If your existing (or new) home needs new home organization systems (closet, garage cabinetry, pantry or entertainment centers) call us at 614-545-6888. We can provide you with a Free 3D design and pricing to make a more organized space.
If you are looking to build a custom home in Columbus, call my friend Gary Dunn at Maple Craft Custom Homes at 614-496-0589
###
For more information about home organization and remodeling follow me @Mike_Foti or our companies' @InnovateBuild and @InnovateHomeOrg on Twitter.
---
Tags: active adult, active adult Columbus, active adult homes, aging in place, aging in place Columbus, baby boomer, baby boomer home, bedroom closets, bedroom closets Columbus, custom closets Columbus, empty nester, empty nester Columbus, empty nester home, organized pantry, organized pantry Columbus, pantry closet, pantry closet storage, pantry storage, pantry storage Columbus, walk in shower, walk in shower Columbus