7 Simple Tips for Downsizing Your Home as an Empty Nester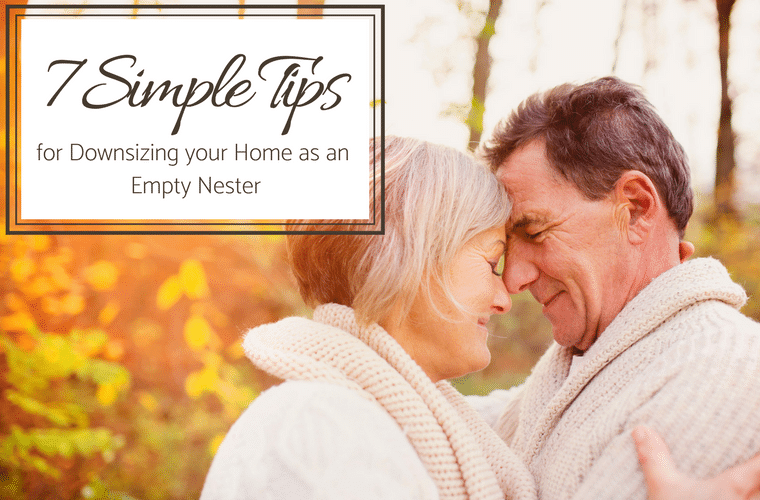 You knew the moment would come. You just dropped your last child – 'Daddy's little' girl' – off at college. You've officially become an empty nester. Now you and Bill have your Upper Arlington home with 4 bedrooms, a fire pit, a hot tub and large yard all to yourselves.
You're supposed to be jumping for joy.
You feel more like crying.
There will be no more cheer practices, band recitals, or field hockey games to attend. You're faced with THE QUESTION:
What's next?
You and Bill have decided your waaaay-too-big 4,000 square foot suburban home (sans kids) with its huge yard and equally hefty energy costs, no longer makes sense. Why continue to slave over 'this old house' maintenance when you could be spending more time traveling and enjoying life?
You call a realtor. You start house hunting. You're kicking around 3 very different housing options:
Option 1 – Move to a loft conversion in Italian Village and Nationwide Arena. It sounds fun – and would be close to nice restaurants (a big bonus).
Option 2 – Find a smaller existing ranch home in an older neighborhood like Worthington. This allows you the same suburban lifestyle – but would cut down maintenance and utility costs.
Option 3 – Work with a custom home builder and design an 'aging in place' (it's still hard for you to say these words because they feel more like 'decaying in place' to you) empty-nester home. It will have a one floor with luxury features, but less square footage.
You have one common problem with all 3 options.
Where the heck are you going to fit your stuff?
The loft conversions and existing ranch homes you've visited have microscopic (or unbelievably out of date) closets and pantries. In addition, when you've met with custom home builders and asked how to maximize closet storage they look at you like you have a third eye. They start mumbling under their breath something about wire shelving. Can you say, YUCK!
While you may be looking at downsizing, you're also looking to upgrade your new home. That also includes the storage!
The question is how can you find a home geared at your new 'empty-nesterish' lifestyle which doesn't have woefully inadequate storage? In addition – and I may be going on a limb here – you may even want storage spaces which go beyond 'functional' and have a dash of 'cool factor.' How exactly is that going to happen?
Don't give up on this vision as the impossible dream.
Read these 7 tips to not only 'fix' your empty nester home storage dilemma – but also ideas to make them beautiful as well.
Tip #1 Declutter
As my Dad used to say, "You can't fit 10 lbs. of s*** into a 5 lb. bag." The decluttering question you may be asking is, "Where should I begin the gargantuan task of cleaning out my old house before downsizing to my empty nester home?" Good question. Here's 3 ideas to get you started:
Idea 1 – Tell your 'kids' to get their junk OUT.
When my Mom decided to move into a condominium after Dad passed away in 1989 she gave me an ultimatum. She said, "Michael – your drum set has gotta go. You have until the end of the month to get it out."
Back in those days I did what any young guy who didn't want to spend much money marketing an old drum set would do. I put an ad in the Trading Times (This publication was the Craig's List of its day). I was excited when a got a nibble on my ad for 8-year-old Slingerland drum set. The guy on the other end of the line said, "What color is it?" When I said blue sparkle. He replied, "Dude, you've gotta be kiddin' me?" It was at that moment I knew I resembled an old guy whose drum set was out of touch with the new drum set styles. I ended up donating the set. Mom achieved her goal of getting my junk out.
The moral of this story. Give your kids a deadline to get their stuff out. Note – you may have to console them when they also find out during this process their 'prized' possessions aren't as hot as they thought (can you say blue sparkle drum set?).
Idea 2 – Mash up the advice of Johnnie Cochran and the KonMarie Method
How can an article of clothing 'spark joy' when it 'doesn't fit?' If you're debating what to do with a dress which is 2 sizes too small and fits like an anorexic model's dress on a Sumo wrestler, maybe it's time to let it go. Don't hang on to stuff with the 'someday it will fit again' mantra. As Johnnie Cochran would say, "If it don't fit you must acquit."
Idea 3 – Have the discipline of an accountant at tax time. Invest 20 minutes per day decluttering (or throw in the towel and get help).
If you look up the word declutter in the dictionary there is no reference to the word fun. When you're looking to tackle decluttering an entire house, it need to be done little by little. It needs the discipline of an organized accountant at tax time. If you know this isn't your Zen, get help from a professional organizer.
Tip #2 – Go where no man/woman has gone before. Create bedroom closet storage where none existed before
If you're considering downsizing to a downtown loft, you'll need to get creative to fit your stuff.
Perhaps you've got your heart set on a loft in Vic Village or want to be close to the entertainment scene in the Nationwide Arena area. If so, closet space will be at a premium. Invent your own storage by adding a custom wardrobe closet. They are built specifically for your clothes and jewelry in a wide array of colors, pattern and textures. They work for even the most eclectic styles.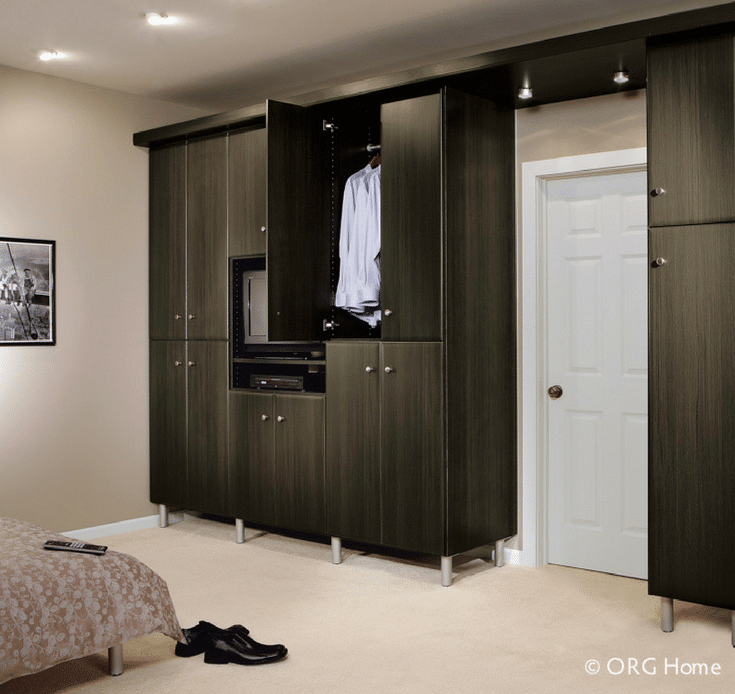 Tip #3 – Don't worry your pretty head. Let an expert figure out your storage – for Free (the magic word!).
Moving is a pain. You know it and I know it.
There are too many doggone decisions to make.
You've learned over the years a 'wise person knows what they don't know.' Since you're not a storage expert (and as a non-betting man I'll venture to say you don't play one on TV like Jay Pritchett on Modern Family) why not bring in a professional closet designer?
A true pro will not only provide you with sound no B.S. storage advice (if you don't believe me read, Say No to the Mess, 5 Brutally Honest Questions You Need to Ask your Closet Designer), you can also get a Free 3D design as well. How's that for a deal?
Tip #4 – Apply 'retail therapy' strategy to your storage. Think BOGO. Buy one function, get another storage function for Free.
As I've gotten older I've learned a few tricks. One of my dirty little secrets (pssst. don't share this with ANYONE)– is I've learned I can take 20 years off my look at any time with a $9.99 in deep dark brown hair coloring. OK – if I'm being real – maybe only 19 years! However, if you're like me – at least you'd like to think – you've gotten smarter with age -even if your body and hair color is defying you.
One of the ways you need to get smart in a new empty nester home is to build in some BOGO into your storage design. In this case BOGO means – buy one storage function, get another storage function for free. Here's 3 storage 'bogo-xampes" (not a word, but I'm going with it) you need to consider:
BOGO storage example #1 – The "Laun-Craft" Room
Combine your laundry room storage with a craft room. You'll add interest to a mundane space and it will provide you with an area to do projects with your grandkids.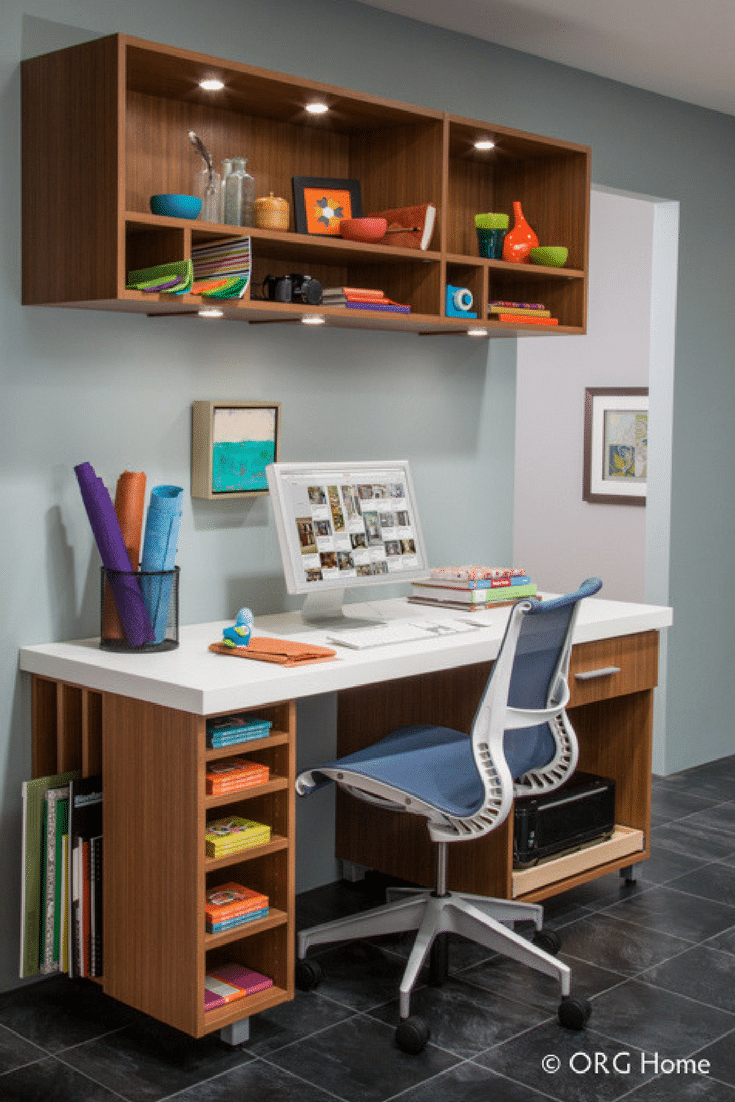 BOGO storage example #2 – The 'garage-bench'
Get the mess of your husband's "I'll-Get-It-Done-Even-Though-I'm-Not-As-Hunky-As-A-Property-Brother" home improvement projects out of the home and notch up your storage at the same time. Add garage cabinetry with a workbench. It provides a convenient place for tools and extension cords and keeps the mess outside. Where it belongs.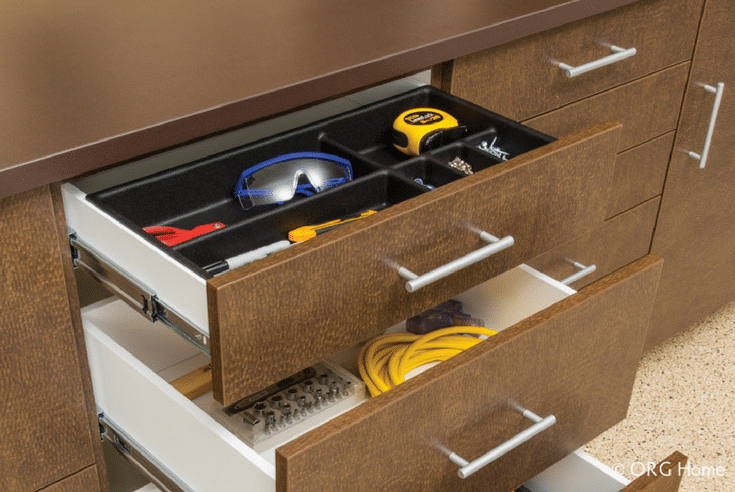 BOGO storage example #3 – The "Murphy-Office"
You'd love a guest room when the kids come to visit – but who can afford wasted space the other 99% of the time? You also need a home office to stay productive with work and paying the bills (boy is that fun???).
Why not combine a guest room with a home office? The perfect answer is a fold-away Murphy bed with a fold down desk function. This a stylish 2 for 1 special.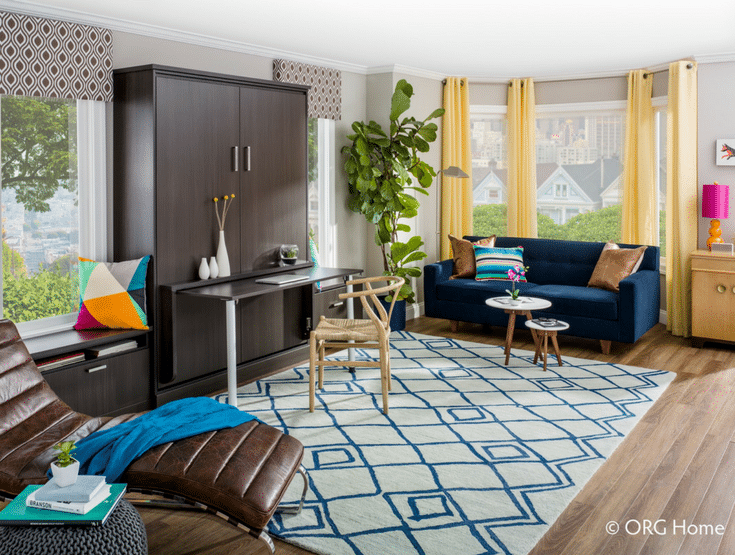 Tip #5 – Do not rely on your builder to figure out your storage
I know some incredibly smart custom home builders in Columbus – so this tip is not bashing them. However, let's face this fact:
A home builder or general remodeling contractor is your 'primary care provider' in a new construction project.
You may be asking, "Mike – what do you mean by that?" Well custom home builders are charged with knowing a little about a lot of elements (have you ever thought how many components, trades and products go into building a home?). I don't care how smart your builder is they cannot (and are not) an expert on everything. If you think about it, you wouldn't go to your family doctor and ask them to 'experiment' on you and try their hand at their first triple by-pass surgery.
For this reason, if you're doing a major remodel, or building a custom one level ranch home to age in place (have I told you how much I HATE the term aging in place?), bring in a closet organizer to figure out your storage. Don't settle for some slapped up wire pantry shelving or bedroom closet. Its critical to have effective storage when you're downsizing – because your storage needs exceed your storage spaces.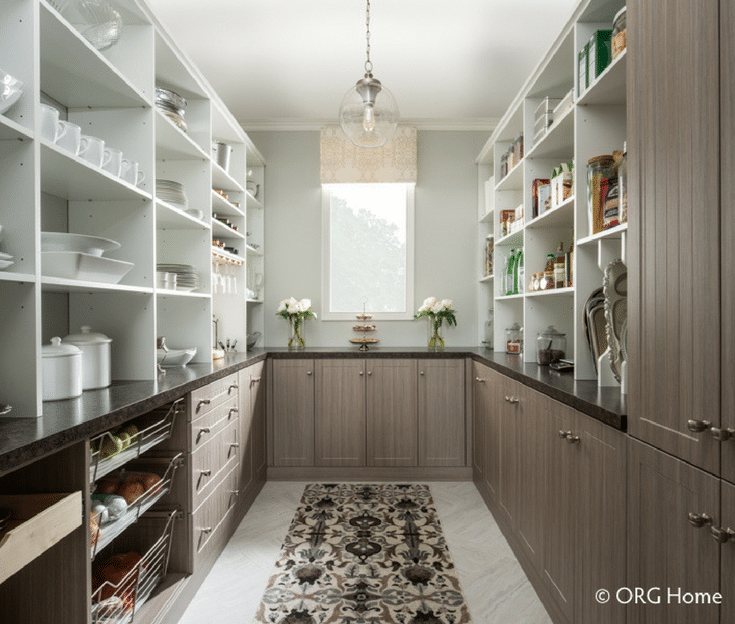 Tip #6 – Show your storage 'the light'
If you have grandkids, are you amazed how they're able to read in the dark?
Do you require crazy-looking 'night goggles' to navigate the roads at night?
Are you the one looking weird in a restaurant pulling your glasses on and off AND using your flashlight phone app to read the menu (yes – I have resembled this remark)?
I know my ability to see isn't what it used to be. As we age, better lighting in storage spaces is a must. If you're building new and your storage space has an outside wall add a transom window for natural light (check out this pantry shelving storage below).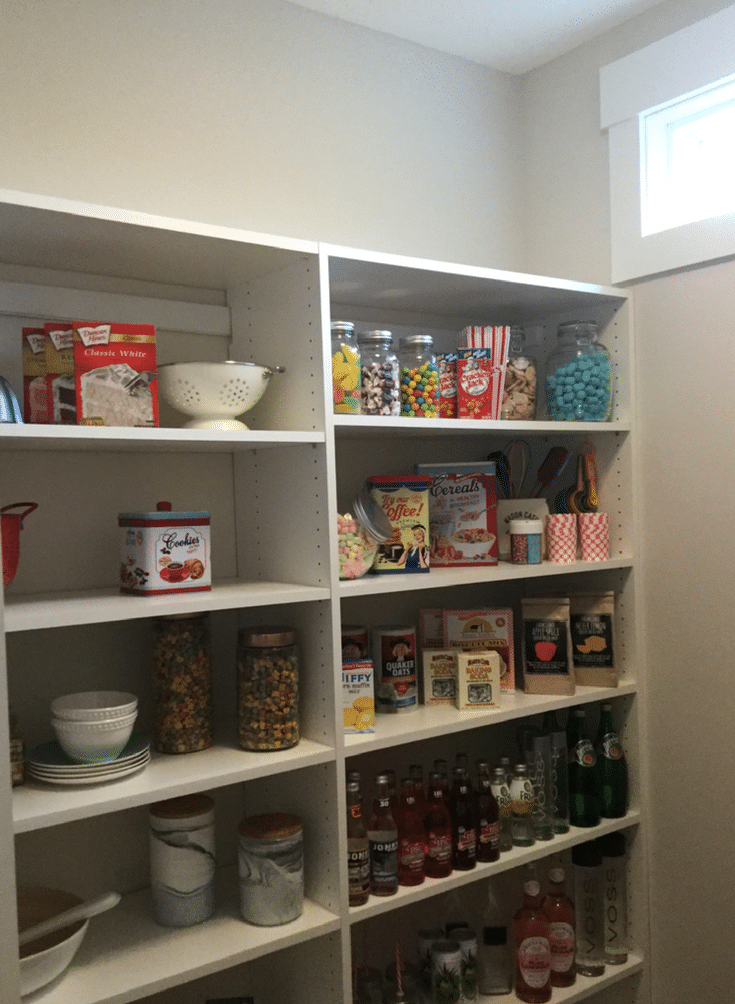 If you don't have an outside wall for natural light, and don't have an outlet in your closets, motion-activated LED's are the perfect way to go. They only cost $55 – but make a world of difference.
Tip #7 Design for the long run
A closet island can be a wonderful feature in a glamour closet.
A closet island can be a tragic feature in a glamour closet if a family member can't get around it in their wheelchair.
A 'furniture style' built to the floor closet system looks grand.
A 'furniture style' built to the floor closet system doesn't work if you can't reach the clothes on the upper rods or get close enough to the lower rod because you're in a wheelchair.
You might be wondering how do make sure your storage system not only works for today, but works for all your tomorrows as well?
The key is to find a storage designer who understands universal design (i.e. this is designing for people of all ages and abilities).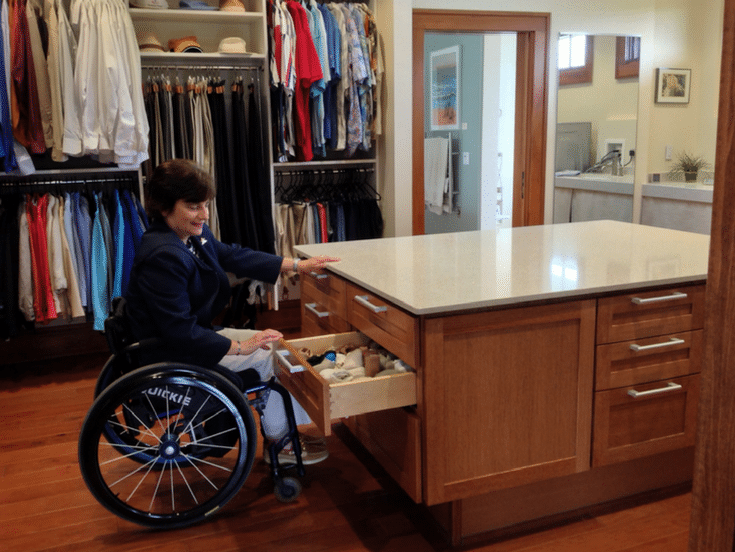 Remember this. Form is useless without function.
Conclusion
When you 'graduate' into the empty nester stage, your home can be a blessing or a curse.
It can be a blessing if you enjoy a luxurious, low maintenance home with effective storage which gives you more time for family and vacationing.
It can be a curse if you hold onto your existing suburban home with too much maintenance, too high energy costs, too small closets and too many empty rooms. Being reminded of your past (which is largely in your rear-view mirror) can be tough.
I hope you enjoy this next stage in life. If you'd like to have a personal storage and closet design concierge (boy – this term really makes us sound important) help you figure out your new home storage spaces, I (or a member of my team) would be delighted to help.
How can I (or my team) help you?
If your existing (or new) home needs better home organization systems (closet, garage cabinetry, pantry or entertainment centers) call us at 614-545-6888. We can provide you with a Free 3D design and pricing and get you more organized no matter what your budget is.
###
For more information about home organization and remodeling (with some – occasionally bad -humor thrown in along the way) follow me @Mike_Foti or our companies' @InnovateBuild and @InnovateHomeOrg on Twitter.
---
Tags: active adult, active adult Columbus, active adult homes, aging in place, aging in place Columbus, baby boomer, baby boomer home, bedroom closets, bedroom closets Columbus, custom closets Columbus, downsizing empty nester, downsizing your home, empty nester, empty nester Columbus, empty nester home, garage cabinetry Columbus, glamour closet, organized pantry, organized pantry Columbus, pantry closet, pantry closet storage, pantry shelving, pantry storage, pantry storage Columbus, walk in shower, walk in shower Columbus