The mathematics behind a stylish (and cost effective) walk in closet.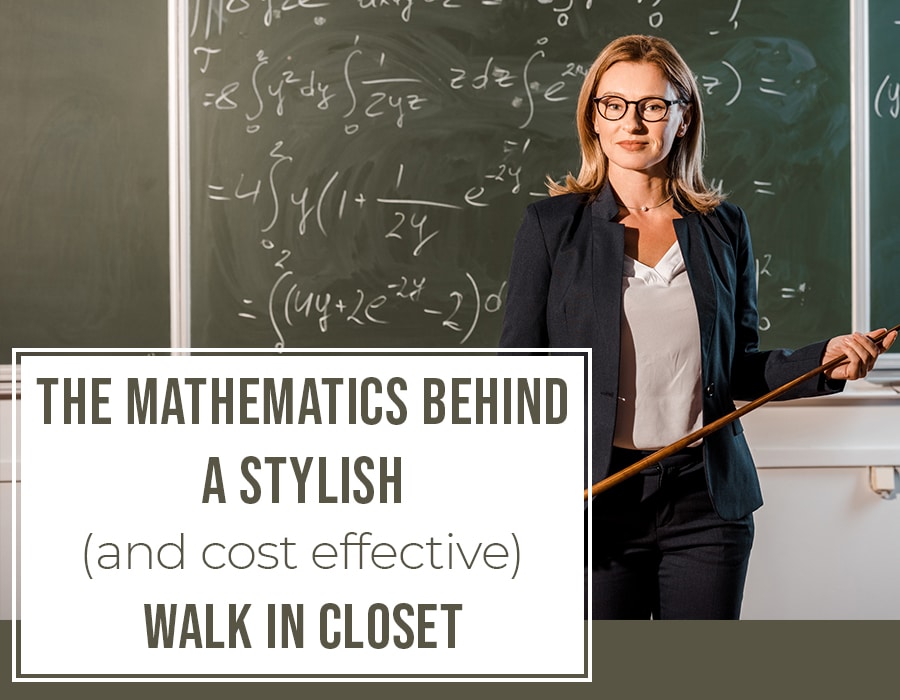 Ok, I'd be willing to bet A LOT of money when you look at a walk-in closet you LOVE, LOVE, LOVE, math IS NOT the first word which comes to your mind (unless you're worrying about how much it's going to cost).
But what many people don't realize is 'doing the math' is essential to a better closet design. Here's why:
Smart math (and closet sizing) makes a sharper closet.
Smart math saves money.
Smart math eliminates the frustration of a closet which doesn't 'live' well.
And I'm not just telling you this because I'm a guy who was weird enough to take 3 statistics courses while majoring in business at Carnegie Mellon University. And yes – this is a geeky school where our team name is the Tartans. And for those of you not familiar with a Tartan, it's a plaid pattern woolen skirt worn by Scottish dudes. Now, maybe that does match a geeky guy who takes 3 statistics courses!
And I'm not telling you this to be delusional and 'think' I'm the smartest guy in the room. My wife has knocked this notion out of my head years ago.
No, I'm telling you math is critical to a stylish and cost-effective walk-in closet because I've learned this first-hand as an owner of a closet company in Columbus, Ohio.
And I'm telling you this because I've designed thousands of closets. And I'm constantly learning from the 'best of the best' designers in my closet industry association. And the reality is we're always talking about the size of parts and closet sections and how to make them more beautiful AND work within our client's budgets.
So, what can you expect in this article? Well – I'm going to go behind-the-scenes- and talk about 'the numbers' to a more effective and stylish closet which will save you 'bank.'
Without further adieu, let's dig into 'closet numbers' you need to know.
96, 84, 72 ….24, 19, 14– No, I'm not mimicking Baker Mayfield from my Cleveland Browns (or Justin Fields from Ohio State) calling out the 'snap count.' This grouping of numbers is 'calling out' a way to make a better closet. And what I'm referring to is changing the height and depths of the closet to make it more stylish and functional.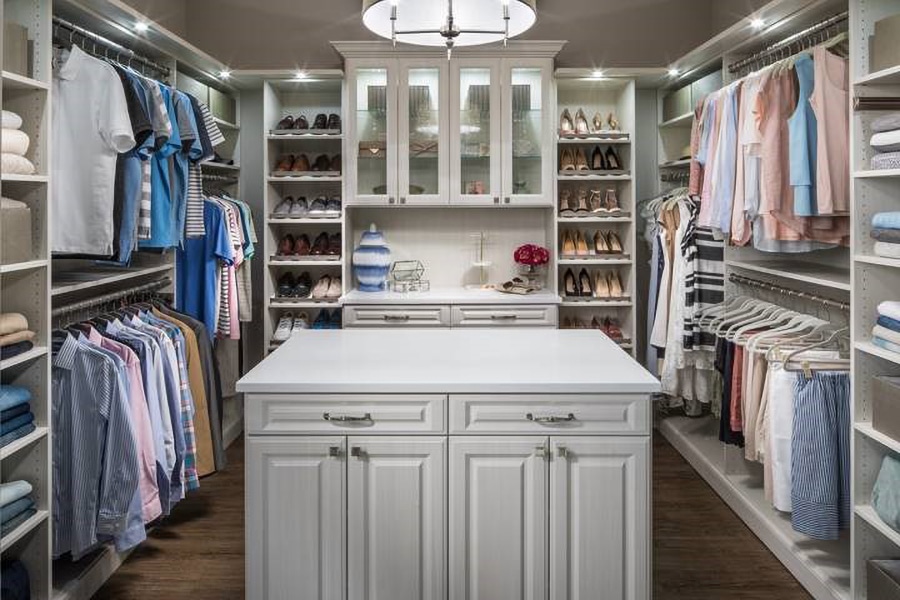 Image Source: Inspired Closets Chicago
You see the enemy of a stylish closet is sameness. When you change heights (lets' say in a 9' high closet you use a center section at 96" and 'drop' the side sections to 84"), you'll add drama and interest.
And when you vary your closet depth – let's say going from 19" deep in the middle drawer section to 14" deep for the side hanging sections, you'll not only add storage space in your drawers (you desperately need), but you'll save money in the open hanging sections (where the extra cost for the 19" depth won't add value because your hanging will still be sticking out).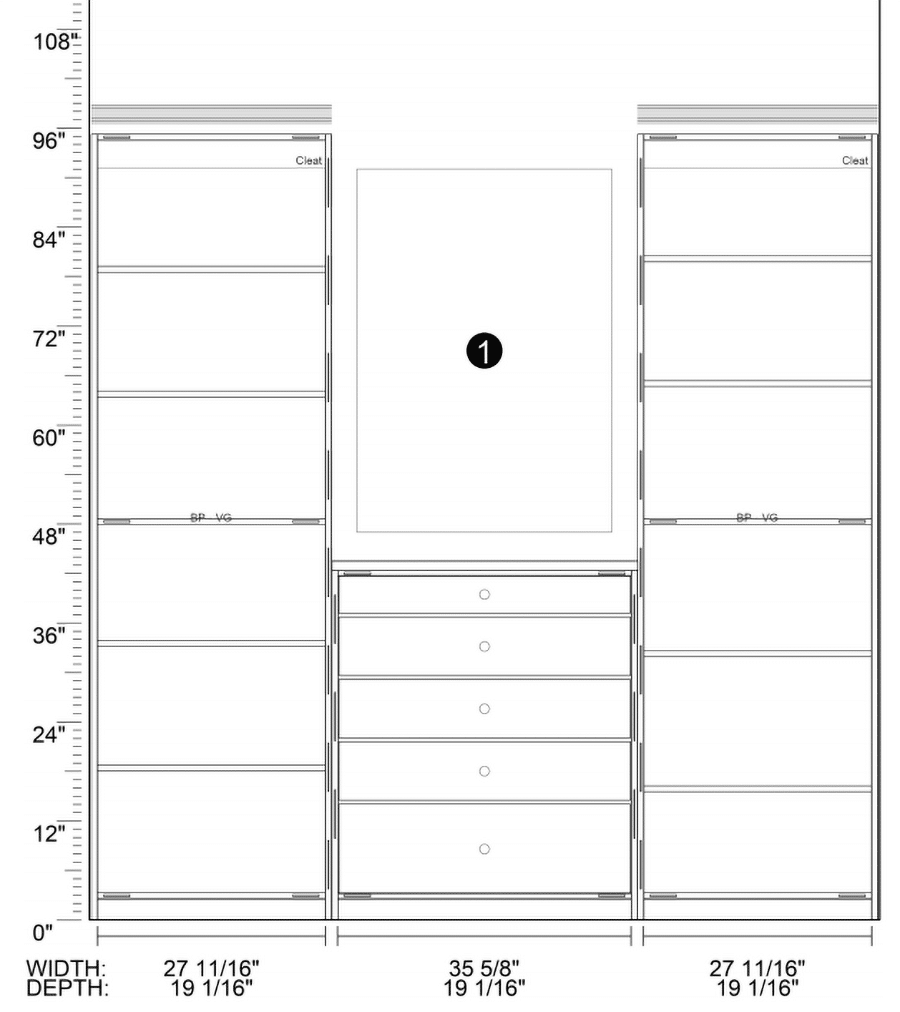 < 96" wide crown molding – Crown molding (which is made in 96" lengths) can create the 'wow' to turn an ordinary closet into an extraordinary one. However – where crown molding looks less than ideal is when molding is designed to be longer than 96" and 2 pieces need to be seemed together. To eliminate this problem (and get a cooler looking closet), keep your crown molding lengths to 96" or less by changing heights and depths (which also makes a more stylish closet as mentioned before).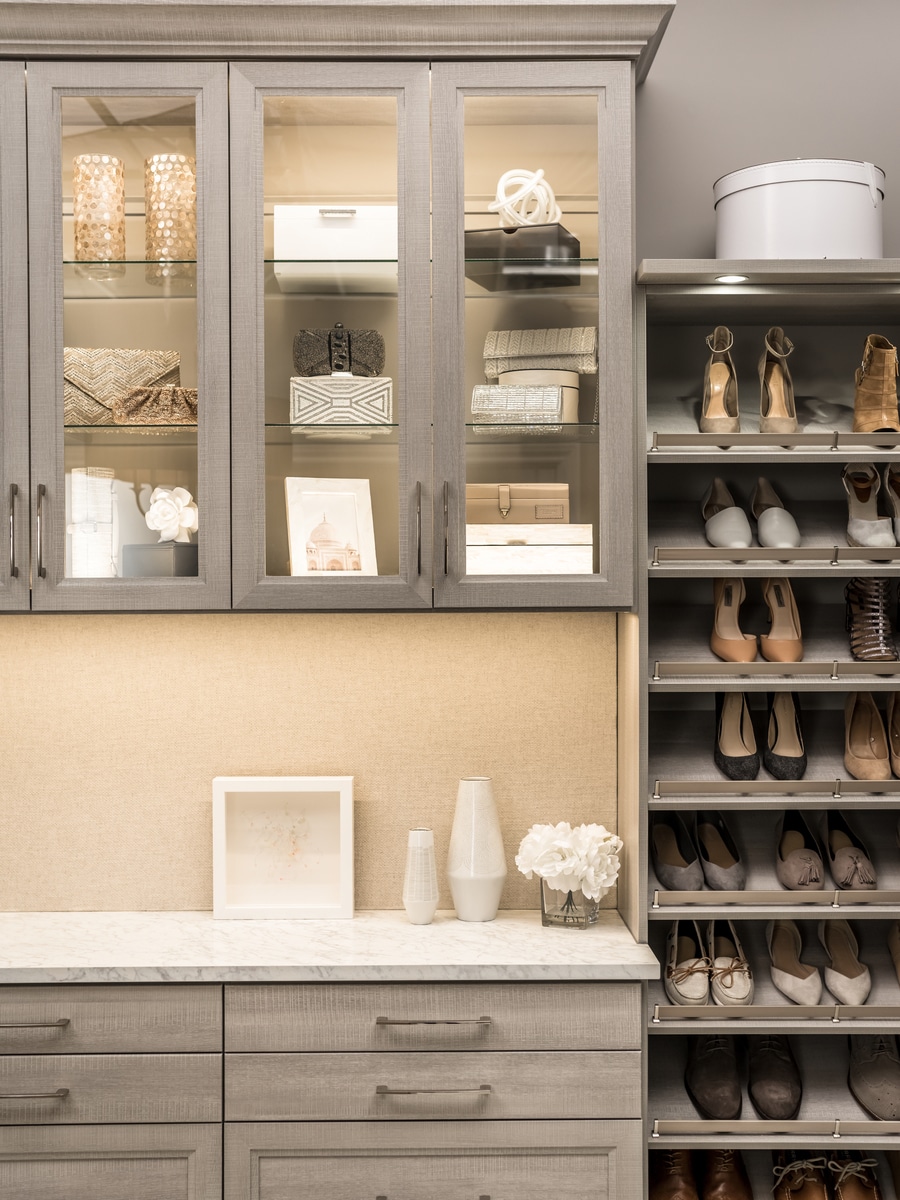 40" spacing between double hanging closet rods – The number one way to 'grow' your space in a closet is converting a single rod closet to 'double hanging.' However, to do this right you need to get your 'math' correct. While you can 'get away' with a smaller height between rods with pants folder over, in general you want the top rod of a double hanging section 80" off the floor and the second rod in this section 40" from the floor. This will ensure your clothes aren't dragging on the closet floor with dust bunnies and get curled up at the bottom.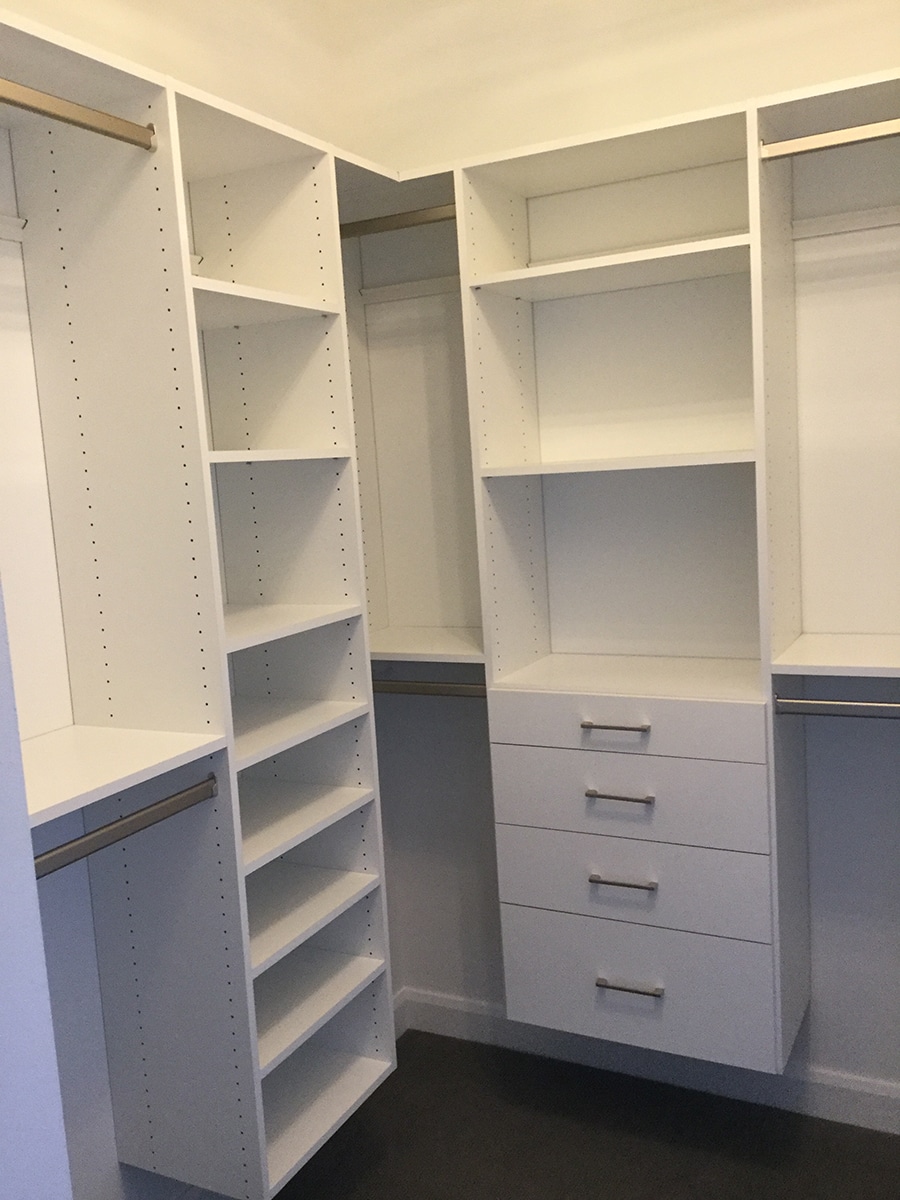 <36" wide closet rods – No one likes a bent rod unless they're a pole vaulter. And a closet rod which is bent because it's too wide is an accident waiting to happen. It's for this reason you'll want to keep your rods to 36" or less in width.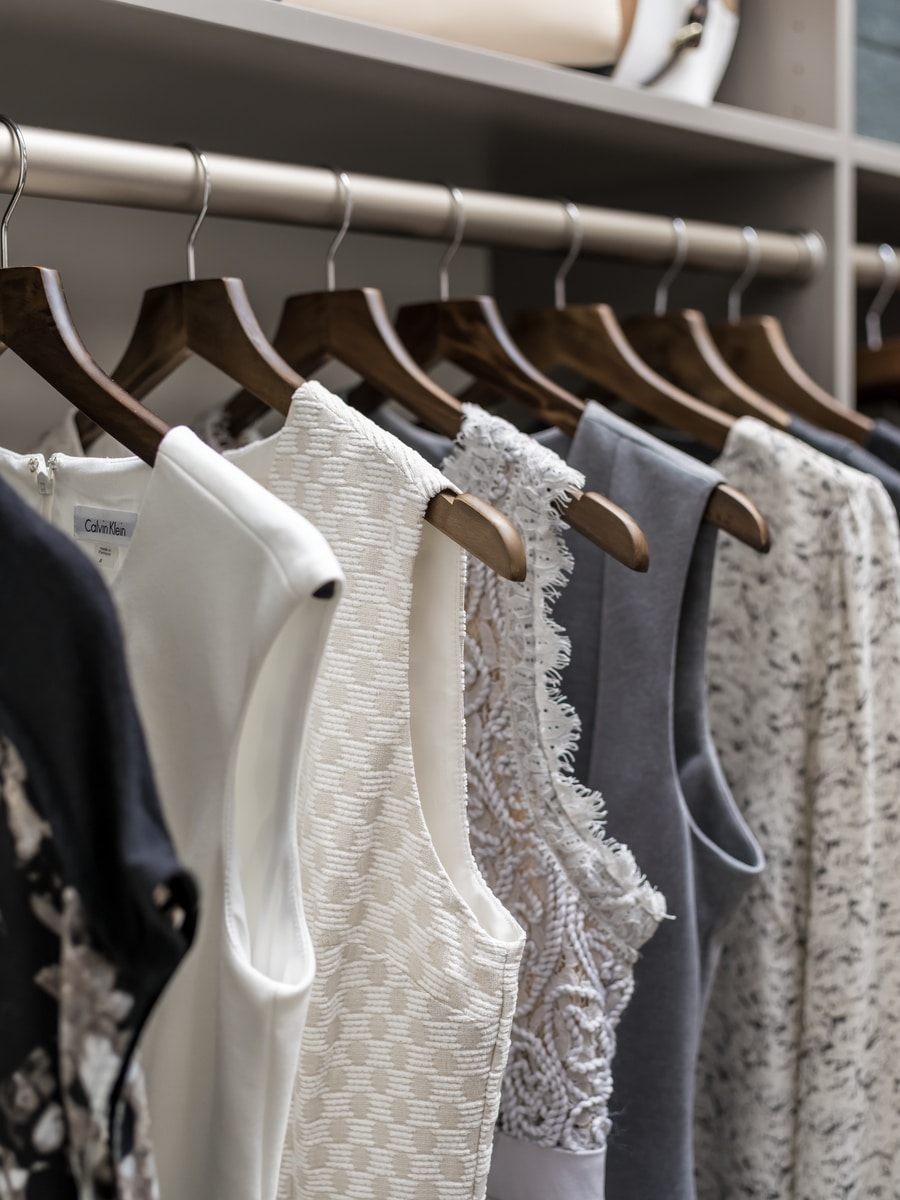 24" wide drawer boxes – I gotta admit I love 24" wide drawer boxes (and yes, some people do think I need to get out more often to find better 'loves' beyond drawer boxes).
But seriously, the reason I love the 24" wide box is not only because it's a standard size (and standard sizes save money – and help designs be cost-effective), but it's also because the storage inside the box is more efficient. You see, since most folded clothes are 10 to 11" wide you can get 2 stacks side by side in the drawer. With an 18" wide drawer you can only get 1.5 sections…and most people don't want to cut part of their clothes in half (ha! ha!).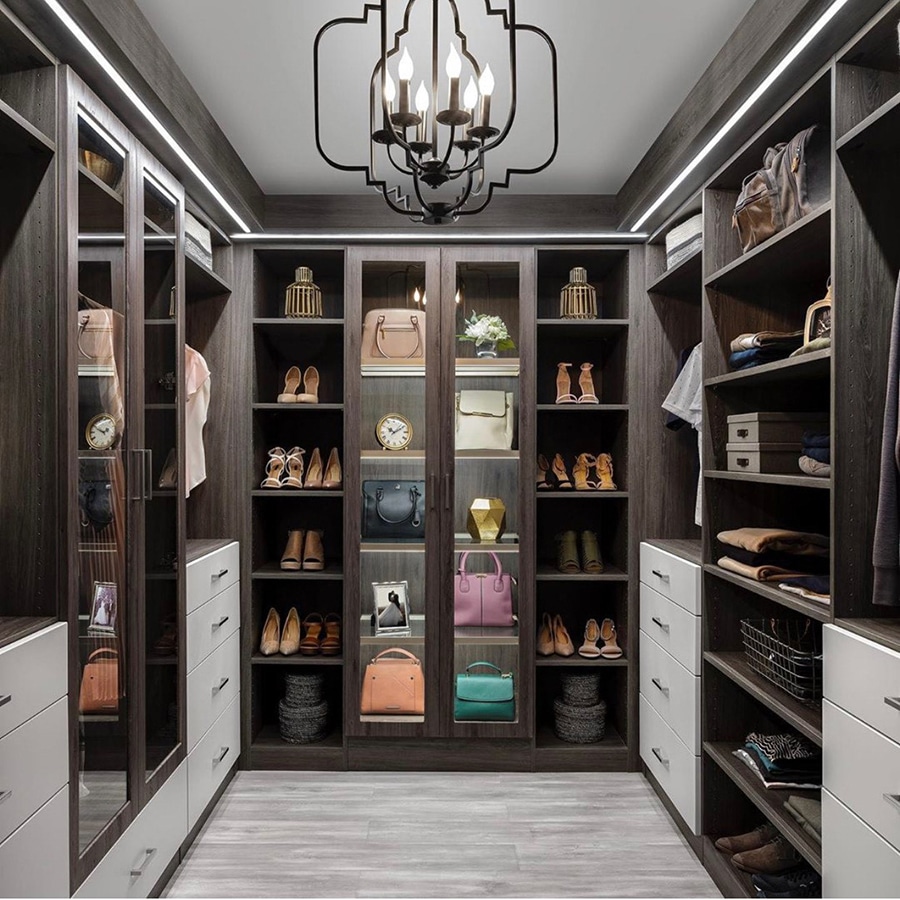 Image Source: Organizers Direct Custom Closet
12" deep shelves – 12" is a shelving number you'll see all the time in 'slap 'em up' closets installed by production home builders. And IMHO 12" deep is a shelving number which should be avoided like the Coronavirus. Cheap wire closets (and even many 'professionally' done laminate closets) use 12" deep shelving. This is because they're made in high volume and save money for the builder or high-volume closet company (you see a standard 4' wide laminate board can be cost-effectively cut into 4 pieces). 12" shelving is all about benefitting your supplier, it's not about benefitting you. And here's why.
There's a problem with 12" deep shelves. Your sweaters hang off the edge (and make your closet look sloppy). Your spouse's 'big dog shoes' stick out.
Avoid 12" deep shelving.
Space permitting, it's best to use 14" deep shelving.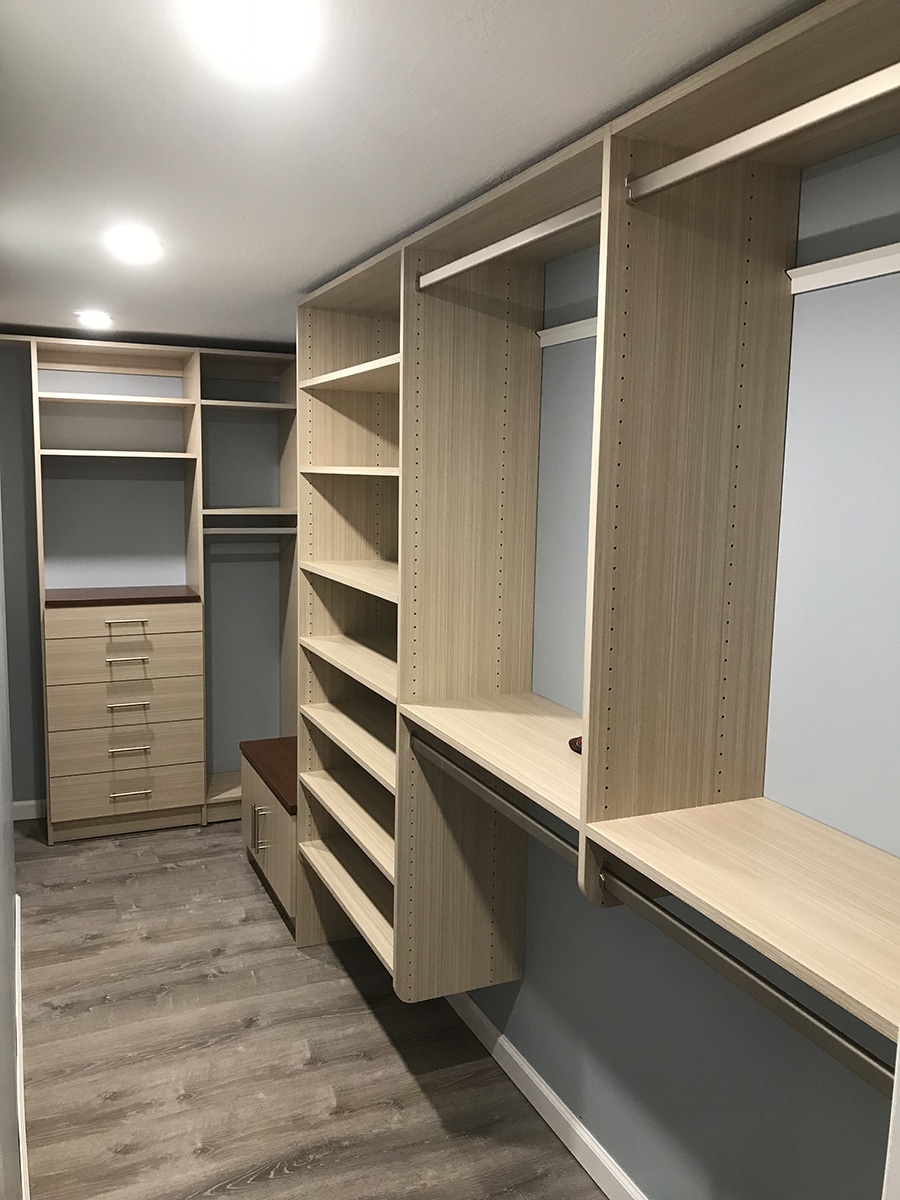 12", 8" and 5" high drawer boxes – There's a lot more to know about drawer boxes than meets the eye (and if you don't believe me read 11 Secrets about Closet Drawers Even Most Closet Designers Won't Tell You). You need to be strategic about your drawers to get the biggest bang for your buck. And this begins using small (5" high drawer fronts) drawers for jewelry, socks and underwear. You see with deeper drawers, finding small things is like sifting through 'popcorn' in a shipping package. A crazy, frustrating seek and find process.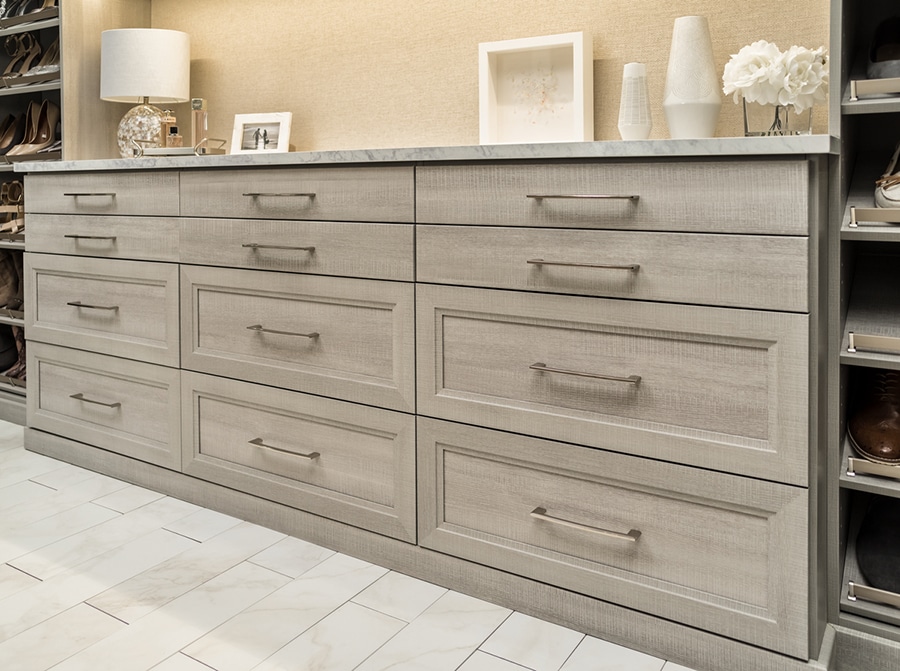 For your 'everyday' wear (t-shirts, jeans and yoga pants) 8" high drawers are smart. And for your bigger, bulkier sweaters, sweatshirts, and blankets, 12" high is the right choice.
4" or 2 3/8" high base trim – While many closet companies use toe-kicks at the bottom of closet sections, I'm a big believer in stylish base trim for the finished furniture look.
And since base trim takes 'valuable vertical closet real estate' which you need for your hanging clothes or shelves, you'll want to be thoughtful which height you choose. And here's what I recommend. For closets 8' high or shorter use 2 3/8" high base trim. This maximizes the room above trim for double-hang sections or shelving. And for closets 9' high the 4" high trim gives you the bolder look it's easy to love.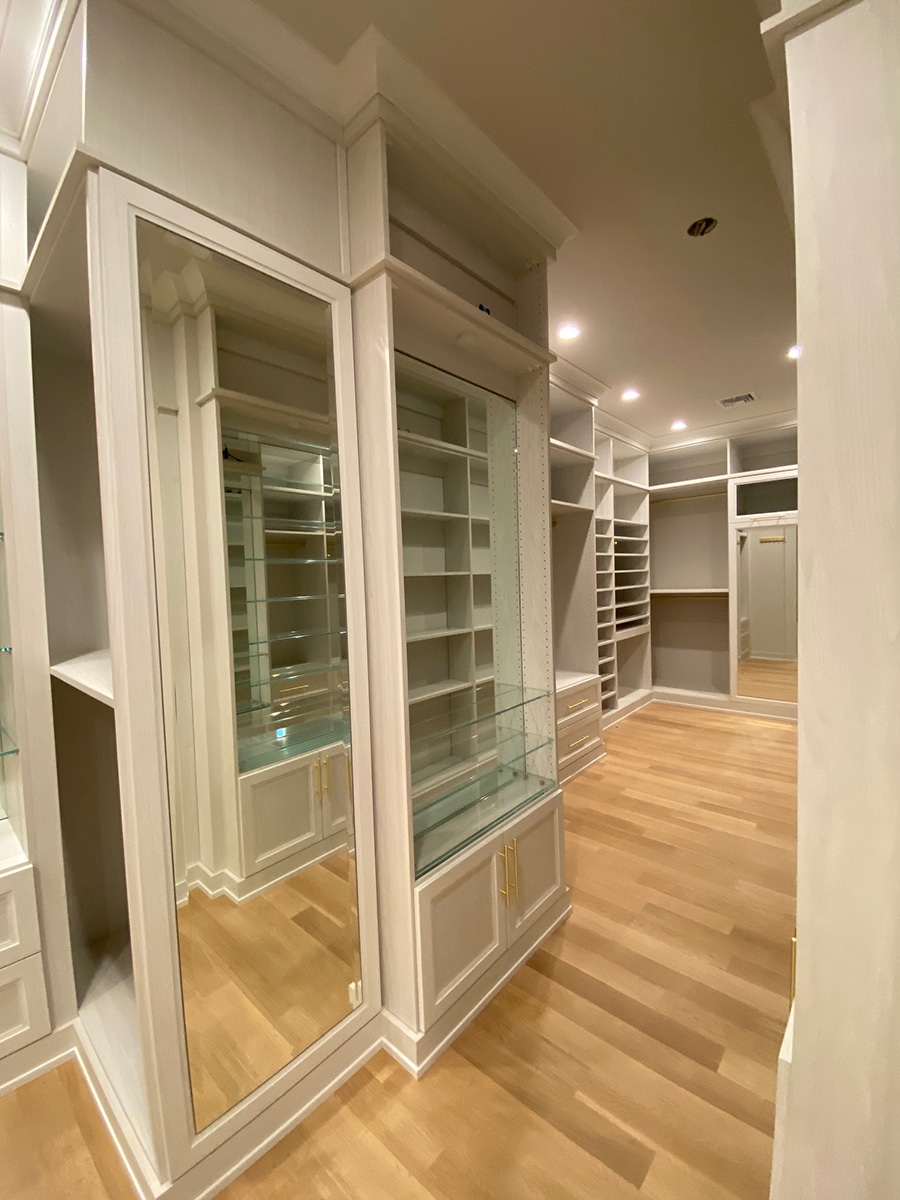 Image Source: Boutique Closets and Cabinetry
1 1/8" spacing – One of the biggest sins of a closet design (which is unnoticed by most UNTIL they attempt to use their closet) is the inability of the system to adjust up and down. As cargo pants, Crocs, platform shoes and blouses with shoulder pads have taught us, styles will change. Those stylish long dresses you love today, could become miniskirts tomorrow (and yes, I know some out there are thinking….so it isn't so!). Those popular boots could fall out of favor and flats will be all the rage.
Your custom closet needs to have the ability to adjust to fashion trends and how the height of your clothes and shoes change.
And this is why 1 1/8" 'increments holes' (as they're called in the business) are essential. These pre-drilled holes on the sides of cabinet and shelving sections allow your closet to adjust to your changing styles (and heights of clothes and shoes).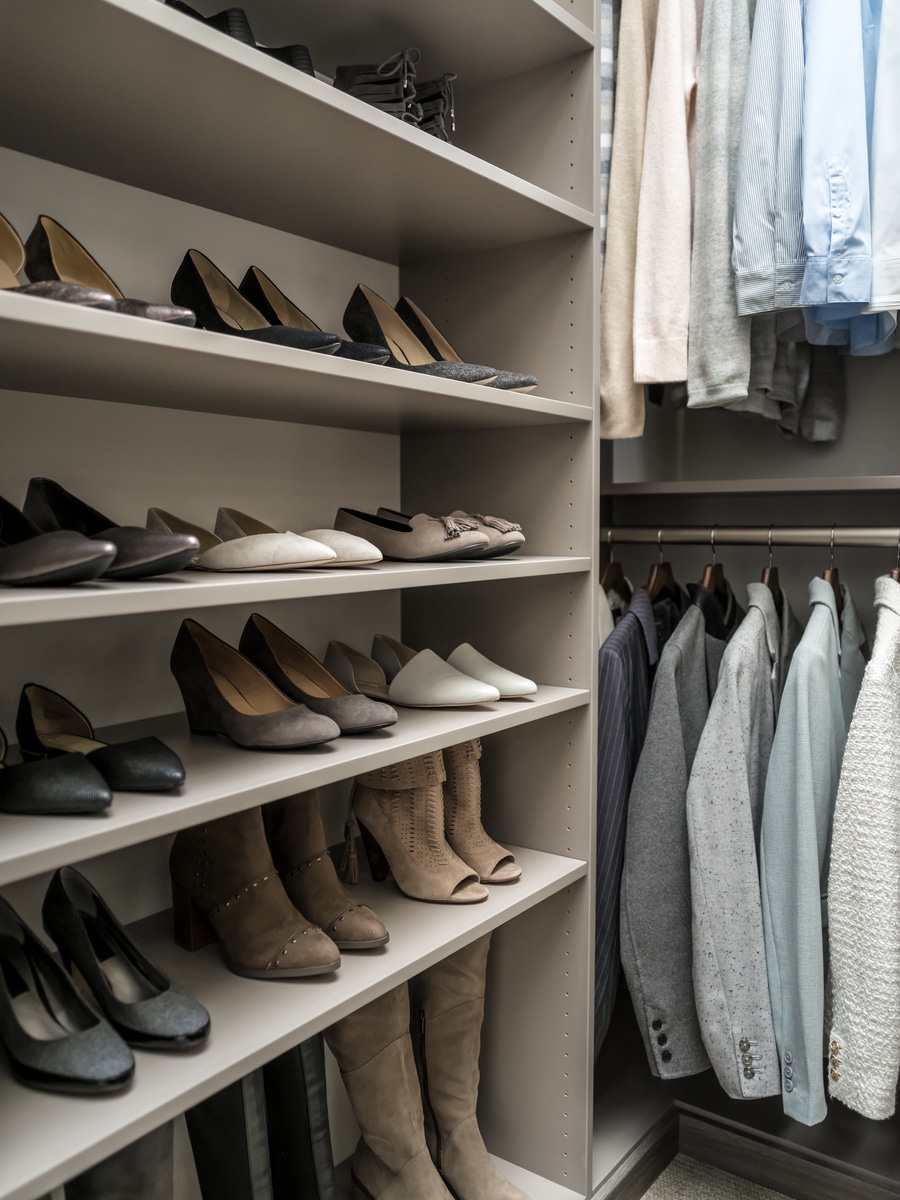 #1 – 'Er that would be you – No matter what you read about custom closet design any closet designer knows the # 1 number behind any design is simply…. YOU! An effective design begins and ends with your needs. Not overdesigning the closet and not under-designing it. And for this reason, the most important number behind a closet design is, YOU.
And when choosing a closet design company, see if they're asking questions to design around your needs, or is their passion to sell bigger jobs and prettier closets? Make sure they're helping you understand 'the math' for a more stylish AND more cost-effective closet.

Can you see the advantages of 'doing the math' to improve your closet design? Do you have questions about closet dimensions and how to make the 'math of your closet' work?
So now that you're equipped with 'numbers' you need to know in this project, or are you a believer math, and an effective custom closet design, are 'joined at the hip?' Or do you think I'm a way-too-geeky Carnegie-Mellon grad who took one too many statistics classes in business school?
And more importantly– do you have questions about the dimensions of your closet and how the heck you can make your way-too-cramped closet work better?
If so (and you live in Columbus Ohio) my team at Innovate Home Org would love to help. Call 614-545-6888 or click for a Free 3D Closet Design. And even if you don't live in Central Ohio, put your name and information in the comments section below. I'll try to refer you to one of my friends in the closet industry (and fortunately for you, most of them aren't as wacky as me) and/or answer your 'closet math' questions.
Thanks for reading – Mike.
###
If you'd like more information on closet design and home organization (with less of my bad humor because you'll get a more 'buttoned up' version of me) follow me on LinkedIn @MikeFoti.
---
Tags: adding style to a closet, adjustable closet system, base trim in a closet, best closet depth, closet design, closet dimensions, closet planning, closet shelving, closet space planning, correct closet shelving depth, crown molding in a closet, custom closet dimensions, custom closet planning, distance between double hang rods, height of a closet, how wide closet rods to use, size of closet drawer boxes, space planning, spacing of double hang