10 Foolproof Ideas to Eliminate the Risk of Making a Bad Custom Closet Purchase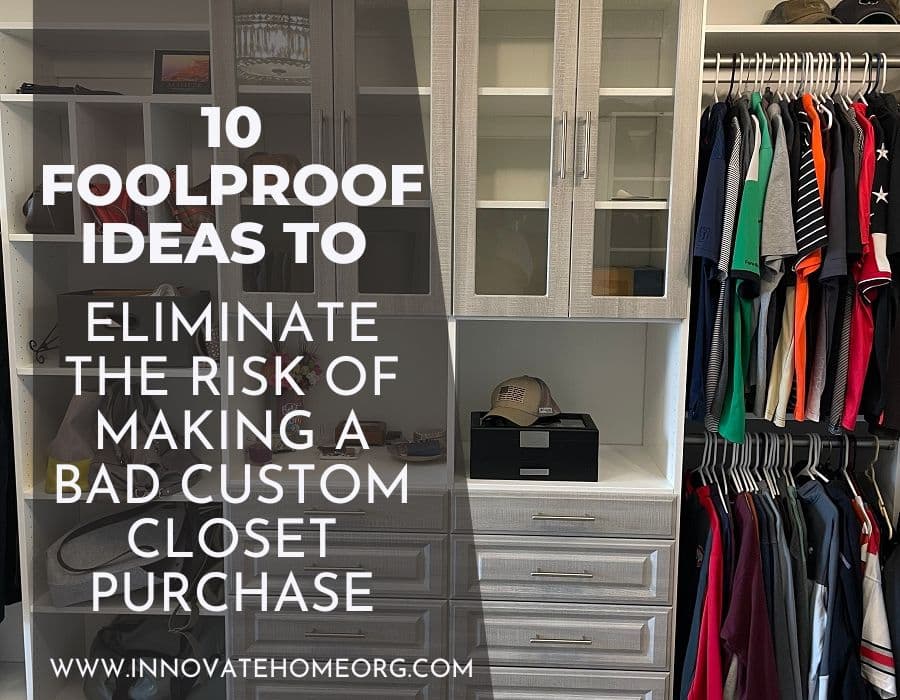 OK – so you're not experienced buying a custom walk-in closet. And if you're like most people – in fact – you've never bought even one custom closet before.
So, what do you need to do to make sure you DO NOT end up with buyer's remorse. How do you make sure you don't spend too much and STILL ending up with a closet which is as a big a pain to use as your current space? How can you check 'all the boxes' and get a high-quality finished project you don't spend an arm and leg on (since your budget isn't quite up to Khloe Kardashian's closet spending level!)?
Well – to get you on the path of success here's 10 ideas to not only keep from making a mistake – but also get you a custom closet design which is stylish and provides a better value for your hard-earned dollars. So, let's check out these ideas.
Idea #1 to not make a bad closet purchase) Insist on a 3D design
If you're feeling pressured to buy from a closet designer who only shows you a 2D drawing you can't for the life of you understand, I'd recommend (in the immortal words of the Gingerbread man) to 'run, run, run as fast as you can!'
If you don't understand the closet design – and can't visualize how it'll work for you – it's a bad idea to spend even one thin (as opposed to thick) dime on it.
No – what you must do is insist on seeing a 3D design. I can even tell you as a professional closet designer (and guy who leads a custom closet business), there are times after I put my design ideas into our 3D program, I'll look at what I originally had in mind and think, "That section is a bit too small, or too large – or hanging really doesn't work in this spot."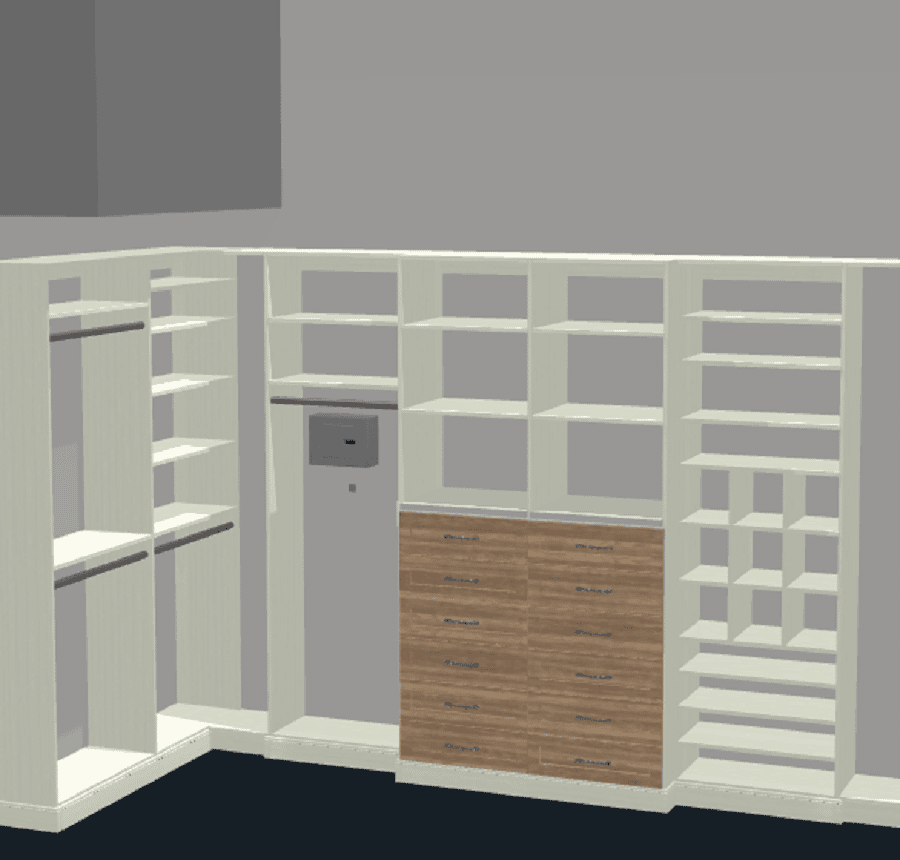 And if a custom closet designer sees opportunities for improvement after creating the 3D design, you know this is a visual buying tool you should not be without.

Idea #2 to not make a bad closet purchase) Bring in more than one closet professional
I'll fess up and admit as a closet designer we always prefer to be the only one who is quoting a job (after all every designer wants to sell the project they're working on and when you don't have competition it's a bit simpler – ha! ha!).
However, I'll also tell you this fact. Closet designs are the byproduct of the design concepts of the people looking at your project. And no 2 designers see things alike. So, if you get more than one design ('er estimate) this will give you the benefit of 'picking and choosing' the best elements of these designs from the professionals you invite to your home.
You'll end up with the best design by leveraging the talents and skills of everyone. And if you're not sure how to choose the best custom closet company, read How to Choose a Custom Closet Company and NOT Waste Your Time.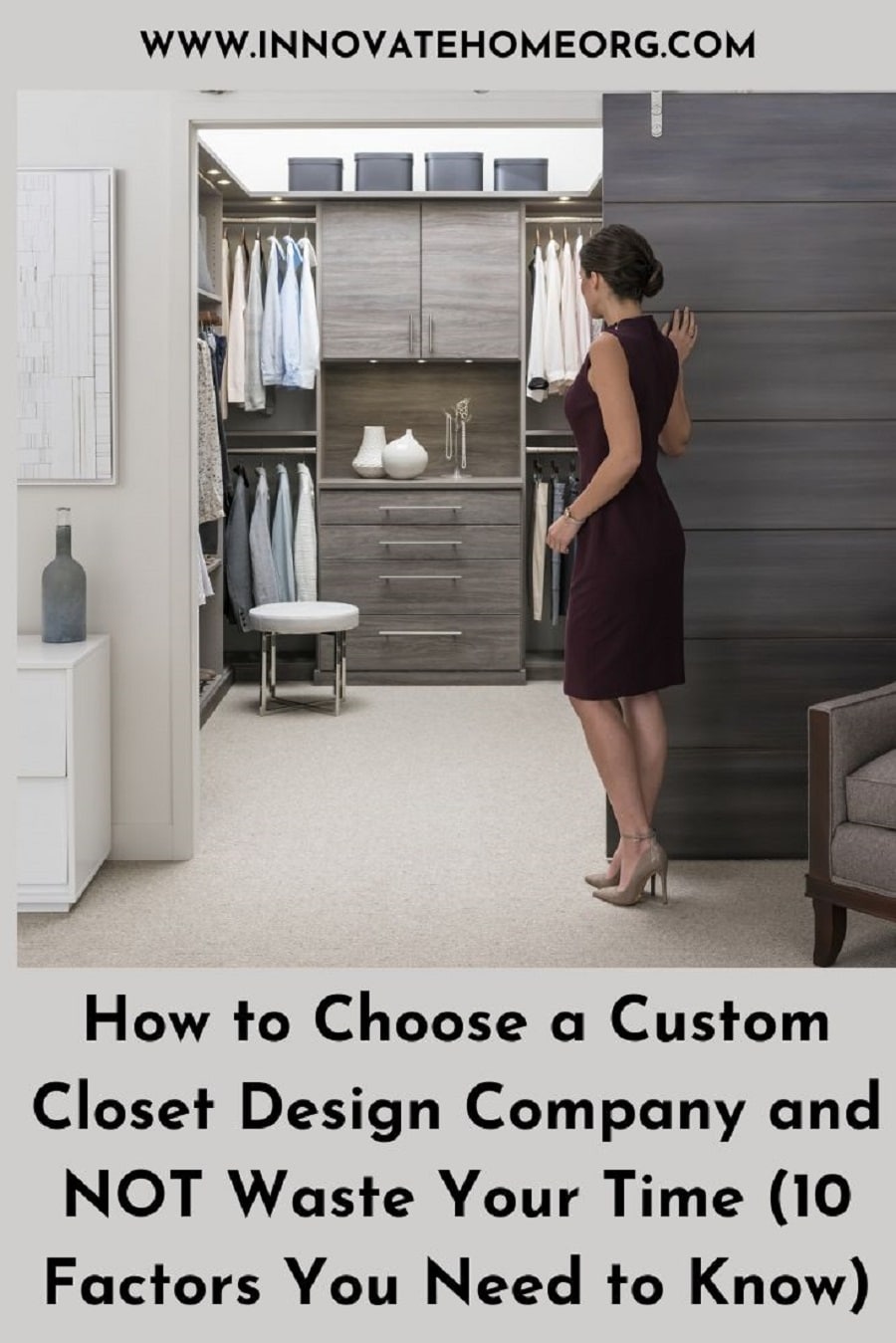 Idea #3 to not make a bad closet purchase) Insist on knowing where the 'value' (AKA cost) is in your design
It's impossible to get a smart return on your money if you don't really know where your money is being spent. And 'sections' within custom closet designs can vary greatly in price. For example, the cheapest sections have hanging clothes. The next highest priced sections include shelving. And the highest cost sections have your doors and drawers.
And if your designer does not want to (or is incapable of) telling you how much individual components cost, or how much extra something will cost, or how much you can save if you take something out – this will hurt your ability to really understand where the costs (and value to you) is in your design.
Don't worry about being a P.I.A. (and since I don't swear, I'm not going to spell this out for you). Ask your questions about cost. And if your closet designer gets frustrated you want to know where the 'value' is, so be it. Move on to the next company (and designer).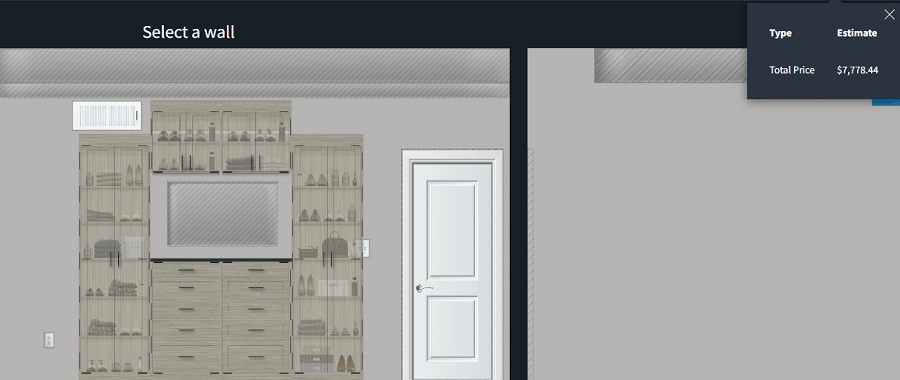 Idea #4 to not make a bad closet purchase) Make sure your closet system 'adjusts' to your needs
Styles can – and will – change.
The clothes and shoes you wear can – and will – change.
If your closet system is fixed to the wall or doesn't have adjustments holes on the side which allow you to move shelves, rods or even drawers over time, you'll find your closet doesn't 'age' well.
Stay away from carpenter-built or wire shelving systems which are as fixed as the Cable News station you refuse to watch (and I know this could be CNN, Fox, OSN or MSN depending on your political leanings).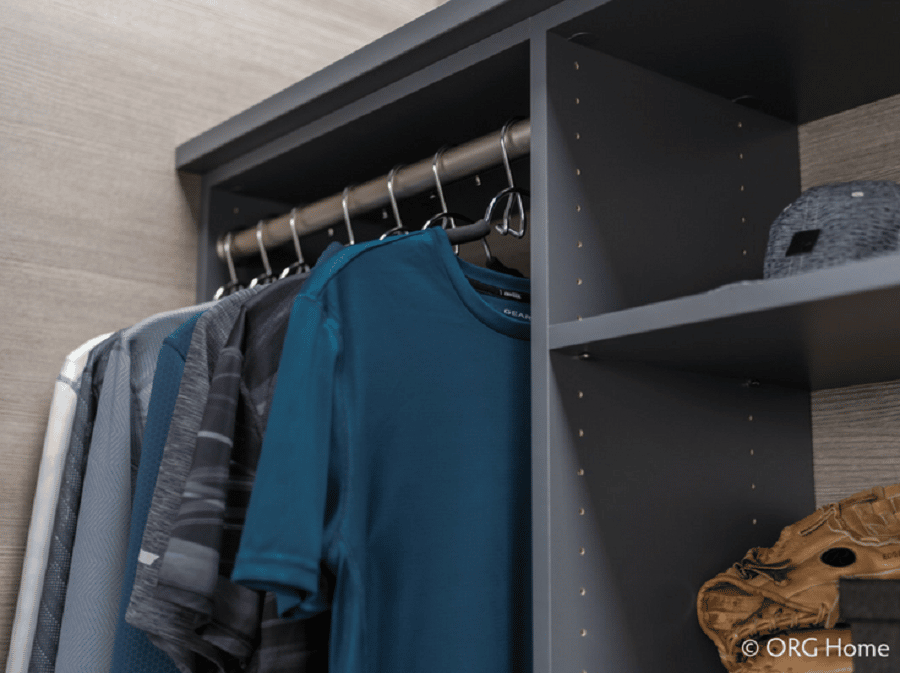 Bottom line – make sure your system is adjustable.

Idea #5 to not make a bad closet purchase) Know the 'deadly sins' of a custom closet design so you don't repeat them
It's hard to know you've screwed up – often until it's too late to fix it. And when you're a 'rookie' (a newbie, first time-er etc.) your chance of mistakes is infinitely higher.
This is why you need to know the sins, or the mistakes most people make so you won't become a victim of them yourselves. And closet mistakes (believe me) are oh-so-plentiful.
And an important first step in making sure you're not a victim of deadly closet sins will be to invest 5 minutes and read The 7 Deadly Sins of a Custom Closet Design.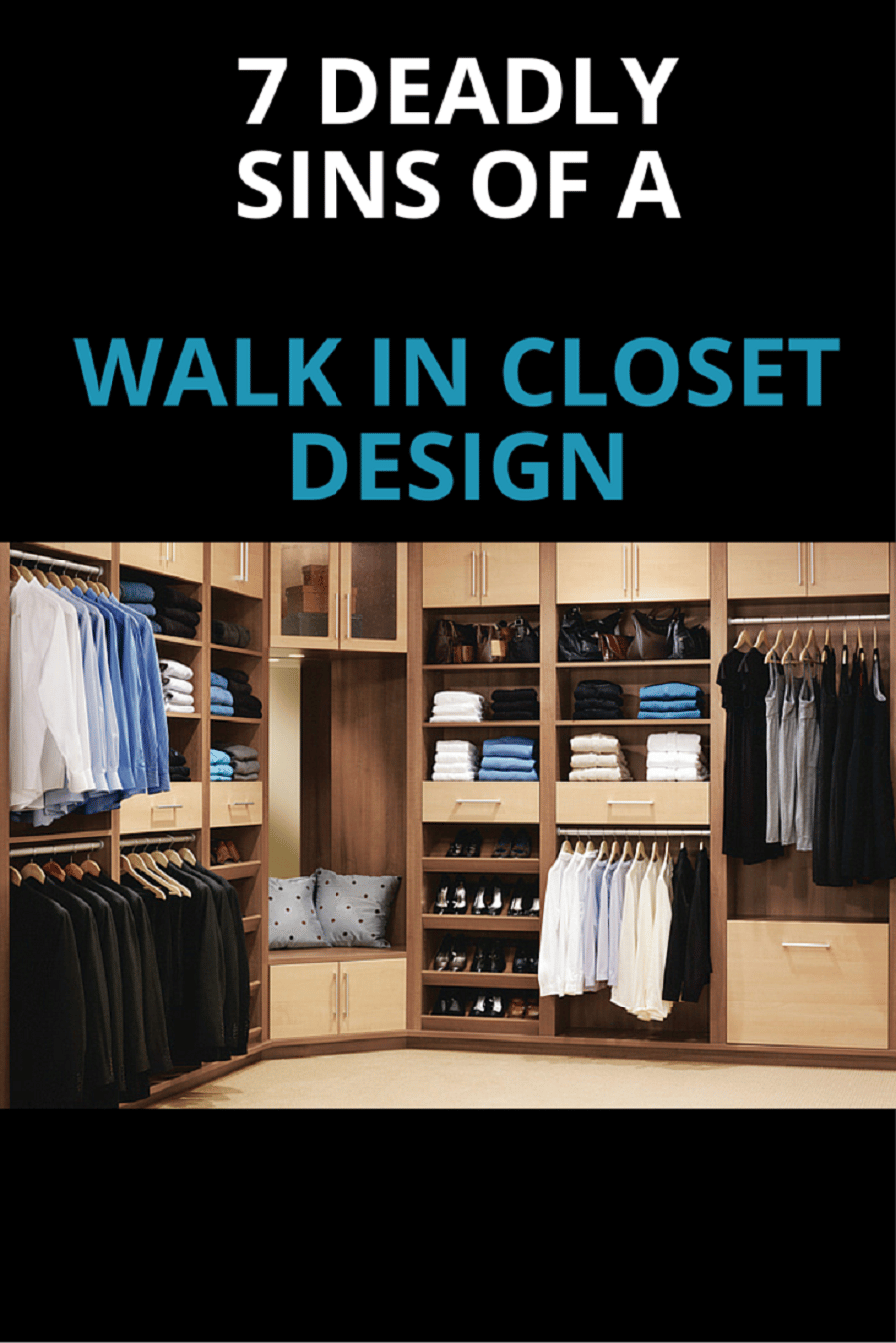 Idea #6 to not make a bad closet purchase) Pay close attention to shelving
This is an unscientific survey but based on the thousands of closet design appointments I've done over the years; most closets lack enough (or any) shelving. And of the closets which do have shelving most are woefully inadequate (they're too shallow, hard to store on, wobbly or bent because they're made of wire).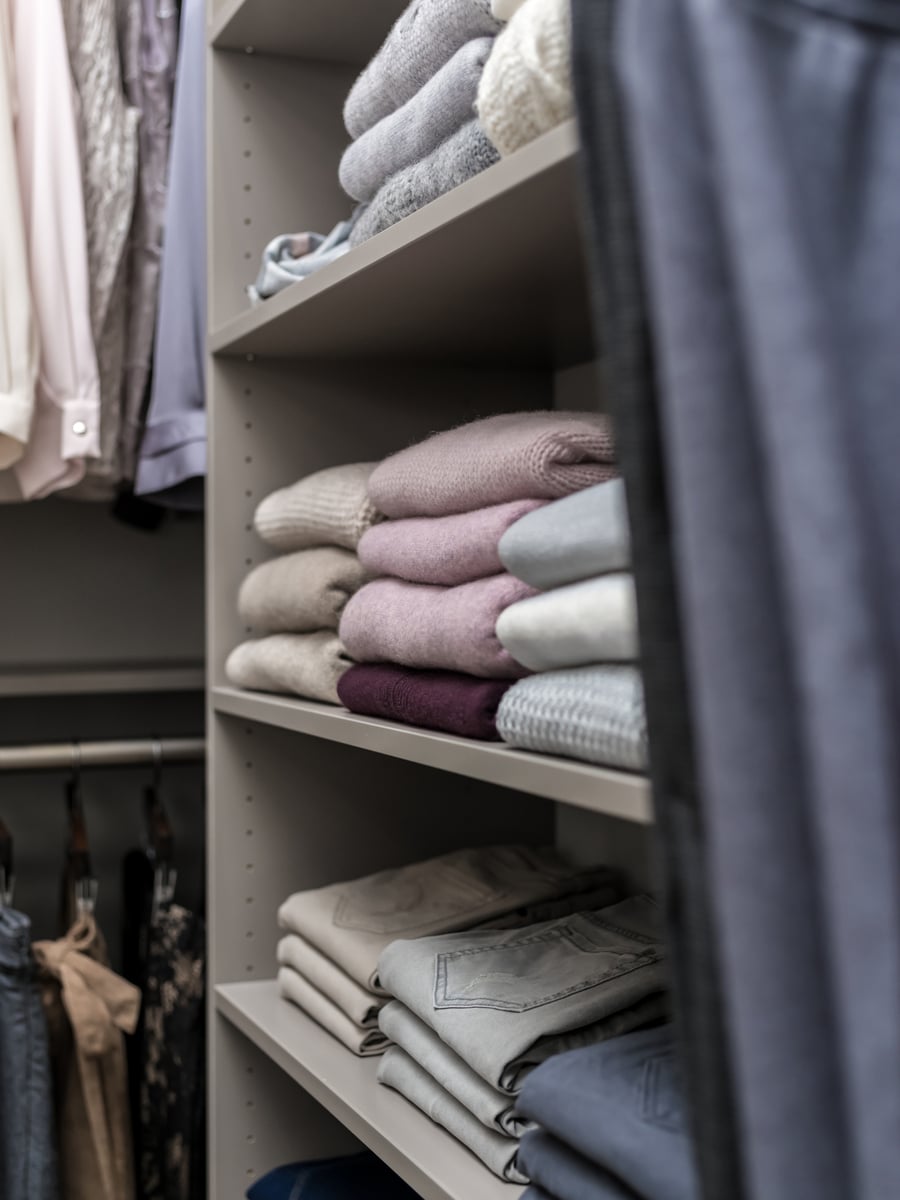 When it comes to shelving, pay attention to the following
#1 – the depth. If you (or your spouse) have a shoe size which is larger than 12". The standard depth shelves (which are 12" deep) – will not make your closet look neat since the fronts of the shoes will stick out. Also, if you want to store bulky sweaters and sweatshirts on shelves, insist on 14" depth so they won't be hanging over the edge. It's a bad look.
#2 – the ability to adjust – see idea #4 above. Adjustability is essential.
#3 – the ability to 'pull out' – Especially if you have deep shelves (16" or greater) – choosing a pull-out system will make deeper shelves more valuable to you as opposed to dealing with dead space in the back.

Idea #7 to not make a bad closet purchase) Ask about the warranty
I can't even tell you how many closet appointments I've been to where I've seen an existing closet system laying on the floor because the cheap fasteners pulled away because the cheap system couldn't handle the weight. And you no how many of these people had a warranty to go back to which would get the system reinstalled for free for them? 'Er that would be….
No one!
And it's funny how many people never ask me about my company's closet warranty either (which is a lifetime warranty BTW). However, it's nice to know if there are issues with your closet you won't be the one footing the bill for a replacement…if you make sure you get a strong warranty.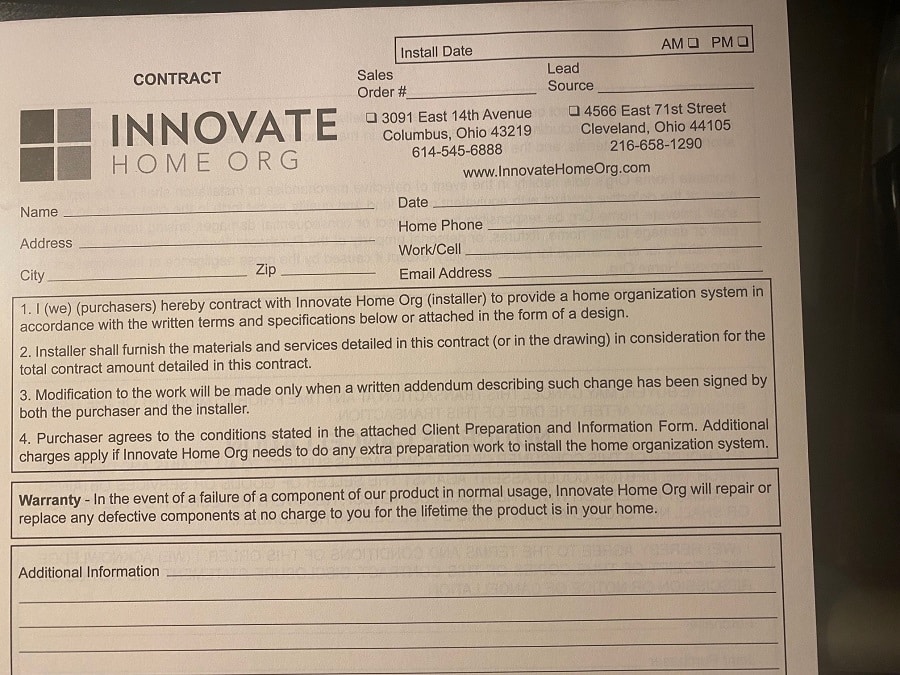 Idea #8 to not make a bad closet purchase) Understand first the devil (and your quality) is in the details – and second, seeing is believing!
Every closet system brochure I've ever seen has had FAB-U-LOUS looking closets – bar none! And that's the way its supposed to be. The marketing team takes pretty pictures so closets will sell.
However, it's also true all closet systems are not created (or will live) equally. Some drawers are slow close and 'feel' better. Some shelving systems are thicker and can handle more weight. Some adjustable shelf pins are made of steel – and are sturdy – others are made of plastic and break easier over time.
So, if you want to be careful in your next closet purchase I'd recommend seeing (live and in person) the products you're looking to buy. Open and close the doors and drawers. Pay attention to what they're made of. Check out how the corners come together. Ask the weight capacity of the shelves. See how sturdy the rods feel.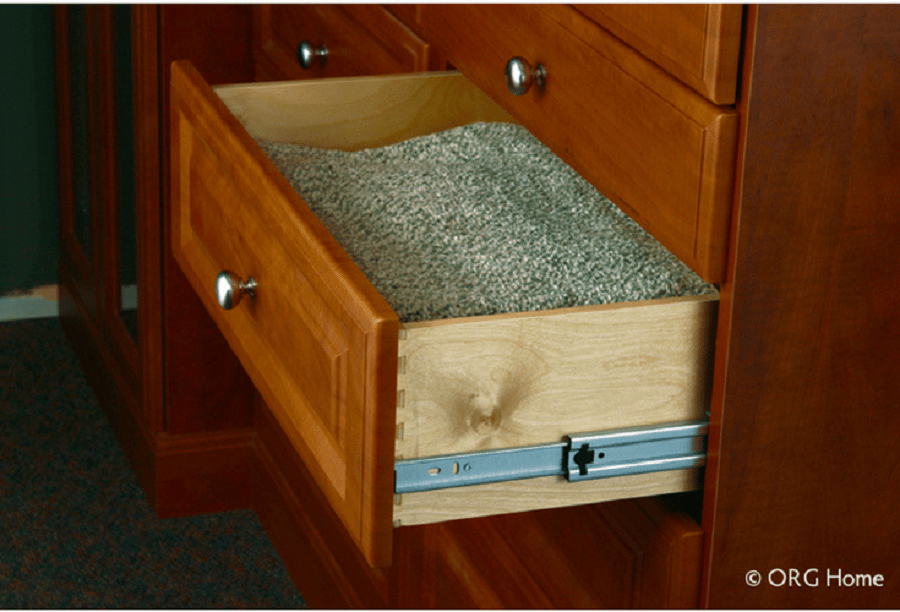 Idea #9 to not make a bad closet purchase) Know your 'basic options'
Most people don't realize there are 3 'basic types' of closet systems which include…
An entirely 'floor based' closet which is built to the floor. It looks the nicest, works with deeper sections – but is more costly.
An entirely 'wall hung' closet which is hung onto studs on the wall. This system allows you to put product onto your closet floor, makes it simple to vacuum, but has depth limitations. Its biggest benefit is it'll save you money.
The 'combo' system using floor-based and wall hung sections on different walls and areas. This approach is the 'mid-stream' option – and can use the best of both options above to keep costs reasonable yet give you a stylish look.
And since I don't expect you to be an expert on closet system options, I'd recommend reading How to Choose Between a Wall Hung and Floor Based Closet Organizer System.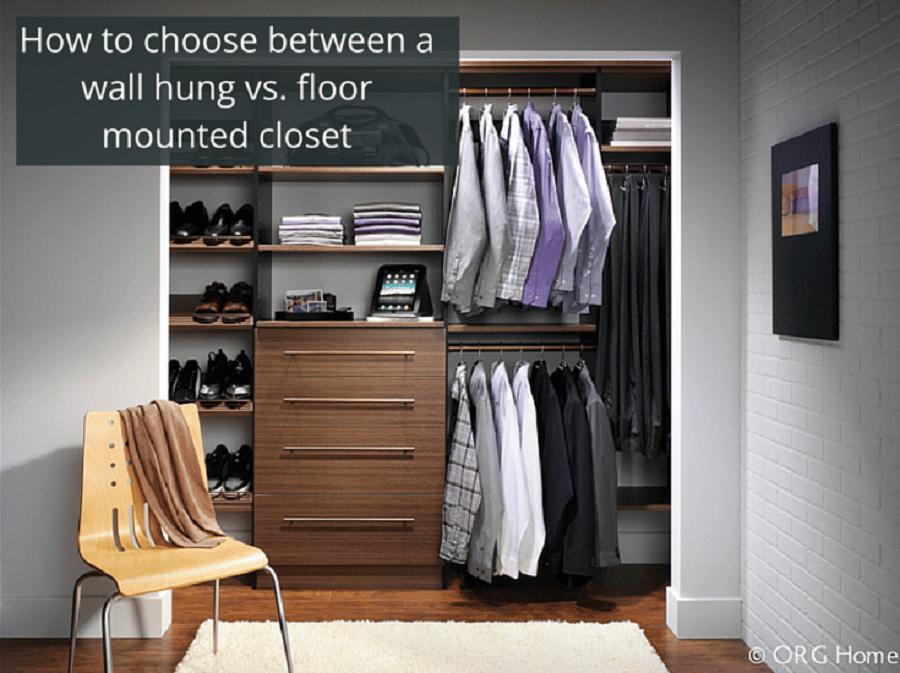 Idea #10 to not make a bad closet purchase) Know the pros and cons of the material being used
The 'backbone' of a custom closet system is the material it's built on. And while I do have my personal preference (and I'll admit I'm a fan of laminate closet systems for their strength, longevity, and ability to carry weight) – each custom closet material has its advantages and disadvantages. Here's 2 articles to compare the top systems (which include wire, wood, and laminate).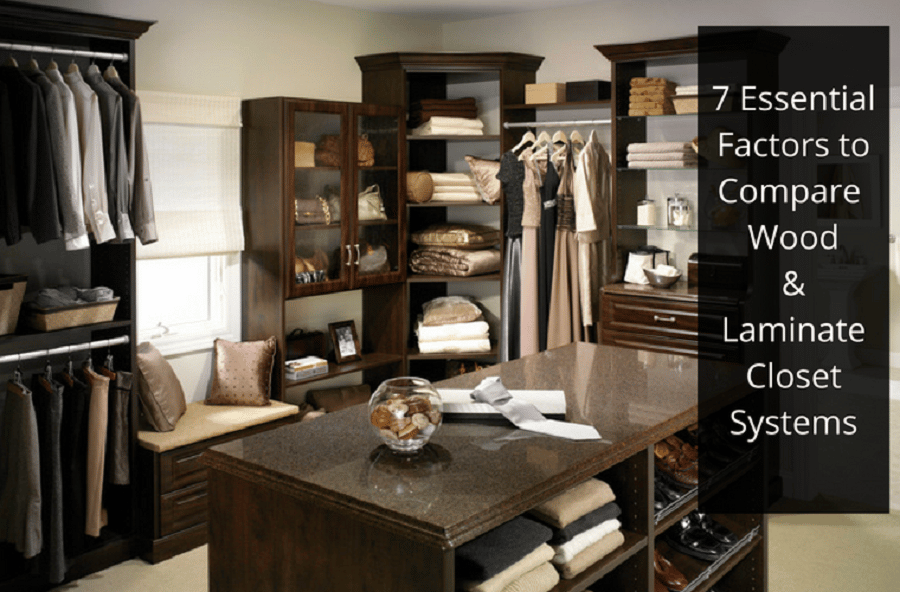 So, are you now more confident in making a custom closet purchase? How can me – and my team- help you next?
As someone's whose been in the custom closet industry for years now, I'm bright enough to realize closets are more than a bunch of rods, shelves, and drawers. It's how you put these elements together – and how you understand the needs – and budgets – of owners which will tell an effective design from a complete waste of money.
And if you're the one trying to choose a custom closet company to design (and then install) your closet you'll soon know there's more to it than originally meets the eye.
And this is why I always recommend getting more (vs. less) help along the way. Ask a lot of questions, dig into the details, and seeing (before you buy) makes the difference between a successful (and unsuccessful) project.
And if you'd like a free 3D closet design (and you live in Columbus Ohio) my company – Innovate Home Org – would be honored to help. Call 614-545-6888 or click for a Free 3D custom closet design.
And if you don't live in Columbus (and I'm not only not going to hold this against you even if you do root for 'TTUN – 'er That Team Up North') I'll offer to refer you to closet friends I have across the country to assist you on your journey.
Thanks for reading and putting up with my – at times – wacky humor.
Mike
---
Tags: 3D closet design, adjustable closet, adjustable closet Columbus, closet materials pros and cons, closet professionals, closet shelving Columbus, Columbus 3D custom closet design, Columbus custom closet system, Columbus floor based closet, Columbus laminate closet systems, Columbus wall hung closet, cost estimates for a custom closet, custom closet details, custom closet shelving, custom closet sins, custom closet system Columbus, custom closet warranties, floor based closet, laminate closet systems, pricing a custom closet, wall hung closet