The Pros and Cons of Crown Molding in a Custom Closet Design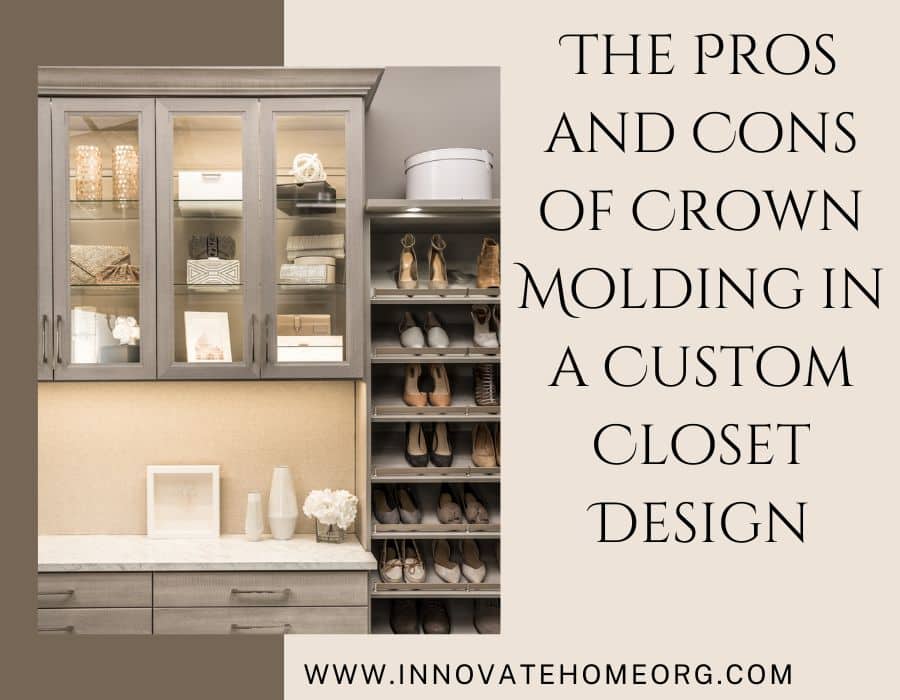 Warning – Drooling Over Custom Closets on Pinterest with Elegant Crown Molding Can Be Dangerous to Your Health (and Budget!).
If only home improvement projects came with warning labels like packs of cigarettes. Maybe then you wouldn't be so inclined to splurge on stylish features like crown molding (even if it was dangerous to your budget)!
However, let's face it. Life is made to be enjoyed. And a custom closet – which is elegant AND designed so you can actually find things is not only NOT dangerous to your health (sorry about the double-negative), but I'll argue it's good for your health. It'll brighten your day entering your stylish closet. It'll keep your high-blood pressure down so you're not swearing like your daughter or grandson's favorite rapper when you can't find ANYTHING in your closet.
And if you've ever worked with an experienced custom closet designer you'll know there's not only a ton of options you can choose to make your space work better (like adjustable shelves, drawers, and double hang sections to name a few), but there's also 'style points' you can add with crown molding, custom textures and finishes, decorative hardware, and glass doors.
However, the only question which really matters at the end of the day (or at the beginning of the day for that matter) – is what feature(s) make sense for you. And while I could write on and on about all these features (like a filibustering politician), I know NOBODY want to subject themselves to that. So – in this article I'm going to focus on one unmistakable feature in a custom closet – crown molding. I'm going to look at their pros and cons so you can determine if crown molding is right for you.
But before I begin, I want to dispel 3 myths about crown molding. They are:
Crown molding is only for traditional homes. Not true. With multiple designs and shapes, crown works for contemporary and transitional homes as well.
Crown molding only comes in white – and white is boring. Not true. There's no limit to crown molding colors and textures.
Crown molding must be used around all closet sections – it's an all or nothing proposition. Not true. Crown can be an effective accent to highlight your nicest closet sections.
So, now let's take a 'deep dive' (and yes I HATE, HATE, HATE this corporate buzzword, but I threw it in just to see if you hate 'corporate-speak' as much as I do) into the advantages and disadvantages of crown molding in a custom closet design.
The Pros (Advantages) of Crown Molding in a Custom Closet Design
Pro #1 – Crown molding provides an upscale look
Let's face it –you don't need crown molding. You want crown molding. Adding trim at the top of your closet adds style and elegance. It's what the celebrity closets on Pinterest all have. It'll say luxury home. It'll say I'm a discriminating (and not in a bad way) owner.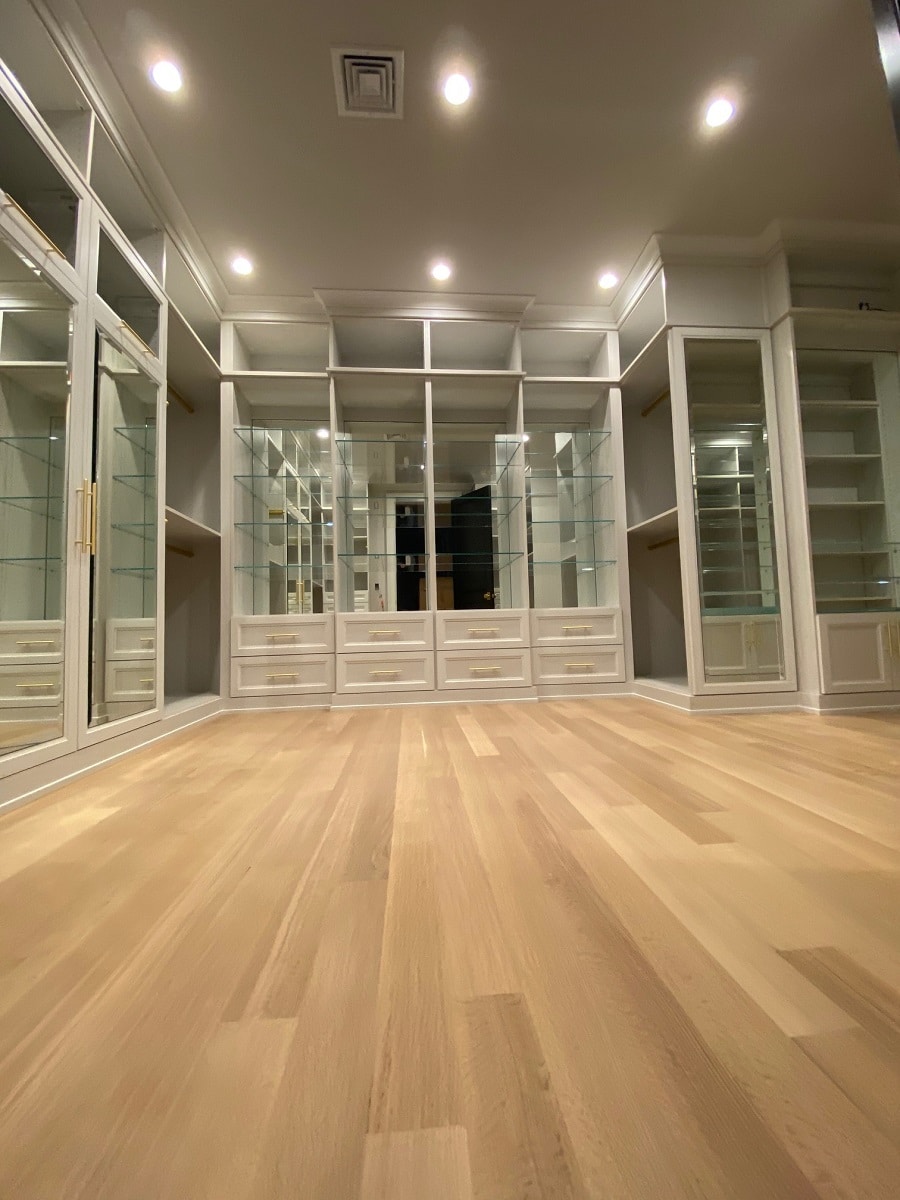 Image Source: Boutique Closets And Cabinetry

Pro #2 – Crown molding adds value with a built in wardrobe look
When you have a custom closet with crown molding there can be one thing you can be sure of. It WILL NOT look like shelving picked up from IKEA on a Saturday morning and slapped up in an afternoon. Your closet system will be complete. You'll have a finished wardrobe look. And for closet aficionados, a closet finished with crown can get you a few more dollars when you sell the home.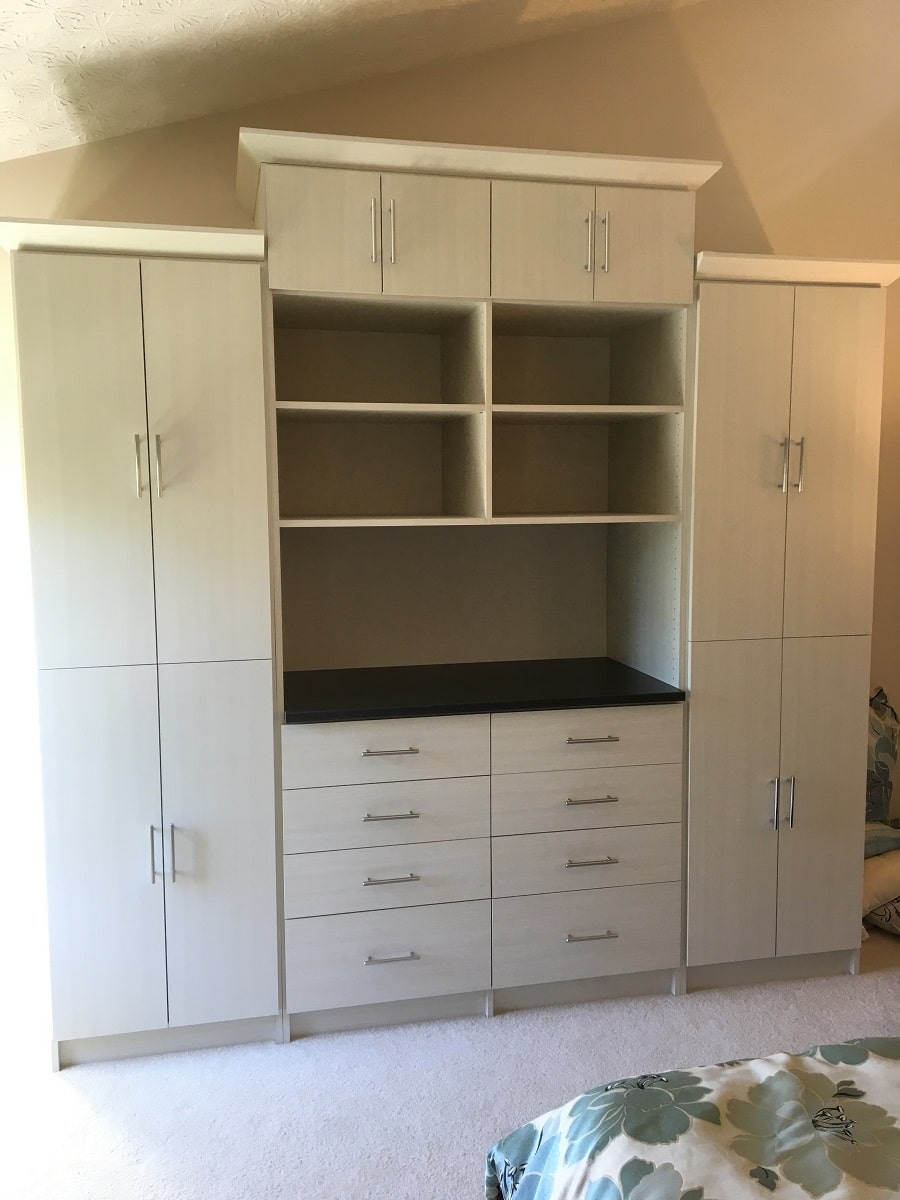 Pro #3 – Crown molding adds the feeling of more volume and make your ceiling feel taller
Crown above your walk in closet hanging and shelving sections makes the room seem to soar, to have more volume. And at least what you can't make up in width and depth, you can add interest in height and volume.
Pro #4 – Crown can complement any interior décor style
While crown molding is associated with traditional decors, it is possible with simpler molding styles to make this accent feel right at home (no pun intended) with transitional (Shaker cabinets) or with contemporary Euro-style decors (with very simple straight crown).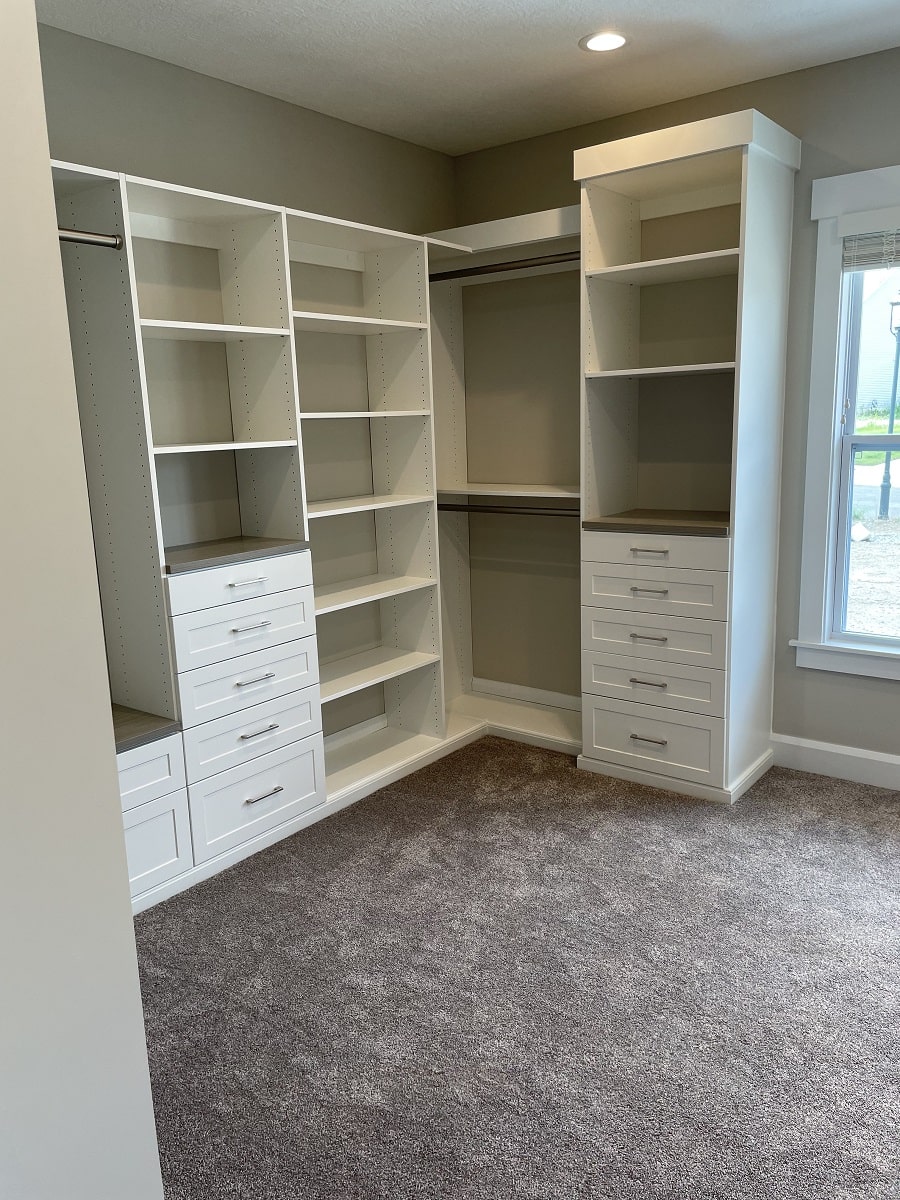 Pro #5 – Crown hides lighting
If you want custom closet lighting it can be a pain figuring out how to hide the puck lights, wires or LEDs. However, crown molding – not only looks sharp – but it can help your closet lighting system go incognito.
Pro #6 – Crown can create a visual connection between your master bathroom remodel and your new walk in closet
Master bathroom remodels are getting more elaborate– and the use of crown molding in these projects has become common-place. And it's nice to know you can carry your fancy crown molding details from your bathroom into your custom walk in closet, so the spaces work well together. And if you want more tips on how to design your master closet and master bathroom to look cohesive read 10 Practical Questions to Ask If You're Remodeling Your Master Bathroom and Master Closet Together.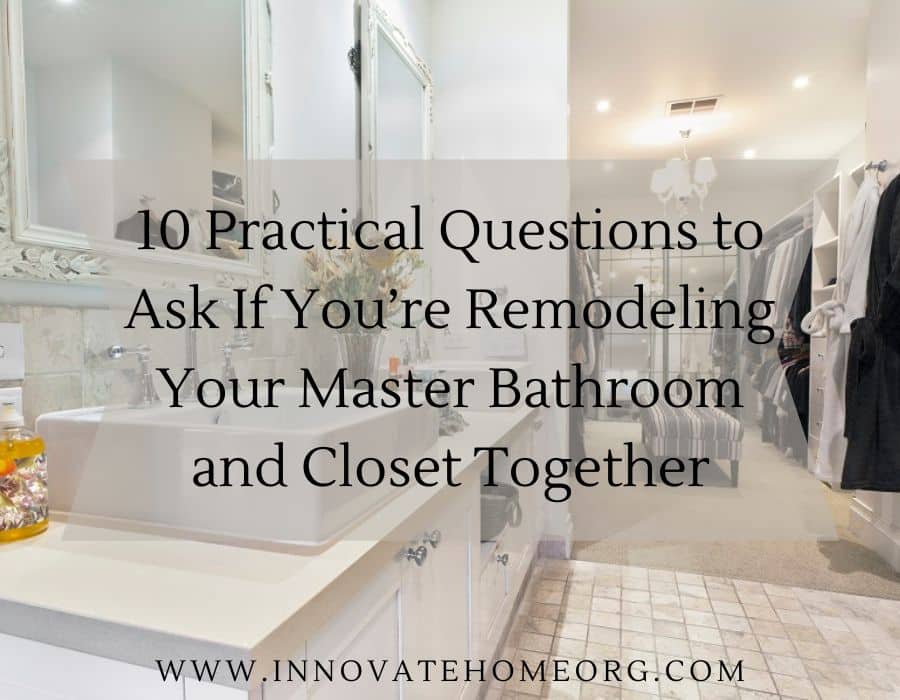 Pro #7 – Crown can create a focal point for your feature wall
If you've read my blogs before, you know I love to talk about your 'closet feature wall.' And if you haven't read them, your feature wall is the wall which is noticed most when you walk into your closet.
And while you can put crown on every closet section, you really don't have to. So, if you want to get the biggest bang for your crown molding bucks – put it on the most visible sections in your closet ('er this would be on your feature wall which has your best looking door and drawer sections).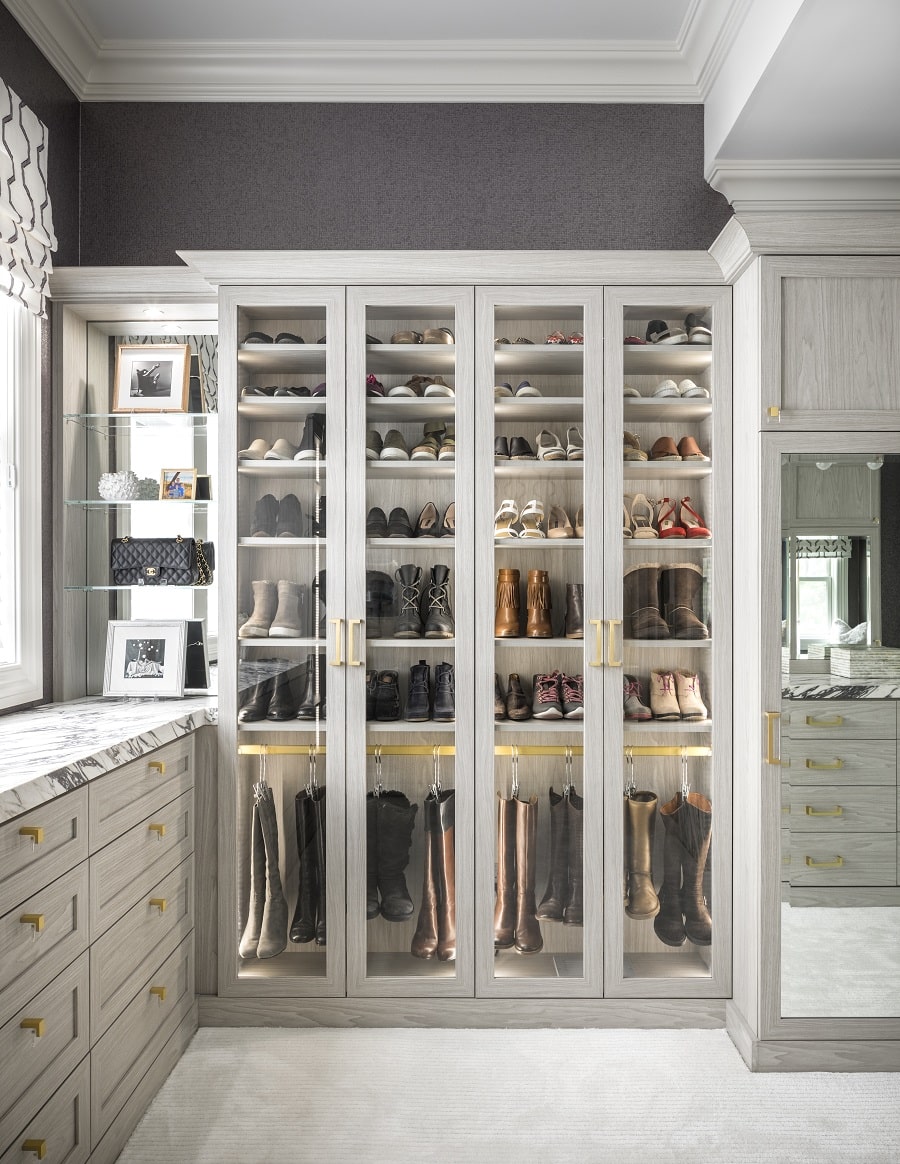 Image Source: Patty Miller with Boutique Closets and Cabinetry

The Cons (Disadvantages) of Crown Molding in a Custom Closet Design
Con #1 – Crown molding adds costs to a custom walk in closet
OK – I'm sure this is no surprise to you. However, crown molding is an add on feature which won't be a 'cheap date.' To keep costs down, I'd recommend pro #7 above and use crown where it'll be seen the most.
Con #2 – Crown molding takes away storage on your top shelf
If your closet is tight already – and you use your top shelf to store extra purses, out-of-season clothes or your (much bigger than your spouse would like) shoe collection, adding crown takes away this much-needed top shelf storage.
Con #3 – Crown molding is harder to install than standard closet sections and requires special tools
While crown molding looks elegant, it's not a 'walk-in-the-park' to install. First, you'll need a nail gun and a better miter saw. Second, you'll need someone who knows what they're doing – because getting the miters correct does take experienced trim carpentry skills.
Con #4 – Crown molding works better in taller closets
While there's no height limit on when you can use crown molding – it feels better in closets which are 9' and taller. Besides in standard 8' closets, you'll often need to use the top shelf for storage (and if you do want to 'dress up' the top shelf of an 8' closet – you can use a decorative -thicker and deeper- top shelf instead).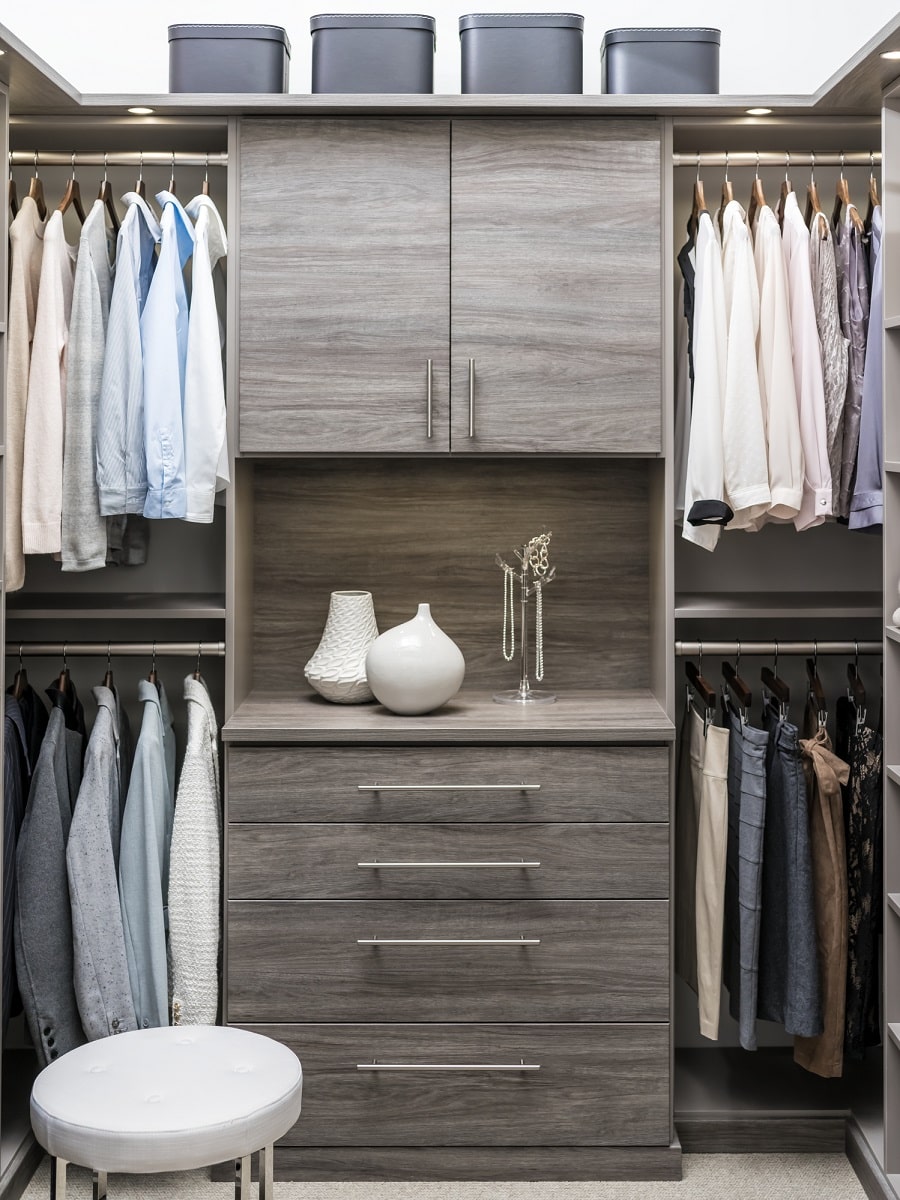 Con #5 – Crown molding looks weird on a wall hung closet
In case you're not familiar with basic closet systems – there's two basic options. First, there's a wall hung closet which is hung from the wall (wow – that's amazingly logical – ha! ha!). And second there's the floor based closet (which is built – see if you can guess it – to the floor like finished furniture). And if you want to learn more about these 2 systems read How to Choose Between a Wall Hung and Floor Mounted Closet Organizer.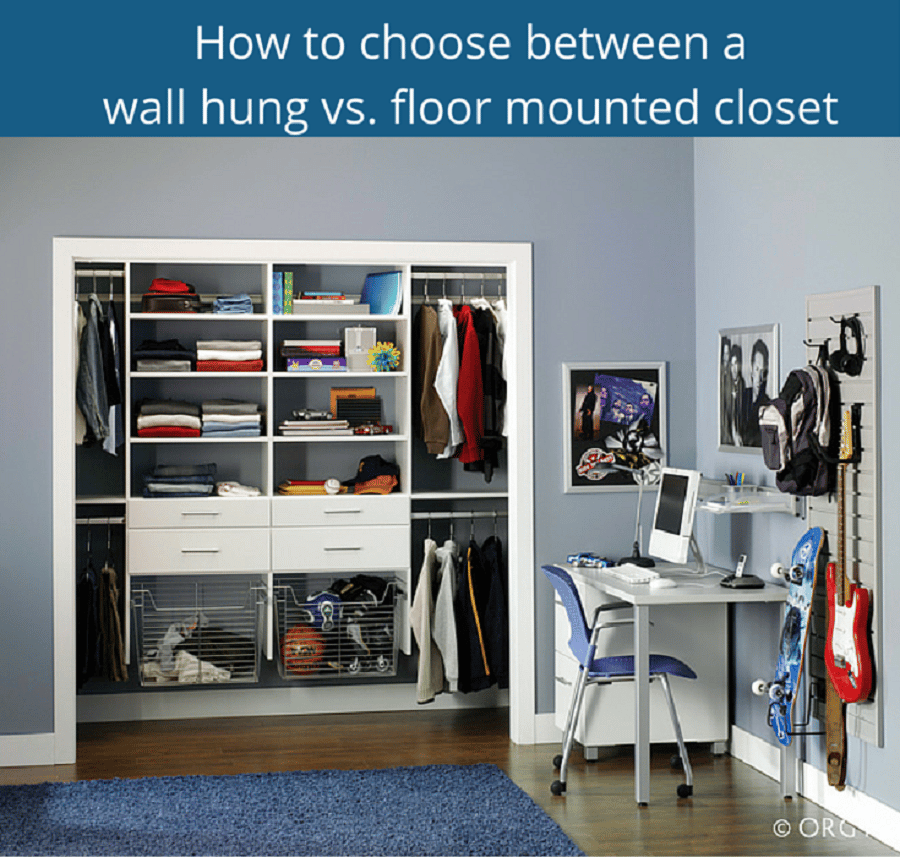 And while crown molding fits perfectly with the more expensive floor mounted closet systems, it'll look out of place with budget friendly wall hung closets.
Con #6 – Crown molding may force you to use narrower cabinet or shelving sections
Because crown molding sticks out past the cabinet or shelving sections (and you really don't want molding to stick out past the adjacent wall) – the width of cabinets or shelves need to be narrower than if you don't use crown molding.
So, are you a friend or foe of crown molding for your custom closet? How can me – and my team- help you next?
So – after reading about the advantages and disadvantages of crown molding are you 'all in' or 'all out' on this custom closet feature?
And if you're unsure how, or where, you can use this feature – or (maybe more importantly) how much it'll cost, get professional advice from a custom closet designer.
And if you're looking for a custom closet design in Columbus Ohio, me and my team would love to help. Click for a Free 3D custom closet design or call 614-545-6888.
And if you don't live in Columbus (and I'm not only not going to hold this against you even if you do root for 'TTUN – 'er That Team Up North') I'll refer you to closet friends I have across the country to assist you on your journey.
Thanks for reading.
Mike
---
Tags: 3D closet design, advantages closet crown molding, closet professionals, Columbus 3D custom closet design, Columbus crown molding, Columbus custom closet system, crown molding, crown molding for contemporary homes, crown molding for transitional homes, crown molding in a custom closet, custom closet system Columbus, custom crown molding, disadvantages closet crown molding, floor based closet, how to use crown molding, how to use crown molding in a closet, molding in a closet, pros crown molding in a closet, upscale crown closet molding, wall hung closet