7 Hot Closet Accessory Ideas to Add Joy and Utility to your Wardrobe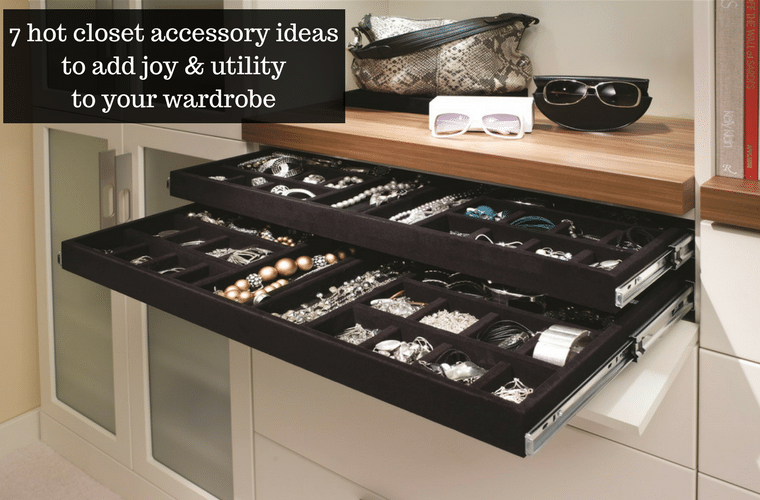 "Any item in your wardrobe should satisfy one of two criteria – utility or joy." Stacy London
Is pulling out shoes, dresses, jewelry or even underwear from your closet a simple task – or one that brings you joy? If you're like most, your closet "organization" experience resembles a cramped box of frustration which scores ultra-low on both the utility scale – and thinking about it as a joy – well that is downright nuts! You may be wondering is it possible to create a Khloe Kardashian glamour closet on your budget which could give you utility and joy? Is there hope to find this illusive closet nirvana for your small bedroom or larger walk in closet which could transform your existing space to one with utility and joy?
You may think I'm out of my mind, but I think this closet nirvana is possible – after you've uncovered some fun (and functional) trend setting closet accessory ideas to inject punch and practicality to your closet space. So where can you find these new concepts and products to add joy and utility to your walk-in closet? The ultimate place to uncover these gems is – The Cabinets and Closets Conference.
You may be asking what is the Cabinets and Closets Conference and why should I care? Well – for the most part you shouldn't care or attend the conference (it's for closet and cabinetry geeks like me), but what you can get from this event is an entrée to cool things to add to your closet to accessorize it to be as hot and trendy as a new Cinch handbag from the Victoria Beckham collection you just picked up.
What's so hot about the accessories from the 2017 Cabinets and Closets Conference you just need to see? Check out 7 ideas below. At the end, I'd love to hear your input. Which are hot, are any of them (IYHO) flat out NOT? Let's dig into these accessory ideas!
Hot closet accessory idea #1 – Leather bound storage bins or wrapped drawer fronts
Don't you love the leather-bound dressers and fancy furniture pieces when you're staying at a luxury hotel. They look so refined, so elegant and you think – wouldn't it be nice if my home was this nice? There is no reason your home and closet experience can't rival that of your favorite hotel. One fun way to add functional storage and luxury is with these leather hand stitched storage bins. They provide structure to your accessories with a powerful sense of class. Another idea is to consider leather wrapped door and drawer fronts – now that is wild!
'White crocodile leather drawer fronts - luxury #closet style!'
Click To Tweet
Hot closet accessory idea #2 – You'll get a charge (bad pun intended) out of this one
What's the first thing you search for in the morning? In the old days, it might have been your slippers – but this isn't the Ward Cleaver world of yesteryear! Today's it's both that beautiful (and overused) multi-media experience known as your cell phone. What is annoying about cell phones is seeing the dangling cords on your counters or worse yet laying on your floor plugged into outlets causing you to trip over more than a few times. Here is a cool idea to create a minimalist-inspired space and keep your technology-filled tools juiced up– it is the in hidden drawer charging station. This charger is used inside a closet drawer to keep the phone out of sight (allowing you to spend time focused time with the family) – yet readily available to catch up on life first thing in the morning.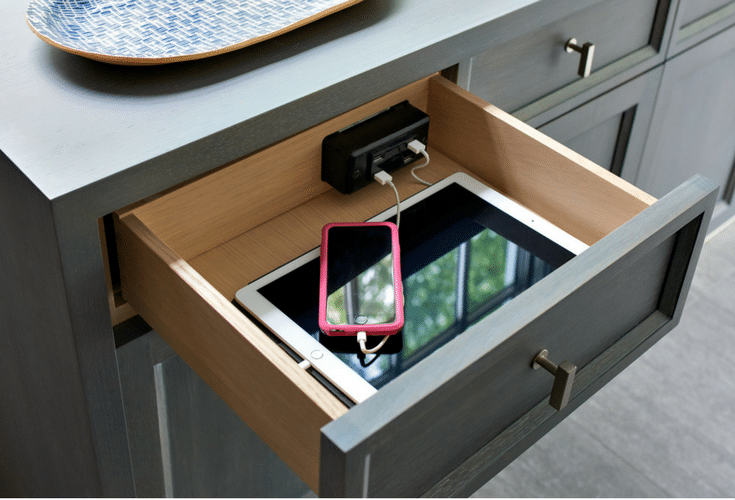 Hot closet accessory idea #3 – Being "divided" can be a good thing – in drawer dividers
Are you one of those people who hates things being mixed up? When your peas touch your risotto have you been known to throw a fit? It's hard to feel organized when everything on our plate (or in our closets) is mixed up. Usually when you get inside closet drawers your life shows itself to be a scary jumbled mess. Where is the underwear which doesn't ride up the crack? Where are the pantyhose you need for the board meeting today? If you can "divide," and compartmentalize your closet drawers you can conquer the frustrating mess your space resembles today. I loved this product from Hafele which provides the flexibility to not only divide items within your drawers – but you can move the partition pieces from side to side to adjust it to your needs. Now that's cool!
Hot closet accessory idea #4 – Going up with style and organization – the rolling closet library ladder
This is a closet accessory you'll not only get "oohs and aahs" from friends when they see it, but also one which will give you joy and utility (if you have higher or vaulted ceiling in your closet). It is the ever-cool library ladder. What you want to remember is space you cannot reach (because it's too high) can't help you. If you've got a tall space (maybe you live in a downtown Columbus loft or a luxury home in Powell or Dublin with vaulted ceilings) the library ladder is not only fun and cool – it can provide storage for non-seasonal and infrequently used items in your wardrobe.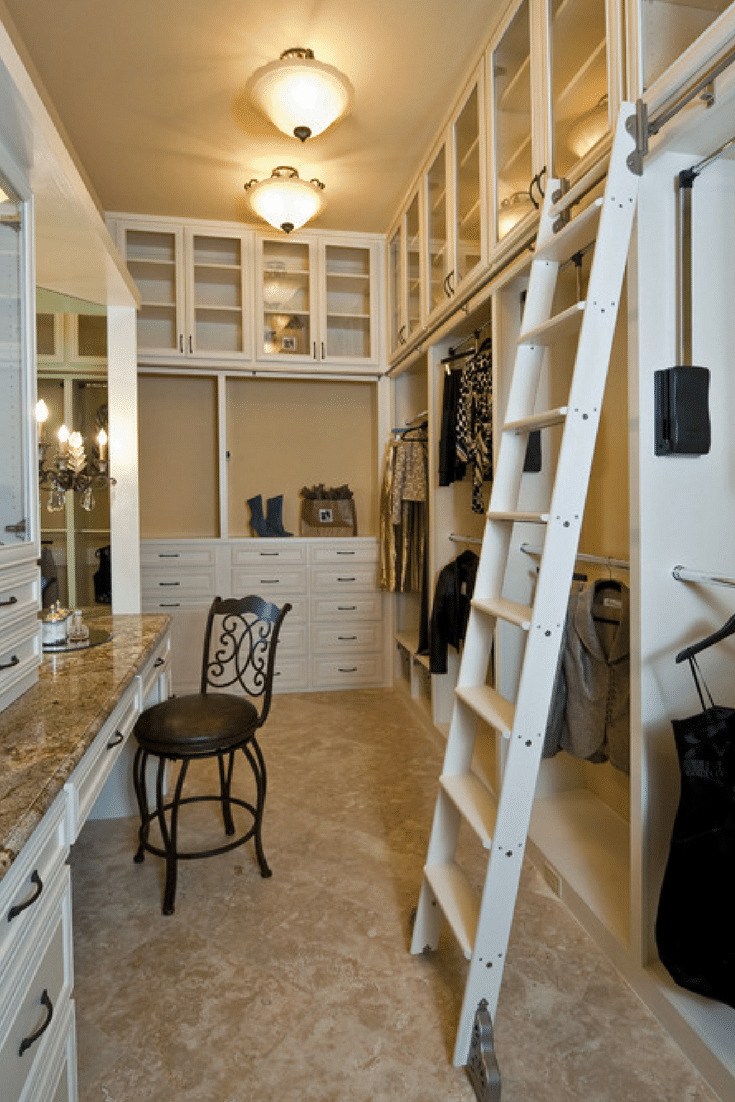 If you want to see a fun use of a library ladder check out this article titled 7 Smart tips for a luxury custom closet – even if you don't have a lot of space.
Hot closet accessory idea #5 – These boots are made for finding – and wearing – boot storage which comes to you
Fashion styles change and with them so do your closet needs. Do you own WAAAAY more boots today than you did 5 years ago? Do you have a place to store them where they are not lurking in the vast dark never-never land known as the bottom of your closet? Well liberate your boots with this cool accessory feature– the slide out boot storage tray. It is functional and adaptable!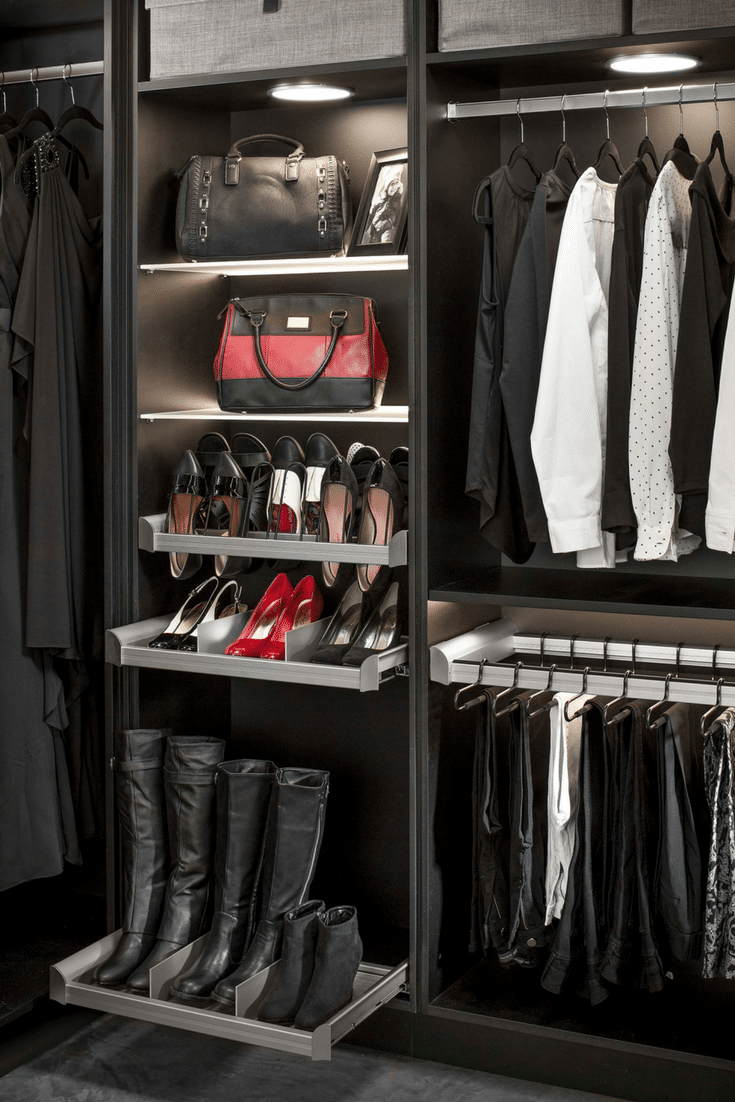 Hot closet accessory idea #6 – Light it up to figure it out
What would you think if you went into the appliance store to buy a new fridge and you opened the refrigerator doors in the showroom and there were no lights inside so you could see your food? Does this sound ridiculous? Well conversely, think about your closet and its lack of lighting (most closets unlike your kitchen don't have window either).
'Why would you have a #closet without lighting when you insist on lighting your fridge?'
Click To Tweet
So how exactly are you supposed to put colors and patterns together when you've got one dim bulb (I'm not talking about your partner here) at the top of your closet?
Closet lighting in most instances is atrocious. What's cool today is you can rid yourself of these lighting challenges (even if you don't have an outlet in the room). LED lighting is the answer to your closet lighting woes whether you do (or don't) have an electrical outlet. If you don't have an outlet I would recommend motion sensitive rechargeable LED lights. They are simple to install and generally only need to be recharged every 3 months. They can be put onto the underside of closet shelving, inside of drawers or on the side support panels. If you want more extensive lighting get input from a lighting designer to develop a thoughtful plan. Don't struggle with colors ever again!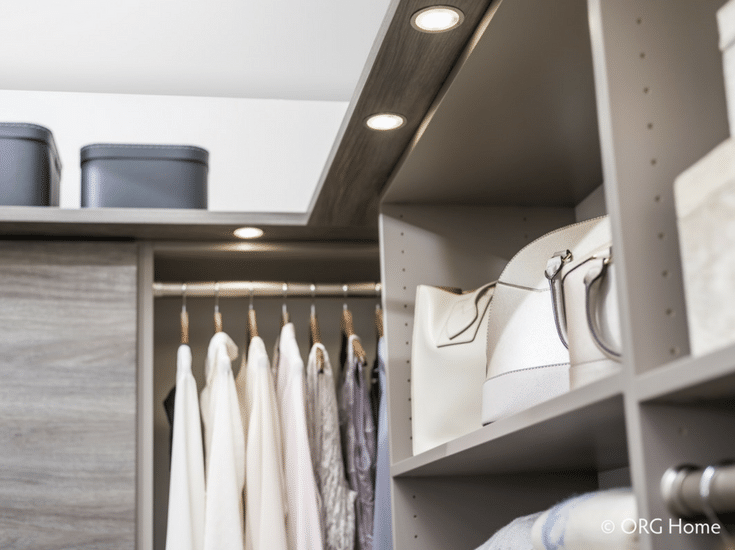 Hot closet accessory idea #7 – Allowing your closet depth to become your shoes best friends
Sometimes no matter how much you line the walls of your closet with effective closet storage systems there is still not enough rooms for your shoes! What's a woman to do? Well – this is one idea I love – a revolving shoe storage system. There are actually 2 rows of shoes (one behind the other) so you can pack 2x as much punch in the exact same amount of vertical wall space. That's thoughtful space planning!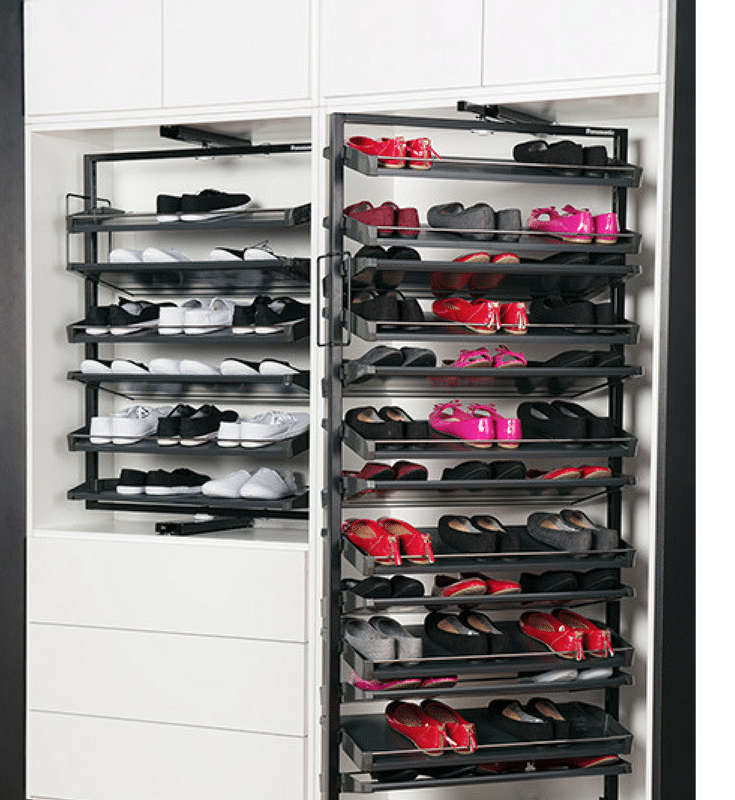 Conclusion
Just like Ciara said, "Cute accessories always help to bring out your outfit and pull it all together" it is also true that closet accessories can define and refine your closet to bring out joy and create form and function you never knew existed.
At the beginning of the article I mentioned I'd love to hear your feedback on these closet accessories and what's hot and not. Please comment below – I'd love to get your thoughts.
How can I (or my team) help you?
It can be easy to see accessories you like – but hard to pull all the various closet elements together. This is where my team and I would love to help you. If you're looking to redo a grand master walk in closet or just a simple reach in bedroom closet in Columbus or Cleveland we want to be there to help you. Give us a call at 614-545-6888 or 216-658-1290 or click here for a free 3D closet design We are looking forward to adding joy and utility to your space.
Follow the author on Twitter @Mike_Foti or our companies' @InnovateBuild and @InnovateHomeOrg.
---
Tags: bedroom closet, bedroom closet Columbus, bedroom closet storage, bedroom organization, bedroom organization ideas, boot storage, boot storage in a closet, cell phone charging station, charging station, closet accessories, closet drawer system, closet drawers, closet features, closet lighting, closet organization, closet organization Columbus, closet organization ideas, closet organizer, Columbus closet organizer, Columbus custom closet, Columbus library ladder, custom closet, custom organizers Columbus, drawer dividers, hafele, jewelry tray, leather storage bins, LED lighting in a closet, library ladder, organizing your closet, pull out wardrobe rod, revolving shoe storage, shoe storage, slide out baskets, slide out baskets Columbus, storage bins, walk in closet, walk in closet Columbus, wardrobe organizer, wardrobe rod