7 Simple Strategies to Love Your Reach in Bedroom Closet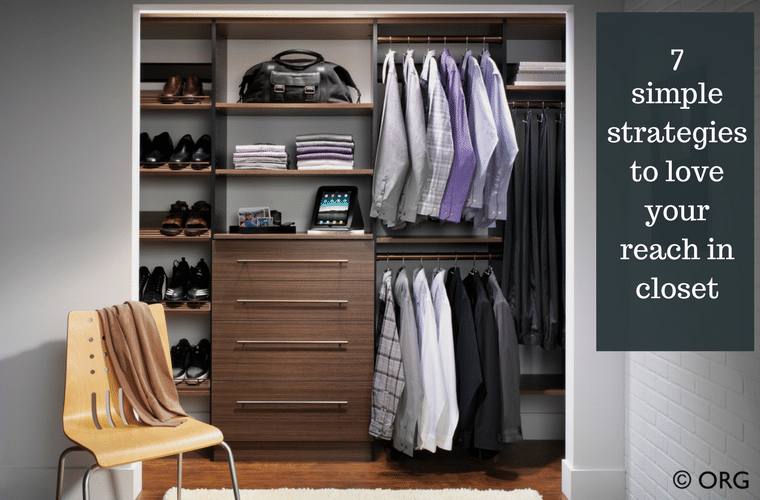 Does your messy reach in closet bum you out? Do you suffer from "my-closet-is-too-small" disease? Then you visit Pinterest and see the glamour walk in closets of the stars with chandeliers, chaise lounges and spacious islands in the center and say to yourself, "girlfriend, that is so far from my life!" Unfortunately, you may need to take the advice of the 70's song from Crosby, Stills, Nash and Young – "If you can't be with the one you love (a spacious walk in closet), honey, you've got to love the one you're with (your small reach in closet)."
The challenge is how do you love the "closet you're with" if it's a complete disaster? Shoes thrown in piles on the floor. Different hangers all jumbled about. Blouses and pans so tight on the rack if the clothes could talk they would say sardines in a can have a better life than they do. Not to mention, how big a hassle it is to find your jewelry in the morning.
Reach in closets are challenging to say the least. You can't transform this small and tight space into a place you'll love without IMHO (in my humble opinion) good doses of discipline, a new structure and adding your own sense of style.
In this article, my goal is to provide you with 7 simple strategies to gain space – and style – so you can love your reach in closet. Some of these tips will cost you NOTHING! That's cool – but others – which have the power to transform the space will involve making an investment (OK – that's a nice way to say spending money) in your closet. Fortunately, since your reach in closet is smaller – the cost of a closet system to improve your closet won't be too expensive either. Let me know at the end which of these 7 strategies you think will help your situation the most.
Simple Reach in Closet Strategy #1 (discipline)– The discipline to declutter and stop 'da-buying (not really a word) with discarding
You need more discipline. These words probably bring back the cold chills you used to get when you were a kid and Mom and Dad told you to be more discipline and get back to studying. The unfortunate reality though is an organized closet is all about discipline. You need to diligent to these "D's" of discipline:
Declutter – Nothing – and I mean nothing – is going to transform your reach in closet until you come to the brutal realization you need to discard a good portion of your stuff (I would venture to say at least 1/3 of it at the start – at least that was the case for me – and I don't miss anything I discarded either!).

'Nothing is going to transform your #closet until you get ride of 1/3 of your stuff!'

Click To Tweet

If it doesn't fit today get it out of the closet. If you're hopeful it will fit "tomorrow" put it into a plastic storage bin and label the bin with a date one year from now. If they still don't fit, you must acquit. Donate clothes which are out of style (don't fall into the trap of waiting for them to magically come back into style – that may be 20 years from now). There are countless resources about decluttering but the book I enjoyed the most is The Life Changing Magic of Tidying Up by Marie Kondo.
Stop 'da-buying without discarding – You know you love a dose of "retail therapy" to bring your mood up. That's certainly OK. What is not OK is adding one more thing to your wardrobe beyond what you have (after decluttering). When you bring one new item in, challenge yourself to take out one item (don't allow your closet to slowly, but surely, clutter again).
Simple Reach in Closet Strategy #2 (structure) – Closet design strategy 101 – The oldest, but best trick in the book – double hanging
The old Doublemint gum commercial (now I'm showing my age) used to say, "Double your pleasure and double your fun" (I'm not sure exactly what they were saying. Maybe it was date both Doublemint twins at the same time to have twice the pleasure – OK probably not) but when it comes to closets you can double your pleasure (or at least your storage) by doubling your wardrobe rods. This simple "Closet 101" tip is to change your hanging structure from a single pole at the top to two sections stacked on top of another. This doubles your amount of clothes in the same area. This is not revolutionary, but it is liberating way to gain space.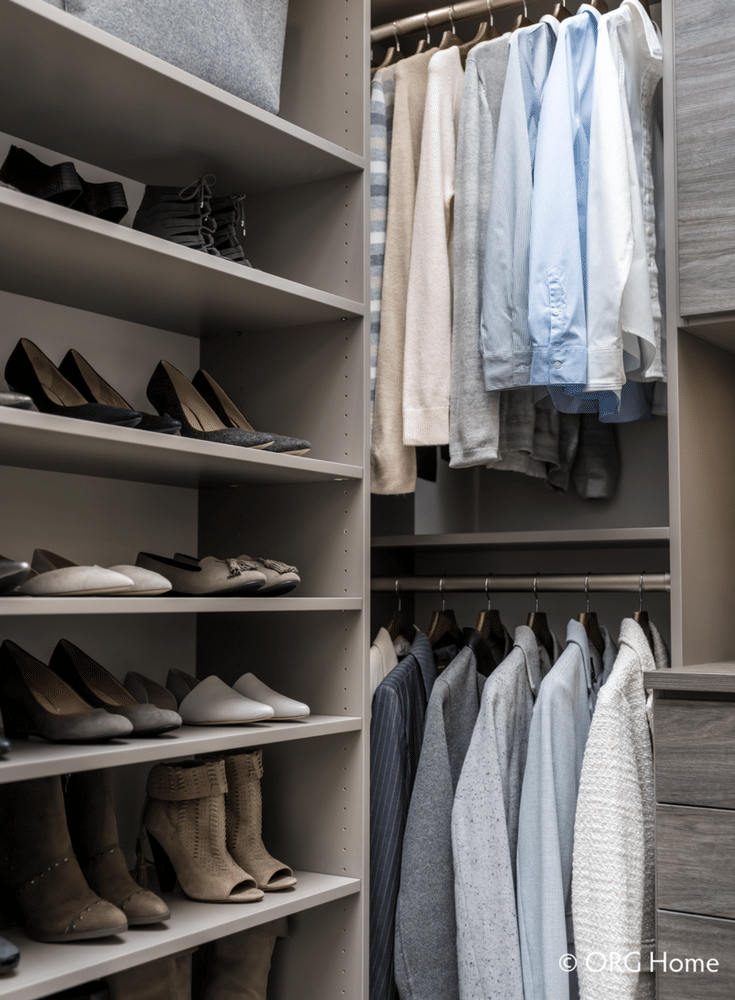 Simple Reach in Closet Strategy #3 (structure) – Drawers add a touch of style and a whole lot of practical function
If don't have a good place for your jewelry, lack a spot for your yoga pants and workout clothes and don't like how you're storing sweaters – drawers can be the perfect answer to your problems. What's cool about drawers (besides the fact they add a luxury stylized look) is they provide increased function. Even in a reach in closet you can add drawers by putting them in the center of the design. Here's some drawer ideas to consider:
A shallow jewelry drawer – Use a 5" top drawer and install a velvet lined jewelry box. This will take the aggravation out of pulling your complete outfit together in the morning and add glamour to your small space.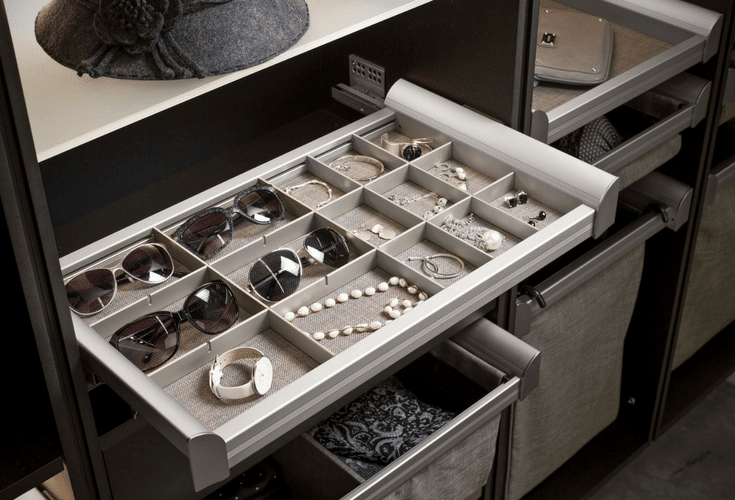 Workout clothes – If you didn't realize it you can fit 2x as many clothes in a drawer than hanging on hangers (this stat blew my mind a few years ago).

'Drawers provide over 2X the storage of hanging.' #closets

Click To Tweet

I would recommend using an 8" deep drawer for your yoga pants and workout clothes and learn how to fold them upright (see the Marie Kondo book referenced above). This will help you to gain space and find the perfect match quicker.
Stop ruining those sweaters and/or eliminate a messy pile at the top of your closet – If you use drawers you will do your sweaters a favor by not having them sit on wire shelving (where you get those nasty line marks you try to iron out) and dealing with the indentations in the shoulders by putting them on hangers. Go with a 12" deep drawer so you'll have plenty of space for the bulkiness of your sweaters or sweatshirts.
Simple Reach in Closet Strategy #4 (structure)– Flat shoes shelves
Those angled (also called raised) shoe shelves in the celebrity walk in closets do look marvelous – but are completely impractical for a space efficient reach in closet. It's still critical to get your shoes off the floor so you can find them and don't have to bend over to get them. The simple solution for your shoes in a reach in closet is adjustable flat shoe shelves. You can get far more pairs using this shelving arrangement than in angled shelves. If you still lack enough space for your Imelda-Marcos-like shoe fetish add an under the bed shoe storage container.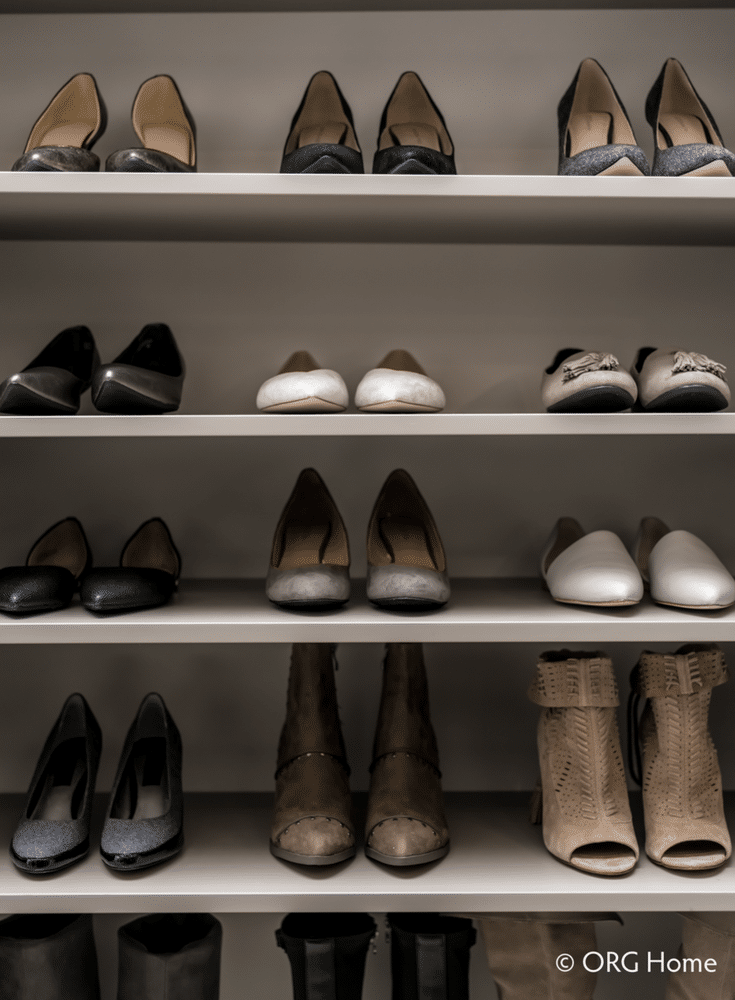 Simple Reach in Closet Strategy #5 (structure) – The opening to a more decorative closet experience
Standard bi-fold doors do nothing but get in the way of seeing and retrieving your clothes. There are a couple of fun things you can do to move beyond the limitations of bifold doors. The low-cost option is remove your doors and replace them with curtains. This is stylish and can provide a new design look to your bedroom.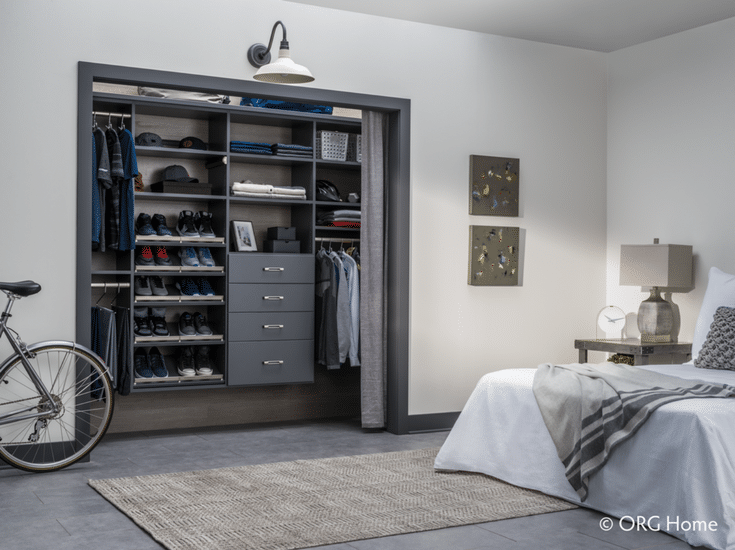 The second (more expensive) option is to put in the super-popular sliding barn doors. This is a cool way to go but you have to have enough adjacent wall space for the door to slide into for this to work.
Simple Reach in Closet Strategy #6 (style) – The lean and luxurious look of choosing the right hanger
Hangers can turn your closet into a jumbled nasty-looking mess. Here's how this happens. First you pick up laundry from the cleaners and you throw the clothes immediately into the closet with those cheap wire hangers. Then your husband buys a suit and keeps the wood or plastic hangers from the store he got with it. Next, you go out and buy some plastic hangers at the store. Now you've officially got 3 different types of hangers and your closet looks a mess.
No organized closet (or your favorite retail store for that matter) would operate this way. One key element for a neat closet appearance is to insist on using the same hangers throughout. My favorite type of hanger is these black velvet ones. They are thin (so you can get more clothes in) and the velvet keeps pants from falling off and landing on the floor.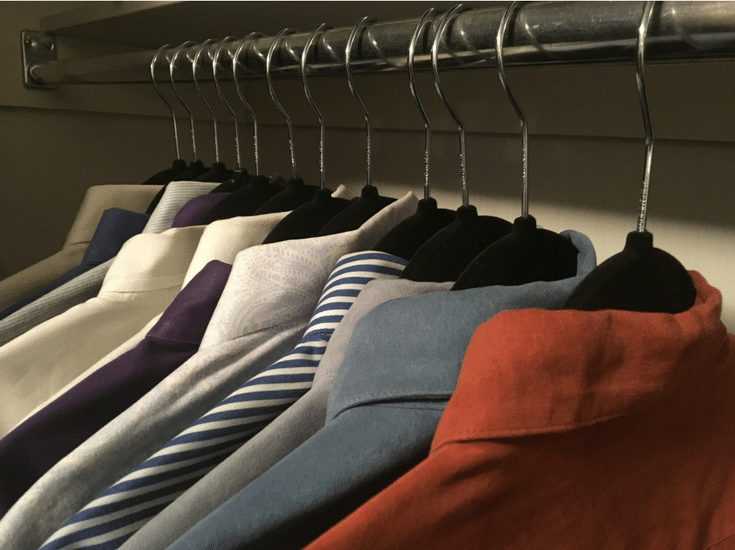 How many types of hangers do you have in your closet today? Discipline yourself to use only one type and see how you can get more clothes in and have a nicer looking space.
Simple Reach in Closet Strategy #7 (style) – Don't forget to have your own "back"
If you're like most people, when you got through strategy 1 of decluttering you'll notice for the first time has nasty the back wall of your closet looks. It will remind you of the unappealing look of the scuffed and nicked up walls you see on moving day. There are 2 ways to transform the back of your closet to something which is appealing.
First, simply add a fresh coat of paint (it will be best to do this before installing a new closet system) or install a wallpaper which will accent the space. Choose a paint color or wallpaper which will provide some visual continuity with the adjoining room(s).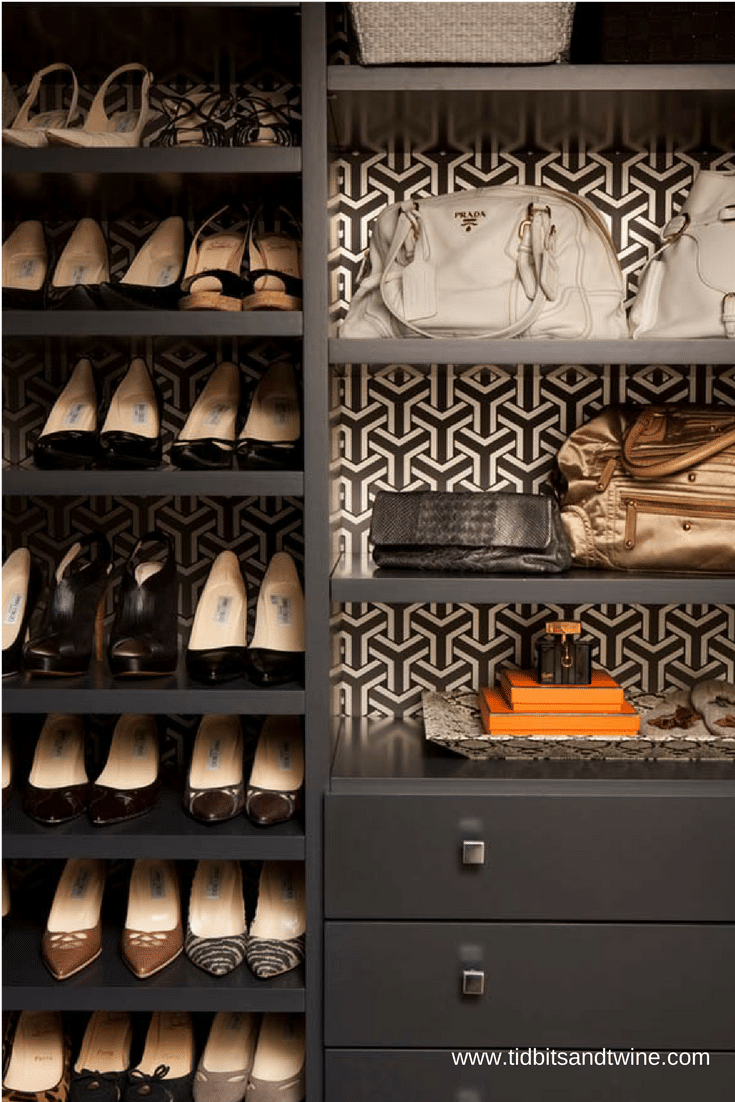 The second option is to use laminate back panels. With this option, the laminate attached to the wall eliminates scuffs and the need to repaint forever. You can use a contrasting color or wood texture to create a cool interior design look (check out this article about interior trends in closets if you want the ultimate look – 6 Hot Interior Design Trends to Rock Your Next Closet).
Conclusion
Your reach in closet is not the lost cause you might think it is today. The simple remedy is to start with the discipline to declutter. Then redesign the space to create a structure which increases storage using double hanging space, drawers and flat adjustable shoe shelving. Finally, add a touch of style and a finished look by addressing the back of the closet and your choice of hangers. Doing these strategies will make it possible for you to "love the closet your with!"
Can I (or a member of my team) help you?
Would you like someone to consult you on how to get a reach in or walk in closet which will help you "love the closet you're with?" Call Innovate Home Org in Columbus at 614-545-6888 or in Cleveland 216-658-1290 or click here to get a Free 3D closet design.

For more information on closet organizing follow the Author on Twitter @Mike_Foti or our companies' @InnovateBuild and @InnovateHomeOrg.
---
Tags: adjustable shoe shelves, bedroom closet, bedroom closet Columbus, bedroom closet organizers, closet design, closet hanging organizers, closet organizer, closet system, closet system Columbus, Columbus closet organizer, declutter Columbus, decluttering ideas, double hang, double hanging, hanging closet shelves, jewelry tray organizers, reach in closet, reach in closet Columbus, shoe shelving, shoe shelving Columbus, small bedroom, small closet, small closet Columbus, small closet design, small closet organization, small closet organization systems, small closet organizer, velvet hangers, velvet hangers Columbus