15 Do's and Don'ts to Make Your Small Closet Live Larger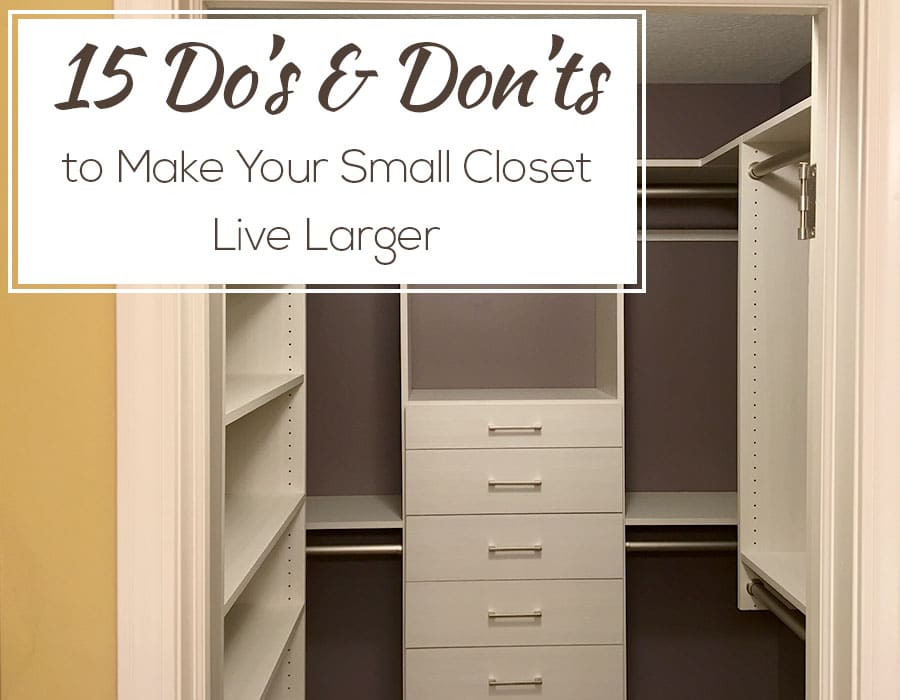 If your small closet is an unmitigated (as opposed to a mitigated) disaster, please raise your hand?
You've wondered why they designed your home with such tiny walk in and reach in closets. You've thought, is there ANYTHING I can do to gain control of the jumbled mess?
And while you've read a ton of 'small closet idea' articles, so many of them give ideas to add storage OUTSIDE the closet – not what you can do to maximize the INSIDE of this messed up space.
This article is going to focus on the unthinkable. It'll focus on how to use every doggone inch of your small walk in or reach closet to its fullest. I'll give you the 'do's and don't' to small closet organization success. At the end I'd love to know one or two ideas you think will help you the most.
Let's dig in.
Do #1 – Do double your pleasure, to double your 'fun' (and function). Use double hanging sections
The old Doublemint chewing gum commercials used to talk about 'doubling your pleasure to double your fun' in the famous (and utterly funny) commercials popular in the 1980's (and for a laugh check out this one below).
And when it comes to closets the #1 thing you can do to double your function (and the amount of space in your closet) is to use double hanging sections.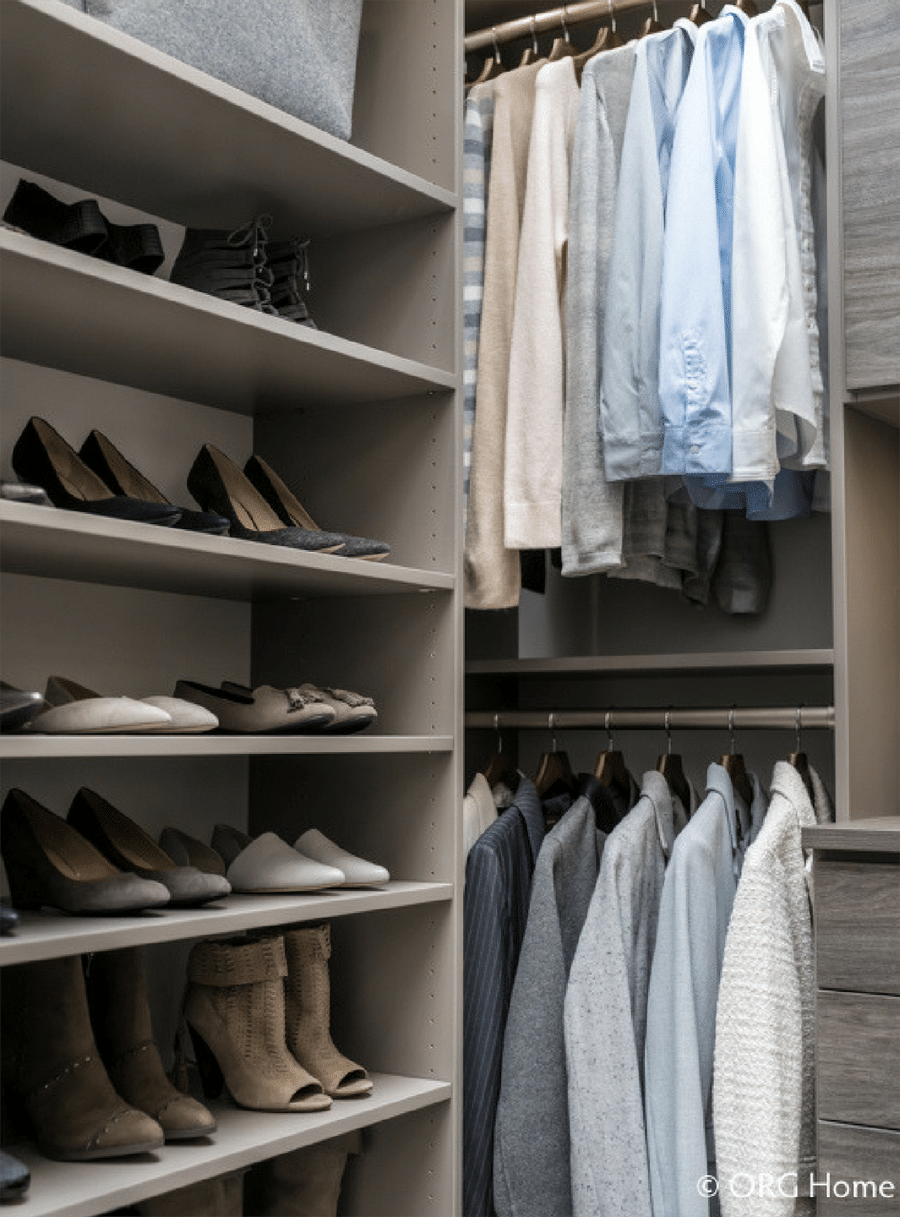 In most existing closets there's a single rod. And this rod is set too low to hang one section of casual clothes on top another. By replacing a single hanging ('er one rod) with a double hanging (2 rods in the same vertical space) you'll 2x your closet storage OVERNIGHT! How's that for a 'do' you need to do right now?
Don't #2 – Don't allow your shoes to be buried under hanging clothes in a dusty, disorganized heap on the floor
Who ever thought providing NO PLACE to store shoes in a closet must have been designing closets for the Amish.
If your fashion looks are driven by your ever-growing shoe collection – you KNOW your 30 to 40 pairs (but whose counting) in the disheveled heap on the floor IS NOT the best way to store shoes.
But you'll be happy to know effective shoe storage in a small closet IS NOT a hopeless proposition. And while you may drool over the raised 'department-store-looking' shoe shelves you see in Khloe Kardashian's closets– this space-eating shoe storage approach WILL NOT be the solution for your small closet.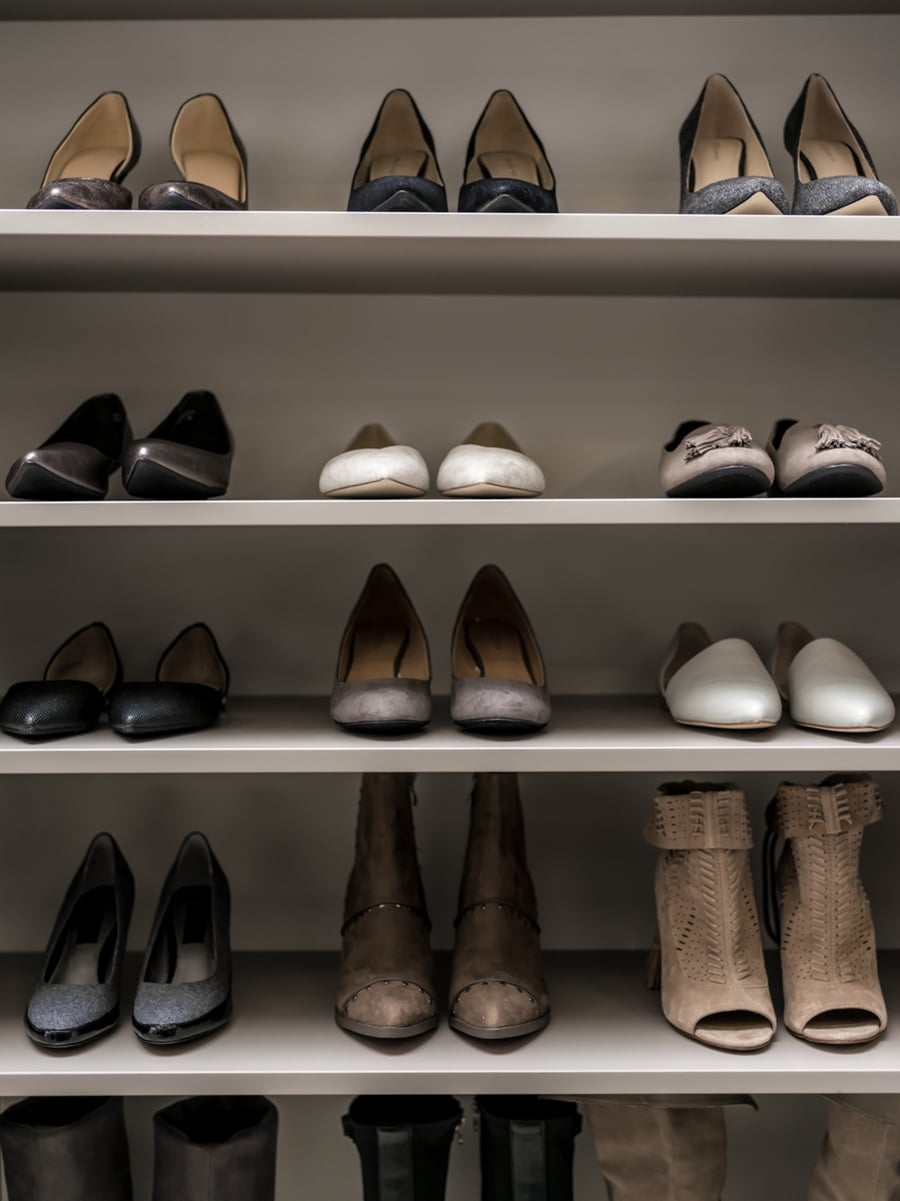 No, to add organization to your precious collection you need to use flat, adjustable shoe shelves. They'll 'flex' to your latest and greatest shoe styles – and the biggest bonus is…. you'll be able to find every single doggone pair! Yah you!
Do #3 – Do use your volume
The height of most closets is 8'. However, the problem with most 8' closets is there's 'dead space' at the top because the top shelf is set 24" to 30" below the ceiling. This results in the 'leaning tower of Pisa' clothes piles on the top shelf and dead space above.
The simple solution to this problem is to move the top shelf 12" from the ceiling. You'll have more effective top shelf storage and get rid of evil dead gaps at the top. And if you have a shallow reach in closet – a solution like this 'reach vertical' (with deeper shelves at the bottom and a narrower shelf at the top, gives you the biggest bang for your reach in closet storage bucks).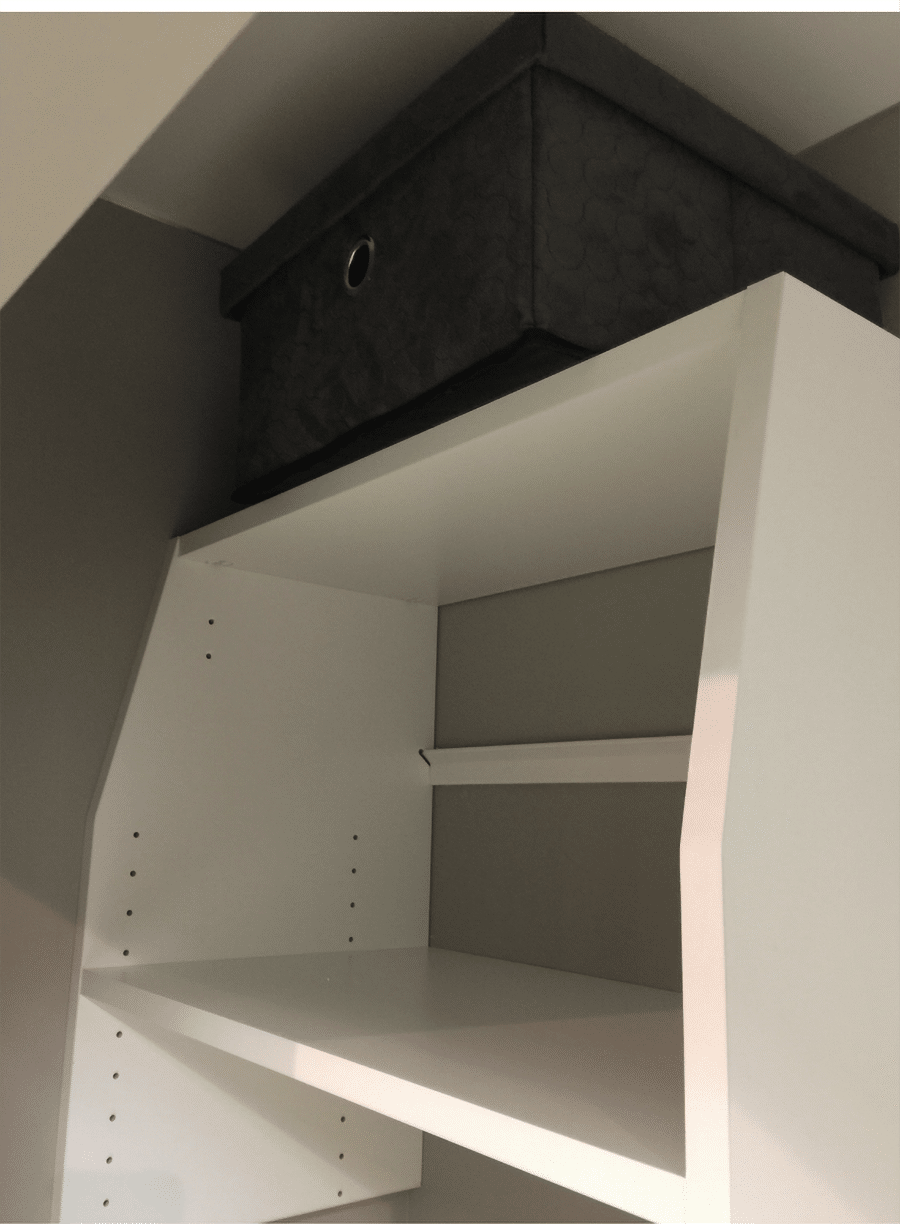 Don't #4 – Don't store your hanging clothes like you wear them
This may seem like weird advice – but most people store their blouses and shirts on the top double hanging section and store their pants (folded over) on the bottom. And while this is 'logical' because they're in the same orientation as you wear them– it causes you to miss a storage opportunity.
You see if you switch things around and store 'pants on the top and blouses on the bottom' you'll gain the use of the storage shelf under the pants because pants folded over are 'smaller' in height than blouses.
This is a 'free shelf' you'll unearth just by storing a little 'illogically!'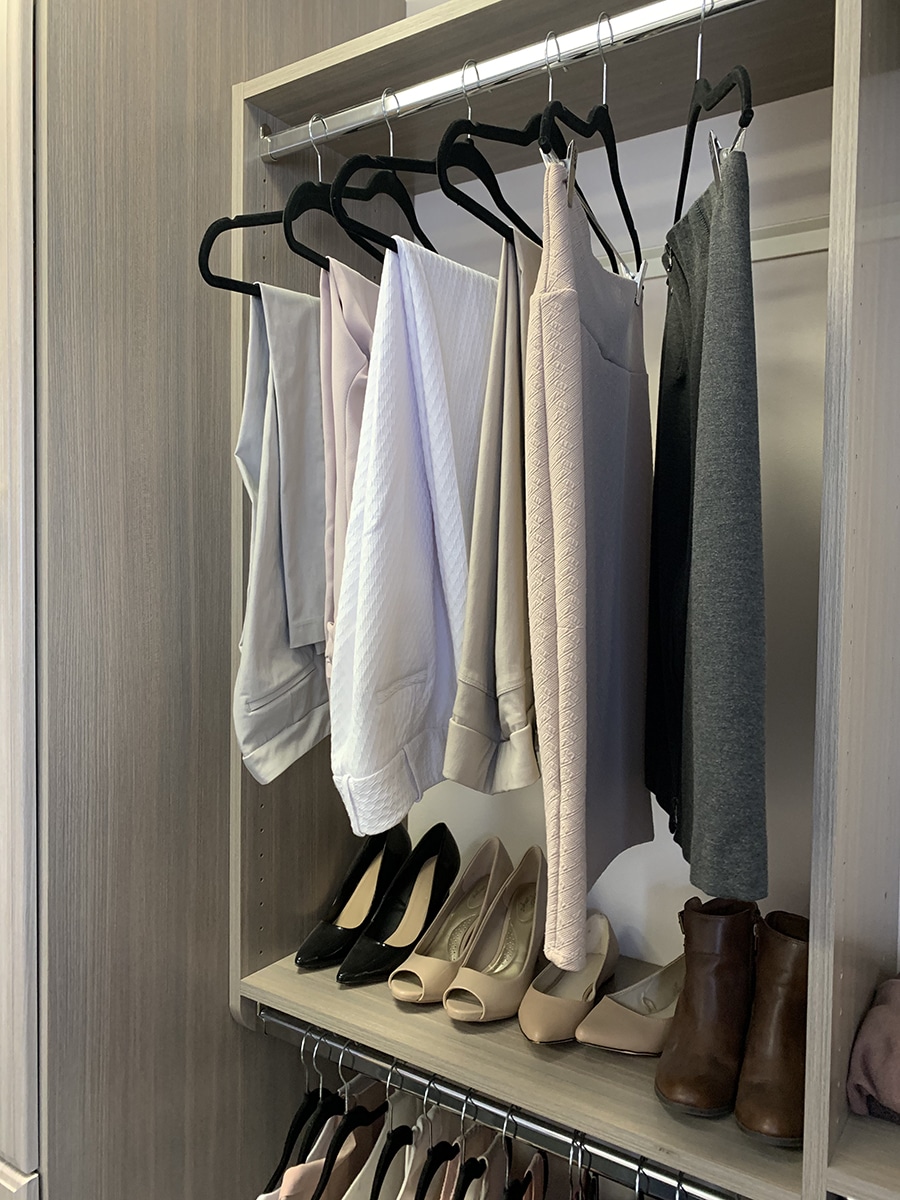 Do #5 – Do add drawers
Drawers are a cool idea because you can store 2 to 2.5 more clothes folded upright (a la the "Marie Kondo' method) than hanging them up.
In addition, drawers not only create more efficient storage, but add style and get rid of visual clutter as well.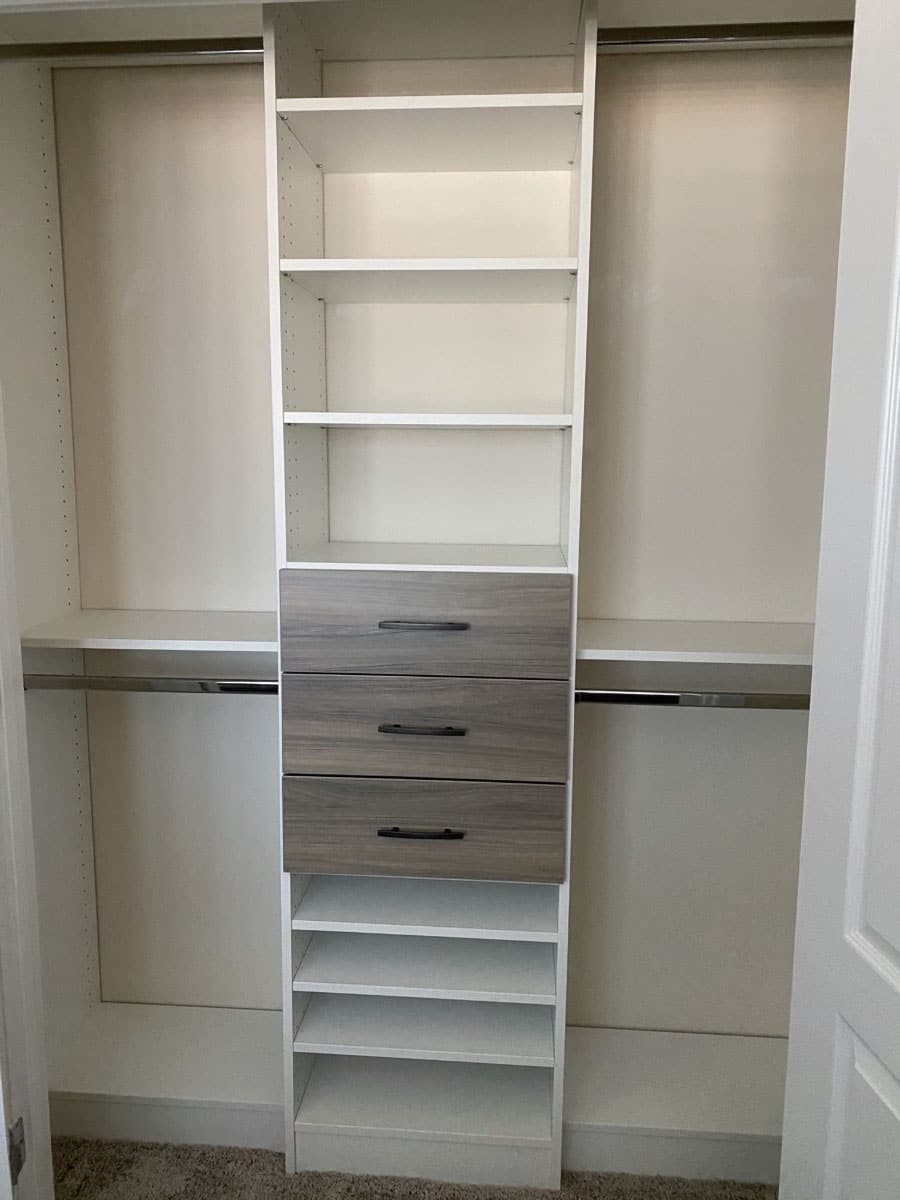 Don't #6 – Don't use shoe cubbies
Most people think cubbies are so 'super-cute' and a smart way to compartmentalize their shoes. And while they DO create separate places they also 'fix' the size and shape of those spaces. If you're looking to maximize the number of shoes you can get in your waaaaaay too small closet – you'll be far better off with a long adjustable shoe shelves.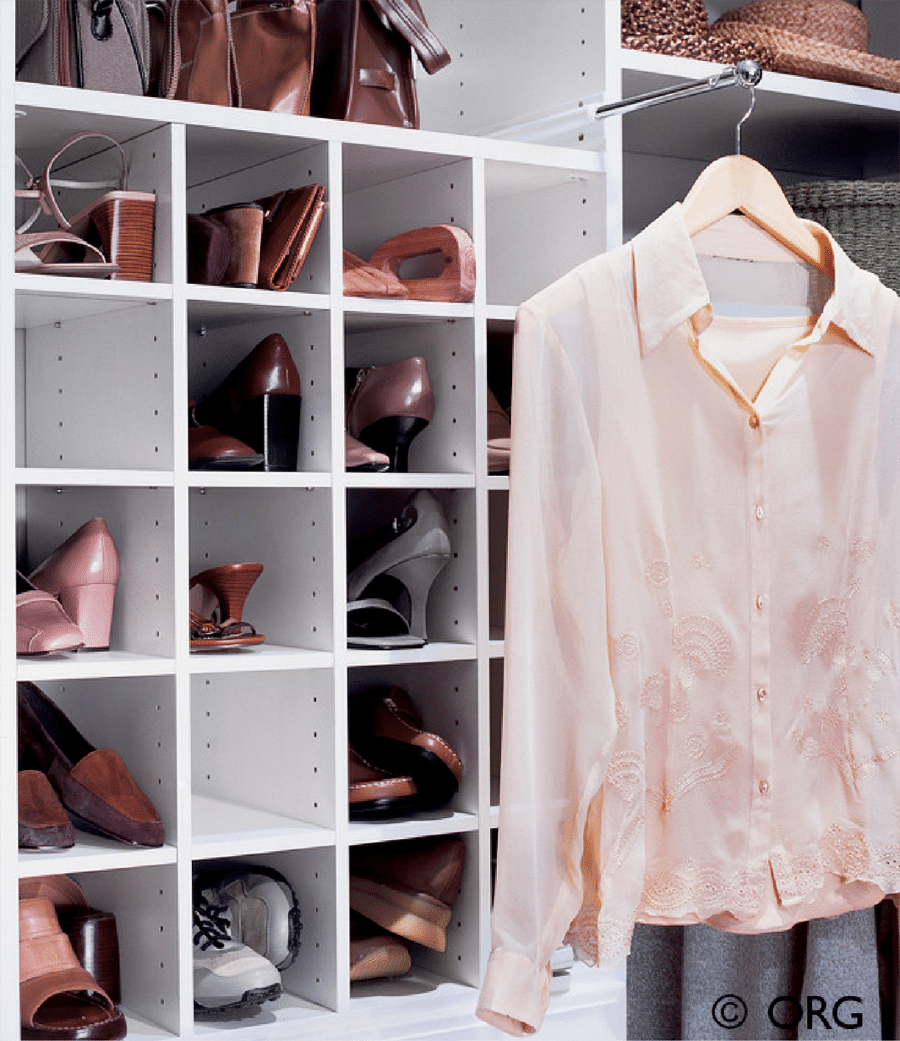 Long shelves cost less than cubbies AND will get more pairs in your closet (and no, I won't even tell your partner about the newest pair you have hidden in the back of your closet today!).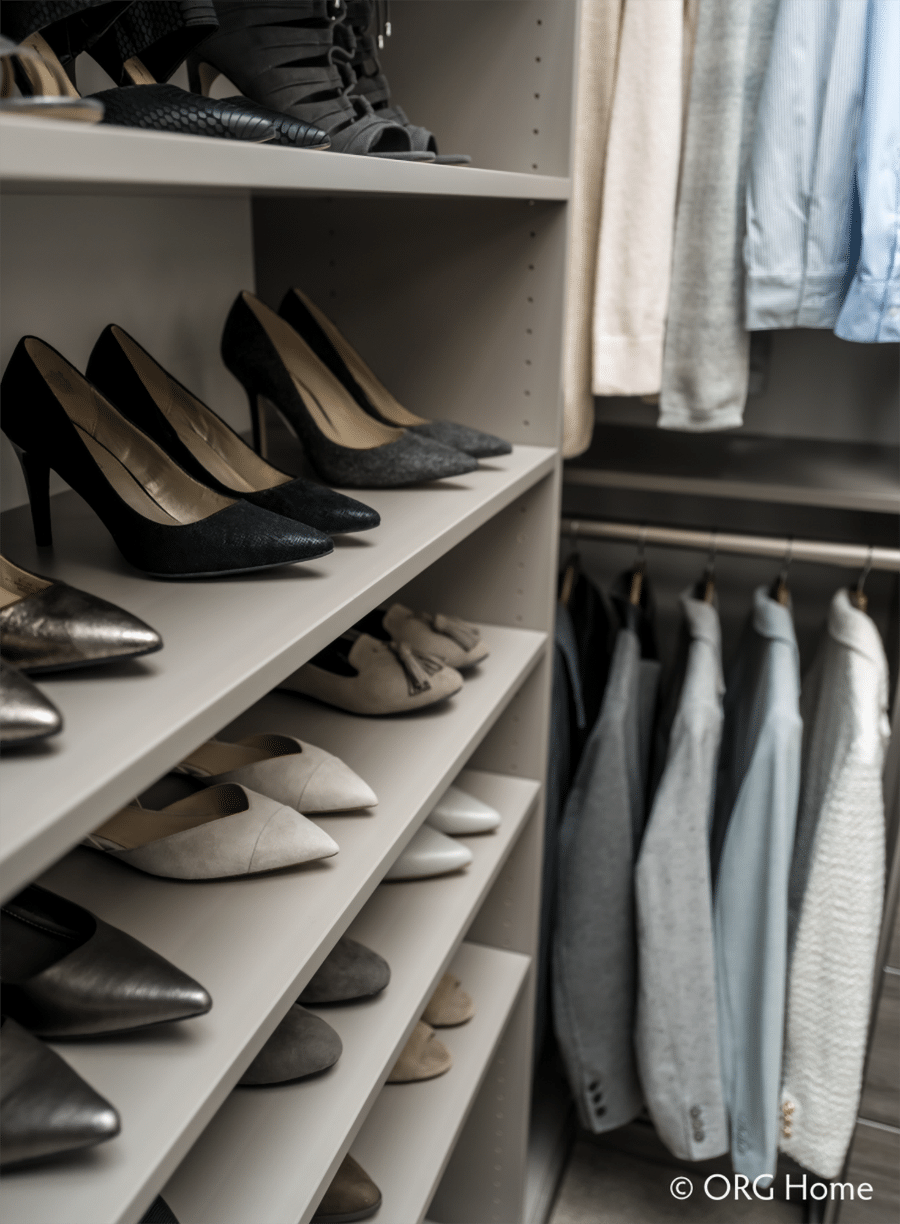 Do #7 – Do eliminate sliding closet doors
Don't you HATE, HATE, HATE that hard-to-reach space where two sliding closet doors meet? Trying to fetch clothes from the middle of your reach in closet is a P-A-I-N. Rid yourself of this bad design by pulling off the doors and replacing them with a decorative curtain.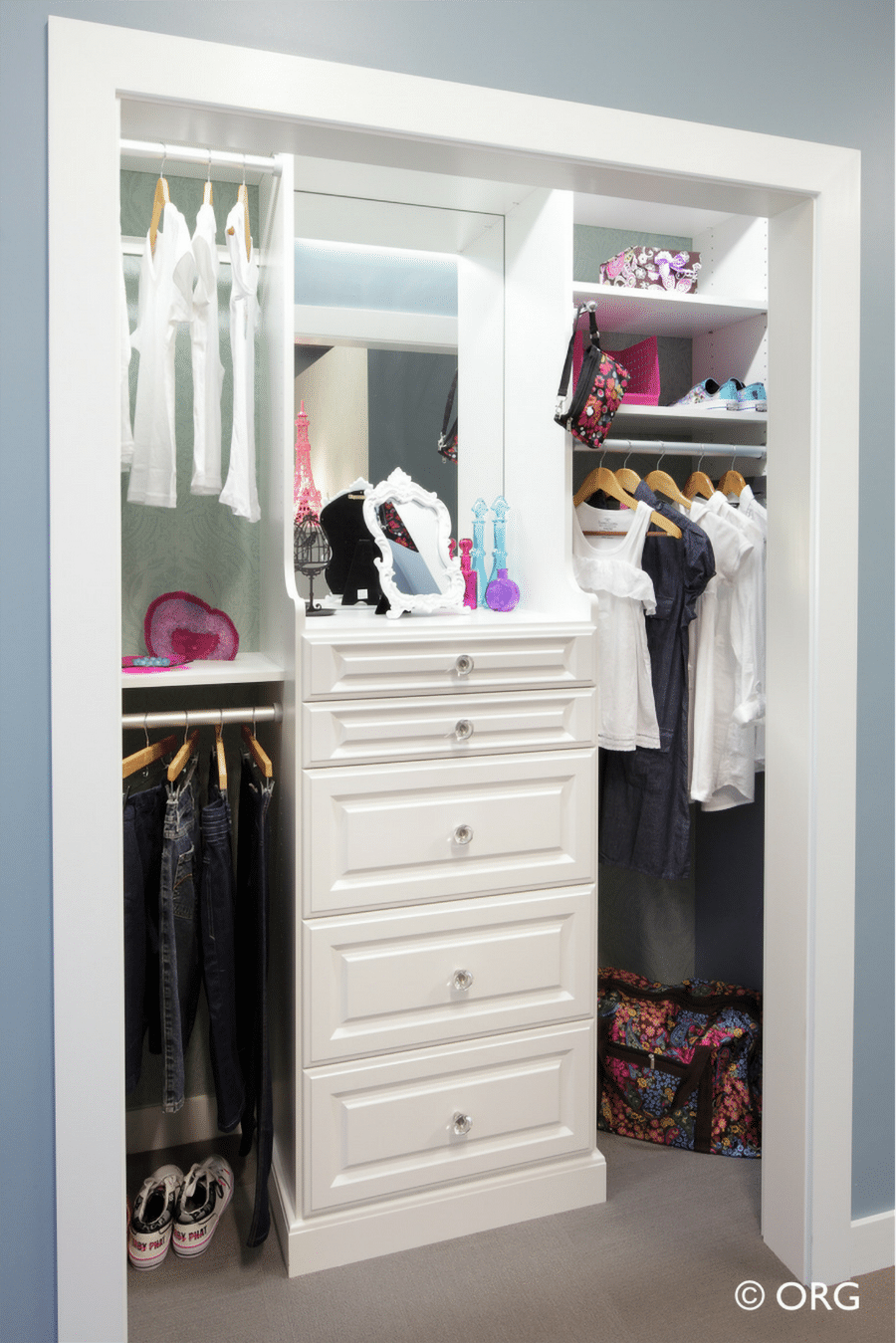 This will make your closet a fashion statement AND you'll be able to see what you have in the middle. And if you want to complete the transformation to a super-cool reach in closet – you'll now have the ability to put pull out drawers in the center of your design.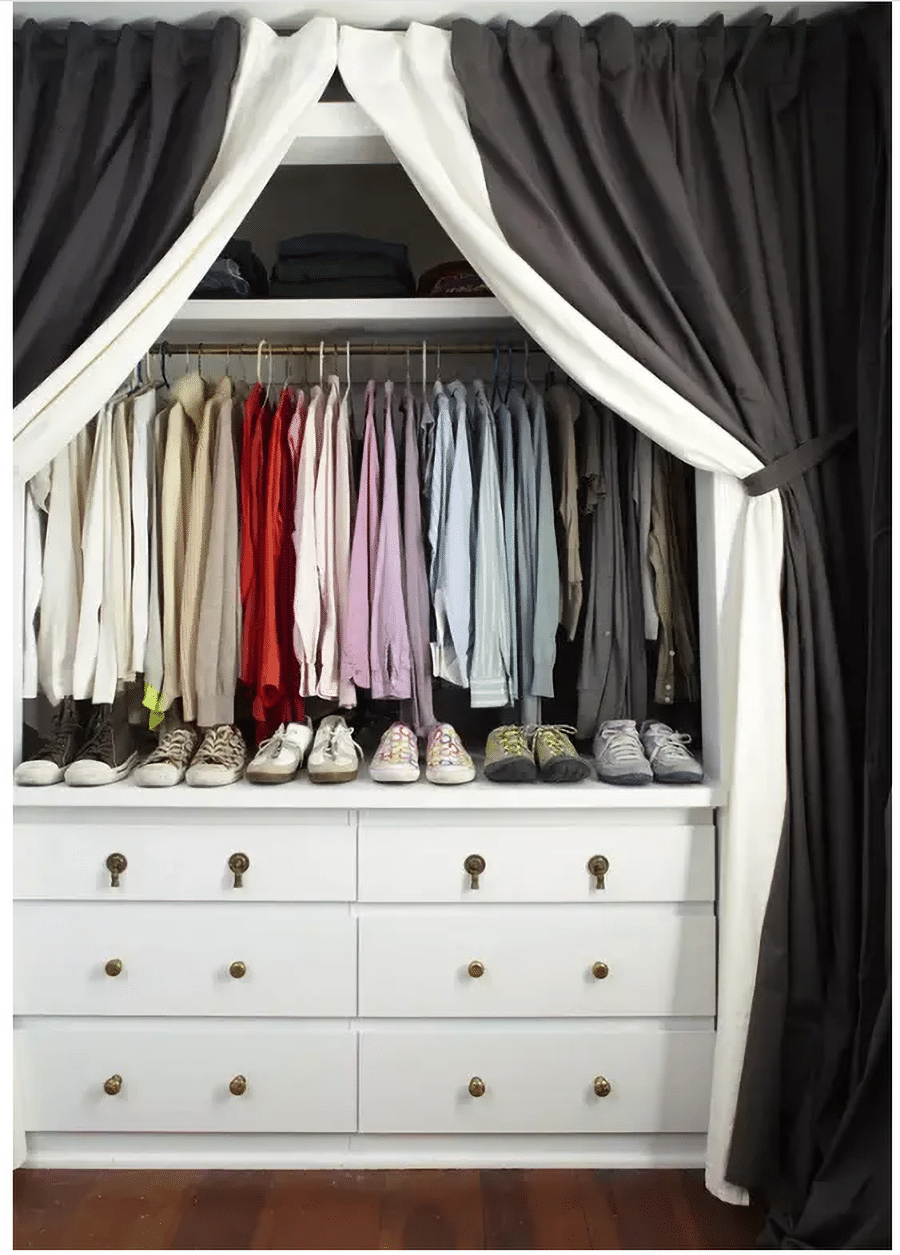 Image Source: brightstuff.com
Don't #8 – Don't let the dirty, cheap, plastic clothes hamper be the 'focal point' of your closet
You DO need a dirty clothes hamper, unfortunately. However, you don't have to put up with that ugly plastic tub and its 'wonderful bouquet' (sarcasm intended) of your partners workout outfits!
If you're looking for a classy – and space-efficient – way to blow up this ugly old basket, here's an idea you'll love. Use a fold down storage hamper with a canvas liner.
This hamper keeps those 'delectable delights' inside a closed drawer, yet they're still easy to pull out when dreaded laundry day calls your name once again.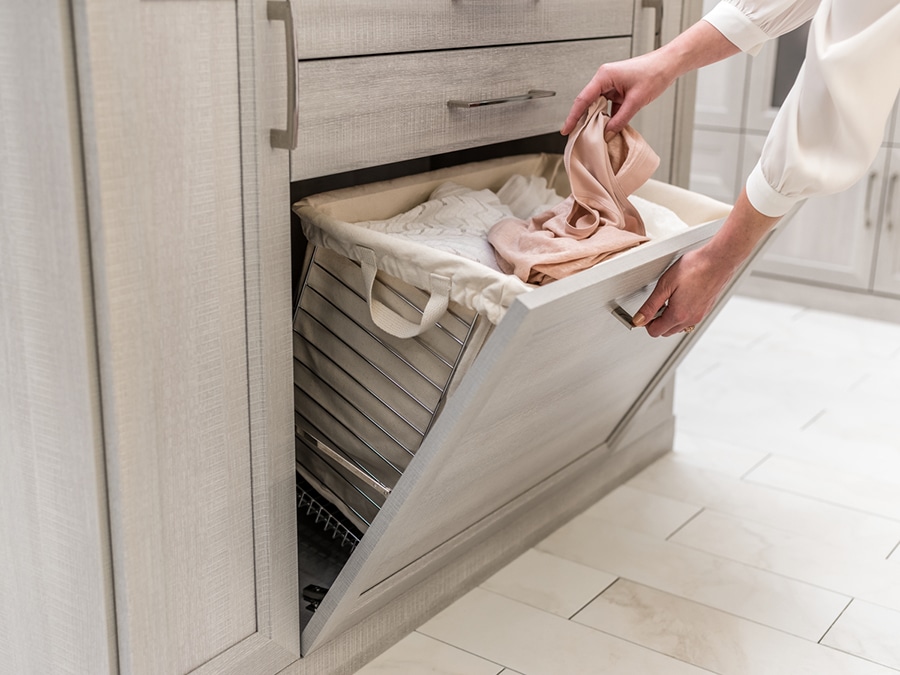 Do #9 – Do use 'thinny' hangers
If you're like me and are ordering a sub from Jimmy John's, you choose the 'thinny' chips. You do this because you DO want the chips, but figure a few less calories today, will allow you to eat a bit more ice cream tonight (hey – that's my logic and I'm sticking to it!).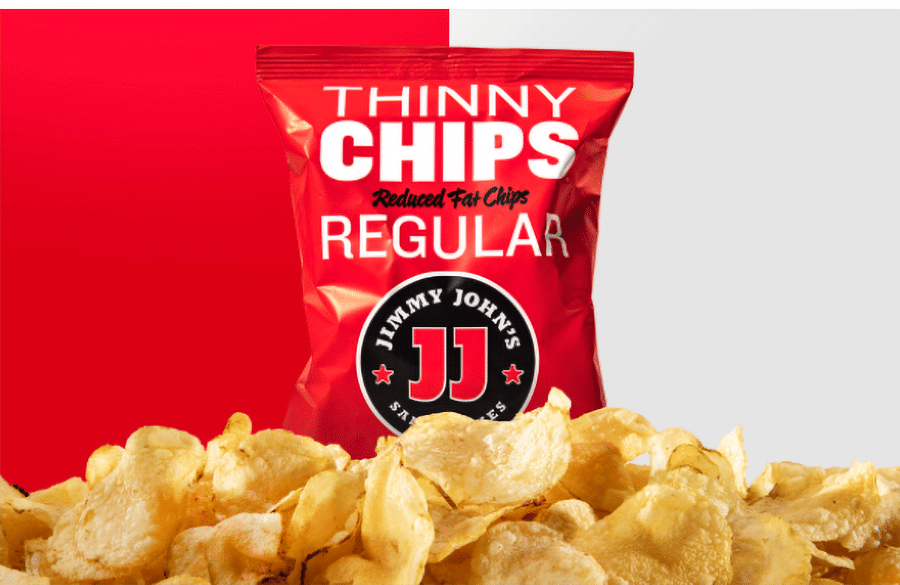 Image Source: jimmyjohns.com
And while 'thinny' (and thinner) is good for your waistline, it's also a good thing for your closet. And thinner hangers will help you gain a few precious inches.
You see those fat clunky wooden suit hangers and cheap multi-colored plastic hangers are eating your closet space alive.
What you need to do is take the 'thinny' strategy beyond chips and bring it to your closet. I'm a fan of sturdy – yet space-efficient – velvet hangers. You'll not only save space– but if you use the same color velvet hangers – your closet also instantly looks neater. The mish-mosh of hangers in your closet today is UGLY, UGLY, UGLY. Go on a space-saving closet diet and 'get thinny!'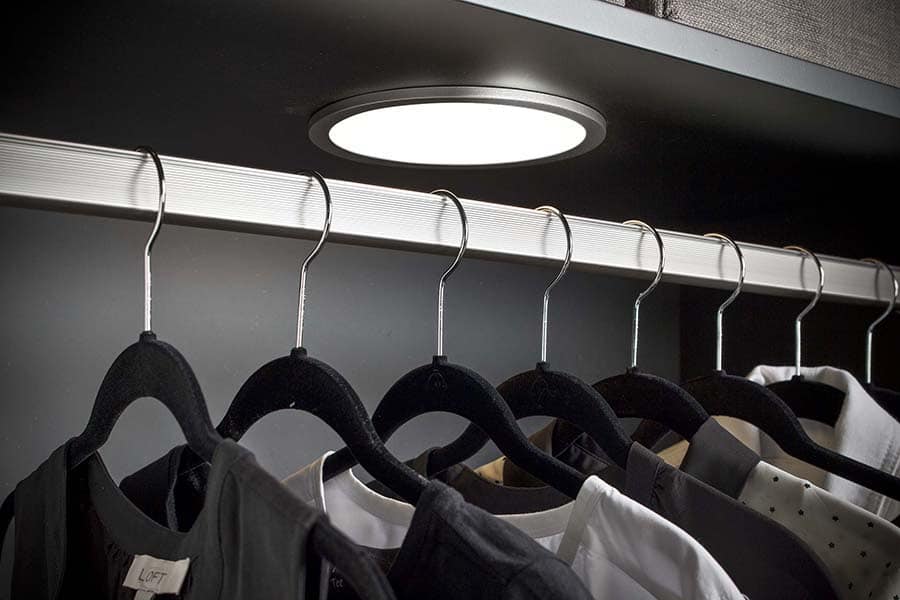 Don't #10 – Don't allow a stupid walk-in closet 'design' to be your nemesis any longer. Eliminate your dead 'hang vs. hang' corners
If your walk-in closets have hanging clothes which are smooshed against other hanging clothes in the corner – you're living with what I 'un-affectionately' call the Bermuda triangle of closet corners. This ridiculous design creates the corners where your clothes come to die … and become forgotten forever.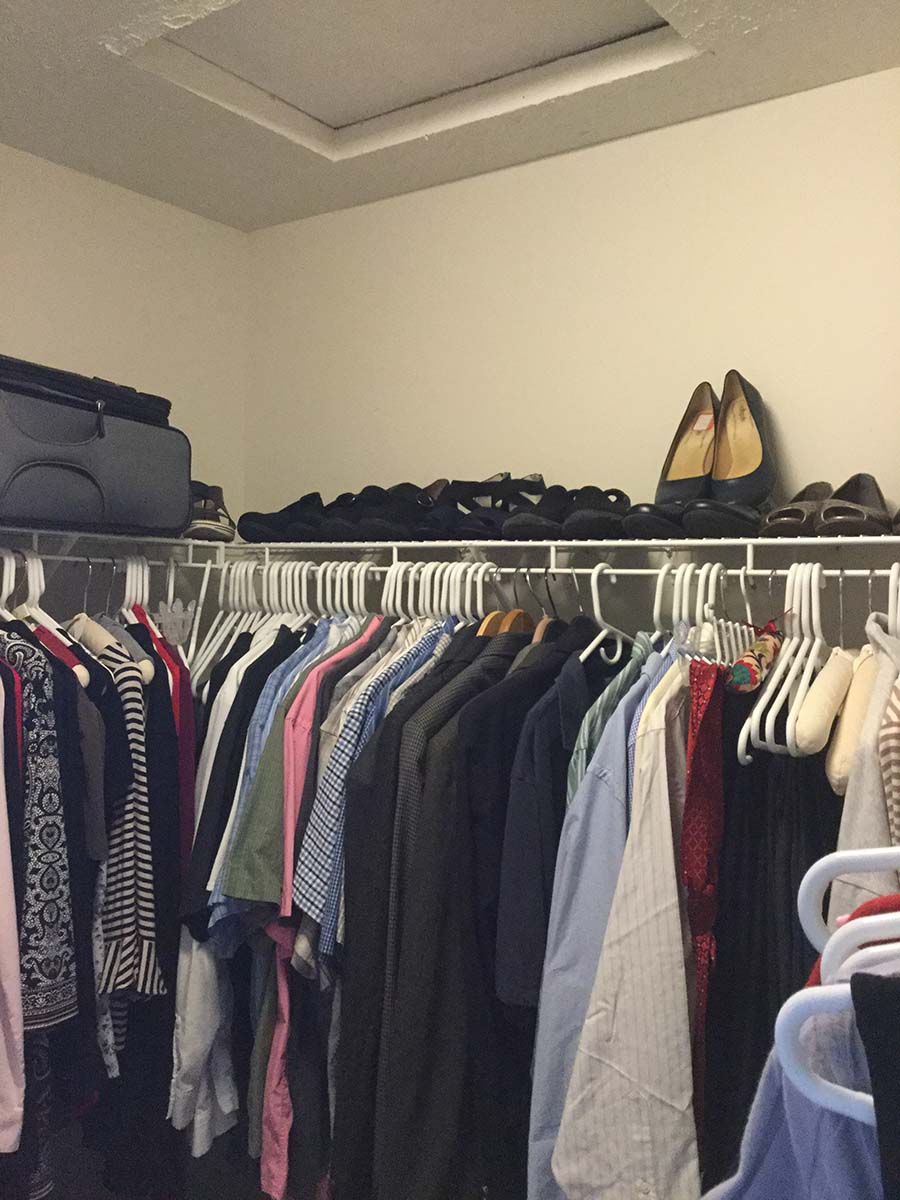 This is prime closet real estate you need to use effectively.
Eliminate this problem by putting hanging clothes adjacent to a shelving section. You'll amazingly be able to see what you've got. You'll have more efficient storage.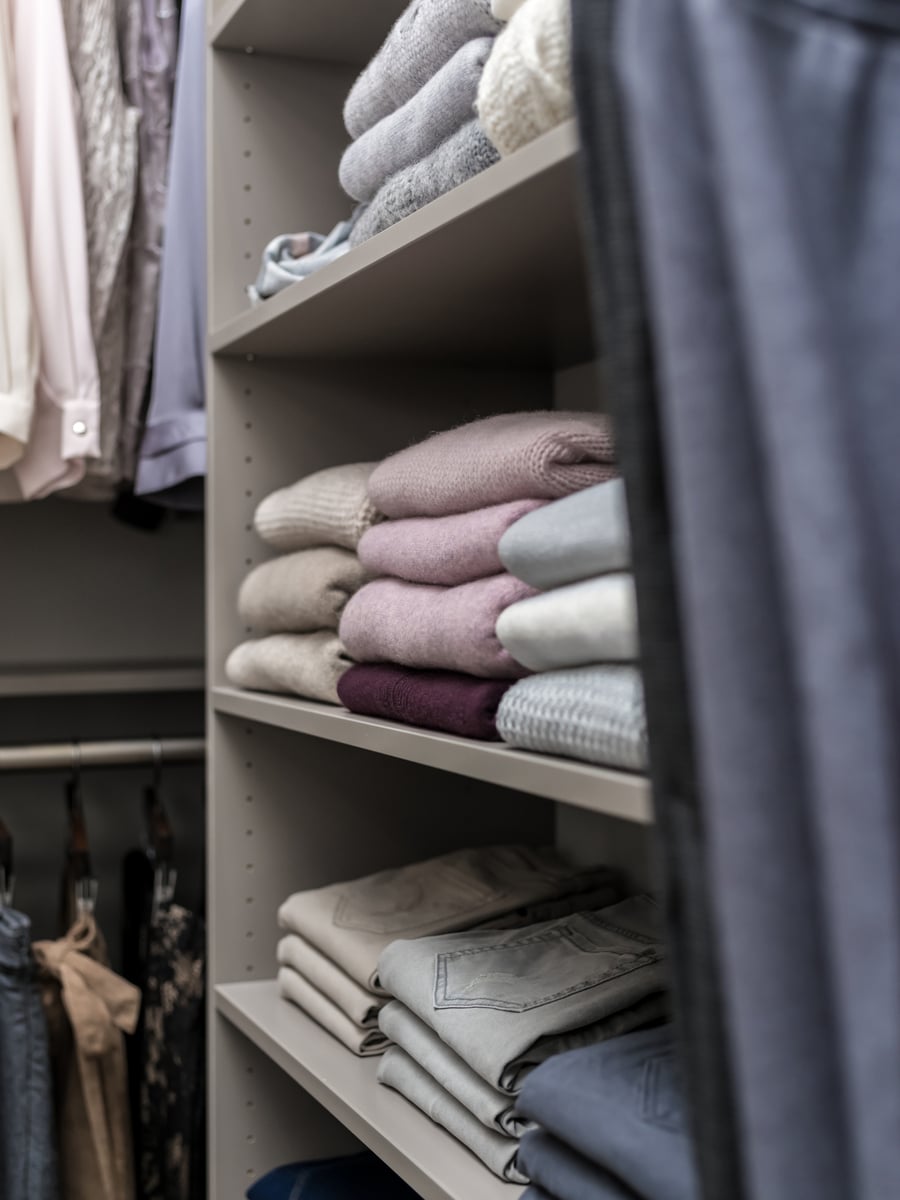 Do #11 – Do use an adjustable vs. a fixed closet system
Fixed wire (or plywood) closets which were hastily installed by the original home builder were chosen for one very good reason (from the builders POV).
THEY WERE CHEAP AND SAVED THEM MONEY.
While these 'fixed systems' worked fine for the builder (and cutting their budget and making a more profitable sale), they don't work fine for you. They don't allow flexibility to put your hanging sections lower (because you're 5'2" tall). They don't allow your partner's section to be higher (because they're 6'1"). They don't allow you to adjust shelves to fit more boots or sandals as your shoe fashions change.
The key is a 'flexible' closet which adjusts to your things (and your height). It's a system which has sections with 'holes' on the side so you can move rods and shelves up and down.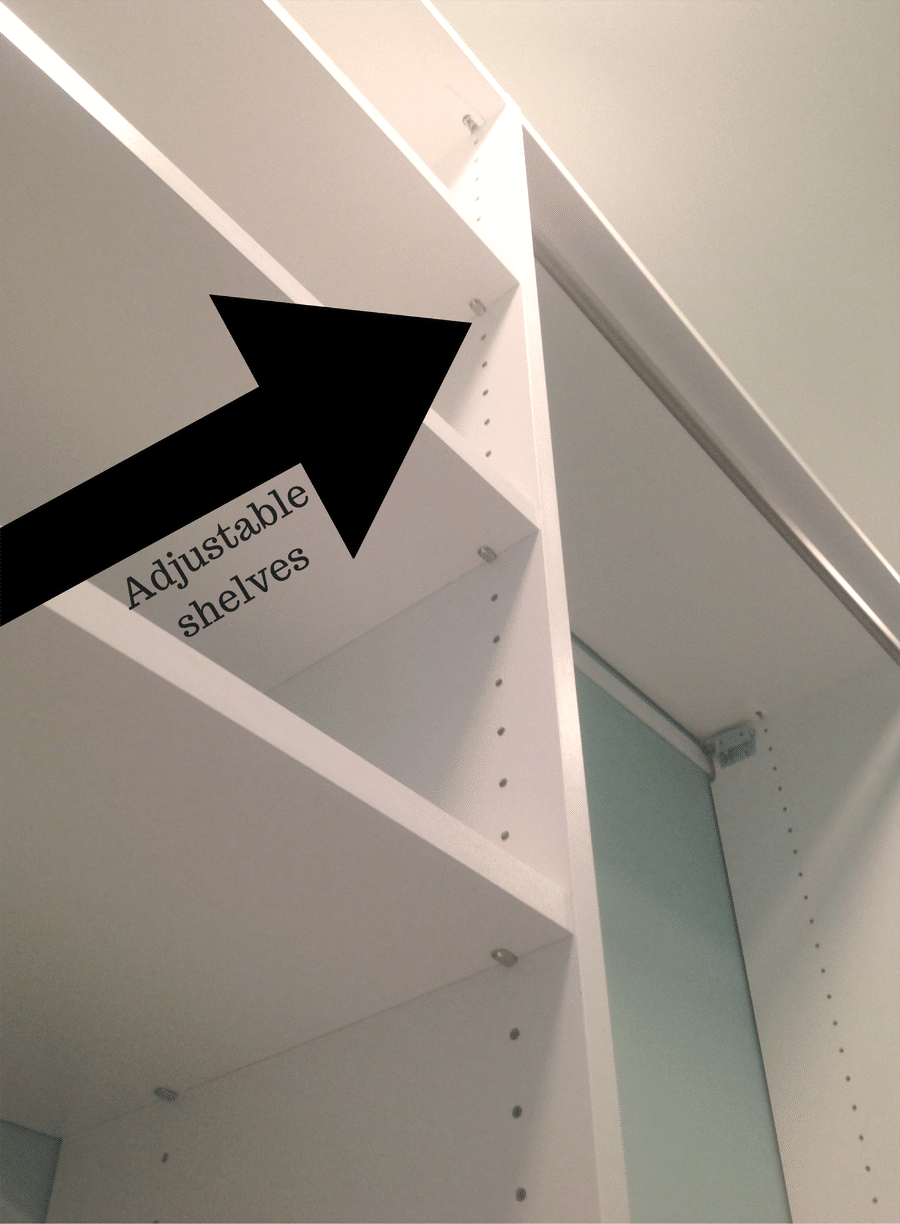 Don't allow your closet system to be as fixed as your Dad's politics!
Don't #11 (oops – I hope you don't notice I have two #11's in this article)– Don't allow yourself to be in the dark
Most closets have terrible (or no) lighting. In most reach in closets there's zero lighting. In many walk-in closets there's a single bulb in an overhead fixture.
And while you may lack the power to create a Techni-color lighting display in your closet (since you don't have any outlets in there either), you can add task lighting without breaking the bank. A smart way to do this is with rechargeable LED's. They're efficient. They don't require batteries. They'll make it easier to tell the brown socks from the black ones (for those of you who are a little color-blind).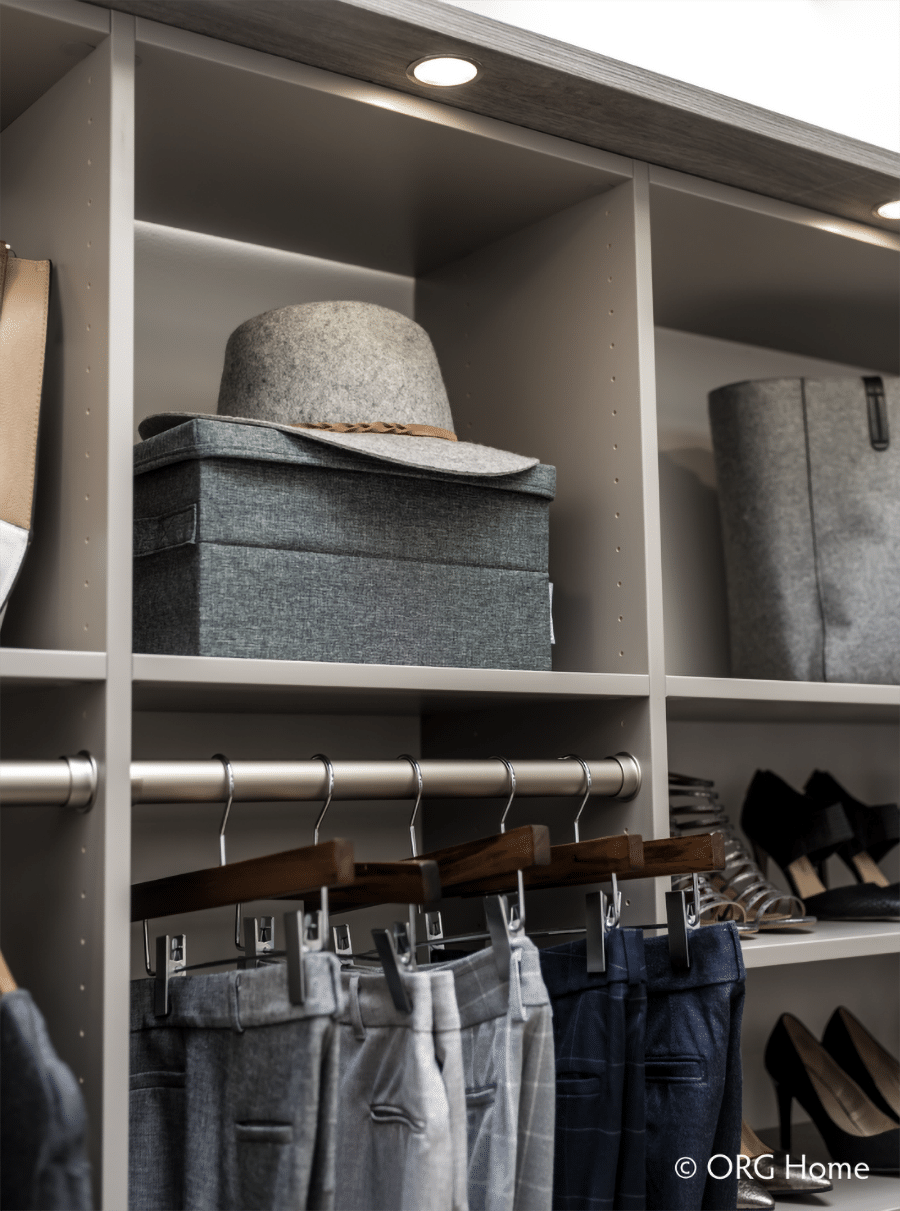 Do #12 – Do STOP LISTENING to your Mother. Stop HANGING ALL YOUR CLOTHES!
OK – we all remember Mom nagging us to 'hang up our clothes.' This 'gentle motherly nudging' still haunts us to this day. It's yet another complaint to cry on our psychologist shoulder about. And although Mom was well intentioned – and if we're being honest, we were a bit (OK, maybe more than a bit) of a slob – the need to hang everything actually IS NOT SMART!
Now, I'm not recommending you throw everything into a heap on the floor (unless you're looking to get your spouse to finally sign the divorce papers) – but what I will tell you is hanging takes more space than folded clothes.
So, here's what you should do. Use shelving and drawers instead of hanging to gain space in your too-small closet.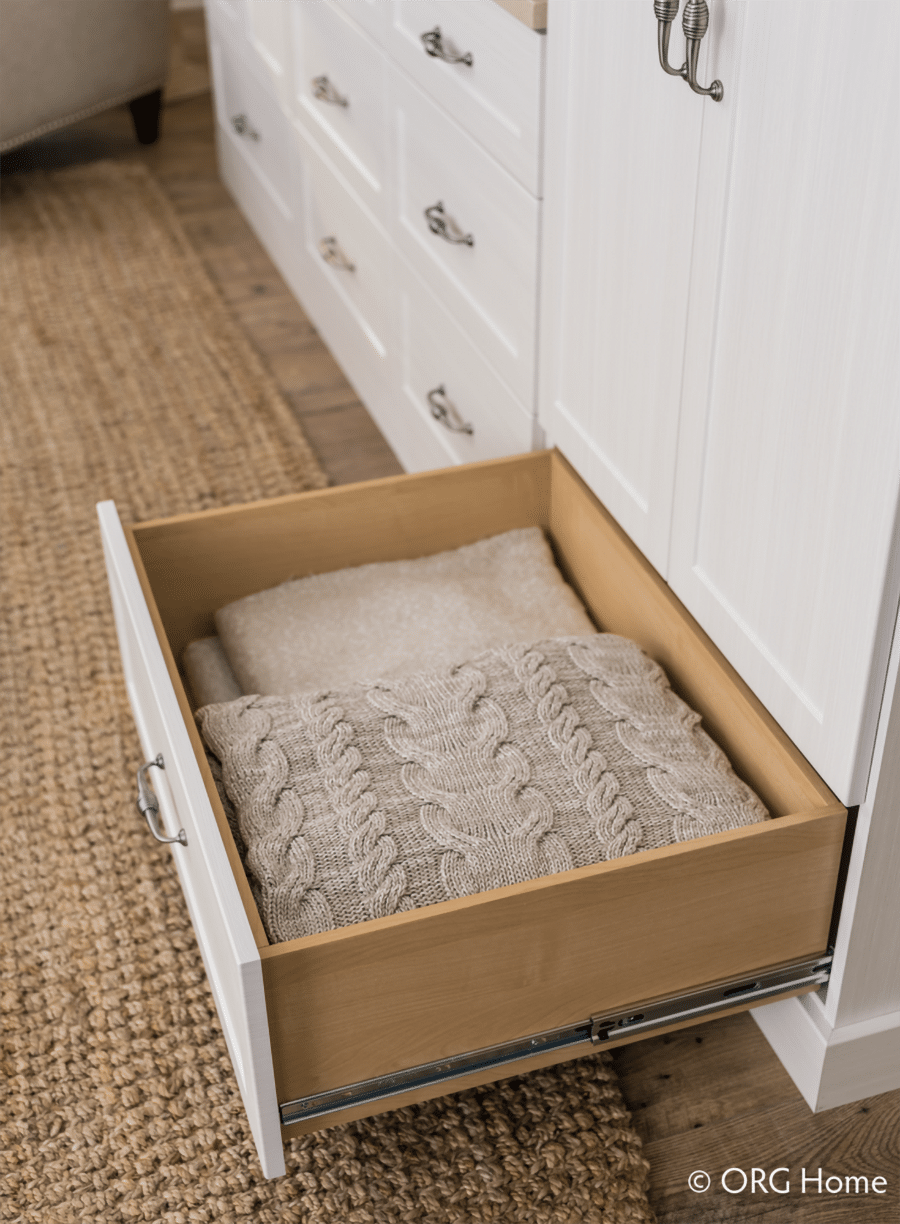 Don't #13 – Don't rely on your stacking 'skills' to keep folded piles neat
If you're stacking skills are as 'polished and neat' (sarcasm intended) as the 'wrinkle-free motivational speaker' Matt Foley (played by the late Chris Farley) in this hilarious Saturday Night Live skit below, raise your hand right now.
Maybe you didn't work in The Gap as a kid (you were stuck flippin' burgers as McDonalds). You didn't learn those cool stacking techniques. And you know the mish-mosh of your folded clothes in your closet today IS NOT a sight to be seen.
Well – an inexpensive strategy to keep those piles (at least somewhat) manageable is to use clear acrylic dividers. They'll ramp up your storage game, provide some semblance of order and help you be 'wrinkle-free' and NOT RESEMBLE Matt Foley from the skit above.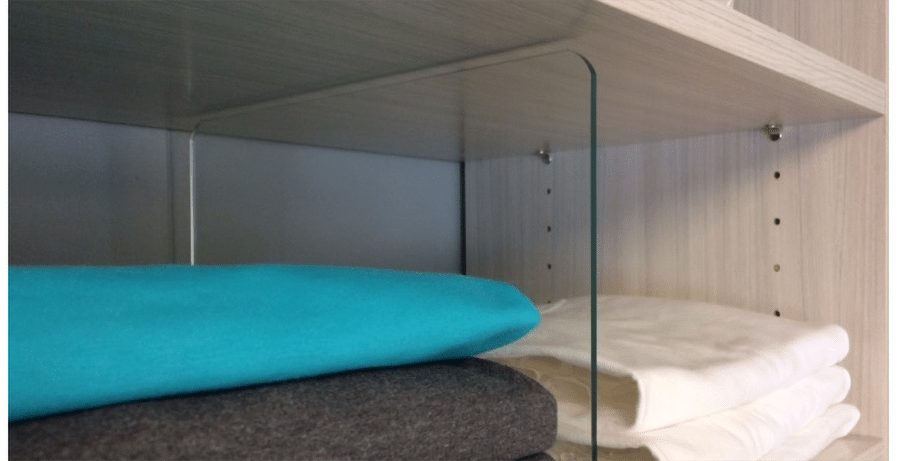 Image Source: closetsoftulsa.com
Do #14 – Do use hooks behind inswing doors
You need to take advantage of every inch of closet real estate you've got – and the space behind an inswing door doesn't have to be useless. Add a few hooks. You'll have a perfect place for necklaces, scarves or his baseball caps.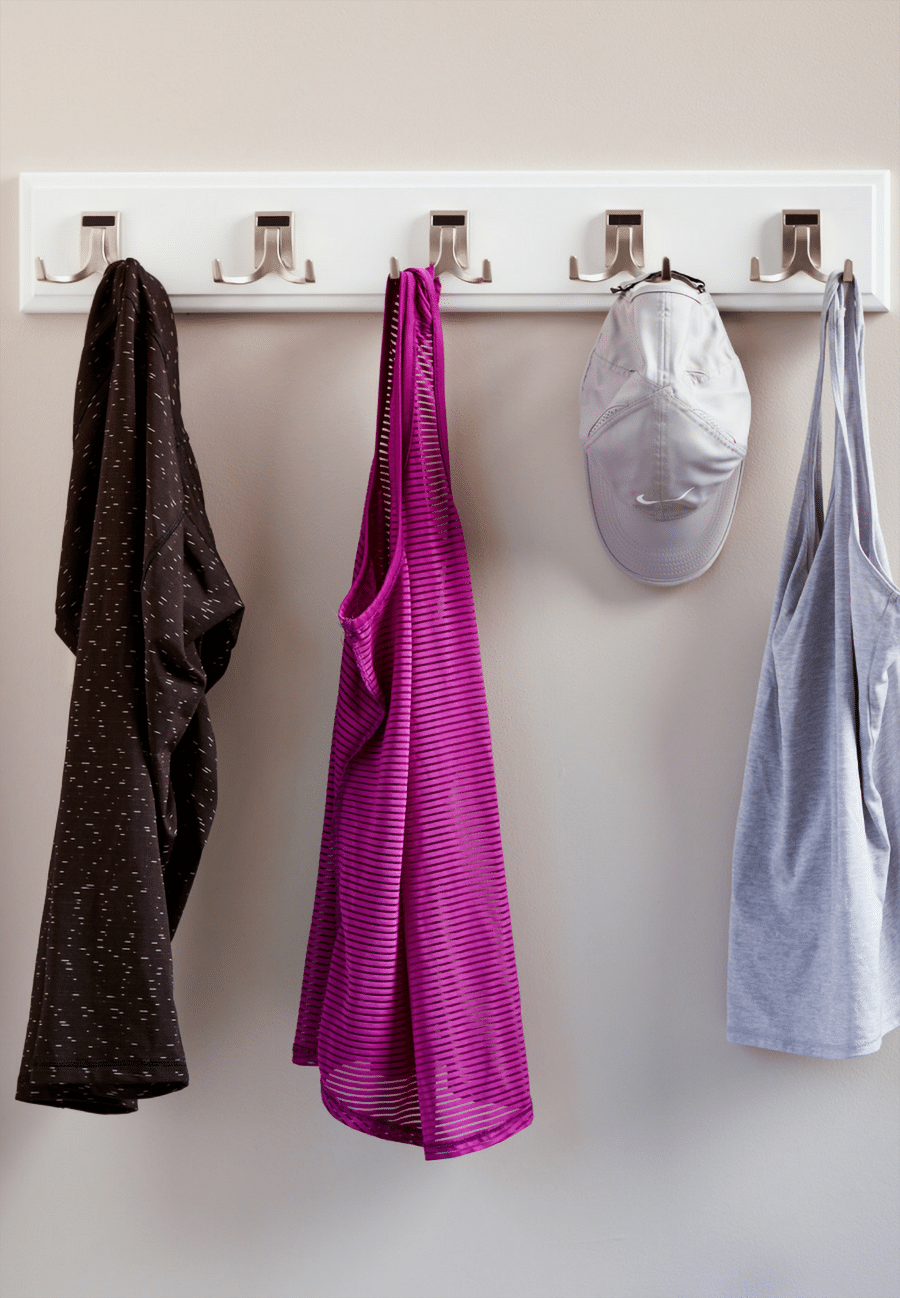 Don't #15 – Don't allow your drawer depths to be defined by some rickety old dresser you threw into your closet
So – you had an old dresser and thought – why not throw it into the closet? Then I'll have a place for underwear, socks, and folded jeans…. ON THE CHEAP. And while drawers are a good idea – if these old dresser drawers are too deep your socks and underwear will be as organized as the 'popcorn' you get in a shipping package (and not the fantastic, freshly popped warm and sticky caramel popcorn you get in the mall).
Drawers can be a HUGE benefit IF (and only if) they're sized for what you're storing. You need to vary drawer sizes. Socks, ties and jewelry work well in 5" high units. Casual workout outfits, t-shirts and jeans are perfect for 8" high drawers. And for those bigger bulky sweaters and blankets – the 12" size is best.

So, what do's and don'ts make sense for you to gain space in your small reach in or walk in closet? Do, you need help pulling a complete closet design together?
So, which do's and don'ts above will give you the biggest bang for your storage bucks? And more importantly are you comfortable putting these 15 do's and don'ts together into a coherent 'master' ('er closet) plan?
If you're not, I totally get it. You're not a closet designer and don't play Jay Pritchett on Modern Family either.
So, if this describes you – and you live in Columbus Ohio – we'd love to help. Call Innovate Home Org at 614-252-5888 for a Free 3D closet design or some good 'ol practical closet ideas. And if you don't live in Columbus Ohio – don't fear. In the comments below let me know where you DO live, and I'll see if I can pair you up with one of my closet industry buddies across the country for help.
Thanks for reading and putting up with my wacky humor!
Mike
###
If you'd like more information on garage, pantry, entryway or custom closet design (and want to see the 'little less wacky – more 'buttoned-up' version of me, follow me on LinkedIn @MikeFotiLinkedIn.
---
Tags: adjustable closet shelving, adjustable shoe shelves, adjustable shoe shelves Columbus, bad closet design, bad closet design Columbus, closet design strategies, closet drawers in a design, closet hampers Columbus, closet shelving Columbus, closet stress, double hang closet Columbus, double hanging in a closet, jewelry drawer trays, jewelry drawer trays Columbus, LED closet lighting, messy closet, messy closet Columbus, pull out closet hamper, scarf racks in a closet, shoe shelves Columbus, small closet design, small closet design Columbus, small closet design tips Columbus, small closet ideas, small closet ideas Columbus, small closet tips, tie racks in a closet, wardrobe rod