7 Tips for a Champagne Closet on a Beer Budget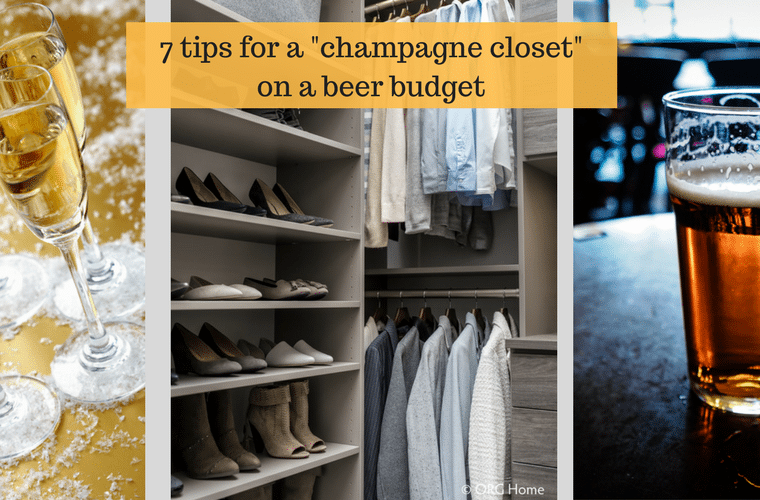 closet organizer system
. Since you probably don't have have a master carpenter "on staff" working on your mega-mansion (OK – if we're being honest here, your quaint Victorian Village, Clintonville or Westerville home might not even qualify as a "regular mansion" – ha! Ha!).
What will it take to get a crisp, clean, organized "champagne-looking" closet even if your budget more closely resembles a can of Budweiser? Check out the 7 tips below for an
affordable closet
which will also be organized, functional and pretty.
Tip #1 – Begin with ruthless decluttering
Your chance of a "champagne" closet will be D.O.A. (dead on arrival) if you're constantly fighting through racks of clothes and piles of shoes on the floor. Parting with dresses you barely wear, blouses which don't fit (yes, they looked fabulous on the hanger at Nordstrom's. Oops it might not be politically right to name that department store right now), and skirts which might come back into style are all the death sentence for an organized closet.
If you struggle with how to part with your "land of unused things" you're not alone. I would recommend reading books by Marie Kondo The Life Changing Magic of Tidying Up and Spark Joy. They are packed with practical tips which helped me to reduce clothing in my closet by 50% (and I've been able to keep the clutter out since then). If reading a book isn't going to do it for you, then consider calling one of the professional organizers from the
National Association of Professional Organizers
. There is a local chapter in Columbus with many qualified people to guide you through this process.
Tip #2 – Uniformity is your friend – hangers which look alike make your closet feel just right
Choosing the right hanger will make a HUGE difference in the looks and efficiency of your closet. Thick plastic and wood hangers take up too much precious hanging space. For the celebrity closet (champagne look) on a blue-collar budget, I love these black velvet hangers (my wife Rose got them at a discount store for $10 for a pack of 25). Your blouses, skirts and pants don't fall off. They don't take up much space. Lastly, they look elegant and come in other colors (I've seen pink, blue and brown). One other cool fact is velvet has been recognized as a hot interior design element for 2017 as well – so you'll be efficient and stylish!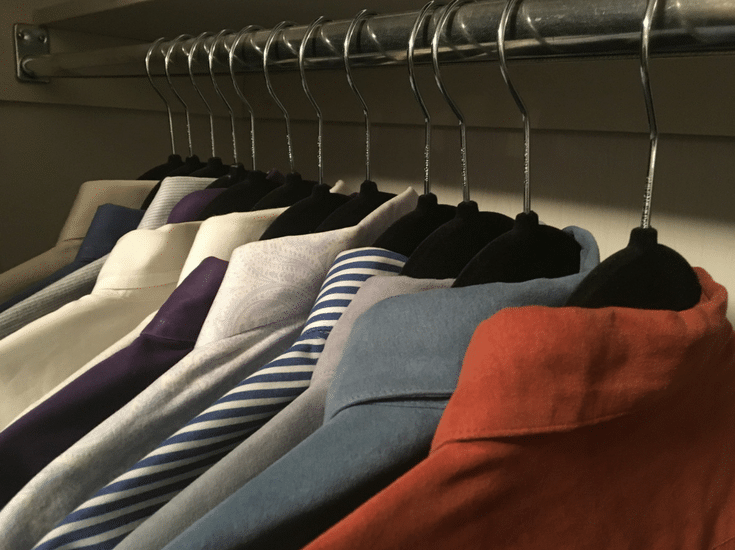 Tip #3 – You need to see your closet organization system before you buy it – 3D closet design
When most people look at two-dimensional house plans or drawings it might as well be Greek to them. It means nothing because our minds and eyes don't work in 2 dimensions. You and I see and experience in 3 dimensions. To evolve from your existing cramped closet to the "champagne" closet you desire, you need a closet system which will take advantage of your space. For examples having 2 rows of hanging space vs. one. Adding drawers for more storage. Including fun and useful closet accessories like belt and scarf racks and pull out wardrobe rods. The problem is how can you "experience" this closet and understand how it will work unless you see it in 3D? Before buying any closet organization, system insist on a 3D design to get a realistic feel of how this space is going to work.
'You won't know if a #closet will work for you until you see it in #3D!'
Click To Tweet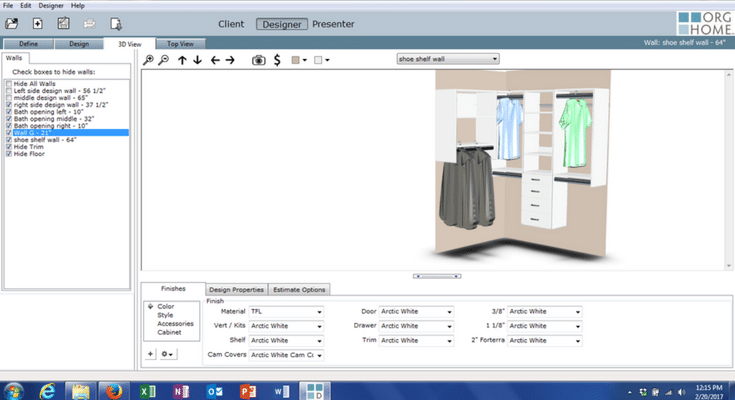 Tip #4 – Lighten and brighten it up – using high privacy windows, lighter shelving colors and lighting for an inviting closet
Who likes to go into a cold, dark cave (unless you're into spelunking!)? Closets not only need to be organized – but also bright, light-filled and inviting. One reason I can tell you a dark closet doesn't work is a funny incident which happened to one of my work associates. One morning she came into work with one black shoe and one brown shoe (of the exact same type). When she realized what she had done she was bumming. Since her closet was dark it wasn't easy to distinguish between colors. Here's 3 ideas to add lightness and brightness to your custom closet (so you won't end up wearing two colors of the same shoe or outfits which don't match– ha! Ha!).

• Idea 1 – A high privacy window – Natural light is wonderful. If you're building a new home or remodeling add a transom glass block window or an operable obscure glass window into your closet. You'll have privacy and can better distinguish between your blue and blacks (I know this problem for me because I'm color-blind).

• Idea 2 – Add lighting which fits your budget – While it would be fantastic if you have a big walk in closet to add a chandelier this may not fit your budget. Instead use cost-effective lighting strategies by adding enclosed LED lights or recessed fluorescent fixtures. They will get you extra light without as much expense.

• Idea 3 – Use light colored laminates – Light reflects the best off a white surface (and white laminate closet happens to be the lowest cost). If white bores you, bone or light gray color are still affordable and stylish.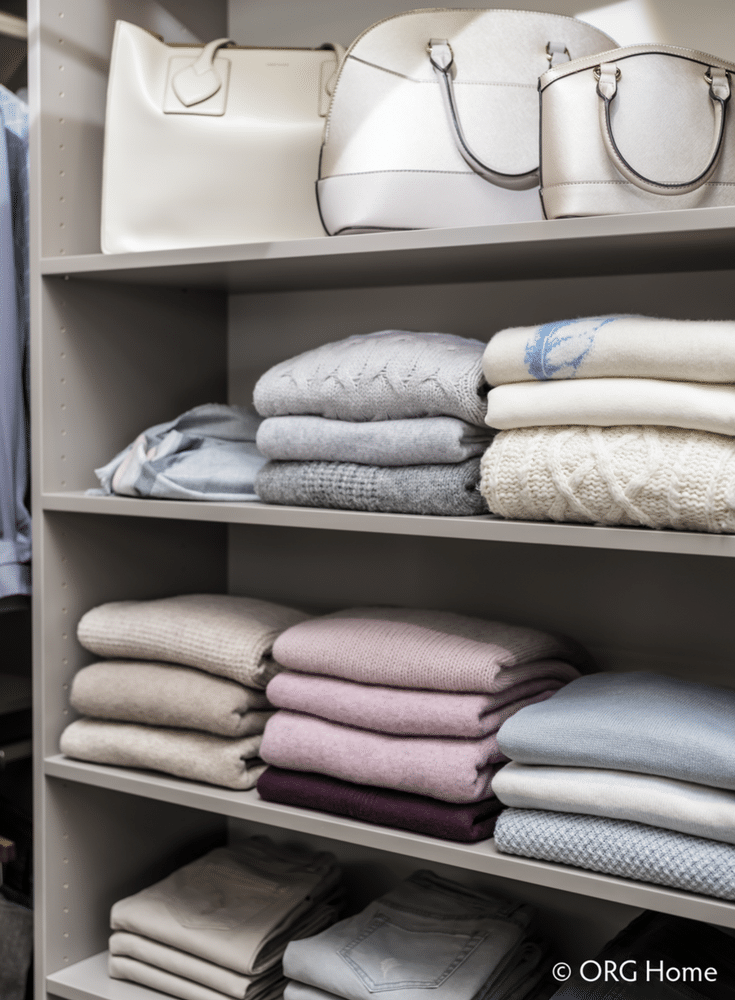 Tip #5 – Display your shoes
It's not only difficult to find your shoes quickly if they are a cluttered mess on the floor, it's also tough on your back. The soundest strategy for shoe storage in a new closet is to elevate them where you can see them. You can either add elegant angled "display shelves" (if you have more room and a larger budget) or go with the more cost effective and space-efficient flat shelves.
For a better design consider putting your shoe shelves near the door (this makes sense because you put your shoes on last and take them off first).
Tip #6 – "Mount it" don't "floor it" – the case for a wall mounted closet installation approach
There are two installation options for a closet. A wall mounted closet where shelves and drawers are mounted to a rail which is fastened into your studs. The second option is a floor mounted closet system. A floor mounted closet has a finished cabinetry look and is built to the floor with a 2" or 4" toe kick at the bottom.
While the floor mounted product looks more luxurious, it reduces your storage space (i.e. the decorative toe kick at the bottom takes up room you can't use).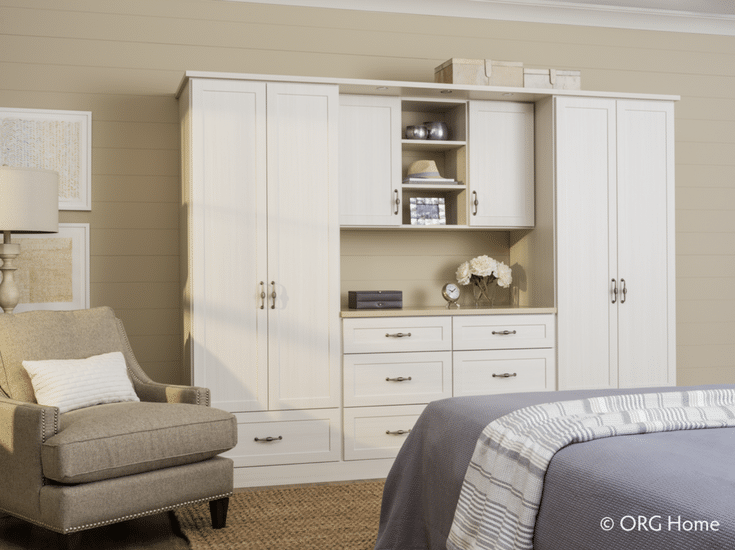 The wall mounted approach is more cost effective and provides a sleek contemporary minimalist closet look as well.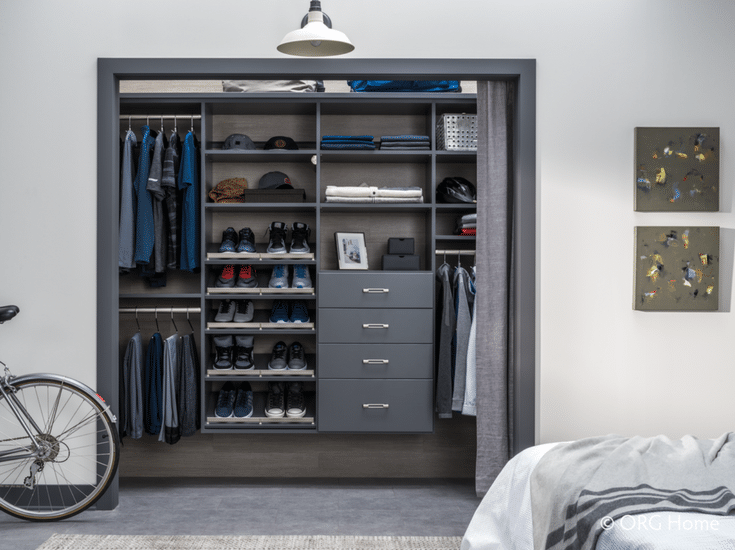 Tip #7 – A wood textured laminate vs. a real wood closet
You've seen the luxury celebrity real wood closets on Pinterest and Houzz. They look "marvelous baby" – but will they "live" as marvelous as they look in the picture? You may be thinking, "Mike why wouldn't you want a real wood closet?"

The first reason real wood may not be the best choice is it's expensive. Second, a real wood closet is built by a skilled carpenter who isn't a space expert or a closet designer (they are a guy or gal who is an excellent woodworker). In addition wood can warp and requires repainting as it ages.

What's cool today is you get this real wood look (and feel of wood grain) with the cost effectiveness and durability of a laminate surface. There are now highly detailed textured finishes with the look and feel of real wood.
'You don't need a real wood #closet any more to have the texture of wood!'
Click To Tweet
The price is better. In addition, the vertical support panels are made with holes in the side so you can adjust the shelving as your needs change.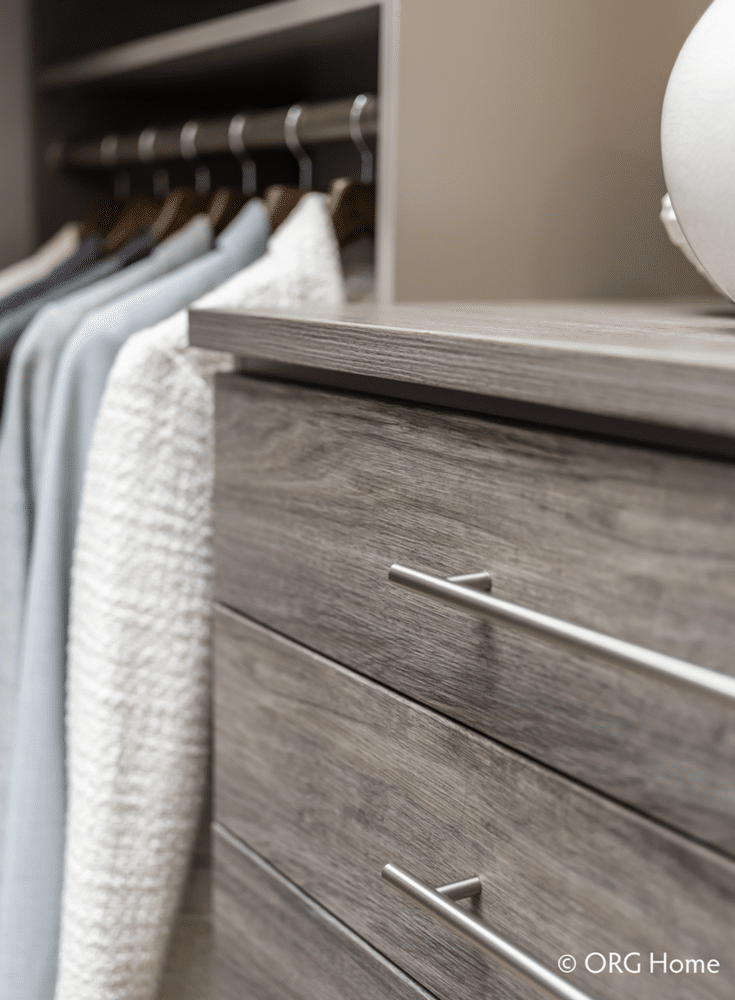 Conclusion
While it's fun to drool over the champagne closets of the stars, in reality they are not practical for the life you and I live today. We don't have a "staff" to maintain our property and our kids aren't jumping off their electronics to help any time soon! It's nice to know, however, with the right planning you can get a champagne look even if your budget more closely resembles a can of beer. If you'd like a

free 3D closet design

or input on creating your "champagne closet" please call the numbers below or comment on this post.

###

For help with a

Columbus custom closet

project call Innovate Home Org in Columbus at 614-545-6888 or in Cleveland call 216-658-1290.

Follow the author

@Mike_Foti

or our companies'

@InnovateBuild

and

@InnovateHomeOrg

on Twitter.

Save

Save

Save

Save

It doesn't take a genius to create a beautiful closet system with an unlimited budget and unlimited space (you may be able to think of a few celebrity's closets which fit this description). The question is, how you design an affordable
---
Tags: 3D closet design, affordable closet, affordable closet Columbus, belt rack Columbus, Clintonville closet, closet accessories, closet cabinets, closet cabinets Columbus, closet designer, closet designer Columbus, closet installation, closet installation Columbus, closet organizer, clothes storage, clothes storage Columbus, Columbus closet design, Columbus closet organizer, custom closet, custom closet Columbus, minimalist closet, minimalist closet Columbus, Victorian village closet, wall mounted closet, wardrobe Columbus, wardrobe rod, Westerville closet