Our Top 10 Closet, Garage & Laundry Organization Blog Posts of 2017 – Innovate Home Org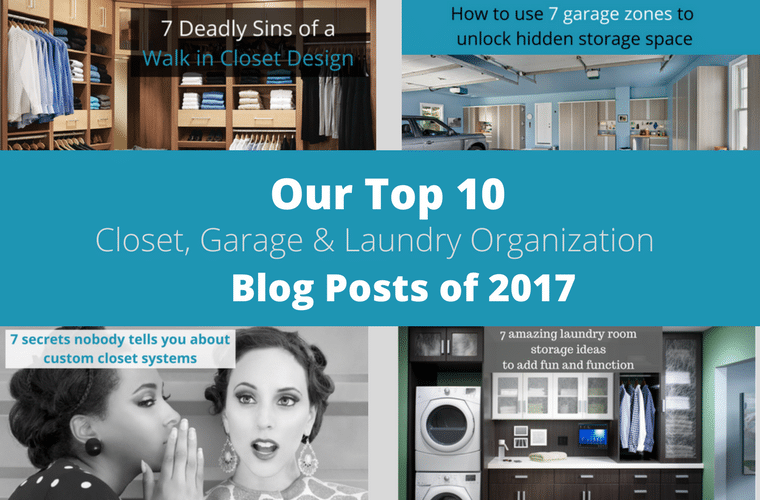 Are you tired of your "walk in closet?" Is it hard to claw your way into it because your clothes are jammed in like sardines? Is your garage a cluttered disaster-area with heaps of little-used storage containers, sporting equipment the kids haven't pulled out for years and holiday lights – half of which don't work? Is your laundry room a source of constant frustration? Mixed up piles of dirty and clean clothes eating up the floor. No place to fold clothes or to hang shirts after they come out of the dryer.
If your New Year's resolution is to gain control of the chaos which is your Columbus home (or anywhere in this country for that matter) – you've landed on the right article. Take a look at the 10 hottest articles of 2017 to conquer your messy closet, garage or laundry room. Here's how these articles can help you get organized in the New Year:
Learn imaginative design tricks to add fun and style to your closet, garage or laundry.
Get specific ideas to create storage "zones" and find storage nooks and crannies (kind of like Mrs. Thomas's muffins) you didn't know existed.
Reduce your research time by reading the most popular home organization articles of 2017.
Get educated about the different types of storage systems – so you'll be able to pick the best one for you.
Let's dig into the list and put an end to 2017's messy closets and cabinets. We'll build up to the #1 article at the end.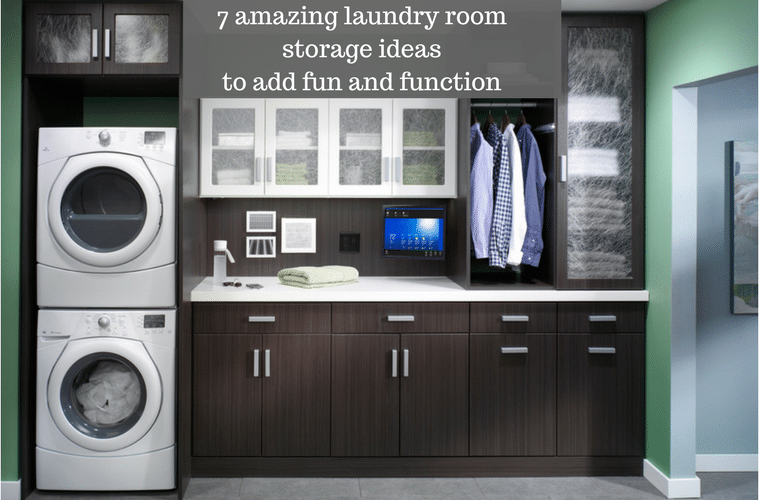 Can a laundry room be fun? At this point you may be saying, "Mike – are you nuts?" While it may be stretching the truth just a tad – but a laundry room doesn't have to be a place you dread. In this article learn how adding fun styling, hidden features (for ironing boards, bins and hampers) and a well-light workspace can take the dread out of laundry day. You'll also enjoy ideas to use the "physical assets" of your room to your advantage. Pledge to make laundry not such a pain in the butt in 2018. Notch up this not-so-tasty room.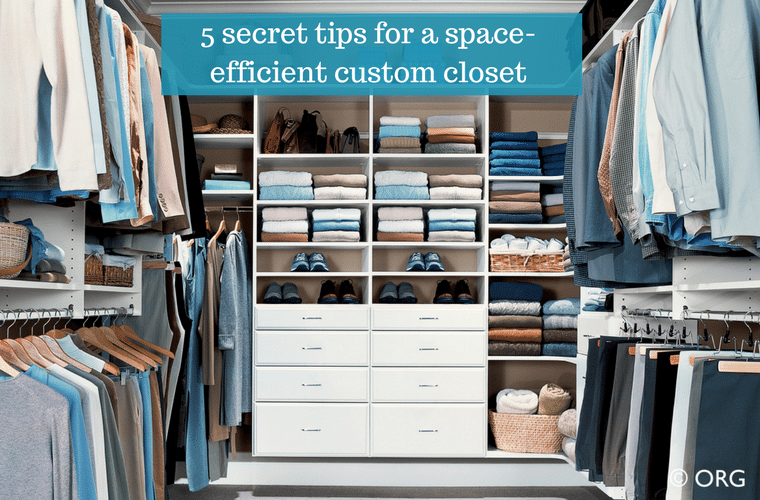 If you're closets are WAAAAY TOO SMALL – I get it. Most people are desperate for more space. Here's the harsh reality. In most cases your bedroom closet isn't getting any bigger (unless you're going to repurpose a spare room into a large walk in closet). You need techniques, drawers, cabinets and shelving systems to get more out of every inch. This article provides 5 practical tips to use your closet space efficiently. Learn how to make the space flex to you and your partner's needs. See how reducing the clothes you hang will increase the area available for storage. See how to make the height of your closet your "little 'fre" (as Tony Montana from the movie Scarface might say).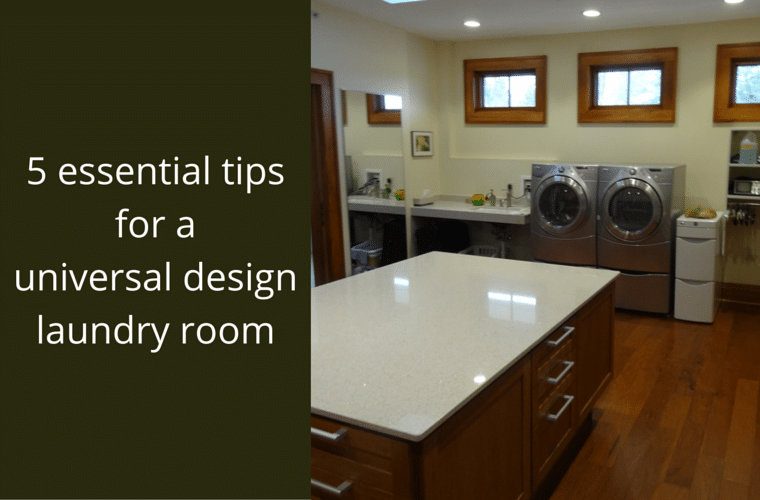 Not sure what universal design means? Then, you've got to read this article about the home of Rosemarie Rossetti and Mark Leder in Gahanna Ohio (also known as the Universal Design Living Laboratory). Universal design is thoughtful design. It's design which will work for all members of your family – from grandparents to grandkids (and in today's exploding number of multi-generational households this is essential). Learn super-practical tips to make it simpler to use your laundry room adding lighting, thinking through the right height of your counters, and simple ideas like strategizing the direction of the hinges of your washer and dryer to make it easy to transfer your clothes between them.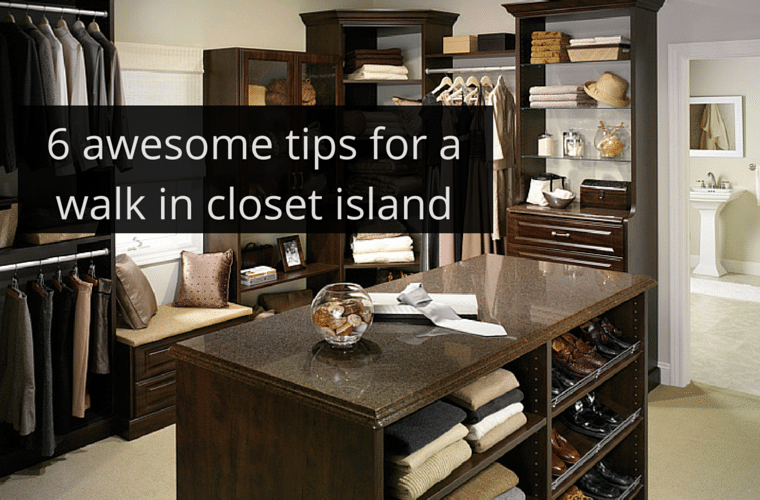 Closet islands are luxurious – but are they practical for your home? In this article learn the ins and outs of an effective closet island for your New Albany, Westerville or Pataskala home. Get tips to figure out how much space you need. Make sure you don't try to fit (as my Dad used to say) 10 lbs. of s*** (enter the 4 let swear word here) into a 5-lb. bag. See how an elegant walk in closet design works best when it has a continuous flow with your surrounding rooms.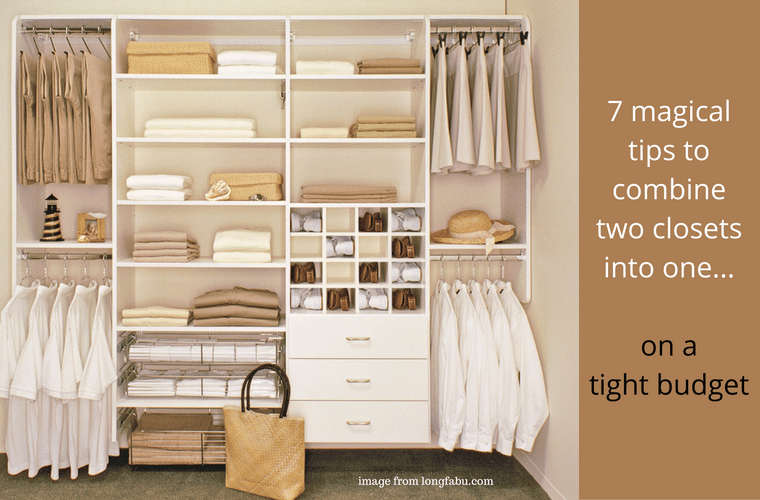 If you own an older home with teeny-tiny closets you may be living the pain of using multiple small reach in closets to store your things. The challenge becomes how can you get dresses, pants, workout outfits and underwear into one small closet solution? How can you stop having to walk through the middle of your home half-naked to get stuff from another closet to get dressed in the morning? This article gives you advice to declutter and solve the "structural" problems of smaller closets. Learn how to use a "wall-hung" solution for a more cost-effective and space-efficient design.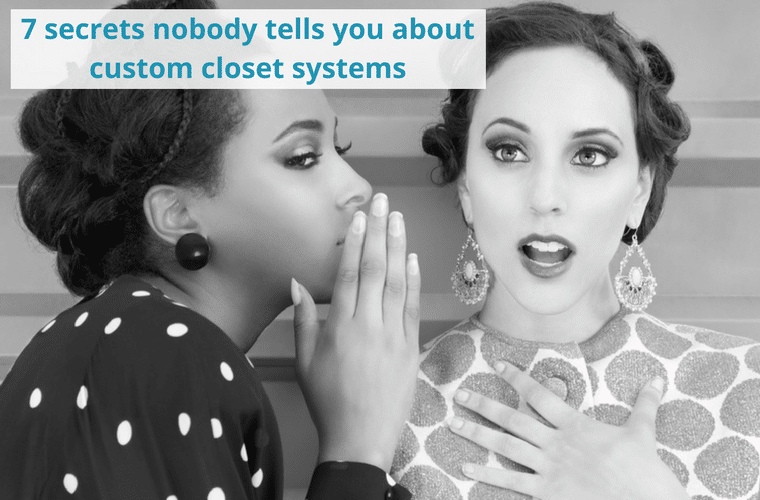 Who doesn't a love a juicy secret? Who wouldn't love a secret which helps them use and enjoy their home more, get a quality finished product at a reasonable price, and is built to last? My guess is nobody.
In this article you'll learn little-known secrets many closet suppliers won't tell you.
Learn these little known #closet secrets to get the max out of your space.
Click To Tweet
For example, did you know some companies cut the cost of their product using 12" deep shelves – even though it will cause your clothes to look messy and hang over the edge? Did you also know you can get a
Free 3D closet design
to visualize how your closet before you remodel it?
In this article you won't learn "dirty little secrets," but you will get practical ideas for a nicer closet which will work well for years to come.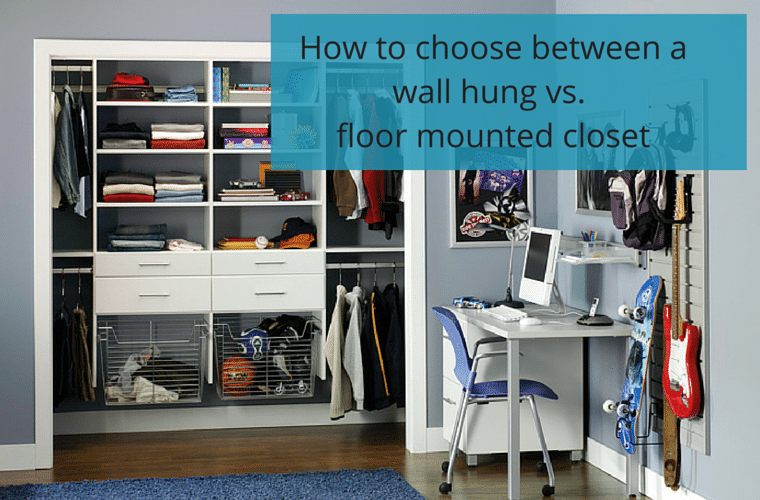 Don't know what a "wall hung" or "floor mounted" closet system is? You're not alone. A wall mounted closet system has supports which are hung along a rail (and is not built down to the floor) leaving more storage room at the bottom. A floor mounted closet is more luxurious and built from the ground up.
If you're not sure which is best for your Columbus home this article will dig into this topic. Like most things, the best solution will depend. Depend on what, you may ask? It will depend on your budget, your need for efficiency vs. style and whether you have a reach in or walk in closet.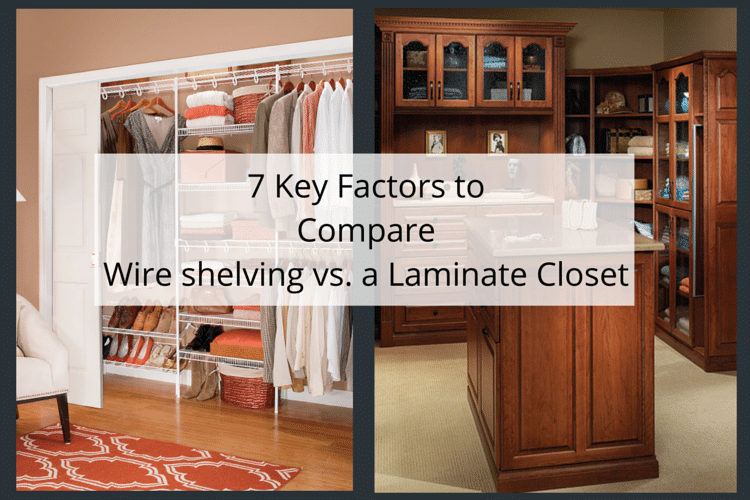 Wire, wire everywhere. This is what you'll see in 99% of the production builder's closets today. Cheap wire shelving. Are wire systems good – or are they the devil? I would say – they are both.
Are wire #closet #shelving systems the devil? Yes and no.
Click To Tweet
In this article you'll learn practical reasons to choose a wire closet. You'll also see when a wire closet can't compare to the superior looking (and higher functioning) laminate system. Neither approach (wire or laminate) is the end-all be-all – but you'll want to know when to use (and not use) each.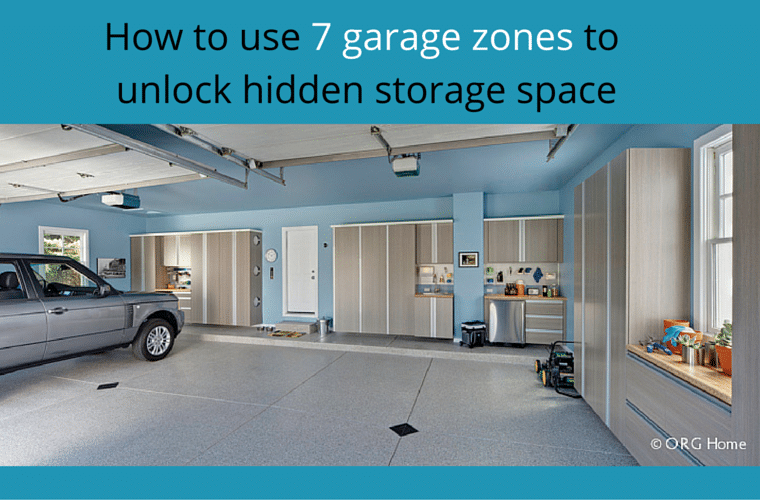 If you don't have a clue how to get your arms around the mess in your Dublin or Upper Arlington (or name your suburb here) garage, join the club. Most garages are a haphazard accumulation of things (junk may be a better term). There is no thought process of what should go where. In this article learn how to "zone in" to an orderly garage by defining and designing your garage around 7 specific zones. By using these zones you'll learn how to get rid visual clutter and "find" space you didn't know existed by using the right width, height and depth of garage cabinetry, shelving and garage pegboard systems. You'll see how your ceiling can be a hidden storage gem.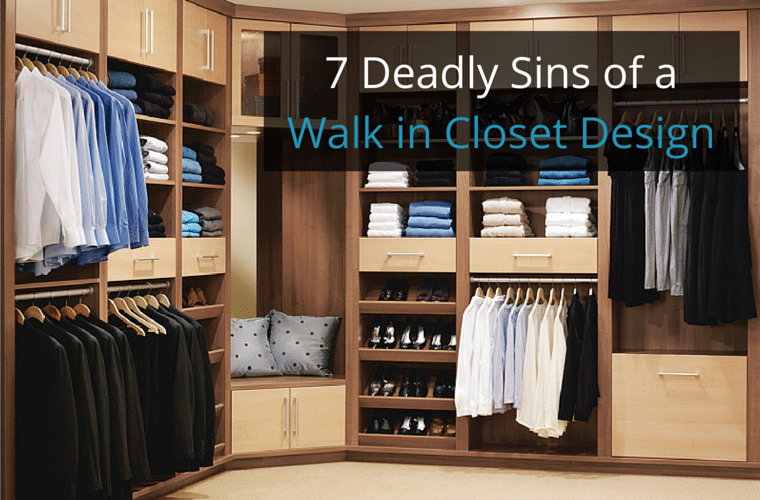 Have you ever hired a wet-behind-the-ears contractor or interior designer and paid for it with a substandard project which doesn't "live" well for you? Now you're living with a bad design or project you forked over way-too-much-money for which is a disappointment with a capital "D!"
Since walk in closet design is a specialty field, getting help from an experienced designer and installer will ensure you don't get stuck with the "deadly sins" (OK – these sins may not kill you – but you won't like them either) like the following:
You have no place to store your shoes in your brand-new closet.
Your drawers won't open because of a poor design.
You have to "fight" through clothes when you enter the closet.
There is a ton of dead space under your hanging clothes.
In this article, you'll learn the 7 deadly sins of a custom walk in design – so you won't be the victim of these mistakes in your home.
Conclusion
I hope these articles about closet, garage and laundry room organization help eliminate your frustration with messy, disorganized spaces. If you need assistance with your project – or would love to see a Free 3D design of your garage, laundry room, or closet – we would be happy to help. Call us in Columbus at 614-565-5888 or in Cleveland at 216-658-1290. We are excited to serve you in 2018!
---
Tags: bedroom closet, closet blog, closet blogs, closet island, closet organizers, Columbus bedroom closet, Columbus closet organizer, Columbus garage cabinetry, Columbus home organization, Columbus laminate closet, Columbus storage systems, Dublin closet, Dublin closet organizer, floor mounted closet, garage cabinetry, home organization, laminate closet, organization blog, organization trends, small closet solution, storage systems, tiny home storage, top organization posts 2016, Upper Arlington closet, Upper Arlington closet organizer, walk in closet design, wall hung closet